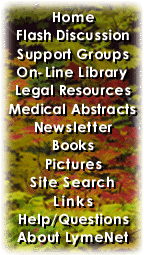 ---
LymeNet on Facebook
LymeNet on Twitter
---
---
The Lyme Disease Network receives a commission from Amazon.com for each purchase originating from this site.
When purchasing from Amazon.com, please
click here first.

Thank you.




Dedicated to the Bachmann Family


LymeNet needs your help:
LymeNet 2020 fund drive

The Lyme Disease Network is a non-profit organization funded by individual donations.

| | |
| --- | --- |
| | |
Author
Topic: Dizziness, miserable symptom

Michael_Venice
LymeNet Contributor
Member # 17254


posted

---

Do others have persistent dizziness? I have it so much.

It's a dizziness that feels like 'about to pass out'. Or like I'm not fully conscious. And a pressure headachy feeling in my head. Sometimes things are moving a bit even when I'm laying down--like the 'spins' you can get when you're really drunk.

It's very very miserable and debilitating. I can't get used to it, it frustrates me and scares me a lot.

I don't have POTS, my blood pressure doesn't fluctuate. When I have it, I have it even when I'm laying down.

Any ideas what about lyme and babesia can cause this? And of course, has anyone had this get better with treatment?

---

Posts: 322 | From Venice, CA | Registered: Sep 2008 | IP: Logged |

Dawn in VA
Frequent Contributor (1K+ posts)
Member # 9693


posted

---

Michael, do a search for vertigo and/or dizziness and/or vestibular. Tons of results will come up. It's a topic that's frequently discussed here.

--------------------
(The ole disclaimer: I'm not a doctor.)


---

Posts: 1349 | From VA | Registered: Jul 2006 | IP: Logged |

DeafFromLyme
LymeNet Contributor
Member # 18795


posted

---

I lost my hearing due to Lyme and when that happened I also ended up with severe vertigo exactly as you describe.

Lyme Treatment has helped, but to tell you the truth the best thing that stopped it for me was to take valium! I know its seems weird but my doc says it has something in it to help with balance in the ear canal or something like that. I didn't care the reason, I just knew I felt better! I had never taken valium before so I was nervous, but once it started working it was wonderful.

After a few weeks things "evened out" and I no longer take it. "knock on wood" I won't need to again.

Hope you get better soon!

--------------------
Erika

IgM Band 23 +

www.24weekperfectbaby.blogspot.com

Son's blog born at 24 weeks.


---

Posts: 356 | From massachusetts | Registered: Jan 2009 | IP: Logged |

Al
LymeNet Contributor
Member # 9420


posted

---

Dr.J. OF S.C.
'The sore throat that is not a sore throat' - What is Carotidynia?
Frequently our patients describe sore throats as part of their recurring symptom complex. Often, when specifically asked, the patients note that ear pain accompanies the throat pain, but the patients often state that their primary physician can find no reason for their discomfort. In fact, on examination, there is no sign of inflammation of the throat or ear.

The condition 'carotidynia' is little known but is, in fact, common. On careful examination, one can easily detect swelling and pain at the carotid bulb, which is located just lateral to the top of the thyroid cartilage (Adam's Apple) and is the location at which the internal and external carotid arteries separate, or bifurcate.

Our theory is that this is yet another sign of inflammatory neurological disease associated with LBC, since the carotid bulb is known to be a baroreceptor, which means it plays a prominent role in monitoring blood pressure. As such, it is loaded with nerve fibers, some of which mediate pain. Since the fibers at the bulb lie in proximity to the throat and may radiate to the ear area, our patients complain of 'sore throat and earache', when in fact the throat and ear pain arise from an inflamed carotid bulb. The mediation of this pain is most likely from the Nerve of Hering, a branch of the 9th cranial nerve (glossopharyngeal nerve), and/or a branch of the superior cervical sympathetic chain.

---

Posts: 789 | From CT, | Registered: Jun 2006 | IP: Logged |

abigail
LymeNet Contributor
Member # 14936


posted

---

Yes. I get this and it is horrible. People write so much and well, I ain't that smart. Valium, temporarily? Are you sure?

--------------------
Dying is easy. Living is harder.


---

Posts: 257 | From owensboro kentucky | Registered: Mar 2008 | IP: Logged |

DeafFromLyme
LymeNet Contributor
Member # 18795


posted

---

positive. Thats what he gave me. If you google valium for vertio it telss you why it works. It vestibular related.

--------------------
Erika

IgM Band 23 +

www.24weekperfectbaby.blogspot.com

Son's blog born at 24 weeks.


---

Posts: 356 | From massachusetts | Registered: Jan 2009 | IP: Logged |

btmb03
Unregistered



posted

---

Michael, agree with all of the above. I'm SO sorry you're suffering from this. I too am experiencing this right now and it IS very scary, like the world is spinning.

For me at least must be a massive herx as sometimes herxs bring out symptoms that had improved...and when they rear their ugly head..UGH!

I do a lot of deep breathing, detox, have someone massage your back/neck, I forget the name of the muscles back there but that also tones down the autonomic nervous system which in our cases has gone haywire.

I also find during these dizzy days I get very "hypoglycemic" so addressing that is also important.

Good luck, hope it improves for you...and me.

---

IP: Logged |

Michael_Venice
LymeNet Contributor
Member # 17254


posted

---

I have that hypoglycemic feeling too--though I've had my blood sugar taken a couple of times when I felt these things, and it was fine. My BP used to jump around a bit more, before treatment, but now, it's pretty steady....

Dizziness was one of my first symptoms, 3 years ago. I'm not sure if it's at its worst now or not...it gets hard to gauge all of it. But I hate it.

---

Posts: 322 | From Venice, CA | Registered: Sep 2008 | IP: Logged |

LisaS
Frequent Contributor (1K+ posts)
Member # 10581


posted

---

Yes I have that icky dizzy almost gonna faint feeling, all the time. For 18 years and counting=( So tired of it and will never get used to it. I can hardly go anywhere or stand for long periods of time anymore. I'm starting to lose a lot of hope with ever getting better.

--------------------
https://www.facebook.com/profile.php?id=1660435643


---

Posts: 1078 | From Lake Geneva WI | Registered: Nov 2006 | IP: Logged |

lymeinhell
Frequent Contributor (1K+ posts)
Member # 4622


posted

---

2mg Valium twice a day. It's standard treatment for Meniere's (tinnitus of unknown cause). Do your ears ring?? A neuro put me on it while I was trying to figure out what was wrong with me.

It got me over my most debilitating symptom and off the couch. The generic works just as well, which makes it a really inexpensive prescription.

You could try Meclizine (2mg), which you can buy over the counter at any drug store. It's for motion sickness. I found it helped (was given to me by ER), but only lasted about 3 hours. Valium kept me among the land of the living and able to continue working.

--------------------
Julie
_ _ ___ _ _
lymeinhell

Blessed are those who expect nothing, for they shall not be disappointed.


---

Posts: 2257 | From a better place than I was 11 yrs ago | Registered: Sep 2003 | IP: Logged |

Peedie
LymeNet Contributor
Member # 15355


posted

---

Dizziness and balance issues are why I don't ride my horse anymore. Thought I was doing better lately - but I don't know. Was riding my bike over a river channel and saw something out of the corner of my eye. Looked down into the channel to see a guy riding a bike and nearly passed out - instantly! Was very scarey - would have landed in a very busy street. I have problems with ladders, stairs, even at times a step stool.
You could not talk me into taking a drug like Valium tho.
Got to be Lyme related.
-p

---

Posts: 641 | From So. CA | Registered: May 2008 | IP: Logged |

Gahagan
LymeNet Contributor
Member # 21194


posted

---

My husband (newly infected) complains of feeling dizzy nearly always.

---

Posts: 212 | From Pennsylvania, USA | Registered: Jul 2009 | IP: Logged |

cordor
LymeNet Contributor
Member # 9449


posted

---

I can relate. This has been ongoing problem for me. Very frustrating and at times completely debilitating.

--------------------
Corinne


---

Posts: 529 | From Raleigh, NC | Registered: Jun 2006 | IP: Logged |

angrob75
Member
Member # 16942


posted

---

This is one of my symptoms that drives me CRAZY.
I can not drive because of it. I can not be in stores for very long, it makes it worse.

Mine also happens when i am standing, sitting or even lying down. It does not matter.

This symptom has taken over my life.
My head also feels heavy like my neck is not able to support it.

I hope that we all can find something that works for this.

hugs to you, i am right there with you on this one.

Ang

---

Posts: 55 | From ohio | Registered: Aug 2008 | IP: Logged |

drewby
Member
Member # 15253


posted

---

This and Fatigue are my worst symptoms.

My "dizziness" isnt really a spinning sensation but more like the floor moving and everything just looking 'off" My vision will start to tunnel, my back goes cold and my hands tingle and I feel like I'm about to black out. I have had to hold onto strangers at times because i was so sure i was going to hit the floor. I have never actually passed out though. This is going on 3 years now.

It happens every other day at least once. i have had complete cardio, neuro, blood work ups and the only thing that has been abnormal is 9 "inconclusive" small lesions on my brain.

---

Posts: 29 | From New York | Registered: Apr 2008 | IP: Logged |

greenbow
Member
Member # 21463


posted

---

i have that exact symptom and would describe it just like you did...it is worse at different times for me..can't tell if it is hormone cycles or lyme cycles.
best of luck, christine

---

Posts: 94 | From ut | Registered: Jul 2009 | IP: Logged |

btmb03
Unregistered



posted

---

Al - would you mind sharing with us what your tilt-table test showed and the treatment you're undergoing that has helped you? Thanks!

---

IP: Logged |

Lauralyme
Frequent Contributor (1K+ posts)
Member # 15021


posted

---

Yep had this too just exactly how you described.....alot so I feel for you.

To offer you hope.....it has gone away with treatment.

I reckon it is from lyme toxins and would recommend doing tons of detox......coffee enemas, exercise, sweating, etc.

Hope you feel better

--------------------
Fall down seven times, get up eight
~Japanese proverb


---

Posts: 1146 | From west coast | Registered: Mar 2008 | IP: Logged |

Al
LymeNet Contributor
Member # 9420


posted

---

Backwards Blood Pressure
by Laura Zeller
How many of you suffer from bizarre symptoms that nobody seems to understand? Many thousands of patients, myself included, have at some point been left completely puzzled at the mystery of our unexplained medical conditions. In my earlier article, ``Quest for a Diagnosis,'' I shared my tortured journey towards my diagnosis of Lyme disease. My story represents a small picture of how frustrating it can be to pinpoint the true cause of a medical problem.

Lacking intricate knowledge of complex emerging diseases such as Lyme disease, many physicians become overwhelmed and baffled, and simply give up. Rather than spend the time to accurately diagnose you, they instead label you with something like chronic fatigue syndrome (CFS). This jumbled diagnosis gets them off the hook, and as a result you are left dumbfounded and bewildered as to what the cause of your symptoms is. In my opinion, many physicians give up easily, and ``pass the buck'' on a patient without thoroughly investigating the true nature of the patient's problem.

Before I knew I had Lyme disease, I suffered for years from recurrent spells of lightheadedness and dizziness. ``Zombie mode'' is how I used to describe the mental fog I walked around with every day. Whenever I stood up after sitting for a while, I got a ``head rush,'' and felt woozy and off balance. Hot weather, hot showers, and standing in lines often brought about an increase in my symptoms.

I developed very uncomfortable feelings of anxiety and shakiness after my ``head rushes.'' The dizziness would often get markedly worse after I ate a full meal. This was very odd. I thought the shaky feeling might be stemming from low blood sugar (hypoglycemia). Exercise was impossible due to the exhaustion I experienced afterwards. At times, this post-exertional fatigue would last for 2-3 days. I figured my exhaustion was due to the earlier diagnosis of chronic fatigue syndrome (CFS) my flock of doctors had slapped me with.

Disoriented and exhausted, my mental confusion took on the forms of difficulty in concentrating, slurred speech, and panic attacks. As time went on, I became so weak I could no longer drive my car, and I required assistance with simple tasks. My plethora of doctors decided I had Addison's disease (another wrong diagnosis) and prescribed steroids for 3 years with no resolution. According to my endocrinologist, my adrenals had shut down for ``unexplained reasons.'' It was not until I was correctly diagnosed with Lyme disease that the cause of my strange symptoms was discovered.

Being a brilliant researcher, my Lyme Literate Medical Doctor (LLMD) sent me a cardiologist to have a tilt table test. Gently remarking that Lyme patients are ``backwards'' in nature, my LLMD suspected I might have a form of autonomic dysfunction. A tilt table test is designed to help diagnose neurally mediated hypotension (NMH), also known as vaso-vagal syncope, neurocardiogenic syncope and autonomic dysfunction. The medical terms for fainting and low blood pressure are syncope and hypotension respectively. Tilt table testing is a rather simple concept, but requires supervision by a cardiologist.

I was fortunate to have a very Lyme literate cardiologist administer my test. In fact, before my test began, one of the residents in the room griped that he had never heard of babesiosis, which I listed on my patient history form. My cardiologist gave the resident a look of disappointment while remarking that he should study harder if he wanted to make it in the medical profession. Babesia microti, a piroplasm similar to malaria, is one of the tick-borne diseases that complicated my condition.

My tilt table test began with me lying flat on my back, with blood pressure cuffs on both arms, and heart monitors attached to my chest. Measurements were taken at scheduled intervals as I was transitioned from lying flat into a standing position. To prevent me from fainting, I was secured to the table with safety straps. After being raised to an upright position, and remaining there for several minutes, I was returned to a lying down position. Phase two began with an injection of Isuprel, a drug that simulates a stressful situation, thought to mimic the symptoms I was experiencing. Once the drug took effect, I was again raised to an upright position. My heart rate reached 165, and then suddenly dropped to 65 in one beat, as my blood pressure plummeted from 130/70 to 50/0. I fainted and was out cold until they stopped the test and administered the antidote to the Isuprel. Normal blood pressure is typically 120/70.

It was an exhausting experience, however, this test turned out to be one of the most significant tests and discoveries of my health journey. I had a combined neurocardiogenic and vasopressor response, a double fail. This meant that the Lyme bacteria had inflamed my vagus nerve, which is the major communicator between the heart and brain.

My cardiologist graciously explained that when a healthy person stands up, blood normally pools in the legs due to gravity. To compensate for the lower quantity of blood returning to the heart after standing, the body releases adrenaline. The adrenaline surge makes the heart pump harder and faster, thus allowing the blood to pump quickly back from the extremities to the brain and vital organs.

In neurally mediated hypotension (NMH) there is a miscommunication between the heart and brain. As you stand up, and the heart needs to beat faster, the brain ``misfires'' and sends out the message that the heart rate should be slowed down, and that the blood vessels in the arms and legs should dilate. More blood is taken away from the central part of the circulation where it is needed, and lightheadedness and syncope (fainting) can result. These symptoms occur because the brain is not getting enough blood. Although frightening, fainting can actually help the patient by returning him/her to a flat position, removing the pooling effect of gravity in the extremities, and allowing more blood to return to the heart.

My cardiologist explained that because I had both low blood pressure and the rapid heart rate (tachycardia), I would need a combination of treatments to get my symptoms under control. He recommended Atenolol, a beta-blocker designed to regulate heart rate. I had what he called ``backwards blood pressure'' and he explained how beta-blockers are normally used to control high blood pressure (hypertension).

In addition to the beta-blocker, he recommended I take the antidepressant Zoloft, plus the mineralocorticoid Florinef to help regulate my blood pressure. Florinef works by acting on the kidneys to keep increase blood volume, thereby increasing blood pressure. Along with the Atenolol, Zoloft and Florinef, my cardiologist suggested I add more salt to my diet, avoid dairy products, alcohol, and caffeine. He also mentioned how essential it would be for me to drink at least 2 quarts of water per day, and double that amount in warmer weather.

I also learned some basic techniques to help me manage my NMH better. Simple posture, it turns out, had a lot to do with the degree of symptoms I felt. Crossing and elevating my legs would help stop blood pooling in my feet. Using cooler water while showering sitting in a chair would help prevent episodes of NMH brought on by the heat. The bizarre dizziness I experienced after eating was due to the blood moving to my digestive system. Eating smaller, more frequent meals helped resolve that uncomfortable symptom. Using a motorized scooter in the supermarket, or shopping during off hours would help prevent the standing in lines that brought about the blood pooling and anxiety/shakiness. The fainting reflex could be activated whenever I stood upright for a period of time. As my LLMD later explained, the Lyme bacteria were the cause of the NMH, and the cause of the inflammation of my vagus nerve.

Determined to always seek the cause, I was relieved to gain understanding of such a commonly misdiagnosed disorder. Just to be clear, some physicians will talk about NMH as if it is a disease. Actually, it is a functional disorder that clinically indicates something much greater. In my case, in order to treat the NMH, I first had to aggressively treat my Lyme disease with antibiotics. By reducing the inflammation caused by the infection, the symptoms of NMH would, in turn, resolve. The medications and dietary changes I had to make would help control the symptoms.

Different treatments for NMH are available, and there is no single course of treatment that will work for everybody. It took several years of antibiotic treatment to get my NMH under control. I tolerated the beta-blocker and the Zoloft well. The Florinef helped me for a short while, but I had to discontinue it due to side effects. As my condition improved, the medication doses were tapered down gradually. I discontinued Zoloft, and reduced the beta-blocker to half a pill in the morning. My tolerance to heat, exercise and prolonged standing improved greatly. Lowimpact exercise with weight training and yoga gave me back enough strength to walk on a hot Caribbean beach without symptoms.

Based on my experience, I know there are plenty of folks out there suffering from NMH without a clue as to what is going on with their bodies. If you are experiencing symptoms of lightheadedness, dizziness, shakiness, brain fog, and intolerance to exercise, ask your doctor about the possibility of NMH. It might be a good idea to see a cardiologist and have a tilt table test. It has been speculated that NMH may be the cause of chronic fatigue syndrome and fibromyalgia. Although I agree that NMH causes one to feel extremely fatigued, the cause of the dysfunction must be investigated.

NMH can be difficult to explain, even to medical professionals. In simple terms, although in reality it is more complicated, you can call it orthostatic intolerance, low blood pressure, or syncope. Most medical staff should understand that basic medical terminology.

Whenever I had to list my medications for a doctor visit for whatever reason, nurses always assumed I had high blood pressure because I was on a betablocker. Time after time I had to correct that inaccurate presumption, and explain the neurological technicalities of NMH. It is sadly entertaining because the paid professionals are supposed to be taking care of me, and there I was, educating them!

As I have mentioned in previous articles, I cannot stress enough the vital importance of educating yourself about your medical condition. Ask questions, take notes, research and arm yourself with as much detailed information as you possibly can. It is my hope that my story can help you on your journey towards perfect health.

---

Posts: 789 | From CT, | Registered: Jun 2006 | IP: Logged |

abigail
LymeNet Contributor
Member # 14936


posted

---

And I thought the dizziness was just due to the spiros swimming around in my head. Inflammation of the vagus nerve...thanks:)

--------------------
Dying is easy. Living is harder.


---

Posts: 257 | From owensboro kentucky | Registered: Mar 2008 | IP: Logged |

drewby
Member
Member # 15253


posted

---

I have a Cardio follow up today and will be demanding a tilt table test.

---

Posts: 29 | From New York | Registered: Apr 2008 | IP: Logged |

Jill E.
Frequent Contributor (1K+ posts)
Member # 9121


posted

---

Michael,

I'm so sorry you are suffering. A couple of summers ago, about two years into treatment, I developed dizziness to the point I wouldn't dare drive. I even fell down once in my house and crawled to the couch where I couldn't move.

This was before I knew I had Babesia Duncani, but already had severe Bartonella which also made me have dizzy episodes (got much worse on Rifampin before finally getting a little better).

Now that I've begun some Babesia treatment I think your current Babesia treatment might be stirring up the dizziness. When I was on Alinia, I developed the "about to pass out feeling" and I've had that sense of motion while lying in bed many times on Babs treatment - although I've had it on other treatment too.

Can you ask our mutual LLMD if you could back down the dose of something - one of the herbs or something - just to see if you get some relief? I know LLMDs like to hit these diseases hard, but there have been so many times I've been incapacitated because my body doesn't detox normally, that I have to back down doses.

Also, sometimes I will drink some electrolyte water from Trader Joe's or Whole Foods - it's just water with electrolytes - no sugar like Gatorade. That has helped a little when I feel like I'm losing strength.

Finally, as one person posted, Meclazine is the drug that at least my hospital's urgent care uses for vertigo. Twice we've had to take my dad to urgent care for severe Lyme vertigo and that's what they gave him. Now he and I keep some in each of our homes in case of emergency.

Take care,
Jill

--------------------
If laughter is the best medicine, why hasn't stand-up comedy cured me?


---

Posts: 1773 | From San Diego | Registered: Apr 2006 | IP: Logged |

drewby
Member
Member # 15253


posted

---

I would have a tilt test performed. I finally got mine this week and Was Diagnosed with NMH which i directly attribute to my Lyme disease even though cardiologist wont make that connection. My treatement- Drink alot of water, Increase salt and quit caffeine.No drugs at this point.

---

Posts: 29 | From New York | Registered: Apr 2008 | IP: Logged |
Contact Us | LymeNet home page | Privacy Statement

Powered by UBB.classic™ 6.7.3

---
The Lyme Disease Network is a non-profit organization funded by individual donations. If you would like to support the Network and the LymeNet system of Web services, please send your donations to:
The Lyme Disease Network of New Jersey
907 Pebble Creek Court, Pennington, NJ 08534 USA
http://www.lymenet.org/
---
Home | Flash Discussion | Support Groups | On-Line Library
Legal Resources | Medical Abstracts | Newsletter | Books
Pictures | Site Search | Links | Help/Questions
About LymeNet | Contact Us
---
© 1993-2020 The Lyme Disease Network of New Jersey, Inc.
All Rights Reserved.
Use of the LymeNet Site is subject to Terms and Conditions.
---