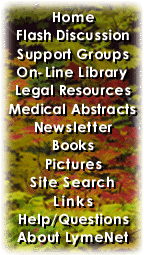 ---
LymeNet on Facebook
LymeNet on Twitter
---
---
The Lyme Disease Network receives a commission from Amazon.com for each purchase originating from this site.
When purchasing from Amazon.com, please
click here first.

Thank you.




Dedicated to the Bachmann Family


LymeNet needs your help:
LymeNet 2020 fund drive

The Lyme Disease Network is a non-profit organization funded by individual donations.

| | |
| --- | --- |
| | |
Author
Topic: To those who actively exercises during treatment

coltman
LymeNet Contributor
Member # 21272


posted

---

What is your experience with it? How was your physical performance? How the treatment affected it? Do you believe it helped?

Personally I became really involved in exercise about 3 years ago. I started intensive strength training program which I followed religiously, had my nutrition ,training cycles and supplements set up ,all that stuff. I also started dragon boat racing and did one good season.

But this year in winter I had a stream of bad flu like flare ups for up to about 2 month. After which I basically gradually quit going to gym altogether. I stopped and never had any energy to return .also , very discouraging and probably a biggest factor was that in short 4 month I lost 2.5 years of hard earned progress.

Physically I feel worst I ever felt this summer, but seems doxy ,adrenal supplements and my testosterone back to normal have some effect ,as I do occasionally feel better.

I kinda weighting pros and cons. On cons side is the fact that I read exercises depresses your immune system and lower cortisol (so problems for adrenals). On the other side exercise is good and like it and want get back to it (but same time I am afraid I will see no progress which would be like death sentence to me )

---

Posts: 856 | From MA | Registered: Jul 2009 | IP: Logged |

squashlyme
Member
Member # 12865


posted

---

Many feel like you will not be able to beat the disease without exercise. Just be smart about it. Low impact is good, swimming and walking. Also, every other day is good as to let the muscles recover and not beat down the immune system.

---

Posts: 48 | From nj | Registered: Aug 2007 | IP: Logged |

TF
Frequent Contributor (5K+ posts)
Member # 14183


posted

---

Burrascano on absolute necessity of exercise to get rid of lyme and the rationale behind it:

Despite antibiotic treatments, patients will NOT return to normal unless they exercise, so therefore an aggressive rehab program is absolutely necessary. It is a fact that a properly executed exercise program can actually go beyond the antibiotics in helping to clear the symptoms and to maintain a remission. Although the scientific basis for the benefits of exercises is not known, there are several reasonable theories. It is known that Bb will die if exposed to all but the tiniest oxygen concentrations. If an aggressive exercise program can increase tissue perfusion and oxygen levels, then this may play a role in what is being seen. Also, during aggressive exercise, the core body temperature can rise above 102 degrees; it is known that B. burgdorferi is very heat sensitive. Perhaps it is the added tissue oxygenation, or higher body temperature, or the combination that weakens the Lyme Borrelia, and allows the antibiotics and our defenses to be more effective. Regular exercise-related movements can help mobilize lymph and enhance circulation. In addition, there is now evidence that a carefully structured exercise program may benefit T-cell function: this function will depress for 12 to 24+ hours after exercise, but then rebound. This T-cell depression is more pronounced after aerobics which is why aerobics are not allowed. The goal is to exercise intermittently, with exercise days separated by days of total rest, including an effort to have plenty of quality sleep. The trick is to time the exercise days to take advantage of these rebounds. For an example, begin with an exercise day followed by 3 to 5 rest days; as stamina improves, then fewer rest days will be needed in between workouts. However, because T-cell functions do fall for at least one day after aggressive exercises, be sure to never exercise two days in a row. Finally, an in intermittent exercise program, properly executed, may help to reset the HPA axis more towards normal. On the following page is an exercise prescription that details these recommendations." (p. 31)

It worked for me. It has now been 4 years since I completed my lyme treatment and I am symptom-free, enjoying my life.

I did a weight lifting program in my basement working up to a 1 hour program every other day as per Burrascano.


Burrascano is so serious about this, look what he says on page 27:

"CERTAIN ABSOLUTE RULES MUST BE FOLLOWED IF LYME SYMPTOMS ARE TO BE PERMANENTLY CLEARED:
1. Not allowed to get behind in sleep, or become overtired.
2. No caffeine or other stimulants that may affect depth or duration of sleep, or reduce or eliminate naps.
3. Absolutely no alcohol!
4. No smoking at all.
5. Aggressive exercises are required and should be initiated as soon as possible.
6. Diet must contain generous quantities of high quality protein and be high in fiber and low in fat and carbohydrates- no simple carbohydrates are allowed. Instead, use those with low glycemic index.
7. Certain key nutritional supplements should be added.
8. COMPLIANCE!"

Look at #5.

---

Posts: 9931 | From Maryland | Registered: Dec 2007 | IP: Logged |

Maryland Mom
LymeNet Contributor
Member # 2043


posted

---

One of my LLMDs (he is well known and has written guidelines, but we're not supposed to name names) told me that while symptomatic, aerobic exercise is a no-no, but he recommended strength training type exercise. Keep the weights small, the number of reps high, and change around to get an all over body workout that lasts at least 45-60 minutes.

The reason behind keeping the amount of the weights low is so that you can go at least 45 minutes without exhausting yourself. The goal is to get a workout that works up a sweat, without raising your heart rate too much.

I was told to do this three times a week, four at most. Any more than that, and you will risk compromising your immune system, just as you have read.

---

Posts: 962 | From Charleston | Registered: Jan 2002 | IP: Logged |

Abxnomore
Frequent Contributor (5K+ posts)
Member # 18936


posted

---

Some of us are just too debilitated to exercise but for those who can they seem to do much better.

Remember the spirochete is anaerobic. Getting oxegyen into your system is good for a lot of things.

If you are supporting your adrenals, unless you are at the point where they are so burned out that they have not yet begun to repair, you should probably be OK.

You should probably discuss this with your doctor, as well.

---

Posts: 5187 | From Lyme Zone | Registered: Jan 2009 | IP: Logged |

gemofnj
Frequent Contributor (1K+ posts)
Member # 15551


posted

---

yes exercise definitely helped me. i worked into it gradually, but it made me turn the corner. every other day is a good pattern if you feel up to it.

sweating is also a good way to get rid of nasty toxins.

you can do that by saunas, steam, whirlpools, swimming, walking, etc. if tolerated.

---

Posts: 1127 | From atlantic city, nj | Registered: May 2008 | IP: Logged |

CherylSue
Frequent Contributor (1K+ posts)
Member # 13077


posted

---

Walking helped me in two previous bouts, but in this 3year+ relapse, walking just seems to aggravate it. I can go a few blocks, but if I go 6 blocks, I feel worse the next day.

Dr. B also stated in his guidelines that patients with babesia feel worse after exercise.

So, exercise helpse with Lyme, but not with Babesia???

My adrenals are probably more worn out with fighting this disease, too, although I am not specifically treating them at this time.

---

Posts: 1954 | From Illinois | Registered: Aug 2007 | IP: Logged |

Sammi
Frequent Contributor (1K+ posts)
Member # 110


posted

---

Before I was infected with tick-borne diseases, I had always been extremely active.

Throughout my treatment, I have exercised as much as I can. I agree that it is very important to listen to your body (even when you don't like what it is saying!) and not overdo.

I am treating Babesiosis again right now. When I have this, I cannot do any cardio exercise. I do weight training several times a week, and I also go in the steamroom.

I believe there are tremendous benefits to exercising when you are able. Exercise increases oxygen levels and raises body temperature which are two things the Lyme bacteria don't like.

I suggest starting out slow and see how you do. If it is too much, cut back. If you feel you can do more, add more things slowly.

---

Posts: 4680 | Registered: Oct 2000 | IP: Logged |

Aimee
LymeNet Contributor
Member # 20946


posted

---

Even new to all this I thought I'd chime in here too. I tried to keep up my exercise in the beginning before I knew I had Lyme but suspected it. It was miserable.

I used to run marathons and trained aerobically and strength trained 6 days a week. I was able to maintain the strength training but I simply had to let the running go. I tried tapering down to walking fast and even this was too difficult for me.

Letting go of the aerobic exercise for me was really hard as I had become so used to the endorphin release and it was my time to get away and think and relax.

See if you can't get some strength training going, as it was posted earlier, this is definitely recommended. And it at least makes you feel like you aren't a total slug some days!

Hope you are able to find something that works for you soon.

Aimee

---

Posts: 239 | From Virginia | Registered: Jun 2009 | IP: Logged |

Rambler
LymeNet Contributor
Member # 18794


posted

---

Anybody try hot yoga?

--------------------
Be Well


---

Posts: 103 | From Out West | Registered: Jan 2009 | IP: Logged |

alliebridge
LymeNet Contributor
Member # 9103


posted

---

The degree and amount of exercise really depends on how sick we are.

Walking around the block is "aggressive" exercise for some.

Many Lyme patients have dysautonomia and other nervous system complications.

This means just jumping up quickly from a chair can cause our heart beats to race for a while. And it has nothing to do with being out of condition or anything. It's a dysregulation of our autonomic nervous systems. And it means we have to closely monitor our bodies, our exertions. And hot yoga would be detrimental to those of us with dysautonomia (fyi).

We have to remember not to compete with ourselves, our bodies. We are not the athletes we once were. And that's okay.

We are sick people now, unfortunately. And walking is great exercise for most of us. Our stamina will gradually increase to be able to walk up inclines, etc..

If you want to lift heavy weights then take days off to recover, that's up to you. But make sure to run it by your doctor. I was told not to lift heavy weights.

---

Posts: 366 | From MA | Registered: Apr 2006 | IP: Logged |

lymeinhell
Frequent Contributor (1K+ posts)
Member # 4622


posted

---

I started with a Rebounder (small trampoline). It was fun, helped me regain my balance, detox, and most important of all, it unfroze the muscles in my shoulders and arms (causing all kinds of referred pain).

--------------------
Julie
_ _ ___ _ _
lymeinhell

Blessed are those who expect nothing, for they shall not be disappointed.


---

Posts: 2257 | From a better place than I was 11 yrs ago | Registered: Sep 2003 | IP: Logged |

wiserforit2
LymeNet Contributor
Member # 18286


posted

---

For a while I couldn't exercise at all, then I could for about 4 months, then I couldn't.

Just started up again. Between swimming and the elliptical, I'm able to rest my joints and go at my own pace. I also try to lift weights (lighter weights more reps).

Walking was always my first choice, but now my feet hurt too much for days afterwards.

I make sure to rest for a day or two in between and hope that I can stay consistent.

What I've learned is to trust that when I feel exhausted on off-days not to try and push past it or I'll wipe myself out for weeks.

It's a process. I'm sure there will be new setbacks, but at least I see that they pass and i can try again.

Patience, patience, patience....with scattered tantrums.....(I'm human after all).

Best of luck to you,

wiserforit2

Treating for 4+ years and am certain about uncertainty!

---

Posts: 273 | From Banks of the Hudson | Registered: Nov 2008 | IP: Logged |

psano2
LymeNet Contributor
Member # 11711


posted

---

coltman, I'm in exactly the same place as you. Was working out...stopped for a few months, then when I came back, seemed to have lost everything.

I'm just now starting back. The last couple of weeks I've only exercised once a week. I plan to exercise at least twice this week, and hope to gradually increase that to 3x/wk.

I'm walking an incline for about 30min then doing resistance work for the next 30 or so...whatever I can tolerate.

Patti

---

Posts: 975 | From California | Registered: Apr 2007 | IP: Logged |

Dekrator48
Frequent Contributor (5K+ posts)
Member # 18239


posted

---

I started exercising at Curves about 4 years ago, before I knew that my fibromyalgia was really lyme.

At first I got more sore than usual, but after about 2 weeks, I had less muscle pain and more stamina.

I still exercise there and I do believe that I am better off because of the exercise.

--------------------
The fibromyalgia I've had for 32 years was an undiagnosed Lyme symptom.

"For I know the plans I have for you", declares the Lord, "plans to prosper you and not to harm you, plans to give you hope and a future". -Jeremiah 29:11


---

Posts: 6076 | From Pennsylvania, USA | Registered: Nov 2008 | IP: Logged |

sixgoofykids
Moderator
Member # 11141


posted

---

I believe exercise has been a critical component of my recovery. I always did as I was able, and some days that was a very short walk. I tried to make it to the gym several times per week for strength training with weights.

I did not add cardio until my stamina allowed.

--------------------
sixgoofykids.blogspot.com


---

Posts: 13449 | From Ohio | Registered: Feb 2007 | IP: Logged |

sutherngrl
Frequent Contributor (1K+ posts)
Member # 16270


posted

---

I am so looking forward to the day when I can exercise and get back to playing golf.

I continue to try to walk, not run. I can walk 10 minutes on my treadmill, and it seems to be okay. If I push for even 2 more minutes, I end up sick as a dog for up to a week.

Fatigue has been one of my most debilatating symptoms and the least little thing causes it to flair to the point that I can't do anything for days.

I am so jealous of those of you that are able to exercise. I think if I could sleep and exercise, I would be on my way to getting my health back.

---

Posts: 4035 | From Mississippi | Registered: Jul 2008 | IP: Logged |

coltman
LymeNet Contributor
Member # 21272


posted

---

Hey thanks for feedback folks!

Though I was particularly interested in performance in a gym - like if you were able to actually increase the performance of workouts (lift more weight/swim more and/or faster laps, etc.)

---

Posts: 856 | From MA | Registered: Jul 2009 | IP: Logged |

sixgoofykids
Moderator
Member # 11141


posted

---

Sutherngrl, that was how I was. I had to take Lunesta and Lyrica to sleep. Fatigue (among other things) was a very severe symptom. I could do no cardio at all, ten minutes would have killed me.

I did find that doing stretching and light weightlifting as Dr. B recommends was a big part of my recovery. There were literally days my husband came home from work, got me out of bed, took me to the gym, the took me back to bed.

You have to get the toxins moving .... the blood pumping ....

Coltman, I never increased my performance .... my goal was just to be moving and keep from deconditioning. It wasn't till I started getting well that I could increase weight or reps and add cardio.

--------------------
sixgoofykids.blogspot.com


---

Posts: 13449 | From Ohio | Registered: Feb 2007 | IP: Logged |
Contact Us | LymeNet home page | Privacy Statement

Powered by UBB.classic™ 6.7.3

---
The Lyme Disease Network is a non-profit organization funded by individual donations. If you would like to support the Network and the LymeNet system of Web services, please send your donations to:
The Lyme Disease Network of New Jersey
907 Pebble Creek Court, Pennington, NJ 08534 USA
http://www.lymenet.org/
---
Home | Flash Discussion | Support Groups | On-Line Library
Legal Resources | Medical Abstracts | Newsletter | Books
Pictures | Site Search | Links | Help/Questions
About LymeNet | Contact Us
---
© 1993-2020 The Lyme Disease Network of New Jersey, Inc.
All Rights Reserved.
Use of the LymeNet Site is subject to Terms and Conditions.
---