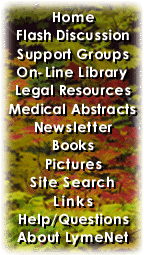 ---
LymeNet on Facebook
LymeNet on Twitter
---
---
The Lyme Disease Network receives a commission from Amazon.com for each purchase originating from this site.
When purchasing from Amazon.com, please
click here first.

Thank you.




Dedicated to the Bachmann Family


LymeNet needs your help:
LymeNet 2020 fund drive

The Lyme Disease Network is a non-profit organization funded by individual donations.

| | |
| --- | --- |
| | |
Author
Topic: I need a pep talk

Rambler
LymeNet Contributor
Member # 18794


posted

---

Howdy Folks,
I've had lyme since I was 9, I'm 46 now. I'm a year into treatment, have had some improvements, but I'm SOOOOO tired, so fatigued.

I don't think I have the strength to keep on with this treatment.

We added Amoxy to Rifampin and Clarithromycin about a month ago and it's kicking my butt. Why so much more fatigue all of a sudden? Any ideas?

I am loosing my enthusiasm and belief that a 35 year old case of lyme can really be treated. Does anyone have anything positive to say?

I mean really. What can I hope for?
I don't know what "well" is. You know?

I am feeling pretty ****y at the moment. What can I do to convince myself that this is the way to go?

Is there anyone out there who can reassure me?

I am beginning to believe there is no way out of this one. I've had it basically forever and its affected all of my systems.

I'm tired and grieving and I don't have any hope.

--------------------
Be Well


---

Posts: 103 | From Out West | Registered: Jan 2009 | IP: Logged |

timaca
Frequent Contributor (1K+ posts)
Member # 6911


posted

---

Rambler~
It is important to test for various pathogens (besides lyme) to know what you are dealing with. First make sure nothing else (besides infectious pathogens) are causing your problems. These include: B12 deficiency, thyroid issues, Vit D deficiency, etc.

Then get tested for other pathogens...enterovirus (at Arup lab), HHV-6, EBV (at Focus lab) and other tick borne pathogens.

Treat what looks most obvious. It is possible to have the immune system malfunction and many different pathogens reactivate.

Best, Timaca

---

Posts: 2872 | From above 7,000 ft in a pine forest | Registered: Feb 2005 | IP: Logged |

Pinelady
Frequent Contributor (5K+ posts)
Member # 18524


posted

---

Rambler I would put money you have parasites other

than lyme. I believe it can be treated successfully

once all and everything is treated. You have to

take it one day at a time. I wish I was there to

give you a big hug and massage your lymph system

to help. Run you a soak tub twice a day and fluff

your pillows. And fix you some veg. smoothies.

Right now I gotta have mine massaged. But I am so
much better than what I was.

You have to believe it will get better, because I know you can.

--------------------
Suspected Lyme 07 Test neg One band migrating in IgG region
unable to identify.Igenex Jan.09IFA titer 1:40 IND
IgM neg pos
31 +++ 34 IND 39 IND 41 IND 83-93 +
DX:Neuroborreliosis


---

Posts: 5850 | From Kentucky | Registered: Dec 2008 | IP: Logged |

sixgoofykids
Moderator
Member # 11141


posted

---

I have had Lyme about the same length of time you have. I am almost well .... still a few remaining issues, but am getting better all the time.

Amoxy is a tough drug. I bet you're hitting something new and that is why you feel worse. With the Biaxin you were only hitting one form of Lyme, now your still after that form, but hitting a different form with the Amoxy, so you're feeling bad.

Hang in there! It's not too late to be well. I have had months at a time completely symptom-free ... then a little issue will pop up, but my body will heal it and I'll feel good again.

--------------------
sixgoofykids.blogspot.com


---

Posts: 13449 | From Ohio | Registered: Feb 2007 | IP: Logged |

knobs
LymeNet Contributor
Member # 21928


posted

---

I feel the same way. I'm going off Rifampin after 7.5 months because my doctor doesn't think I handled it well--was possibly causing too much die off and my body couldn't detox it fast enough. She says the drug is really strong. Maybe the same is happening to you?

---

Posts: 124 | From Toronto | Registered: Aug 2009 | IP: Logged |

CherylSue
Frequent Contributor (1K+ posts)
Member # 13077


posted

---

I had a detoxignomic lab test from Genova Labs. I asked for it through my LLMD after hearing about it on this board.

Lo and behold, the meds that made me feel worse were the drugs that my genes had difficulty detoxing.

They were: rifampin, cipro, erythromycin, and aspririn, ambien, zoloft, etc.

I wanted to make sure that my suffering and "herxing" were not intolerances to the drug.

I paid $550 for the test through my doc's office. It was worth it. I now know I have to be on other drugs and not the above.

---

Posts: 1954 | From Illinois | Registered: Aug 2007 | IP: Logged |

Tracy9
Frequent Contributor (1K+ posts)
Member # 7521


posted

---

Please join us over at www.lymefriends.com too. I can't tell you how much support and love you will find there in addition to here.

I need a pep talk too, and was just trying to crash yours!!!

--------------------
NO PM; CONTACT: [email protected]

13 years Lyme & Co.; Small Fiber Neuropathy; Myasthenia Gravis, Adrenal Insufficiency. On chemo for 2 1/2 years as experimental treatment for MG.


---

Posts: 4480 | From Northeastern Connecticut | Registered: Jun 2005 | IP: Logged |

Buster
LymeNet Contributor
Member # 19472


posted

---

I was struggling really bad with fatigue for quite a while... I made myself go to the local gym and go on walks during the day.

At first it would just kill me. I would feel more tired, more sick, ect... but after about 1-2 weeks of pushing myself to do it... it stopped making me feel sick and tired. I actually started getting more energy and strength, so now.... no more fatigue for me

---

Posts: 458 | From Miss | Registered: Mar 2009 | IP: Logged |

tickled1
Frequent Contributor (1K+ posts)
Member # 14257


posted

---

Buster,

How long have you been doing this?

---

Posts: 2541 | From Northeast | Registered: Jan 2008 | IP: Logged |

Rambler
LymeNet Contributor
Member # 18794


posted

---

Thanks everyone. So much.

I'm sorry to be a pessimistic cry-baby. This has just been a nightmare as you all well know.

I have decent support in my life, but I don't think anyone near me really has any idea at all what life with lyme really means. I feel very lonely. I'm grateful that you are here.

There is a local support group- I should get off my butt and go check it out.

I've read about others who have reached this stage with their families and friends. What do you do?? Nobody seems to want the truth, so do you just start lying instead of being honest? Or should I make light of a situation that makes me consider suicide frequently?? I just don't know what to say to people anymore. Suggestions?

I've covered all the bases around supplements and proper diet/ avoiding allergens, etc. Thyroid issue addressed. Insomnia- getting better at dealing with it. At least I can fall asleep at bedtime, now. That IS a blessing.

I do still need to add the D supplement. Thing is, I take so many dang pills- by the handful. Dont'cha all just get disgusted by this mess every once in a while?

Depression was the first big hurdle for me. It's been my constant friend for years and years. Exercise was the ONLY thing that would help.

Having to slow down with the lyme has been very difficult for me in that regard. I pay in pain and fatigue for the one thing that has ever made me feel any better. It's very frustrating for me. UGH!! Damn it!!! You know???

I don't walk and run miles anymore, but I am still juggling as many days a week as I can. This sport has done more for my brain than anything else, I'm sure. Interesting things are happening. My brain doesn't know left from right- I'm becoming ambidextrous in unexpected ways. That is cool stuff. I can't hardly balance my checkbook anymore, but I can weld left handed!!! Woo Hoo.
Maybe I should just run off with the circus. It would be interesting, that's for sure.

Re: other bugs and parasites. I've got bartonella and babesia, too. I've had some lovely bouts of dysentary from traveling in Mexico. I can only imagine what's in my guts. I did, for sure, have dientameoba fragilis- a lovely intestinal parasite, which was treated with doxy and caused me some crazy herxing that I didn't understand at the time.

I've asked my doc about my creepy crawly skin. I was told that lyme can cause that.... end of subject.

My joints are getting knobbier by the day. My doc says: there are a lot of reasons people have arthritis... Oh, OK.

I have not asked this doc how many long term cases she's treated. I have a feeling I'm new territory for her. I'm frustrated by this aspect of my care. At least she's honest when she says she doesn't know how much recovery I can hope for.
Oh, goodie.

I am working on a new game plan. I can't realistically ditch this doc, because I am in the middle of my social security app and she IS totally behind me on that one. I feel it would be a mistake to drop her. This aspect of life is one huge stress-wad all on its own.

Anybody got a good lyme-lit psychiatrist in CA??

Does anyone get to a place where they've had all of their questions about all the weird symptoms answered? I just need patience, I guess. This is lyme. I spell lyme with a little L- I don't want to give it any power- at all. Ya little buger!

I'm gonna go run a hot bath.

Thanks for being there, people.

--------------------
Be Well


---

Posts: 103 | From Out West | Registered: Jan 2009 | IP: Logged |

lymetwister
Frequent Contributor (1K+ posts)
Member # 19590


posted

---

Tracy, I'm coming on this link to Crash it as well. Need some pepping myself...

I've said it before and I'll say it again, this disease is criminal.

I wish I knew what was on the other side of death, as I'm sure many do. Perhaps some of us would make the journey if it was something amazing. Even still, in my case, I have to be here for my kids even if I'm in turmoil 24/7.

LT

---

Posts: 1227 | From District of Columbia | Registered: Mar 2009 | IP: Logged |

Rambler
LymeNet Contributor
Member # 18794


posted

---

Hang on lymetwister.

Looks like we need to start building a life raft, ey?

I've been throwing out so much of my life in an attempt to keep my ship from going down. What else can I shuck? Not much left.

I think I'd be best off just sitting on a mountain top, somewhere. I don't function in the real world very well, anymore. I feel like my life has become so warped.

The world needs giant meditation huts for those of us who's brains have been sucked out by these damn "non-existent" bugs.

I'm glad I'm not alone, but it crushes me that this is happening to any one of us. I could scream and bellow to the heavens for an hour and still not feel like I've let all out.

I come here looking for light and I do find it, but I am always so sad, too, after reading about how hard it is for everybody else here. How can I keep that form burying me?

Think good thoughts.

--------------------
Be Well


---

Posts: 103 | From Out West | Registered: Jan 2009 | IP: Logged |

steve1906
Frequent Contributor (1K+ posts)
Member # 16206


posted

---

I've only been sick for two years now since my symptoms started.

I just started feeling some what better around a month or so ago.

Still sick but I do have some days I feel normal. I'm not sure if I'll ever be completely normal again; but I'm going to let this disease kill me.

You need to keep trying different treatments, herbs, vitamins etc that may help U.

You know as well as I do you can get better and you will. I was like you and most of Lyme people> I just wanted to give up.

I think of how many people get told everyday that they only have a week, a month, six months to live. These are not people with Lyme disease, most of them have cancer.

We all need to think positive and help ourselves along with our LLMD.

Please hang in there and keep plugging and try and think how many people are sicker than us.

Good luck, and try to smile each and everyday!!!
Roy

--------------------
Everything I say is just my opinion!


---

Posts: 3529 | From Massachusetts Boston Area | Registered: Jul 2008 | IP: Logged |

bettyg
Unregistered



posted

---

rambler,

go to SUCCESS STORIES IN "SUPPORT" forum and read them.


lymetoo/tutu has had lyme 50 years; she was diagnosed same time as me 5 yrs. ago!!

i was misdx for 34.5 yrs. i'm not as bad as many on this board; FATIGUE is horrible, but i listen to my body and go nap when i need too.


also you mentioned SSDI APP, did you go to our SUPPORT forum and read MINOUCAT'S post on this with the combined expertise of her, me, connie mc/a non-lawyer rep for ssdi claims, etc.

we have terrific info there; so check that out too ok!!

it took me 5 yrs. of hell to win my 2nd one, and i did it without a lawyer since he quit me 4 years into this!!

NEVER GIVE UP HOPE AND DETERMINATION to overcome this major hurdle in your and OUR lives!! hugs/kisses

---

IP: Logged |

Rambler
LymeNet Contributor
Member # 18794


posted

---

Thanks.
I do have hope.
That's why I'm still here.

I like life, sheesh, it's a much cheerier option!

Placing myself on a scale of suffering does not help me. I don't need to remind myself about how much others are hurting in order to make myself feel better. Suffering is suffering. We all see it, we all feel it. If my neighbor is suffering, so am I.

I need to rest. Sounds so simple. One cannot simply step off the merri-go-round of life. It's tough stuff when the landing platform gives way, you know?

I am working like hell to save my life. Holy Cr*p! Huston, we have a problem. It's not so easy to rebuild when you have to recreate your toolbox from duct tape and bailing wire.

I don't know about the rest of you folks who battle the bug, but my brain does not work so well anymore. Things are flat differnt, now. Carreer, gone. Social life, gone. Respect, gone.

When you get sick and fall on your face with an invisible disease, people don't have much patience for it. What?? You're still sitting on your bum? You look fine. Most of them get frustrated and tell you to buck up... we've all heard it.

I'm just a wee babe of a soul who's trying damn hard to learn how to live in this world again.

I try really hard not to be angry or hateful, but I am grieving the loss of a very important person... ME! I gotta go through it. It is death in a sense. Denial does not serve me either.

Be here now. Live in the moment. Breathe. OK, I can do that, but now what? Be here now. Live in the moment. Breathe. Wow. That's harder than I thought.

That's where I'm at. Holding on for dear life.

I have a feeling that I'm not the only one in this boat. We need real tools, real meaningful advise. It's not just a pity party. Sorry if it sounds that way.

Thank you, Betty. I'll dig in.

--------------------
Be Well


---

Posts: 103 | From Out West | Registered: Jan 2009 | IP: Logged |
Contact Us | LymeNet home page | Privacy Statement

Powered by UBB.classic™ 6.7.3

---
The Lyme Disease Network is a non-profit organization funded by individual donations. If you would like to support the Network and the LymeNet system of Web services, please send your donations to:
The Lyme Disease Network of New Jersey
907 Pebble Creek Court, Pennington, NJ 08534 USA
http://www.lymenet.org/
---
Home | Flash Discussion | Support Groups | On-Line Library
Legal Resources | Medical Abstracts | Newsletter | Books
Pictures | Site Search | Links | Help/Questions
About LymeNet | Contact Us
---
© 1993-2020 The Lyme Disease Network of New Jersey, Inc.
All Rights Reserved.
Use of the LymeNet Site is subject to Terms and Conditions.
---