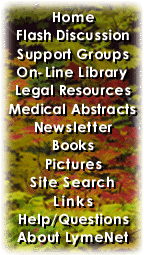 ---
LymeNet on Facebook
LymeNet on Twitter
---
---
The Lyme Disease Network receives a commission from Amazon.com for each purchase originating from this site.
When purchasing from Amazon.com, please
click here first.

Thank you.




Dedicated to the Bachmann Family


LymeNet needs your help:
LymeNet 2020 fund drive

The Lyme Disease Network is a non-profit organization funded by individual donations.

| | |
| --- | --- |
| | |
Author
Topic: A question about treatment (did mine go wrong?)

Beautiful Disaster
LymeNet Contributor
Member # 21882


posted

---

(Warning - this turned out to be a hodge podge of questions, feelings, etc....not as constructive as I wanted it to be but it's what came out!)

I went to a doc that a lot of ppl seem to like and think is a good doctor. I can say he was "nice" but didn't have a great experience. This doc is an llmd and many here who know who I am, know who he is.

Anyway, I just feel confused when I think about what I know compared to my treatment. Can someone give me some answers?

I tested what he said was "very positive" for Lyme and made the assumption that I had Lyme for "a few years", based on my symptoms and test (I guess a lot of IgG activity - which shocked me actually). I really thought I got it December 2007.

However, he estimated longer than that. I tested positive for Bartonella also and was very symptomatic for it as well. He treated my Lyme which he diagnosed as "Lyme Neurix" or something like that on my check out sheet from the first visit.

But I am confused for 2 reasons. If he was a great llmd, then why did he not address the Bart first, like I thought you were supposed to? Also, how come after 30 days of Rocephin, he said I was cured of my Lyme and my symptoms were just Bart? He actually used the words "cured of your Lyme" and I was just shocked because I never heard of anyone being cured that soon, especially after an llmd saying that I had this for years?

Why would he not treat Bart first and dismiss Lyme so soon? Those are my questions. I am going to self treat soon, but I'm confused and I just don't get it.

When I didn't do well on Levaquin and Rifampin (barely got to the Rifampin), he actually wrote me a letter dismissing me as a patient. I couldn't take the Levaquin, I couldn't walk on it or pick up my then, very small child because of my wrists hurt SO bad on it.

When I looked him up on rate a doctor websites, I see that I am not the only one that have gotten an unsolicited letter out of no where dismissing them. Others will sing his praise all day. I don't know why he would treat some patients differently than others. I'm trying to gather information about self treating but he's the one doc I ever met that knew a lick about Lyme. I just don't know whether to "copy" his methods or not. He never once even mentioned omitting foods, getting good sleep, I mean ANYTHING in regards to other things that were important besides a bunch of abx. I learned that from you all.

If I am going to self treat, should I keep going after Lyme or address Bart? Should I follow what he did or not? Before the dismissal letter, when I was in his office, he wrote my Levaquin and Rifampin rx with one refill. He said "that should do it" and I asked if it would clear my sx and he said "yes, if it doesn't, I don't know what to tell you" and then he used the "a" word.

Maybe it's.....

ANXIETY.

I was astounded. I didn't even check that as one of my sx on my check list! He thought because my face burned on one side that it could be anxiety. AHHH.

Granted, I didn't even call and fight the dismissal letter because I just disagreed with all my heart with almost everything that had gone on in there. Then, I was out of money anyway shortly after that, so I guess it wouldn't have mattered but he didn't know that! I wouldn't have gone back any way.

I see how many different llmds do things differently. I have heard people have gotten well with him, well, not really, just they were actively treating and he hadn't given up on him or they had make progress. I don't know who to follow. Lyme or Bart meds first? Or dang, Salt C?

Does any llmd recommend Salt/C? Does anyone here know? I'm about to take a leap in a direction, but I'm not sure if I should trust the philosophy of the ONE llmd I was able to go to or just read up a bunch and base what I do upon what I read?

Can anyone shed some light on all of this? I just feel so cheated when it comes to money spent last year on that specific doctor. I could have done a lot self treating wise with that. A LOT. But, he is a doctor....maybe he knows best.

SIGH

--------------------
---Beautiful Disaster---
IgeneX WB: IgM: 18+, 31+, 41+, 58+, IgG: 31++, 39 IND, 41++, 31kda Epitope Test: Positive
Labcorp: IgM: 23+, 41+
No LLMD due to money since Sept 2008. Was on Doxy, I.V. Rocephin (30 days), Flagyl. Also dx with Bartonella.


---

Posts: 139 | From United States, East Coast-ish | Registered: Aug 2009 | IP: Logged |

disturbedme
Frequent Contributor (1K+ posts)
Member # 12346


posted

---

I have no idea.... if he really is an LLMD and he told you all of that... then that really is terrifying to me. That is NOT how LLMDs treat and that kind of thinking goes against everything a REAL LLMD believes. What he told you sounds exacty like what a mainstream doc would say.

--------------------
One can never consent to creep when one feels an impulse to soar.
~ Helen Keller

My Lyme Story


---

Posts: 2965 | From Land of Confusion (bitten in KS, moved to PA, now living in MD) | Registered: Jun 2007 | IP: Logged |

coltman
LymeNet Contributor
Member # 21272


posted

---

Sounds really bad.Sorry for you. From all research I done so far imho what you describing it looks like bad treatment plan. - of course I am not llmd and not even MD, but I would be personally very ****ed if I had similar experience

I am scared like hell of fluorquinolones like levaquin, but it is a bart treatment (albeit imho one worse than disease -tendon damage is very bad stuff).

I am having very bad day today , I dont have any time nor energy to try to get appt with llmd and possibly waste money on bad one .And like you
looking at self treating seriously.

If I don't get appt this month I will start self treat , and it will look something like:

Bicillin (hit spiro)
Roxy (intracell+bbb)
Flagyl (l form)
Rifampin (maybe -didnt reasearch it much)
Cycloferon (maybe ,but most probably -very good immunomodulator and actually used for lyme )
+ various vitamins and supps


I also will have my amalgams removed in 2 weeks and will start Cutler chelation protocol. I have some blank spots not addressed in my plan (vitamin d stuff and biofilms) but cant wait much longer and it doesnt look like most LLMD would be any help with those issues anyway.

I hope my PCP will agree to run blood work so I don't accidently kill liver/kidneys

---

Posts: 856 | From MA | Registered: Jul 2009 | IP: Logged |

JamesNYC
LymeNet Contributor
Member # 15793


posted

---

OMFG,

What a terrible story! I'm so sorry.

You need to PM Abxnomore and tell her your experience with this Dr so she can add your comments to the list. This is very important.

If he thought you were "cured" after 30 days of rocephin, then he clearly is NOT a real LLMD! There are lots of Drs claiming to be such, but really just follow ISDA guidelines.

No REAL LLMD would assume you were "cured" without evaluating your symptoms. How could he know? It's like he just ASSUMED you would HAVE to be cured in 30 days!

My LLMD told my friend she's have to have 90 days of IV minimum and that 30 days was nothing (she's going on a second round of 90 days).

FREAKIN' unreal!

Please, please find another LLMD. One that is definitely a member of ILADS. Don't let this one jerk send you out on your own.

I know you have a lot of anxiety in your life, but your symptoms go well beyond just that.

My LLMD treated my lyme first, but the tx really gets the bart too. And my tx for babs followed the lyme by only a few weeks.

Don't give up.

James

---

Posts: 872 | From New York City | Registered: Jun 2008 | IP: Logged |

polar blast
LymeNet Contributor
Member # 9142


posted

---

HE IS NO LLMD!
HE DUMPED YOU!
HE IS ON IDSA GUIDELINES!
RUN FROM THIS DOCTOR HE SUCKS!
IMAGINE THE DAMAGE HE HAS DONE TO OTHERS?
THERE IS NO SUCH THING AS ANXIETY!
IT IS ALL RELATED TO ACTIVE INFECTION!
NEW LLMD IS IN ORDER!

---

Posts: 593 | From long island ny | Registered: Apr 2006 | IP: Logged |

purplemom
LymeNet Contributor
Member # 21064


posted

---

I wonder also, how do you get antibiotics for self treatment?

---

Posts: 207 | From NH | Registered: Jul 2009 | IP: Logged |

coltman
LymeNet Contributor
Member # 21272


posted

---

quote:

---

Originally posted by amberini:
If you are going to self-treat, how do you get all those antibiotics?

---

You can buy most (all? ) of the stuff online. Most stuff cost 100-200$ for a month supply.It significantly more expensive than copay with insurance though - but often less expensive than many LLMD appointments fees

---

Posts: 856 | From MA | Registered: Jul 2009 | IP: Logged |

IckyTicky
Frequent Contributor (1K+ posts)
Member # 21466


posted

---

Wow... no that does NOT sound like a real LLMD.
I am just astounded! And horrified!

Write your OWN report on that website so others will know he has duped another patient!

My doctor hasn't addressed Salt/C (but I do plan on trying it) but he DOES tell me all the time to drink Sea Salt water! So I think Salt/C is the way to go along with other treatments.

I'm going to ask the same question because I might have to self treat soon... how do you get the abx to self treat like that? I mean, I can see getting some of them.. but the bicillin shots etc?
PM me and let me know!

--------------------
IGM: 18+, 23+, 30+, 31+++, 34+, 39IND, 41++, 58+++, 66+, 83-93IND
IGG: 31+, 39IND, 41+
Also positive for Mycoplasma Pneumoniae and RMSF.
Whole family of 5 dx with Lyme.


---

Posts: 1014 | From Texas | Registered: Jul 2009 | IP: Logged |

feelfit
Frequent Contributor (1K+ posts)
Member # 12770


posted

---

Here is the deal. Just because a doctor "calls" themselves a LLMD does not mean that they treat like one.

I see the doctor that Beautiful Disaster had been seeing. He/she IS a member of ILADS AND is even cited in Dr. B's most recent treatment guidelines. This LLMD is also an infectious disease doc....I have found that the ID converts still like to treat according to some of what they have learned from their ID training.

That being said, IF the 30 days of Rocephin does not bring results, this doc does move on. They do treat co-infections and are flexible in tx them. It depends on the patient response.

If after the 30 days of rocephin and tx for bart and babs still has the pt. feeling unwell. They attack the Lyme again.

There are very good and very bad things said aobut this doc....don't know why experienes vary so widely.

None of the LLMD's that I have seen aside from this one came close to treating according to Dr B's treatment guidelines.....they were all members of ILADS. All on the LLMD lists.

My point is that even amongst ILADS doctors, treatment varies. You have to be your own best advocate....decide what is right with you.

I am going to see yet another doctor but it has nothing to do with poor treatment received and everything to do with accessibility. No one to follow up with in emergencies.

Sorry that your experience was so awful BD. You aren't the first to receive this awful treatment and you problably won't be the last.

---

Posts: 3975 | From usa | Registered: Aug 2007 | IP: Logged |
Contact Us | LymeNet home page | Privacy Statement

Powered by UBB.classic™ 6.7.3

---
The Lyme Disease Network is a non-profit organization funded by individual donations. If you would like to support the Network and the LymeNet system of Web services, please send your donations to:
The Lyme Disease Network of New Jersey
907 Pebble Creek Court, Pennington, NJ 08534 USA
http://www.lymenet.org/
---
Home | Flash Discussion | Support Groups | On-Line Library
Legal Resources | Medical Abstracts | Newsletter | Books
Pictures | Site Search | Links | Help/Questions
About LymeNet | Contact Us
---
© 1993-2020 The Lyme Disease Network of New Jersey, Inc.
All Rights Reserved.
Use of the LymeNet Site is subject to Terms and Conditions.
---