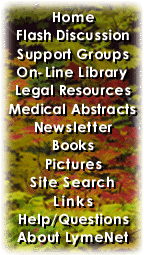 ---
LymeNet on Facebook
LymeNet on Twitter
---
---
The Lyme Disease Network receives a commission from Amazon.com for each purchase originating from this site.
When purchasing from Amazon.com, please
click here first.

Thank you.




Dedicated to the Bachmann Family


LymeNet needs your help:
LymeNet 2020 fund drive

The Lyme Disease Network is a non-profit organization funded by individual donations.

| | |
| --- | --- |
| | |
Author
Topic: some doctors DO know about lyme, they just....

22dreams
LymeNet Contributor
Member # 17846


posted

---

okay, so one of my sister's---

who has a history of chronic sinitus, recurring conjunctivitis, UTIs.....and in the last several years sx of arthritis--just dx.

She had heart pain(and neck and jaw) a few weeks ago, so bad that she went to the ER (Mt Auburn Hospital, Cambridge, Mass). The ER doctor said that it sounded like she had long QT interval.

"what causes that?"

"I've only seen it when it's genetic or caused by lyme"

hmm....

they take blood for various tests including lyme.

Lyme: negative, what a surprise.

Send to a heart specialist.

My mum is waiting outside while they're conducting tests.

The cardiologist comes out.
My mum asks what could be causing it, and
if it could be lyme.

The doctor's reply: "the lyme test was negative".
(not addressing the question of if it could be lyme)

My mum: "well, lyme tests don't mean much"

Doctor: "that's true"

DOCTORS do know.
some of them do.
and they know tests are inaccurate.

yet heart docs don't refer out to infectious disease doctors.

why? we can only speculate that it's b/c it's a waste of time.....ID docs use the faulty tests for diagnosis....

but: what of px who don't know to ask about the accuracy of tests?
who think that the tests actually MEAN something?

are cardiologists, and other specialists, heartlessly lining their pockets with money treating syndromes and impairments and damage---

without addressing the Cause?.. or even caring at all?...

it's like UNTIL we get tests that are accurate, it just doesn't matter to most....WE and our health don't matter.

I wish I could read these doctors minds....

---

Posts: 571 | From Massachusetts | Registered: Oct 2008 | IP: Logged |

abigail
LymeNet Contributor
Member # 14936


posted

---

I am waiting to see if the IDSA has to redo the guidelines.

--------------------
Dying is easy. Living is harder.


---

Posts: 257 | From owensboro kentucky | Registered: Mar 2008 | IP: Logged |

wtl
LymeNet Contributor
Member # 19883


posted

---

I am not believing everything is conspiracy.

I think the current medical system makes doctors not to spend too much time with thier patients is to blame.

They simply order tests and more tests to save their time to talk with patients, just to get their butts covered and their ends meet financially.

Clinical diagnosis takes time. Lab test takes no time of theirs.

This is partially the reason why our medical cost is so high. On average, Americans have done more testings than others, yet, we don't have a higher rate of diagnosing the right cause of illness.

And when the tests show negative, the doctors move on. Again, they are trying to save their own time so that they can get to the next patient, which means more income.

Not necessarily with bad intention to harm anyone in particular, but everyone has to make a living. Only in this case, there are devastating consequences.

The system is the problem.

I feel people are spending all the time blaming IDSA for making the guidelines, but too few to pay attention in how the insurance companies decided to use the guideline to deny the coverage.

Afterall, the guideline is just a guideline. I am not aware it has the mandatory power except that insurance companies are making it so...That's what they called "policy", not the law.

Just my thoughts...

---

Posts: 822 | From midwest | Registered: Apr 2009 | IP: Logged |

massman
Unregistered



posted

---

First do no harm ?

Relying on labs is especially BS when dealing with a condition that often requires a clinical diagnosis.

And the accuracy of ELISA followed by Western Blot is poor - about 45% false negative.

Very sad thing is most docs believe the IDSA guidelines !
Some of my opinion is from spending 2.5 days in the hospital a month ago.

One of the docs that "came by" said he had studied lyme then he babbled IDSA BS.

Another doc, a DO, was much more open to explore. Neither mentioned the hypercoagubility link, which was the prime reason I went to the hospital.

---

IP: Logged |

TerryK
Frequent Contributor (5K+ posts)
Member # 8552


posted

---

I agree, there are those who buy into the IDSA BS but there are also those who are truly afraid of losing their license and with good reason. Then I think there is another large group of doctors who wouldn't want anything to do with it even if they could safely treat it.

My fibromyalgia doctor ran an IgeneX test for me and when it came back IgeneX positive he said he could do a spinal tap and treat if it was positive or if I wanted, I could go to a doctor out of State to get treatment.

My fibro doctor helped me with some testing that otherwise would not have been covered by insurance. He wants to help but doctors get into big trouble in my State if they treat chronic Lyme disease. I haven't found one single M.D. who will treat it and yet I've discussed it with several and they do believe it exists. One has a friend with it.

If the IDSA weren't controling things, I've no doubt that we would get much better and less costly care.

Terry

---

Posts: 6282 | From Oregon | Registered: Jan 2006 | IP: Logged |

Haley
Frequent Contributor (1K+ posts)
Member # 22008


posted

---

I think there are doctors that do know how powerful Lyme is and that the tests are not reliable. Some doctors do not want the reputation of a "Lyme doctor" because of all the controversy.

After being in ER 4 times, I ended up in a reputable Rhuematologist's office. He is treating me (probably reluctantly). I know that he does not want the reputation of a Lyme doctor because of me.

However, he told me in the beginning "it can take 5 years to treat this". I knew at that moment that he understands Lyme but usually doesn't admit it.

---

Posts: 2232 | From USA | Registered: Aug 2009 | IP: Logged |

springshowers
Frequent Contributor (1K+ posts)
Member # 19863


posted

---

Ok Now I got a new perspective from a Doctor of mine.

What do you all think of this.

They said. the IDSA is probably right. But..

But that the problem in us who are not getting well from the Lyme Treatment is that we have another condition. A chronic condition of the biofilms that create these communities that protect the infections. Not just Lyme but many others in there too.

So how can we call it just Chronic Lyme.? It is not just LYME meaning the bacteria itself that is Lyme.

So saying that. Yeah it makes sense.

Maybe the IDSA is just focused on that one thing and is not considering these other issues or conditions in our bodies that does not allow the meds to work.

JUST an idea and it did make sense.

I do think there is a whole differenct concept and condition that keeps many from getting well and in turn also protecting these various infections can help them continue to cause havic in many people that would encompass hundreds of conditions !!.

So what do we call that? Chronic something.?

And It think this condition should be named and addressed and brought out in the open.!!

So then... the fight would be over too.

There would be proof of the chronic element and that would cross over to all diseases possibly as well.

They can find a way to test for it and treat it? Someday!!

I think this will be the direction it goes or should go...

I hope that research goes there .. Right now I think Biofilm is a big subject at hand. The more doctors I talk to the more i notice them bringing this up..

So maybe we all have Chronic Biofilm which in turn creates chronic infections to have a home and stay put and grow in us.

So what is that?

I am not sure the IDSA considers all the whole big picture and that is where I think they have to define things differently.

Otherwise if they just want to talk about LYME and LYME alone then they have to figure out why some can rid Lyme and some cant.

Hence ..... maybe developing a new condition that does hinder us. Either way that means there IS chronic Lyme but it may be caused or enabled by another condition.

Along with other infections staying chronic too by this other condition..

---

Posts: 2747 | From Unites States Of America | Registered: Apr 2009 | IP: Logged |

22dreams
LymeNet Contributor
Member # 17846


posted

---

Biofilm and other forms of lyme IS lyme.
Persistent lyme, not acute.

"chronic biofilm" = chronic lyme

and Yes, when our body is invaded by Bb & company,and we don't get treated right away:

It does become like a "lyme-complex" or "TBD complex" because we are likely to have at least one co-infection, viral infections rear their ugly head, lyme TRIGGERS auto-immune disorders of all sorts etc --

I originally was addressing, though, how RANDOM doctors seem to KNOW about the fact that

lyme TESTS are very inaccurate but they just sort of go on their merry way.

either because of APATHY or referring someone to an ID doctor will do no good.

because MOST ID mds RELY on inaccurate tests to diagnose....so it becomes circular. and they know they'll see that patient again(for their specialty).

with my sister---
both the ER doctor AND the cardiologist recognized that her HEART condition could be caused by lyme--

but: Nothing.

Neither run the risk of being known as 'lyme doctors' b/c of the nature of their positions (cardiology specialist and ER md).

Take your $$ to treat the symptoms,
NOT the plausible Cause.

aren't even particularly interested in the cause even though they know it's probably it.

Maybe it's that doctors don't have TIME, like someone suggested.....but still.....

BTW: I do know of a fibromyalgia md or 2 who became lyme specialists out of necessity.
The volumes of their px who actually had lyme.

and note: we run into the danger of having Lyme being called "lyme-related syndrome" or "lyme complex" (like I think Wormser or Shapiro or the other one mentioned) because of the damage Bb wreaks on our system. it's just another word for "post-lyme syndrome".

An ID doc I saw believes that the auto-immune disorders that crop up from lyme disappear when the infection is resolved (within 2-3 months after infection). I suppose provided the damage hasn't gone too far.....

---

Posts: 571 | From Massachusetts | Registered: Oct 2008 | IP: Logged |

Pinelady
Frequent Contributor (5K+ posts)
Member # 18524


posted

---

22dreams I would get copies of finding for lyme tests. Many here are told neg when if fact they have specific lyme bands that can tell a LLMD that yes it is most likely Lyme. Many docs do not know this and still go by what the cdc says. Get copies of everything....

--------------------
Suspected Lyme 07 Test neg One band migrating in IgG region
unable to identify.Igenex Jan.09IFA titer 1:40 IND
IgM neg pos
31 +++ 34 IND 39 IND 41 IND 83-93 +
DX:Neuroborreliosis


---

Posts: 5850 | From Kentucky | Registered: Dec 2008 | IP: Logged |

blaze
Unregistered



posted

---

quote:

---

They said. the IDSA is probably right. But..

But that the problem in us who are not getting well from the Lyme Treatment is that we have another condition.[/QB]

---

Yep, that's for sure...

Electro Hypersensitivity - Talking to Your Doctor
http://weepinitiative.org/talkingtoyourdoctor.pdf

Neurological: headaches, difficulty concentrating, muscle and joint pain, memory loss, dizziness, nausea, irritability, numbess, tingling, hyperactivity, altered reflexes, depression, anxiety, confusion and spatial disorientation, fatigue, weakness, tremors, muscle spasms, leg/foot pain, flu-like symptoms, fever insomnia

Cardiac: palpitations, pain or pressure in the chest, low or high blood pressure, shortness of breath, arrhythmias, slow or fast heart rate

Respiratory: sinusitis, asthma, bronchitis, pneumonia

Dermatological: skin rash, facial flushing, itching, burning, swelling of face and neck

Ophthalmologic: deteriorating vision, pain or burning in the eyes, pressure in/behind the
eyes, floaters, cataracts

Other: digestive problems, nosebleeds, swollen lymph nodes, immune abnormalities, abdominal pain, internal bleeding, loss of appetite, redistribution of metals within the body, testicular/ovarian pain/swelling, hair loss, hypoxia, ringing in the ears (tinnitis or similar chronic ear-noise), enlarged thyroid, pain in teeth, allergies, impaired sense of smell, great thirst, deteriorating fillings, frequent urination and incontinence, altered sugar metabolism, dehydration, light sensitivity, night sweats, dryness of lips, tongue, mouth, eyes

Severe reactions can include seizures, paralysis, psychosis, and stroke.

---

IP: Logged |
Contact Us | LymeNet home page | Privacy Statement

Powered by UBB.classic™ 6.7.3

---
The Lyme Disease Network is a non-profit organization funded by individual donations. If you would like to support the Network and the LymeNet system of Web services, please send your donations to:
The Lyme Disease Network of New Jersey
907 Pebble Creek Court, Pennington, NJ 08534 USA
http://www.lymenet.org/
---
Home | Flash Discussion | Support Groups | On-Line Library
Legal Resources | Medical Abstracts | Newsletter | Books
Pictures | Site Search | Links | Help/Questions
About LymeNet | Contact Us
---
© 1993-2020 The Lyme Disease Network of New Jersey, Inc.
All Rights Reserved.
Use of the LymeNet Site is subject to Terms and Conditions.
---