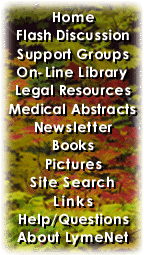 ---
LymeNet on Facebook
LymeNet on Twitter
---
---
The Lyme Disease Network receives a commission from Amazon.com for each purchase originating from this site.
When purchasing from Amazon.com, please
click here first.

Thank you.




Dedicated to the Bachmann Family


LymeNet needs your help:
LymeNet 2020 fund drive

The Lyme Disease Network is a non-profit organization funded by individual donations.

| | |
| --- | --- |
| | |
Author
Topic: How many here diagnosed with autoimmune disorder?

Haley
Frequent Contributor (1K+ posts)
Member # 22008


posted

---

Can you tell me if you have been diagnosed with an autoimmune disorder? Which one and is it getting better as you treat Lyme?

---

Posts: 2232 | From USA | Registered: Aug 2009 | IP: Logged |

Parisa
LymeNet Contributor
Member # 10526


posted

---

My husband was diagnosed with dermatomyositis but at the beginning they thought it might be mixed connective tissue disease. He has definitely improved with Lyme treatment.

Have you gone to the roadback site? Treatment of autoimmune conditions with antibiotics.

www.roadback.org

---

Posts: 984 | From San Diego | Registered: Nov 2006 | IP: Logged |

Haley
Frequent Contributor (1K+ posts)
Member # 22008


posted

---

I'm sorry your husband has that disease. I was just diagnosed with Sjogrens (sp). It sort of freaked me out. I'm sure antibiotics should do the trick. I have book marked the site.

---

Posts: 2232 | From USA | Registered: Aug 2009 | IP: Logged |

DeniseNM
LymeNet Contributor
Member # 11182


posted

---

MS, 12 years ago, and it's gotten worse. Just got the Lyme dx this summer, am having a horrid time getting started on treatment, as I keep having guts issues. Gall bladder is out, now there is some sort of "fluid buildup" where it used to be and they want to run more "tests." I'll find out more on Monday.

But - I have heard from a lot of people on this website that their MS-type stuff got lots better with Lyme treatment, so I expect mine will too, when I get goign on it.

--------------------
dx: MS in 1998
2007 - Lyme suspected
2009 - Positive Lyme, MS worse. Now: Copaxone shots for MS
gall bladder out 7/09
Ceftin, Zith, Septra
LDN
Acyclovir
Monolaurin, DHEA, Pregnonelon, Curcumin


---

Posts: 243 | From New Mexico | Registered: Feb 2007 | IP: Logged |

sapphire101
LymeNet Contributor
Member # 6638


posted

---

Yes, autoimmune hepatitis. My numbers were normal for the first time in years after treatment.

---

Posts: 495 | From KY USA | Registered: Dec 2004 | IP: Logged |

Shosty
Unregistered



posted

---

Lupus (at one point they weren't sure if it was lupus or dermatomyositis). It has gotten worse, over the years, while being treated with antibiotics for 6 years and while off (2 years).
NOrmal ANA is less than 1:40 and mine was 1:5120 and a skin biopsy showed autoimmune activity, and I get very sick in the sun.

I believe Lyme triggers autoimmune illness in some genetically predisposed people, and that antibiotics, while useful combating the original infection, don't address the autoimmunity that well. In fact, tetracyclines and certain other antibiotics are known to trigger "durg-induced lupus", which fades once the drugs are stopped.

I believe this happened to our daughter. She has never really recovered from tetracycline years ago: I think it accelerated a pre-existing problem.

---

IP: Logged |

Beautiful Disaster
LymeNet Contributor
Member # 21882


posted

---

Hashimoto's here.

--------------------
---Beautiful Disaster---
IgeneX WB: IgM: 18+, 31+, 41+, 58+, IgG: 31++, 39 IND, 41++, 31kda Epitope Test: Positive
Labcorp: IgM: 23+, 41+
No LLMD due to money since Sept 2008. Was on Doxy, I.V. Rocephin (30 days), Flagyl. Also dx with Bartonella.


---

Posts: 139 | From United States, East Coast-ish | Registered: Aug 2009 | IP: Logged |

riverpatrol
Member
Member # 12182


posted

---

Rheumatoid arthritis. All tests were positive except for ANA. Improvement in test results with lyme treatment.

---

Posts: 69 | From So Cal | Registered: Jun 2007 | IP: Logged |

massman
Unregistered



posted

---

IMO autoimmune is BS.

Body attacks itself for no reason ?
Sure, and pigs fly around the moon. Every night !

Body is attacking because it is having a tough time finding the real pathogen.

Some are coming to the conclusion that many "autoimmune disorders", like RA, ME, CFS, FM, Sjogrens and more are actually lyme. And coinfections.

---

IP: Logged |

Haley
Frequent Contributor (1K+ posts)
Member # 22008


posted

---

Thanks Everyone,

Does anyone know what these results mean:

HIgh IGM 15 (max is 10)
High SSB 104 (max is 73)
High Histone 138 (max is 96)

Shosty. I didn't know that tetracycline made things worse. I did notice that my blood work changed (in a bad way) after Flagyl. What is your ANA now. Are you still treating Lyme with Abx?

My Dr has me on Plaquinel and Zith.

Massman: You don't think that all the medicine for Lyme contributes to the autoimmune problem?

Keebler - Did you have positive blood tests for all of those autoimmune disorders or did you have a doctors opinion that that was what you had? Just curious. also, I am trying to find an alternative for my sleep meds. Definitely gives me dry mounth. I have been taking these a long time.

I believe that we can reverse this autoimmune problem. I just want to go about it the correct way.

Thanks

---

Posts: 2232 | From USA | Registered: Aug 2009 | IP: Logged |

Keebler
Honored Contributor (25K+ posts)
Member # 12673


posted

---

-
Okay, glad to see you on two meds instead of just one. With zith, you really need to take liver support such as Milk Thistle &/or NAC (N-Acetyl-Cysteine). See the supplement link by Burrascano in post below.

---

http://flash.lymenet.org/ubb/ultimatebb.php/topic/1/77321

Topic: NATURAL SLEEP - Links to articles & supplements

===========

If one has an underlying infection, the only way to reverse (or improve) an autoimmune problem, is to FIRST address the infection.

Attention to the specific problems of the immune system are helpful but, with lyme, Th1 and Th2 act differently than what non-literate lyme doctors have been taught. Therefore, a LLMD is best for guidance.

-----------------

As for tests for autoimmune disorders, with the Lupus dx in '84, it was a very high ANA, speckled and the doctor said it was most suggestive of Lupus and that there was nothing I could do about it. It would either get worse or not. (Hah! what bad advice!)
--

late 80's: Fibromyalgia

1990: CFS

With the MS "likely dx" in '94, it was based on symptoms and the doctor said he was nearly certain. He added that he thought "it would be fun to do a spinal tap (lumbar puncture) to find out for sure." He actually used the word FUN!

I knew enough by then not to trust that guy. I did not know about lyme but I knew a spinal tap would be painful and not necessarily yield results that would matter much. Good thing, because it's a very poor test for lyme, which they did not even consider in the first place.

With the Sjogren's, about '96 it was ANA positive but mostly symptoms of extreme dry eyes but no one told me that some of the sleep meds I had been talking way back then CAUSED dry eye.

Tick infection tests: '97 had 3 positive WB (but no treatment available in my state and no funds to pursue long treatment - learned about alternatives. Still working on it).

Cpn and HHV-6 tests: '08 were both positive with Cpn nearly off the charts for the active persistent part of that test.
-

[ 10-11-2009, 01:58 PM: Message edited by: Keebler ]

---

Posts: 48021 | From Tree House | Registered: Jul 2007 | IP: Logged |

Haley
Frequent Contributor (1K+ posts)
Member # 22008


posted

---

HI Keebler

My doc didn't diagnose me with autoimmune disorder when I had a high ANA. It was the combination of High SSB and high Histone and high IGM. Sjogren's is not just a matter of dry mouth but can attack all of you organs. It can be very serious.

An LLMD told me I should go on Minocyclin. My Dr. said that would make it much worse.

confused

So confused.

---

Posts: 2232 | From USA | Registered: Aug 2009 | IP: Logged |

Keebler
Honored Contributor (25K+ posts)
Member # 12673


posted

---

-
Haley,

This can take awhile.

He may have a point about minocycline. Not all abx work well for everyone. And some with immune problems can have a worsening - but the big question is: it that a HERX reaction because the abx is attacking infection? Often it is.


So, while it is commonly known to doctors that there can be such a thing as drug-related lupus induced by minocycline treatment, it takes a truly brilliant doctor to distinguish between that or if that reaction is a herx in a "lupus" patient who had undiagnosed lyme.


Did the LLMD say mino just by itself? Usually, there is a whole protocol around that to help your body work better to handle the meds. Were there any alternatives to mino offered? Did the LLMD know about your immune tests? You can certainly treat lyme without using mino. Here, I would heed your current doctor's caution and steer to the other choices.

So, then you are not being treated by a LLMD now?

Your current doctor, though, what does he know about lyme in its chronic state? Is he an ILADS member? Or does he go by the IDSA view of lyme? Sounds like he's somewhere in between.

Did you get tested for co-infections?

If he is a rheumatologist, they generally are not familiar with the ILADS research. It's important to know that whoever treats you has the most thorough knowledge base on each of the tick-borne infections as well as how the immune system acts in patients with such infection.

You can ask him where he learned about lyme, who he admires in the tick-borne research field, etc. This is something every patient has the right to do.

Remember that such infections can produce the results that your tests have shown. Still, of course, a doctor who is educated in all aspects of this (infection and immune system) would be the best. I hope this works out for you.
-

---

Posts: 48021 | From Tree House | Registered: Jul 2007 | IP: Logged |

massman
Unregistered



posted

---

Not sure if all the meds affect the autoimmune part but they certainly sress the beejeepers out of liver, kidneys, bowel and more.

---

IP: Logged |

LymedOut
LymeNet Contributor
Member # 22351


posted

---

I have Hashimotos. It was thought at the beginning that I had autoimmune hepatitis. My liver enzymes are always elevated and my ANA was abnormal. I was supposed to do a liver biopsy, but declined. I'm hoping treatment helps me as well.

I've had untra sounds and MRI's of my liver and they were all fine. I'm about to do another ultra sound before I get put on a picc line.

--------------------
The advice I give, should not be considered medical advice. My opinion comes from years of research and experience.


---

Posts: 233 | From Somewhere | Registered: Sep 2009 | IP: Logged |

Marz
Frequent Contributor (1K+ posts)
Member # 3446


posted

---

A good book is The Road Back by Thomas MacPherson Brown who believes that "autoimmune" disease is caused by a bacteria and can be treated with antibiotics.

www.roadback.org

I believe that I was fortunate when I was very sick when I was 13 and in the hospital for 2 weeks I was given penicillan for rheumatic fever. At the end of my stay, they decided no, I had juvenile rheumatoid arthritis.

I'm thinking if they thought I had JRA first they might not have given me an antibiotic and I might still be sick.

Haley, I know you only said "diagnosed" with autoimmune disase and not that you believe your body is attacking itself for no reason. But I thought the book might be of interest to some anyway.

---

Posts: 1292 | From USA | Registered: Dec 2002 | IP: Logged |

cactus
Frequent Contributor (1K+ posts)
Member # 7347


posted

---

Not including the many misdiagnoses prior to Lyme treatment (MS, Lupus, etc)...

Since beginning Lyme treatment I've developed Hashimoto's and Addison's Disease (not sure Addison's is auto-immune though).

--------------------
"Did you ever stop to think, and forget to start again?" - A.A. Milne


---

Posts: 1987 | From No. VA | Registered: May 2005 | IP: Logged |

22dreams
LymeNet Contributor
Member # 17846


posted

---

Hashimotos + what would probably be considered CIDP (not officially diagnosed yet).

2 of 3 thyroid antibodies presence tested for came back elevated.

Prior to lyme dx, I knew I had a thyroid problem but given the conventional testing (TSH), I was deemed within normal limits.

even after weird weight loss/gain issues, the typical thyroid 'puff' by the ankle + a period of menstrual irregularity. The fact that I didn't lose weight at all after 7 months of very low carb eating....hello.

Dx - "stress". LOL.

lyme doctor - Viola!
CLINICAL thyroid disease diagnosis.

low-dose armour (then the antibody tests).
Fatigue improvement (combined with other protocols), weight loss.

I only have 3 wks of Nature-throid Rx left and no more doctor. So we'll see what that brings (back) if an integrative Md who takes insurance isn't uncovered in the search.

Oh--and lyme/ID doc says that when the infection is eradicated, she sees the autoimmune response dissipate within 2-3 months following. The body goes back to stasis.

Of course the Doctor is well-aware of the limitations in tx for most people b/c of insurance coverage (or lack there of).

---

Posts: 571 | From Massachusetts | Registered: Oct 2008 | IP: Logged |

Pinelady
Frequent Contributor (5K+ posts)
Member # 18524


posted

---

Hello Haley. This question is so complex you would need to devote a book to the subject. But yes many have dx. of autoimmune and many have Ana with no autoimmune. Or is it that it is just unfound. See what I mean. You do the best you can with the few results you have.

--------------------
Suspected Lyme 07 Test neg One band migrating in IgG region
unable to identify.Igenex Jan.09IFA titer 1:40 IND
IgM neg pos
31 +++ 34 IND 39 IND 41 IND 83-93 +
DX:Neuroborreliosis


---

Posts: 5850 | From Kentucky | Registered: Dec 2008 | IP: Logged |

nenet
Frequent Contributor (1K+ posts)
Member # 13174


posted

---

Sero-negative RA MISdiagnosis, diagnosis was in 2005 I think. Lyme diagnosis in late 2007.

Yes, with Lyme treatment (Ceftin) the swelling and pain in my joints has gone down quite a bit. I used to have times where I could not stand, or use my hands for typing or writing, etc. My joint pain and inflammation/swelling is travelling and body-wide. Jaw, neck, spine, shoulders, elbows, wrists, fingers, hands, hips, knees, and feet/toes. It is pretty much constant in my hands/fingers.

During my Lyme flares or Herxes, I still sometimes have flares of joint pain that are very painful, but the chronic pain and swelling and heat are greatly reduced. I should point out that my levels of pain before treatment but on pain medicine were 8 - 10 on an almost daily basis for a while (2 + years).

The inability to walk would occur when my hip and or knee joints would swell and be at level 10. Near the beginning my joint pain was so intense it felt like I had been hooked up to the rack and my joints were being pulled apart.

Now my fingers are measurably smaller around, my joints are smaller (the knuckle on my wedding ring finger used to be too inflamed to get my ring past, now I can get the ring past the knuckle, and almost wear it again). My daily joint pain while on pain medication is about a 4 to 6, during a *bad* flare around 7-10.

Many days I don't even notice my joint pain at all, but I still take the pain med for my other types of pain, so I can't tell if it's completely gone on those days.

[ 10-11-2009, 06:54 PM: Message edited by: nenet ]

--------------------
Dr. C's Western Blot Explanation

Lymenet Success Stories

ILADS Treatment Guidelines

Medical & Scientific Literature on Lyme

"Long-Term Antibiotic Therapy Improves Persistent Symptoms Associated with Lyme Disease"


---

Posts: 1176 | From KY | Registered: Sep 2007 | IP: Logged |

Shosty
Unregistered



posted

---

Sometimes the autoimmune attack continues after the infection is gone. People here don't often believe this. For an example, our daughter got coxsackie virus at age 4, which triggered an autoimmune attack on insulin-producing cells in her pancreas. If new cells are transplanted or grown in her pancreas, that attack will still happen today, 16 years later. This is called type 1 diabetes.

The truth in all these situations is probably varied, and certainly is murky. All any of us can do is stumble around in the dark, frankly, and try to take the best next step we can.

I do want to clarify that although minocycline is one of the drugs that can induce (temporary) lupus, the lupus does go away after the drug is stopped. Whether or not mino aggravates existing lupus is unclear: afterall, on the roadback site, mino is the antibiotic used to treat RA.

If anyone is trying to decide what to do and whether to treat Lyme or autoimmune illness, it makes sense to first try antibiotics, for maybe up to 2 years, and see what happens. After that, if no effects have been seen, it makes sense to treat it as lupus.

The thing is, Plaquenil is the first line of defense with lupus, and is used for Lyme, so it really is not a conflict anyway, at least in the beginning.

---

IP: Logged |

lightparfait
Frequent Contributor (1K+ posts)
Member # 22022


posted

---

Thanks for sharing all this great info about autoimmune conditions we are all suffering with.

AFater two years of lyme treatments...and now detox type protocols, many of my autoimmune symptoms have lessened.

I am getting my blood work done this week, to see if my ANA had changed, and if any auto Immune conditins persist. My hope all along with lyme treatment, was athat the Lupus would go away...and therefore I could say it was a false diagnosis. I"m praying!

This was the first summer in many that I could go in the sun, at the beach, without a reaction!!!
Also other mild symptoms have been improving.
I do feel, that getting the body load down...removing bacteria with the antibiotics....then switching to naturally working on ridding metals, candida, mold fungus, and parasites has also aided my feeling of improved health.

I also am doing the Allergie Immune Therapy after getting off the antibiotics when my co-infections did not test positive anymore. Several months after that, my lyme does not test positive either! I believe the combination of all the above has worked and is working for me.

I will post when I get my new blood work.

---

Posts: 1009 | From NJ | Registered: Aug 2009 | IP: Logged |

Shosty
Unregistered



posted

---

My sun sickness developed while ON antibiotics, and just seems to progress each year, regardless of whether I am off or on antibiotics.

I also did a lot of the work on immune system, detoxification, treatment of mold and yeast etc. that others have mentioned, with no effect. Dealing with food allergies did help some of my paresthesias though certainly not my sun sickness or pain.

One important thing to note is that with lupus or other autoimmune conditions, the ANA does not really give information on the current state of the illness, because, they say, it does not correlate with symptoms.

I personally have found that I do have the highest ANA when I am most sick, but MD's do not care, and, once you have a positive ANA, they tend not to test it again, especially if you had a very high one at some point.

With Lyme, my impression is that the ANA level DOES correlate with severity of illness, and it tends to come down as the infection is treated.

Again,for me this is not true: mine went up in the course of 6 years of antibiotics, not down.

ANA can be triggered by infections of course, but it can also be part of some other systemic process that appears to still be a mystery to medical experts. (It can also be positive in perfectly healthy people for genetic reasons)

---

IP: Logged |

lightparfait
Frequent Contributor (1K+ posts)
Member # 22022


posted

---

HOw can one tell if Lupus is still active? I am not on plaquenal any longer, as of my own choice.

My LLMD wanted me to stay on it. NOt for any specific reason...just because of my ANA numbers at the time. I havenot been on it for almost a year now. Do not want to start again, as I am feeling pretty good! But do not want to be unprotected from it progressing if it can?

This is a hard one to know what to do!

---

Posts: 1009 | From NJ | Registered: Aug 2009 | IP: Logged |

Piegirl
LymeNet Contributor
Member # 14786


posted

---

Very good topic! My illness mostly started eight years ago with wide spread joint pain. It started in my fingers (very swollen, red, couldn't bend my fingers to make a fist) and spread to my wrists, jaw, shoulders, hips, knees, ankles, and toes within a few months.

At this time I had a borderline high ANA and a raised CRP. Nothing else showed up in my blood work so the Rhemy labeled me with Inflamatory Arthritis, at age 21. No family history of arthritis. I was confused as to why I would all of a sudden have these problems.

This kind of wide spread joint pain went on for three years, no other symtoms except some tiredness. After a job change (took a more stressful job), my joint pain suddenly improved to the point where it was not bothersome. The swelling in my fingers went away and for the first time in three years I was able to make a fist with my hands.

However, as this was happening I developed almost every neuro symptom there is of Lyme. At this time I had my ANA tested again and it was completely normal! So weird! This was before any treatment. It is like my immune system changed what it was doing on its own.

I'm still confused as to why and how it happened this way. I will say with as sick as I had gotten from the neuro symtoms, I would go back to having just joint pain (even with as painful as it was) in a heartbeat. The neuro stuff I have had is awful. At least I felt normal except for pain. Oh, and I was recently diagnosed with Hashimoto's. Why does everything that we deal with have to be so confusing.

Mary

---

Posts: 161 | From AZ | Registered: Feb 2008 | IP: Logged |

Keebler
Honored Contributor (25K+ posts)
Member # 12673


posted

---

-
Piegirl,

Most lyme patients have thyroid dysfunction (as well as other endocrine disorders). It just goes with the territory. Still, with treatment for infection, and endocrine support, the rest of the body can work better.
-

[ 10-12-2009, 03:37 PM: Message edited by: Keebler ]

---

Posts: 48021 | From Tree House | Registered: Jul 2007 | IP: Logged |

Shosty
Unregistered



posted

---

lightparfait, I think it is okay to be off Plaquenil if you are feeling fine...lupus can come and go, and even be mostly in remission...go back on it if you start having problems.

---

IP: Logged |
Contact Us | LymeNet home page | Privacy Statement

Powered by UBB.classic™ 6.7.3

---
The Lyme Disease Network is a non-profit organization funded by individual donations. If you would like to support the Network and the LymeNet system of Web services, please send your donations to:
The Lyme Disease Network of New Jersey
907 Pebble Creek Court, Pennington, NJ 08534 USA
http://www.lymenet.org/
---
Home | Flash Discussion | Support Groups | On-Line Library
Legal Resources | Medical Abstracts | Newsletter | Books
Pictures | Site Search | Links | Help/Questions
About LymeNet | Contact Us
---
© 1993-2020 The Lyme Disease Network of New Jersey, Inc.
All Rights Reserved.
Use of the LymeNet Site is subject to Terms and Conditions.
---