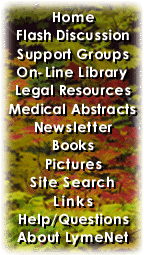 ---
LymeNet on Facebook
LymeNet on Twitter
---
---
The Lyme Disease Network receives a commission from Amazon.com for each purchase originating from this site.
When purchasing from Amazon.com, please
click here first.

Thank you.




Dedicated to the Bachmann Family


LymeNet needs your help:
LymeNet 2020 fund drive

The Lyme Disease Network is a non-profit organization funded by individual donations.

| | |
| --- | --- |
| | |
Author
Topic: Need Help!! VACCINES for my baby??

luvdogs
LymeNet Contributor
Member # 9507


posted

---

Hi all - I am scared about vaccinating my 4 month old. The thought terrifies me! He is healthy and happy now and he smiles and laughs. I feel so lucky to have had a healthy baby despite my illness.

Thus far he has tested negative for Lyme and TBDs at brith (PCR DNA), but I do not want to take his health for granted and I know that it is still very precarious. I am afraid that vaccination could be a triggering event.

His pediatrician has been understanding thus far in my refusal to vaccinate.

Both the father and I are late-stage Lyme (and co's) patients with compromised immune systems (IgG 1 and 3) and overall low globulin levels and low wbcs from Lyme. I can't help but to wonder if some immune issue has passed onto our baby.

Any ideas on how to approach this would be greatly appreciated.

I would particularly appreciate any insights from Dr. J. patients on his vaccine philosophy?

-spacing out vaccines?
-certain ones that are discouraged altogether?
-which ones are worse for Lyme families?.
-MMR to be avoided or just separated?
-best ages to begin them?

Are there rules regarding vaccinations and school / daycare?

(P.M.s would be the best route for DR J references.)

Any resources are also greatly appreciated!
Thank you so much!

[ 10-14-2009, 11:28 PM: Message edited by: luvdogs ]

---

Posts: 584 | From Rhode Island | Registered: Jun 2006 | IP: Logged |

Pinelady
Frequent Contributor (5K+ posts)
Member # 18524


posted

---

Unfortunately Luvdogs no one can tell you what to do. There are titer tests you can have run to

predict susceptibility. I would suggest research each vaccine individually as to manufacturing,

reactions listed, histories of hot lots and history of long time followup.


If you do decide to go ahead I would recommend individuals if you can find them. Sorry I cannot offer more.

--------------------
Suspected Lyme 07 Test neg One band migrating in IgG region
unable to identify.Igenex Jan.09IFA titer 1:40 IND
IgM neg pos
31 +++ 34 IND 39 IND 41 IND 83-93 +
DX:Neuroborreliosis


---

Posts: 5850 | From Kentucky | Registered: Dec 2008 | IP: Logged |

bettyg
Unregistered



posted

---

hi luvdogs and lttle liam

sorry i have no personal experience but giving you my moral support and a boost to the top of questions for those knowledgeable parents with toddlers like yours.

give him an extra hug/kiss for me will you?

---

IP: Logged |

Hoosiers51
Frequent Contributor (1K+ posts)
Member # 15759


posted

---

Hey!!!

Hmmm...well perhaps you could wait until he is a few months older (I want to say the immune system starts getting stronger at 6 months for infants? That is per my friend who said she won't vaccinate her daughter until 6 months), or research when he should be showing good IgG subclass response, and test him at that point, to see for yourself how strong his immune system is.

I wouldn't conclude that just because you guys have low immunity, that he does. But I guess an immunologist would be able to answer that better than me! I'm just speculating.

Personally, I would hold off on the vaccines longer if you can. Especially if you are still breastfeeding, because what if he gets exposed to a TBD that way? You want his immune system in tip-top shape, not compromised from the vaccines, if that were to happen.

I would be VERY cautious with the DPT (diptheria pertussis tetanus), because I had a horrible reaction to that one, and I know other Lymies who have too.

Of course, not being a mother, it might be hard for me to relate to being worried about the not vaccinating your child.

But at the least, I'd wait awhile longer.

Hope that helps a little. Good luck!!

---

Posts: 4590 | From Midwest | Registered: Jun 2008 | IP: Logged |

bettyg
Unregistered



posted

---

i'm back; wanted to relay this true experience my husband and his 1st wife experienced...


their 3 yr. old daughter got a SMALL POX vaccination; it went into her system and killed her within 3 days!! just passing this along for what it's worth.

left a lifetime of sorrow/grief for hubby and his ex-wife.

---

IP: Logged |

Topaz
LymeNet Contributor
Member # 20216


posted

---

Whether or not to immunize is such a personal decision. And definitely not an easy one. It was honestly one of the most difficult and stressful times in my life.

That being said, I decided against for my children.

This decision was not made lightly. I did much research, both for and against, then went with my gut.

It certainly hasn't been the easiest way to go and in my state, I am in the minority. I often have to defend my decision and work around the system.

Good luck and trust your mommy instincts. You know your children better than anyone.

---

Posts: 423 | From Upstate NY | Registered: May 2009 | IP: Logged |

sometimesdilly
Frequent Contributor (1K+ posts)
Member # 9982


posted

---

Louise-

even if you were 100 percent healthy and had no worries whatsoever about your babe, IMO, i'd say the same thing about one part of your question-

SPACE THE VACS OUT.

There is no reason i've ever been able to figure out for whamming teensy infants with multi-vacs other than for the med industry's convenience.

If it eases your mind at all, my son never had a bad response to any of the vacs, even though he WAS born with at least Lyme and babs and we like lambs to the slaughter never questioned the vac assaults.


To answer another part of your question. YES, there absolutely are rules about vacs and daycare/preschool/school.

In this state parents MUST produce evidence of vacs- (that means all the ones that are required for that child's age) before admission to any of those places.

Daycare providers can lose their license for accepting an unvaccinated child.

Lots of parents and tons of info out there tell you to be scared out of your bajeebers about vacs.

Again IMO, now that they've cleaned up the mercury problem (black humor there)I don't think there's a responsible and good enough reason for not getting the vacs.

The diseases protected against are far worse than the chance you take with vacs.

Call Dr. J, though, if you are worried. He'd have th best answer for you, and i'm sure the question comes up all the time.

miss you! love, Thelma


---

Posts: 2505 | From lost in the maze | Registered: Aug 2006 | IP: Logged |

Starfall1969
Frequent Contributor (1K+ posts)
Member # 17353


posted

---

There are websites you can look into for the vaccines; I think one is www.mercola.com.

I vaccinated my boys (except the almost 3 year old has not had his MMR yet; for some reason I have become VERY skittish with him, call it mother's intuition or something).

Neither had any serious issues that I can prove, although I swear my older son started having behavior issues after his MMR at 18 months. And he also had a bad local reaction to the second chicken pox vaccine--his leg swelled horribly.

All you can really do is reserach vaccines yourself, and if you're really skittish about it, space them out as much as possible and especially have the MMR split up, which is what I may end up doing.

Good luck, and give Liam some hugs and kisses!

---

Posts: 1682 | From Dillsburg, PA | Registered: Sep 2008 | IP: Logged |

lightparfait
Frequent Contributor (1K+ posts)
Member # 22022


posted

---

I recommend talking to people who understand autism in children, and get their recommendations.

As you dont' have a positive lyme diagnosis for your baby, there is still a chance of getting some sort of reaction with the antibiotics due to underlying conditions that are not showing now.

Since you and your husband do have lyme, you two most likely have had underlying problems that could be related to environmental toxins, plastics, heavy metals, and pathogens lurking that are passed to your child in the DNA.

You can be wise and take precautions, and space out the vaccines to not give too much body burden at once to you babies immune system. I do not now the latest on this, but many in the autism community do! I would go this route.

Also I would have my baby start the allergie -immun drops along with this, most likely at one year old. This gets rid of inherited DNA sensitivites that are pre-cursers to chronic illness. Look into this on this forum for your babies future protection. Many here are doing this for their children eith great success and like me , wish we knew about this when ours was a toddler, and spaced out certain vaccines, and did not get others!

Best wishes...you are very wise parents and you do have many wonderful things to look forward to!

---

Posts: 1009 | From NJ | Registered: Aug 2009 | IP: Logged |

massman
Unregistered



posted

---

Only two states require vaccines if kids are to go to public schools or daycare.

WV is one for sure and the other, I think, is Mississippi. (SP ?)

In most states there are religious and / or philosophical objections.

Google for Barbara Loe Fisher as she runs the largest vaccine info center where you can probably grt copies of the law in your state.

IME many officials and teachers are really unaware of the laws and insist that all kids have to have them. Not so.

---

IP: Logged |

tick battler
Frequent Contributor (1K+ posts)
Member # 21113


posted

---

I agree with lightparfait...I would research the autism field to see what their stance is on this.

Of course this is a very personal decision, but if I had to do it all over again, I would not vaccinate at so young of an age, and definitely not so many at once.

I did vaccinate my twin boys until I discovered their lyme last year at age 4. I have also become skittish about vaccines now and do not plan to continue with theirs.

And I stopped my 3 year old daughter's after giving her the measles part of her MMR (I had asked to have it split up). She had a scary reaction and lost her balance and coordination for about 24 hours after the vaccine. Thank goodness I had not given her the entire MMR at once. I didn't know she was infected with Lyme at the time. She appeared perfectly healthy and had no symptoms.

I have read some things on this board that have raised my concerns about vaccines. If I remember correctly (don't quote me), one person on here said that in Japan they don't vaccinate until after age 2 or something and the autism rate is much, much lower than here. I am not sure if this is true, as I never followed up on it, but if it is, that to me is significant. There was also another stat about the amish, who don't vaccinate at all, but I can't remember what it was. You might be able to find the thread on here. It was within the past month or two.

Good luck with your decision. It is a very difficult one.

tickbattler

---

Posts: 1763 | From Malvern, PA | Registered: Jul 2009 | IP: Logged |

massman
Unregistered



posted

---

Good memory tickbattler !

I believe it was Robert Kennedy Jr. who did the research and article about amish having about zero cases.

I worked with a DAN (Defeat Autism Now) doc who did not hesitate at all when I asked about the possible connection. He immediately said yes.

Search all of the above and when the articles are found print a few copies and give them to docs but wear your helmet !

---

IP: Logged |

maureen2174
LymeNet Contributor
Member # 11471


posted

---

My son is 4. I did some vaccines, but spaced them out and did not start vaccines until he was 7 months old (except for Hep B which I did at 2 weeks old at his pediatrician visit, but I did not know any better at the time).

I stopped all vaccines at 2 after doing much more research on them and learning that I have lyme disease (didn't know, although I am pretty sure I had it before even getting pregnant).

I am going to try to get pregnant in the next couple of months and my next baby will not receive any vaccinations.

I have researched a lot and will never, ever take that chance. My son has a peanut allergy, which I think was attributed to vaccinations, although i will never know for sure.

I think it is disgusting how much the gov't is pushing vaccinations on children. I will never be misled again or allow my son or any future children (hoping for 2 more) to be injected with these poisons. I just wish I knew then, what I know now, but that is the case with many I am sure.

I too thought "it was a requirement for school" and that was the only reason why I was doing it, I felt sick after each and every shot my son got.

Look at how many kids have food allergies now- 1 out of 22 kids have a peanut allergy. Look at asthma rates, ADD, ADHD, autism, etc. Look at how many more vaccines our children are getting than we got. How many toxins can one body take, how many times can the immune system be supercharged after vaccination before a problem happens??? What is the limit of one's body? We just don't know and to "experiment" with these babies in my opinion, is just wrong.

---

Posts: 871 | From NJ | Registered: Mar 2007 | IP: Logged |

maureen2174
LymeNet Contributor
Member # 11471


posted

---

I also wanted to say that the Hep B vaccine was actually meant for prostitutes and IV drug users. These people were not purchasing the vaccine though, so the gov't decided to put it in the vaccine schedule for our infants- why????

In fact, it is one of the first vaccines given to babies, in most cases before they even leave the hospital. I think that by age 8, only 50% of these babies given the shot will actually have antibodies for Hep B, meaning the vaccine isn't even effective. So, unless your baby is going to be using IV drugs and having unprotected sex before age 8, why bother with the vaccine?????

I got the chicken pox vaccine (again before knowing any better) when it came out because I knew I would want children and it would be dangerous to get chicken pox if I was pregnant. When I was pregnant, I had my pregnancy blood work done and had no immunity to chicken pox, even though I only got the vaccine a few years before that.

The OBGYN was shocked I got the vaccine and told me it didn't work for me.

My point is how do we even know that these vaccines protect our kids and for how long? They never even do follow up tests to see the effectiveness in our children? No, instead just keep giving boosters, over and over. Ridiculous!!!!

Before a booster, they should do titers to see the effectiveness, but they won't even bother.

Sorry- it all makes me so ANGRY!!!!!

---

Posts: 871 | From NJ | Registered: Mar 2007 | IP: Logged |

sometimesdilly
Frequent Contributor (1K+ posts)
Member # 9982


posted

---

Japan's policy (mentioned above, but the info you weren't sure about, Tickbattler, wasn't accurate):


Appropriate Ages for Vaccinations
http://www.hyogo-ip.or.jp/hiaf/eg/hlgmne/31.htm

Polio
(live attenuated vaccine) From age 3-90 months twice (at more than 6
week intervals)
------------------------------------
Diptheria
(D)

Pertussis
(P)

Tetanus Toxoid
(T)

(DPT vaccine) Stage 1(DPT triple combined)

First injectionfrom age 3-90 months, three times (at 3-8 week intervals)

Booster injection from age 3-90 months (after first injection wait
more than 6 months), once

Stage 2 (DT double combined)
Once between age 11 and 12 From age 3-12 months

After first injection complated
From age 12-18 months

Sixth year of elementary school (Age 12)
------------------------------------------------------------------

Measles
(live attenuated vaccine) From age 12-90 months once

--------------------------------------------------------------------

Rubella
(live attenuated vaccine) From age 12-90 months once

---------------------------------------------------------------------

Japanese Encephalitis
(Japanese encephalitis vaccine) Stage 1
First injection from age age 6-90 months, twice (at 1-4 week intervals)

Booster injection from age age 6-90 months(after the first injection,
generally one year later), once

Stage 2 From age 9-13, once

Stage 3From age 14-15, once Age 3

Age 4

4th year of elementary school(Age 9)

2nd year of junior high school (Age 14)

--------------------------------------------------------------------------

Tuberculosis (BCG)

1. Before age 4
2. First year of elementary school
3. Second year of elementary school
(only for those vaccinated in first year of elementary school)
4. First year of junior high school
5. Second year of junior high school
(only for those vaccinated in first year of junior high school)

*Those who react negatively to tuberculin in 1-5 are vaccinated.
(those whose red patch is less than 9mm diameter are judged as
reacting negatively)

Notes on the Japanese Vaccination Process-------------

Immunizations

"Preventive inoculations (immunizations) for diphtheria, whooping
cough, measles and Japanese encephalitis are given at the Public
Hygiene Section of municipal offices. The fee and kinds of
immunizations available depend on the municipal office. Foreign
residents need to present their Certificate of Alien Registration. "
http://www.hyogo-ip.or.jp/hiaf/eg/hlgmne/32.htm


"There are 2 ways of taking vaccinations in Japan - Regular
vaccinations that the government encourages and Optional ones that the
parents' decide to give in addition to the regular ones. "

http://home.e08.itscom.net/kosodate/3.Health%20Care%20Service.htm

"4 months old children are vaccinated against BCG and Polio at 4
months-old check-up in the Public Health Center."
http://home.e08.itscom.net/kosodate/3.Health%20Care%20Service.htm


US vaccination Guidelines------------------------------

U.S. Vaccination Schedule
http://www.fda.gov/opacom/lowlit/shots.html

Includes:

*diphtheria
* whooping cough (pertussis)
* tetanus
* polio
* measles
* mumps
* German measles (rubella)
* chickenpox (varicella)
* hepatitis B
* HIB (haemophilus influenzae type B)
* pneumococcal diseases

"In most of the United States, many of these vaccinations are required
for school or day care.

The first shots for most of these illnesses
should be given when the child is still a baby.

This is important
because most of the diseases these vaccines protect your child against
can be serious or even deadly."


--------------------------Guideline Differences------------------------------------


I. Vaccinations recommended in Japan but not in the United States

a. Tuberculosis
b. Japanese Encephalitis

II. Japanese guidelines do not include the following vaccinations that
ARE recommended in the United States:

a. hepatitis B
b. HIB (haemophilus influenzae type B)
c. chickenpox (varicella)

However, Japan does note that the following vaccinations are optional,
but available:

"Optional vaccinations (Charged): Influenza, Mumps, Chickenpox, B-type Hepatitis"
http://home.e08.itscom.net/kosodate/3.Health%20Care%20Service.htm#4

Aside from these differences, the timetables for the common
vaccinations are similar.

The DPT guidelines are almost the same.

The Polio guidelines are different, with the U.S. requiring 3 shots early
(as opposed to 2 in Japan) and one at 4-6 years old, whereas Japan
makes no recommendation of a Polio vaccine beyond 18 months.

For measles and rubella , the U.S. recommends a booster shot at 4-6
years old, whereas Japan just recommends 1 shot between about 1-2
years.

The differences in these guidelines are primarily due to the varied
risks of disease spread in these two different regions.

The inclusion of TB and Japanese Encephalitis vaccinations in Japan are primarily
because there is a greater risk of spread of these diseases in that
country.

TubercuIosis

"The number of cases of tuberculosis (TB) is decreasing compared to
past years, but still nowadays it is the biggest infectious disease in
Japan.

If it is not detected in time there is a great possibility that
family and acquaintances may be infected."
http://www.hyogo-ip.or.jp/hiaf/eg/hlgmne/32.htm

TB is less of a threat in the United States, and because of the
potential risk of side effects from the vaccine, it has not been
included in the recommended guidelines.

The same can be said for
Japanese Encephalitis, which is primarily isolated to the region.

Similarly, hepatitis B, haemophilus influenzae and chickenpox are more
prevelant in the U.S. than in Japan and therefore warrant
recommendation.

It was noted by one source that Japan changed the start time of
vaccinating for DPT from 3 months to 2 years

because of a potential
correlation between the vaccine and SIDS.

<<Japan changed the start time for vaccinating from 3 months to two
years and straight away their SIDS rate plummeted?

"Delay of DPT
immunisation until 2 years of age in Japan has resulted in a dramatic
decline in adverse side effects.

In the period of 1970-1974, when DPT
vaccination was begun at 3 to 5 months of age, the Japanese national
compensation system paid out claims for 57 permanent severe damage
vaccine cases, and 37 deaths.

During the ensuing six year period
1975-1980, when DPT injections were delayed to 24 months of age,
severe reactions from the vaccine were reduced to a total of eight
with three deaths.

This represents an 85 to 90 percent reduction in
severe cases of damage and death." Raymond Obomsawin, M.D.>>
http://www.shirleys-wellness-cafe.com/vaccine_sids.htm

This policy change may have been related to this study in Japan:
http://www.garynull.com/Documents/Vaccines/VaccineScene.htm

"In a study from Japan, immunizations (DPT, DT, or BCG) were given to
61 children with a history of febrile seizures or epilepsy, who had
not had a seizure for one year.

Following immunizations there was a
significant increase in "epileptic spikes" in post-vaccine
electroencephalograms as compared with those done preceding
vaccines.(9)"

The updated U.S. recommendations continue to suggest that the DPT
vaccination be administered earlier.

The U.S. specifically notes that there in no connection between
vaccinations and SIDS.

"Several studies have demonstrated no association between receiving
infant immunizations and SIDS."
http://www.hhs.gov/nvpo/factsheets/fs_tableVII_doc5.htm

---

Posts: 2505 | From lost in the maze | Registered: Aug 2006 | IP: Logged |

luvs2ride
Frequent Contributor (1K+ posts)
Member # 8090


posted

---

Oh Betty! How awful for your husband. There are risks with the vaccines and risks with the viruses.

My family has chosen to skip all vaccines possible, eat, exercise and rest for optimal health and take our chances with the viruses.

Both choices have risks and individual freedom to choose should be defended by everyone.

--------------------
When the Power of Love overcomes the Love of Power, there will be Peace.


---

Posts: 3038 | From america | Registered: Oct 2005 | IP: Logged |

tick battler
Frequent Contributor (1K+ posts)
Member # 21113


posted

---

dill - thanks for finding this. Now I remember - it was the SIDS issue that I found remarkable in Japan. That is enough for me to take notice.

I think it was the Amish who I was told have a lower autism rate and who don't get vaccinated. (massman, was this your post?) This would be another point worth researching to see if there is any data on this.

I have asked in the past and I believe Dr. J is generally in support of vaccines and even getting the swine flu and regular flu shots, at least he was for my children. I never got into the details of whether he likes to space them out or give them later, as I did more research and came to my own decision.

tickbattler

---

Posts: 1763 | From Malvern, PA | Registered: Jul 2009 | IP: Logged |

massman
Unregistered



posted

---

Was my post and the Japan connection was for SIDS.

Sorry about any confusion bacause of that.

All excellent points maureen.
Interesting about the hep B for sure.

It is my understanding that many congressman when they retire or do not get elected again are hired by drug companies.

---

IP: Logged |

peacemama
LymeNet Contributor
Member # 17666


posted

---

I have never vaccinated my sons. Being born to a mom who has lyme is enough of a challenge to a little system. I believe they would have had full blown "autism" rather than just irritating sensory issues.

I have NEVER had any regrets. And I sent aidan to a farm pre-school -- shoveling animal manure with rusty shovels.

Sometimes you have to trust yourself. Don't vaccinate out of fear. Get as much information as you need to make your decision.

mothering.com is a great resource.

---

Posts: 564 | From Tick Hell | Registered: Oct 2008 | IP: Logged |

opus2828
LymeNet Contributor
Member # 15407


posted

---

I have two congential lyme kids and I did the polio vax when they were babies, but that's all.

After they turn 12 mos old, they only need one dose of the HiB vax to be covered so we did that.

My daughter when she was 6 did the DTaP series and came through fine.

My son is 4 and he has not had any others yet.

We asked Dr. J. and were told that he believes in vaccinations.

But, I think that as a parent, you know best.

I have had no problems with the schools.

I get their physicals done at a local walk-in where there is no record of any vaxes and we declare a religious exemption.

I do plan on continuing to complete the DTaP with my son eventually and to try to get the MMR separated for when they are older.

I do not plan on doing chickenpox (unless they are teenagers and still didn't get it), hep A or B or Prevnar.

---

Posts: 581 | From CT | Registered: May 2008 | IP: Logged |

Keebler
Honored Contributor (25K+ posts)
Member # 12673


posted

---

-

As many good replies above state, It is not just the vaccine but what else is in there. Mercury is just one concern. There are others.

However, even Jenny McCarthy, with her autisim group, is calling for making SAFE vaccines.

Some naturopathic doctors who are also educated with homeoopathy have some methods to consider in this area. I'd sure explore that.
-

---

Posts: 48021 | From Tree House | Registered: Jul 2007 | IP: Logged |

sixgoofykids
Moderator
Member # 11141


posted

---

Check out www.nvic.org

I find their information to be balanced and informative.

--------------------
sixgoofykids.blogspot.com


---

Posts: 13449 | From Ohio | Registered: Feb 2007 | IP: Logged |

Cass A
Frequent Contributor (1K+ posts)
Member # 11134


posted

---

I second the National Vaccine Information Center (NVIC) suggestion! These women have been at it for over 30 years.

Personally, my son had a terrible reaction to the MMR vaccine, and nearly died. What fun trying to drive him to the ER!!!

Best,

Cass A

---

Posts: 1245 | From Thousand Oaks, CA | Registered: Feb 2007 | IP: Logged |

luvdogs
LymeNet Contributor
Member # 9507


posted

---

OMG you guys are wonderful! I have not been able to check my mail or really go online for days and I can't believe all of the responses! THANK YOU SO MUCH! I am sure that this will also help future parents who are trying to figure out what to do for their kids!

And for those who have pmed me - I am trying to get back to people asap! I have had the father's parents in for days to meet Liam for the first time and it has been nonstop!

Thank you all!!!

---

Posts: 584 | From Rhode Island | Registered: Jun 2006 | IP: Logged |
Contact Us | LymeNet home page | Privacy Statement

Powered by UBB.classic™ 6.7.3

---
The Lyme Disease Network is a non-profit organization funded by individual donations. If you would like to support the Network and the LymeNet system of Web services, please send your donations to:
The Lyme Disease Network of New Jersey
907 Pebble Creek Court, Pennington, NJ 08534 USA
http://www.lymenet.org/
---
Home | Flash Discussion | Support Groups | On-Line Library
Legal Resources | Medical Abstracts | Newsletter | Books
Pictures | Site Search | Links | Help/Questions
About LymeNet | Contact Us
---
© 1993-2020 The Lyme Disease Network of New Jersey, Inc.
All Rights Reserved.
Use of the LymeNet Site is subject to Terms and Conditions.
---