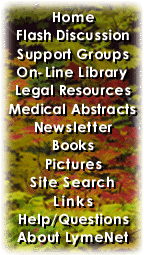 ---
LymeNet on Facebook
LymeNet on Twitter
---
---
The Lyme Disease Network receives a commission from Amazon.com for each purchase originating from this site.
When purchasing from Amazon.com, please
click here first.

Thank you.




Dedicated to the Bachmann Family


LymeNet needs your help:
LymeNet 2020 fund drive

The Lyme Disease Network is a non-profit organization funded by individual donations.

| | |
| --- | --- |
| | |
Author
Topic: ALS

sbeck
Member
Member # 20451


posted

---

I learned today that a friend of a friend was diagnosed with ALS (Lou Gehrig's disease) at the beginning of the summer. The disease is "progressing very quickly".

Can anyone tell me what test I can suggest to the family that they ask the doctors to run to test for Lyme? I've heard that the symptoms can be quite similar.

What tipped me off was the rapid progression of symptoms for this woman. Thank you.

---

Posts: 11 | From Harrisonburg, VA | Registered: May 2009 | IP: Logged |

cactus
Frequent Contributor (1K+ posts)
Member # 7347


posted

---

Igenex Western Blot, and possibly a full TBD panel from Igenex.

MDL in NJ has a good PCR test - insurance may cover that one but PCR testing is not always reliable.

And there are other good labs as well.

Clongen is doing some good things with TBD testing, too.

My family went through something similar with a close friend a few years ago - he was diagnosed ALS, which progressed rapidly.

After some time, he did receive positive Lyme tests - and it gave us all a lot of hope.

So - pursuing Lyme testing is definitely a good choice and worth while, especially if done as quickly as possible.

--------------------
"Did you ever stop to think, and forget to start again?" - A.A. Milne


---

Posts: 1987 | From No. VA | Registered: May 2005 | IP: Logged |

Keebler
Honored Contributor (25K+ posts)
Member # 12673


posted

---

-
Most doctors don't know enough about the tests and only few labs do the right tests. Add to that the CDC has a ridiculous criteria for a "positive" - however, if this woman ever remembers a rash after a tick-bite, that could be helpful.

Many people don't remember a tick and many never get a rash but, especially, the bulls-eye rash is clearly lyme and a history of such, no matter how long ago is important in diagnosis.

Other tick-borne infections MUST be considered as well. Not all ALS is lyme but many cases of misdiagnosed ALS have turned out to be lyme or other tick-borne infections.

It is best to find a LLMD - that is explained in the next post.

Good luck to all.

================

FILM:

http://www.underourskin.com

UNDER OUR SKIN

You can purchase a DVD, here: http://www.underourskin.com/store_home.html

-----------------

http://underourskin.com/blog/?p=450

UOS wins top award at International Health Film Festival

UNDER OUR SKIN was just awarded ``Best Feature Film-Silver Award'' at the 1st International Health Film Festival in Kos, Greece. The tiny island in the eastern Aegean sea was the home to Hippocrates, father of medicine. Over 80 films competed and were juried by industry professionals as well as physicians.

==========================

This is about one doctor from the film (Martz). Babesia is a tick-borne infection often accompanies lyme:


http://www3.interscience.wiley.com/journal/117994622/abstract?CRETRY=1&SRETRY=0

Motor neuron disease recovery associated with IV ceftriaxone and anti-Babesia therapy

W. T. Harvey, D. Martz

ABSTRACT

This report summarizes what we believe to be the first verifiable case of a significant and progressive motor neuron disease (MND) consistent with amyotrophic lateral sclerosis that resolved during treatment with i.v. ceftriaxone plus oral atovaquone and mefloquine.

The rationale for use of these antibiotics was (i) positive testing for Borrelia burgdorferi and (ii) red blood cell ring forms consistent with Babesia species infection. The patient has continued to be free of MND signs and symptoms for 15 months, although some symptoms consistent with disseminated Borreliosis remain.

========================

Excerpt: `` . . . one year after initiating the antibiotic and anti-protozoal treatment, he was declared to be free of motor neuron disease by his neurologist . . .'' from:

http://www.dreamdoctor.com/radio/battle.shtml

ALS Caused by Lyme Disease with Babesia Co-infection Posted March 15, 2008

After experiencing difficulty speaking during his nightly radio show, Charles McPhee was diagnosed with a bulbar (neck and throat) presentation of ALS (amyotrophic lateral sclerosis), or Lou Gehrig's disease, on June 23, 2006.


After researching the possible causes of ALS, Charles decided to treat his ALS with a combination of antibiotics (ceftriaxone, Flagyl, azithromycin) and anti-protozoals (Mepron and Malarone). His rationale for using them is based on a recently documented link between ALS, Lyme Disease, and Babesia.

In a paper published October 22, 2006, Dr. David Martz of Colorado Springs, CO, outlined a harrowing journey through ALS... and back. He was diagnosed in April of 2003, and soon was unable to drive, dress himself, or walk.


Over the next few months his health continued to deteriorate rapidly, and he was forced to retire from his medical practice. Eight months later, while bedridden and confined to a wheelchair, he learned from a friend who sent him a newspaper clipping that it was possible he really had been infected with Lyme disease, an infection commonly carried by ticks.

After 6 negative tests for Lyme (late-stage Lyme is notoriously difficult to detect in the human body), an antibiotic-provoked urinary PCR test in December, 2003, finally showed positive for Borrelia Burgdorferi (Bb), the spirochete bacteria that causes Lyme disease.


During a visual scan of his blood, rings around his red blood cells were also detected, indicating a probable co-infection with Babesia microti, a malaria-like protozoa that is estimated to be transmitted in over 60% of Lyme infections.


Based on this new information, Dr. Martz began using a combination of antibiotics and anti-protozoals to treat his ALS. He noticed dramatic improvement in his symptoms.


Within 12 weeks he was walking again without assistance, and in February, 2005, one year after initiating the antibiotic and anti-protozoal treatment, he was declared to be free of motor neuron disease by his neurologist, Steven A. Smith, M.D.

That same month Dr. Martz was fully recovered and once again began treating Chonic Disease sufferers in private practice in Colorado Springs.
---------

(poster's note: He has since moved/retired to devote time to research/writing.)
-

[ 10-19-2009, 04:18 PM: Message edited by: Keebler ]

---

Posts: 48021 | From Tree House | Registered: Jul 2007 | IP: Logged |

Keebler
Honored Contributor (25K+ posts)
Member # 12673


posted

---

-
http://cassia.org/essay.htm

When to Suspect Lyme - by John D. Bleiweiss, M.D.

=====================


www.lymeinfo.net/medical/LDSymptoms.pdf

Lyme Disease Symptoms

==================

This explains WHY you need LLMD who is "ILADS-educated" -- now, it would be fantastic if her doctor can work with her for backup and support but you need a real expert):


www.clinicaladvisor.com/Controversy-continues-to-fuel-the-Lyme-War/article/117160/

From the May 2007 issue of Clinical Advisor

CONTROVERSY CONTINUES TO FUEL THE "LYME WAR" -(author's details at link)


As two medical societies battle over its diagnosis and treatment, Lyme disease remains a frequently missed illness. Here is how to spot and treat it.

Excerpts:


Meet the players

The opponents in the battle over the diagnosis and treatment of Lyme disease are the Infectious Diseases Society of America (IDSA), the largest national organization of general infectious disease specialists, (and)

and the International Lyme and Associated Diseases Society (ILADS), an organization made up of physicians from many specialties. ( www.ilads.org )


IDSA maintains that Lyme disease is relatively rare, overdiagnosed, difficult to contract, easy to diagnose through blood testing, and straightforward to treat ( www.journals.uchicago.edu/CID/journal/issues/v43n9/40897/40897.html - Accessed April 6, 2007).


ILADS, by contrast, asserts that the illness is much more common than reported, underdiagnosed, easier to contract than previously believed, difficult to diagnose through commercial blood tests, and difficult to treat, (especially)

especially when treatment is delayed because of commonly encountered diagnostic difficulties ( http://www.ilads.org/guidelines.html - Accessed April 6, 2007).

. . .

" . . .To treat Lyme disease for a comparable number of life cycles, treatment would need to last 30 weeks. . . ."


`` . . .Patients with Lyme disease almost always have negative results on standard blood screening tests and have no remarkable findings on physical exam, so they are frequently referred to mental-health professionals for evaluation.


"...If all cases were detected and treated in the early stages of Lyme disease, the debate over the diagnosis and treatment of late-stage disease would not be an issue, and devastating rheumatologic, neurologic, and cardiac complications could be avoided..."


. . . * Clinicians do not realize that the CDC has gone on record as saying the commercial Lyme tests are designed for epidemiologic rather than diagnostic purposes, and a diagnosis should be based on clinical presentation rather than serologic results.


- Full article at link above, containing MUCH more detailed information.
-===

Co-infections (other tick-borne infections or TBD - tick-borne disease) are not discussed in this article due to space limits. Still, any LLMD you would see would know how to assess/treat if others are present.

-===========

TESTING

You should also be evaluated for coinfections. Not all tests are great in that regard, either, but a good LLMD can evaluate you and then guide you in testing. One of the top labs is:

www.igenex.com

IGENEX

-----

There are a couple other good labs for certain tests: Fry; Clognen; Focus. Your LLMD will know.

========================


Dr C's Western Blot explanation is discussed here:

http://flash.lymenet.org/scripts/ultimatebb.cgi/topic/1/42077?

Be sure to read the full post - it's very long and a great help.

Excerpt:

. . . "With most infections, your immune system first forms IgM antibodies, then in about 2 to 4 weeks, you see IgG antibodies. In some infections, IgG antibodies may be detectable for years.

Because Borrelia burgdorferi is a chronic persistent infection that may last for decades, you would think patients with chronic symptoms would have positive IgG Western blots.

But actually, more IgM blots are positive in chronic borreliosis than IgG. Every time Borrelia burgdorferi reproduces itself, it may stimulate the immune system to form new IgM antibodies.

Some patients have both IgG and IgM blots positive. But if either the IgG or IgM blot is positive, overall it is a positive result.

Response to antibiotics is the same if either is positive, or both. Some antibodies against the borrelia are given more significance if they are IgG versus IgM, or vice versa.

Since this is a chronic persistent infection, this does not make a lot of sense to me. A newly formed Borrelia burgdorferi should have the same antigen parts as the previous bacteria that produced it.

But anyway, from my clinical experience, these borrelia associated bands usually predict a clinical change in symptoms with antibiotics, regardless of whether they are IgG or IgM."

===========

TREATMENT

www.ilads.org

ILADS

The International Lyme and Associated Diseases Society (ILADS) provides a forum for health science professionals to share their wealth of knowledge regarding the management of Lyme and associated diseases.


links to treatment:

http://www.ilads.org/lyme_disease/treatment_guidelines.html

ILADS Treatment Guidelines


and

http://www.ilads.org/lyme_disease/B_guidelines_12_17_08.pdf

Dr. Burrascano's Treatment Guidelines (2008) - 37 pages


Sections regarding self-care:

Go to page 27 for SUPPORTIVE THERAPY & the CERTAIN ABSOLUTE RULES

and also pages 31-32 for advice on a safe, non-aerobic exercise plan and physical rehabilitation.

----

http://www.lymepa.org/html/dr__j__burrascano_september_20_15.html

Burrascano's Powerpoint presentation 9-20-08

-------

This is included in Burrascano's Guidelines, but you may want to be able to refer to it separately, too:

http://www.lymepa.org/Nutritional_Supplements.pdf

Nutritional Supplements in Disseminated Lyme Disease

J.J. Burrascano, Jr., MD (2008)

=======================


Find your local SUPPORT GROUP for help in finding a doctor, borrowing books, etc.:

www.lymenet.org/SupportGroups/UnitedStates

=================


Post in: SEEKING A DOCTOR

http://flash.lymenet.org/ubb/ultimatebb.php?ubb=forum;f=2

=======================

This book, by an ILADS member LLMD, holds great information about treatments options and support measures:


http://tinyurl.com/6lq3pb (through Amazon)


THE LYME DISEASE SOLUTION (2008)

- by Kenneth B. Singleton , MD; James A. Duke. Ph.D. (Foreword)

You can read more about it here and see customer reviews.

Web site: www.lymedoctor.com

===========================

http://tinyurl.com/ygwne8q


Cure Unknown: Inside the Lyme Epidemic (2009) - by Pamela Weintraub

This details what an entire family went through. Having this knowledge of their journey will help others to get better, faster treatment.

http://www.cureunknown.com

======================

a good video that explains the controversy, go to this link:

http://www.kettmann.com/Lyme

It is a tape of a great show on lyme disease done by a Boston TV station a few months ago.

=====================

http://flash.lymenet.org/scripts/ultimatebb.cgi?ubb=get_topic;f=1;t=020605

MAKING THE MOST OF YOUR LLMD VISIT

From Melanie Reber

=====================


In addition to the usual coinfections from ticks (such as babesia, bartonella, ehrlichia, RMSF, etc.), there are some other chronic stealth infections that an excellent LLMD should know about:


http://flash.lymenet.org/scripts/ultimatebb.cgi?ubb=get_topic;f=1;t=069911#000000

TIMACA #6911 posted 03 August, 2008

I would encourage EVERY person who has received a lyme diagnosis to get the following tests. . . .

- at link.
-

[ 10-19-2009, 05:12 PM: Message edited by: Keebler ]

---

Posts: 48021 | From Tree House | Registered: Jul 2007 | IP: Logged |

massman
Unregistered



posted

---

ALS is a stage of lyme.

Some of the instances listed above show those with ALS getting better with lyme treatment - that confirms in some cases that ALS = lyme.

---

IP: Logged |

shelly23
LymeNet Contributor
Member # 16124


posted

---

Just out of curosity i wonder how often the doctors think outside the box, like we do..
For example sbeck, how old is this person does it fit the ALS supposed catagories..

i just think doc should think outside the box more

will be praying.

--------------------
Shelly
~ IGM~Positive
CDC Positive
23-25 +
31+++
34++
41+


I am a Dreamer, Believer, and Conquer; I will overcome this disease !!!


---

Posts: 382 | From Alabama Via PA | Registered: Jun 2008 | IP: Logged |

Keebler
Honored Contributor (25K+ posts)
Member # 12673


posted

---

-
I don't know if they would be wanting to give steroids for "ALS" as they do with "MS" - however, since both MS and ALS are often undiagnosed lyme &/or other TBD (tick-borne infection) it is imperative to avoid steroids UNLESS in a life-threatening situation and then, only with proper antibiotic coverage.

-----------------------------------

http://www.lymenet.de/literatur/steroids.htm

Antibiotics and Steroids - by John Drulle, M.D.


Excerpts:
. . .

We have seen literally dozens of patients with Lyme who were initially treated with steroids who reported a dramatic worsening rather than improvement as would be expected. Dr. Joseph Burrascano has coined the expression, ' Steroid Disasters, ' to describe these patients.

. . .

Corticosteroids can last in the body for months, usually around 6 months. In many bacterial infections such as LD, damage can be done.

. . . .

======================

http://www.ilads.org/lyme_disease/B_guidelines_12_17_08.pdf


Dr. Burrascano's Treatment Guidelines (2008)

Excerpts:

From page 4:

. . . More severe illness also results from other causes of weakened defenses, such as from severe stress, immunosuppressant medications, and severe intercurrent illnesses.


This is why steroids and other immunosuppressive medications are absolutely contraindicated in Lyme. This also includes intraarticular steroids. . . .

From page 12:


. . . More evidence has accumulated indicating the severe detrimental effects of the concurrent use of immunosuppressants including steroids in the patient with active B. burgdorferi infection.


Never give steroids or any other immunosuppressant to any patient who may even remotely be suffering from Lyme, or serious, permanent damage may result, especially if given for anything greater than a short course.


If immunosuppressive therapy is absolutely necessary, then potent antibiotic treatment should begin at least 48 hours prior to the immunosuppressants.

. . . .
-

---

Posts: 48021 | From Tree House | Registered: Jul 2007 | IP: Logged |

Keebler
Honored Contributor (25K+ posts)
Member # 12673


posted

---

-
Another case of a man misdiagnosed with ALS who really had lyme disease, got treated, and got much better.
------

http://www.people.com/people/archive/article/0,,20140334,00.html

People Magazine - June 16, 2003 Vol. 59 No. 23

HIDDEN PLAGUE - By J.D. Heyman

Forget About SARS. Lyme Disease Is Spreading Steadily, and Some Experts Say It Can Elude the Standard Cure


For months no one knew what was happening to Tom Coffey. In the spring of 2001 the then 34-year-old radio dispatcher was struck by high blood pressure and double vision.


By summer's end he was suffering from facial palsy, crushing fatigue and joint pain so intense he walked with an old man's shuffle. Medical visits turned up nothing. By October his weight had plummeted 105 lbs., to 202. "My doctor was at the end of his rope," says Coffey. "He kept referring me to different people."


When he awoke unable to swallow his saliva, Coffey rushed to a hospital near his Frederick, Md., home and was given blood tests and brain scans.


Doctors returned with a terrifying diagnosis: ALS, or Lou Gehrig's disease, a degenerative illness likely to kill him within six months. "Tom's dad said, 'I always thought he'd be burying me. Now I'll be burying him,'" says Coffey's wife


. . . Hooked to a feeding tube, Coffey waited to die. But a relative who thought his symptoms might have another cause suggested a trip to . . . a suburban Philadelphia Lyme disease specialist.


The doctor found something everyone else had missed--a "bulls-eye" rash beneath his patient's hair. Coffey was suffering not from ALS but from a severe case of Lyme, which is spread to humans by tick bites.

. . .

Left undiagnosed, however, it can invade the nervous system. "I always thought Lyme was no big deal," says Coffey, who rebounded after taking medication. "But it damn near killed me."

. . .

Coffey, now 37, is taking no chances: He has remained on antibiotics for 14 months to be sure that his Lyme is really gone. Still, he's grateful to have escaped his death sentence. "I'm starting over again," he says. "From here on out, the rest is gravy."

- Full article at link above.
-

---

Posts: 48021 | From Tree House | Registered: Jul 2007 | IP: Logged |

Keebler
Honored Contributor (25K+ posts)
Member # 12673


posted

---

-
www.jneuroinflammation.com/content/5/1/40


Persisting atypical and cystic forms of Borrelia burgdorferi and local inflammation in Lyme neuroborreliosis


Abstract Excerpts:

Background

The long latent stage seen in syphilis, followed by chronic central nervous system infection and inflammation, can be explained by the persistence of atypical cystic and granular forms of Treponema pallidum. We investigated whether a similar situation may occur in Lyme neuroborreliosis.

. . .

Conclusion

The results indicate that atypical extra- and intracellular pleomorphic and cystic forms of Borrelia burgdorferi and local neuroinflammation occur in the brain in chronic Lyme neuroborreliosis.

The persistence of these more resistant spirochete forms, and their intracellular location in neurons and glial cells, may explain the long latent stage and persistence of Borrelia infection. The results also suggest that Borrelia burgdorferi may induce cellular dysfunction and apoptosis.

The detection and recognition of atypical, cystic and granular forms in infected tissues is essential for the diagnosis and the treatment as they can occur in the absence of the typical spiral Borrelia form.

==================

www.chlamydieos.cz/studie01en.html


LATENT CHLAMYDIAL INFECTIONS: THE PROBABLE CAUSE OF A WIDE SPECTRUM OF HUMAN DISEASES

Authors: Bazala, Renda from the Czech Republic - Oct. 2007


- Twelve page article at link.


- Cpn site: www.cpnhelp.org

==================================


Biofilms of Borrelia burgdorferi and Clinical Implications for Chronic Borreliosis - Alan B. MacDonald, MD

May 17, 2008
University of New Haven
Lyme Disease Symposium
New Haven, Conn.

74 pages, pdf:

www.molecularalzheimer.org/files/Biofilm_New_Haven_ppt_Read-Only_.pdf
-

---

Posts: 48021 | From Tree House | Registered: Jul 2007 | IP: Logged |

Keebler
Honored Contributor (25K+ posts)
Member # 12673


posted

---

-
She should also be checked for HEAVY METALS.

www.doctorsdata.com

DOCTOR'S DATA LAB

=================

Doubtful that this could cause such a severe case but have your friend be absolutely sure that she is not consuming even a trace of Aspartame (Nutrasweet or Equal) - or Splenda.

Aspartame, especially, can cause some very serious neurological symptoms. Check labels on everything: prepared foods . . .cough drops, breath mints and gums . . . colas . . . toothpaste - and even medicines.

If she want a sweetener that will not affect blood sugar, a safe plant-based one is STEVIA. Sweet Leaf is just one brand.


She should also avoid MSG - under all its names. It can also be toxic to the nervous system.

You'll find all the names of MSG with a simple Google search. It's in canned tuna, etc. but often called autolyzed protein or some such name.

As well, avoiding tuna is important due the mercury content. And fish should be WILD (not farmed) and search for the low mercury types.

And, while we're on the subject of food, organic food is best as even the mainstream ALS community has considered pesticides as a possible cause of neurological problems.

Liver support, too, such as Milk Thistle, may help as she waits to see a doctor. If she does get an appointment, she might ask for advice on what she could do until seeing the doctor. She might ask about taking allicin capsules or, at least, olive leaf extract.
-

---

Posts: 48021 | From Tree House | Registered: Jul 2007 | IP: Logged |

peter j
LymeNet Contributor
Member # 11825


posted

---

Check this out. In the end you will see cysts from Borrelia, and cysts from patients with MS and ALS. These cysts look a little bit different then the typical Borrelia burgdorferi cysts, but might very well be within the class Borrelia burgdorferi (perhaps unknown strains) or within the bigger class "Borrelia" (unknown sub group).

It's former nobel prize nominee Lida Mattman who's talking.

http://www.tickedoffandfedup.com/Lida_Video.html

---

Posts: 275 | From Home | Registered: May 2007 | IP: Logged |

Keebler
Honored Contributor (25K+ posts)
Member # 12673


posted

---

-
peter j brings up an interesting point about strains.

There are over 300 different strains of borrelia, worldwide. Lyme is the only one normally tested in the U.S. - and most labs don't even do the correct tests.

And Missouri has a unique strain of Babesia, so be sure all options are considered.

Call and talk with IGENEX - www.igenex.com

================================

http://www.columbia-lyme.org/patients/tbd_stari.html


STARI (Masters Disease)

Southern Tick-Associated Rash Illness

. . . the causative agent of STARI has never been cultured and is not currently known. However, some evidence exists that a recently discovered spirochete, Borrelia lonestari, may be responsible . . . .

. . . . Although PCR tests have been developed to probe for B. lonestari DNA in tissue or blood samples, they are not commercially available and are of limited usefulness in any case as long as doubts remain about B. lonestari's role in the etiology of STARI.

. . . the etiology of STARI remains elusive. It is possible that multiple borrelial species may be responsible.

. . . . - full article at link above.
-

---

Posts: 48021 | From Tree House | Registered: Jul 2007 | IP: Logged |

Pinelady
Frequent Contributor (5K+ posts)
Member # 18524


posted

---

If they have been doing steroids for ALS/MS it would most likely interfere with the WB test.

Possibly hiding it more by supressing the immune system further? Remember many will not get a

positive without a antibiotic challenge and even then it can be iffy. I would get them to consult a

LLMD if they think the symptoms fit. I would rather be killing the bugs instead of just

letting them hide. Nothing wrong with a second opinion.

--------------------
Suspected Lyme 07 Test neg One band migrating in IgG region
unable to identify.Igenex Jan.09IFA titer 1:40 IND
IgM neg pos
31 +++ 34 IND 39 IND 41 IND 83-93 +
DX:Neuroborreliosis


---

Posts: 5850 | From Kentucky | Registered: Dec 2008 | IP: Logged |
Contact Us | LymeNet home page | Privacy Statement

Powered by UBB.classic™ 6.7.3

---
The Lyme Disease Network is a non-profit organization funded by individual donations. If you would like to support the Network and the LymeNet system of Web services, please send your donations to:
The Lyme Disease Network of New Jersey
907 Pebble Creek Court, Pennington, NJ 08534 USA
http://www.lymenet.org/
---
Home | Flash Discussion | Support Groups | On-Line Library
Legal Resources | Medical Abstracts | Newsletter | Books
Pictures | Site Search | Links | Help/Questions
About LymeNet | Contact Us
---
© 1993-2020 The Lyme Disease Network of New Jersey, Inc.
All Rights Reserved.
Use of the LymeNet Site is subject to Terms and Conditions.
---