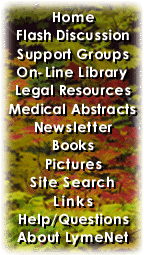 ---
LymeNet on Facebook
LymeNet on Twitter
---
---
The Lyme Disease Network receives a commission from Amazon.com for each purchase originating from this site.
When purchasing from Amazon.com, please
click here first.

Thank you.




Dedicated to the Bachmann Family


LymeNet needs your help:
LymeNet 2020 fund drive

The Lyme Disease Network is a non-profit organization funded by individual donations.

| | |
| --- | --- |
| | |
Author
Topic: Need herbal suppliment treatment options - Urgent

aubsdaddy
Member
Member # 21128


posted

---

Im tired of finding the right doctor and spending tons of money. I give up!!! I have had lyme since 1994 and I still to this day have the same symptoms.

What are some herbal remedies you are trying in treating lyme? i currently take 400mg of doxy everyday, fish oil omega 3 and magnesium. I am open to everyone elses suggestions.

Please tell me what you use so I can try them and maybe feel better or cure this disease the herbal way? Has anyone had any success rates with a combination of herbal suppliments? If so please state?

---

Posts: 52 | From Levittown, PA | Registered: Jul 2009 | IP: Logged |

randibear
Honored Contributor (10K+ posts)
Member # 11290


posted

---

i am using the cowden. i use cumada, parsley, samento, and burber.

so far, i like it. i herxed on just one drop of the cumada so it's definitely doing something.

i find it very cheap compared to what i was spending on the doc's visits and antibiotics, plus all the other stuff.

you can find all the stuff at iherb.com. i've been very satisified with their service.

also some do buhner but i have trouble swallowing all those pills. this way i put the drops in water and just drink it.

--------------------
do not look back when the only course is forward


---

Posts: 12262 | From texas | Registered: Mar 2007 | IP: Logged |

abxme
LymeNet Contributor
Member # 2067


posted

---

aubsdaddy,

I feel your frustration...You might want to look in to the Vitamin C and Sea Salt protocol. It is cheap and does not require a physician.

Here is the list of herbs that I have put together that some people have found of use....

IMMUNE/ENERGY TONICS

Maitake- Maitake Mushrooms are known as Hen of the woods in the Far East because they reliably produce eggs of success in dysfunctional systems. Maitake mushrooms are considered to be the most immune enhancing food known today. In fact in one clinical study, maitake mushrooms elevated NK cell activity by 300 %. If you are interested in an immune enhancer one could do no better than starting with a Maitake supplement. There are capsules available on the market and in some fancy supermarkets Maitake Mushrooms are available for purchase.

Astragalus - Astragalus has been used for centuries as an energy tonic in Traditional Chinese Medicine. The Chinese word for Astragalus translates to Yellow Leader because of its primary use in TCM. Today Astragalus is one of the most effective, time-tested, patient approved immune enhancers on the market.

Ashwagandah- Ashwagandah when translated means Strong like Horse. Traditionallly this herb has been known to rejuvanate health and to thelp the body cope with stress as an adaptogen. Ashwagandah, in laboratories, has shown to be an anti-oxidant.

Reishi - Reishi is also known as the ``elixir of life.'' Studies have shown reishi mushrooms to be effective for those battling cancer. Reishi contains polysaccharide compounds which have demonstrated immune catapulting activity in clinical studies.

Samento - Samento has recently been approved as an immune modulator in Ecquador. Its immune stimulating properties are attributed to pentacyclic oxindole alkaloids. Samento has been indicated as extremely beneficial with those battling lyme disease.

Broad Spectrum Anti-Microbials

Goldenseal - Goldenseal is an alkaloid substance reported to be effective against a litany of bacteria, fungus and viruses. The active ingredient is thought to be a compound called berberine. Holistically, Goldenseal has shown to be a Spartan warrior against infection. Goldenseal can also be used in situations for heartburn because of its highly alkaline constitution. Quite possibly the most versatile herb fit for consumption.

Chinese Skullcap - Chinese Skullcap is the primary anti-infective agent in all of Traditional Chinese Medicine. 1 billion people can't be wrong. Chinese skullcap flaunts anti-viral, anti-parasitic, anti-fungal and anti-bacterial properties. A potent little herb that is off most people's radar. Make sure you get the Chinese skullcap species of herb as there are many skullcap varieties on the market and could be cause for confusion.

Bee Propolis - Historically, Propolis has been used as an anti-biotic and an anti-viral. The bee's have been using it for millennia to protect the hive from dastardly infection. Could be a big booster for someone with chronic infection.

OLIVE Leaf - Olive Lear has been show clinically to be a wonderful anti-oxidant and pathogen combatant. Primary uses include acute illness, irregular cell growth suppression and as anti-viral/anti-biotic.

Coconut Oil - Coconut Oil is only plant source of saturated fat known. That makes it quite a unique substance as is. Active ingredients are caprylic acid and monolaurin. Caprylic Acid is used to treat fungal infections and monolaurin is used in viral infections. Can be used as a butter spread on food.

Pau D'arco - Pau D'arco also known as Taheebo primary extract from the inner bark of a tree in the rain forest. Latest research has isolated over 20 chemicals in Pau D'arco which might be responsible for its wide variety of usage. Pau D'arco has been used as an anti-fungal, anti-parasitic and antioxidating supplement. In high doses, Pau D'arco boasts anti-inflammatory properties. Pau D'arcos versatility has made it a candidate for many new studies in the pharmaceutical realm.

Enteric Coated Garlic - Garlic has been purported to have many wonderful healing talents for 2 centuries. It is know to be a great antiseptic and the enteric coated variety is recommended for halitosis and gustatory safety. Otherwise raw garlic will suffice.

Calendula Flowers - Strongest antiseptic edible flower. Works against viruses and other pathogens.

Banderol - Banderol is a proprietary herbal concoction from the company Nutramedix.
Banderol comes from the otaba tree of South America and is extremely effective against a host of bacteria, parasites and some fungi species.


Anti-Viral -

Red Marine Algae - Red Marine Algae can be considered a food known as dulse so it is extremely safe. Its effectiveness against viral invaders is thought to come from its high concentration of polysaccharides. Science has found enhanced T-cell and B-cell activity as well as interferon promotion when Red Marine Algae was ingested.

Takuna - Takuna is a potent anti-viral known to be helpful against most viruses in current research. This is a proprietary extract from cecropia strigosa tree bark made by nutramedix.

Elderberry - In preliminary studies elderberry's folk status as a cold remedy seems to have been upheld. It is believed that the anthocyanins maybe the curative agents.

Anti-Parasitic -

Wormwood - Wormwood is the same plant species used to create a controversial alcohol drink. There is no controversy however when discussing the plant's ability to combat systemic parasites as research confirms its effectiveness. If parasites are suspected this is the first line of defense supplement to use.

Pumpkin Seeds - A secret tonic of naturopathic physicians. Thought to be a purgative for all sorts of invaders causing trouble on `` the inside.'' A concoction using Large amounts of the seeds are crushed and mixed with juice.

Anti-Biotic

Black Nasturtium Flower - This is known as the edible tulip. Nasturtium flower has shown the ability to fend of bacteria. The anti-bacterial activity is thought to come from the mustard oils in the leaves. The nasturtium flower is also packed with Vitamin C.

Anti-Fungal -
Kolorex - Kolorex without a doubt is by far the most potent systemic anti-fungal on the market. This is even more potent than its pharmaceutical counterpart, diflucan. Those once diagnosed with candida or those who suspect candida because of tongue thrush should start with this powerful herb.

Caprylic Acid - Caprylic Acid has been proven to kill fungal infections in the lab. This substance can cause indigestion and should be handled with care.

Anti-Oxidants

Microhydirn - Microhydrin Promotes itself as a potent anti-oxidant through providing extra-electrons. Microhydrin is also the most alkaline inducing substance on the market because of its electron donor properties. Therefore anyone looking to increase their pH could use microhydrin to create that health promoting pH state in the body.

Anti-Stress Herbs

Generally speaking there are 4 herbs considered to be stress relieving Vervain
Lemon Balm
Chamomile
Perriwinkle

---

Posts: 124 | From Cleveland, OH | Registered: Jan 2002 | IP: Logged |

Keebler
Honored Contributor (25K+ posts)
Member # 12673


posted

---

-
about Astragalus - unless just part of a formula, that is not to be used in chronic lyme. It's too stimulating to the part of the immune system that is on overdrive in lyme patients.

I would be sure that any antimicrobial you use has been addressed by one of the LL herbalist listed below. A very specific formula or combination is generally required, still with rotation and adjustments along the way, according to your needs.

The science of the spirochete, in all its forms and stages, must be considered. Other TBD, too.

And, a gluten-free diet is often a great help to most lyme patients.

---------

Is the problem finding a doctor actually finding one or finding one on your insurance plan or one you can afford to pay yourself? I don't want to be noisy and you don't have to answer that but if just can't find a LLMD can you find a good LL ND (naturopathic doctor) if you can't find a LL MD? Some LL NDs are also ILADS members so they have the knowledge required.

===================

For reference:

http://www.ilads.org/lyme_disease/B_guidelines_12_17_08.pdf

Dr. Burrascano's Treatment Guidelines (2008) - 37 pages


Sections regarding self-care:

Go to page 27 for SUPPORTIVE THERAPY & the CERTAIN ABSOLUTE RULES

and also pages 31-32 for advice on a safe, non-aerobic exercise plan and physical rehabilitation.

=======================

This is included in Burrascano's Guidelines, but you may want to be able to refer to it separately, too:

http://www.lymepa.org/Nutritional_Supplements.pdf

Nutritional Supplements in Disseminated Lyme Disease

J.J. Burrascano, Jr., MD (2008)

================

Beyond that, many links below offer details.

If this link does not work, you can Google the title/author. It is important to read over this, too:

----------------

http://www.klinghardtneurobiology.com/LymeProtocolOct09.pdf

A Treatment Guide: Lyme and other Chronic Infections

by Dietrich Klinghardt, MD, PhD

October 2009 - 87 pages

=======================

http://tinyurl.com/5vnsjg


Book: Healing Lyme: Natural Healing And Prevention of Lyme Borreliosis And Its Coinfections - by Stephen Harrod Buhner


website: http://planetthrive.com/2009/08/buhner-healing-lyme-program/

-----

http://flash.lymenet.org/ubb/ultimatebb.php/topic/1/86857

Topic: Buhner Healing Lyme Q & A links have changed

================

More about allicin:

http://tinyurl.com/5drx94


Book: Lyme Disease and Modern Chinese Medicine - by Dr. QingCai Zhang, MD & Yale Zhang

web site: try www.sinomedresearch.org and use "clinic" and then "clinic" for the passwords or call Hepapro through www.hepapro.com


===================

www.lyme-disease-research-database.com/lymenutritionfile1_files/Integrated-Approach-DAN.pdf


Article: HEALING LYME DISEASE: An Integrated Approach to Curing Chronic Infection

by Daniel A. Kinderlehrer, M.D. (2004)

==========================

www.dancingviolets.com and http://www.dancingviolets.com/media/pdf/LymeDisease.pdf


Article: Chronic Lyme Disease and Co-infections: Clinical Overview

Rebecca Snow, MS, RH (AHG), CNS, LDN

==================

This will link you to a bulletin board where you can pose your question:

http://www.lymebook.com/lyme-disease-rife-machines-bryan-rosner

Book: Lyme Disease and Rife Machines by Bryan Rosner
-

---

Posts: 48021 | From Tree House | Registered: Jul 2007 | IP: Logged |

randibear
Honored Contributor (10K+ posts)
Member # 11290


posted

---

hmmm, my llmd doesn't recommend astralgus (sorry for spelling) in chronic or late stage lyme either.

he recommends andrographis. so does buhner.

--------------------
do not look back when the only course is forward


---

Posts: 12262 | From texas | Registered: Mar 2007 | IP: Logged |

secondtimearound
LymeNet Contributor
Member # 7249


posted

---

From all of my reading since being bitten again Buhner is recommending astragulus for new infections but there are plenty of questions answered on the the planet thrive website.

I'm not sure I can help but if you want, send me a PM and we can talk - I live in the Somerton section of Philly so you're right around the corner.

This is my third time dealing with lyme because I was just bit again and luckily my daughter saw the tick so I should be able to beat this again but you never know with disease.

Anyway - if you want to discuss what I've done the last 2 times and gotten better let me know;

Treatments I used:

Rife
Antibiotics
Salt/C
Looking at herbal now
Big emphasis on detox

All My Best,
Scott

--------------------
BTW - I am NOT a medical professional - just speaking from MY own personal experience.


---

Posts: 266 | From Philadelphia | Registered: May 2005 | IP: Logged |
Contact Us | LymeNet home page | Privacy Statement

Powered by UBB.classic™ 6.7.3

---
The Lyme Disease Network is a non-profit organization funded by individual donations. If you would like to support the Network and the LymeNet system of Web services, please send your donations to:
The Lyme Disease Network of New Jersey
907 Pebble Creek Court, Pennington, NJ 08534 USA
http://www.lymenet.org/
---
Home | Flash Discussion | Support Groups | On-Line Library
Legal Resources | Medical Abstracts | Newsletter | Books
Pictures | Site Search | Links | Help/Questions
About LymeNet | Contact Us
---
© 1993-2020 The Lyme Disease Network of New Jersey, Inc.
All Rights Reserved.
Use of the LymeNet Site is subject to Terms and Conditions.
---