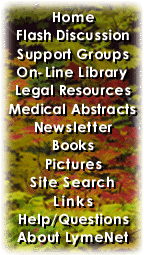 ---
LymeNet on Facebook
LymeNet on Twitter
---
---
The Lyme Disease Network receives a commission from Amazon.com for each purchase originating from this site.
When purchasing from Amazon.com, please
click here first.

Thank you.




Dedicated to the Bachmann Family


LymeNet needs your help:
LymeNet 2020 fund drive

The Lyme Disease Network is a non-profit organization funded by individual donations.

| | |
| --- | --- |
| | |
Author
Topic: CALDA comments, Medscape article:IDSA tx guidelines long on opinion& short on science

22dreams
LymeNet Contributor
Member # 17846


posted

---

Edit to add:

CALDA comments on MEDscape article:

IDSA guidelines are long on opinion and short on science.

This is the stunning conclusion made by an infectious disease specialist at Drexel University, Dong Lee, MD in a poster presentation at the recent IDSA annual conference.

Dr. Lee's analysis is based on a broad review of 30 guidelines published by the IDSA between 1994 and 2009.

More than half of the recommendations made by the IDSA in these guidelines were not supported by science

Read more:
http://www.lymedisease.org/news/lymepolicywonk/273.html

Original medscape article below:
________________________________

From Medscape Medical News
Infectious Disease Treatment Guidelines Weakened By Paucity of Scientific Evidence

Daniel M. Keller, PhD

November 13, 2009 (Philadelphia, Pennsylvania) -- Two separate analyses presented here at the Infectious Diseases Society of America (IDSA) 47th Annual Meeting revealed that

most of the society's treatment guidelines are based on expert opinion, nonrandomized trials, and case studies.

Only about 15% of the guidelines are supported by randomized controlled trials (RCTs), considered the highest level of evidence.

Nonetheless, more than 40% of the guidelines' recommendations were classified as class A, the strongest level of treatment recommendation, according to Dong Lee, MD, and colleagues from the Division of Infectious Diseases and HIV Medicine at Drexel University College of Medicine in Philadelphia, Pennsylvania.

Between 1994 and April 2009, IDSA issued 68 guidelines on 52 different topics (there have been 2 more since April).

Most were published in Clinical Infectious Diseases. Of the 52 current guidelines, Dr. Lee's team analyzed the 30 that followed IDSA's

standard grading system to evaluate the class of clinical recommendations and the strength of the supporting evidence underlying them.

"Our analysis revealed that more than half were based on expert opinion or not supported by properly controlled trials," Dr. Lee announced.

In an oral presentation, he reported that the 30 guidelines he analyzed contained a mean of 47 recommendations (range, 14 to 150).

Recommendations ranged from class A (should always be offered) to class C (optional). The quality of evidence ranged from level I,

consisting of 1 or more properly conducted RCTs, to level III, the opinion of respected authorities, based on clinical experience.

Level II evidence is derived from 1 or more properly controlled trials without randomization.

The guidelines revealed a total of 589 class A recommendations. "Ideally, all should be [supported by] level I evidence," Dr. Lee said.

"However, a class A recommendation was supported by level I evidence only in 25% [of cases]." The rest were based on level II (40%) or level III (35%) evidence.

Of all the guidelines evaluated, a median of 41% of recommendations were class A, but level I evidence supported them only 14% of the time.

Guidelines for common conditions were often based on fairly strong evidence. The recommendations that are most supported by level I evidence are in the guidelines for tropical medicine (41% of recommendations), intra-abdominal infection (39%), and asymptomatic bacteriuria (38%).

"Influenza or Group A Streptococcus guidelines had less than 20% of level III evidence," possibly because of the high prevalence of these diseases and the ease of designing studies, Dr. Lee reported.

He explained the lack of RCTs for some conditions, saying that certain infections occur rarely or present in heterogeneous forms, making it difficult to design a study.

Furthermore, in some cases it might be unethical to conduct such a trial, and at times certain knowledge based on sound clinical judgment will never be tested in RCTs. Finally, funding to do trials might be lacking.

"Although a randomized controlled trial is referred to as level I evidence, not all RCTs are created equal," he warned. "Some choose surrogate markers, others choose patient-centered outcomes.

Well-designed nonrandomized trials may provide more information than certain randomized controlled trials, but I do think that a randomized controlled trial minimizes bias and does deserve the high levels of evidence."

Dr. Lee summarized his presentation, saying that of the 1408 guideline recommendations he reviewed, "more than half were based on level III evidence, which is from expert opinion or not

supported by properly controlled trials. Level I evidence was only 15%." He said his study should help to point out where evidence is lacking and to suggest areas for further research.

Physicians and trainees should not just look at guidelines, but should also examine the strength of the evidence on which they are based, he advised.

"When clinicians are using the guidelines, they should not assume that they are all based on well-designed studies. . . . Clinicians should remain cautious when using current guidelines as the sole source for guiding patient care."

A second presentation supported the findings of Lee and coworkers. Abdur Khan, MD, assistant consultant at King Fahad Medical City in Riyadh, Saudi Arabia, presented his results in a poster session.

Of the 65 IDSA guidelines, encompassing 6667 recommendations, issued between March 1994 and July 2009, he and his colleagues evaluated the 44, comprising 4206 recommendations, that were posted on the IDSA Web site at the end of July.

They, too, found that, overall, the strength of the recommendations did not correlate with the available evidence.

Level I evidence was the basis for only 15% of the guidelines, which is in agreement with the findings that Lee and colleagues reported. Thirty percent of the evidence was level II.

"Around 55% of the guidelines had a level of evidence of III, which was based on expert opinion," Dr. Khan told Medscape Infectious Diseases, "but the class C recommendations [are] only 12%."

Guidelines for the treatment of fungal infections had the weakest supporting evidence; 46.5% to 89.5% of the recommendations were based on level III evidence.

Although the highest levels of evidence generally led to class A recommendations (25.9%), these strongest recommendations were most often based on lesser levels of evidence (36.3% on level II; 37.8% on level III).

Commenting on the studies' findings, Richard Whitley, MD, professor of pediatrics, microbiology, medicine, and neurosurgery at the University of Alabama at Birmingham and president of IDSA, told Medscape Infectious Diseases that

"one always has to be concerned when we don't have randomized controlled trials that provide evidence-based medicine to write guidelines.

Without a shadow of a doubt, the best evidence comes from controlled clinical trials that are adequately powered with a sample size to answer the targeted question."

But he noted that sometimes expert opinion or small uncontrolled studies have to suffice if there are not enough patients to conduct better trials.

In some situations, less than level I data can be powerful, Dr. Whitley observed.

He cited the example that neuraminidase inhibitors can decrease mortality from influenza in elderly individuals. This finding was based on retrospective reviews of databases of Kaiser Permanente and other managed health care systems, he explained.

Looking forward, he said, "guidelines don't necessarily just teach how to take care of patients. They identify areas for future investigation . . .

because they tell us where the vagueness is and where we have to move forward." This information can then be brought to the attention of the leadership of the National Institute of Allergy and Infectious Diseases

so that they can fund studies and to the attention of the US Food and Drug Administration, which has funds to study targeted issues.

Dr. Whitley emphasized that "guidelines shouldn't be just for patients in the United States. They should be for patients around the world." As such, IDSA and the European Congress of Clinical Microbiology and Infectious Diseases

will try to work on guidelines together, and IDSA will also work with Canadian colleagues "so that we can provide a level of care that's standardized around the world," he said. "Certainly, that's optimistic."

Neither of these studies received funding. Dr. Lee and Dr. Khan have disclosed no relevant financial relationships. Dr. Whitley reports being on the board of directors of Gilead Sciences and is a consultant for 3-V Biologics and Chimerix; his other consulting, review, advisory panel positions, investigator, or speaker honoraria relationships include Juvaris, Primus, Inhibitex, and JID.

Infectious Diseases Society of America (IDSA) 47th Annual Meeting: Abstract 1324. presented November 1, 2009; Abstract LB-31, presented October 31, 2009.

[ 11-17-2009, 08:54 AM: Message edited by: 22dreams ]

---

Posts: 571 | From Massachusetts | Registered: Oct 2008 | IP: Logged |

JamesNYC
LymeNet Contributor
Member # 15793


posted

---

Wow, good stuff 22, Thanks!

---

Posts: 872 | From New York City | Registered: Jun 2008 | IP: Logged |

lymewreck36
Frequent Contributor (1K+ posts)
Member # 4395


posted

---

O.M.G.!!!!!!

What is wrong with the world that doctors are such sheep?!!

Mary

---

Posts: 1010 | From North Carolina | Registered: Aug 2003 | IP: Logged |

lymewreck36
Frequent Contributor (1K+ posts)
Member # 4395


posted

---

Has this been sent on to the "review panel" for the IDSA guidelines? Should be!!
Mary

---

Posts: 1010 | From North Carolina | Registered: Aug 2003 | IP: Logged |

Sojourner
LymeNet Contributor
Member # 9424


posted

---

Crack, Crack, Crack, goes the ice under the IDSA's feet!

---

Posts: 554 | From Naples, Italy | Registered: Jun 2006 | IP: Logged |

purplemom
LymeNet Contributor
Member # 21064


posted

---

Are the ILADS guidelines based on any level A findings?

---

Posts: 207 | From NH | Registered: Jul 2009 | IP: Logged |

timaca
Frequent Contributor (1K+ posts)
Member # 6911


posted

---

Good point, purplemom. Others here may know that answer better than I.

It takes money to do research. Without money, research doesn't happen, and guidelines are made more on opinion (based on what works in the clinic) rather than what research shows.

It is helpful to have some guidelines. That's better than nothing. But guidelines based on research is best. Research starts by what docs see in their clinics...what works or not for them treatment wise. Then a double blind study can take place (which takes LOTS of money). And interested doctors...and time...

Not an easy route but the best route. There are some docs doing good research out there. I know a couple of them, and I am so glad for them. And yes, they are ID doctors.

Timaca

---

Posts: 2872 | From above 7,000 ft in a pine forest | Registered: Feb 2005 | IP: Logged |

purplemom
LymeNet Contributor
Member # 21064


posted

---

I'm asking about the "A" research because my primary brought this up last week re: ILADS and that there guidelines are "D" research without any "A".

I understand the money issue and realize something can be valid without A research. I work in the medical field and see how things evolve over time, what we once didn't know we now do know in many areas.

I would like someone to point me to a list of ILADS research that I could take back to my primary. I will actually take this article as well. Because he suggested that perhaps the IDSA is based on "A" guidelines.

I posted about this last week. I'll have to go back and check what people said again.

---

Posts: 207 | From NH | Registered: Jul 2009 | IP: Logged |

Tincup
Honored Contributor (10K+ posts)
Member # 5829


posted

---

Take a copy of the ILADS guidelines with you if you want... purple.

And if the primary says anything negative after that... tell him/her if you rolled the Guidelines up in a tight wad.... they would fit nicely in their ear.

Note- On page 11 is a chart showing how ILADS kicks the IDSA's butt in the ratings.

And lou is right... we have not only experts doing our guidelines, and they have none... (heck, they can't even agree amongst themselves if you read their guidelines- I call having to read them ... which I have to do a lot of, ugggg ugggg.... going dumpster diving)...

But we also have experts from many different fields of medicine in agreement.

They only have a handful of ducks, all who have been found guilty of having major "conflicts of interest" and other violations... by the government no less ...

And who consider patients who don't get well on their COST-EFFECTIVE, insurance friendly protocols, crazy.

They are nothing more than IDSA supporting ducks, aka, wanna-be psych ducks so they can try to explain away their "mistakes"... namely you and me.

So wave OUR Guidelines around and show them off! Be proud we have docs who care about us.



Link to ILADS Guidelines: (see pg 11)

http://www.ilads.org/files/ILADS_Guidelines.pdf

--------------------
www.TreatTheBite.com
www.DrJonesKids.org
www.MarylandLyme.org
www.LymeDoc.org


---

Posts: 20332 | From The Moon | Registered: Jun 2004 | IP: Logged |

purplemom
LymeNet Contributor
Member # 21064


posted

---

thank you all for your comments:)

tincup, i have printed out ILADS before but forgot about this page. I am going to print this out and bring it to my MD.

He is actually open minded and willing to discuss.

---

Posts: 207 | From NH | Registered: Jul 2009 | IP: Logged |

shazdancer
Frequent Contributor (1K+ posts)
Member # 1436


posted

---

The few A-1 studies (double-blind, randomized, placebo-controlled) talked about over and over by the IDSA revolve around the 4 studies of IV antibiotics. In those studies, the patients:

had to meet the strict CDC reporting criteria for Lyme
had already been previously treated with IV antibiotics, and had failed
were RE-treated with the same or lesser dose of the treatment they had failed, often less than an ILADS doctor would have typically used, and no coinfections were sought or treated, nor combinations of antibiotics given

And son-of-a-gun, no surprise, they failed again. But wait, even though the odds were that they would fail -- in one trial, their fatigue was reduced, and in another, their pain lessened and function improved.

---

Posts: 1558 | From the Berkshires | Registered: Jul 2001 | IP: Logged |

purplemom
LymeNet Contributor
Member # 21064


posted

---

It would help if the author clarified specifically where the lyme guidelines stand as there is no mention of lyme disease specifically.

---

Posts: 207 | From NH | Registered: Jul 2009 | IP: Logged |
Contact Us | LymeNet home page | Privacy Statement

Powered by UBB.classic™ 6.7.3

---
The Lyme Disease Network is a non-profit organization funded by individual donations. If you would like to support the Network and the LymeNet system of Web services, please send your donations to:
The Lyme Disease Network of New Jersey
907 Pebble Creek Court, Pennington, NJ 08534 USA
http://www.lymenet.org/
---
Home | Flash Discussion | Support Groups | On-Line Library
Legal Resources | Medical Abstracts | Newsletter | Books
Pictures | Site Search | Links | Help/Questions
About LymeNet | Contact Us
---
© 1993-2020 The Lyme Disease Network of New Jersey, Inc.
All Rights Reserved.
Use of the LymeNet Site is subject to Terms and Conditions.
---