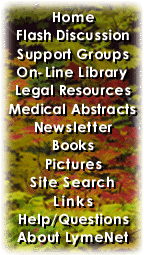 ---
LymeNet on Facebook
LymeNet on Twitter
---
---
The Lyme Disease Network receives a commission from Amazon.com for each purchase originating from this site.
When purchasing from Amazon.com, please
click here first.

Thank you.




Dedicated to the Bachmann Family


LymeNet needs your help:
LymeNet 2020 fund drive

The Lyme Disease Network is a non-profit organization funded by individual donations.

| | |
| --- | --- |
| | |
Author
Topic: anyone is so sick that you have to get rid of your cat?

wtl
LymeNet Contributor
Member # 19883


posted

---

i feel so guilty...

some of you know that my wife is really sick. it has gotten to a point we could no longer take care of our 3 cats. i suggested one goes to her brother, and the other two go to her dad. some time later, her brother couldn't take care of the cat either (he has lyme too) so a woman in his building took the cat.

that cat was rescued by my wife some 13 years ago when he was two weeks old. she treated him like a baby and named him a affectionate name toones (a hungarian king). he has a heart condition from birth and needs to be on medicine everyday.

long story short, he died after only a few weeks with the woman...he was buried in the woods beind the building she lives.

i couldn't make her stop crying and blaming herself. i too want to cry but figured it's not the right time...i kept thinking as soon as she gets a little better, we will take him back. a few times we saw him, he was just sad...

but i can't shake the feeling that i have killed the cat because i couldn't handle all the things i have to do around the house, and the cats. i think the woman just didn't give him the medicine he needs, but i don't know for sure and it's a moot point now...

any of you had to give up your cats? how did it go?

clearly i am seeking some comfort...

---

Posts: 822 | From midwest | Registered: Apr 2009 | IP: Logged |

JamesNYC
LymeNet Contributor
Member # 15793


posted

---

I am sooo sorry to hear this story! It breaks my heart too.

You don't really know what happened to the cat. He was pretty old and had a bad heart. Maybe it was just time. Your wife saved him and gave him a wonderful life he would never have had without her.

There is a post in General about a woman who has to give up her cats. Maybe you can rescue one of her's? That would be good karma.

You should have a cat. You are clearly people who love animals, and pets are very therapeutic. People who are ill do better with pets.

James

---

Posts: 872 | From New York City | Registered: Jun 2008 | IP: Logged |

ping
Frequent Contributor (1K+ posts)
Member # 6974


posted

---

Oh, how very sad. I'm so sorry. I'm very much a cat person too. My LLMD suggested that I give my cat away a couple of years ago because he thought I might be allergic to him. I flatly refused. Turns out, Ol' Fatso had nothing to do with what I was going through.

There are so many times when I was ill and cat knew it and was worried. I'd lay down in bed and he'd stretch out beside me and move in as close as he could get.

They are such a comfort and I know you and your wife must feel awful. When my previous cat died, I went through such guilt because, as is always the case, the answers or alternatives come to mind too late, after the fact.

My sincere condolences.

ping
"We are more than containers for Lyme"

--------------------
ping
"We are more than containers for Lyme"


---

Posts: 1302 | From Back in TX again | Registered: Mar 2005 | IP: Logged |

wtl
LymeNet Contributor
Member # 19883


posted

---

thank you both.

it is so hard...

a few years back when my wife had to put down her beloved cat of 18 years (mazo) who had traveled literately with her across the country twice and went on an air trip once from seattle to cincinnati, it was such a hard decision because mazo was suffering from old age and cancer. we debated whether to amputate her leg to save her or to let her go. in the end, within a few weeks, her cancer spreaded and we had no choice then. the vet lady came to the house and laid her to rest.

we thought that was the hardest.

but this is even harder for some reason because we were not there for him. i keep thinking he must have been so lonely and scared the last moment - he didn't know anyone and the place was so foreign to him. what must be a horror! and now there is nothing that seems to provide any comfort to the thought...

i am just gonna take some time off and go for a long walk...

---

Posts: 822 | From midwest | Registered: Apr 2009 | IP: Logged |

cactus
Frequent Contributor (1K+ posts)
Member # 7347


posted

---

Oh, how sad.

I am so, so sorry for your loss. Your wife must be beside herself - losing a kitty soul-mate that way.

This won't be much comfort, but honestly - this wasn't either of your fault... It may have been the time for your kitty to go, no matter where s/he was living, or with whom. There is just no way to know.

You both made the very best choice that you could, at the time. You could not have known what would happen - or when. All you could do was make the best choice you could - for your family and for the kitty. And you did that, even though it was hard - you made the best choice you could at the time, with the information you had then.

Please don't beat yourselves up, or feel guilty about this.

Maybe you can make a special collage of pictures and mementos, and when you are ready - hang it up? Or do something else to honor the special times you shared with your cat.

My husband did that for me, when we lost my doggy soul-mate of 16 years, and my heart was breaking... It made me cry to see it at first, and now it is just very comforting to see pics of him in our home.

And as for the need to re-home cats.. yes.. We have had to do that as well. We had to give our cat to my mom, as I could not handle doing the basic care that was necessary any longer. You are not alone in that.

Sending warm wishes to you both, and so sorry for your loss,
Cactus

--------------------
"Did you ever stop to think, and forget to start again?" - A.A. Milne


---

Posts: 1987 | From No. VA | Registered: May 2005 | IP: Logged |

wtl
LymeNet Contributor
Member # 19883


posted

---

sorry, i just realized that i posted this in a wrong forum...

---

Posts: 822 | From midwest | Registered: Apr 2009 | IP: Logged |

RZR
Frequent Contributor (1K+ posts)
Member # 20953


posted

---

I am so sorry for your loss.

Don't blame yourself. You did the best you could with the knowledge you had at the time.

I love my 11-year-old cat and think I will die when I lose her. I can only imagine how your wife and you must feel. Try to remember the many good years you loved and cared for your cat.

--------------------
Tick bite May 2009
Diagnosed June 2009


---

Posts: 2329 | From SouthEast | Registered: Jun 2009 | IP: Logged |

LuluBellesMama
Member
Member # 22583


posted

---

Every night I think about rehoming our pets. I think how much better off they would be and how much better off we would be. Similiar situation we cant keep up.

I think the best advice is to mourn do you can move on. Just try not to mourn so much you cant move on if that makes sense, if you dont ackowedge this horrific and traumatic event, becaause it definitely is one, you wont be able to move on.

And, that being said, it takes a long time to "get over" losing a pet.

i had more to say but i am tired already. i know its hard to do but try not to second guess yourself, maybe even write yourself a note telling yourself why you gave up the cat and how it was the best thing for you at that time and pull it out when you are second guessing yourself.

It may have been kitty's time, maybe better to believe that than relive the pain over and over

--------------------
------------
9.16.09 IGG+ 23 41
9.25.09 dx w/Lyme
10.22.09 first LLMD Appt

http://www.mylymelife.com


---

Posts: 69 | From CT | Registered: Sep 2009 | IP: Logged |

TerryK
Frequent Contributor (5K+ posts)
Member # 8552


posted

---

I'm so sorry for your loss. May you and your wife find peace and comfort.

You both did the brave thing for your pets. Giving them away was a very selfless act. Your dear fur kid had many more years because of the love and care that you and your wife gave him.

By Constance Jenkins

Weep not for me though I am gone
Into that gentle night.
Grieve if you will, but not for long
Upon my soul's sweet flight.
I am at peace, my soul's at rest,
There is no need for tears.
For with your love I was so blessed
For all those many years.
There is no pain, I suffer not,
The fear now all is gone.
Put now these things out of your thoughts.
In your memory I live on.
Remember not my fight for breath,
Remember not the strife.
Please do not dwell upon my death,
But celebrate my life.

The rainbow bridge

http://www.petloss.com/poems/maingrp/rainbowb.htm


Terry

[ 11-20-2009, 06:47 PM: Message edited by: TerryK ]

---

Posts: 6286 | From Oregon | Registered: Jan 2006 | IP: Logged |

WildCondor
Unregistered



posted

---

Cats only live to be 12 ish years old anyway, some live to be 15 but that is old. It probably just died cause it was old. You did everything you can for it and so did she. You did not kill the cat. It's gonna be ok. Kitty is at the Rainbow bridge now. Don't blame anyone.

---

IP: Logged |

JamesNYC
LymeNet Contributor
Member # 15793


posted

---

No WC. you are incorrect.

Wow, I disagree with you for a change!

They live much longer. 17 to 21 years is normal. But a cat with a heart condition is going to have a shorter life.

I lost my little friend who went EVERYWHERE with me last Dec. She was 17.5 and died of kidney failure. I still miss her, she slept under my right arm EVERY night.

---

Posts: 872 | From New York City | Registered: Jun 2008 | IP: Logged |

wtl
LymeNet Contributor
Member # 19883


posted

---

thanks all. you are all angels.

terryk - that's a beautiful poem. guess good things will always pass (to make room for the new ones to come).

jennie - i hope your 11 year old will have many more yrs of good life with you.

lulu - good luck in making a decision. i know how hard this is.

james - i think you are right. i had a cat who lived to 20 and healthy to the last minute.

WC - although there are cats who live to about 12-13. i believe most of them can live to be around 20 if being cared for. but i appreciate very much for the thought and intention you are trying to make things all right for me and my wife.

i also appreciate the suggestion for a collage as well. that might be something i will do. thanks. cactus.

it's a beautiful day here so i think i am going to drive my wife down and pay our respect to toones. it's not going to be easy but that's the only way one can hope to move on. part of it is that we don't want to move on however it's irrational.

good day, everyone. you all make me feel better.

---

Posts: 822 | From midwest | Registered: Apr 2009 | IP: Logged |

Truthfinder
Frequent Contributor (1K+ posts)
Member # 8512


posted

---

So very sorry, wtl.

You do the very best you can, and then you have to turn the rest over to God and let Him handle it. That's the job He willingly takes on for us.

There's an old, old saying in Alcoholics Anonymous: ``Let go, and let God.''

There have been times when I thought I would have to get rid of my cat and my dog. And then when my best friend suddenly passed away over a year ago, I felt I could only take on one of her four cats. I had to choose the one that would probably fit best with my other pets and the way I live. And as it turned out, I had to choose the cat least likely to adapt to a new environment.

I had to get over the `guilt' of not taking all of them, which would have been impossible, of course. But they all found homes, though not homes I would have chosen for them. And yet, they all had a new place to go and new adventures to experience. And last I heard, they all did fine.

You know, a 13-year old cat with a heart condition is a pretty old cat, even with medication! I hope you can find joy in that at some point.

--------------------
Tracy
.... Prayers for the Lyme Community - every day at 6 p.m. Pacific Time and 9 p.m. Eastern Time � just take a few moments to say a prayer wherever you are�.


---

Posts: 2966 | From Colorado | Registered: Dec 2005 | IP: Logged |

WildCondor
Unregistered



posted

---

Waaa! All my kitties have died at like 12. The only one that was outdoors got eaten by a fox at age 9. I keep my kitties inside now. Adopted 2 new ones from a kill shelter. The vet told me that 11 years is the average. For an indoor cat they can live to be 20 and for an outdoor cat their lifespan is only 3 years.

Either way, you didn't kill your cat. Try to make peace with the fact that you gave it love and a good home. Im sure he loved you very much for that.

---

IP: Logged |

WildCondor
Unregistered



posted

---

Here it is

Just this side of heaven is a place called Rainbow Bridge.

When an animal dies that has been especially close to someone here, that pet goes to Rainbow Bridge. There are meadows and hills for all of our special friends so they can run and play together. There is plenty of food, water and sunshine, and our friends are warm and comfortable.
All the animals who had been ill and old are restored to health and vigor. Those who were hurt or maimed are made whole and strong again, just as we remember them in our dreams of days and times gone by. The animals are happy and content, except for one small thing; they each miss someone very special to them, who had to be left behind.

They all run and play together, but the day comes when one suddenly stops and looks into the distance. His bright eyes are intent. His eager body quivers. Suddenly he begins to run from the group, flying over the green grass, his legs carrying him faster and faster.

You have been spotted, and when you and your special friend finally meet, you cling together in joyous reunion, never to be parted again. The happy kisses rain upon your face; your hands again caress the beloved head, and you look once more into the trusting eyes of your pet, so long gone from your life but never absent from your heart.

Then you cross Rainbow Bridge together....

---

IP: Logged |

randibear
Honored Contributor (10K+ posts)
Member # 11290


posted

---

this really made me cry. i lost my beloved chocolate lab, randi, 3 years ago. i still grieve to this day.

she had congestive heart failure and we had to put her down.

you did what was best at the time and the little furry person was loved and knew it. it's sad the woman didn't bring the little person back to you but often things happen for a reason we don't or cannot guess.

please don't be alone any longer and get yourself another kitty. life is too short to suffer and you'll see it again soon.

just look at it this way -- there are millions of little loved ones looking for a home just like yours and your little person would want them to have a loving home.

--------------------
do not look back when the only course is forward


---

Posts: 12262 | From texas | Registered: Mar 2007 | IP: Logged |

Just Julie
Frequent Contributor (1K+ posts)
Member # 1119


posted

---

I am so so sorry to read this. I am an animal lady (mostly a dog lady, but in the past 7 years, a cat lady too!) from way back, I get SO much from them, and I know they "know" me. Everytime I see a dog, or a cat, and I bend down to give it some love, I see a response in them, like they know me. It is hard to explain, but please know that those of us that are special to the animals, well, it's not just us that gets a tremendous amount from them, we give it back to them. And your wife did just that--her very best, as did you.

I have an outside cat, that I adopted when he was left behind by a neighbor who moved, for the past 7 years now. He's 16 yrs old, and I adore him. He gives me what I cannot have---the love of a dog, right now. We live in prime tick territory, so I know a dog that goes in and out of the house, is out of the question. But, my Fozzie kitty is my lover boy, and that is enough for now. We make do, and it does my heart good.

If you cannot see getting another cat, for you to care for, and your wife to love, right now, know that it is enough. It is so much more than just feeding and watering (and toileting, with an inside cat), a lot of people just assume you can do the work, but if you can't, you can't. When the time comes, you will know. I guarantee it, you will.

I've found that in replacement of the complete and utter love that my 2 german shepherd dogs gave to me for 15 years, I have some wonderful caring neighbors who let me "have" their dogs, when I go for walks in our neighborhood---we live in semi-rural area, so the dogs are mostly not contained by fences on everyone's properties, so when I go for a walk, whoever's dog happens to see me going by, will join me. It is so lovely, and when we are going back past their house(s), they simply go on home. It is the best arrangement I could ever want, and so comforting, not only to me ( ! ) but to the dog(s) that go with me, because their owners either are not home, working, or too busy, so it benefits all around.

If you could find that similar situation, then that might be the best? Kind of like a grand-dog/cat? My heart just blooms and smiles, whenever I get a dose of dog love in my day, cat, also, I can't even tell you!

--------------------
Julie


---

Posts: 1027 | From Northern CA | Registered: May 2001 | IP: Logged |

wtl
LymeNet Contributor
Member # 19883


posted

---

wow...thanks.

i believe we, especially my wife, need some time to grief before we could move on and adapt another cat. plus i do not believe the situation has really changed since about a year ago we had to give them up. as a matter of fact, my wife has since gotten a bit worse.

when she sits on the front porch or back, jack (a neighbor's cat) comes and hangs out. he is a sweet cat and he thinks he owes the street, but nothing compares to toones (i know a very biased view here).

julie, i know what you mean about the animal people. some are more than the others. glad you are one of them.

---

Posts: 822 | From midwest | Registered: Apr 2009 | IP: Logged |
Contact Us | LymeNet home page | Privacy Statement

Powered by UBB.classic™ 6.7.3

---
The Lyme Disease Network is a non-profit organization funded by individual donations. If you would like to support the Network and the LymeNet system of Web services, please send your donations to:
The Lyme Disease Network of New Jersey
907 Pebble Creek Court, Pennington, NJ 08534 USA
http://www.lymenet.org/
---
Home | Flash Discussion | Support Groups | On-Line Library
Legal Resources | Medical Abstracts | Newsletter | Books
Pictures | Site Search | Links | Help/Questions
About LymeNet | Contact Us
---
© 1993-2020 The Lyme Disease Network of New Jersey, Inc.
All Rights Reserved.
Use of the LymeNet Site is subject to Terms and Conditions.
---