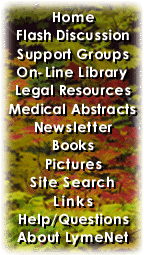 ---
LymeNet on Facebook
LymeNet on Twitter
---
---
The Lyme Disease Network receives a commission from Amazon.com for each purchase originating from this site.
When purchasing from Amazon.com, please
click here first.

Thank you.




Dedicated to the Bachmann Family


LymeNet needs your help:
LymeNet 2020 fund drive

The Lyme Disease Network is a non-profit organization funded by individual donations.

| | |
| --- | --- |
| | |
Author
Topic: How bad are your Psych Problems ? I'm new and losing it, or so it feels

NoRash
Junior Member
Member # 23387


posted

---

Hello everyone,

I just found out that all of my medical problems for the past 3 years are all due to Lyme. I don't remember being bitten and I never had the Rash, but a fried had me see a LLMD and my Igenix labs came back with lots of positives.

So, now I'm beginning treatment with antibiotics, but I'm told I'm gonna feel worse before I feel better.

The problem is, I feel like I'm losing my mind already.

I was put on Klonopin a few years ago for major anxiety disorder which came out of nowhere. I was a school teacher for 5 years, just married and this all started right after my daughter was born. I was the life of the party, had tons of friends and now I feel like my life has been stolen from me.

Every day now, I feel like my Heart is going to jump out of my chest all day long. It is so horrible and my breathing is screwed up all day long. The Klonopin was increased but it's not helping anymore, so I was given Xanax, but even that isn't helping. This is an anxiety that I can't even comprehend. It is 24/7 and my body just won't relax. I'm being told it's due to the Lyme, Bartonella, and Babesia I tested positive for. I can't even watch a simple TV show because I can't sit still and just relax.

On top of that, I can't think straight and feel weird stuff inside my head. I can't describe it, but it's as if something is moving around, which freaks me out even more.

I cry all of the time I guess from being scared, but everyone around me thinks I'm just depressed. Sometimes, I feel better and clearer in the head after crying, but it doesn't last long.

My Husband thinks I should go into a psych ward and thinks I'm majorly depressed, when I'm not. I do think about ending it sometimes because I'm in such agony, but I'm scared to die, so I can't see myself doing this and I'm just 30 years old.

I'm living in agony and don't know what to do. I've tried all of the Antidepressants and even small doses make me feel so sick. My psychiatrist put me on low dose Abilify which is an antipsychotic but supposed to help with my anxiety. Just a small dose of this stuff makes me feel drugged and loopy, but still doesn't help with this anxiety. Is this type of anxiety common with Lyme?

I'm new here, so I won't make this any longer, but would appreciate any responses.

I'm fighting this all day long now, and when my eyes open I'm already looking forward to going to bed at night as I agonize going through all of this each and every day. The only way I can sleep is by taking ambien.

If were just the aches and pains, I could tolerate it all. I just feel like I'm being mentally and physically tortured all of the time. I hope I don't seem like I'm complaining too much as I know all of you are suffering too, I just need some direction and to know I'm not alone.

Michelle

[ 11-25-2009, 07:09 PM: Message edited by: NoRash ]

---

Posts: 2 | From Georgia | Registered: Nov 2009 | IP: Logged |

bigstan
LymeNet Contributor
Member # 11699


posted

---

It's a terrible disease Michelle. You will find it takes a long time to get better. Its not fair and it will be a very hard process to go through.

I wish I had more good things to tell you. I will say from my own experience that you will feel isolated. You will have family members not understanding, and friends deserting you.

It sounds like you have major neurological stuff going on. The heart, brain its all infected and Lyme loves these organs. The anxiety, mood disorder, is all pretty common with this disease.

What antibiotics are you on and at what dose? Did the doctor offer IV picc line treatment? You may need to go this route.

Forget the psych ward, unless you are really sucidal. They won't do much for you and some of there treatment might make you worse.

If I can say anything it would be for you to read as much as you can about this disease. Remember your not crazy, depressed, its the disease causing all of this.

Also see if you can rent or buy the movie "Under Our Skin", and sit down with your husband to watch. It covers the illness well, as well as the politics surrounding this disease.

Remember that there are many people on this board going through what you are experiencing. And you can post here whenever you want no matter how bad you feel.

Take care and hang in there as best you can.

KA

Here are some good links for you to read:

http://www.mentalhealthandillness.com/tnaold.html

http://www.wildcondor.com/allie.html

[ 11-25-2009, 08:21 PM: Message edited by: bigstan ]

--------------------
HERX is a Four Letter Word!


---

Posts: 716 | From If you're going through hell, keep going......Winston Churchill | Registered: Apr 2007 | IP: Logged |

RZR
Frequent Contributor (1K+ posts)
Member # 20953


posted

---

Hi Michelle,

I am sending hugs to you.

I am fairly new at this too. I've been doing abx for 5 months now. When I HERX, I get major depression and suicidal thoughts that can last up to 3 weeks. If you have started abx, a HERX reaction could be adding to your problems.

Everyone here is very supportive and caring. Come here often....I do and it helps!

--------------------
Tick bite May 2009
Diagnosed June 2009


---

Posts: 2329 | From SouthEast | Registered: Jun 2009 | IP: Logged |

Siciliano
Frequent Contributor (1K+ posts)
Member # 15920


posted

---

Oh, Michelle, I am so sorry that you are going through this horrible disease. I know exactly how you feel, exactly.

This is a very, very long road and we have to stay together while going through it. If I did not have this site I don't know what I would do!

BigStan and Jennie are so right on what they said. You need to come here and talk this out, this is all we can do.

I cried for over a year every single day, all day long, just cried and cried. This is what this disease does to us. I did finally get some relief with all the crying when I went off of cymbalta and got on lexapro, 20mg. It really helped that I got off of cymbalta.

I would say to try every single antidepressant until you find the one that works best for you. I believe you will find something that will help, I just know it.

Talk to your Dr. and tell him/her that you need to try others until you hit the jackpot. It made a world of difference for me.

The other small improvement I made was by starting to take alot of vitamins, supplements and probiotics, never thought they could make such a difference but they truly did.

I read Dr. Burrascano's guidelines and supplement list and made sure I took everything he recommended and the newer supplements that they are now finding that call help us also.

If you are not on some good supplements talk to your Dr. about this, it is very important and also consider seeing a Naturopathic Dr. along with your LLMD. They work great together.

You can PM me anytime you feel like talking and coming to this board really helps ALOT.

You'll get through this Michelle it will just take some time and you have to live this ONE DAY AT A TIME.

--------------------
I'm sorry but I am no longer accepting any private messages due to my own battle with lyme.


---

Posts: 3897 | From New Hampshire | Registered: Jun 2008 | IP: Logged |

seibertneurolyme
Frequent Contributor (5K+ posts)
Member # 6416


posted

---

Hubby never really had the anxiety -- he just looked like that because he had tremors all the time. He had many neurologists diagnose him with anxiety/depression because they did not know to test for Lyme etc or did not believe his test results.

Hubby did not do well at all on antidepressants. Just more side-effects on top of his other symptoms.

What helped him the most were some specific supplements. In your case I would suggest l-theanine and SAM-e. The SAM-e is a little expensive, but Vitacost has a pretty good price on the Jarrow brand.

Especially since you have been ill for several years, you are probably deficient in magnesium and the B vitamins.

Epsom salts baths can help -- but as with anything -- meds, supplements etc -- start slow and add only one new thing at a time.

For several years we did not watch TV as hubby had pretty bad sound sensistivity.

Since you have been diagnosed with Lyme, Babesia and Bartonella it sounds like you have already found an LLMD. Be thankful that you have positive test results -- hubby has the same 3 infections as you, but his test results are not nearly so clear-cut.

The heart palpitations and air hunger are probably Babesia symptoms.

It does get better, but it will take patience and perseverance. Post as often as you need to. Many helpful caring people here.

When hubby first got sick 8 years ago he did have a couple of psych admits. He usually came out in worse shape than ever. One psychiatrist said all his neurologists were wrong and that hubby actually had Parkinson's -- a trial of those meds did stop his tremors, but only because he was too doped up and rigid to shake.

Bea Seibert

---

Posts: 7306 | From Martinsville,VA,USA | Registered: Oct 2004 | IP: Logged |

kitkat32
LymeNet Contributor
Member # 9682


posted

---

First off Michelle ((((hugs to you))),

The anxiety I experience sounds much like yours. It is an awful feeling. It's like my mind won't shut off all day. The only break I get is when I am sleeping.

It all starts all over when I wake up in the morning. Feel like my insides are trembling and I have an immense feeling of doom.

Did you ask you doc for any valium. That helps me at bed time.

Just know that you are not alone in this. Talking on here helps me so much.

I also wanted to tell you that I am relapsing now but I had a whole year of no symptoms. Life was wonderful again. I was a normal person. I haven't started treatment yet. My appt. with LLMD is coming up so I am trying to be positive.

You will be you again and you will be able to enjoy life. Talk to your doctor about some different options for your anxiety.

I wish you the best and just know that there is someone else feeling the same way right now. PM me anytime you want.

kit

---

Posts: 655 | From Pennsylvania | Registered: Jul 2006 | IP: Logged |

minoucat
Frequent Contributor (1K+ posts)
Member # 5175


posted

---

NoRash -- I'm in a rush and can't type details now, but I wanted you to know that between the 2 of us my husband and I had all the sx you describe, and more. Suicidal depression; cognitive dysfunction to the point of not being able to talk, let alone read; overwhelming anxiety, and on and on.

It's taken years, but we treated the coinfections and LD, and now the sx are mostly gone. I don't think we're cured from LD, although I do seem to have gotten rid of babs and bart, but the LD seems to be under control. Hubby is still fighting babs and LD. Coinfections are as big a part of the neuropsych stuff as Lyme is.

Hugs to you, hang in there -- it's REALLY hard through the holidays when people expect you to be up, active, cheerful, and engaged.

People are SO tiring to be around, even the ones you love! They don't understand -- they can't understand -- but we Lymies do, and we know what a rotten, frightening, exhausting time you're having right now.

Check out http://www.thehumansideoflyme.net/ for a wonderful overview of the psychological, emotional, and cognitive effects of LD -- written by a psychologist who had LD. She totally gets it. There are some MP3 files you can listen to that are very helpful. Good luck.

--------------------
*********************

RECIDITE, PLEBES! Gero rem imperialem!
(Stand aside plebians! I am on imperial business.)




---

Posts: 2331 | From WA | Registered: Jan 2004 | IP: Logged |

julielynne4
Unregistered



posted

---

Michelle, I am so sorry to hear that you are going through this. It is very scary, yes...but one thing that has continually kept me feeling sane is this message board.

Knowing that you are not alone, and that people are going through (and have gone through) what you are, is somehow reassuring.

It is wonderful that you are seeing an LLMD. Although you are scared and miserable, please know that with proper treatment, your symptoms WILL reverse. It is important that you learn all that you can about this disease and follow your treatment plan.

There are many things in addition to antibiotics that can be helpful, and even help you with all of your neurological symptoms. I have also dealt with severe neurological issues and have felt like I am literally losing my mind. I am only 37 years old and I contracted this disease when I was 12. However, I went for all these years until last fall without knowing what was wrong with me.

I struggle also with the fact that noone around me understands what I go through. I occasionally attend a Lyme Disease Support group and I recommend that you find one in your area...it is amazing how supportive other Lyme sufferers are.

Please send me a PM if you want to chat anytime...As far as the antidepressants, I have also been through a number of them over the years and recently began Lexapro which is definately helping. Some people say that antidepressants generally don't work for people with neurological lyme. However, they have greatly helped me...please don't give up hope.

BLessings, Julie

---

IP: Logged |

minoucat
Frequent Contributor (1K+ posts)
Member # 5175


posted

---

Sometimes the issue is not seratonin (which drugs like Prozac work on ) but other transmitters.

If you have a dopamine problem (as in my case) MAO inhibitors such as Eldapryl are far more effective than standard antidepressants that increase seratonin levels.

--------------------
*********************

RECIDITE, PLEBES! Gero rem imperialem!
(Stand aside plebians! I am on imperial business.)




---

Posts: 2331 | From WA | Registered: Jan 2004 | IP: Logged |

LymedOut
LymeNet Contributor
Member # 22351


posted

---

Just a thought. Have you had your thyroid checked yet? I have Hashimotos Thyroiditis and the anxiety you described is exactly what I feel when my thyroid is in hyper mode.

--------------------
The advice I give, should not be considered medical advice. My opinion comes from years of research and experience.


---

Posts: 233 | From Somewhere | Registered: Sep 2009 | IP: Logged |

lou
Frequent Contributor (5K+ posts)
Member # 81


posted

---

Some good suggestions for you. I might add that bartonella is sometimes the key player in psych symptoms and you have a positive on that one. There have been published articles on the subject of bart and psych symptoms. Will hunt around for them if you are interested.

Glad to hear you have a doc.

---

Posts: 8430 | From Not available | Registered: Oct 2000 | IP: Logged |

B4LYME
LymeNet Contributor
Member # 23222


posted

---

I have dealt with much of what you have. When I first started treatment with my LLMD the things that bothered me the most were the psych symptoms.

For most of the first year of treatment I would ask him at each appointment if these things would all go away. Each time he would respond that over time and with treatment they would decrease and would eventually go away.


And he was right! After a year most of the psych symptoms were gone and after that I would deal with them every once in a great while.

I even went into remission for 4 years before relapsing. I'm dealing with these symptoms again, but this time I know that they will get better with treatment and eventually go away.

Please hang in there and dare to hope!

You may want to do a search on anxiety and depression on hear to see how others deal with this. If you don't already have a good psychiatrist you may want to look into one.

While you are waiting for healing it may be worth trying what others have had success with here.

One word of caution, I've noticed that several in this community are very sensitive to psych drugs, myself included. I only start to try something at a portion of what others starting dose is.

I hope this helps and you start to see rays of hope soon.

B4

---

Posts: 144 | From PA | Registered: Nov 2009 | IP: Logged |

EyeBob
LymeNet Contributor
Member # 12572


posted

---

If it's any help, anxiety was a major symptom of mine prior to treatment. It still flares for me. It has gotten better on lexapro for me but it's also gotten better because of treatment. Hopefully the ABX treatment will help to stabilize the chemical imbalances for you too.

I suspect that there are a lot of people here that would also confirm that their psych issues improved with treatment.

---

Posts: 299 | From New Hampshire | Registered: Jul 2007 | IP: Logged |

NoRash
Junior Member
Member # 23387


posted

---

Thank you everyone for all of your replies. It feels good to not be so alone.

I havn't started on my Antibiotics yet as my LLMD wants me to prepare my body by doing a Detox protocol he uses first.

This post has helped my Husband understand this a little more even though it is still hard for him or anyone I'm sure to understand unless your actually going through it.

I will discuss all of this with my Psychiatrist and try and get on something that will help me through all of this.

Michelle

---

Posts: 2 | From Georgia | Registered: Nov 2009 | IP: Logged |

swachsler
LymeNet Contributor
Member # 18155


posted

---

I just posted some about this in the ECT thread, so you can see more there.

With Lyme and Co., I have had major mood swings, rage, agitation (where I became rather violent), desire to hurt myself and/or others, suicidality, feelings of hopelessness, and more.

I never knew before this happened to me that Lyme and Cos could cause psych sx., and the first 6 months they were happening, I blamed it all on other people. I didn't realize how altered I was.

I have lost many friends -- including my best friend of 15 years -- as well as my therapist, due primarily to these symptoms.

I felt for a long time that I lost MYSELF -- that I lost my personality and had turned into someone I didn't like. That was truly shattering.

It is only now that I am doing better thanks to long, aggressive abx tx, that I am recovering who I was, and a new, kind therapist. It will be a long, slow, painful process, but there is finally hope now.

I never went on any antidepressant or other drugs. I felt, and still do, that since the damage was caused by the bugs, killing the bugs and detoxing them out of my system, was the most important way to recover my sanity.

I do however, have a Rx for klonopin, which I took prior to Lyme for help with sleep and cognitive impairment from my pre-existing illnesses of MCS and CFS (due to multiple chemical injuries in the 90s). On occasion, I have used additional klonopin when the agitation has been severe.

I also lived through a terrifying natural disaster a year ago, and got PTSD from that, so when that is retriggered (rarely -- based on losing phone/electric/heat in storms again), I sometimes take one or two to get through it.

I think, whichever road you go, it's important to remember that your neurology has been compromised by these bugs, that it is NOT YOU, and that with treatment, you should regain most of your pre-Lyme equilibrium. And that you are STILL YOU, buried under there. You will re-emerge.

I also have severe cognitive issues. I had them already before, they are just worse and more diverse now, thanks to Lyme & Co.

-Sharon

---

Posts: 223 | From Western Mass. | Registered: Nov 2008 | IP: Logged |
Contact Us | LymeNet home page | Privacy Statement

Powered by UBB.classic™ 6.7.3

---
The Lyme Disease Network is a non-profit organization funded by individual donations. If you would like to support the Network and the LymeNet system of Web services, please send your donations to:
The Lyme Disease Network of New Jersey
907 Pebble Creek Court, Pennington, NJ 08534 USA
http://www.lymenet.org/
---
Home | Flash Discussion | Support Groups | On-Line Library
Legal Resources | Medical Abstracts | Newsletter | Books
Pictures | Site Search | Links | Help/Questions
About LymeNet | Contact Us
---
© 1993-2020 The Lyme Disease Network of New Jersey, Inc.
All Rights Reserved.
Use of the LymeNet Site is subject to Terms and Conditions.
---