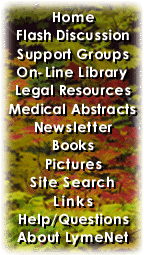 ---
LymeNet on Facebook
LymeNet on Twitter
---
---
The Lyme Disease Network receives a commission from Amazon.com for each purchase originating from this site.
When purchasing from Amazon.com, please
click here first.

Thank you.




Dedicated to the Bachmann Family


LymeNet needs your help:
LymeNet 2020 fund drive

The Lyme Disease Network is a non-profit organization funded by individual donations.

| | |
| --- | --- |
| | |
Author
Topic: How do you know when brain fog is gone?

Nicole_Denise
LymeNet Contributor
Member # 20620


posted

---

I'm not at the point where my brain fog is gone, but I am at the point where I'm trying to see if its improving, but I find it very difficult.

I THOUGHT I was getting a lot better, but I'm having way more trouble writing/spelling than usual, and although I thought my memory had improved, I've had things where I completely forget certain periods of time, within minutes of them happening (like going into a building, and on the elevator to the 28th floor- I was sure I had just gone into the building, and into an apartment on the 1st floor).

Anyway- it's made me worried. I don't know how I'll know if I'm actually getting better. I'm worried I'll keep treating longer than necessary because I think I still have problems, or I'll quit too soon.

I don't want to be wondering if every little slip is Lyme, but I don't know a way around it.

Has anyone here overcome brain fog? How did you know when it was gone?

Thanks so much,

Nicole

---

Posts: 503 | From Alberta, Canada | Registered: Jun 2009 | IP: Logged |

Tincup
Honored Contributor (10K+ posts)
Member # 5829


posted

---

Tough question. I find the fog can lift (oh what beautiful days that can bring) only to return unexpectedly and sometimes worse than it was before.

My suggestion would be NOT to bet the farm on if you are cured by using the brain fog as a determining factor. Especially if it is the ONLY determining factor.

Yeast can cause those symptoms too... so you never can be 100% sure what is what.



--------------------
www.TreatTheBite.com
www.DrJonesKids.org
www.MarylandLyme.org
www.LymeDoc.org


---

Posts: 20332 | From The Moon | Registered: Jun 2004 | IP: Logged |

psano2
LymeNet Contributor
Member # 11711


posted

---

Yes, I've gotten rid of the brain fog, although it took me years. What really did it for me was treatment of Babesia with Malarone. If you're not being treated for Babesia, you should try it. I wasn't treated for it for 3 years because I didn't test positive. After over a year of treatment w/ Mepron, I finally tested positive.

But Mepron only did so much. What really made the difference for me was Malarone. Everyone's different though. Some have better luck with Mepron.

---

Posts: 975 | From California | Registered: Apr 2007 | IP: Logged |

Clint31
LymeNet Contributor
Member # 16420


posted

---

being hypothyroid and not treating it correctly was what caused my brain fog. when i got my thyroid treated correctly with natural thyroid meds the brain fog went away (exercise helped too)

--------------------
DX'ed Lyme Disease: 7/7/2008
DX'ed Babesia, Epstein Barr, Liver Parasite 8/15/2013.


---

Posts: 739 | From Columbus, Ohio | Registered: Jul 2008 | IP: Logged |

Lymetoo
Moderator
Member # 743


posted

---

When you can think straight!!

Consider yeast and/or gluten intolerance if you're still having brain fog.

--------------------
--Lymetutu--
Opinions, not medical advice!


---

Posts: 94843 | From Texas | Registered: Feb 2001 | IP: Logged |

Brussels
Frequent Contributor (5K+ posts)
Member # 13480


posted

---

I guess, all posts showed something important concerning brain fog. It can be caused by:

- babesia (heavy, heavy brain fog)
- yeast (heavy brain fog)
- other coinfections (toxins)
- other infections (toxins)
- hormonal problems
- extreme fatigue
- food allergies or allergies of any kind
- energetic blockage (in TCM, it can happen and be lifted after acupuncture for example)
- bad eating habits
- viral infections afecting the brain
- heavy metal intoxication

It does lift and goes when all these problems are solved. Common people without lyme can also have fog, they just don't name it. I can spot in the way they look (eye-looking gets funny). Even a cold can cause fog for them.

I guess there are many more causes for brain fog, but the ones above are what come to my mind.

Yeast fog can be bad too. And yeast die off too!

As I told you, it will go when your problems above go. With babesia, just going to the sun caused me severe sort of fog and crazy neuro symptoms. When babesia got better, much of the fog and fatigue got better.

---

Posts: 6196 | From Brussels | Registered: Oct 2007 | IP: Logged |

Pinelady
Frequent Contributor (5K+ posts)
Member # 18524


posted

---

My typing skills are returning. LOL Oh it was so sad.

--------------------
Suspected Lyme 07 Test neg One band migrating in IgG region
unable to identify.Igenex Jan.09IFA titer 1:40 IND
IgM neg pos
31 +++ 34 IND 39 IND 41 IND 83-93 +
DX:Neuroborreliosis


---

Posts: 5850 | From Kentucky | Registered: Dec 2008 | IP: Logged |

shazdancer
Frequent Contributor (1K+ posts)
Member # 1436


posted

---

Your brain fog is lifting when you are trying to remember a name for something, and it just comes to you "out of thin air" and without effort. With brain fog, it is exhausting even trying to think.

Tick-borne illness can cause brain fog, as can other illnesses. So can lack of deep sleep and the hormonal changes of menopause.

You can check your cognitive function by taking neurocognitive or neuropsychological testing. Another way to see if you are improving is to try improving your cognitive function with games that exercise your brain (crossword puzzles, word or math puzzles, etc.). If you recover easily from the effort, it's a good sign.

Hope you're feeling brainier soon,
Shaz

---

Posts: 1558 | From the Berkshires | Registered: Jul 2001 | IP: Logged |

Wonko
LymeNet Contributor
Member # 18318


posted

---

When it is gone, it is like a curtain is pulled back between night and day!

But as noted above, for me it can come back any time, unannounced, and I never know how long it will last.

---

Posts: 455 | From Was in PA, then MD, now in the Midwest | Registered: Nov 2008 | IP: Logged |

Cass A
Frequent Contributor (1K+ posts)
Member # 11134


posted

---

Due to brain fog and memory issues, I started keeping a daily journal using one of those 2 page per day desk calendars.

I'm now on number 3, and about to start number 4.

When filling it out, I worked out a scheme for the pages so that I can flip through a month or two of data and see what the improvements/non-improvements/worsenings were and exactly what treatment(s)I was doing.

For example, on the bottom of the right-hand page, I put whether I didn't have night sweats and right above that if I didn't have leg cramps during the night.

On the left-hand page, where the hour-by-hour info is, I write in what I do, when I nap (and for how long), if I had insomnia, exercise, etc.

At the top of this page, I have the key protocol I'm doing, how many days I've been on it.

On the right-hand page, I put key symptoms if they occurred toward the center and any improvements noted toward the bottom. I also note unusual physical or emotional feelings, as these sometimes persist or are shadows of an earlier difficulty.

For example, with Allergie-Immun drops, I find that I often will have a body feeling like knee pain or foot pain or dry eyes start up, go on for a few days, and disappear. Many times, I'll remember when I had a physical injury or whatever when that physical feeling was caused by something. On several occasions, this was the last I saw of that sensation. Whoo hoo!!

At the end of the day, I write if, overall, it was a VERY GOOD DAY, good day, fair day, ok day, poor day, bad day, or VERY BAD DAY.

There are several personal types of diary or daily checklists that people here at Lymenet have worked out.

Whatever works for you, eh?

I try very hard to write things down as soon as they happen so I don't forget what's gone on!!!

Doing this, I've evolved a positional scheme for writing in things I do or take, like Rechts Regulat, KPU vitamins, coconut cream, massage, etc. So, when I look over several weeks of data, I can see easily what I was doing or what I stopped doing.

I also wrote up a personal medical history since I was born. I got copies of my medical records from my MD, which helped get many of the dates right.

This way, I can tell if things like brain fog are actually getting better or not.

Unfortunately, Lyme resolution is not a "straight up" process. Truly, you need to be able to compare a month or more with an earlier month or more, not just one day to the next.

I just wish I'd been more thorough when I started nearly three years ago. But, I was much sicker then and more stupid than I am now.

Hope this helps!

Love,

Cass A

---

Posts: 1243 | From Thousand Oaks, CA | Registered: Feb 2007 | IP: Logged |

Brussels
Frequent Contributor (5K+ posts)
Member # 13480


posted

---

You have brain fog:

- when you go buy your bread and you give a big note so that you don't have to count your coins or smaller bills.

- and you don't count the change, because you don't know how much the change should be anyway

- when you want to talk with someone you met many times, but you still can't remember his/her name

- when people keep saying things you did but you have no memory about them. You smile and trust the person's words (because you know you can't trust your memory) and pretend you know what they are talking about, to look normal.

- when you read an article about anything in the newspaper and no matter how many times you read it, you can't understand what the person is talking about

- when you go out with your car and you forget where you were going, so you come back home and laugh about it. And even later, you won't remember where you were going.

- when you are sure that the events that happen for you today will NOT be imprinted in your memory, ever

When you notice that none of these things is happening to you, I think your brain fog is lifted! For me, brain fog and total exhaustion came together many times.

---

Posts: 6196 | From Brussels | Registered: Oct 2007 | IP: Logged |

Cass A
Frequent Contributor (1K+ posts)
Member # 11134


posted

---

Dear Brussels,

Ha Ha Ha!! I had to laugh out loud, reading your list.....the second time!!!! LOL!!!

I'd say that's about right!! BRAIN FOG, indeed!!!

Doesn't include not being able to SAY the person's name, when you finally remember it!

Now, I'm re-reading some novels I read about a year ago, and I don't remember ANYTHING AT ALL about some of them.......

Sometimes, I literally hit a WHITE BLANK when trying to think of something or remember something.

Best,

Cass A

---

Posts: 1243 | From Thousand Oaks, CA | Registered: Feb 2007 | IP: Logged |

carly
LymeNet Contributor
Member # 14810


posted

---

That list is very accurate. Only I didn't really laugh out loud reading it.

It's upsetting to me when I watch a movie for the first time -again, or when any of those things mentioned above happen.

I wonder if this will ever lift.

I talked yesterday to someone about my 8 yr old son. We had a conversation about him.

Well, he's ten. I've been doing this for years and I am so sick of it.

You're all talking about when, when, when..

I'm wondering if, if, if ?

(sorry to be a downer)

---

Posts: 797 | From New York | Registered: Feb 2008 | IP: Logged |

farraday
LymeNet Contributor
Member # 21494


posted

---

The good thing about brain fog is that you don't have to own many movies...you can watch them over and over again cause you can't remember any of it!

I was so out of it for years that I could not read a single page, follow even simple TV shows, fell asleep during phone conversations, could not manage even the simplest task. I was tested and found to be severely impaired.

Then came my famous hospital trip for septicemia. ...six weeks of twice daily IV's of vancomycin and naphcillin. Horrible side effects.

BUT I could now read. I could watch TV. I asked everyone what this 9-11 was that everyone was talking about! It was like waking up from a time warp.

Gradually, over a few years, however, the brain fog returned...and the pain and the fatigue, and the slurred speech. So now I am back on antibiotics because I am sure that eventually it will work again.

I went to cognitive and speech therapy. They recommended word games, memory exercises, etc...anything to exercise the brain.

But since my recent Spect scan showed significant hypoperfusion I wonder if all that therapy can really help. I am still very confused. But I kind of sense that the bicillin shots may be helping a little bit. My speech is certainly improving. So there is hope. Just hang in there!

And enjoy entertaining your family who love to laugh at memory lapses. My naughty son (grown) tells me things like "Don't you remember...you promised to buy me a new mountain bike! I'll bet you just forgot again...." Ha ha ha. When I am better I will get my revenge!!!

--------------------
DOCTOR: "I don't think you are sick."
PATIENT: "We are all entitled to our opinions. I don't think you are a doctor."


---

Posts: 697 | From Northern California | Registered: Jul 2009 | IP: Logged |
Contact Us | LymeNet home page | Privacy Statement

Powered by UBB.classic™ 6.7.3

---
The Lyme Disease Network is a non-profit organization funded by individual donations. If you would like to support the Network and the LymeNet system of Web services, please send your donations to:
The Lyme Disease Network of New Jersey
907 Pebble Creek Court, Pennington, NJ 08534 USA
http://www.lymenet.org/
---
Home | Flash Discussion | Support Groups | On-Line Library
Legal Resources | Medical Abstracts | Newsletter | Books
Pictures | Site Search | Links | Help/Questions
About LymeNet | Contact Us
---
© 1993-2020 The Lyme Disease Network of New Jersey, Inc.
All Rights Reserved.
Use of the LymeNet Site is subject to Terms and Conditions.
---