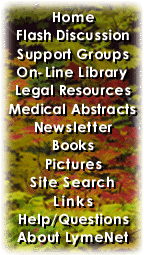 ---
LymeNet on Facebook
LymeNet on Twitter
---
---
The Lyme Disease Network receives a commission from Amazon.com for each purchase originating from this site.
When purchasing from Amazon.com, please
click here first.

Thank you.




Dedicated to the Bachmann Family


LymeNet needs your help:
LymeNet 2020 fund drive

The Lyme Disease Network is a non-profit organization funded by individual donations.

| | |
| --- | --- |
| | |
Author
Topic: Cortisone Injections/Lumbar surgery

joysie
LymeNet Contributor
Member # 11063


posted

---

OK group,
I am going to run all this by my lyme doc but I am wondering..
I have been treated for 2+ years for lyme, babesia, bart. My current remaining symptoms are mostly neuro.
I have spinal stenosis. My ortho today recommended
surgery (posterior decompression and fusion with instrumentation to be formal .
I also have a nodule on my thyroid that needs looking into, so I asked for an interim measure. He suggested a cortisone shot. My lyme doc has previously not been alarmed by this prospect but I am!
So... 1) Who has had steroid injections and did you have lyme side effects?
2) Who has had surgery? Did you stay on all abx? What happened with your lyme symptoms?
I am anxious to hear your experiences.
Thanks
Kris

---

Posts: 520 | From Maryland | Registered: Jan 2007 | IP: Logged |

Lymetoo
Moderator
Member # 743


posted

---

I would NOT do the cortisone shot unless it was for something life-threatening. The shots are worse than any other steroids when it comes to Lyme patients.

I haven't had surgery DURING Lyme treatment.

--------------------
--Lymetutu--
Opinions, not medical advice!


---

Posts: 95725 | From Texas | Registered: Feb 2001 | IP: Logged |

springshowers
Frequent Contributor (1K+ posts)
Member # 19863


posted

---

I have not done full Back Surgery..

I refused it..

But I have one Epiderals. I have not had one in 3 years and I was not aware of the steriod issue.

I am sure they used Steroid anti inflamatories for the epideral but not 100 percent positive.

The procedure went well and actually really well. I have a much better back situation than ever.

I would take second look at the whole disk surgery option. I had been watching my disks go from ruptured and them saying I need surgery to complete repair. And then another disk would be ripped or ruptured.

Its amazing how much healing our bodies can do.

It sounds like yours is more serious. My brother has one 3 surgeries with fusions etc.. He is in bad shape. And is still in bad shape..

I have heard so many horror stories about these back surgeries..

Do your homework for sure.. before proceeding.

Good Luck

---

Posts: 2747 | From Unites States Of America | Registered: Apr 2009 | IP: Logged |

Keebler
Honored Contributor (25K+ posts)
Member # 12673


posted

---

-
http://www.ilads.org/lyme_disease/B_guidelines_12_17_08.pdf

Dr. Burrascano'sTreatment Guidelines (2008)

Excerpts:

P. 4:

. . . More severe illness also results from other causes of weakened defenses, such as from severe stress, immunosuppressant medications, and severe intercurrent illnesses.


This is why steroids and other immunosuppressive medications are absolutely contraindicated in Lyme. This also includes intraarticular steroids.

. . . .

From page 12:

. . . More evidence has accumulated indicating the severe detrimental effects of the concurrent use of immunosuppressants including steroids in the patient with active B. burgdorferi infection.


Never give steroids or any other immunosuppressant to any patient who may even remotely be suffering from Lyme, or serious, permanent damage may result, especially if given for anything greater than a short course.


If immunosuppressive therapy is absolutely necessary, then potent antibiotic treatment should begin at least 48 hours prior to the immunosuppressants. . . .

Page 20:

. . . and absolutely no immunosuppressants, even local doses of steroids (intra-articular injections, for example). . . .

====================

http://www.lymenet.de/literatur/steroids.htm

Antibiotics and Steroids

by John Drulle, M.

Excerpt:

. . . "Steroid Disaster" is a term coined by the pioneer of Lyme Treatment . . .

Corticosteroids are immune suppressants, the last thing a Lyme patient needs is to lower immunity.


Can you imagine, your body trying hard to fight off the spirochete bacteria and suddenly and immunosuppressants is introduced, "freezing" your immune system, rendering it unable to battle, giving great advantage now to the Lyme bacteria to spread and go wherever it wants .

Corticosteroids can last in the body for months, usually around 6 months. In many bacterial infections such as LD, damage can be done.

Many Lyme patients (such as myself) triggered LD with cortisone shots, pills, inhalers, etc. I can tell you, it is a nightmare I wouldn't wish on my worst enemy.

It is imperative to NEVER take corticosteroid for pain if you know you have a bacterial infection.

Some bacterial infections are so severe that a shot of cortisone could kill you, although that would be unlikely with Lyme, but rule of thumb, bacterial infections and immunosuppressants do not mix!

. . .

Dr. Burrascano makes it clear in his treatment guidelines that steroid treatment is detrimental, these are excerpts from his guidelines . . . . [above] . . .

. . .

An easy explanation. Your immune system are the "soldiers" of your body constantly standing by to attack any foreign invader.


When an immunosuppressant is used, it is like killing off or knocking out most of your "soldiers", now your body is open to all foreign invasion and while your immune system is knocked out, those invaders can go anywhere, your heart, liver, brain - everywhere.
-

---

Posts: 48021 | From Tree House | Registered: Jul 2007 | IP: Logged |

TF
Frequent Contributor (5K+ posts)
Member # 14183


posted

---

About 1 1/2 years after I completed my lyme treatment, I had 2 epidural injections for herniated discs. They were steroid injections. They totally took care of my problem. It was wonderful.

I never got any lyme symptoms from these shots. I say that I got rid of lyme 4 1/2 years ago. The steroids did not cause it to come back. So, it seems to me that I am cured.

I really, really needed the injections. My pain was horrendous and nothing was helping it. I could not sit or stand for more than a few minutes. I was always in pain.

But, I had already gotten rid of lyme disease when I got these injections.

---

Posts: 9931 | From Maryland | Registered: Dec 2007 | IP: Logged |

joysie
LymeNet Contributor
Member # 11063


posted

---

Thanks everyone for the input. I have read Burrascano, and heard different responses to steroids. I do not want back surgery, but I want to be able to walk and maintain at least a scrap of my liver.
This is all confusing, isn't it? Any other comments are most welcome
Kris

---

Posts: 520 | From Maryland | Registered: Jan 2007 | IP: Logged |

seekhelp
Frequent Contributor (5K+ posts)
Member # 15067


posted

---

TF, it sounds like you responded more favorably to Lyme treatment than virtually anyone else here (when you saw a real doctor). Every was 'textbook.'`

---

Posts: 7545 | From The 5th Dimension - The Twilight Zone | Registered: Mar 2008 | IP: Logged |

joysie
LymeNet Contributor
Member # 11063


posted

---

Anyone else??

---

Posts: 520 | From Maryland | Registered: Jan 2007 | IP: Logged |

hopeful4
LymeNet Contributor
Member # 8486


posted

---

Steroids are contraindicated for lyme patients. According to Kenneth Singleton MD in his book "The Lyme Disease Solution" on page 304:

"...steroids can suppress the immune system and may also enable the Bb bacteria to penetrate deeper into body tissues. Therefore, systemic steroids in immunosuppressive doses should not be used, except in cases of emergencies or life-threatening situations, such as severe asthma."

Before my husband knew he had lyme disease, he had a series of 3 steroid injections for a back injury. For him, this caused a severe migraine with an ocular migraine, and caused him to fall deeper into the lyme disease (i.e., symptoms increased).

I have had 2 surgeries. The first, I didn't yet know I had lyme. It was breast cancer followed by radiation therapy. I think I did well through it because of a lot of complementary therapies and support (such as an ND who supported with vitamins, supplement, nutrition; acupuncture; massage therapy; reiki treatments; qigong and yoga.)

The second surgery (total hysterectomy) I knew I had lyme. I did well through it, took antibiotics, but not the lyme ones. I did continue with Samento and Andrographis. However, it took me a very long time to recover (strength, energy). Still not back to my pre-surgery self.

Back surgery possible alternative for you: Do you know about minimally invasive back surgery? There is a place called Laser Spine Institute (www.laserspineinstitute.com) that you can check out. My husband has had 2 surgeries there, neck and low back. They can take a look at your MRIs and history to determine if you may be a candidate for their surgery.

It's performed in an outpatient clinic, they have you walking the same day. They do not use any hardware, no metal, no screws, no fusion. I talked to many patients in their facility who had excellent improvements. My husband is doing well, and going back for a 3rd surgery at a different injury site.

It's expensive, but they help you work with your insurance.

Best wishes.

---

Posts: 873 | From WA | Registered: Dec 2005 | IP: Logged |

knshore
LymeNet Contributor
Member # 13451


posted

---

If you can, I would strongly suggest you avoid the steroid epidurals.

I had 2 about 3.5 years ago, before I was dx'd with Lyme. I should add that I was 16 at the time and it made me really ill. I had to drop out of school, etc.

I was recently hospitalized again for this issue and this time they gave me a nerve block (uses half the steroids an epidural does) and it did help. However, I have never been sicker.

I now pass out all the time and have fainted a few times. I can't walk well on my own. It caused a lot of havoc for me.

Also, I am on 2 IV abx.

There is also a surgery called x-stop for disc issues which I will be evaluated for in January. My LLMD has agreed that I need it. I'm WAAAAAY too young to be having such severe disc problems.

The reason I suggest that surgery is because they don't do a vertebral fusion; rather they replace the disc. My LLMD agreed it would be the best way to go.

Anyway, I hope that helps!

---

Posts: 215 | From Student | Registered: Oct 2007 | IP: Logged |

karenl
Frequent Contributor (1K+ posts)
Member # 17753


posted

---

I blame steroid tablets and some steroid cream for all of my problems.
I was doing fine till I got a five day steroid treatment for a bad shoulder pain.
After that I got sick and did not know why. I think at that time my protozoa started to thrive.

They say the steroids stay in the body for 12 months! On the package there was a recommendation not to travel and have vaccinations for 12 months after the steroid.

---

Posts: 1834 | From US | Registered: Oct 2008 | IP: Logged |

merrygirl
Frequent Contributor (1K+ posts)
Member # 12041


posted

---

I didnt read all the replies, but i had 2 injections into my neck 3 different times. No bad side effects and my neck feels great!

---

Posts: 3905 | From USA | Registered: May 2007 | IP: Logged |

gwb
Frequent Contributor (1K+ posts)
Member # 7273


posted

---

Five months ago I had 3 steroid epidurals given to me for leg pain that I've had for several years. The pain had gotten to the point that I didn't care about how it affected me, even though I knew it was not recommended for someone with Lyme.

If I could take it back I would. After having three shots over a two month period of time I got so sick I couldn't get up out of bed for one month.

All I could eat for the whole day were three saltine crackers. I was nauseated daily and extremely weak. I really felt I was going to die and not live to see another day at times.

I'm still recovering from the affects of those shots and regret ever making the decision to get the shots. Sad thing is, I'm still suffering with leg pain (right side) as the shots did nothing for me.

I've also had more gut problems over the last four months too, although, I can't say for certain it was caused from the steroids, I suspect it was.

Anyway, only you and your doctor can make this decision. If the pain you are experiencing is that bad, and if your LLMD approves it, then the decision is yours to make.

I pray it all works out for you in a positive way one way or the other.

Gary

---

Posts: 1349 | From OK | Registered: May 2005 | IP: Logged |

joysie
LymeNet Contributor
Member # 11063


posted

---

Thank you all for your information. I am doing my homework, and you have all given me alot to think about. Good grief.I'm grateful to have all your collective experience.
Take care
Kris

---

Posts: 520 | From Maryland | Registered: Jan 2007 | IP: Logged |

lymednva
Frequent Contributor (1K+ posts)
Member # 9098


posted

---

While I can't respond about the injections, I have had two surgeries with Lyme and both took much longer than usual to recover. I basically spent weeks in bed following my shoulder surgery, when I knew I had Lyme.

For my knee surgery I was pre-diagnosis, didn't know I had a physical illness (thought all my symptoms were normal aging). I ended up missing almost 2 months of work and it took me over a year to get back to my then "normal."

--------------------
Lymednva


---

Posts: 2407 | From over the river and through the woods | Registered: Apr 2006 | IP: Logged |
Contact Us | LymeNet home page | Privacy Statement

Powered by UBB.classic™ 6.7.3

---
The Lyme Disease Network is a non-profit organization funded by individual donations. If you would like to support the Network and the LymeNet system of Web services, please send your donations to:
The Lyme Disease Network of New Jersey
907 Pebble Creek Court, Pennington, NJ 08534 USA
http://www.lymenet.org/
---
Home | Flash Discussion | Support Groups | On-Line Library
Legal Resources | Medical Abstracts | Newsletter | Books
Pictures | Site Search | Links | Help/Questions
About LymeNet | Contact Us
---
© 1993-2020 The Lyme Disease Network of New Jersey, Inc.
All Rights Reserved.
Use of the LymeNet Site is subject to Terms and Conditions.
---