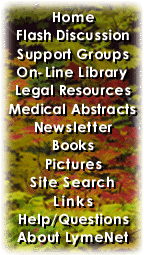 ---
LymeNet on Facebook
LymeNet on Twitter
---
---
The Lyme Disease Network receives a commission from Amazon.com for each purchase originating from this site.
When purchasing from Amazon.com, please
click here first.

Thank you.




Dedicated to the Bachmann Family


LymeNet needs your help:
LymeNet 2020 fund drive

The Lyme Disease Network is a non-profit organization funded by individual donations.

| | |
| --- | --- |
| | |
Author
Topic: Scott says 2010 will be year of biotoxin removal

Wallace
LymeNet Contributor
Member # 4771


posted

---

in his betterhealthguy.com newsletter.

I agree this is the key problem we face but how to do it? Any suggestions!!!!

I have a feeling that a lot of us are just going round in circles.

last night I took a large dose of activated charcoal around 40G POWDER of 1000 density.This is the amount you take if you have been poisoned.

And I feel poisoned all the time!

I took it as a single dose and felt a mild fever developing.

Charcoal has been used as an antibiotic in the past.


I intend to continue to taking 40G daily and see what transpires and report back.

I have been taking 25G of charcoal in divided doses for a while.

I had to start taking a tiny dose but gradually built up.

wallace

---

Posts: 654 | Registered: Oct 2003 | IP: Logged |

Wallace
LymeNet Contributor
Member # 4771


posted

---

froDecember 08, 2009
Finding Healing Outside Of Man's Medicine
9 comments
Do you wonder if anybody ever goes into permanent remission from Lyme disease? Do you wonder if it's possible to return to your pre-Lyme state of perfect health, or at least become healthier than you were before Lyme?

I have been researching Lyme disease for four and a half years. I have attended two Lyme disease conferences, and written two books on the subject. I have spoken to dozens of Lyme disease sufferers, and sadly, I have met few who consider themselves to be in remission, or even close to it.

Some of the most well-respected Lyme-Literate physicians who have treated thousands of patients don't believe that anybody ever completely gets rid of Lyme disease, and rumor has it that one doctor who has treated over 25,000 patients believes that even those who go into remission don't stay there for long. As soon as a life stressor comes along, then the bugs come out to play again.

When I asked another physician who has also treated thousands of patients whether she has ever seen anyone stay in remission for longer than ten years, she uttered sadly, "No." Since I know of a small handful of people who have been symptom-free for five years, when I asked her this question, I decided to up the ante to ten years.

But it isn't just Borrelia I am referring to here. Dr. H, at the recent ILADS conference, stated that we (physicians and patients) aren't beating Babesia. Some strains of this organism just refuse to be eradicated.
m www.lymebytes.blogspot.com

Connie strasheim excellent blog on going in circles, the beginning of her Dec 8 entry is:

** edited to remove doctor's name **

[ 01-09-2010, 03:36 PM: Message edited by: sixgoofykids ]

---

Posts: 654 | Registered: Oct 2003 | IP: Logged |

gwb
Frequent Contributor (1K+ posts)
Member # 7273


posted

---

Not very encouraging. : (

---

Posts: 1349 | From OK | Registered: May 2005 | IP: Logged |

seekhelp
Frequent Contributor (5K+ posts)
Member # 15067


posted

---

What a horribly depressing view on TBIs though it means LLMD's have guaranteed revenue for life. ;(

What about Dr. K? Everybody that guy touches is healed. Dr. S in the Lyme Disease Solution cured people left and right in his book in 2-3 months. LymeMD cures people pretty easily in his blog too. Are these all lies? The German Bionic 880 chiro cures most people he sees.

Either there is a sick slewing of facts or something is wrong.

[ 01-09-2010, 02:18 PM: Message edited by: seekhelp ]

---

Posts: 7545 | From The 5th Dimension - The Twilight Zone | Registered: Mar 2008 | IP: Logged |

kitty9309
LymeNet Contributor
Member # 19945


posted

---

We generally only hear about the success stories. No doctor, author, proponent of a cure will mention failures. You will only hear about them from patients themselves, maybe on a forum like this one.
I am guessing your comment was a bit tongue in cheeck, eh?



quote:

---

Originally posted by seekhelp:
What a horribly depressing view on TBIs though it means LLMD's have guaranteed revenue for life. ;(

What about Dr. K? Everybody that guy touches is healed. Dr. S in the Lyme Disease Solution cured people left and right in his book in 2-3 months. LymeMD cures people pretty easily in his blog too. Are these all lies? The German Bionic 880 chiro cures most people he sees.

Either there is a sick slewing of facts or something is wrong.

---

---

Posts: 819 | From East Coast | Registered: Apr 2009 | IP: Logged |

sparkle7
Frequent Contributor (5K+ posts)
Member # 10397


posted

---

You just have to keep working on it. It's sad to think that we won't be "normal" again but it's not the end of the world.

I've had other illnesses that I eventually put into some sort of remission. People live with AIDS, diabetes, heart problems, etc.

I guess you have to try to change your frame of reference & deal with it on a day to day basis. I hope for me & everyone else that one day it will diminish & it won't be such a big part of our lives.

PS - Wallace - the charcoal can also absorb any drugs or herbs, supplements you are taking. You may want to alternate it on & off as needed. Dr. Schulze makes a good product to absorb toxins called Intestinal Cleanse #2 - I think. (I don't sell any products.)

---

Posts: 7772 | From Northeast, again... | Registered: Oct 2006 | IP: Logged |

sixgoofykids
Moderator
Member # 11141


posted

---

The Bionic 880 doctor is an MD who is also trained as a chiropractor. I think he probably does get rid of "borrelia" in all his patients, the issue is however, most of us have more problems that *only* borrelia so treatment needs to continue to prevent borrelia from coming back out, to kill the other pathogens, and to rebuild the body back to health.

I continued to treat for many months after I returned from Germany and still treat monthly, not because I feel like I need it, but because I do not want to relapse.

I feel the best I have ever felt in my adult life. I am treating KPU and hypothyroid currently and will continue to do so. I believe that for me, KPU pre-dated Lyme. I believe my Lyme is in complete remission since Aug. 2009 and I have been off meds and killing herbs since Sept. 2008.

Granted, I haven't been in remission for ten years yet, but I feel that as long as I continue to take care of myself that I can remain here. At this point I think I feel better than most people my age (46).

An interesting side note - one time in High School I got sick with the "stomach flu" (that of course, no one else in my family got). My grandmother made me a concoction to drink that helped my stomach tons! Her concoction was toast that was burnt to a crisp, then the black charcoal was scraped off into a cup of warm water and I sipped on it. I think the older generations knew how/when to give charcoal without having to put it in neat capsules.

I think we are exposed to more biotoxins that we used to be and for this reason, I continue to detox continually.

--------------------
sixgoofykids.blogspot.com


---

Posts: 13449 | From Ohio | Registered: Feb 2007 | IP: Logged |

sparkle7
Frequent Contributor (5K+ posts)
Member # 10397


posted

---

Yes. I agree. Detox has to be a way of life these days. Either through saunas, herbs, things that absorb the toxins, removing mercury, using less toxic household products, food...

My mother used to do the burnt toast thing for stomach problems, too. We just ate the toast. She didn't make it as a drink. That's funny. I haven't thought about that in ages.

I was upset that the price of charcoal tabs went up. It's close to $10 for a bottle of burnt vegetable matter... I assume that's how they make it.

Good to hear your are doing well, 6. It's an inspiration for all of us. I'm not against drugs but I think they can be overused. I think you have to get away from them to give your body a chance to heal on it's own.

I guess you have to rotate the treatments to get rid of toxins, too. I never felt comfortable with endless abx. It's just my approach, though.

---

Posts: 7772 | From Northeast, again... | Registered: Oct 2006 | IP: Logged |

Wallace
LymeNet Contributor
Member # 4771


posted

---

Connies book Insights into Lyme disease is worth getting.

I found it reassuring

A lot of these LLMD have lyme as well so we are all in the same boat!!!

I think permanently we will all have to take something.

Thanks for the inspiring example Six and blog.

I think Dr K is inspiring but his solutions are so complicated!!!! But his analysis is always interesting.

I been having a mild herx with my charcoal so have decided to just gradually increase my single dose of it as I need to function....

W

---

Posts: 654 | Registered: Oct 2003 | IP: Logged |

seekhelp
Frequent Contributor (5K+ posts)
Member # 15067


posted

---

Yeah, Dr. K's ideas are far out there relative to LLMDs. Interesting.

---

Posts: 7545 | From The 5th Dimension - The Twilight Zone | Registered: Mar 2008 | IP: Logged |

sixgoofykids
Moderator
Member # 11141


posted

---

I like how Dr. K's ideas address the whole body's functioning rather than *only* how to kill the infections.

--------------------
sixgoofykids.blogspot.com


---

Posts: 13449 | From Ohio | Registered: Feb 2007 | IP: Logged |

massman
Unregistered



posted

---

6 wrote: "I like how Dr. K's ideas address the whole body's functioning rather than *only* how to kill the infections."

Doesn't Dr. K understand that here in America it's all about kill kill kill

K is radical 'cause he feels
1. body parts are connected + work together
2. our toxic enviroment contributes to poor health

His goggles are fogged + covered with bugs cause he is so far ahead of the curve of most dealing with health challenges.
______________________________________________
Whatever you do, be a seeker

---

IP: Logged |

SForsgren
Frequent Contributor (1K+ posts)
Member # 7686


posted

---

I agree that Dr. K is ahead of his time. KPU appears to be a breakthrough in the treatment of Lyme for many of us.

His recommendations can be complex. They can at times be aggressive for some, but at the end of the day, he's helped my journey more than any other single person. He's one of the most brilliant and caring people I've ever met.

--------------------
Be well,
Scott


---

Posts: 4617 | From San Jose, CA | Registered: Jul 2005 | IP: Logged |

ping
Frequent Contributor (1K+ posts)
Member # 6974


posted

---

Unfortunately, I have to agree that 'curing' someone with multiple TBI's is not in the cards at this time. Used to be that many people tauted the 5 year mark as a cure window and this might be the case with cancer and other illnesses, but sadly, not with these diseases.

I've been in remission and off abx tx closing on 3 years now (after 5 years+ tx) and although doing well, wouldn't dare claim to be cured. Saw a few people come back to this site last year who say they were symptom free for 10 to 15 years and the symptoms returned; one was a auto accident, I think and the other was a major surgical patient. I suppose we just have to live with that reality...for now.

A really excellent quote from Ben Johnson who played a disabled Deputy Sheriff in No Country for Old Men that I thought summed up our situation well:

"People spend a lot effort trying to get back what was took from them. Meanwhile, more time is going out the door. Somehow, you got to get a tourniquet on it."

--------------------
ping
"We are more than containers for Lyme"


---

Posts: 1302 | From Back in TX again | Registered: Mar 2005 | IP: Logged |

NanaDubo
Frequent Contributor (1K+ posts)
Member # 14794


posted

---

Agree with Scott and massman. I have learned more from reading DK's information then anything else I've found.

Learned more from the one seminar I attended then I learned from all the doctors I have seen in the past (combined).

You can tell just by watching him that he truly cares. He is also quite brilliant.

---

Posts: 1129 | From Maine | Registered: Feb 2008 | IP: Logged |

sixgoofykids
Moderator
Member # 11141


posted

---

I would agree that KPU is a breakthrough. It was a HUGE piece of the puzzle for me.

--------------------
sixgoofykids.blogspot.com


---

Posts: 13449 | From Ohio | Registered: Feb 2007 | IP: Logged |

massman
Unregistered



posted

---

Scott said "He's one of the most brilliant and caring people I've ever met."

I agree completely, even though I have never met him. Thanks !

---

IP: Logged |

Sick Tick
LymeNet Contributor
Member # 23003


posted

---

I know we can't post MD's names on this site, but could someone tell me where I can find out who Dr. K is so that I can read his stuff?

---

Posts: 283 | From where the ticks are! | Registered: Oct 2009 | IP: Logged |

sixgoofykids
Moderator
Member # 11141


posted

---

PM sent to Sick Tick

--------------------
sixgoofykids.blogspot.com


---

Posts: 13449 | From Ohio | Registered: Feb 2007 | IP: Logged |

TxLymie
LymeNet Contributor
Member # 20847


posted

---

Can someone also PM me who he is and what is KPU?

--------------------
TxLymie
IgG-Negative
IgM - Postive bands 23 and 41

Other dx: 2000: Endometriosis 2009: Chronic EBV, Mycoplasma infection, HHV6, H.pylori


---

Posts: 297 | From Houston | Registered: Jun 2009 | IP: Logged |

Lymetoo
Moderator
Member # 743


posted

---

quote:

---

Originally posted by seekhelp:


What about Dr. K? Everybody that guy touches is healed. Dr. S in the Lyme Disease Solution cured people left and right in his book in 2-3 months. LymeMD cures people pretty easily in his blog too. Are these all lies?

---

Probably.

--------------------
--Lymetutu--
Opinions, not medical advice!


---

Posts: 95737 | From Texas | Registered: Feb 2001 | IP: Logged |

Wallace
LymeNet Contributor
Member # 4771


posted

---

Take scotts article on Dr K. microbes, toxins and unresolved emotional conflicts which appeared in Public health alert a while back.

I thought it was excellent but for me the most important of the 3 in terms of what we have to do is removing the toxins continually.

Eventually the microbes will settle down leaving us with all the emotional stuff to deal with.

Sure its a trinity but the axis is toxin removal. Hence the subject of this thread.

We dont want to kill,kill but rather come and be gone!!!

simone weil said that the purest souls will be the most afflicted. We need to take this on board and adapt rather than complaining etc

Jesus advice to pray and fast also needs to be acted on!

W

---

Posts: 654 | Registered: Oct 2003 | IP: Logged |

lymewreck36
Frequent Contributor (1K+ posts)
Member # 4395


posted

---

Bionic 880 doctor does NOT cure most people he sees. Some feel good.....very few reported staying in remission. This was something I investigated thoroughly in the summer through blogging and being a patient there. His office does have many beneficial therapies that I would continue to use if I could afford it.

Can't speak for other doctors...my llmd says he has a high cure rate, but then again, he refuses to share information with a patient that says llmd is hard to cure, and won't watch "under our skin" because he says it doesn't show people being cured, and won't read "Cure Unkown: Inside the lyme disease epidemic" because he says he believe the cure "Is Known."

I have heard from some people who say they are cured....but not ten years out of treatment.

I have chosen to put my faith in the idea that there will be a cure one day, if not today, and just take one day at a time until it happens.

Otherwise, you only feel sorrow and regret.

Mary

---

Posts: 1022 | From North Carolina | Registered: Aug 2003 | IP: Logged |

massman
Unregistered



posted

---

Mary - a doc that does not aggressively pursue all types of continuing education about such a tough evasive disease like lyme is _________

(boy do I have lots of words to fill in the blank and NONE of those words are positive!)

---

IP: Logged |

lymewreck36
Frequent Contributor (1K+ posts)
Member # 4395


posted

---

I know what you mean massman...but you have to know this doc. He will go the long road with you, he is extremely compassionate and treats with ILADS therapies, until you are symptom free.

But his Christian faith pushes him to believe that God heals us and has a plan for all of us being well. So he refuses to say that lyme is uncurable.

Some times I feel frustrated, like when he wants to take my daughter off medication and I know she is still not well.........

But so far, he has been good to us.

He is very aggressive in treating lyme and co-infections.....

But he also tells us how many cures he has now everytime we go in to see him.

I'm skeptical.

Mary

---

Posts: 1022 | From North Carolina | Registered: Aug 2003 | IP: Logged |

Wallace
LymeNet Contributor
Member # 4771


posted

---

iN the insights into lyme disease book some of the LLMD say they will be ``optimistic`` about what they say to their patients about eventual cure.

Is there a thread which talks more about the German Bionic doc? He seems interesting! But one needs to speak German....... does he speak French? I know he believes the cure is spiritual.....


http://www.drmcdougall.com/forums/viewtopic.php?f=32&t=14602

Ever seen a picture of Dr S of moldwarriors fame?
He looks overweight to me and I believe a hight fat, high protein diet promoted by himself and others in promoting the microbes rather than fighting them

The above thread is from a low fat vegan regime which is superior in my opinion, see my comments there.
also www.tcolincambell.org on the china study

W

---

Posts: 654 | Registered: Oct 2003 | IP: Logged |

sixgoofykids
Moderator
Member # 11141


posted

---

Dr W speaks English. I think he speaks a couple languages. I spoke Spanish to one of the nurses, but everyone else spoke at least some English.

I came back from Germany 50% improved, then continued treatment and it took 9 months before I was symptom-free. I was at a high level of functioning through those 9 months and also did various other treatments, but the Bionic was the only one for the Lyme/babs/bart.

I also did Hulda Clark liver cleanses and coffee enemas for detox. I did a Dr. Natura cleanse, Humaworm, Triphala/haritaki, and fermented foods for my gut. KPU protocol.

Wallace, there is a bionic 880 thread, use the search feature and you will find it. It's quite lengthy. I don't understand your comment about the cure being spiritual?? If it were a spiritual treatment I would not have gone. It's energetic ... can be explained by physics.

I think the 3 weeks in Germany is just a start with his treatment, I believe it has to be ongoing for it to bring someone to remission. Also, other issues have to be looked at, ie, I had to treat parasites separately.

--------------------
sixgoofykids.blogspot.com


---

Posts: 13449 | From Ohio | Registered: Feb 2007 | IP: Logged |

TerryK
Frequent Contributor (5K+ posts)
Member # 8552


posted

---

Wallace,
Do you have any evidence to suggest that a high protien, high fat diet promotes microbes?

It is understood that infection increases the need for protien by 20-25%. That may be hard to get with a vegetarian diet but then I'm no expert in that type of diet.
http://medind.nic.in/iby/t06/i8/ibyt06i8p129.pdf

The problem is that many of us have hypoglycemia and or insulin resistance. This necessitates a diet low in carbohydrates. Sometimes extremely low such that it would be hard to eat without animal protien and fat. I tend to immediately gain weight if I eat a normal carbohydrate diet.

I don't know for sure but it's possible that Dr. S. has a problem with biotoxins himself. It's not unusual to find that the doctor who discovered an issue or treats it has the problem himself. Biotoxins tend to cause insulin resistance and leptin resistance. This can cause obesity despite a normal caloric intake and reasonable diet.

Terry
I'm not a doctor

---

Posts: 6282 | From Oregon | Registered: Jan 2006 | IP: Logged |

Amanda
Frequent Contributor (1K+ posts)
Member # 14107


posted

---

I think what happens with many of theswe LLMDS is that the patients that do well stick with them. The patients that don't do well begin not to trust the doctor, and they move on.

What that does is create a patient pool that overall does better, and so of course, the doctors have good success in their practice overall because they loose the patients that don't do as well.

All of us are so different, and we all respond differently. So different protocols are needed.

A note on detox, there are supposidly three levels of detox. First, get toxins out of cells, Second get toxins out of organs, Third get toxins out of skin, bladder, and colon.

Supposidely, in order for it detox to be effective, you have to have several different detox programs at the same time to address all three levels.

This is why many of those kits have several different protocols that you take.

--------------------
"few things are harder to put up with than the annoyance of a good example" - Mark Twain


---

Posts: 1008 | From US | Registered: Dec 2007 | IP: Logged |

Wallace
LymeNet Contributor
Member # 4771


posted

---

read the China study by T. C.Campbell then the book at www.heartattackproof.com on how nitric oxide is combatted on low fat vegan regime.

W


joel fuhrmans site is usefull as well

---

Posts: 654 | Registered: Oct 2003 | IP: Logged |

Wallace
LymeNet Contributor
Member # 4771


posted

---

connies book talks about this in her interview with the german doc. He says he cant tackle this with his English patients cos of language problem.

I loved reading your blog!

---

Posts: 654 | Registered: Oct 2003 | IP: Logged |

sixgoofykids
Moderator
Member # 11141


posted

---

He says he can't tackle what because of language barrier? I'm curious because I went over there, continued the treatment here, and am well today.

Do you mean spiritual healing? I did "tapping" to help me with some emotional issues and oddly enough it helped. I thought all I'd be wasting would be time (since it's free), so why not try it?

--------------------
sixgoofykids.blogspot.com


---

Posts: 13449 | From Ohio | Registered: Feb 2007 | IP: Logged |

Wallace
LymeNet Contributor
Member # 4771


posted

---

He wants to discuss the meaning of life etc You know what these germans are like!!!!His english isnt that good is it?

---

Posts: 654 | Registered: Oct 2003 | IP: Logged |

massman
Unregistered



posted

---

Wallace - what about those eskimoes that eat LOTS of fat + have very little or no heart disease ?

6goofy - was that "tapping" EFT ?

---

IP: Logged |

Brussels
Frequent Contributor (5K+ posts)
Member # 13480


posted

---

Another comment. People that are still sick after years of treatment have difficulty to believe that others can get well after years of battle.

Whatever you call, remission or cure, what matters is to live a normal life without lyme treatment, in my feeling.

I relapsed quite a few times before too. Now still crossing my fingers. I feel like Six, that I don't feel like I'm going to relapse after photon therapy. But who knows?

I'm still doing prevention, meaning: the KPU, eating as healthy as possible, exercising, avoiding too many EMRs etc. But I'm not treating lyme since May and remaining without symptoms.

I'll be glad when I reach my 1 year mark lyme treatment free. If I pass winter without lyme treatment and without relapse, that will do for me. I'll take it as a gift.

I couldn't expect more and if I can do a year like that, I believe I can try to live a second year without lyme? For me, that is more than enough than to expect a total erradication of borrelia in my body.
------

Nice to see you again, Wallace! Are you still in France?

And I agree with all the guys, dr. K. is great. I owe my life to him and all the great people that introduced me to his therapies.

I just got my hands again into the wonderful book of B. Hellinger and that again, changed my life. He doesn't stop in healing the body and infections. One can go much further in healing.

Dr. Mercola had recently a great article about ART in his site. It is really fascinating what dr. K. accomplished, that his 'technique' can be available for other practioners.
---

Yes, I don't think that all fats are bad for the heart. People take Omega 3 from fish fats for heart disease prevention, right?

Our brains are also made of fat and it seems that the biological passage from ape to human happened in an area where people consumed high amounts of animal fat (fish, if I'm not mistaken?).

Anyway, I crave animal fats when I'm in more need to detox. Adding more fat, gives me a calming effect. Ghee butter, I can eat in spoons when I'm detoxing heavy metals. In lack of ghee, I just take any butter.

---

Posts: 6196 | From Brussels | Registered: Oct 2007 | IP: Logged |

Wallace
LymeNet Contributor
Member # 4771


posted

---

On oils go to the links I mentioned. I get omega 3 ETC from nuts and ground up flaxseed. eskimos have huge rates of osteoporosis!!!
The T colin campbell site is great with interviews etc He is the nutritional expert!

But Isn't Olive Oil Healthy?


The debate over olive oil is a popular one and considering the mass advertising for the health benefits of olive oil and the Mediterranean Diet it is no wonder that this is so. But is olive oil a health food? Doesn't it provide us with our essential fatty acids? Isn't it loaded with polyphenols? Does it really protect us against Heart Disease? Let us examine the evidence and decide for ourselves.


In order to understand the claim that the Mediterranean Diet is healthy, we must understand what that assertion is based on. The data for this claim was collected over 50 years ago and based on observations made of the people living on the island of Crete. What were these observations? That these people were eating a diet rich in fruits, vegetables, legumes and whole grains and were supplementing their diet with olive oil and occasional animal products (particularly fish). In addition, they were physically active (lots of walking and working in the fields). So, is it any wonder that they were reported to be healthier than the average sedentary American living on the Standard American Diet? No, not really. But, what did we take from this study? Certainly not that we should get off the couch and start moving or that the basis of our diet needed to change, and that we needed to incorporate more of these whole foods (fruits, vegetables, legumes, and whole grains). Instead, we decided that of all the good things in this lifestlye, we would hone in on the one part of the Mediterranean Diet that is 100% fat and devoid of virtually all nutrients (vitamins, minerals, phytochemicals, fiber, protein, etc) - the olive oil.


So, we began to add olive oil to everything because if a little is ``good'' than a lot must be better. Why is this a problem? Because, on many levels it is misinformation. First, even if a little of something was good that in no way correlates to a lot of that something being better. Take as an example exposure to sunlight. Getting a little bit of sun helps our skin activate Vitamin D (a vital component in many processes occurring in our bodies), getting a lot of sun gives us a sunburn, and getting a whole lot of sun can give us cancer. But even more important, is the fact that the addition of olive oil to our already saturated with fat diet is in fact detrimental to our health. The American Heart Association recommends limiting our fat intake to 25-35% of our total caloric intake. (AHA Website ``Know your fats.'') The average American diet is 45% fat. If we do the math, we can see that what we really need to be doing is cutting out fat NOT adding more in!


How do we does this? One, by greatly limiting or altogether eliminating oil from our diet. Oil is THE most calorie dense food available to us. To get a better idea let us look at some foods and their calories per pound:


FOOD CALORIES PER POUND


Lettuce 100


Apples 200


Sweet Potato 400


Brown Rice 500


Black Beans 600


Olives (in water) 600


Avocado 750


Chocolate 2200


Nuts 2800


Oil 4000


We can see in the above table that pound for pound oil has more calories than ANY of the other foods. Why is this? Because oil is processed to strip away almost all of the vitamins (except some Vit E and Vit K), minerals, and other nutrients from the whole food (e.g. olives for olive oil, soybeans for soybean oil, flax for flax oil) leaving us with 100% fat. And fat, has the most calories per gram of any other food component. Compare one gram of fat at 9 calories to one gram of protein or carbohydrate each at 4 calories per gram. What does this mean? It means that fat has two times more calories than the same amount of either protein or carbohydrates. Not to mention, that fat is much more easily stored as fat than either protein or carbohydrates. So, by adding oil to our diets we not only greatly increase the number of calories we consume BUT any of these extra fat calories will go directly to our waists, hips, thighs, or butts. To drive this point home, let us use a few examples:


1)Vegetables sautéed in soy sauce (1 tablespoon) = 189 calories, 1% fat BUT the same vegetables sautéed in olive oil (1 tablespoon) = 308 calories, 21% fat. Adding oil here almost doubles the total calories not to mention increases your total percentage of fat from calories.


2)A baked potato has 161 calories, 0% fat while the same amount of French Fries (fried in oil) have 550 calories, 43% fat. In this case, frying with oil has over 3x the calories and 43x the percentage of fat!


The examples are endless but the message in each case is the same - adding oil significantly increases the caloric make-up of our food as well as the total percentage of fat in our food.


What if we were able to reduce our oil intake to meet the 25-35% recommendation? That would certainly be a start, but the percentage of fat is not the only thing wrong with oil. We already mentioned that oil being liquid fat is devoid of practically all nutrients (except Vit E and Vit K). In addition, ALL oils promote heart disease. A study reported in JAMA (Journal of the American Medical Association) looked at the effect of oils on atherosclerotic (plaque build-up) lesions in the arteries of the heart. They found that ALL OILS - saturated, monounsaturated (olive oil) and polyunsaturated (flax oil) - were associated with an INCREASE in the plaque build up that clogs our arteries and leads to heart attacks. (JAMA 263:1646, 1990) Of note, the study found that these lesions DID NOT stop growing when monounsaturated fats (olive oil) where substituted for saturated fats (butter, lard, coconut oil). Oil also causes our red blood cells to clump together, limiting their ability to absorb and deliver oxygen to our cells. This clumping then leads to a slowing down of our blood flow. As a matter of fact, studies have shown that our blood flow decreases by over 30% for the four hours following a fatty meal. (J Am Coll Cardiol 2000;36:1455-60;Vogel RA, et.al. Am J Cardiol. 1997;79:350-354. ) With this decrease in perfusion is it any wonder that so many of us ``crash'' after a meal? Finally, oil suppresses our immune system, thus promoting the growth of cancer cells and making us vulnerable to infections.


But, doesn't olive oil provides us with our essential fatty acids (omega-3 and omega-6)? Actually, olive oil is composed mostly of mono-unsaturated fats which are not essential. In fact, to get enough omega 3 from olive oil, you would need to drink 8 ounces, that is one cup, 1900 calories, and 30g of saturated fat! A healthier way to obtain your essentially fatty acids would be to add 1-2 tablespoons of ground flax seeds (not the oil) daily.


What about the polyphenols in olive oil, isn't that healthy? Polyphenols are antioxidants found in plant foods with many reported heath benefits. The key here is that these substances are found in plants meaning they can be found in fruits and vegetables, foods with more nutrients, less calories, and less fat compared to oil. As a matter of fact, in 12 calories of leaf lettuce (about 4 lettuce leafs) there are as many polyphenols (30mg) as in 120 calories (1 tablespoon) of olive oil.


The take home message is that NO oil is good oil and olive oil is no exception. As a final analogy, think of a pipe through which water should run. Imagine the fluidity of the water as it flows through the pipe. Now, imagine pouring oil into that same pipe. The oil is much thicker, much more viscous than the water. Finally, imagine those pipes are your blood vessels (arteries, veins, etc) where the blood should run much like water - smooth and flowing, but instead, for so many of us that incorporate oil into our diets, it flows more like that oil - slow and sluggish. Considering that these ``pipes'' not only deliver your entire body with nutrients from your food but also supply you with the oxygen you need to thrive and survive, what would you prefer to have running through them?


Back to Media Bites & Health Insights


Copyright © MMVII.(2007)Exsalus. All Rights Reserved.

---

Posts: 654 | Registered: Oct 2003 | IP: Logged |

Wallace
LymeNet Contributor
Member # 4771


posted

---

I have now able to take 35G OF CHarcoal as a single dose, without any ill effect. To deal with poisoning this amount is needed. This would require over 60 PILLS as this article notes so powder is preferable.

I dont think taking this amount in divided doses is as effectvie as this article claims

wallace
JOURNAL OF THE MEGAHEALTH SOCIETY
MegaHealth Society - July 1989

THE UNIVERSAL ANTIDOTE AND DETOXIFIER THAT EXTENDS LIFE: ACTIVATED CHARCOAL
by Richard C. Kaufman, Ph.D.

Activated Charcoal is a highly absorbent gritty black material that is commonly found in air and water filters. Activated Charcoal is created by carbonizing organic matter in a kiln under anaerobic conditions and activating the material with oxidizing gases like steam or air at high temperatures. This oxidative process erodes the charcoal's internal surfaces and increases its adsorption capacity by creating an internal network of very fine pores. Usually bone char, coconut shells, peat, coal, petroleum coke, and sawdust are the starting materials for making Activated Charcoal.

EARLY USE OF CHARCOAL
The medical uses for charcoal date back to the Egyptian Papyrus of 1550 B.C. During the time of Hippocrates (400 B.C.) physicians treated epilepsy and anthrax with charcoal. In the 1700's charcoal was often prescribed for bilious problems (excessive bile excretion). After the development of the charcoal activation process (1870 to 1920), many reports appeared in medical journals about Activated Charcoal as an antidote for poisons and a cure for intestinal disorders.

CONTEMPORARY CHARCOAL USE
Modern research has validated most of the early uses for charcoal and discovered exciting new applications. This article will discuss the many important therapeutic uses for Activated Charcoal;
1. Universal antidote for drugs, chemicals and poisons.
2. Systemic clearance of drugs and intoxicants.
3. General detoxification.
4. Anti-aging and life extension.
5. Reducing cholesterol, coronary disease and arteriosclerosis.
6. Counteracting pathogens.
7. Intestinal complaints.

ANTIDOTE FOR DRUGS, CHEMICALS AND POISONS
Activated Charcoal has the well-earned reputation of being a universal antidote. It can adsorb most organic chemicals, many inorganic chemicals and countless poisonous substances before they can cause harm. The table below lists different examples of the types of substances that Activated Charcoal can counteract.

How well Activated Charcoal really works in practical situations depends on several different factors:
1. The type of toxicant (its chemical structure and physical properties).
2. The amount and type of charcoal ingested.
3. The length of time from toxin ingestion to Activated Charcoal ingestion.
4. The contents of your intestinal fluids and intestinal transport efficiency.

As a general rule, a single large dose of Activated Charcoal should be taken as soon as possible after ingesting a poison. The amount of Activated Charcoal should exceed the toxic substance by a factor of eight (a ratio of 8:1). In other words, if you're poisoned with 5 grams of a chemical, you need to take at least 40 grams of Activated Charcoal.

Other researchers recommend different dosages. Some experts believe a 10 to 1 ratio is correct. Still other experts recommend a fixed amount of 50 to 100 grams.

I recommend ingesting a minimum of 50 grams of Activated Charcoal as a counterpoison, because ingesting large amounts of Activated Charcoal is harmless, and taking too little is ineffective. Besides, how often in the case of an emergency can you precisely determine the amount of the poison. The actual effectiveness of the Activated Charcoal will vary, so take more than you think you require.

Activated Charcoal should be taken within 30 minutes of ingesting the poison. The longer the delay, the less effective Activated Charcoal will be. On some poisons delaying more than 30 minutes decreases the effectiveness of the Activated Charcoal as an antidote by up to 60%.

The bottom line is plain and simple. Keeping Activated Charcoal in your medicine cabinet and taking it if you are poisoned could save your life, and money as well. It has been estimated that use of Activated Charcoal for treating poisonings could reduce the stay in intensive care from 3 or 4 days to one, saving over $100,000,000 in health care costs and preventing unnecessary disability and death.

SYSTEMIC CLEARANCE OF DRUGS AND INTOXICANTS
Nowadays, Activated Charcoal is often used to clear drugs and intoxicants that can enter the body through the intestinal tract, and even by injection and other routes. The systemic clearance of toxic substances or detoxification by Activated Charcoal is accomplished by taking multiple daily doses.

Activated Charcoal detoxifies the body in several manners.
1. Purifies the 6-8 liters of digestive fluids that are secreted daily which in turn helps remove foreign substances from the blood.
2. Adsorbs the intoxicant substance and its metabolites that are excreted into the small intestine from the biliary (bile) tract, preventing their reabsorption.
3. Adsorbs drugs that diffuse back into the stomach and intestines.
4. Decreases the detoxification work load of the liver.

Activated Charcoal shortens the time it take an intoxicant to leave the system and decreases the duration and intensity of symptoms. I have found that people who take Activated Charcoal after drinking alcohol or taking recreational drugs such as cocaine or amphetamines recover quicker. I recommend Activated Charcoal as part of a drug recovery program to ease withdrawal symptoms and reduce drug craving. Other nutrients that help are the neurotransmitter precursors: L-Tyrosine, L-Tryptophan, L-Phenylalanine, Choline and DMAE (Dimethylaminoethanol).

Even experts disagree on the best way of using multiple doses of Activated Charcoal to remove intoxicants. Most protocols are based on experience with drug overdosages. In actual clinical situations, the Activated Charcoal regimen is optimized to the patient. The doctor considers the type of toxic substance, severity of intoxification, digestive functions and electrolyte balance.

For mild overdoses and intoxification, I suggest up to 80-100 grams divided into 4-6 daily doses of Activated Charcoal until the symptoms are eliminated. Consult an expert who can optimize your regimen.

For a dangerous overdosage call your physician or hospital immediately.

GENERAL DETOXIFICATION
Very few health practitioners realize that Activated Charcoal is the best single supplement for enhancing detoxification. Detoxification is an on-going biological process that prevents toxins (from infectious agents, food, air, water, and substances that contact the skin) from destroying health. Chronic exposure to toxins produces cellular damage, diverse diseases, allergic like reactions, compromised immunity and premature aging.

There are 2 ways of using Activated Charcoal in a daily detox plan that I have found work well and recommend:
1. Use Activated Charcoal on 2 consecutive days each week. Take 20-35 grams each day divided into 2 or 3 doses. Take in the morning, at midday and before bed on an empty stomach. Avoid excessive calories or unhealthy foods on those days.
2. Take about 20 grams a day of Activated Charcoal in divided doses for several months. Follow Activated Charcoal usage by a 1 month break and resume the cycle. If you plan on using Activated Charcoal daily, consult your physician.

In addition to Activated Charcoal, the ideal detoxification prescription includes sauna baths, exercise, a special diet, and supplements (unsaturated fatty acids, vitamin C, niacin, proteolytic (protein digesting) enzymes, and a comprehensive multiple nutrient formula.

ANTI-AGING & LIFE EXTENSION
Dr. V. V. Frolkis, a famous Russian Gerontologist, and his colleagues have discovered that Activated Charcoal is a potent life-extending agent. Activated Charcoal has been found to increase the mean lifespan of older test animals by approximately 50% and their maximum lifespan by approximately 34%.
1. Activated Charcoal decreases the age-related increase in the brain's sensitivity to drugs and toxins.
2. Activated Charcoal keeps cholesterol and lipid metabolism under proper control.
3. The regular use of Activated Charcoal improves the adaptive functioning of essential organs (the liver, kidneys, and adrenals). That translates into better defense mechanisms.
NOTE: See Abstract below.

Microscopic tissue analysis shows that Activated Charcoal prevents many cellular changes associated with aging-decreased protein synthesis, lower RNA activity, atherosclerosis, and organ fibrosis. So the cumulative effects from Activated Charcoal are longer life and improved overall health. The recommended protocol for anti-aging and life extension benefits is the same as for general detoxification.

REDUCING CHOLESTEROL AND CORONARY ARTERY DISEASE
You can help your heart and circulatory system by taking Activated Charcoal. Activated Charcoal lowers the concentration of total lipids, cholesterol, and triglycerides in the blood serum, liver, heart and brain. In one study that was reported in the British journal Lancet on patients with high cholesterol, 8 gm.. of Activated Charcoal taken three times a day lowered total cholesterol 25%, lowered LDL cholesterol 41% and doubled their HDL/LDL (high-density lipoprotein/low-density lipoprotein) cholesterol ratio. Microscopic tissue examination studies have shown that a daily dose of Activated Charcoal may prevent sclerotic changes in the heart and coronary blood vessels.

To help your heart and blood vessels, I suggest the following: 12-17 grams of Activated Charcoal twice a day for 1 month under the guidance of a physician who can measure cardiovascular improvements and cholesterol levels.

COUNTERACTING PATHOGENS
Activated Charcoal reduces the activity of some viruses. So if you catch a cold or the flu, try Activated Charcoal. You may suffer less and heal faster.

Activated Charcoal also prevents the poisonous activity of many harmful bacteria in the human body by adsorbing the toxins and enzymes that they generate. Studies have shown that Activated Charcoal is an effective treatment for dysentery, cholera, and many infectious conditions of the digestive tract.

SYSTEMIC CANDIDIASIS
Activated Charcoal can be an effective adjunct to any regimen for the treatment of systemic Candida albicans infections.
1. Activated Charcoal adsorbs much of the toxins that Candida produces that otherwise would be absorbed by the blood and carried throughout the body. These toxins produce pathological changes in tissues and organs and interfere with proper immune function. Candida toxins cause allergic reactions and are responsible for the debilitating symptoms of Candidiasis.
2. Activated Charcoal suppresses the growth of intestinal-based yeasts.
3. Activated Charcoal counteracts the Herxheimer reaction - a severe, short-term exacerbation of Candida symptoms caused by the copious amount of toxins produced by dying yeast cells as a result of a successful treatment. The Herxheimer reaction is often so unpleasant that patients abandon treatment before completion. Activated Charcoal is one method for alleviating the symptoms of yeast die-off so people can continue their treatment and not suffer.

I suggest 20-35 grams of Activated Charcoal a day in divided dosages on an empty stomach until the problem is eliminated. The larger amount is taken for more severe situations.

Again, a reminder: do NOT take required medications within 2 hours of taking Activated Charcoal.

INTESTINAL COMPLAINTS
Activated Charcoal has been used by physicians since the last century to treat various intestinal complaints. Abdominal distension (bloating) and flatulence respond favorably to treatment with Activated Charcoal. Diarrhea caused by food poisoning, bacteria, nervousness and other factors is usually alleviated by taking Activated Charcoal. Some physicians have used Activated Charcoal to stop bleeding from ulcerative colitis and calm spastic colons.

Activated Charcoal is the best intestinal deodorant available. Taking Activated Charcoal counteracts decomposition products from food (such as beans) that cause flatulence and diarrhea. Individuals with malodorous stools should reach for Activated Charcoal capsules. Travelers to foreign countries would be wise to pack Activated Charcoal. In my opinion, Activated Charcoal is the most practical way to effectively counteract food poisoning.

To alleviate intestinal disorders with Activated Charcoal, I recommend the following: as an antidote for food poisoning, take 4-12 grams of Activated Charcoal 3 times daily; for other intestinal complaints, take 4-10 grams of Activated Charcoal twice daily.

CHARCOAL IS SAFE
Toxicology studies have proven that Activated Charcoal is basically harmless. Ingesting high dosages does not interfere with sleep, appetite or well being - or cause major problems. There are several undesirable effects of using Activated Charcoal that can be avoided by complying with the following directions.

Activated Charcoal is highly adsorbent; when it is ingested at the same time as medication, supplements and foods it may decrease their absorption and utilization. Therefore, always allow 2 hours before and wait 2 hours after using Activated Charcoal to eat, take supplements or swallow medication.

Activated Charcoal has a natural tendency to cause constipation. That can be counteracted by taking small amounts of Cascara sagrada bark, a mild herbal laxative, with the Activated Charcoal.

Finally Activated Charcoal harmlessly blackens your stools. Although black-gray stools look strange, they can be used to calculate your bowel transit time. Just measure the length of time from taking Activated Charcoal to the appearance of darkened stools.

NOT ALL CHARCOAL IS ALIKE
Numerous companies manufacture Activated Charcoals, each of which can have different adsorptive capacities. Different source materials and manufacturing procedures give each brand of Activated Charcoal it's own pore diameters and internal volume that determine its adsorption capacity.

The U.S.P. (United States Pharmacopoeia) standard for Activated Charcoal specifies an internal surface area of 1000 m2/g (square meters per gram). Recently, several companies have begun manufacturing Super Activated Charcoals, with up to 3 times the internal surface area per gram and far greater adsorption power than standard Activated Charcoal. For example, Super Char (available from Gulf Western) has an internal surface area of 3000 m2/g. Actidose Aqua (Paddock) has a surface area of 1600 m2/g. In this article, all the recommended dosages for Activated Charcoal are based on the standard of 1000 m2/g. If you can obtain a Super Activated Charcoal, use proportionately less.

POWDERS, CAPSULES, TABLETS
I prefer capsules because they are convenient and non-messy. Activated Charcoal tablets are not effective - they take too long to disintegrate and release the Activated Charcoal. Activated Charcoal powder is the best way to quickly ingest a large dose, but unfortunately it is messy, tastes like a Charcoal briquette, and blackens your teeth, gums and tongue.

IDEAL CHARCOAL PREPARATION
I have developed a special Activated Charcoal preparation called Absorb for the Age Reduction Corporation. Absorb contains a Super-Adsorption Activated Charcoal, a small amount of the herb Cascara sagrada (to counteract Charcoal-induced constipation), and 13 primary Homeopathic cleansing remedies. Absorb is encapsulated in oversized capsules, for rapid disintegration and so fewer capsules are required than with other Activated Charcoal capsules.
NOTE: Absorb is NOT available anymore.

Abstract:

"The effect of repeated courses of enterosorption upon the mean and maximal lifespan and some functional and metabolic indices was determined in 28-month old Wistar rats. Significant increase of mean and maximal lifespan of old rats was noted at certain regimens of enterosorption. The experimental animals demonstrated less marked age-related structural and ultrastructural changes in the liver, kidneys, myocardium, intestines, pancreas, as compared with control animals. Enterosorption leads to a reduction of pentobarbital-induced sleep, decrease of content of cytochrome P-450, blood cholesterol and triglyglycerides, cardiac and cerebral tissue cholesterol, total lipids, liver cholesterol and triglycerides. Enterosorption was found to increase the RNA and protein biosynthesis in the liver, kidneys and adrenals of old animals."

*And Last Paragraph:

"Thus, the data presented suggests that the enterosorption has a potent effect upon an aging organism. This notion can be supported by the enterosorption-induced changes in lifespan prolongation, structural and ultrastructural changes, shifts in protein, and RNA biosynthesis and in lipid metabolism, in the content of microsomal enzymes, and so forth. This work substantiates the need for a further search for regimens of enterosorption, and combination of it with other effects, aimed at lifespan prolongation. Currently, the question remains whether the described enterosorption effects are related with the sorption of the known or suppsosed metabolites, or with the changes in the content of some physiologically active substances and subsequent regulatory transformations, or with both. The main thing is the experiments with enterosorption persuade that altering the humoral environment of an organism may affect the rate of aging, the biological age of animals, and thus their lifespan."

REFERENCES:

D.O. Cooney, Activated Charcoal Antidotal and other Medical Uses. Marcel Dekker, New York and Basel, 1983.
V. Frolkis, et al., "Enterosorption in prolonging old animal life." Exp. Gerontol. 19; 217-25, 1984.
E.P. Krenzelok and M. B. Heller, "In vivo comparative effectiveness of five commercial activated charcoal products." Vet. Hum. Toxicol, 28; 498, 1986.
K. Kulig, et al., "Management of acutely poisoned patients without gastric emptying." Ann. Emerg. Med. 114:562-67, 1985.
P. Kuusisto, et al., "Effect of activated charcoal on hypercholesterolemia." Lancet 16: 366-67, August 1986.
J. Mattson and H. J. Mark, Activated Carbon. Marcel Dekker, New York and Basel, 1971.
G. Park, et al., "Expanded role of charcoal in the poisoned and overdosed patient." Arch. Int. Med. 146: 969-73, 1986.
Reduction of Human Organchalide Burdens, Foundation for Advancements in Science and Education, Los Angeles, California, 1983.
J. A. Riese and F. Damrac, "Use of activated charcoal in gastroenterology: value for flatulence and nervous diarrhea." J. Am. Ger. Soc. 12: 500, 1964.
W. Watson, "Factors influencing the clinical efficacy of activated charcoal." Drug Intelligence and Clinical Pharmacy 21: 160-66, 1987.
Navarro RP; Navarro KR; Krenzelok EP Relative efficacy and palatability of three activated charcoal mixtures. Vet Hum Toxicol, 19(8):6-9 1980 Feb.
Gwilt PR; Perrier D Influence of thickening agents on the antidotal efficacy of activated charcoal. Clin Toxicol, 19(8):89-92 1976.
Topuzov EG; Beliakov NA; Malachev MM; Umerov AK; Solomennikov AV; Gritsenko IV; Kokaia AA Use of enterosorption in biliary tract cancers complicated with mechanical jaundice. Vopr Onkol, 42(2):100-3 1996.
Belo****ski(r)i VV A clinico-biochemical basis for the use of enterosorption in severe craniocerebral trauma Lik Sprava, 42(5):145-8 1997 Sep-Oct.
Krylov AA; Beliakov NA; Sapego AV; Stolov SV Enterosorption in ulcerative lesions of the gastrointestinal tract with concomitant intestinal dysbacteriosis Ter Arkh, 68(2):24-7 1996.
Riechkina OO A clinical assessment of the detoxifying effect of enterosorption in treating tuberculosis of the respiratory organs in children Lik Sprava, 5(5):62-4 1998 Aug.
Andreichyn MA; Lutsuk OS; Andreichyn SM; Kopcha VS [The enterosorption treatment of patients with acute intestinal infections and chronic colitis with diarrhea Lik Sprava, EA-(7-9):147-51 1996 Jul-Sep.
Andreichyn MA; Lutsuk OS; Andreichyn SM; Kopcha VS Enterosorption as a method for prolonging life. Fiziol Cheloveka, 22(7-9):131-5 1996 May-Jun.


--------------------------------------------------------------------------------

---

Posts: 654 | Registered: Oct 2003 | IP: Logged |

Wallace
LymeNet Contributor
Member # 4771


posted

---

Fat and Plant-Based Diets
BY: T. COLIN CAMPBELL, PHD


Answer to a Reader's Question:

I don't argue for a 10% fat diet as the main starting point. Rather, I begin with the view that a plant-based diet is optimal and it just so happens that this diet, when done right (good quality WHOLE vegetables, legumes, fruits and cereals), is low in fat as well as in protein. It is a diet that, for most people, is 10-15% fat, and 8-12% protein. For those who demonstrate vulnerability to health disorders, the fat intake should favor the lower side. Dr. Esselstyn (in his heart disease reversal study) and Dr. John McDougall (thousands of patients) have demonstrated this very clearly. The difficulty that we, as individuals, all face is really how vulnerable are we.

On the protein evidence, I have spent my entire career working in this field and am appalled that so few people know the evidence, some of which is very old and most of which is heavily influenced by our personal reverence for this nutrient. But much more to the point, in my own work, our results propelled me to ask broader questions, even though the singular effects of animal based protein were alarming and convincing. I chose for the time being not to go down that path and agree with Dr. Katz that we need to ask broader questions--precisely as I did in the China Study.

My arguments, however, for a plant based diet are far more comprehensive, including the empirical findings that have been published by other researchers (some of which is relatively old), the work that we did in our own laboratory (some of which by traditional standards is very profound in its implications) and most importantly the concept of what nutrition really means. Although in nutrition studies I involved myself for many years in detailed and extensive studies on explanatory mechanisms and narrowly focused studies of individual nutrients and other chemicals--just like that demanded by normative science--I have now come to see nutrition as a much broader concept. Fortunately or unfortunately, I have become quite passionate about this idea because of both the intellectual beauty of the concept and because of the demonstrated empirical findings. It would require far more discourse than is possible here but, put simply, nutrition is the highly integrated, interactive, even symphonic effect produced by countless food chemicals that maintain health and prevent disease. I have come to see it at the biochemical, intracellular level (it's truly fascinating) as well as at the ecological outcome level. Chronic degenerative diseases tend to aggregate, both at the geographic and individual levels. Biochemical pathways and reactions--in ways that exhibit feedback control, homeostasis and adaptation--operate in ways that ultimately converge to produce their effects. Plant-based components (literally tens, even hundreds of thousands), when 'dose' is taken into consideration, drive these myriad reactions that elicit a symphony of effects. Animal based components oppose this trend. This, in my view, is a very powerful argument for a diet largely if not entirely composed of plant based foods.

There is a second more practical point that should be considered. Namely, we are all prisoners of our taste preferences thus the food that we choose to eat is that which we have become accustomed to. Now we know that these preferences, although limiting our choices in the short run, can be changed. We do adapt and there are some good empirical studies showing this to be the case. Also there are lots of anecdotal evidence. If someone wants to consume a low fat, low salt, low protein, high complex carbohydrate diet, it may for many people be initially difficult--maybe even for weeks--but a little persistence will prove my point. I was raised, as you know on a high fat, high animal food diet--while milking cows-- and drank a lot of milk and ate lots of meat, but I can now honestly say that to go back to a high fat diet would make me physically ill. The same is true for my wife, our 5 grown children and our 5 grandchildren.

Take for example the Nurses' Health Study (not to pick on that study but only to illustrate a problem with most if not almost all epidemiological studies to date) to see my views on the Mediterranean diet. I was a presenter in the initial conference at Harvard on the Mediterranean diet and have followed it with great interest. But what I also find is the questionable evidence on the alleged beneficial effect of the mono-unsaturated fats. There are studies that show that the monounsaturated fats advance the atherosclerotic lesion much like the other fats. Further, when we compare the low fat Asian diet with the high fat Mediterranean diet, we see some very interesting but mostly unacknowledged findings. Both groups of people, the Mediterranean people and the rural Chinese, consume a mostly plant-based diet--about the same proportion of plant based foods in each diet. Although much has been said about the lower cardiovascular and cancer rates among the Mediterranean people, this really means lower than the U.S. and U.K. In reality, the Mediterranean disease rates are significantly HIGHER than the rates of the rural Chinese. So my question is why 'higher'. Is it because of their higher consumption of olive oil? I think that it could well be the case, especially given the adverse effects of monounsaturated fats on atherosclerosis lesions.

In the final analysis, it is about food based nutrition, not about nutrient based nutrition that really matters.


--------------------------------------------------------------------------------

<- Back to: Plant Based Nutrition

---

Posts: 654 | Registered: Oct 2003 | IP: Logged |

Truthfinder
Frequent Contributor (1K+ posts)
Member # 8512


posted

---

quote:

---

The highly elevated incidence of osteoporosis in Eskimos may not be caused by their high-meat diet. In recent years, Eskimos have incorporated commercial foods such as sugar and white bread into their diets, and these refined foods are believed by some to weaken bones.

Also, Eskimos are prone to alcoholism, a condition that is highly correlated with osteoporosis. Studies of Eskimos in the earlier part of this century, before much modern contact, found them to be strong and sturdy, and virtually immune to tooth decay and degenerative disease. Skeletons from Pre-Columbian American Indians who subsisted largely on meat show no osteoporosis.
http://www.garynull.com/documents/spectrum/osteoporosis__its_not_inevitable.htm


---

An example is Eskimo Ice Cream: The traditional recipe called for seal oil, animal fat, berries, and snow. (No additional sweetener.) If you sample some Eskimo Ice Cream these days, it will probably be berries mixed with Crisco and sugar. Nutritionally speaking, that's not even close to the original mixture.

It seems the right kinds of fats and sugars can be very protective in presence of a high meat protein diet. It also appears that there are heredity factors involved here, too, such as the alcoholism/osteoporosis connection.

--------------------
Tracy
.... Prayers for the Lyme Community - every day at 6 p.m. Pacific Time and 9 p.m. Eastern Time � just take a few moments to say a prayer wherever you are�.


---

Posts: 2966 | From Colorado | Registered: Dec 2005 | IP: Logged |

Hoosiers51
Frequent Contributor (1K+ posts)
Member # 15759


posted

---

Could it also be that they live in higher latitudes, so aren't getting as much direct sun, and thus less Vitamin D?

Vitamin D is important to prevent osteoporosis.

Then again, doesn't seafood have lots of D? So maybe if they begin eating a more American-ized diet, they would be at higher risk of osteoporosis, not having the benefit of direct sun that those of us in the lower states have?

---

Posts: 4590 | From Midwest | Registered: Jun 2008 | IP: Logged |

massman
Unregistered



posted

---

Why don't Eskimoes that eat their native diet ALL have heart disease

Google "What If It's All Really Been A Big Fat Lie ?" to see that all this fat is bad BS is based on an assumption, NOT on any actual studies.

I have worked with a brilliant (IMO) ND for 12 years. In his first 20 years he encountered 1 - ONE healthy vegetarian.

What about the findings of Dr. Weston A. Price ? He physically traveled the world + interviewed + observed natives that had stuck to their native diets. They were in excellent health. Some had what we would consider high fat diets.

Anyway...we are hunter gatherers not just gatherers.

---

IP: Logged |

GiGi
Frequent Contributor (5K+ posts)
Member # 259


posted

---

I will not soon forget that Dr. K. told me in 1998 that he has "never seen a healthy vegetarian." He became a doctor in 1975.
In the meantime, he has seen thousands more patients and he recently repeated the same thing "I have never seen a healthy vegetarian" at a conference here.

Knowing how many people he sees around the world, there must be some truth to this.

Take care.

---

Posts: 9834 | From Washington State | Registered: Oct 2000 | IP: Logged |

sixgoofykids
Moderator
Member # 11141


posted

---

quote:

---

Originally posted by Wallace:
He wants to discuss the meaning of life etc You know what these germans are like!!!!His english isnt that good is it?

---

He is conversational in English ... but for meaning of life conversations, I can see how he'd be limited .... it's hard enough to talk about that stuff with someone who speaks the same language.

I don't talk about it much on the board because I don't want to get into religion discussions (some days we have a hard enough time around here discussing Lyme!! LOL). I'm a faithful Catholic (surprise, surprise, six kids and all ....).

My faith helped me to understand and accept my suffering while working hard to overcome my illness. Having a meaning of life gave me the strength to go on and fight. I also used the spiritual means in the Church for the battle - the anointing of the sick. I can understand why he wants to discuss this, yet at the same time, I'd rather have discussed it with someone of my same faith than my doctor, so it all worked out for me.

Massman, EFT/tapping - http://www.emofree.com/newcomer.htm

--------------------
sixgoofykids.blogspot.com


---

Posts: 13449 | From Ohio | Registered: Feb 2007 | IP: Logged |

emla999/Lyme
Frequent Contributor (1K+ posts)
Member # 12606


posted

---

Since the subject of a vegetarian diet versus a meat based diet has come up....

In my opinion, in the past it would have been very difficult for people to be healthy while eating a strictly plant based vegetarian diet due to nutritional deficiencies and weather problems associated with the growing of food crops.

For example, a very large percentage of the population CANNOT convert beta carotene into Vitamin A......thus such people will become Vitamin A deficient unless they take Vitamin A supplements or eat animal fat.


http://www.sciencedaily.com/releases/2009/11/091118072051.htm


Vitamin D3 is another example. Humans primarily
get there Vitamin D3 from sunlight exposure or by eating fatty animal foods. Some fish and some land herbivores can convert Vitamin D2 into Vitamin D3 and thus animal meat/fat can contain Vitamin D3 year round. So, in nature a vegetarian would have to rely upon sun exposure for their Vitamin D3. But in most locations humans cannot effectively make Vitamin D3 from sunlight year round. So, a vegetarian would be more prone to developing a Vitamin D3 deficiency.


And by the way exposure to sunlight can actually lowers the body's level of Vitamin A. So, animal fat becomes even more important if you get out in the sun.


And what about Vitamin K2? Animal meat/fat contains Vitamin K2 as do some fermented plant based foods. But historically speaking wouldn't it have been much easier for meat eaters to obtain Vitamin K2 versus vegetarians? In the past not everybody had access to fermented foods such as fermented soybeans. But nearly everyone had access to some type of animal fat/meats.


Even minerals such as zinc are easier to obtain from a meat based diet


http://george-eby-research.com/html/warning.html


And what about the earth's weather??? Wouldn't a vegetarian based diet be more at the mercy of the weather compared to a meat based diet???


For example reindeer, cows, moose etc. can live solely on grass or lichen. And some species of grass and lichen can tolerate extreme cold or extreme heat or extreme wetness or droughts. Lichen survives the extremely cold winters of Sibera.....a favorite food of reindeer. And by the way reindeer can convert Vitamin D2 found in Lichen into Vitamin D3. So, if you eat reindeer meat then you don't have to rely on sun light for Vitamin D3.


Plus earthquakes, tornadoes, hail storms and hurricanes, cold weather and frosts do not cause nearly as much damage to pasture land as they do to crops such corn, apples, tomatoes, oranges etc.

---

Posts: 1223 | From U.S.A | Registered: Jul 2007 | IP: Logged |

Wallace
LymeNet Contributor
Member # 4771


posted

---

Dr k needs to read the China study!!!

T. Colin Campbell's Response to Questions Raised About the Book, "The China Study. Startling Implications for Diet, Weight Loss and Long-Term Health"

October 1, 2006

Sales of our book, "The China Study...", co-authored by me and my son, Tom, have exceeded our expectations. With no formal public relations campaign, no recipes, no menus and many scientific references, we were cautioned by some in the publishing world not to expect a market of more than 5-15,000 copies sold. Instead, we sold more than 100,000 copies in about the first 18 months. We also are delighted with the 300 or so on-line reviews and e-mails that speak of very positive personal health benefits.
But, not all readers agree. A small number (5-10%) have not only disagreed, but have done so rather vigorously and vehemently. I have accepted with interest these commentaries, mostly assuming that our book must be having an impact.

Story continues below ↓

--------------------------------------------------------------------------------




--------------------------------------------------------------------------------

I have not been inclined to respond to these relatively few critics. Yet, a few friends and colleagues have asked that I consider doing so, especially because a couple of the seemingly well-researched commentaries are being vigorously promoted far and wide. These include, for example, commentaries by Mr. Chris Masterjohn (Amazon and Barnes & Noble websites, July 4, 2005, and http://www.cholesterol-and-health.com/index.html) and an anonymous Mr. "JayY" (Amazon website, May 18, 2006, with numerous additional "comments" on many positive reviews on Amazon.com). So, here goes my rebuttal.
I have several concerns with these critiques. First, these writers do not understand the overarching theme of our book. They even misunderstand what scientific discovery is all about--at least the version of discovery that I have learned over the past half century. Second, these critics--at least for Masterjohn and his enthusiasts-- are following an agenda which promotes a diet high in cholesterol, fat and animal protein, which is the mission of an organization to which Masterjohn belongs. Third, they question the misleading title of our book, and on this point, I agree (more later).

Although I would like to respond to each of their specific items, I believe that discussing these broader points will suffice. The strategy that we used in our book was designed to explain how I came to have a worldview of diet and health, both personally and professionally, that was almost diametrically opposed to what I had at the beginning of my 50-year research career.

In planning the strategy for our book to tell this story, we wondered: Do we simply summarize a bunch of studies favoring my new views and run the risk of selecting only the evidence that I liked? Or do we summarize, without judgment, both the pro and con evidence, only to leave the reader more confused? We chose neither. We decided to tell the story how I personally learned it and why I was willing to recommend it for my family, my friends and myself. In this way, the reader decides whether the message is as convincing as I found it, perhaps even worth trying.

Our book starts with a short recounting of my personal background and professional training that may have influenced my early thinking. Mainly, I was raised on a dairy farm, milking cows while believing in the great health value of the typical high fat, animal protein based American diet. On our farm, for example, we were paid more for high fat milk than for low fat milk. To the extent that I even thought about such things, I also believed that cow's milk was the nearest thing to Nature's most perfect food, being especially rich in protein and calcium. Eventually, it was on to my doctoral dissertation research at Cornell University when I investigated with my professors how to produce MORE not less animal protein, because of the widespread belief that so-called 'high quality' animal protein was the quintessential hallmark of good health.

I then began my formal research career investigating a very narrow topic, the dietary causes of primary liver cancer. Each of the experiments in this early research was quite focused and a variety of experimental designs was used. I certainly had no preconceived ideas where our research might be headed except, possibly, for my bias in favor of the typical American diet, high in fat and animal-based protein. Our research began with an anecdotal observation in children that coincided with an experimental animal study in India, then proceeded through a widening array of basic laboratory experiments and hypotheses, eventually to involve an unusually comprehensive human observational study in China.

As the years progressed, our research, which was handsomely funded for most of my career by the U.S. National Institutes of Health (NIH), was producing more than a few findings that did not agree with my training or with my preconceived hypotheses. At times, these findings were provocative and frustrating, however well our experiments may have been planned and executed. These experiments often turned up more questions than answers. Nonetheless, I was also being reminded that if a more comprehensive truth were emerging from these detailed, isolated and sometimes controversial experiments, this truth had to be consistent both with a variety of experimental study designs, with real life conditions and with a rational biological explanation, among other criteria.

These considerations and observations of mine are important for understanding my criticisms of the commentaries of these writers. In effect, our research was conducted with an eye toward breadth, consistency, plausibility and, eventually, human health. It was not emphasizing the results of one experiment or one bit of data. In contrast, the critics are uncritically using highly selected detailed observations with no respect for context. They rely rather heavily, for example, on choosing selected but uncorrected correlations (associations of one variable with another) from the huge number (about 100,000 or so) that were published in the 894-page China Project monograph itself (Chen, J., Campbell, T. C., Li, J., and Peto, R. Diet, life-style and mortality in China. A study of the characteristics of 65 Chinese counties, pp. 894. Oxford, UK; Ithaca, NY; Beijing, PRC: Oxford University Press; Cornell University Press; People's Medical Publishing House, 1990). Moreover, they emphasize the results of this one project in China as if it were the whole story in the book. This is wrong, quite literally, dead wrong. They not only miss the connectedness of the observations in this study with other research presented in the book, but also they also are selecting and interpreting from this study individual unadjusted correlations out of context, perhaps to please their own biases. It is important to understand both the limitations and the interpretations of these correlations. In contrast to these critics, most readers seem to have understood that there is far more to our book than the China Project. Indeed, this project represents only one of eighteen chapters in the book.

As my own research experience so well illustrated for me, no one study can define an emerging whole truth, or worldview. When most researchers do experiments in an area as biologically complex as diet and health, they almost always focus on very specific hypotheses, investigating how single agents cause specific effects, often by so-called single mechanisms (I also followed such a path). But these kinds of experiments have limitations both in their design and in their underlying hypotheses. The combination of a limited design and a narrowly focused hypothesis for individual experiments can only give impressions of a larger truth, even though each experiment may be well done. It is only after doing varied experiments is it possible to begin constructing a network of evidence and articulating a larger truth.

At least, this is the way research SHOULD be done. Unfortunately, this often fails to take place. Instead, researchers get anxious and speculate beyond the results of a single experiment thus giving rise to the perception that a very broad truth has been discovered or is emerging. This especially happens when there are financial implications.

We tried in our book to avoid this problem by chronologically reporting on the main experiments during my career, along with the research of others, to elaborate a larger view that I thought was taking shape. We felt that this chronology of experiments respects readers, leaving them to decide whether they agree or disagree. It's about connecting the dots, so to speak.

It is quite easy to find a weakness or an aberrant observation in every single experiment. If executed and interpreted within the context of a larger worldview/hypothesis, each experiment gives direction as to what to do next, perhaps even suggesting a sharp turn in a new direction. If a larger truth is emerging, it seldom if ever depends on one experiment. Rather, it is a matter of accumulating evidence for a series of experiments, especially to see if the evidence is logically connected and consistent. In my research career, an unexpected trend was emerging not only from the results of our experiments, but also from the findings of others. Although this trend initially was quite provocative, it nonetheless was beginning to show promise for human health.

The China Project results are no exception to these limitations of single experiments. It was very large, unique and comprehensive but it was observational (i.e., not interventional), simply observing things as they were at a single point in time. It provided an exceptionally large number of hypothetical associations (shown as statistically assessed correlations) that may indicate but does not prove cause and effect relationships. These unanalyzed correlations are considered raw or crude. It is highly unusual to find such 'raw' data in a scientific report because, in part, untrained observers may misunderstand such raw data.

For the monograph, we were somewhat uncertain whether to publish such raw data but decided to do so for two principle reasons. First, we wanted to make these data available to other researchers, while hoping that data misuse would not be a significant problem. Second, because these data were collected in rural China at a time when data reliability might have been questioned, we chose to be as transparent as possible. We discussed data use and misuse on pp. 54-82 of the China Project monograph that curiously was overlooked by Masterjohn and Jay'Y'.

In brief, while fully understanding the pitfalls, the purpose of interpreting data of this kind is to extract from these crude correlations their true correlation counterparts, then interpret these counterparts within the context of information derived from other sources. In making these adjustments and interpretations, we want to consider, for example, 1) whether there is a sufficiently broad range of exposure for each of the variables comprising the associations (e.g., a true association of breast cancer with dietary fat consumption can only be detected if there is a sufficient range--above zero--for each of these variables), 2) whether there are confounding factors (e.g., high fat consumption might reflect high animal protein consumption, low dietary fiber consumption or even ownership of TVS), 3) whether the associations are biologically plausible (e.g., being consistent with existing clinical information, especially within this clinical project) and 4) whether these associations collectively reflect a consistent dietary pattern, among other considerations. In addition to these individual associations, we also had opportunities to evaluate aggregate associations, keeping the same caveats and considerations in mind.

These critics, who are mischievously posing as qualified scientists, have committed errors that expose either their ignorance of basic research principles and/or their passionate following of an unstated agenda. By superficially citing uncorrected crude correlations from the China Project monograph, they show a serious lack of understanding not only of the fundamentals of scientific research but also of the principles of statistics, epidemiology and nutrition. To make matters worse, they have selected correlations that reflect an alternative agenda or bias that has nothing to do with objective science.

It was this suspicion of bias that reminded me of an eerily similar commentary earlier written by Ms. Sally Fallon, President of a special interest group located in Washington, DC, known as the Weston A. Price Foundation (WAPF). Ms. Fallon's commentary was widely circulated in cyberspace several years before we published our book. Thus I began to wonder who was WAPF and especially who was Weston A. Price, now the adopted 'patron saint' of WAPF.

Price's main book was published in the late 1930s--at least this is the book that is most commonly cited by WAPF. I bought the book, carefully read it and learned that the WAPF staff and associates substantially exaggerate, in my opinion, the importance of Price's observations and the importance of his book. Price was a dental surgeon who visited more than a dozen indigenous populations around the world and became quite impressed with the overall good health of these geographically isolated people when compared with their kin who had become exposed to commerce from other lands. He seemed to regard these native peoples as the nearest link to our own past. With background in dentistry, Price assessed their health mainly by dental caries incidence and facial structures, supplementing his observations with many photographs. Although he made certain inferences about health in general, he published no reliable empirical data to support this view.

In brief, Weston Price's suggestion that dental caries was associated with the introduction of commerce (probably including processed and sweetened food products) was quite convincing, not unlike similar reports of others. He also speculated about an 'X' factor in milk fat, supposedly suggesting health benefits for cow's milk, but no follow-up findings on this 'X' factor consistent with human health have since been reported. In no way did Price publish reliable data in this book that could be used to evaluate the relationship of food with overall health. He did speculate, however, with some evidence, on the loss of nutritional value of food at that time (1920s-1930s) as a result of soil depletion and overuse. Excepting his observations on an association of dental caries incidence with processed food, Price's study, in my opinion, is of limited scientific value.

The WAPF enthusiasts nonetheless suggest that this was a major survey of the relationship of food with human health, perhaps being one of the most important. Either by statements or inferences, WAPF writers and enthusiasts then go on from Price's meager observations to aggressively claim health benefits for animal based foods, especially those associated with unprocessed, raw cow's milk produced by grass-fed animals.

It was the aggressiveness and supreme confidence of the WAPF people that was, for me, puzzling. Was this group scientifically experienced and qualified to be so certain of their views? They certainly wrote well and presented their arguments in a seemingly scientific manner--at least for the lay reader. I therefore became engaged in an email dialogue with Mr. Chris Masterjohn to learn about his background and his sources that seemed to be so closely aligned with WAPF interests.

I learned that Masterjohn was a 24 year old 'chapter leader' of WAPF in Massachusetts. He claimed that he was a former vegetarian who nearly lost his life (according to his account) because of his following the earlier advice of John Robbins. He said that he only knew 'former' not present vegetarians and was convinced that every vegetarian would eventually learn the error of their ways. Most importantly, he has had no first hand experience or training in experimental nutrition research and no professional peer reviewed publications. He has his own website that promotes consumption of high cholesterol high fat foods <http://www.cholesterol-and-health.com/index.html>. He also writes for the WAPF website <http://www.westonaprice.org/splash_2.htm>. I am impressed with his writing skills but not with the content of his argument. I also wonder, however, whether his writing skills have been honed and reviewed by his superior, Sally Fallon, who has training in English. (I recently saw, for example, a final Masterjohn draft report that was circulated to a large group of people for comment. In this report, he concludes that dairy is not an important source of dioxin, opposite that reported in a 10-year report by EPA, among others.)

The fact that the WAPF people and their enthusiasts are so hostile to our book, to me personally and to anyone reflecting similar views needs some elaboration. Masterjohn, for example, claims in his website that, in effect, I am primarily being subservient to the animal rights agenda and more specifically to the Physicians' Committee for Responsible Medicine (PCRM) who according to Masterjohn, are associated with PETA (People for the Ethical Treatment of Animals). (I have been for some years on the PCRM science advisory board and am pleased to continue doing so.) He assigns guilt by association for me by pointing out how the US Department of Justice has labeled PETA a domestic terrorist threat. JayY, who mysteriously remains anonymous, also repeats some of this same animal rights mantra on the Amazon.com website.

I find it puzzling that these critics want to make this point. Much of our earlier--and seminal--research was conducted on experimental animals. This was an activity that does not please the more vocal animal rights advocates, some of whom have pleaded with me to eliminate the animal research findings from my public lectures.

Then there is the anonymous and enigmatic 'JayY' who is vigorously submitting a Masterjohn/Fallon look-alike commentary to counter many of the positive reviews on Amazon.com. He says, "I've never sat on a government advisory panel, never attended even a single university lecture, and cannot yet boast of having the same volume of published literature as Campbell, but I'm smart enough to know most of the claims made in his book are utter rubbish." Oh, that all of us might be so fortunate! I can't help but wonder whether he is advocating the abolition of universities for, in his case, he became unusually intelligent without such training! Further on, he adds, "Within minutes of beginning his book, even the dullest reader will quickly realize that Campbell is on a zealous mission against animal protein, which he believes to be public health enemy number one." No, this is not my choice for public enemy number one. Rather, I am now wondering whether overzealous, arrogant but untrained critics are a more serious threat.

Masterjohn also strongly laments, both on the WAPF website and on his own website, the negative publicity long given to high cholesterol foods like eggs, butter and liver, and says that these are "super foods" that must be consumed. He claims that dietary cholesterol itself must be consumed and that the concept of good and bad blood cholesterol (HDL and LDL, respectively) is a myth. He then goes on to label the government's diet and health recommendations to lower dietary fat as "totalitarian". Strong views, strong language, lots of confidence, especially for someone with no nutrition research training or experience. When I asked him who supports WAPF, he told me that farmers, among others, were important contributors. Because factory farms now produce most of the food in the U.S., I would be more comfortable if I knew how much influence these 'farmer' conglomerates have on WAPF itself. I don't decry the industry promoting its product--honestly of course--but I question the blatant attempt of WAPF writers to convey seemingly objective opinion that favors the industry without making clear their serious lack of qualifications and conflicts of interest.

WAPF Founder Sally Fallon who has Bachelors and Masters degrees in English sums up her organization's views as follows, "Animal fats and cholesterol are not villains but vital factors in the diet, necessary for normal growth, proper function of the brain and nervous system, protection from disease and optimum energy levels." It is time to seriously question the scientific objectivity and professional qualifications of WAPF staffers and their writers. It also is time to question their excessive exaggeration of Weston A. Price's observations.

I would be remiss, however, not to mention two areas of agreement. First, WAPF have emphasized the questionable value of highly processed essentially plant based foods whose calories are mostly comprised of refined carbohydrate (e.g., sugar, white flour) and oils, both plant based. I concur with this view. Indeed this is the main reason that my son and I emphasize in the book "whole" plant based foods, not these plant food fragments. Second, some have been critical of our book title that incorrectly implies that the book's overall message mainly depends on the China Study itself (it is only one chapter in our book). This title was the choice of our publisher. His view was based on marketing considerations and certainly was not due to the fact that the entirety of the book is represented by the findings from the China Project.

In summary, our book and my views are not about one study, one or even a few nutrients, or about one or a few aberrant but unadjusted correlations in the study in China! Moreover, we made this point on p. 106 of our book, as follows:

Do I think the China Study findings constitute absolute scientific proof? Of course not. Does it provide enough information to inform some practical decision-making? Absolutely.

An impressive and informative web of information was emerging from this study. But does every potential strand (or association) in this mammoth study fit perfectively into this web of information? No. Although most statistically significant strands readily fit into the web, there were a few surprises. Most, but not all, have since been explained [by considering the adjustments discussed above].

My present views on diet and health are based on the consistency of the vast majority of evidence produced by a wide variety of studies. I see three types of evidence that has most influenced my present views. First, there is the research data from our own studies that are summarized in our book. Second, there is the evidence obtained by many other laboratories, a sample of which is summarized in our book. Third, there is, perhaps, the most important evidence of all, the clinical experiences of the practicing physicians who I had come to know, especially those of Drs. John McDougall, Caldwell Esselstyn, Jr., Terry Shintani, Joel Fuhrman and Alan Goldhamer. For me, these medical practitioners, entirely on their own initiative and knowledge, were advising, with impressive success, their patients with the same information that I had come to know from the scientific literature and laboratory. The proof is in the pudding, so to speak. The idea works!

---

Posts: 654 | Registered: Oct 2003 | IP: Logged |

Wallace
LymeNet Contributor
Member # 4771


posted

---

A final interview with Prof Campbell

Dr. Campbell Responds to Dr. Mercola
vegsource.com | T. Colin Campbell, PhD. | 09/11/09
Read More: china study, colin campbell, mercola, weston price


Get VegSource Alerts


Share This Page With a Friend

Print This Page

Comments

Email This Story to a Friend

Your friend's email address:

Your email address:

Message (optional):
For background, it should be noted that Dr. Mercola's views, when he says that the China Study is "seriously flawed", parallel very closely those of the Weston A Price Foundation (WAPF), a Washington-based agricultural lobbying group. They assert, among other claims, that high cholesterol diets are healthy even beneficial thus supporting their advocacy for the consumption of raw un-pasteurized, un-homogenized grass-fed beef and other animal-based food products. They also, perhaps to be politically correct, recommend the consumption of fruits and vegetables but in a way that is virtually meaningless. They rely heavily on a personal survey that a dentist, Weston Price, did during the 1920s and 1930s when he visited a total of 14 indigenous peoples in various parts of the world to examine and photograph their dental health (dental caries and dental arch formation). However, the WAPF, by principally relying on Price's findings, go far beyond what Price actually did. They would have us believe that he published extensive data to support the health value of cow's milk and high cholesterol animal based foods and, further, that he 'discovered' a fat soluble factor in milk that is likely responsible for these healthy effects of cow's milk. I read his book and there are no data that Price accumulated, tabulated and interpreted to support this view. Indeed, the so-called fat soluble factor mentioned by Price was noted at a time during the early days of vitamin discoveries when little was known about their metabolism and biochemical effects, except that they divided into water and fat soluble substances. The most oft-quoted criticism of The China Study promoted by the WAPF and their allies is that written by Chris Masterjohn, a 24-year old man who, not being either in the profession or trained in the subject, viewed research from a very limited perspective. I previously replied to his and related remarks in a comment posted on the Internet at

http://www.vegsource.com/articles2/campbell_china_response.htm

Although I find it difficult at times to 'debate' people whose professional views are aligned with their commercial interests and who have no experience in peer-reviewed original research (except for a few letters to the editor, I find no evidence that Dr. Mercola, for example, has successfully submitted his findings to the critical review of peers), I must turn my attention to the substance of Dr. Mercola's criticisms. His critical views are quite general and far ranging but the main points seem to be as follows.

"Among the many associations that are relevant to diet and disease, so many pointed to the same finding: People who ate the most animal-based foods got the most chronic disease. Even relatively small intakes of animal-based food were associated with adverse effects. People who ate the most plant-based foods were the healthiest and tended to avoid chronic disease."

The adverse effects of animal protein, as illustrated in our laboratory by the effects of casein, are related to their amino acid composition, not to the effects of pasteurization, homogenization, or of the presence of hormones, pesticides, etc. Even though pasteurization and homogenization may cause slight changes in the physical characteristics of proteins, I know of no evidence where the amino acid composition is altered by these treatments.

This focus on amino acid composition of proteins is important because animal based protein will be the same regardless whether it is provided by grass-fed or feed lot fed animals. Moreover, the casein that we used in our extensive experiments was produced before hormones were introduced and before factory farming became the norm, thus it represented mostly animals that were grass fed.

There have been many different kinds of studies for well over a half century showing that the nutritional responses of different proteins are attributed to their differing amino acid compositions that have nothing to do with pasteurization, homogenization or contamination with foreign chemicals. These differences in nutritional response disappear when any limiting amino acids are restored.

In our case, for example, we found that casein was a powerful promoter of experimental cancer (in dozens of experiments over a period of more than 30 years) and that this effect was attributed to a large number of highly integrated reactions within the cell and well as within the body. Two of the more prominent of these biochemical/physiological responses result from increased production of growth hormones and an elevation in body acid load (metabolic acidosis) that impacts a number of critical enzyme activities. Wheat protein, unlike casein for example, did not stimulate cancer development but when its limiting amino acid, lysine, was restored, it acted just like casein. There have been literally thousands of studies going back many decades showing a similar effect on body growth and other events associated with body growth--all resulting from differences in amino acid composition of different proteins. These differences have long been described by the concept of "biological value" or, perhaps, "protein efficiency ratio", which served as a starting point for my own research career that started with my doctoral dissertation program more than 50 years ago.

I should also mention that my experimental research extended well beyond the singular effects of animal protein and, as we proceeded through the years (all supported by NIH funding and documented in several hundred publications in well known professional journals) it included experimental studies on other nutrients, other mechanisms and other health/disease outcomes. These additional findings only became more provocative and convincing that a diet comprised of plant-based foods created the best health on what seems to be all accounts. The effects in humans, as shown by my physician colleagues are profound, broad and fast.

I mostly reject what Dr. Mercola and his WAPF colleagues are claiming. While it may seem reasonable to assume that grass-fed animal products compared with feed lot animal products are somewhat healthier on some accounts (perhaps due to a more favorable fatty acid composition, slightly more--but still minimal--tissue antioxidants derived from the plants being consumed), they do not come close to the health value of plant based products. But even if this slight advantage of organic, grass fed animals were shown to be true, this hardly justifies its being of interest for the general public.

There is no possibility that their is enough land, water and other resources to meet the current and future demand for these products. Because this is so obvious, I have often wondered what motivates this argument for grass fed animal agriculture. When I find people vigorously making this argument (and some do!) at the same time that they have a monetary incentives, I can't help but wonder if these thoughts are not connected. In any event, I know of no convincing evidence that consuming grass-fed animal products are really better health-wise than feedlot animal products.

On one final point, those who lament a "serious flaw" in The China Study mostly limit their arguments to the China project itself, as if this is all there is in our book. It is not. It is only one of the eighteen chapters. These critics fail to note what Tom and I tried to do in writing the book. It was simply to tell the story in a way that I myself learned it, by using as much as possible my own first hand research and policy experiences that persuaded me, then let readers decide for themselves. We simply asked that the reader to "try it" before making his/her final opinions. If my long years in research have told me anything that's really important it is that we should be interpreting scientific evidence not as an absolute truth but as a component of a wider message within context. Deciding what is supposedly absolutely true is great for making money but it is not for making health.

There is far more that I could say that refutes the scientific basis for advocating the diet promoted by Dr. Mercola and his colleagues associated with WAPF. But time intercedes.

T. Colin Campbell

Jacob Gould Schurman Professor Emeritus
of Nutritional Biochemistry

Cornell University

---

Posts: 654 | Registered: Oct 2003 | IP: Logged |

massman
Unregistered



posted

---

From just above:

"These additional findings only became more provocative and convincing that a diet comprised of plant-based foods created the best health on what seems to be all accounts. The effects in humans, as shown by my physician colleagues are profound, broad and fast."

So where in the US are those healthy vegetarians

please x 3

---

IP: Logged |

seekhelp
Frequent Contributor (5K+ posts)
Member # 15067


posted

---

Well Massman, 12 years ago I nearly went vegetarian for 2 years, lost a ton of weight and was in awesome shape. BUT, I fell ill afterwards and my life never again was the same. I kinda think you and GiGi and Dr. K have a point.

---

Posts: 7545 | From The 5th Dimension - The Twilight Zone | Registered: Mar 2008 | IP: Logged |
Contact Us | LymeNet home page | Privacy Statement

Powered by UBB.classic™ 6.7.3

---
The Lyme Disease Network is a non-profit organization funded by individual donations. If you would like to support the Network and the LymeNet system of Web services, please send your donations to:
The Lyme Disease Network of New Jersey
907 Pebble Creek Court, Pennington, NJ 08534 USA
http://www.lymenet.org/
---
Home | Flash Discussion | Support Groups | On-Line Library
Legal Resources | Medical Abstracts | Newsletter | Books
Pictures | Site Search | Links | Help/Questions
About LymeNet | Contact Us
---
© 1993-2020 The Lyme Disease Network of New Jersey, Inc.
All Rights Reserved.
Use of the LymeNet Site is subject to Terms and Conditions.
---