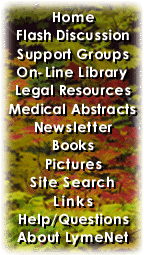 ---
LymeNet on Facebook
LymeNet on Twitter
---
---
The Lyme Disease Network receives a commission from Amazon.com for each purchase originating from this site.
When purchasing from Amazon.com, please
click here first.

Thank you.




Dedicated to the Bachmann Family


LymeNet needs your help:
LymeNet 2020 fund drive

The Lyme Disease Network is a non-profit organization funded by individual donations.

| | |
| --- | --- |
| | |
Author
Topic: Mood Swings

tls122269
LymeNet Contributor
Member # 23200


posted

---

My daughter was diagnosed with Lyme, Rocky Mountain Spotted Fever and Bartonella. She will be 18 at the end of February. I know she isn't feeling well and she is still considered somewhat of a teenage, but her mood swings are incredible. The dr. said I should expect it. If you try to talk to her she just rips your head off and screams at you. She has absolutely no patience whatsoever.

I know she doesn't feel well and I don't want to keep saying "How do you feel", but she is the type to keep everything in. Unless she is really hurting then she just keeps everything to herself. When she can't seem to take it anymore then she will come to me. I feel helpless. Any suggestions what to do or what not to do? Does anyone have any experience with this? Any advice would be much appreciated?

---

Posts: 107 | From New Jersey | Registered: Nov 2009 | IP: Logged |

lymielauren28
Frequent Contributor (1K+ posts)
Member # 13742


posted

---

You know, I was just talking on the phone to a friend that has Lyme the other day and I said, "I cannot imagine being a child or a teenager and having this disease." During my hardest times it has taken every once of strength I possess, mentally and spiritually, to get through this.

I don't have any advice for you really...just want to send well-wishes that she gets better soon. You're probably doing a wonderful job as a parent but her reactions make you feel as if you're doing it all wrong. Know that most of her reactions are beyond her control and just be there for her as best as you can. That's really all you can do. She may not seem grateful or appreciative now but I'm sure she is. In time, when she gets better she'll thank you for it and she'll always remember that you were her rock.

--------------------
"The only way out is through"


---

Posts: 1434 | From mississippi | Registered: Nov 2007 | IP: Logged |

tls122269
LymeNet Contributor
Member # 23200


posted

---

Thanks for your kind words.

---

Posts: 107 | From New Jersey | Registered: Nov 2009 | IP: Logged |

sutherngrl
Frequent Contributor (1K+ posts)
Member # 16270


posted

---

Sorry you daughter is ill!

I think the mood swings are just a common thing that comes with having a chronic illness. I know I am grumpier when I am feeling worse.

Also, I hate for ppl to constantly ask me how I feel, so maybe just not ask her as much. She will probably offer up more information if you don't.

Don't know if that helps much or not, but just passing along my own experience.

---

Posts: 4035 | From Mississippi | Registered: Jul 2008 | IP: Logged |

tls122269
LymeNet Contributor
Member # 23200


posted

---

Sutherngrl -

I try not to ask I'm just so concerned because she is so quiet and doesn't open up much. I am going to try not to ask as much.

Thanks for passing on our experience.

---

Posts: 107 | From New Jersey | Registered: Nov 2009 | IP: Logged |

Wolfed Out
LymeNet Contributor
Member # 23727


posted

---

Does anyone feel really angry, or alone...like, F-it, what the hell am I even doing this for when they have mood swings?

I'm finding I'll be at the gym, doing stuff just fine, and then I'll be at the house an hour later thinking, "This isn't worth it; I'm never gonna fully recover; I should just quit, etc..."

---

Posts: 829 | From MD | Registered: Dec 2009 | IP: Logged |

sutherngrl
Frequent Contributor (1K+ posts)
Member # 16270


posted

---

Lately I feel really angry! I have been treating almost 2 years and have never felt as angry as I do now.

I'm just tired of it all. I don't feel like giving up, just tired and frustrated and angry.

My moods are really bad lately. I think some of mine is hormones. Some is just this dang illness taking everything from me; and the duration of the illness is getting to me. My body is just so worn out.

I still never want to give up though!

---

Posts: 4035 | From Mississippi | Registered: Jul 2008 | IP: Logged |

Wolfed Out
LymeNet Contributor
Member # 23727


posted

---

That's definitely understandable after you've been treating for 2 years!

Usually, I have a really strong outlook on things. I just feel like my mind has been taken over recently. I just don't know if it's part of a herx, a Bartonella flare-up, or the medication (Minocycline and Zithromax).

I'm not sure what to do, cause I'm improving and I'm feeling ****ed off all of sudden!

---

Posts: 829 | From MD | Registered: Dec 2009 | IP: Logged |

tls122269
LymeNet Contributor
Member # 23200


posted

---

I don't know much about this stuff, but all I know is my daughter seems to feel the same way sometimes. She is taking Mino, Zithro and Zoloft. I've noticed the Mino seems to make her also like giving up sometimes.

She gets really quiet. The next minute she is anxious and frustrated. She has been sick since Oct. 2009, which isn't long in comparison to some of the people on here, but she says she can't wait to stop taking all the pills.

I try to help her think positive, but it is hard for me at times. I feel so bad for everyone who has this horrible thing.

Everyone needs to try to think positive (I know easier said than done). All we can do is keeping chatting with each other and try to get each other positive.

---

Posts: 107 | From New Jersey | Registered: Nov 2009 | IP: Logged |

Wolfed Out
LymeNet Contributor
Member # 23727


posted

---

tls,

It IS very hard to relate, you certainly understand that part.

My suggestion, in those roughest of times, just disregard trying to communicate much in the way of verbal coaching and positive talk with her.

Being on the other side, I feel that people don't really understand when they are trying to talk me into feeling better. Although I know they have the best of intentions, that's just how I feel.

If my mother came to me and said, "It's just a moment through the process, this will pass and get better. I love you very much."

That would definitely make me feel good. That would all the support I need.

I wish your daughter well soon.

---

Posts: 829 | From MD | Registered: Dec 2009 | IP: Logged |

tls122269
LymeNet Contributor
Member # 23200


posted

---

Wolfed -

Thanks for the advice. I'm always looking for things to say to her. I want to help her as much as I can...I just don't know what to do.

Your suggestion helps.

Keep well.

---

Posts: 107 | From New Jersey | Registered: Nov 2009 | IP: Logged |

sickpuppy
LymeNet Contributor
Member # 23846


posted

---

tls122269 , I'm a middle aged married woman living with my elderly parents because I can't take care of myself. We're back in the teenager/parent paradigm here. So from this perspective I can relate to your daughter a great deal.

The lyme has changed my brain chemistry--nothing makes me happy. I could win the lottery and feel flat. I get raging mad at little things and very frustrated. I pretty much took a header when I was diagnosed and started treatment. Not sure if it was the news or the antibiotics screwing up my mood even more.

Lots of times my parents get mad at me and scream and yell as though I'm TRYING to be difficult or something. They tell me I'm nasty or mean which makes me feel even worse. They feel sorry for me when I'm in pain or collapsing from a lung spasm but they just cannot get their heads around the fact that my brain does not work--I can't 'do better' or snap out of it.

Being in your daughter's shoes but being a mature adult, I would say act like the mood swings are not happening--by which i mean don't get all rattled. I would also give her space. I go off and hide in the guest room a lot because everything bothers me--I get easily distracted, I'm sound sensitive, even people's little fidgets bug me.

Maybe you can tell her about this site and if she needs people to talk to then we here know what's she's going through.

I know you want to help your daughter so badly. Maybe the constant checking in feels like a constant reminder to her that she's sick or she just wants to be doing something like watch a movie.

I think the emotional side of this whole mess gets neglected. I really feel like I'm on my own dealing with it. And like others here i often feel like what's the use etc. But in the end I have nothing better to do so I'll keep going until the money runs out.

With your daughter she's at the age where kids try to individuate and now she's being hampered even more by being sick. I feel for you both. I hope you both find a way to cope. All the best

---

Posts: 702 | From North Eastern USA | Registered: Dec 2009 | IP: Logged |

kidsgotlyme
Frequent Contributor (1K+ posts)
Member # 23691


posted

---

tls,

My daughter is quiet like your daughter is. I know that she holds in her emotions and feelings, and I feel so helpless just like you.

I'm so sorry that you are having such a rough time. I don't have any answers, but I just wanted to encourage you.

I don't know what I would do without the lymenet. Sometimes when I am at a loss, I come on here and see that others are going through the same time as my family.

I hate it that anybody has to endure this disease, but it is nice not to be alone. I know our daughters probably feel robbed of some of the best times in their lives.

I get so mad sometimes, I just want to cry. I want my daughter to LIVE life to the fullest, and knowing that she can't just breaks my heart.

I hope that your days get better, and that you can find a way to connect with your daughter. I am still trying to find a happy medium with it myself.

Christie

--------------------
symptoms since 1993 that I can remember. 9/2018 diagnosed with Borellia, Babesia Duncani, and Bartonella Hensalae thru DNA Connections.


---

Posts: 1470 | From Tennessee | Registered: Dec 2009 | IP: Logged |

Wolfed Out
LymeNet Contributor
Member # 23727


posted

---

Hey all,

I feel for you as parents. I really do.

I can also relate a little to what sickpuppy is saying. That's why I recommend backing off from the "pump-up" type conversations.

But, if you see what's going on, and she's being open about it. There's never a problem with a hug and simple, "I understand." That can go a long way in tough times.

Feel confident knowing with treatment that things WILL get better. But, there's no need to tell somebody that everyday. Just roll with it.

Love you all,

Wolf

---

Posts: 829 | From MD | Registered: Dec 2009 | IP: Logged |

sapphire101
LymeNet Contributor
Member # 6638


posted

---

tls, I'm so sorry that your daughter is sick. My daughter was sick through her teen years also.

She just wanted so much to be like her friends and be able to do all the things they did but she just couldn't. I had to remember she lost the life as she had known it and had to adapt to a new one. Not easy for a teenager.

I think we all feel angry at times at the loss of the life we used to have. I know I sure do. I also feel a little jealous when I see someone dancing, running or some other activity that I can only dream about doing. I don't know how sick she is but if she can't do all the things her other friends are doing that's enough to make you angry, ect.

She may be feeling all kinds of emotions for different reasons. It's tough on the parents because we aren't mind readers.

The only thing I can suggest is when she gets angry or says something "not so nice" just don't react to it. It's the illness talking.

My daughter is a happily married 28 yr old now and we are the best of friends.

Sapphire

---

Posts: 495 | From KY USA | Registered: Dec 2004 | IP: Logged |

tls122269
LymeNet Contributor
Member # 23200


posted

---

I just want to thank everyone for all their suggestions and understanding.

I will try everyone's suggestions and hope that we get through this...I know we will.

Tracey

---

Posts: 107 | From New Jersey | Registered: Nov 2009 | IP: Logged |

healingtime
Member
Member # 25002


posted

---

I feel for you so much and i hope you find a little comfort in that others can relate

I am also in your daughter's shoes so to speak because my moods are crazy- it is harder around my parents than my husband though because my parents naturally have that urge to "fix" me, whereas my husband has just accepted how things are.

Know that your daughter doesn't mean to be upset with you- i always regret my arguments with my parents but sometimes things just seem to fly out on their own. In the end we love each other and apologize

I appreciated reading others responses here, sickpuppy i feel for you too- its no fun feeling grumpy so much, i'm fighting that tooth and nail but it is hard work. Take care.

---

Posts: 34 | From Texas | Registered: Mar 2010 | IP: Logged |

ray630
Junior Member
Member # 25027


posted

---

Just know that you are not alone--there are many, many, many of us supporting someone with chronic lyme, that we love dearly. My son has bouts of rage that are directed primarily at us (family), but can also flare up with co-workers. When this happens, as unpleasant as it is, I know it is just the lyme or co-infections that are causing the sudden change--it is not personal. My heart breaks when I see this, but I am there to rub his shoulders and hug him and let him know how much we love him. It is a very difficult journey, with no assurance of a return to "normalcy". I try to put
myself in his place and think how desperate it would feel to have your world turned over in so many ways. Also, to have your youth robbed from you and to know you cannot go back to how you were, must be horrific. All he is hoping for at this point is to be able to manage his health and have some good days. I feel at a loss also as to how to support him sometimes. All I feel I can do is let him know by word and deed that he is deeply loved and that we stand by him, no matter what. Thanks for all your comments and hopefully, some of the things I have said, may help someone.

---

Posts: 2 | From Swarthmore, PA | Registered: Mar 2010 | IP: Logged |

LightAtTheEnd
LymeNet Contributor
Member # 24065


posted

---

For me, the days when I get moody, angry, depressed, paranoid, and crying all the time, it is more than half a physical symptom of brain chemistry, like sickpuppy said.

My mind tries to ascribe it to a cause, so I blame it on whatever minor irritation or person is unlucky enough to be nearby when it starts, like if you catch the stomach flu but blame it on whatever you last ate. Even though you know that wasn't it, you can't bring yourself to eat it again.

The trouble is, since it's really NOT caused by that event or person or my manner of thinking, then solving the problem, confronting the person or thinking positively does little to fix my mood.

Then a couple of days will go by and I will wake up and feel emotionally fine and normal.

Several times I have nearly alienated my wonderful family and friends, and I fear that I really will one day.

It also annoys me when I try to tell someone my troubles so they can say, "Boy, that's awful" and give me a hug, and instead they say "Have you tried this? Have you tried that?"

The message I get from all the helpful suggestions is that it is all my fault for not doing enough to fix it, even when I've already thought of and tried or ruled out all the suggestions.

If I tell the person why those things won't work, then they get huffy and say "Well, I guess nobody can help you then." As if I wanted to stay stuck in my horrible mood.

So I think reassurance that you love her and will always be there for her can help your daughter, as can listening to her without trying to give her suggestions or cheer her up. Just let her know she can't chase you off, no matter what.

There is nothing wrong with trying to help somebody or cheer them up. It's just that sometimes it's not what they want for the mood they're in.

On top of the physical symptom, I have repeatedly gone through mourning for all the little and big things the disease has taken from me already, and I have hardly lost anything compared to many people around here.

I have also been angry that I got sick, and with such a controversial disease that is costing me tons of money and turned out to be really difficult to treat. I have also been extremely anxious and fearful about my future, if it doesn't go away soon or gets worse or relapses in the future.

Those, I think, are legitimate and expected emotions for anyone in this situation. We get hit over the head rather abruptly with the realization that life isn't fair and there are no fairy tales. That would be really hard for a teenager, I'm sure. I'm an adult, and I'm having enough trouble dealing with it.

Good luck to you and your daughter. Hang in there.

--------------------
Don't forget to laugh! And when you're going through hell, keep going!

Bitten 5/25/2009 in Perry County, Indiana. Diagnosed by LLMD 12/2/2009.


---

Posts: 756 | From Inside the tunnel | Registered: Jan 2010 | IP: Logged |

B4LYME
LymeNet Contributor
Member # 23222


posted

---

I had lyme while I was pregnent with my son, but I didn't know it at the time. I never regained my former health and my son dealt with a lot of digestive problems and was later diagnosed with reactive asthma.

After a long journey, I found a doctor to diagnose and treat me. Then when my son couldn't sleep at night, I knew he had lyme too.

After treating for 6 months or so, he didn't need his inhalers anymore and hasn't used them since. His tears, frustration, sleeplessness, fatigue, etc. improved remarkably at the time.

I still remember one day after school when he told me he thought something was wrong. I asked if his heart was racing or anything else. It turned out it was simply that he had energy at the end of the school day and it was a new experience for him!

We were treated at the same time and shared blood draws, road trips and doctors visits together. This time we spent together binds us still.

He was 10 at the time treatment started. e is now 18. Overall he's pretty healthy. He still has some problems around the same time each year, and he'll tell me about it.
He knows I get it and don't judge his character.

The flip side of that is that now that I got reinfected or relapsed he gets me and just likes spending some downtime with mom watching movies or tv together.

I would never have thought that an illness would help bind us as mother and son. Your daughter knows you are there for her. Maybe you don't have the relationship you want now, but this time with her will pay dividends later.

On another note, as far as the emotions, etc. have you considered medication? I don't like taking the drugs, but for now they help me. If I had a broken foot I'd use crutches until the bones heal. I think it's the same thing here.

Ten years ago during treatment I needed to use some psyche drugs, but after a little over a year of treatment I didn't need them anymore. I've had to use some psyche drugs again, but I am confident that with treatment I will be off of them again.

There is hope and help for your daughter. I hope this helps some.

B4

---

Posts: 144 | From PA | Registered: Nov 2009 | IP: Logged |

tls122269
LymeNet Contributor
Member # 23200


posted

---

B4 -

She is currently taking a low dose of Zoloft to help with the anxiety as that was getting the best of her. It seems to be helping.

Sometimes I feel she just gets so withdrawn and wants to stay in her room. At first I just let it go, but then I begin to worry about depression setting in and then I start to panic.

I make her come out of her room and hang out with me and we just watch tv or a movie, but she gets really frustrated with me that I make her come out. After a while she loosens up and her mood seems to lift.

I know she needs her space and private time I just don't know how long to let her sit in that dark room and not come out.

I tell her constantly that I am there for her and tell her I love her and hug her all the time. I just hope that is enough.

---

Posts: 107 | From New Jersey | Registered: Nov 2009 | IP: Logged |

lymebytes
Frequent Contributor (1K+ posts)
Member # 11830


posted

---

I have a son that went through LD for the 2nd time from 17-19. He is now well at 20. I have fought it for nearly 4 years myself.

He expressed how frustrating it was to have to put his life on hold and to lose friends and not be able to live a normal 18 year olds life. He couldn't get his life started when life should be starting. He couldn't work or go to college. He couldn't talk w/ life long friends that understood what he was going through. His life was on hold when life should be starting.

This is a extremely hard disease to live with, no matter your age. Life and living is being lost to an excruciatingly mind numbing, painful nightmare and it is more than frustrating, it is exhausting and depressing. You feel like things will never change.

I didn't push my son to "open up", if he wanted to talk, he knew where I was. Let her come to you. I am not against supportive medication at all, but I would not consider for my son antidepressents, simply because most lyme patients don't handle them well anyway. You could try, you may be one of the few that have success. But know they are THE hardest medication to get off of, harder than pain meds or any other drugs.

Changing her mood isn't the issue, killing the bacteria is the bigger issue and her getting her life back, then her mood will change naturally. (see article below).

I understand her feelings anyone w/LD would. Encourage her to join a support forum, where she can talk with others that really understand. There are many support forums online. Even Facebook has many lyme groups. Maybe this will get her talking and realizing she is not alone.

Ensure her she will get better, things will smooth out. Give her the space (I need mine even) she needs and just love her and tell her this will get better, give her hope. Don't push "thinking positive" when people tell me to do that it frustrates me more because I simply can't, Lyme infects the brain - I just want someone to say "You are amazingly strong, you will get well, hang in there".

Here is a good article on what LD is and why it effects the brain: http://www.thehumansideoflyme.net/

--------------------
www.truthaboutlymedisease.com


---

Posts: 2003 | From endemic area | Registered: May 2007 | IP: Logged |
Contact Us | LymeNet home page | Privacy Statement

Powered by UBB.classic™ 6.7.3

---
The Lyme Disease Network is a non-profit organization funded by individual donations. If you would like to support the Network and the LymeNet system of Web services, please send your donations to:
The Lyme Disease Network of New Jersey
907 Pebble Creek Court, Pennington, NJ 08534 USA
http://www.lymenet.org/
---
Home | Flash Discussion | Support Groups | On-Line Library
Legal Resources | Medical Abstracts | Newsletter | Books
Pictures | Site Search | Links | Help/Questions
About LymeNet | Contact Us
---
© 1993-2020 The Lyme Disease Network of New Jersey, Inc.
All Rights Reserved.
Use of the LymeNet Site is subject to Terms and Conditions.
---