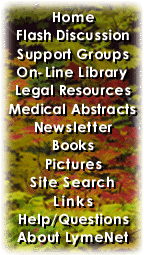 ---
LymeNet on Facebook
LymeNet on Twitter
---
---
The Lyme Disease Network receives a commission from Amazon.com for each purchase originating from this site.
When purchasing from Amazon.com, please
click here first.

Thank you.




Dedicated to the Bachmann Family


LymeNet needs your help:
LymeNet 2020 fund drive

The Lyme Disease Network is a non-profit organization funded by individual donations.

| | |
| --- | --- |
| | |
Author
Topic: oh no - now have a tremor-problem

steven
LymeNet Contributor
Member # 13101


posted

---

hello,

i hoped i would get better, now the opposite happened: i have got a new symptom, strong tremors, 50 percent of my day.

it started two weeks ago with one hand, now both arms, legs and my body is shaking. it becomes more and more diffcult to do normal things with my hands and to hide it at work.

im sick since at least 2001, have unfortunately taken steroids and declined badly. i am treating lyme since 2002. but i didnt have much success with it in the last years. only several long rocephin-courses helped me, orals do not seem to affect my neuro symptoms at all.

now im thinking about going back on rocephin again. but i have also in mind that sooner or later i relapsed every time and a more and more llmds dont use rocephin anymore because it doesnt hit intracellular germs and cysts. but it helped me (and brought me colics...)

what would you do? and is there anything more to do than abx?

---

Posts: 226 | From earth | Registered: Sep 2007 | IP: Logged |

Keebler
Honored Contributor (25K+ posts)
Member # 12673


posted

---

-
Sorry to hear about this. It must be frightening and disheartening. If this is for half of your day, which half? When you get tired? What makes it worse? What improves this?

Was there some event that triggered this - I'm thinking of a chemical exposure. New carpet, textiles, furniture, dry cleaning, new car, pest or lawn sprays, anything new at work - even new light bulb?

I would avoid flourescent bulbs of all types now, everywhere. Get desk lamps with regular bulbs -for work and even in your kitchen. If you have others overhead, have them disconnected. This helped me when I had tremors. The lights were too stimulating for my eyes - and for my ears and brain.

----

Glad to see you are on basic supplements. My first question: What is your current dose and form of magnesium?

Then, how much fish oil and what type do you take each day?

Any other medicines that might have tremors as a side-effect?

You are avoiding ALL artificial sweeteners and MSG (you can google for all the names)? These can cause tremors, especially in lyme patients.

The Green Tea Pills? How many? Might that be a bit too stimulating? Garlic, too, can be a bit too stimulating.

In your B vitamin formula, does that have excessive niacin (B3)?Does anything you take have excessive phenylalanine? If so, that can cause tremors.

Being on the zith, I wonder if ALA is enough liver support. If I were to be on both mino and zith, I'm sure I'd be shaking (but I don't do well with either one and I reacted very badly to amantadine - with spastic motions).

Moving along . . .

Might you have a pinched nerve or something like that? Have you tried any hands-on therapy like gentle cranial-sacral.

And . . . backing way up: What does your doctor say about this? Has some sort of brain and neck scan been done?

What anti-inflammatories are you on besides wobenzyme? Can you take curcumin? That is very good in many ways.

I would ask about increasing magnesium and checking out OmegaBrite as a new oil.

ADRENAL SUPPORT, too, might be helpful as the tremors could be a sign of endocrine exhaustion.

I am sorry for so many questions and you really don't have to answer - it's mostly a check list of things that come to mind that you might consider.

Good luck.

=============

http://news.bbc.co.uk/2/hi/health/7167860.stm

LOW ENERGY BULBS ``CAUSE MIGRAINE''

-

---

Posts: 48021 | From Tree House | Registered: Jul 2007 | IP: Logged |

David95928
Frequent Contributor (1K+ posts)
Member # 3521


posted

---

Have you considered trying Bicillin for a while? It has really helped a lot of people. Search this site for people's comments. The comments are not 100% positive but it could easily be 75% positive. Also, are you getting enough magnesium. For some, getting enough via oral route is difficult as it tends to cause diarrhea at larger doses. I take a gram IM once a week and that helps a lot with tremors and muscle twitching.

--------------------
Dave


---

Posts: 2034 | From CA | Registered: Jan 2003 | IP: Logged |

Keebler
Honored Contributor (25K+ posts)
Member # 12673


posted

---

-
In your magnesium IM (shot), if you also add vitamin B-12, that will take the sting out of by 95%.

And vitamin B-12 shots may also be very good. B-complex also comes as shots.

-

---

Posts: 48021 | From Tree House | Registered: Jul 2007 | IP: Logged |

steven
LymeNet Contributor
Member # 13101


posted

---

Thanks for your helpful ideas, Keebler and Dave.

today the tremor wasn't so strong (maybe because I slept for 10 hours), but I have difficulties in coordinating my hands and arms. Very frightening. Also that this symptom doesn't seem to happen to many lyme sufferers (although its in the burrascano symptom list). i hope its no parkinson or als.

You asked for some event that might have triggered this? Well, there are only two special things: this is a very cold winter over here. and I was just off abx for 3 months because I have been on abx for years. My llmd and I thought it was time for a break. Therefore the tremor could not have been a cause of medicine!

Its only possible it made it worse. Cos I started abx and amantadine after the tremor started, but stopped the amantadine now since I read it can lead to muscle spasms and uncontrolled movements.

The only other remarkable thing that happened was that I got a cold about a week after my new tremor-symptom showed up first. My third cold this winter!

And no, there was definitely no new chemical exposure. It came - like always with this disease - suddenly from the inside of me. And like always: since the tremor and muscle weakness is there, the pain seems only to be mild and in the background. One symptom comes, the other disappears (and comes back later).

Unless my signature still said I was on supplements I am not. After months on them without any effect I just had the impression they were a waste of money. I am also not on magnesium anymore since some llmds say you feed the bugs with it. I don't wanna risk that.

I have two llmds, one local and one, who is in another part of the country. The local one didn't have an idea, I ll try to reach the other one now.

I havent tried Bicillin yet. I once had red dots after using amoxicillin so I might have a penicillin-allergy. What do you think of the back-to-rocephin-idea? i always ask myself if rocephin really helped agains the bugs or only because it protects nerves.

[ 01-29-2010, 01:29 AM: Message edited by: steven ]

---

Posts: 226 | From earth | Registered: Sep 2007 | IP: Logged |

Keebler
Honored Contributor (25K+ posts)
Member # 12673


posted

---

-
Here's my take on the question of "feeding the spriochetes with magnesium"

Well, if my body is deficient in magnesium and terrible nerve damage can occur without it, I will feed my body what it needs.

The spirochetes cannot be starved out by starving my body of an essential nutrient. I can do other things to combat spirochetes but there is no substitution that can correct fatal magnesium deficiency and, with lyme, patients are generally depleted.

Just my take on this. I've tried to do without it, too but I just get more seizures and falls - and other effects that are just as troubling. Magnesium has saved my life.

Now, though, to figure out how to block spirochetes from taking our food. That would be nice. But we still have to eat. Our cells need the food.
-

---

Posts: 48021 | From Tree House | Registered: Jul 2007 | IP: Logged |

David95928
Frequent Contributor (1K+ posts)
Member # 3521


posted

---

My take on all of this is that I've been ill with Lyme too long to be cured with the currently known methods. Therefore my focus is on keeping it and the symptoms beaten back so I can lead a functional life. It's my opinion that Bicillin seems to be one of the best agents for maintaining stable recovery. It's expensive here in the U.S. but getting it very cheaply from overseas pharmacies is doable. Therefore this core treatment is not at the mercy of those criminal enterprises we call health insurance companies and pharmaceutical companies.
I've read the 'magnesium feeds keets' line but agree with Keebler that we have to have it and supplementation gives me such clear and swift relief of those residual symptoms that I just can't see doing without. The same thing can be said of B Vitamins. Without B12 I get aphthous ulcers inside my mouth and my tongue stings. Without B Complex the corners of my mouth start cracking as do the areas where my earlobes join my jaw, I have very low energy and become withdrawn.
I will add that if you have not been tested, you really should consider asking for a testosterone level. Many male lymies (females too) are very low regardless of age. As a male you really need to be in the 400s AT LEAST to feel good and function well. Low testoterone over the long term is implicated in heart disease, osteoporosis, mucle loss, depression, cognitive difficulties, not to mention relationship problems caused by low libido and many other negative effects.
Good luck with this and feel free to PM.

--------------------
Dave


---

Posts: 2034 | From CA | Registered: Jan 2003 | IP: Logged |

Hopeful2010
Member
Member # 22958


posted

---

HI Steven,

I understand the Rocephin dilemna (sp). I too feel better when I am on it. I have been off and on it for 6 months. I think it's possible that it helps if you are taking things like Flagyl and other co-infection meds with it. I have decided that I don't want the risk of having my Gall bladder removed and I think that it was giving me systemic yeast.

I am moving on to other things. I senses that every time I go off the Rocephin I will relapse. that's just my personal experience.

---

Posts: 86 | From California | Registered: Oct 2009 | IP: Logged |

seibertneurolyme
Frequent Contributor (5K+ posts)
Member # 6416


posted

---

This was just recently posted on Planet Thrive. Here are Buhner's suggestions for herbal treatment of tremors.

http://planetthrive.com/2010/01/hand-tremors/

Hubby has been having limited success with the stephania tincture. He is now up to 3 droppers 3 times per day -- goal is 5 droppers 3 times per day. Woodland Essence is the source for this.

The passionflower and skullcap never have done much for his tremors.

Another option not mentioned is cryptolepis -- at very high doses -- 15 droppers 3 times per day. That actually stopped hubby's tremors for a month or two, but the supply of the herb ran out and when I retried it several months later, we have not been able to duplicate the results.

Hubby has had Parkinsonian tremors and myoclonus and dystonia and other movement disorder symptoms for the entire 8 years he has been sick.

Both cryptolepis and stephania cross the blood brain barrier in my opinion and that is why they help. I think cryptolepis works on babs, bart and mycoplasma and that stephania works on bart and mycoplasma. That is my gut feeling based on hubby's responses to these herbs.

If the tremors are from Lyme then the resveratrol -- must be Japanese knotweed source -- might be the most helpful. See the Healing Lyme book or the Planet Thrive site for specific brands and sources.

Hubby's docs have told him that tremors could be from lyme or babs or bart. Personally we think bart or mycoplasma is the cause for him.

Hate to suggest this -- but as a last resort ativan usually works on these type of tremors.

Another option to consider might be IV Primaxin -- that helped with hubby's movement problems while he was on it, but as you said with the Rocephin -- symptoms came right back after stopping it.

Bea Seibert

editing to add -- just read your med list and noticed the tinadazole. If that is new, then my guess is that it is a big part of the problem. Hubby recently tried to pulse factive and tindamax -- after a month or two he ended up in the ER for the 2nd time in 2009. We feel the tindamax stirred things up way too much for hubby to handle after being sick for over 8 years and never really treating the cyst form.

---

Posts: 7306 | From Martinsville,VA,USA | Registered: Oct 2004 | IP: Logged |

Pinelady
Frequent Contributor (5K+ posts)
Member # 18524


posted

---

The B12 IM were big relief for me. As well as ATP.

I also replaced electrolytes with mixes. Detox-get

the poisons released from killing the bugs is a big

part of the nerve dysfunction too I think.

--------------------
Suspected Lyme 07 Test neg One band migrating in IgG region
unable to identify.Igenex Jan.09IFA titer 1:40 IND
IgM neg pos
31 +++ 34 IND 39 IND 41 IND 83-93 +
DX:Neuroborreliosis


---

Posts: 5850 | From Kentucky | Registered: Dec 2008 | IP: Logged |
Contact Us | LymeNet home page | Privacy Statement

Powered by UBB.classic™ 6.7.3

---
The Lyme Disease Network is a non-profit organization funded by individual donations. If you would like to support the Network and the LymeNet system of Web services, please send your donations to:
The Lyme Disease Network of New Jersey
907 Pebble Creek Court, Pennington, NJ 08534 USA
http://www.lymenet.org/
---
Home | Flash Discussion | Support Groups | On-Line Library
Legal Resources | Medical Abstracts | Newsletter | Books
Pictures | Site Search | Links | Help/Questions
About LymeNet | Contact Us
---
© 1993-2020 The Lyme Disease Network of New Jersey, Inc.
All Rights Reserved.
Use of the LymeNet Site is subject to Terms and Conditions.
---