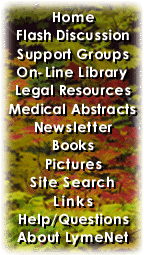 ---
LymeNet on Facebook
LymeNet on Twitter
---
---
The Lyme Disease Network receives a commission from Amazon.com for each purchase originating from this site.
When purchasing from Amazon.com, please
click here first.

Thank you.




Dedicated to the Bachmann Family


LymeNet needs your help:
LymeNet 2020 fund drive

The Lyme Disease Network is a non-profit organization funded by individual donations.

| | |
| --- | --- |
| | |
Author
Topic: Researchers COOH

Marnie
Frequent Contributor (5K+ posts)
Member # 773


posted

---

"The amino acid tryptophan is degraded upon *light exposure* or *during acid* and *oxidative treatments*."

http://www3.interscience.wiley.com/journal/121470764/abstract

Bb is very dependent on us metabolizing tryptophan to -> NAD (Nicotinamide adenine dinucleotide)

Bb has an enzyme called nicotinamidase which does this:

Nicotinamide + H2O <-> nicotinate + NH3 (notice it goes in both directions).

(High levels of nicotinaminde shut off the enzyme nicotinamidase. Bb won't let it stay high.)

NAD is a co- enzyme, a "helper". We "recycle" it...a lot. One of the things it does involves sirtuins which REMOVE acetyl groups. In fact, NAD is reduced by sirtuins. Reduced, is confusing because when something is reduced, Hydrogen is ADDED. NAD-> NADH.


Now there are 2 ways to look at this because the breakdown of tryptophan is a 2-edged sword...good and bad.

Here are some links to explain the above:

http://jem.rupress.org/cgi/content/abstract/196/4/447

http://ajrccm.atsjournals.org/cgi/content/full/173/5/566

http://www.nature.com/cdd/journal/v9/n10/full/4401073a.html

http://www.jimmunol.org/cgi/content/full/166/10/6332

Our body really is fighting tryptophan via increased oxidative stress and by reducing insulin (via IL1 B) because insulin facilitates the entry of tryptophan into the brain.

Our brain needs a LOT of glucose to function. Restricting insulin keeps glucose levels up and prevents the entry of tryptophan into the brain.

If you believe our body is trying to help out and thinks reducing tryptophan is a good thing, then remember...there are other ways to do the same (break down tryptophan) besides oxidative stress.

Acids. The right one is critical. I think it might be -COOH (which can come from caprylic acid which is IN virgin coconut oil and is the active ingredient in the "medicial food" called Axona for AD - Alzheimer's Disease).

In our liver, caprylic acid converts to a ketone called BHB (beta-hydroxybutyrate):

http://www.neurologyreviews.com/ADs/Axona_newsletter.pdf

"In our previous study, beta-hydroxybutyrate (BHB) was found to prolong survival time and to inhibit cerebral edema by improving energy metabolism in the hypoxia, anoxia and global cerebral ischemia models."

Remember, in a jam we can substitute ketones for energy INSTEAD OF GLUCOSE. But...we have to be careful because while our brain and heart are okay with ketones, too many, too fast = kidney damage.

BHB ultimately -> ACoA. ACETYL CoA. (Figure 1 if you want proof):

http://tiny.cc/K5wFV

(Remember sirtuins REMOVE acetyl groups.)

Now this is very very important:

"Moreover, inhibition of lactate production by BHB may lead to 1) an increase
in acetyl-CoA, resulting in inhibiting pyruvate oxidation through the feedback inhibition of the pyruvate dehydrogenase complex (20 - 22), and to

2) a reduction in glycolytic rate by

inhibiting phosphofructokinase activity (23). (!!!)

http://www.jstage.jst.go.jp/article/jjp/89/1/36/_pdf

Phosphofructokinase is PFK and it is the "rate limiting" enzyme for glycolysis.

Bb is PFK dependent.

We know when mice infected with lyme are exposed to UV light, Bb "takes off" (lyme is worse).

"...acid (COOH) group diminish with increasing UV dose"

Less COOH-> worse lyme?

Now...about that lizard who has a BLUE belly, has a pineal gland right on top of its head, hunts for insects to eat IN THE DARK, has LOTS of rods in its eyes so it can see its prey (in shades of grey) and has "something" in its blood capable of destroying Bb.

The pineal gland is bluish-grey. The belly is blue (cyanophores). Blue absorbs the RED wavelength (more about that later)and it eats insects which are full of...formic acid (esp. ants).

Formic acid is HCOOH or HCO2H. H+ COOH. It is the simpliest carboxylic acid. COOH is carboxyl. It can also be written CO2H.

But notice the difference. 2 Hydrogens, not one. Alpha twice.

Staph infections and caprylic acid:

"In the case of Staphylococcus aureus, the bacteria that causes 80% of serious Staph infections in humans, caprylic acid seems to be able to enter crucial structures within the cell,

which the carboxyl group then destroys,

thus killing the entire single-celled organism."


When cells are starved of oxygen, this happens:

"Experimental studies demonstrate an alkaline shift in brain intracellular pH (pHi) after hypoxia-ischemia (HI)."

So...what do we need? An acid.

"The Na+/H+ exchanger isoform 1 (NHE1) is primarily responsible for the regulation of *intracellular* pH (pHi)."

Bb looks to be good at that exchange.

(I've often wondered about the Rx amiloride.)

"Carboxylic acids are polar. Because they are

both

hydrogen-bond *acceptors* (the carbonyl)

and

hydrogen-bond *donors* (the hydroxyl),

they also participate in hydrogen bonding."

Caprylic acid is a carboxylic acid.

Now...this is going to get a little weird, so some of you might just want to stop here.

A lot of my research the past few days has been related to chakras, musical notes, the correlations between the Greek alphabet and numbering - numerology, etc.

I do believe we are "energy beings" and that energy is flowing in spirals at the chakra points within all of us.

There are 7 chakras of the earth and 2 of heaven. 9 total. They are numbered from the bottom up. Each corresponds to a color and corresponds to a musical note and an endocrine gland. Each has a special "meaning".

A long time ago, perfect "A" (sing "La") = 432 Hz which is called the "Universal Frequency". It just happens to be the key Rife frequency too.

It appears that frequency relates to our heart where we "take in the light".

The heart chakra is in the middle of the 7 chakras. It is #4.

Now, I'm going to ask a favor of you who are still reading.

Please go to the following website and scroll down to the bottom right side until you see a picture of the 2 triangles - one right side up and the other upside down.

http://en.wikipedia.org/wiki/Alpha_and_Omega

Now that represents God..."I am the alpha and the Omega".

Others believe it represents fire (top) and water (bottom) or man and woman. Notice the shading difference too.

Now...in "chakra" language...alpha is the number 1 and Omega is 800 (Greek letters to numbers). Together they = 801 or in numerology = 9. A very "magical" number of great significance. It is 3+3+3. The trinity.

But 3+3 = 6 and that chakra, is the 3rd eye, or the pineal gland. This is where Indians (eastern) put the red dot and Christians put the ashes. The color that corresponds is indigo which just happens to come from...amazing...tryptophan.

Back to the 2 triangles. IF, I repeat, IF they are representative of 3 elements...what if those elements were carbon (C), hydrogen (H) and sharing a common base, oxygen (O). We would have CHO - the abreviation for carbohydrates.

Now looking at the periodic table of elements, H = 1, C = 6 and O = 8. 1+6+8 =15 = 6.

That is one "triangle" (delta). Now 2 would = 12 or 3.

Back to the trinity/fire.

Another odd co-incidence is that chakra #3 corresponds to the color yellow and the Isles of Langerhans in the pancreas which controls carbohydrates/glucose...CHO.

Now, remember I said alpha =1 and omega = 800/8.

Well, some chakra charts show chakra #7 as violet, but just ABOVE that...the 8th Chakra = light.

You can remember the chakras by remembering this:

Roy G. Biv. (From the bottom up.) 1 =Red, 2=orange, 3=yellow, 4=green, 5=blue, 6=indigo, 7=violet.

8 is white.

Music appears to correlate to the chakras too...there are 7 notes, but to make an "octave" (8), the note, C, is repeated.

So from the bottom up: Do, ray, mi, Fa (father, heart chakra), so, la, ti, do. Or...C,D, E, F, G, A, B,C.

C corresponds to the following Hz: 256 and 512. Though those are not exact as they have a decimal point after them and other numbers.

But mathematically notice 2+5+6 = 13 = 4 (heart chakra) and 5+1+2 = 8 (4 and 4) or 8 light. 4+8+12=3.

The ONLY Hz that is "dead on" (no decimal point or numbers after it) is Verdi's "perfect A" at 432Hz.

There is a CD called Omega 432 "The Frequency of Light" (I have it on order) and there are amazing co-incidences about that number...many. Notice 4+3+2 = 9.

The first 4 chakras also represent the 4 earth elements: earth, water, fire, air...which you may already know correspond to the 12 astrological signs. 12 -> 3, numerologically.

Catching on?

I find this all fascinating...mind and soul exercise.

I believe Dr. Rife was correct when he said, "A body in balance has no disease." and I believe there is more than one way to rebalance.

For what it's worth, there is a new therapy also called "tuning fork therapy" and you can see videos of it on You Tube. Whether or not it can help, I don't know...I'm just as skeptical as you are, but do try to keep an open mind to any and all possibilities.

God Bless you with his healing.

---

Posts: 9402 | From Sunshine State | Registered: Mar 2001 | IP: Logged |

dyna3495
LymeNet Contributor
Member # 24126


posted

---

WOW !

---

Posts: 160 | From Mid-east USA | Registered: Jan 2010 | IP: Logged |

treepatrol
Honored Contributor (10K+ posts)
Member # 4117


posted

---

Marnie I know you mean well and that was a neat diversion but I would stick to the science not metaphysics.

--------------------
Do unto others as you would have them do unto you.
Remember Iam not a Doctor Just someone struggling like you with Tick Borne Diseases.

Newbie Links


---

Posts: 10564 | From PA Where the Creeks are Red | Registered: Jun 2003 | IP: Logged |

lymemomtooo
Frequent Contributor (1K+ posts)
Member # 5396


posted

---

Marnie as always, I do not get all of this but I know you are digging and someday will have it figured out. I also have a tape from Gigi's, Dr. K. and in it he does say the Western Drs are too interested in the biology of the disease and the Eastern Drs interested in the physics. From my memory I think he said we need both..SOOOOOOOOO keep at it..lmt

---

Posts: 2360 | From SE PA | Registered: Mar 2004 | IP: Logged |

aklnwlf
Frequent Contributor (5K+ posts)
Member # 5960


posted

---

Good to see you back in the saddle.

Very interesting read.

I very much believe in a mind/spirit/body connection.

--------------------
Do not take this as medical advice. This comment is based on opinion and personal experience only.

Alaska Lone Wolf


---

Posts: 5062 | From Columbus, GA | Registered: Jul 2004 | IP: Logged |

Keebler
Honored Contributor (25K+ posts)
Member # 12673


posted

---

-
Marnie,

As a student of all sounds, I really appreciate your post.

BTW, (as many with lyme also have problems with elevated porphyrins) porphyria patients have trouble metabolizing tryptophan.

I can't find that link in my computer file but I know I read that on PubMed and could probably be cross referenced there. I never quite figured out what it means but I know I can't tolerate tryptophan (supplements) - I do okay with it in foods.

And - what you stated about the perfect key of A being the "Universal Frequency" - that is the best key for my voice. I just find the coincidence amusing as I'm not the most musical at all but I sure do far better with all songs in that key.


Oh, and I see all this as science - as the wonder of the human experience. Chakras also relate to acupuncture meridians. Sound is definitely science. Harmony, Frequency, Resonance - it's all science, cause & effect.

The fact that we can feel so good from that can help lift our spirits so, yes, there is emotion and some might also say soulfulness. Regardless of category or containment - good sound and sound that makes us feel good - all matters very much, indeed.

---

Below, opposite of good sound - and how sound that does not resonate with us can be dangerous - Sadly, too dangerous for one young lad :

http://tinyurl.com/y85zvlu (through ABC News)

Did Loud Music Kill British Teen?

Dec. 16, 2009

Excerpt:

. . . According to reports in the British press, [the student] died at a London nightclub after complaining that the bass was affecting his heart rate . . . .


A Silent Disease, Triggered by Noise

. . . .

-

---

Posts: 48021 | From Tree House | Registered: Jul 2007 | IP: Logged |

Pinelady
Frequent Contributor (5K+ posts)
Member # 18524


posted

---

I have been trying the coconut oil for a little of

everything. It is powerful stuff on a lot of stuff.

2 nites ago I had a horrible crotch itch that

would not be appeased with scratching. I slathered

up and it was gone within seconds. Ahhhh.

I don't know if it was yeast or what but it worked

and after midnite and thats all you got I was thankful...

[ 01-27-2010, 10:49 PM: Message edited by: Pinelady ]

--------------------
Suspected Lyme 07 Test neg One band migrating in IgG region
unable to identify.Igenex Jan.09IFA titer 1:40 IND
IgM neg pos
31 +++ 34 IND 39 IND 41 IND 83-93 +
DX:Neuroborreliosis


---

Posts: 5850 | From Kentucky | Registered: Dec 2008 | IP: Logged |

Amanda
Frequent Contributor (1K+ posts)
Member # 14107


posted

---

AS a former biogeochemist, I always appreciate these diversions.

Also, although I have a highly skeptical nature, I know enough to know that some of the new science coming out just will blow you (for example, there is some research to indicate that the entire way enzyme sysmtems work in the body is actually based on receptors vibrating at certain frequencies, which in turn attract the enzymes which resonate with those vibrations).

But a common logical fallacy is to extrapolate to far, so caution is needed there.

However, one thing that bothers me a great deal is this idea that somehow a persons body gets out of harmony (which for many people at a deeper level implies you can have conscience control over reversing this), and when you allow this disharmony, you get sick.

There are numerous examples of what I would call highly self-actualized and spiritual people who died from horrible diseases. St. Terese died early of TB, Krisnamurti died of cancer, Rilke died of luekemia etc.

So, this whole idea that you won't get sick if you take steps to be "in harmony" with the universe is just bull****.

There are people with good emotional and spiritual health (what the hell does that really mean anyway?) who eat right and take care of their bodies, and they get sick. Then, there are people who have poor emotional and spriritual health and eat junk food and live long lives without many health problems.

--------------------
"few things are harder to put up with than the annoyance of a good example" - Mark Twain


---

Posts: 1008 | From US | Registered: Dec 2007 | IP: Logged |

Pinelady
Frequent Contributor (5K+ posts)
Member # 18524


posted

---

I heard a 98 yr. old woman say her secret to long

life was a shot of whiskey a day. Thats not to say

I'm gonna give it a shot. But BTW I could not say

it was bad for her. It should be a personal quest

between the spiritual and physical health.

--------------------
Suspected Lyme 07 Test neg One band migrating in IgG region
unable to identify.Igenex Jan.09IFA titer 1:40 IND
IgM neg pos
31 +++ 34 IND 39 IND 41 IND 83-93 +
DX:Neuroborreliosis


---

Posts: 5850 | From Kentucky | Registered: Dec 2008 | IP: Logged |

Keebler
Honored Contributor (25K+ posts)
Member # 12673


posted

---

-
I never take it to say you won't get sick if you take steps to be "in harmony" with the universe as we know that is not true -- but, rather, that the body does like harmony and certain frequencies certainly do make us feel better.

Feeling better is a good thing even just in and of itself. Feeling better may not be cure for anything but it's better than feeling worse.

-

---

Posts: 48021 | From Tree House | Registered: Jul 2007 | IP: Logged |

Marnie
Frequent Contributor (5K+ posts)
Member # 773


posted

---

There are many ancient cultures that approached treating illnesses from far different ways than we do.

The Greeks, the Romans, the Chinese, the American Indians and the eastern Indians, for example used various methods to heal the body.

I think we can learn a LOT from their methods of healing.

Just because someone is "spiritual" does not mean they are protected from an infection which can disrupt the flow of energy thru his/her body.

I believe this to be true:

Everything in the universe is a form of energy. Your mind, your body, and your spirit are energy. All sicknesses of your body, mind, or spirit are

caused by energy blockages.

Bb is depleting the cells of energy because those cells are making far too little ATP.

They are using solely glucose, not glucose + oxygen. The first route makes 2 ATP, the second makes 36 ATP.

And some of our ancient cultures employed different means to release the blockages.

Re: "metaphysics"

Bruce Lipton PhD (author and biologist) and Robert Williams MA (creator of PsychK): Biology of Percption and the Psychology of Change. Two hours of valuable information that can help you ***apply metaphysical principles*** to any area of your life today...

http://www.metaphysics-for-life.com/applied-metaphysics.html

When watching the above video, keep in mind Bb is in the "basement membranes", triggers inflammatory cytokines which lock onto to receptors, is robbing the cell it infects of very specific fats that impact proteins:

phosphatidylglycerol (PG)
and phosphatidylcholine (PC)

AND ultimately, Bb disrupts the HPA axis.

When you watch the above video, you will hear these things mentioned....HPA axis, receptors,proteins, cell membranes.

[ 01-29-2010, 06:49 PM: Message edited by: Marnie ]

---

Posts: 9402 | From Sunshine State | Registered: Mar 2001 | IP: Logged |

Marnie
Frequent Contributor (5K+ posts)
Member # 773


posted

---

Up...I tried to link Bruce Lipton's very very very good video (linked above) as another heading topic so it would not be missed, but it was not allowed..why?

It is an AMAZING video by a PhD biologist that explains a LOT about how our body works.

I HIGHLY recommend viewing it!!!

---

Posts: 9402 | From Sunshine State | Registered: Mar 2001 | IP: Logged |
Contact Us | LymeNet home page | Privacy Statement

Powered by UBB.classic™ 6.7.3

---
The Lyme Disease Network is a non-profit organization funded by individual donations. If you would like to support the Network and the LymeNet system of Web services, please send your donations to:
The Lyme Disease Network of New Jersey
907 Pebble Creek Court, Pennington, NJ 08534 USA
http://www.lymenet.org/
---
Home | Flash Discussion | Support Groups | On-Line Library
Legal Resources | Medical Abstracts | Newsletter | Books
Pictures | Site Search | Links | Help/Questions
About LymeNet | Contact Us
---
© 1993-2020 The Lyme Disease Network of New Jersey, Inc.
All Rights Reserved.
Use of the LymeNet Site is subject to Terms and Conditions.
---