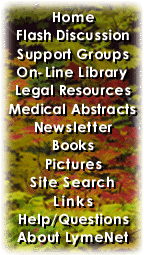 ---
LymeNet on Facebook
LymeNet on Twitter
---
---
The Lyme Disease Network receives a commission from Amazon.com for each purchase originating from this site.
When purchasing from Amazon.com, please
click here first.

Thank you.




Dedicated to the Bachmann Family


LymeNet needs your help:
LymeNet 2020 fund drive

The Lyme Disease Network is a non-profit organization funded by individual donations.

| | |
| --- | --- |
| | |
Author
Topic: Not much success with rife

richedie
Frequent Contributor (1K+ posts)
Member # 14689


posted

---

Steve Barrett is a NUT, NUT, NUT and needs to be locked away.

--------------------
Mepron/Zith/Ceftin
Doxy/Biaxin/Flagyl pulse.
Artemisinin with Doxy/Biaxin.
Period of Levaquin and Ceftin.
Then Levaquin, Bactrim and Biaxin.
Bactrim/Augmentin/Rifampin.
Mepron/Biaxin/Artemisinin/Cat's Claw
Rifampin/Bactrim/Alinia
Plaquenil/Biaxin


---

Posts: 1949 | From Pennsylvania | Registered: Feb 2008 | IP: Logged |

WildCondor
Unregistered



posted

---

Indeed I agree. He sounds loony.

Only takes a few people screwing up to give things like Rife a bad name. Sorry I posted THAT link and offended anyone, it was the first one on google when I looked it up for you on mobile.

There are others, sorry. I hope more research gets done. Would be cool to see spirochetes getting killed !

The wiki on it and then the following
http://www.rifewiki.org/wiki/Jim_Folsom_Trial

OFFICE OF THE UNITED STATES ATTORNEY
SOUTHERN DISTRICT OF CALIFORNIA
San Diego, California
United States Attorney
Karen P. Hewitt

NEWS RELEASE SUMMARY - February 8, 2010

United States Attorney Karen P. Hewitt announced that James Folsom was sentenced today in federal court in San Diego to serve 51 months in custody and a $250,000 fine following his conviction on twenty-six felony counts relating to the sale of unapproved medical devices and the commission of offenses while on pretrial release. The Honorable John A. Houston, United States District Judge, also ordered the destruction of over 450 devices that had been seized by the government during the execution of a search warrant at a self-storage unit used by the defendant. A federal jury found Folsom guilty of conspiring to ship adulterated and misbranded Rife-type biofrequency devices in interstate commerce, following a two-week trial in 2009.

According to evidence presented at trial, the device, marketed by Folsom under the names ``NatureTronics,'' ``AstroPulse,'' ``BioSolutions,'' ``Energy Wellness,'' and ``Global Wellness,'' consisted of a micro-current frequency generator with a digital readout, two stainless steel cylinders, two personal application plates with connectors, and lead wires connecting the device to the cylinders and the plates. Users were provided with an operating manual that set forth hundreds of digital settings for the device, directed to specific conditions from AIDS, diabetes, strokes, and ulcers to worms. Users were advised to connect the cylinders or plates to the machine and touch them to the body for a recommended run time to treat each condition.

According to the testimony at trial, during the period from 1997 through August 2008, the defendant purchased over 9,000 units, which he sold to distributors for approximately $1000-1200, and to retail customers for $1995, with sales totaling over $8 million. The devices were manufactured by the defendant and others in a San Diego location, which he failed to register with the Food and Drug Administration (FDA) as a device manufacturing establishment. The defendant used the false name ``Jim Anderson,'' when selling the device and used post office boxes, self-storage units, and bank accounts opened in the names of others to conduct his business in an effort to avoid detection by the FDA.

The devices were adulterated in that they were marketed without a valid investigational device exemption, without pre-market approval, and in violation of an electrical performance standard set by the FDA, prohibiting lead wires that come into contact with patients from being able to come in contact with potentially hazardous voltages. The devices were also misbranded in that they were marketed without valid clearance from the FDA, did not bear the name and address of the manufacturer on the labeling, and were produced in an unregistered manufacturing establishment.

United States Attorney Hewitt said, ``The United States Attorney's Office will vigorously prosecute those who compromise or jeopardize public safety by selling misbranded or adulterated products.''
``The FDA Office of Criminal Investigations is fully committed to investigating and supporting the prosecution of those who may endanger the public's health and safety by manufacturing and selling unsafe products to be used on an unsuspecting public. We continue to look forward to working with our law enforcement partners and commend the U.S. Attorney's Office for their diligence,'' said Thomas Emerick, Special Agent in Charge, FDA Office of Criminal Investigations, Los Angeles Field Office.

``The Postal Inspection Service remains committed to keeping our nation's mail system free from criminal misuse and we will continue to join forces with our law enforcement partners to protect the American public from fraud,'' stated B. Bernard Ferguson, Inspector in Charge of the Los Angeles Division.


DEFENDANT

Criminal Case No. 08CR1092-JAH

James M. Folsom

SUMMARY OF CHARGES

Count 1

Conspiracy, in violation of Title 18, United States Code, Section 371

Counts 2-8, 21-23

Introduction of an Adulterated Device into Interstate Commerce, in violation of Title 21, United States Code,
Sections 331(a), 333(a)(2) and 351(e) and (f)

Counts 9-15, 24-26

Introduction of a Misbranded Device into Interstate Commerce, in violation of Title 21, United States Code,
Sections 331(a), 333(a)(2), 352(o), 352(b) and 360(j) and (k);

Counts 16-20

Failure to Register a Device Establishment, in violation of Title 21, United
States Code, Sections 331(p), 333(a)(2) and 360 Commission of an Offense While on Pretrial Release, in violation of Title 18, United States Code, Section 3147.

AGENCIES

Food and Drug Administration, Office of Criminal Investigations
U.S. Postal Inspection Service
Feds Shut Down Major Supplier Of Rife Frequency Generators

Posted By: RumorMail <Send E-Mail>
Date: Monday, 2-Mar-2009 19:36:31

Feds Shut Down Major Supplier Of Rife Frequency Generators
Jeff Garff
http://www.yahoogroups.com
February 26, 2009

I have known Jim Folsom for about 10 years now and he asked me to come and testify in court. I brought all of the old Rife equipment that I have in my collection. I also took photos and newspaper articles with me that had certified stamps of authenticity. We could have very easily proven that this equipment predated the FDA. But they would not allow it in court. Even if we could have proven the technology predated the FDA it would not have helped very much because of all the medical claims that were made about the equipment. I had talked with some of the people who were called in to testify at the grand jury investigation. It was evident then that they were focusing on medical claims.

Jim Clark, the man who holds the patent on the Bio-meridian was able to testify in court. I spent the evening with him and Jim Folsom. I explained the history of the equipment and he was able to get some of this information in his testimony. Both Jim Folsom and Jim Clark were pleased with what they were able to do but I was concerned because Jim Clark was only on the witness stand for 10 minutes and 5 minutes was taken up in objections and sidebar discussions with the attorneys and judge. All Jim Clark was really able to say was that Rife technology has been in use since the early 1900's. This was all the jury was able to hear on Rife technology predating the FDA's 1976 date.

The prosecution had almost 50 witnesses, all hostile to being called in to testify against Jim. The sad thing is Jim's attorneys only called two witnesses to the stand in his defense. It was unbelievable that this was all the witnesses Jim's attorneys brought to his defense. These attorneys were paid almost $300,000 to defend Jim and that was the best that they could do? Another sad thing is the fact that Jim was offered a plea bargain before this ever went to trial. It was a misdemeanor charge with a $250 fine and a one year unsupervised probation. But Jim felt that he wanted to fight them. I spoke to him about my concerns that he might lose just like John Crane and John Marsh did. Rife lost everything even though he won the 1939 Beam Ray Trial.

What is really terrible is the fact that Jim did not really let his (wife who is from Thailand) know what could happen to him if he lost. She was completely blindsided by what happened. She called me not knowing what really had happened to Jim. I had to explain the very bad news to her and the fact that Jim will be going to prison maybe for 10 to 15 years. She was devastated at the fact that Jim may be in prison for the rest of his life. He is 68 now and if he gets 10 or 15 years he may never live to get out. I think that this is the worst of all that has happened to Jim.

The defense was able to educate the Judge enough that he allowed the jury to determine the classification of Jims Rife type device. The defense felt that allowing the jury to classify the device was an important win and would make it possible to cover more of Rife's history in the closing arguments. I wondered if this was a good idea because if it went badly the FDA would be able to classify all Rife type instruments as class III medical devices. I suspect that this is what the jury decided because if they had classified it as a class one device they would not have convicted Jim.

Jim Folsom's trial may have a major impact on those who sell Rife type equipment. All Rife type manufacturers should take notice from what has taken place in this trial. This trial was not about Rife's instruments predating the FDA. They stopped that information from ever getting into the trial. This trial was all about making medical claims about Rife type equipment. Almost all Rife type manufacturers really do not know what constitutes a medical claim and have no idea that they actually have made medical claims on their sites. They will say things about Rife and then disclaim them, believing that their disclaimer will cover what they have written. The FDA has shown that they will use anything against a person. The web sites that sold Jim's instruments all had medical claims on them and they used this against Jim.

Even emails that he wrote to people were used. Now I would not have believed that any of these emails were medical claims but they said they were. One of these emails suggested that the person should look at the environment of their body and detoxify it. The prosecution said that this was a medical claim and they got the judge to agree with them. They apparently will try to prosecute anyone for any suggestion related to any health issue.

Another thing they used against Jim was the fact that he included his frequency manual in the box when he shipped the instrument. They specifically asked all the witnesses that had purchased equipment if the frequency manual was included in the box with the machine. They almost all said yes even though they didn't want to give this testimony. We separated our frequency list from our instrument several years ago because I had a customer warn me about doing this. He owns an herb company and the FDA took him to court for including information about different ailments with his herbs. He lost the court case and it cost him over $250,000 in attorney fees. I had warned Jim about this potential problem at the time I learned about it but he did nothing. This came back to haunt him in the trial. All Rife manufacturers should not ship any frequency list with their equipment. They should get some other company to supply this information. Even shipping the frequency list in a separate package from your company does not protect you fully. It has to be a company that is completely separate from the sale of the instrument. The prosecution said that the frequency list was nothing but medical claims because it has the names of various conditions for different ailments or diseases.

The prosecution also used the label that Jim had on the back of his instrument against him. The label had "for experimental use" among other things on it. They said that because it had "for experimental use" it led people to believe that his instrument was undergoing FDA approval. Jim put this label on the instrument because of advice from others who said it would help protect him. It is apparent that this was a bad idea. John Crane tried to use this type of label and things when badly for him also.

Jim also had a Rife DVD video documentary he included inside the box along with his frequency list. They also used this video against him and said it was medical claims. Even though this documentary only had the history of Rife's life they asserted that Rife's life story when associated with an instrument makes that instrument a medical device. This may in the future make it so we cannot even mention the name of Rife in connection with our instruments. I hope this will not be the case.

From this trial it appears that the FDA at this time considers any device called a Rife Machine, a medical device. This trial was not a state trial; it was a federal trial and had the full support of the FDA. It sets a legal precedence that may have far reaching effects. They asserted their right to control Rife Technology through their total focus on the medical claims made. I would not doubt that over the next year that many web sites are going to get warning letters. Manufacturers of Rife devices should be fully aware of what may be coming and make necessary changes before this may happen. I know that we will be looking at all of our information and making sure there are no possible claims anywhere.

Jim Clark, who testified in court, pointed out that it is the USE and FUNCTION of an instrument that determines what is and is not a
medical device. Manufacturers should be aware of these facts. JimClark has had almost thirty years experience working with the FDA in getting equipment approved. According to what was said in this trial the FDA considers a frequency generator that is labeled as a Rife type machine a medical device. Even if it is not labeled a Rife machine it still can be considered a medical device if it's USE and FUNCTION are defined in any medical way. The definition of the
instrument is what is important.

In looking back it appears that none of us, including Jim Folsom, had any idea what was really going on in his trial. He had no chance of ever winning it. The FDA was going to make an example of him no matter what because he did not take their first offer. They proved this by fully controlling everything that could be brought in as evidence. They allowed no discussion of the efficacy of the instrument in any way or if the customers were satisfied with their instruments. Jim Folsom mentioned to me that the prosecution had spent over a million dollars on his case. I hope that his sentence is a light one and he can get out as soon as possible.This is truly a sad day. Jeff Garff

---

IP: Logged |

richedie
Frequent Contributor (1K+ posts)
Member # 14689


posted

---

I did some searching and yes there are some major studiies going on with frequency machines for all sorts of diseases/illnesses with good results. I am ordering one. They are wide spread in Europe and even used in doctor's offices.

--------------------
Mepron/Zith/Ceftin
Doxy/Biaxin/Flagyl pulse.
Artemisinin with Doxy/Biaxin.
Period of Levaquin and Ceftin.
Then Levaquin, Bactrim and Biaxin.
Bactrim/Augmentin/Rifampin.
Mepron/Biaxin/Artemisinin/Cat's Claw
Rifampin/Bactrim/Alinia
Plaquenil/Biaxin


---

Posts: 1949 | From Pennsylvania | Registered: Feb 2008 | IP: Logged |

BJG
LymeNet Contributor
Member # 4723


posted

---

Rife--

I am a skeptic.

I first rifed at the home of someone with Lyme.
After 2 minutes I felt nothing-
72 hrs later sick/fluish, just as I had the 28th day on Doxy.
My thought- I have the flu
Several weeks later I again rifed- 2 minutes
72 hrs later, again fluish

I rifed 5 times, each time, 72 hrs later, I was ill, herxing.
Four yrs later, I contine to herx 72 hrs after I rife.

Is this placebo? NO
Is it killing something and causing a herx- yes
Is it healing, don't know, but it is not hurting.

---

Posts: 468 | From IL | Registered: Oct 2003 | IP: Logged |

CD57
Frequent Contributor (1K+ posts)
Member # 11749


posted

---

BJG, so I guess you are not a skeptic?

---

Posts: 3528 | From US | Registered: Apr 2007 | IP: Logged |

tickalert
LymeNet Contributor
Member # 7033


posted

---

Great story Wild Condor.

These people need to catch the real criminals..not someome like Folsom.

---

Posts: 911 | Registered: Mar 2005 | IP: Logged |

map1131
Frequent Contributor (5K+ posts)
Member # 2022


posted

---

Bringing this to the first page again. HHMMMM Even a unsuccessful thread turns into a positive thread these days. Maybe it's not hocus-pocus?

Pam

--------------------
"Never, never, never, never, never give up" Winston Churchill


---

Posts: 6449 | From Louisville, Ky | Registered: Jan 2002 | IP: Logged |
| | |
| --- | --- |
| | This topic comprises 2 pages: 1 2 |
Contact Us | LymeNet home page | Privacy Statement

Powered by UBB.classic™ 6.7.3

---
The Lyme Disease Network is a non-profit organization funded by individual donations. If you would like to support the Network and the LymeNet system of Web services, please send your donations to:
The Lyme Disease Network of New Jersey
907 Pebble Creek Court, Pennington, NJ 08534 USA
http://www.lymenet.org/
---
Home | Flash Discussion | Support Groups | On-Line Library
Legal Resources | Medical Abstracts | Newsletter | Books
Pictures | Site Search | Links | Help/Questions
About LymeNet | Contact Us
---
© 1993-2020 The Lyme Disease Network of New Jersey, Inc.
All Rights Reserved.
Use of the LymeNet Site is subject to Terms and Conditions.
---