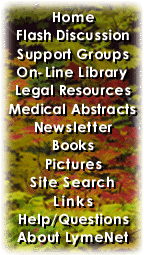 ---
LymeNet on Facebook
LymeNet on Twitter
---
---
The Lyme Disease Network receives a commission from Amazon.com for each purchase originating from this site.
When purchasing from Amazon.com, please
click here first.

Thank you.




Dedicated to the Bachmann Family


LymeNet needs your help:
LymeNet 2020 fund drive

The Lyme Disease Network is a non-profit organization funded by individual donations.

| | |
| --- | --- |
| | |
Author
Topic: Floxed by Levaquin! Barts, Lyme- now what?

kadee
LymeNet Contributor
Member # 21199


posted

---

I took 4 weeks Levaquin (250mg/day) because of a new Barts infection with bad symptoms: Encephalitis, myocarditis, panic....

During Levaquin I always had moderate jointpain but didn't take it seriously. After 4 weeeks I had to stop, because I felt poisoned all of a sudden. Bart-symptoms had subsided pretty well.

One week later all hell broke loose:
Pain all over my body, tendons, joints, terrible weakness, nauseous almost all the time, CNS problems. This lasts already 3 weeks and every day, I'm getting new symptoms.

But what worries me most: My bart and lyme symptoms will soon come back, and my impression is, that I can't tolerate any ABX now.
My system feels totally wrecked and I sure will need a long time to recover from the chinolon-poisoning, if ever.
So far, I haven't heard of successful bart-treatment with herbs.

And now?

---

Posts: 269 | From Germany | Registered: Jul 2009 | IP: Logged |

TerryK
Frequent Contributor (5K+ posts)
Member # 8552


posted

---

It sounds to me like you may be having a bart relapse after going off levaquin. What does your doctor say is going on?

It is normal to have more pain while on levaquin from what I've been told.

I'd consider getting back on bart treatment.

Terry
I'm not a doctor

---

Posts: 6282 | From Oregon | Registered: Jan 2006 | IP: Logged |

nefferdun
Frequent Contributor (1K+ posts)
Member # 20157


posted

---

I know exactly what you are talking about. The levaquin can wreck havoc on your tendons - it gave me tendonitis and I could not tolerate any chemical for months. Every drug I tried made me dizzy with headaches etc.

I will pm you about something that helped me.

You need to let your body detox and do your best to keep the infection at bay with herbs. They won't cure you but they can prevent it from becoming full blown. You will need to go back on abx as soon as you can.

--------------------
old joke: idiopathic means the patient is pathological and the the doctor is an idiot


---

Posts: 4676 | From western Montana | Registered: Apr 2009 | IP: Logged |

TerryK
Frequent Contributor (5K+ posts)
Member # 8552


posted

---

Many people find that magnesium is helpful for levaquin issues.

I was already taking magnesium so I didn't need to worry about that. Magnesium can be very depleted in lyme patients.

Terry

---

Posts: 6282 | From Oregon | Registered: Jan 2006 | IP: Logged |

kadee
LymeNet Contributor
Member # 21199


posted

---

Thanks so much for your responses!

@Terry

The Bart symptoms I can identify pretty well. What's going on now is very different: Nauseousness, pain all over, dry mouth, plainly poisoned feeling. It's hard to describe.
Also, I never had strong pains or fibromyalgia during my long story with Lyme (22 years) and Barts (about 8 months).

I had taken LOTS of Magnesium before and during Levaquin.



quote:

---

I'd consider getting back on bart treatment

---

I wish I could, but in the moment I can not even tolerate healthy food (vegetables etc).
Very intimidating situation I find myself in.


@ nefferdun

I hope so much, that herbs will help me over the worst. Also, I'm expecting an EMEM5 to be sent soon.

Did you also have CNS issues?
How long did it take, to get better?

---

Posts: 269 | From Germany | Registered: Jul 2009 | IP: Logged |

TerryK
Frequent Contributor (5K+ posts)
Member # 8552


posted

---

Stomach issues are very common with bartonella as are joint and muscle pain.

I didn't get the overall severe pain until after I had been infected for 30+ years. I don't know if the overall pain for me was caused by bart or lyme. There is so much about these infections that are unknown.

I hope you get some relief soon.

Terry

---

Posts: 6282 | From Oregon | Registered: Jan 2006 | IP: Logged |

seibertneurolyme
Frequent Contributor (5K+ posts)
Member # 6416


posted

---

I would agree with Terry. Your new symptoms are from the bartonella returning. Hubby is going through much the same thing.

his pain comes and goes though. He already had the nausea and CNS problems and they continue to be major problems.

Hard to say what will help as bart or BLO or mycoplasma is such a hard infection to knock down.

If you can get your liver to flush that should help with the nausea. Try adding ox bile supplements and drinking lots of apple juice -- may need to dilute with water to prevent candida.

The herbs that have helped hubby the most for bart are cryptolepis tincture and stephania tincture. HH and HH-2 didn't really do much for him at pretty high doses.

I don;t think just one antibiotic can kill bart -- think it takes at least 2 or 3 meds at the same time. Even that isn't working too well for hubby. But at least he can tolerate higher doses of meds so I am hopeful that means he is decreasing the bacterial load.

Bea Seibert

---

Posts: 7306 | From Martinsville,VA,USA | Registered: Oct 2004 | IP: Logged |

David Miller
Member
Member # 21583


posted

---

Read the 2010 summary over at lymemd.blogspot.com. He gives a very good rundown on many of the drugs available for TBDs.


Factive is supposed to have many fewer side effects than levaquin Perhaps you could tolerate that member of the family?

He mentions that doxycycline is "somewhat effective", that minocycline is somewhat better, and rifampin is better than that.

If you can't tolerate any of the floxacins maybe you could try a mino/rifampin combo?

What's your doctor suggest?

---

Posts: 98 | From Maine | Registered: Jul 2009 | IP: Logged |

Myco
LymeNet Contributor
Member # 9536


posted

---

You were not floxed. This is normal herx reaction and you went off the levaquin way too soon. At least 3 months.

---

Posts: 770 | From USA | Registered: Jul 2006 | IP: Logged |

kday
LymeNet Contributor
Member # 22234


posted

---

I posted here that I thought Cipro screwed me up, but now I think I was wrong.

I think I was severely toxified from the bart die-off.

If you have bart, I think you will find that drugs in different classes have similar, or possibly more unpleasant effects.

I thought I was floxed as well. That being said, I would give yourself time to recover (as much as possible) before jumping to other things.

---

Posts: 967 | From A deserted island without internet access | Registered: Sep 2009 | IP: Logged |

Dr.Dave
Member
Member # 24210


posted

---

Can a herx reaction last 22 months. That is how long it has been since I took Cipro and Avelox and I haven't had an ABX since. I can not take any ABX's now because my body is so screwed up and now I must rely on Rife and what ever else I can to treat lyme.

The fluoroquinilones are extremely dangerous and should be banned. However, Levaquin alone profits J&J billions per year, So you won't see that removed in our lifetime.

And if you believe the FDA is protecting us and doesn't have financial connection to big Pharma ....then I have some Shoreline property I would like to sell you in Arizona.

Your doctors have no clue to the damage these drugs are doing to people. Visit www.fqresearch.org it is a website put together by MD's and researchers who have been injured by FLouroquinilones.Why do you think that 50% of the drugs that were on the market are now gone???

The tendon damage is nothing compared to what other adverse drug reactions people are suffering. i went from 90% health to 5% in two weeks on these drugs and 22 months later I am at about 30-50%. This is the norm not the exception.

There are so many better ABX's for lyme... ask your doctors to put you on something that isn't so dangerous.

This is my experience and not medical advise.I have nothing to gain by telling you this other than I don't want to see more people injured especially people that are all ready dealing with lyme.

I was an Engineer and then a DC for 9 years and am presently disabled. We had to sell our practice and now have no means for income due to my situation.

Please visit the website before taking any more of this family of ABX's. I wouldn't wish what has happened to me on my worse enemy!!!
Sincerely Dr.Dave

---

Posts: 41 | From Pa | Registered: Jan 2010 | IP: Logged |

seibertneurolyme
Frequent Contributor (5K+ posts)
Member # 6416


posted

---

Dr Dave -- Have you taken any other antibiotics for bartonella? A bartonella infection can last much longer than 22 months. Are you sure you are not just experiencing bart symptoms?

What are the symptoms you say were caused by the levaquin?

Have you never had a F bloodslide or a Clongen bloodslide which would show either bart or BLO or mycoplasma or whatever the mystery pathogen is?

Bea Seibert

---

Posts: 7306 | From Martinsville,VA,USA | Registered: Oct 2004 | IP: Logged |

nefferdun
Frequent Contributor (1K+ posts)
Member # 20157


posted

---

Levaquin is great for killing the bart but there are many people out there that don't have lyme, that have suffered tendonitis and tendon rupture so, for them, it was not die off or a case of bartonella. It really does cause tendon damage. It is thought to reduce the blood flow to the tendons and damage can occur up to a year after you have taken the drug. In court cases, you have to have been diagnosed with tendon rupture within three months of quitting it.

I felt a snap in my shoulder that was a stabbing pain. I had been very stiff and sore before that but after the snap my arm was useless. I went to physical therapy and slowly regained the use of it. But the aching at night did not go away for 8 months. Finally when I was ordering a joint supplement for one of my horses, I was offered a free quart of the human formula and so I tried it. The first night I was pain free and continued to be so. I took that supplement for a month. It is called Rapid Response and it is primarily glucosamine, condroitin, perma mussel and hyaluronic acid. They don't list everything in it.

I also used another horse supplement that was vitamins and minerals and it kept the pain away. If I did not take it the pain came back. I looked up the ingredients to try to figure out why it worked. These are the things I believe are most helpful to reduce inflammation and pain. I did not want to continue to take the formula I bought because I didn't like some of the ingredients, so I put together my own. I have not had more pain since taking this.

B12 is very healing. In fact I know of doctors that inject it directly into damaged joints. I take B comples and B12 every day. D3 is also supportive of the immune system and healing.

All neorotransmitters (except one) are made up of amino acids. DL Methionine is an amino acid, a source of sulphur, that promotes wound healing and is very good for inflammation and pain. I take 500 mg of this but you can take up to two grams

L Lysine helps with recovery from surgery. It helps with arthritis, building muscle, calcium absorption, concentration, and rebuilding collagen. I take 500 mg of this but you can take up to two grams.

Acetyl L Carnitine is wonderful to improve your memory, mood and cognition. It is recommended by many LLMDs. It is a powerful antioxidant that crosses the blood brain barrier. It helps kidney function. It helps to convert fat into muscle. I take 1200mg of this a day.
I give this to a horse with a serious muscle disorder and it makes him normal.

Alpha Lipoic Acid is one of the most powerful antioxidants known. It supports muscle recovery and helps with neuropathy especially in the feet and hands. It recycles co enzyme Q10, glutathione and vitamin c and e. I take 600 mg of this.

I think those are the primary things that help with pain but I take a lot of other supplements. Co Enzyme Q10 is good. I also take the amino acid Acetyl cysteine as it is supposed to help break down bio films.

Maybe the amino acids supported by vitamin B complex, B12 and vitamin D3 would help you.

--------------------
old joke: idiopathic means the patient is pathological and the the doctor is an idiot


---

Posts: 4676 | From western Montana | Registered: Apr 2009 | IP: Logged |

Myco
LymeNet Contributor
Member # 9536


posted

---

My LLMD almost never see's this.

---

Posts: 770 | From USA | Registered: Jul 2006 | IP: Logged |

daniel
LymeNet Contributor
Member # 22201


posted

---

i hve the same prob as u have.
i'm taking levaquin now since three months.... i had to stop 2 weeks ago because i injured my shoulder while exercise.. i wanted to regenerate more quickly my shoulder and thought that would be ok go off the levaquin during the healing process. 1 week later my symptoms came back.. psych.... i felt like "herxing" etc. simply i think i relapsed.. because i havent big problems with my body on levaquin. but i will switch it in 1 week to rifampin because i exercise 2-3 times in a week and dont want to take a drug which causes joint pain and tendon stuff.

greetz

---

Posts: 371 | From velocity of light | Registered: Sep 2009 | IP: Logged |

daniel
LymeNet Contributor
Member # 22201


posted

---

ah forgot to tell it.. since 1 week im on levaquin again and i felt rapidly better.. i think its the bartonella which cause your problems.. not the drug itself.

greetz

---

Posts: 371 | From velocity of light | Registered: Sep 2009 | IP: Logged |

lymewreck36
Frequent Contributor (1K+ posts)
Member # 4395


posted

---

O.K. Look people. Floxing is, statistically, not common. Because your lyme doctor never saw it does not mean it doesn't happen to your unlucky neighbor.

And if you haven't been floxed, you have no right to tell a person you are sure they are just having a Bart flare and go back on the medication.

Oh my God!!! That is sooooo dangerous if you have been floxed. It could cause damage that will last a lifetime.

You guys need to know how serious this is.

My llmd, the best, in NY, very well known, had never seen it before he said either. But when I discussed that with him, I had to ask the question,... when you see a patient have "seizures" on floruquinolones, how do you know it is a herx or it is CNS damage from FQs? If you do not know about the potential damage, you wouldn't interpret it that way.

This is how floxing goes. You realize that you are NOT herxing, because the pain does not "swell" and then fade, bringing you to a higher level of wellness.

Instead, you are curious that you are completely falling apart, cannot sleep despite your sleep aids, and that your tendons are swollen and red, expecially the achilles, muscles twitch so violently you almost punch yourself in the face, and you are having uncontrolable panic and suicidal thought.....

The night mare of floxing is so cruel. If you google fluroquinolone victims or FQVictims, you will hit some good support groups.

AFter you are floxed, I have heard many say that new symptoms continue to surface for up to a year.

For me, new symptoms continued to appear and morph for 6 months. Then things settled down and became a regular picture.

This did NOT mean I stopped my babs/lyme treatment. Yes, we changed me from the toxic FQ to another antibiotic, and that held the lyme at bay. NO bad reaction to another med.

The CNS damage I incurred from the FQs put me in the emergency room twice. And in physical therapy for 6 months.

My doctor asked me how I could tell the difference between lyme/babs symptoms and floxing symptoms.

I told him, believe me, when it happens to you, you know. Just like knowing that if you are shot, that it bleeds.

When this happened to me, my very famous llmd asked me to bring him some discussion from my computer searches about the "mechanism of action" for this damage. He just couldn't believe that the drug reps NEVER mentioned this damage potential or how serious it is.

So, I did. I found articles and studies discussing this problem and brought them to him. Slapped it right down on his desk.

The next time I came in for an appointment, he gave me an official form to report adverse side effects to the drug company or the FDA, can't remember now.

He also told me that the drug rep had come in to his office since my last visit, and he slapped down the studies I had printed in front of her and asked her what the heck?

He said you could hear her high heal shoes clicking all the way down the hall as she made her rapid exit.

That was the first time my doc was confronted with this, and if I had not been an active participant in my own health, I would never have been able to say no to more FQs. I would never have looked up what was happening to me, or done the research, or gotten better.

To make what could be amuch longer story short, after two years of floxing symptoms controlling me, I woke up one morning and it was all gone.

Lyme and babs still my closest friends, but floxing issues gone.

Word of advice: be careful what online support forums you find yourself in for FQ. Some are very good, and one ran me off becuase I tried to tell a suicidal guy not to give up hope for healing. That group leader told me there was no recovery and he didn't like my "Disney World" attitude.

You CAN heal, you CAN continue lyme/babs/bart treatment, just not with FQs. I would NEVER do one of those EVER again. Now you know you are sensitive.

Be well my friend, and if you have never been floxed, don't prescribe a course of action to one who has been.

Mary

---

Posts: 1011 | From North Carolina | Registered: Aug 2003 | IP: Logged |

ModestAustin811
Member
Member # 23524


posted

---

Fluorquinolones can cause A LOT more then just tendon damage.

It can cause SEVERE CNS DAMAGE a long with Ruptured tendons, I was disabled after being on Levaquin and cipro for a month respectively.

I was put into lyme remission, but began to be very sick, there are a lot of people out there who are getting the same symptoms as kadee and do NOT have lyme.

it isn't a "herx" its the antibiotic,

FQ's are strong, but they are killers

--------------------
depressed


---

Posts: 17 | From canada | Registered: Dec 2009 | IP: Logged |

lymewreck36
Frequent Contributor (1K+ posts)
Member # 4395


posted

---

Hey Kadee, you're in Germany, I'm in Switzerland. We are neighbors!

Mary

---

Posts: 1011 | From North Carolina | Registered: Aug 2003 | IP: Logged |

jmb
LymeNet Contributor
Member # 18338


posted

---

I am not sure there is a right answer. There was a time when I would not take Levaquin. Time passed and I became sicker and sicker, and a Fry smear showed BLO or whatever it was called then.

I decided I would do Levaquin if I had to. I figured I would rather blow a tendon then die.

The LLMD wanted to go with Factive instead, so I did. I have pulsed it now for 5 months. I seem to feel better and better on it. I tried stopping three months in a slid back a bit, so went back to it. I fell better now than I did when I tried to stop.

Factive is the one treatment that I know has worked. Since I started the Factive, I have been able to increase time spent running and biking per week. I have run a more than a few 12-milers and done a couple six-hour rides.

I know I could blow a tendon tommorrow but until now I have had no tendon issues. Perhaps it is the lower-dosed, pulsed approach. I don't know. I could just be fortunate.

The point is I think it is a personal decision. I have a LLMD that I trust, and I read a lot on the web, but in the end it was a choice I had to make based on all possible scenarios.

(I will also mention that I did not feel better until more than a month of treatment.)

--------------------
enjoy the day.

-jmb


---

Posts: 208 | From Maryland | Registered: Dec 2008 | IP: Logged |

lymielauren28
Frequent Contributor (1K+ posts)
Member # 13742


posted

---

I think it is extremely unfair and extremely irresponsible to tell someone "You were not floxed, it was a relapse"... or ...."That was a herx, trust me". In a different way this is like a family member or an uneducated doctor saying, "You don't have Lyme" or "Lyme doesn't cause this set of symptoms." The family member and the doctor really have no idea b/c it isn't something that they've ever personally experienced.

While I believe that those of you who hold this opinion mean well, it is still demeaning and it undermines the other persons experience and what they know to be true for them. Of all people, those with Lyme should know better. We all know that no one knows your body better than you do - and having others act like they do is very frustrating.

I have/had Bart, babs and Lyme. I took every antibiotic under the sun for 3 years. I herxed on all of them. My herxes included chills, fevers, body aches, headaches, brain fog, joint pain, depression, fits of "rage" and severe mood swings.

What I experienced on Levaquin was NOT a herx and I resent anyone telling me it was. What it was was a very obvious adverse reaction resulting in a true case of psychosis that nearly ended in me taking my own life. As a veteran Lyme patient and someone who was accustomed to herxes that resulted in mood swings, depression and rage I can promise you that my experience with Levaquin was something all together different. My LLMD agreed.

After I recovered from my experience with Levaquin I went on to treat my Bart infection with other drugs. I stayed on them for over a year, herxed my *** off and got better. I now consider myself Bart free - without the help of Levaquin.

People with Lyme need to be aware that there is a certain subset of the population who do experience adverse reactions to the Fluoroquinolones. I think this can be said about every drug out there, be it antibiotics, blood pressure medication, heart meds, etc.

I'm not telling others not to take the Fluoroquinolones. That is a personal decision between you and you doctor and you should obviously weigh the benefits with the risks. There are many, many people on this board and elsewhere that have been helped tremendously with this class of drugs and there are others who have been damaged by them beyond belief. One mans magic potion may be another mans poison.

And to those of you who are doing so - STOP telling people you don't know and have never met that you know what is going on inside there bodies - you don't. Nuff said.

--------------------
"The only way out is through"


---

Posts: 1434 | From mississippi | Registered: Nov 2007 | IP: Logged |

kadee
LymeNet Contributor
Member # 21199


posted

---

Thanks everybody for all your advices.

And thanks, lymewreck, for setting things straight.
You put it in words, what is hard for me to describe.

Believe me, after 22 years with lyme, I DO know, what herxing is. This was/is NOT herxing!
And also, it is NOT a bartonella relapse, this might be only additional. My typical bartonella symptoms haven't shown up yet, thanks god.

Also, a probable bartonella die-off would not start one week after stopping ABX and increase more and more over the following 3 weeks. And it would not get ALL of my tendons and ligaments inflamed. Same would concern a bart flare up.

As to my LLMDs advice: He told me before starting Levo, there was no need to be careful, adverse sideeffects would concern only young ones under 20!
I knew better, but didn't argue with him.

So, I try to cope with the situation without him for now, until I get things settled and get a more complete picture about what's going on with me.
I can tell you, it's one hellish roller coaster ride with symptoms you wouldn't dream of.

---

Posts: 269 | From Germany | Registered: Jul 2009 | IP: Logged |

kadee
LymeNet Contributor
Member # 21199


posted

---

Yes, lymielauren, you are right.
Noboy can imagine what this kind of reaction to chinolones can be like, unless experienced by oneself.

Especially the psychotic side of it.
I consider myself "lucky" as to at least knowing, what is going on.
This even beat my Bart induced panic episodes.

---

Posts: 269 | From Germany | Registered: Jul 2009 | IP: Logged |

Haley
Frequent Contributor (1K+ posts)
Member # 22008


posted

---

Lymielauren - What did you end up taking for Bart?

---

Posts: 2232 | From USA | Registered: Aug 2009 | IP: Logged |

seibertneurolyme
Frequent Contributor (5K+ posts)
Member # 6416


posted

---

Lymielauren,

Noone here told kadee to continue on the levaquin or other fluroquinolones. What we did was answer her question based on our own experiences. Other patients with bart have experienced many of the same symptoms she has had and they were due to bart in those patients and not a drug reaction.

It is well known that levaquin and other drugs in that class can cause tendon issues.

As for the CNS symptoms -- I have no doubts that levaquin and that class of meds can penetrate the CNS. That is one of the reasons why those drugs are so effective for bart and mycoplasma.

For hubby many of his seizure-type symptoms went away or improved significantly with both levaquin and factive. These were symptoms that no seizure med had really worked on.

Also his encephalopathy symptoms have disappeared and he hasn't called me the night nurse in over a year -- he used to get confused and couldn't remember my name or even his own name and would argue that he wasn't married. We have been married 17 years now.

His Parkinsonian tremors and myoclonus are gone 90% of the time -- his major symptoms for the 8 plus years of his illness. Bart treatment with a combination of meds and herbs has done what Lyme treatment and babs treatment could not do.

Although much improved hubby is not well yet. He continues to have anemia due to the bart or whatever -- if I let up on treatment his red blood count and hematocrit go down and his bilirubin goes up. And this is after 24 months of continuous treatment for bart or BLO or mycoplasma.

Bart or BLO or mycoplasma can be a very serious infection and in my opinion it would be a serious mistake to discontinue treatment too soon.

Many people have new or worsening symptoms show up while treating Lyme and other tickborne infections -- I don't see why it couldn't be the same for bartonella -- another intracellular pathogen.

Here is a journal article on bartonella that shows the wide range of symptoms from this infection.

http://www.cdc.gov/eid/content/15/12/2080.htm

Here is a detailed article on mycoplasma that gives lots of info on history and includes some possible alternative treatments. Hubby has not tried the Raintree formulas mentioned yet, but those are on my list of things to try in the future.

http://www.jemsekspecialty.com/shownews.php?id=16

Bea Seibert

---

Posts: 7306 | From Martinsville,VA,USA | Registered: Oct 2004 | IP: Logged |

TerryK
Frequent Contributor (5K+ posts)
Member # 8552


posted

---

I agree with everything that Bea said.

None of us are doctors and people who post here should expect to get opinions based on the readers experience.

I make no apologies for posting my opinion on what I thought was happening however I am sorry that this has upset some people.

This board is used to share experiences and get advice. Some of that advice will not be correct for everyone so take it and do your own research and decide what is right for you.

Terry
I'm not a doctor

[ 02-14-2010, 10:52 PM: Message edited by: TerryK ]

---

Posts: 6282 | From Oregon | Registered: Jan 2006 | IP: Logged |

seibertneurolyme
Frequent Contributor (5K+ posts)
Member # 6416


posted

---

This is a quote from an LLMD presentation at a recent conference -- lists some herb choices I have not seen listed elsewhere before for bart. Topic subtitle -- S H MD on Lyme Disease.

http://tinyurl.com/y8684sl

Quote -- Of all the infections, Bartonella is the hardest to treat. Some options may include Rizol My, Avelox, Rifampin + a fluroquinolone, Arnica, Pau d'Arco, Nutramedix Houttuynia, Resveratrol, Boneset, Teasel, Nutramedix Lakota, Nutramedix Banderol, Tigecycline and Zyvox.

Bea Seibert

---

Posts: 7306 | From Martinsville,VA,USA | Registered: Oct 2004 | IP: Logged |

Gabrielle
LymeNet Contributor
Member # 5329


posted

---

Kadee,

I'm convinced you have been floxed. The same happened to me - I never felt so bad in all my life like after I took the Levaquin.

It took me many months to recover from most of the symptoms and the tendon pains lasted nearly one year.

There are people who can do FQ's and others who can't. I'll never touch any of them anymore.

I hope you'll feel better soon.

Gabrielle

---

Posts: 767 | From Germany | Registered: Feb 2004 | IP: Logged |

Dr.Dave
Member
Member # 24210


posted

---

This is my story , I wrote this so that people realize that the Flouroquinilone ABX's are much more dangerous than simply tendon damage and urge people to visit the site and forums of the people that have been injured. www.fqresearch.org And I write this to share with you all where I am coming from.

August 07 thru June 08
We had experienced huge increase in stress due to problems with working with health insurance and selling of our home out in the country. Physically I seemed to be OK without noticing any real significant symptoms.
June 08
I started having bloating and distension of abdomen especially after eating, intermittent diarrhea and constipation. The bloating did not normalize much between meals.
July 08 - 20 , 2008
My gut problem continues and I started noticing discomfort in right testicle, a swollen sensation. Mild pain
July 21, 2008 -Monday evening
Being a chiropractor my job is somewhat physical but, I felt unusually fatigued after work and had a weird cool weak sensation, tingling in both forearms into my hands.
July 22, 2008
I woke with the same fatigue/weakness and weird sensations in my arms, went to urgent care, emergency M.D did rectal exam.....exam was painful from what I now know is a hemorrhoid , but he said he thought it was prostititus. He prescribed Cipro 500mg 2x/day for seven days, he did not do a urine culture.
July 23-28 08 (went to visit Mom and Dad on vacation)
While on the Cipro I began having weird symptoms, neck pain headache, violent nightmares, almost passing out from weakness, abdomen began to become painful especially left upper quad, diarrhea, low grade fever. Called MD said to discontinue Cipro and go to hospital I may be having an adverse reaction to Cipro.


July 29-31 08
I was admitted to the hospital in Maine with significant abdomen pain. CAT scan showed abdomen inflammation , said I had Diverticulitis, was put on Flagyl and another antibiotic I.V. , and a liquid diet, pain subsided in two days, I had extreme diarrhea and lost 10 lbs. the pain in my guts became minimal and I was feeling better until I tried solid food. After eating the food I became very weak and had difficulty walking. It was the end of our vacation and even though I wasn't well we needed to get home to take care of our office so I asked to be discharged so we could get back home. I was discharged with oral Avelox (anther Quinilone) and Flagyl rx and was told to see a gastroenterologist.
July 31-Aug 3 2008
The night I took the Avelox (anther Quinilone)for the first time... within an hour, I became extremely anxious and didn't sleep much. The next day I woke having extreme fatigue, nausea, depression, anxiety, leg/arm muscle weakness, confusion, can't eat food. We called the attending Doctor at the hospital and was told to stay on a liquid diet continue meds and get to a Gastroenterologist as soon as possible. We traveled back to New York and stayed in Vermont felt the same second travel day. My wife had to drive the whole way.
Aug 4 2008--- Monday
I got in to see a Colo-rectal Surgeon at the Hospital. Took a brief history with no exam . Said I felt bad because I was getting over diverticulitis, I didn't agree, he told me to discontinue meds and make an appointment in 2 months for a Colonoscopy. How could I have gone from 95% health to 10% in a matter of days.

Aug 6, 2008 Wednesday ``CRASH''
Woke with extreme fatigue, slurred speech, could barely open my eyes, muscles all weak, could barely move around, as if I was having a Diabetic shock, I called them ``crashes''. Wife took me back to emergency at Community General , another CAT scan revealed no inflammation this time, did blood tests, x-rays, all tests negative. Surgeon admitted me and put me back on Cipro I.V. for 2 days, then released me on Aug 9 for lack of ``medical necessity''.Still very weak and sick and food /drink seemed to make me worse.

Aug 9 thru Mid September 08 ...Multiple symptoms Appeared
After leaving the hospital for the second time.We shut down our Chiropractic office due to my inexplicable illness, and was still was experiencing major ``crashes'' everyday for 2-6 hrs/day, always worse in the A.M., and then gradually getting a little better by the evening.
I began researching the Fluoroquinilone Antibiotics and found that thousands of people have had similar adverse reactions so much so that websites where created to help people and educate them of the dangers. Some of these people were Medical Doctors who helped create the websites. I started an all organic diet and vitamins per a lay person that I met, who had suffered from ``QUINOLONE TOXICITY SYNDROME''. After about 1-2 weeks on this diet I stopped crashing so bad. However for the next 4-6 months I experienced intermittent daily weird symptoms of : intermittent daily nausea, muscle weakness and deterioration, numbness & tingling in arms mostly but sometimes into legs, muscle twitching and jerking, metal taste in my mouth, sour/foul armpit perspiration, muscle cramping and pain including diaphragm , twitching/fluttering under ribs especially around heart and bladder, frequent urination, tremors, brain fog, extreme fatigue that would come in waves and last 20 minutes to a couple of hours, concentration and decision making problems. I continued to lose weight, a total of 27 lbs now since July. Noticed muscle wasting especially in legs and back, neck cracking and popping, and back pain. Muscles would burn with little exertion, facial twitching, tension under ribs and low grade burning sensation after meals in my guts ( like someone rubbed Ben Gay on my insides), always seem to be more comfortable standing. I also became very intolerant to chemicals of any kind. I truly felt like I had been poisoned. I couldn't leave our apartment for months because I felt so sick.
I saw numerous M.D.'s and was tested for M.S., ALS, I had blood tests, EEG's and MRI's and all results said that I was the picture of perfect health. My internist told me that I should see a Psychiatrist next, he thought that it was all in my head. THEY ALL DISMISSED THE POSSIBILTY THAT I COULD HAVE HAD AN ADVERSE REACTION TO FLUOROQUINILONE ANTIBIOTICS. The above symptoms continued to become somewhat less intense as time went by. I went back to work in the office in mid September and tried to resume our previous work schedule, but we soon realized that I was not able to keep up physically /mentally and in October we took our office hours down to half time with everyday being a major struggle. My level of wellness was on average was 10-30% or less for the months following until now. We decided we needed to close our practice and transitioned it to another Chiropractor in May 2009.
I saw Dr. S.B. ( Lyme literate doctor) October 23-Dec 15, but stopped due to expense, no improvement, and not convinced that I had Lyme disease. I continued to believe I was so sick due to my bad reaction to the original possibility of Toxicity from the Quinolone antibiotics. I was told by multiple lay people that had similar experiences that the toxicity had many of the same symptoms of Lyme, MS, ALS, and other autoimmune diseases.
So, since then I worked with a Nutritionist/Sales Rep from Metagenics, who was also a Biochemist. Her approach was based on addressing the damage the antibiotics may have caused to my guts treating the ``increased permeability'' or ``leaky gut syndrome'' possibility, by recommending supplements and homeopathy. I had also been receiving 2000mg of Glutathione I.V. every 2 wks, which has helped some people with their adverse reactions to the Quinolone Antibiotics. I have experienced some improvement in digesting and the extreme spells of weakness but remain pretty sick more so in AM.
Also during all this time and different doctors I have been tested for Lyme 3-4 times through blood work and have done 30 PCR urine testes over a 15 week period back in Feb-April. All other blood work has remained normal except I was told by the Integrative MD/Dentist that my cholesterol was too low contributing to, if not causing, the depression.
I had all of my mercury/silver fillings removed in May 2009 after hearing about people experiencing similar symptoms from Mercury Toxicity. I have also read that treatment for Lyme disease is more effective without mercury in your mouth, so having them removed made sense to me in case this is truly Lyme. I did notice some improvement in my symptoms for a couple of weeks after the fillings were removed, but then relapsed after about 3-4 weeks. During this recent period of feeling better after the removal, I was experiencing some days of 50-60% wellness, but now back to 30-40%. I do not handle stress well at all now, and often experience more weakness after conflict. The dentist had me taking 50mg DSMA every other day to slowly chelate the mercury. Presently I have discontinued all supplements/chelators to see how I feel. I am still taking Magnesium (keeps me regular) Vit D 1000-2000/day, and Flax seed oil. Many people that have been toxified by the FQ Antibiotics react to most chemicals and even supplements so I thought I would discontinue all to see how I felt. I haven't realized any change from doing this.....I may be a little weaker. I am very scared about trying antibiotics again considering my history with the Fluoroquinilone antibiotics and the possibility that this truly is from this family of antibiotics. People that have this condition have gone into long term relapses with other medications especially antibiotics.
Dec 09 thru Feb 2010
Diagnosed with Lyme WB band 41++, 31, 34, 39 IND and + Erlichia Dec2009. Also Diagnosed Hemochromatosis Iron Loading Disease By LLMD Western , Pa
Took one Doxy 100mg and an hour later became extremely sick and lasted 4 days, discontinued assuming adverse reaction and not a herx (too quick) Reaction is typical of Fluoroquinilone Toxicity ``Floxed'' person.
I have purchased an EMEM5 and will have Axis to A Doug Coil machine. I have experienced pretty intense Herx three days after using Rife. This has happened 3 times in the past 4 weeks. I am planning on trying also the Salt/VitC protocol along with detoxing. I am assuming since I herxed I do have Lyme and may pulse using only Natural antimicrobials a I get further into this.
I have heard from many of you who have given me hope when I beginning to believe I would die from this. I now look forward to getting well and my faith is returning.

Summary: Present State Of Health as of Feb 2010
Presently, My wife and I are unemployed living in my mother-in-law's home. My mental state is poor since I have always been very active and enjoyed country living and now live in an ugly city with no real function other than trying to get well which has been torture. My present condition is better than I was twelve months ago, but I still experience significant fatigue every day, always worse the first half of the day, lack of mental and physical endurance, digestion is better but far from normal I still don't have consistent bowel movements with intermittent constipation and diarrhea. I still have muscle twitching and some jerking but not as intense, and mostly in the evening. I can tolerate exercise somewhat and exertion but usually pay for it. I typically only feel about 30-50% of what I was a little over two years ago. I have occasional fluttering under my ribs especially near my heart, my bladder seems somewhat normal now. My skin still feels like it is ``crawling'' at night off/on. I am always very weak in the a.m. and usually improve thru the day. I have tremors in my arms, more so in my right arm. My arms often feel swollen and stiff, but don't look swollen, and I still have some tingling in my forearms, hands. My neck is stiff and crunchy and often sore on a daily basis. I do have moderate to severe disc degeneration C5-T1 that has gotten much worse since this started. My right shoulder became very crunchy and often sore which has been more pronounced since this all started, as has my left knee (surgery 1988 for cartilage damage). I wake with extreme anxiety most mornings and if my gut discomfort and overall weakness is present in the a.m., then my symptoms usually spiral into depression mostly in AM to late afternoon/evening. The depression usually, but not always, reduces as the day progresses. My facial twitching is slight and mostly at night lately, I cannot tolerate alcohol o r caffeine, and my coordination although much better than it was is still not what it used to be. Sleep is light and doesn't seem to refresh me, and my collection of symptoms are always worse in the first half of the day. Since this started I have been sick every day and have not had one good day in over twenty-two months. I do have days you might consider fair. I have always been extremely healthy and have been able to work and play with intensity that would tire most 20 year olds, until this all started over a year ago. I am now 52 years old and in a matter of one week I went from feeling in my mid thirties to mid nineties and this has been going on for 22 months.
I am not looking for sympathy, I just wanted to share my story in hopes of helping others and letting you know where I am coming from when I post or answer threads. I have much to learn and I hope to share my journey. I pray for all of you and ask we all be blessed as we find our ways back to health.
Sincerely, Dr.Dave

---

Posts: 41 | From Pa | Registered: Jan 2010 | IP: Logged |

lymielauren28
Frequent Contributor (1K+ posts)
Member # 13742


posted

---

I want to clarify that most of my "rant" was directed at Myco and the comment that was made in absolute certainty - "You were not floxed. This is a normal herx reaction and you went off the Levaquin way too soon. At least three months."

Terry your immediate comment started out as, "Sounds to me like..." and then, "What does your doctor say?" That IS stating your opinion, and to me there is a difference - I don't have a problem with people giving there opinions.

Bea, I have followed your posts and your husbands progress for a couple of years now - you have been through hell and I have tons of respect for you. I also took your comments to express concern and then you offered your opinion and some helpful advice.

Just don't want anyone to feel attacked - that wasn't my intention. I also want to re-iterate that I'm not completely against the quinolones and I think I stated that in my first post.

--------------------
"The only way out is through"


---

Posts: 1434 | From mississippi | Registered: Nov 2007 | IP: Logged |
Contact Us | LymeNet home page | Privacy Statement

Powered by UBB.classic™ 6.7.3

---
The Lyme Disease Network is a non-profit organization funded by individual donations. If you would like to support the Network and the LymeNet system of Web services, please send your donations to:
The Lyme Disease Network of New Jersey
907 Pebble Creek Court, Pennington, NJ 08534 USA
http://www.lymenet.org/
---
Home | Flash Discussion | Support Groups | On-Line Library
Legal Resources | Medical Abstracts | Newsletter | Books
Pictures | Site Search | Links | Help/Questions
About LymeNet | Contact Us
---
© 1993-2020 The Lyme Disease Network of New Jersey, Inc.
All Rights Reserved.
Use of the LymeNet Site is subject to Terms and Conditions.
---