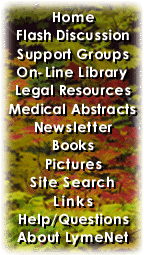 ---
LymeNet on Facebook
LymeNet on Twitter
---
---
The Lyme Disease Network receives a commission from Amazon.com for each purchase originating from this site.
When purchasing from Amazon.com, please
click here first.

Thank you.




Dedicated to the Bachmann Family


LymeNet needs your help:
LymeNet 2020 fund drive

The Lyme Disease Network is a non-profit organization funded by individual donations.

| | |
| --- | --- |
| | |
Author
Topic: Second Opinions

susanschn
Member
Member # 19352


posted

---

Please share your experiences with how second opinions of medical doctors compare with LLMD's interpretation of test results and treatment recommendations. My mother has been diagnosed by the LLMD with lyme, bartonella, hypercoagulation, herpes and has a port to receive IV vancomycin via hospital visits daily. She also takes heparin injections in the stomach twice a day and orally takes valtrex and bolouke. She has been doing this since Christmas. She is slightly better but is beginning to doubt the unconventional practices of the LLMD and her slow progress. She is considering a second opinion from a hemotologist and a infectious disease doctor.

---

Posts: 34 | From Florida | Registered: Mar 2009 | IP: Logged |

map1131
Frequent Contributor (5K+ posts)
Member # 2022


posted

---

susan, just since Christmas is really not a very long period? I know the frustration and the hope that this new treatment protocol is the one?

We get so hopeful and then we realize the road is even bumpier with the new treatment. Maybe you should convince her to give it 6 mths and then do a review of progress or not.

Daily visits to a hospital is a bummer. IV van couldn't be done from home with a nurse stopping in to check on her? I'm not familiar with that abx. I did IV rochepin, port and nurse stopping in from home.

ID docs aren't well thought of in this group. That's putting it nicely.

Pam

--------------------
"Never, never, never, never, never give up" Winston Churchill


---

Posts: 6444 | From Louisville, Ky | Registered: Jan 2002 | IP: Logged |

sickpuppy
LymeNet Contributor
Member # 23846


posted

---

If she is slightly better that's a very good sign. Her problems are not a quick fix. Christmas is like yesterday in the land of lyme disease. It can take years to beat this thing down.

I do not recommend a visit with an ID doc.

---

Posts: 702 | From North Eastern USA | Registered: Dec 2009 | IP: Logged |

sutherngrl
Frequent Contributor (1K+ posts)
Member # 16270


posted

---

An ID doc will most likely immediately dispute the lyme diagnosis. Thats putting it nicely!

As for as lyme goes, if I had felt even slightly better that quick(since Christmas), I would have been thrilled.

I am almost 2 years into treatment and hoping I feel better within the next year. You cannot base how you feel with lyme in monthly intervals. Only a small amount of lymies get that lucky.

Your mother needs to see how she feels this Christmas! If she feels better in the first year, I would consider her very lucky.

---

Posts: 4035 | From Mississippi | Registered: Jul 2008 | IP: Logged |

Lymetoo
Moderator
Member # 743


posted

---

The ID dr will NOT be supportive. They know NOTHING about Lyme except that they do not want to be involved in its treatment. Period.

Hemotologist? I have no clue what they will say.. but I'm sure they won't know enough about Lyme to give her an educated guess.

Have her hang in there at least 6 months from NOW. Three months isn't enough time to determine anything.

Tell her hello for me!!

and PS.. make sure she is on a high quality probiotic!

--------------------
--Lymetutu--
Opinions, not medical advice!


---

Posts: 95729 | From Texas | Registered: Feb 2001 | IP: Logged |

Pinelady
Frequent Contributor (5K+ posts)
Member # 18524


posted

---

I would treat for at least a year before I decided. I have made much improvements last month.

Before that I like you was doubtful. I am a doubting Thomas no more.

I am getting a little better every day, and I do expect to have relapses like many.

While I do appreciate there may be other infections that may need addressed as well, For Lyme it is a long process.

--------------------
Suspected Lyme 07 Test neg One band migrating in IgG region
unable to identify.Igenex Jan.09IFA titer 1:40 IND
IgM neg pos
31 +++ 34 IND 39 IND 41 IND 83-93 +
DX:Neuroborreliosis


---

Posts: 5850 | From Kentucky | Registered: Dec 2008 | IP: Logged |

TerryK
Frequent Contributor (5K+ posts)
Member # 8552


posted

---

I was 3+ years into treatment before I had significant overall improvement.

I did have small improvements after the first 6 months. Due to the constant changing of symptoms and symptom intensity it is sometimes hard to tell if there is improvement, especially in those who are extremely ill. It helps to keep a good diary of symptoms so that you can readily see which symptoms are better.

As others have said, an IDSA doctor will dispute the diagnosis. You may want to acquaint yourself with the politics of lyme disease.

A book called "Cure Unknown" is helpful.

Also

http://www.ilads.org/lyme_research/lyme_articles4.html

Lyme Disease: Two Standards of Care - by LORRAINE JOHNSON, JD (revised 2005)


www.clinicaladvisor.com/Controversy-continues-to-fuel-the-Lyme-War/article/117160/

CONTROVERSY CONTINUES TO FUEL THE "LYME WAR" - 2007

Terry

---

Posts: 6282 | From Oregon | Registered: Jan 2006 | IP: Logged |

Lymetoo
Moderator
Member # 743


posted

---

Please get the book Cure Unknown!! (see above)

--------------------
--Lymetutu--
Opinions, not medical advice!


---

Posts: 95729 | From Texas | Registered: Feb 2001 | IP: Logged |

Keebler
Honored Contributor (25K+ posts)
Member # 12673


posted

---

-
since Christmas? Sorry to say, she still has a very long way to go. If this were TB, no one would think a couple months was all it took.

In the documentary, "Under Our Skin" most of the patients featured did not see significant success for several years. Then you could really see a huge difference. Had they stopped, they may not have been here today. And some aren't.

Lyme, alone, is one of the most toxic infections known to man. Spirochetes, one of the most complex bacteria.


Two expcerpts from that last link TerryK posted "CONTROVERSY" -

"...If all cases were detected and treated in the early stages of Lyme disease, the debate over the diagnosis and treatment of late-stage disease would not be an issue, and devastating rheumatologic, neurologic, and cardiac complications could be avoided..."

" . . .To treat Lyme disease for a comparable number of life cycles, treatment would need to last 30 weeks. . . ."

-=================

Remember, that states "minimum" and is most likely for a new case, not one that has become disseminated (late-stage, neuroborreliosis) and . . . one that would be JUST lyme. Coinfections change everything.

And, the more damage or depletion that lyme or other infections has caused, the longer it can take for successful treatment.

==============

http://cassia.org/essay.htm

When to Suspect Lyme - by John D. Bleiweiss, M.D.

===============

www.jneuroinflammation.com/content/5/1/40


Persisting atypical and cystic forms of Borrelia burgdorferi and local inflammation in Lyme neuroborreliosis

===========================

This article has much attention on both lyme and Cpn:

http://tinyurl.com/preview.php?num=64y3rv

(then clink "PROCEED TO THIS SITE")


May 2008 Volume 39 Number 5 LABMEDICINE
www.labmedicine.com - American Society for Clinical Pathology

CHRONIC BACTERIAL AND VIRAL INFECTIONS IN NEURODEGENERATIVE AND NEUROBEHAVIORAL DISEASES

- by Garth Nicolson, Ph.D.

==========================

http://www.underourskin.com

Documentary: UNDER OUR SKIN

DVD is just $35.

=====================

CA physician with disseminated lyme disease

http://www.willitsnews.com/ci_13420371

Lyme disease: One man's story

By Jon Sterngold/Special for The Willits News

========================

Some libraries carry this book. Here's the Amazon link:

http://tinyurl.com/5crsjv

Cure Unknown: Inside the Lyme Epidemic (2008) - by Pamela Weintraub

This details what an entire family went through. Having this knowledge of their journey will help others to get better, faster treatment - and to help have patience with the long journey.

Author's website: http://www.cureunknown.com

======================

http://www.lymepa.org/html/dr__j__burrascano_september_20_15.html

Burrascano's Powerpoint presentation 9-20-08

=======================

http://www.molecularalzheimer.org/files/Biofilm_New_Haven_ppt_Read-Only_.pdf

Biofilms of Borrelia burgdorferi and Clinical Implications fro Chronic Borreliosis

Alan B. MacDonald, M.D.

May, 2008 - 74 pages - powerpoint presentation

=======================

www.townsendletter.com/FebMar2006/lyme0206.htm

From the Townsend Letter for Doctors & Patients, February/March 2006


BIOCHEMISTRY OF LYME DISEASE: BORRELIA BURGDORFERI SPIROCHETE / CYST

by Prof. Robert W. Bradford and Henry W. Allen

EXCERPTS:
. . .

A discovery of great importance relating to a toxin produced by the causative agent of Lyme disease, Borrelia burgdorferi, has been linked to a similar toxin produced by the organism Clostridium botulinum (botulism). . . .

[extensive explanation of:]

* Lyme Disease Toxin . . .

* Action of Toxin . . .

* Dietary Supplements in Lyme Disease . . .

. . . .

- Full article and great photos at link above.

-----------------------------------

poster's note of caution: While this is an excellent article regarding the information about the spirochete/cyst, there is one serious caution with one of the treatments suggested: Bismuth.

Bismuth, in extreme forms or methods of use, can be dangerous (and has been connected to fatality from IV use). If you download the article, please copy and paste this note to top your page.

Reading - and learning - about the nature of this infection is invaluable. The authors offer much in that regard, I just wish they'd adequately cautioned that bismuth requires lots of education.

-=======================

In addition to the usual coinfections from ticks (such as babesia, bartonella, ehrlichia, RMSF, etc.), there are some other chronic stealth infections that an excellent LLMD should know about:

http://flash.lymenet.org/scripts/ultimatebb.cgi?ubb=get_topic;f=1;t=069911#000000

TIMACA #6911 posted 03 August, 2008

I would encourage EVERY person who has received a lyme diagnosis to get the following tests.

- at link.

==============

http://flash.lymenet.org/ubb/ultimatebb.php/topic/3/15820

Progress and SUCCESS STORIES

-

---

Posts: 48021 | From Tree House | Registered: Jul 2007 | IP: Logged |

Keebler
Honored Contributor (25K+ posts)
Member # 12673


posted

---

-
A second opinion from an ILADS-educated LLMD might help if she needs a different approach but no path is a walk in the park.

A LL ND (naturopathic doctor) might have additional suggestion to support comfort and endurance.

But to ask a doctor who is not educated, who chooses to remain ignorant about a very complex set of tick-borne infections and other chronic stealth infections . . . well, that's like taking your care to a bike repair shop to have rebuilt.

Perhaps a change in her support supplements or routine would help in managing better. Maybe she is doing too much in some areas or would benefit from a change of plan in others. But, mostly, these stealth infections are very serious matters. Very. Full attention required.

And, because lyme + co. are so very hard on patients, I hope she has all the support around her as possible. I hope she can enjoy beauty in art, music, laughter and the faces and hearts of others.

Lyme can make a person feel as if they are dying, it's that toxic. So, it's important to have very best in surroundings - and I just mean cheerful, clean, stimulating but also calming - that can be done on a shoestring.

Also of important is low-key but solid encouragement (without it being interpreted as condescending, dripping in sympathy or overly yippy-skippy, of course). The more those around her can become educated, they more they will be able to relate on an equal level with her.

Good luck to all of you in this very difficult time, which, has been made WORSE for thousands because of those very "infectious diseases" doctors whom she wants to ask "is this real" - because they would stupidly say "forget it" - but they would not be around to pick up the pieces with it got even worse.

============

Links may change from time to time. If these don't connect, search at Google with the entire title:

http://www.lymedisease.org/news/lymepolicywonk/114.html

Over 1,600 pages of analysis and research studies delivered by ILADS to the IDSA, contesting IDSA recommendations.

------------

http://www.lymedisease.org/news/lymepolicywonk/115.html

The Association of American Physicians and Surgeons (AAPS) takes IDSA to task

------------

http://www.lymedisease.org/news/lymepolicywonk/117.html

Germany Says No to IDSA Lyme Guidelines

-

---

Posts: 48021 | From Tree House | Registered: Jul 2007 | IP: Logged |

Keebler
Honored Contributor (25K+ posts)
Member # 12673


posted

---

-
Sorry for so many links. Just one more set, promise. You said a second opinion is being considered with a regular doctor or an ID doctor because this seems like it just cant' be right on track, somehow.

It might be helpful to compare and contract the works below and you will see that all these ILADS LL authors have one thing in common: they KNOW about lyme and, even if methods vary, they know it takes a long time to treat a case once it's become disseminated. Persistence is key.

=======================

TO COMPARE & CONTRAST just a sampling of LL authors:
-----------------------------

Links to treatment:

http://www.ilads.org/lyme_disease/treatment_guidelines.html

ILADS Treatment Guidelines

==================

http://www.ilads.org/lyme_disease/B_guidelines_12_17_08.pdf

Advanced Topics in Lyme Disease (Diagnostic Hints and Treatment Guidelines for Lyme and Other Tick Borne Illnesses

Dr. Burrascano's Treatment Guidelines (2008) - 37 pages

--------------------

As important as any supplements, sections regarding self-care:

Go to page 27 for SUPPORTIVE THERAPY & the CERTAIN ABSOLUTE RULES

and also pages 31-32 for advice on a safe, non-aerobic exercise plan and physical rehabilitation.

----------------------

MAJOR REFERENCE LIST FOR SUPPLEMENTS:

This is included in Burrascano's Guidelines, but you may want to be able to refer to it separately, too:

http://www.lymepa.org/Nutritional_Supplements.pdf

** Nutritional Supplements in Disseminated Lyme Disease **

J.J. Burrascano, Jr., MD (2008) - Four pages

===========================

http://www.lymeinducedautism.com/images/Lymewhat_is_it_part_3,_LIA.pdf

LYME DISEASE Considerations in Diagnosis and Management

June 26, 2008 Lyme-autism Connection Conference

Steven Harris, MD

125 pages - Powerpoint presentation

==================

http://www.klinghardtneurobiology.com/LymeProtocolOct09.pdf

A Treatment Guide: Lyme and other Chronic Infections

by Dietrich Klinghardt, MD, PhD

October 2009 - 87 pages

====================

This book, by an ILADS member LLMD, holds great information about treatments options and support measures:

http://tinyurl.com/6lq3pb (through Amazon)

THE LYME DISEASE SOLUTION (2008)

- by Kenneth B. Singleton , MD; James A. Duke. Ph.D. (Foreword)

You can read more about it here and see customer reviews.

Web site: www.lymedoctor.com

========================

http://tinyurl.com/5vnsjg

Book: Healing Lyme: Natural Healing And Prevention of Lyme Borreliosis And Its Coinfections - by Stephen Harrod Buhner

website: http://planetthrive.com/2009/08/buhner-healing-lyme-program/

-----
http://flash.lymenet.org/ubb/ultimatebb.php/topic/1/86857

Topic: Buhner Healing Lyme Q & A links have changed

================

http://tinyurl.com/5drx94

Lyme Disease and Modern Chinese Medicine - by Dr. QingCai Zhang, MD & Yale Zhang

web site: try www.sinomedresearch.org and use "clinic" and then "clinic" for the passwords or call Hepapro through www.hepapro.com

================

www.lyme-disease-research-database.com/lymenutritionfile1_files/Integrated-Approach-DAN.pdf

HEALING LYME DISEASE: An Integrated Approach to Curing Chronic Infection

Daniel A. Kinderlehrer, M.D. (2004)

============================

This author is also an ILADS member & a LL ND author:

http://www.dancingviolets.com/media/pdf/LymeDisease.pdf

Chronic Lyme Disease and Co-infections: Clinical Overview (Snow)


======================

Similar approach, from another ILADS-member/ND author:

http://www.steveclarknd.com/LymeDisease.htm

Your Path to Wellness (Clark)

====================

RIFE Machine

http://www.lymebook.com/lyme-disease-rife-machines-bryan-rosner

Book: Lyme Disease and Rife Machines by Bryan Rosner

========================

Not at all about lyme, but a good site for articles about supplements:

www.vrp.com

In their search bar, just pull down from products to articles for access to a fabulous library backed with solid research citations for every article.

=================

More specific to herbs but, again, not about lyme:

The One Earth Herbal Sourcebook (Tillotson, et.al.)

http://oneearthherbs.squarespace.com/one-earth-herbal-sourcebook/

[ 03-10-2010, 04:08 PM: Message edited by: Keebler ]

---

Posts: 48021 | From Tree House | Registered: Jul 2007 | IP: Logged |

ping
Frequent Contributor (1K+ posts)
Member # 6974


posted

---

susanschn - Everyone who posted to you is telling you the truth. Your Mom is very lucky to have an LLMD and vancomycin is one of the strongest abx available today. I think you should find out if she can infuse at home; have one of the nurses or experience person show her and you how it's done.

For the record, it took me 5 years to get into remission using oral abx; I've never used IV. TerryK said it best (and shortest) that minor improvements can be gotten at first, but major improvements take much more time.

Best to you and your Mom.

--------------------
ping
"We are more than containers for Lyme"


---

Posts: 1302 | From Back in TX again | Registered: Mar 2005 | IP: Logged |

maureen2174
LymeNet Contributor
Member # 11471


posted

---

wow- I think your mom is very, very lucky to have found a LLMD who is treating her aggressively AND addressing hypercoagulation at the same time with heparin injections.

I told my LLMD when I was on treatment years ago that I knew I had "sticky blood" due to antiphospholipid antibodies and I was once on heparin for it during a pregnancy- did she think I should address it? and she basically ignored me about it.

Then I saw her back in January for a possible relapse after being in remission for awhile and she told me to take bolouke to address biofilms, which is something to thin the blood. I should have been doing that all along in my treatment years ago and I even brought it up to her then!

So your mom is very, very lucky to have found a good LLMD- and like others said Christmas was not even three months ago- that is no time at all in lymeland!

Don't question it with an ID, not worth it and will only be frustrating. I saw a hematologist a couple of times and it also was a waste of time.

---

Posts: 871 | From NJ | Registered: Mar 2007 | IP: Logged |

painted turtle
LymeNet Contributor
Member # 7801


posted

---

I think your mom should listen to herself. If she wants a second opinion, she should get one, two, three and four. I did. What I found was each specialist had something different to say depending on their specialty, including the LLMD and I had to go with my gut as to who to believe.

When I took my hypercoagulation test to a cardiologist, for example, he down played it and the test itself looked like gibberish to him. But he did agree that there looked to be some hypercoagulation. I don't know what a hemotologit would say. I'd check it out if I were her, if she has the means, just to satisfy the curiosity and hear a voice from the other side.

Getting second opinions from people who do not agree with, understand or even believe in what you are doing in the first place is going to play devils advocate.

In my humble opinion, IV is nothing to mess with. It is strong stuff. Many complications can occur if it is long term. This is just my opinion. If anything, she might consider a more gentle approach.....if she is getting the sense that the 'big dogs' are doing more damage than good, or something. Of course, I am no MD, just a person who has travelled this lyme war road for too many years.

In my opinion, while antibiotics are indeed necessary, in cases like mine and others, they are not the only or full answer but rather, an important part of the equation.

--------------------
www.lymefire.blogspot.com


---

Posts: 855 | From United States of Mind | Registered: Aug 2005 | IP: Logged |
Contact Us | LymeNet home page | Privacy Statement

Powered by UBB.classic™ 6.7.3

---
The Lyme Disease Network is a non-profit organization funded by individual donations. If you would like to support the Network and the LymeNet system of Web services, please send your donations to:
The Lyme Disease Network of New Jersey
907 Pebble Creek Court, Pennington, NJ 08534 USA
http://www.lymenet.org/
---
Home | Flash Discussion | Support Groups | On-Line Library
Legal Resources | Medical Abstracts | Newsletter | Books
Pictures | Site Search | Links | Help/Questions
About LymeNet | Contact Us
---
© 1993-2020 The Lyme Disease Network of New Jersey, Inc.
All Rights Reserved.
Use of the LymeNet Site is subject to Terms and Conditions.
---