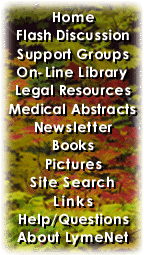 ---
LymeNet on Facebook
LymeNet on Twitter
---
---
The Lyme Disease Network receives a commission from Amazon.com for each purchase originating from this site.
When purchasing from Amazon.com, please
click here first.

Thank you.




Dedicated to the Bachmann Family


LymeNet needs your help:
LymeNet 2020 fund drive

The Lyme Disease Network is a non-profit organization funded by individual donations.

Author
Topic: How old is everyone with this Lyme Disease?

Jessica0o0
Junior Member
Member # 25365


posted

---

Just wondering how old everyone is and how bad they are. Im 23 and I had a positive test in 2007 but believe I have had it for way longer. Just wondering if the age makes a difference because seems like mine is on an off and not as bad as everyone else but ive still had it for at least 3 years.

---

Posts: 6 | From Warren, Ohio. | Registered: Apr 2010 | IP: Logged |

kday
LymeNet Contributor
Member # 22234


posted

---

I'm 24, my symptoms started suddenly, and they were severe. However, since most things in my blood work were usually in range, or close to in range, I had a doctor that tried to convince me that everything was just anxiety. Then she jumped around with other psychiatric diagnoses such as bipolar, hypochondriac, etc. She told me that I was probably developing hypertension because of my genetics (which I don't have constantly anymore), and that some people have high heart rates. Mine hovered around 100 bpm even with beta blockers. My SVTs were caused by anxiety according to her, even though my heart rate didn't completely recover to a resting heart rate after intravenous tranquilizers and beta blockers. She said I felt dizzy and sick because of anxiety, but she couldn't explain why my vision was blurry (it used to be perfect) and why I had so much eye pain and pressure. However, the twitching in my eyes and over the rest of my body was from anxiety according to her. She tried hard to fit everything under a psychosomatic diagnosis.

Now some days my heart rate is high, and other days it's lower. I've had symptoms for 1.5 years or so.

This is already my second chronic illness. When I was 17, I went to the E.R. and my liver enzymes were in the thousands. What's odd is I had some similar symptoms as I have now. Especially the heart troubles. I recovered within a year of this mystery liver illness, became highly active again, but felt the heart stuff every now and then.

I really think it has to do with your toxic load, what other infections you have, how long you had the illness, and how efficient your liver can filter the toxins more than age.

---

Posts: 967 | From A deserted island without internet access | Registered: Sep 2009 | IP: Logged |

Keebler
Honored Contributor (25K+ posts)
Member # 12673


posted

---

-
Many - many - here have had lyme for around 20 years before finding a knowledgeable doctor. Coinfections also make it much more complex so, perhaps, you did not have that same mix.

You are young and that is on your side. Still, even a child with a brand new case can become extremely ill and debilitated in a very short time.

While 3 years is still a crime in terms of no doctor identifying this earlier for you, if you are not as bad off, consider yourself very lucky, indeed. Still, nothing short of excellent self-care and good treatment - for long enough - is required so that you can enjoy remission as soon as possible and for as long as possible.

Although you don't seem "as bad as everyone else" here - still be sure to consider all the coinfections just to be sure you have a good chance.

I hope you are getting excellent care with an ILADS-educated LLMD. And still be very careful. This is still something of upmost importance. The spirochete's power must be respected. There is never a time to let down your guard.

Good Luck.
-

---

Posts: 48021 | From Tree House | Registered: Jul 2007 | IP: Logged |

mcg08002
LymeNet Contributor
Member # 24617


posted

---

Kday! I had the high heart rate, and I developed Hypertension because of Lyme. It was one of my first symptoms. I am complelty athlectic and enrolled at BYU. I am 20 by the way. My doctor was saying it was all anxiety and OCD. lol.

But then I had positive bands, 23, 93, and 41 on one test and after antiboitics, now i only show 41 on the western blot.

We can do this. It is so sad that we are so young wiht lyme. At least we know what is wrong with us! Keebler is right, we are pretty lucky to know as soon as we did!

--------------------
Stephanie, University Student.

Ehrlichia [POSITIVE]
IGG/IGM AB [H] 1.49
indexLyme AB interp. EIA [A] POSITIVE
IGG P93 AB [PRESENT]
IGG P41 AB [PRESENT]
IGM P41 AB [PRESENT]
IGM P23 AB [PRESENT]
Lyme IGM WB interp. [A] [PRESENT]


---

Posts: 145 | From Idaho | Registered: Feb 2010 | IP: Logged |

IckyTicky
Frequent Contributor (1K+ posts)
Member # 21466


posted

---

I'm 32. I've had Lyme for at least 22 years. Only diagnosed two years ago.

The rest of my family also has LD... husband age 34, daughter age 16, daughter age 9 and son age 7.

And my twin sister also has Lyme.

--------------------
IGM: 18+, 23+, 30+, 31+++, 34+, 39IND, 41++, 58+++, 66+, 83-93IND
IGG: 31+, 39IND, 41+
Also positive for Mycoplasma Pneumoniae and RMSF.
Whole family of 5 dx with Lyme.


---

Posts: 1014 | From Texas | Registered: Jul 2009 | IP: Logged |

DeniseNM
LymeNet Contributor
Member # 11182


posted

---

47. I've had it probably most of my life, but at least 24 years. I believe my mother (age 73) has it, my brother, his wife, and most likely their kids.

--------------------
dx: MS in 1998
2007 - Lyme suspected
2009 - Positive Lyme, MS worse. Now: Copaxone shots for MS
gall bladder out 7/09
Ceftin, Zith, Septra
LDN
Acyclovir
Monolaurin, DHEA, Pregnonelon, Curcumin


---

Posts: 243 | From New Mexico | Registered: Feb 2007 | IP: Logged |

hezzer926
LymeNet Contributor
Member # 17902


posted

---

I'm 25.. had it for 1.5 years..

---

Posts: 245 | From East Brunswick, NJ | Registered: Oct 2008 | IP: Logged |

sammy
Frequent Contributor (5K+ posts)
Member # 13952


posted

---

I'm 27, had it for 6yrs, diagnosed and started treatment 2yrs ago. I hate Lyme, it has stolen to many good years of my life.

---

Posts: 5237 | From here | Registered: Nov 2007 | IP: Logged |

mwhite18
Member
Member # 17777


posted

---

I'm 25 . Don't know exactly how long I've had it because of weird symptoms through out my childhood. Lyme didn't "take hold" until winter/spring of 2008.

---

Posts: 42 | From Niger | Registered: Oct 2008 | IP: Logged |

Starfall1969
Frequent Contributor (1K+ posts)
Member # 17353


posted

---

I'm 41, diagnosed a little over a year ago.

Took them almost a year from the onset of severe, weird symptoms to diagnose me, and that only happened because I knew someone who had been through the exact same line of crap--

docs couldn't find something simple, so it was passed off as anxiety and stay-at-home-mom-who-needs-a-life syndrome.

Often wonder though if I wasn't infected years ago, especially since that's when I was highly active in outdoorsy stuff like hiking and rock-climbing and hanging out with geology majors in college.

---

Posts: 1682 | From Dillsburg, PA | Registered: Sep 2008 | IP: Logged |

joalo
Frequent Contributor (1K+ posts)
Member # 12752


posted

---

I got sick when I was 30 and I'll be 56 next month.

I've possibly had lyme since I was ten when I got a bulls eye on my arm and was told it was ringworm.

Guess I'll never know. I've been treating for four years.

--------------------
Sick since January 1985. Misdiagnosed for 20 years. Tested CDC positive October 2005. Treating since April 2006.


---

Posts: 3228 | From Somewhere west of the Mississippi | Registered: Aug 2007 | IP: Logged |

22dreams
LymeNet Contributor
Member # 17846


posted

---

Jessica,

Just anecdotally, I can say that Age doesn't matter.

More likely, multiple exposures, genetics, immune function, type of strain, co-infections all factor in and complicate the picture. This would determine Severity more than age.

In theory, a younger immune system should be able to ward it off better but it's not necessarily the case.

I know someone who was misdiagnosed with and given the death sentence of ALS.

She was unable to walk. Pretty severe symptoms.
She was 20yo at the time.

If you've watched Under Our Skin, you will remember the teenager in the film(dancer who couldn't walk).

"Marlena Connors
Marlena is a promising young ballet dancer when, at age 12, she is struck with loss of muscle control, inability to walk or talk, and other debilitating symptoms.

Almost overnight, she goes from performing the Nutcracker with the Boston Ballet to being wheelchair-bound. After local doctors suggest that Marlena's problems are "all in her head," her mother takes her to a controversial Connecticut Lyme pediatrician.

The long-term antibiotic therapy he prescribes finally enables Marlena to walk again and return to school."

---

Posts: 571 | From Massachusetts | Registered: Oct 2008 | IP: Logged |

jasek
LymeNet Contributor
Member # 12395


posted

---

My symptoms trace back to 1975. Back then I was a "hypocondriac", I am 59 so 30 plus years. Took me all the way down in 1999, after two stressful situations. Took about 3 yr. to gain quality of life and I still don't have it all the time. . God am I really that old? Stage 4 neuro lyme.Sometimes I think I'm glad I didn't know back then, it is all consuming now. Good Luck

---

Posts: 161 | From midwest | Registered: Jul 2007 | IP: Logged |

lauirel
LymeNet Contributor
Member # 16640


posted

---

I am 43, and my son is 16. Symptoms at 33, suspected when 38, diagnosed at 41. Son had bullseye rash and diagnosed at 11 YOA.

LaurieL

--------------------
"Never doubt that a small group of thoughtful committed citizens can change the world; indeed, it's the only thing that ever has."


---

Posts: 149 | From Kansas/Missouri | Registered: Aug 2008 | IP: Logged |

sutherngrl
Frequent Contributor (1K+ posts)
Member # 16270


posted

---

I'm 51 been sick 4 years. Treating for 2 years.

Lyme Disease can strike at any age!

---

Posts: 4035 | From Mississippi | Registered: Jul 2008 | IP: Logged |

17hens
Frequent Contributor (1K+ posts)
Member # 23747


posted

---

I'm 43, my husband is 45, my daugher is 14, and my son is 16.

We all have had it for 5-7 years. We all have had various symptoms but didn't recognize them, like bart streaks and stretch marks, air hunger, brain fog, on and off fatigue, etc.

My daughter was really sick when she was initially bit 7 years ago but then seemingly recovered after 3 wks of treatment. We know now that she wasn't recovered as she's had various symptoms since then, including diagnosed Barrett's Esophagus (precancerous cells) at age 13.

I've been sick since pulling a tick off of myself in April 2009. Because of my illness and research to find healing, I've been able to identify our situation and find an LLMD to treat us all.

There is a purpose for everything under heaven. Sometimes God is the only one who knows what the purpose is.

I believe my suffering has been a blessing. Without my suffering, my family would not be receiving treatment.

Of course, the best blessing would be if those dumb ducks would listen and learn!

--------------------
"My flesh and my heart may fail, but God is the strength of my heart and my portion forever." Psalms 73:26

bit 4/09, diagnosed 1/10


---

Posts: 3043 | From PA | Registered: Dec 2009 | IP: Logged |

farraday
LymeNet Contributor
Member # 21494


posted

---

I am perhaps the oldest here, but my troubles started many years ago. My husband died of cancer when my daughter was a year old. I nursed him at home while caring for her and my two sons from a previous marriage.

He had no life insurance so I went back to work. I started a company and ran it, my home and my family. I remarried. My energy seemed to be at its usual high level. But there were signs that all was not well.

I had trouble with my back. I thought it was from lifting my big husband right after I had had a C section. But I had other pain in my legs. I fell asleep at my desk. I even screwed up an expert testimony, something I had never done before.

My husband feels that I was ill long before I gave in to it. The list of doctors I have seen would fill many pages. I have been tested at some of the best institutions in the US. I was declared 100% disabled, but not given disability because of unclear diagnosis. I was even denied medical insurance because I was a widow!

This illness has been with me for most of my marriage, most of my daughter's life and has cost us all of our savings and more. I was bringing many new jobs to our community,serving on several boards while my husband was busy patenting new, significant technology. Our contribution to society was large and is all lost due to my illness.

So my advice to you is to find the absolutely best LLMD you can, pay him what he asks and do what you need to do NOW! You can get well!

Find all the best tests, fight to win and stay close to those on this list who will support you. You have the benefit of their combined experience and an early diagnosis. But you will have to fight. And you can!

--------------------
DOCTOR: "I don't think you are sick."
PATIENT: "We are all entitled to our opinions. I don't think you are a doctor."


---

Posts: 697 | From Northern California | Registered: Jul 2009 | IP: Logged |

BoxerMom
Frequent Contributor (1K+ posts)
Member # 25251


posted

---

I'm 41 now, but I was exposed in college at age 22. I did not meet my tick, so I had no idea I had been exposed. In hindsight, I had a typical Babesia "tick flu" - high fever, headache, neck and back pain (meningeal swelling), sweating, vomiting, fainting. I went to the doctor (I had never seen a doc for the flu.) and was told I had the flu. I recovered completely, and had no symptoms for the next 3 years.

I was 2 years out of college when I began to develop intermittent symptoms. I ignored them for 3 years, thinking it was due to stress and would resolve. When I finally went to the doctor, she ordered labs and found Epstein-Barr virus. Problem solved, right?

Wrong. EBV is a common infection, found in many people, with and without Lyme. I treated my EBV, with no change in symptoms, and finally gave up on that. Thus began my 15 year Medical Mystery Tour, with the standard Chronic Fatigue and Fibromyalgia diagnoses, and tons of treatment that did not fundamentally improve my health. I had long since forgotten about my college summer-time flu, and nobody thought to ask about possible exposures.

I would do anything to go back in time to that original flu and find out I had a positive Lyme test. Or my reactivation (of Lyme and coinfections) when I was tested for EBV instead of Lyme.

I remained highly functional through my 20s and most of my 30s. But underneath, I was getting sicker and sicker.

I am so happy to hear that you are diagnosed in your 20s. Your instinct is likely correct - that you have had Lyme for many years. That is a common scenario.

As others have posted, many factors contribute to success in treatment. But being diagnosed while you are young is a blessing. You can get beyond this, and move on to a full and healthy life.

Are you with a good LLMD and noticing improvement on your program? Seriously, kick this thing's butt and get on with your life!!! And take precautions to prevent another exposure.

BoxerMom

--------------------
Must...find...BRAIN!!!


---

Posts: 2867 | From Pacific NW | Registered: Apr 2010 | IP: Logged |

Lymetoo
Moderator
Member # 743


posted

---

Going on year 51 of having Lyme.. you can guess any age you want to!!

--------------------
--Lymetutu--
Opinions, not medical advice!


---

Posts: 95344 | From Texas | Registered: Feb 2001 | IP: Logged |

lymeladyinNY
Frequent Contributor (1K+ posts)
Member # 10235


posted

---

I'm 43 and was bitten at age 36. I got severely ill within two months of that bite.

However, my former LLMD was convinced I got Lyme as a child because I grew up on a dairy farm in NY state and was always out in the fields and woods and playing with the barn kitties.

I remember when I was 7 my left knee swelled up like a balloon. My mom took me for tests and I remember they bent my leg and it hurt terribly.

No diagnosis was ever made. I developed hypothyroidism in my teens and I always had ring-like rashes on my upper arms. I also had severe depression, TMJ, sciatica, and tinnitus.

I developed repetitive stress injuries when I started working at a newspaper in my 20s, too.

I think my former LLMD was right about me!

--------------------
I want to be free


---

Posts: 1170 | From Endicott, NY | Registered: Sep 2006 | IP: Logged |

Notz3641
Member
Member # 25325


posted

---

20. Have had it for 7 years and had no clue. my symptoms came on slowly: fatigue, irritation with the people around me for no reason, generally crabby when I was NEVER like that before, but nothing extreme. a couple years ago, i started to forget what day of the week it was sometimes or whole conversations i have with people, but i thought maybe i was just stressed...never thought anything of it. I only went to my Dr because i started to experience numbness in my throat and tongue every time i talked so i went to the dr. (ANYONE ELSE HAVE THIS BY THE WAY???) got an MRI test for MS, all kinds of blood work and labs. Negative. So I was sent to a neurologist who told me to come back in 6 months because i was fine. Disappointed, I looked at him like 'really...thats all you got?' so he tested me for Myesthienia gravis and did a lyme test because he figured WHY NOT? Lyme titer and WB came back positive right away. No i've been on IV Rocephin for a month and am not really feeling any better.

Wondering what to do.

---

Posts: 11 | From Midwest | Registered: Apr 2010 | IP: Logged |

karenl
Frequent Contributor (1K+ posts)
Member # 17753


posted

---

I was not feeling better on rocephin. But I was told rocephin is very bad for gallbladder, look it up with the search button.You don't want to have gallbladder surgery soon.
My son did the Fry biofilm test and is doing better on miocycline.

---

Posts: 1834 | From US | Registered: Oct 2008 | IP: Logged |

SmurfyMom
LymeNet Contributor
Member # 13688


posted

---

I'm 31. I was born with it and got 'extras' (prob when I got babs) with a tick 7yr ago.

My hubby 'came down' with it over the last 5 or 6 yrs. (prob got it from me) He is 62.

My daughter, born with it, is 12.

My son, born with it, is 11.

My brothers, all born with it, are 29, 17, and 16.

My mother, suspected born with it, is 53.

(She has 2 older sisters, and 3 younger brothers, all suspected of contracting lyme before birth)

My grandmother, suspected born with it, is 77.

My great-grandmother, suspected of having it since her child-bearing years at least, lived to be 86, I believe.

Only my youngest 2 brothers, myself, my hubby, and my children are being treated w/ abx. Mom is treating herself with herbs.

We haven't been able to get anyone else to listen to us long enough to even realize there is a very real possibility they are infected...despite TONS of health issues, including a recent kidney transplant!

---

Posts: 155 | From Texas | Registered: Oct 2007 | IP: Logged |

lymebytes
Frequent Contributor (1K+ posts)
Member # 11830


posted

---

Started at 43, 4 years ago. From what I have seen, it seems age plays a roll - the younger the faster you will get well. Other factors it seems, cortisone at any point makes treatment much harder and more prolonged "the steroid disaster" was coined by Dr. B (my major problem was the "steroid disaster" and it was absolutely a huge disaster). Also, how long you were infected before tx started.

All + in my family w/Ld: Son, at age 7 first infected and sick got well on IV almost immediately, he relapsed at 17 now well at 20. Sister age 57 when diagnosed, now 60 w/a mild case, no improvement w/2 years of tx. Her husband 60, has had it 20 years, no remission in all that time with or without treatment. Their daughter, diagnosed at age 17, some treatment, mild case, very functional no longer treating. My husband diagnosed at age 44, did 2 years of abx with no improvment. Total 6 diagnosed and it is believed possibly 5 others have it and have not been tested and do not wish to treat, seeing that only two out of 6 of us has gotten well in treatment so far, I trudge on and continue tx for now.

--------------------
www.truthaboutlymedisease.com


---

Posts: 2003 | From endemic area | Registered: May 2007 | IP: Logged |

Leelee
Frequent Contributor (1K+ posts)
Member # 19112


posted

---

I'm 53, but will be 54 next month.

I suspect I first became infected in high school in the 1970's and struggled and limped along until a couple of years ago. Then I completely fell apart mentally and physically. That's when I entered Lyme Hell and sunk right down to the bottom.

Since then I have been clawing my way out with the help of my LLMD.

--------------------
The ultimate measure of a man is not where he stands in moments of comfort and convenience, but where he stands at times of challenge and controversy. Martin Luther King,Jr


---

Posts: 1573 | From Maryland | Registered: Feb 2009 | IP: Logged |

LightAtTheEnd
LymeNet Contributor
Member # 24065


posted

---

I'm 42. I've been sick for about 11 months.

I did find the tick, and got symptoms 10 days after that. I diagnosed myself after 10 weeks, and persuaded my GP to give me an antibiotic for 3 months (which failed; I still had symptoms when I got off of it) while I looked for an LLMD and waited for an appt.

I got officially diagnosed 6 months after the tick bite (no rash; only band 41+ on a Western Blot, and 83-93 IND). I have been on good treatment for the past 4+ months, and am just now starting to see signs of improvement, despite the fact that my symptoms have been mild all along.

--------------------
Don't forget to laugh! And when you're going through hell, keep going!

Bitten 5/25/2009 in Perry County, Indiana. Diagnosed by LLMD 12/2/2009.


---

Posts: 756 | From Inside the tunnel | Registered: Jan 2010 | IP: Logged |

bugabooboo
LymeNet Contributor
Member # 7383


posted

---

48 when symptoms started (2 wks. after tick bite). 57 now.

Bug

--------------------
Every experience God gives us, every person He puts in our lives, is the perfect preparation for a future only He can see....Corrie Ten Boom


---

Posts: 343 | From Northcentral Iowa | Registered: May 2005 | IP: Logged |

jenny76
LymeNet Contributor
Member # 18205


posted

---

I'm 33 now, almost 34. Diagnosed Nov. 2008. Misdiagnosed for about 26-28 yrs they speculate. Got this as a child.

--------------------
Never, Never, Never give up!


---

Posts: 395 | From Connecticut | Registered: Nov 2008 | IP: Logged |

RZR
Frequent Contributor (1K+ posts)
Member # 20953


posted

---

I am 47. Tick bite in May 2009 and started abx 6 weeks after bite. Still treating, more symptoms each day.

--------------------
Tick bite May 2009
Diagnosed June 2009


---

Posts: 2329 | From SouthEast | Registered: Jun 2009 | IP: Logged |

just don
Frequent Contributor (1K+ posts)
Member # 1129


posted

---

WELL,,, As most people on here are painfully aware,,will flip over to the magic milestone in a few days,,,of 160 years old!!!!!

Some sx date back to 92-95

some go back to childhood

who knows,,mostly not me!!

Treatment does as much good as beating my head against a rock,,I drew the short straw!!

Now where were we,,,I forget???

--------------------
just don


---

Posts: 4548 | From Middle of midwest | Registered: May 2001 | IP: Logged |

tory2457
LymeNet Contributor
Member # 10384


posted

---

I'm 53, but had my first "bout" when I was 30. Of course the perfect age and gender for a MS diagnosis.

I had Neuro stuff so off I went on the Don't know How to treat/cure MS genre, was given lots of steroids,,,,and 3 yrs ago..finally diagnosed with LD.

Doing well, threw out all my daily MS injectables and fighting like the rest of us.

---

Posts: 158 | From PA | Registered: Oct 2006 | IP: Logged |

sickpuppy
LymeNet Contributor
Member # 23846


posted

---

I'm 41. Infected for sure for 10 years. My Mom tells a story of a bite when I was 8--the doc said it was a spider bite, not to worry. My Mom thought it was a tick bite then and she still does. So that'd be 33 years left untreated. And it's not like I haven't gone to a million doctors over the years.

Symptoms began in High School but they would come and go over the years. The past 6 years have been awful, the past 2 total torture. I think extreme stress and a series of medical procedures, including surgery and a corticosteriod injection, brought it into full bloom.

Thanks US medical establishment.

---

Posts: 702 | From North Eastern USA | Registered: Dec 2009 | IP: Logged |

sixgoofykids
Moderator
Member # 11141


posted

---

Moving to general support ....

--------------------
sixgoofykids.blogspot.com


---

Posts: 13449 | From Ohio | Registered: Feb 2007 | IP: Logged |
Contact Us | LymeNet home page | Privacy Statement

Powered by UBB.classic™ 6.7.3

---
The Lyme Disease Network is a non-profit organization funded by individual donations. If you would like to support the Network and the LymeNet system of Web services, please send your donations to:
The Lyme Disease Network of New Jersey
907 Pebble Creek Court, Pennington, NJ 08534 USA
http://www.lymenet.org/
---
Home | Flash Discussion | Support Groups | On-Line Library
Legal Resources | Medical Abstracts | Newsletter | Books
Pictures | Site Search | Links | Help/Questions
About LymeNet | Contact Us
---
© 1993-2020 The Lyme Disease Network of New Jersey, Inc.
All Rights Reserved.
Use of the LymeNet Site is subject to Terms and Conditions.
---