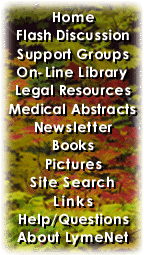 ---
LymeNet on Facebook
LymeNet on Twitter
---
---
The Lyme Disease Network receives a commission from Amazon.com for each purchase originating from this site.
When purchasing from Amazon.com, please
click here first.

Thank you.




Dedicated to the Bachmann Family


LymeNet needs your help:
LymeNet 2020 fund drive

The Lyme Disease Network is a non-profit organization funded by individual donations.

| | |
| --- | --- |
| | |
Author
Topic: Kids Treatment Revisit

wtl
LymeNet Contributor
Member # 19883


posted

---

My daughter who is a little over 4 had complained about leg pain occasionally. With the known fact that her mother had Lyme and co-infections during pregnancy without any treatment indicated that she might have been infected from birth. Our llmd is willing to treat her.

She was on zithromycin for about 4 months and it appeared that she largely stopped complaining about the leg pain. She went off the med last Sept. or so, and starting a month or so ago, her complaint about the pain came back more and more often. I also had seen some rashes from time to time and took some pictures to show the llmd. He restarted her on ceftin and stated that this disease is often hard to beat but he reminds to be optimistic about her chance to recover.

I am just scared and discouraged. I am also worried about the prolonged antibiotic. Can some of you with experience please reaffirm me that it is curable, and that the prolonged use of antibiotic has the minimum negative impact on a small child like her?

I am just really confused and scared...

---

Posts: 822 | From midwest | Registered: Apr 2009 | IP: Logged |

lightparfait
Frequent Contributor (1K+ posts)
Member # 22022


posted

---

I would talk to you LLMD about the protocol for kids with lyme and autism...
www.neuraltherapy.com/KlinghardtAutism2008Derksen.pdf


great information that everyone would beneft from learning about what predisposes us all to chronic health issues like lyme and how to counteract it.

Usually there is a heavy metal toxicity component that is passed to unborn children that if addressed at young ages, people seem to have great success with their child rebuilding their immune system by clearing their body of the toxic burden.

I would look in that direction if there are no major lyme symptoms. AS lyme symptoms and metal/.chemical/ candida symptoms all mimic each other. Taking antibiotics do have risks...but are needed for many. Sometimes antibiotics can be avoided if toxicity is the main issue. Need to find that out first. Work on that first and then see where the lyme symptoms are as well as the test results then.

Thats where you start before antibiotics unless the symptoms are severe. It is individual depending on each persons terrain. NOt every LLMD will lok at toxicity first. My great LLMD did do heavy metal blood tests and stool tests for parasites that were all negetive o me and my family. Found out later, the tests were not acurate and we were loaded with metals and parasites! Standard tests are not accurate for those things!

My daughter was treated with 1 1/2 years of antibiotics for co-infections which got rid of ehrlichiosis and rocky mtn spotted fever...but the lyme got under control when we took an abx break and started detox and liver support, and had her start anti-parasite, candida yeast control, and helped her leaky gut heal, and not worked on heavy metal removal...her immune system is keeping it at bay now. It does not show at all now...No more abx needed and no symptoms for over a year now.

I did though make a mistake and treat my son...who was igenex positive for lyme and had no symptoms...just out of my own fear of the future for him. HE now has issues from candida/yeast from the abx...but still no lyme symptoms. I should not have treated him with the abx without major symptoms I have learned. The minor issues he had before I treated him were mostly heavy metal related.

I should have worked only on heavy metal and chemical detox...as well as parasite removal first...which I eventually did. Lyme is welcomed in the bodies that are compromised from birth with the toxins.

Be calm...and know you are headed in the right direction with your questions and research...but many llmd's are not savvy about how to clear the body after long term antibiotics usage or how to detox effectively...so people keep on antibiotics long term just to keep symptoms at bay and a quality of life. Others have success getting off antibiotics with proper detox. It is individual.

---

Posts: 1009 | From NJ | Registered: Aug 2009 | IP: Logged |

lymie tony z
Frequent Contributor (1K+ posts)
Member # 5130


posted

---

Just judgeing on my personal experience at age 4.

It seemed that I had "tick fever" causeing bilateral paralysis in my legs.

Penicillin was the only antibiotic at the time worth useing.

Inter-muscular shots weekly knocked my paralysis into some sort of dormant stage.

Of course, I did have other symptoms, no one ever associated with anything like lyme disease

because not enough was, nor is, known about these little critters.

Unfortunately, due to my age back then...

I'm not sure how many doses it took for the fever to,

break or go down and for me to regain the use of my legs.

I don't believe it was longer then six to ten months.


Of course, that might very well have been a less virulent form of the disease and/or co-infections.

I rather thought zythromax and cipro or ceftin...especially because of the rashes of varying-

(I suppose because you did'nt describe them, however a good llmd would be able to make an educated guess)

-shapes and sizes....possibly indicating a zoological co-infection...

and or Bartonella (like)co-infection....

might be somewhat inadviseable for someone of that age group!

That's about all I can help you with....if it were my kid however....

I would have checked into the adviseability of utilizing the meds this llmd put your kid on prior to letting any doc or duck prescribe and have my kid ingest....etc...

Probably doxy and ammoxy might be better choices...

but that's just a guess...only because of what put my case into dormancy.....sooooo long ago!

Plus having a drammatic recovery from a different incidence in 1985 when I was bitten

again by two or three ticks when I gave a homeless little doggie a bath....

it was lame but I knew nothing of this disease at the time so I was'nt concerned....

besides the fever and rash I got this time.

No dermatologist ever diagnosed my overall torso rash properly anyway!

Thanks to the ignorance of the mainstream medical society!

Any time I get something from any doctor, especially if it's a new medication.

I at least ask a pharmacist or consult the internet about the medication.

You might think about that in the future....

zman

--------------------
I am not a doctor...opinions expressed are from personal experiences only and should never be viewed as coming from a healthcare provider. zman


---

Posts: 2527 | From safety harbor florida(origin Cleve., Ohio | Registered: Jan 2004 | IP: Logged |

wtl
LymeNet Contributor
Member # 19883


posted

---

Thank you, light. I think you hit the mail about heavy metals and other toxins. We do know that her mother has an usually high level of all the toxins and heavy metals. And I was told by her treating physician for heavy metals that my daughter needs to be looked at in that department. For some reason it did not sink in for me to take it more seriously.

I will call his office to see if an appointment for my daughter can be arrange. I much appreciate your thoughts on this subject.

---

Posts: 822 | From midwest | Registered: Apr 2009 | IP: Logged |

lightparfait
Frequent Contributor (1K+ posts)
Member # 22022


posted

---

wtl...

Google the bioray website and look at the information for liverlife and NDF for children. Take this info and the website info I gave you previously for derksonklinghardt to your llmd for help.

---

Posts: 1009 | From NJ | Registered: Aug 2009 | IP: Logged |

wtl
LymeNet Contributor
Member # 19883


posted

---

I will do that. Thank you, light.

And thank you zman too.

---

Posts: 822 | From midwest | Registered: Apr 2009 | IP: Logged |

aMomWithHope
LymeNet Contributor
Member # 19255


posted

---

What kind of tests do you take to identify heavy metal and/or other toxin loads? And what is the treatment? How do you get these tests taken if your LLMD isn't alternative minded?

Thinking it might be time to incorporate a good heavy metal detox with my child, just to see if we can then get better results in her treatment.......

---

Posts: 648 | From northeast | Registered: Feb 2009 | IP: Logged |

lymie tony z
Frequent Contributor (1K+ posts)
Member # 5130


posted

---

lightparfait and wtl,
I'm not sure why you think antibiotics are'nt necessary.

You admit that your daughter had erich and rock mountain spotted fever resolved with antibiotics.

Exactly where did you think she or even your son or wife attained parasites? Could you entertain the notion that along with the erich/spotted fever the parasites were delivered from the same tick that gave her the two other problems? They do ya know!

I realize the tests are not the best in the world for most of these tickborne ailments. However, autism was also attributed(or linked)to ticks, at the conference for ailments held in St Petersberg Florida back in 2009.

You can all do what you like and if this is not some kind of advertisement for whatever heavy metal approach or Infra-red treatment. I had demonstrated in my home while I was in Florida not long ago. Although the woman who administered the "RAY-GUN" to my hip told me "no heat or pain would be experienced"! I did indeed feel heat and slight pain from the heat. Plus, I did'nt receive any noticeable relief from the "ray-gun". She claimed to have "CURED" her own son of lyme disease with treatments with this regimen with her little "RAY GUN". I rather think she was a promising sales person who may have been told that story from her employers who may have some sort of notarized letter to this regimen. I have yet to meet anyone treated with or cured from the tick born ailments with anything other then extended antibiotic treatments. Followed with anti fungal or possibly Diflucan to rid the body of yeast brought on by the antibiotics.

There are toxins of all varieties in every warm blooded and probably cold blooded fish fowl lizard or bear out here in the real world. It's no wonder human beings have their fair share. I just don't see why folks who sell these regimens can seriously make claims as above.

I've been on this net a long time and see many many claims of cures however, none of the things that are lauded as "CURES" have ever really cured anything associated with tick borne ailments.

You do what you want with your kids....I gave you my best advice. I am not totally cured either. However, I've still never gotten what I consider a proper amount of certain antibiotic medications or antifungals necessary...nor anti malarial or bartonella like meds to rid me totally of all my symptoms.

I believe I had been helped immensely with the last regimen I reported on when I began that particular regimen but due to the "Donut Hole" plus pharmacy mathematical ignorance when dispersing my bicillin G injectables. Improper follow-ups with diflucan or flucanazole due once again to the "Donut Hole" and my inability to pay the unfairly exhorbitant prices, we as Americans have been forced to pay for our medications. Not to mention other ways I might have thought of getting some help in paying for my proposed regimen(cure)from a country I enlisted for four years because the politicians decided that we had to fight to preserve democracy in a far eastern country(so we would'nt hve to fight the dreaded communists on our own shores. Why!? When I was told I could count on my country to help me as one of the pre-enlistment benefits(I never thought I would ever need)being only 18 years old, nieve, and trusting in my country......well heck, because they're the biggest HMO in the WORLD....and use the types of laboratories that can't even perform the tests properly in the first place, claim a month after I received a positive for Bb all of a sudden it changed to negative.
However, all the nerve pain and fasiculations can't be linked to my exposure to defoliants while on duty up river above the DMZ and Cambodian rivers...classified still "SECRET" along with the pullout and close quarters on board when we brought back he first pullout of 1800 Marines aboard the USS IWO JIMA LPH-2....
The VA claims I don't have lyme disease, exposure to foliants, heck they don't even want to admit I was even there.....where I could have been exposed to WAR itself. According to them I was a radioman...locked up and secluded from any of the outside on the flight deck or inside in the hanger bay of my ship whenever there was a "Medivac Inbounds". The term used whenever pieces of marines either from our Marine Corps or the RVN on other operations of war were disembarked from the CH-46 and 47 helo's were laid out on the elevator of our ship so they could either be put in our freezers or if there was any hope up to sickbay. But gee, they ask me to supply them a "STRESSOR" which would have kicked off PTSD in me....I can't even prove to them whenever the kids at KENT STATE were killed that I freaked out and they had to chemically subdue me before I could settle down....

Why they don't get that information declassified so my shipmates and I as well as all the marines involved in these operations would be allowed to get whatever help or benefits we are lawfully due as a result of our service to our country....

sorry....I rather got off the subject...
I just hate it whenever kids get these diseases and they get lied to....

or....anyone who would place posts on this net to advertise snake oil treatments where people just want good advice come for honest help!

good luck and God Bless....
zman

--------------------
I am not a doctor...opinions expressed are from personal experiences only and should never be viewed as coming from a healthcare provider. zman


---

Posts: 2527 | From safety harbor florida(origin Cleve., Ohio | Registered: Jan 2004 | IP: Logged |

catskillmamala
LymeNet Contributor
Member # 12536


posted

---

My daughter was on antibiotics for almost 2 years starting at age 4 and now she's 7. She's doing great now. She may have had lyme congenitally with a second infection of babesia through tick bite. She really is great today- no more migrating pain, depression, sleep disturbance, severe separation anxiety, eye pain, abdominal pain, headaches, sound and skin sensitivity.

---

Posts: 524 | From Hudson Valley, NY | Registered: Jul 2007 | IP: Logged |

wtl
LymeNet Contributor
Member # 19883


posted

---

Thank you zman for your insides. I am slowly learning from all of you.

My daughter does not have much "symptom", especially compared to my wife. I am fairly certain that she has never gotten bitten from a tick. The only suspicion of her having Lyme and co-infection is that her mother has been very sick since she was pregnant with her, and she later breast fed her after my daughter was born, all happened without any knowledge of Lyme and co-infection.

Some people on this site suggested that my daughter should be tested for Lyme through igeneX but when I brought this up to the llmd this time, he didn't think it is necessary. He thinks the pictures of rash, plus her complaint about her leg pain, and the mother's history is enough for him to treat her.

I am just so scared and confused about where we go from here. After the doctor's visit, I thought I had clear head and was optimistic, but now I worry again about her future, therefore, the question...

catskillmamala - thank you. What you said helps me tremendously. I hope one day I could say the same to other people here. I feel like walking in a dark tunnel without any direction. Every time I thought I figured out something, someone would say something that throw everything upside down all over.

light - I do think my daughter has parasites, and chances of her inheriting her mother's heavy metals and toxins are high. I very much appreciate your links and will take a copy to see my wife's D.O. here who will perform IV chelation to get rid of the toxins. Your link makes me realize how real the toxins can be an issue, along with Lyme and co-infections.

---

Posts: 822 | From midwest | Registered: Apr 2009 | IP: Logged |
Contact Us | LymeNet home page | Privacy Statement

Powered by UBB.classic™ 6.7.3

---
The Lyme Disease Network is a non-profit organization funded by individual donations. If you would like to support the Network and the LymeNet system of Web services, please send your donations to:
The Lyme Disease Network of New Jersey
907 Pebble Creek Court, Pennington, NJ 08534 USA
http://www.lymenet.org/
---
Home | Flash Discussion | Support Groups | On-Line Library
Legal Resources | Medical Abstracts | Newsletter | Books
Pictures | Site Search | Links | Help/Questions
About LymeNet | Contact Us
---
© 1993-2020 The Lyme Disease Network of New Jersey, Inc.
All Rights Reserved.
Use of the LymeNet Site is subject to Terms and Conditions.
---