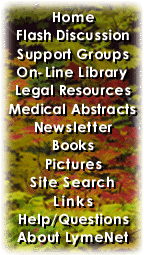 ---
LymeNet on Facebook
LymeNet on Twitter
---
---
The Lyme Disease Network receives a commission from Amazon.com for each purchase originating from this site.
When purchasing from Amazon.com, please
click here first.

Thank you.




Dedicated to the Bachmann Family


LymeNet needs your help:
LymeNet 2020 fund drive

The Lyme Disease Network is a non-profit organization funded by individual donations.

| | |
| --- | --- |
| | |
Author
Topic: How much fruit do you eat and how much is too much?

ChronicOptimist
Member
Member # 25561


posted

---

I've found that due to food allergies, I've been consuming a lot of fruit. I know this is controversial, but I've been doing it to keep my nutrition and weight up. I'm very limited on what I can eat.

So I'm wondering how much fruit you guys typically consume in a day, and how much is "overboard"?

Thank you.

---

Posts: 28 | From United States | Registered: Apr 2010 | IP: Logged |

Keebler
Honored Contributor (25K+ posts)
Member # 12673


posted

---

-
"a lot" can mean different things to different people. What is overboard is if it affects your health with candida, high blood sugar or too loose stools.

Are you on antibiotic treatment? If so, only the low sugar fruits, after a meal - as more sugary fruits promote candida. Olive Leaf Extract is a supplement that can help one prevent or fight candida. Probiotics are also still important.

Actually, the lower sugar fruits are also best as they are lower on the glycemic index and everyone alive is concerned with keeping blood sugar steady.

Dark Berries, Tart Cherries and Tart Apples are the mainstay of those with lyme who can eat fruit. You can do a search for the glycemic index for the fruits you enjoy and see how they match up.

One to two cups a day of berries is typical for me. Maybe an apple or two, also. From what I've heard, 3-5 servings of fruit and 5-7 servings of vegetables a day are best. Organic really matters, too.

Many more servings of brightly colored vegetables. Nuts, too, are great for snacks and to help with energy and keeping weight up.
-

---

Posts: 48021 | From Tree House | Registered: Jul 2007 | IP: Logged |

Hoosiers51
Frequent Contributor (1K+ posts)
Member # 15759


posted

---

I don't consume a lot, but it's just because my body doesn't really gravitate towards more than maybe a cup of frozen berries at night.

Can you eat oils? I would think that would help you keep your weight up. Using coconut oil like butter....putting it on everything like veggies, spreading it on breads, sauteing with it, etc.

I would try to only eat fruit when you have other things in your stomach too, like oils or proteins, to prevent yeast from just fruit in the GI alone.

---

Posts: 4590 | From Midwest | Registered: Jun 2008 | IP: Logged |

Keebler
Honored Contributor (25K+ posts)
Member # 12673


posted

---

-
Protein is required for good muscle mass. More is needed when ill. Protein helps our liver make glutatione, which helps us clear out toxins.

Nutrients from plants and non-gluten grains are helpful and their bulk also helps our body move out toxins.
----------

http://icmr.nic.in/ijmr/2006/august/0804.pdf


THE REQUIREMENTS OF PROTEIN & AMINO ACID DURING ACUTE & CHRONIC INFECTION . . . - 20 pages

Anura V. Kurpad - Institute of Population Health & Clinical Research, Bangalore, India 129. Indian J Med Res 124, August 2006, pp 129-148.

Excerpt:

" . . . In general, the amount of EXTRA protein that would appear to be needed is of the order of 20-25 per cent of the recommended intake, for most infections. . . ."

- Full article at link (or google the title if it does not go through).
-

---

Posts: 48021 | From Tree House | Registered: Jul 2007 | IP: Logged |

ChronicOptimist
Member
Member # 25561


posted

---

Thanks you guys.

For example, today is going to be:

2 Pears

2 Bananas

3/4 cup blueberries

A large chunk of honeydew


I have malabsorption so I do consume a good amount of fat and some protein, but it's just not enough because I don't absorb all of the calories from it. I can't do many of the gluten free grains or nightshades either. Only brown rice.

I'm not on antibiotics, but I'm on homeopathics.

I'm consuming a lot of coconut oil. That's antifungal, right?

Just wondering if I'm doing more damage than helping myself. It's a tricky line to find! I can't afford to lose weight, but I also can't afford to get a yeast infection!

---

Posts: 28 | From United States | Registered: Apr 2010 | IP: Logged |

Keebler
Honored Contributor (25K+ posts)
Member # 12673


posted

---

-
That seems like a normal amount of fruit for an average adult for one day.

Have you tried red and black rice? Millet? Amaranth? Regular quinoa is very easy to digest. It's much softer than brown rice. You can also buy quinoa flakes that turn into a nice hot mush with just hot water added to a mug.

Homeopathics only - or also some herbal & nutritional supplements? Are you new to lyme or have you been at this for a while?

Are you working with an ILADS-educated person who is lyme literate - and who has done lots of study about lyme? Do they have another degree besides one in homeopathy so that you can also have access to different treatment options? Often, it takes someone who has really studied the science of lyme as it's so unique.

For most, it helps to have access to several different modalities, sometimes together, sometimes rotated. Good luck.
-

---

Posts: 48021 | From Tree House | Registered: Jul 2007 | IP: Logged |

ChronicOptimist
Member
Member # 25561


posted

---

Hi again Keebler,

Thanks for the feedback on the fruit. That makes me feel a lot better.

Do a lot of you guys consume the same amount?

I was going to try wild rice, but I like your idea of black and red rice better. Unfortunately, I get a rash when I even touch Quinoa, which is such a shame because it's so nutritious. I can't do the other grains either.

I'm not on herbs right now, but I'm on homeopathics right now and a few supplements. I'm not new to the lyme world...been at it for a few years now. I have a wonderful doctor, thank you for asking

I definitely agree about treating with different modalities. We kind of alternate what avenue I'm using every 3-4 weeks. This stretch is detox/homeopathics.

---

Posts: 28 | From United States | Registered: Apr 2010 | IP: Logged |

feelfit
Frequent Contributor (1K+ posts)
Member # 12770


posted

---

Hey ChronicOptimist I'm really Fruity, seriously, I eat a lot of fruit...melon, 2 bananas, strawberries, pineapple, oranges, green apples, berries on a daily basis.

I do eat them mixed in yogurt or a kefir smoothie though...so getting probiotics along with the fruit....

Knock on my melon, no yeast issues here.

Good luck....oh and i do the coconut oil too

feelfit

---

Posts: 3975 | From usa | Registered: Aug 2007 | IP: Logged |

ChronicOptimist
Member
Member # 25561


posted

---

Hi Feelfit

I feel better now, thank you.

My coconut oil makes me feel safer too, like your yogurt and probiotics probably make you feel safer. I figure, "if the fruit is causing a yeast issue, then the coconut oil is killing it!" Let's go with that theory with your keifer too.

Just had a fantastic honeydew. Highly recommended. Enjoy your melons!

---

Posts: 28 | From United States | Registered: Apr 2010 | IP: Logged |

Lymetoo
Moderator
Member # 743


posted

---

To keep yeast at bay, it's best to only have one piece of fruit per day. Apples are good.. Granny Smith apples are best... they have less sugar than most fruits.

I never got ANY help from coconut oil.

Hope you are on a good probiotic.

--------------------
--Lymetutu--
Opinions, not medical advice!


---

Posts: 95340 | From Texas | Registered: Feb 2001 | IP: Logged |

Keebler
Honored Contributor (25K+ posts)
Member # 12673


posted

---

-
He's not on antibiotics, though, so I'm assuming candida should not really be an issue. (Unless, you have been on them recently and the anti-candida measures did not work.)

If abx are started at any time, TuTu's advice is good to follow. Not sure if you're all done with abx, nearly better or not even started yet with treatment.

If abx are in your future, your LLMD will share diet advice for an anti-candida diet.

I also never got any help from coconut oil. If you find you need more - Olive Leaf Extract is one to consider.
-

---

Posts: 48021 | From Tree House | Registered: Jul 2007 | IP: Logged |

Remember to Smile
Unregistered



posted

---

Wow, that's a LOT of fruit! Tutu is right on. I believe one pear is 2 servings, 1 banana may be more than a serving if it's large. A serving of blueberries is one cup.

When you're sailing along okay, it'd be better from a yeast/glycemic view to eliminate bananas. Not enough fiber. That's why bananas work well on the BRAT diet for those coming off of a fast or bad bout of diarrhea. (BRAT = Bananas, Rice, Applesauce, Toast).

Try substituting organic apples and cantaloupe (need not be organic) instead of bananas & honeydew to get more fiber. I like almond butter on apples or walnuts with an apple in the car. Most apples are 2 servings of fruit, so I look to buy small ones. Pears are good with pecans and/or cottage cheese. Eat more blueberries, pomegranates, and organic strawberries. Try fresh pineapple on occasion.

Oranges are too acidic and too low fiber, so should be avoided.

Somehow, you're "getting away with" eating lots of fruit rather than more veggies. At some point, you may need to transition to more veggies. Try to have broccoli at least 2x/wk. Brussel sprouts are very good, too. So easy to buy frzn, pop in microwave, and drizzle with oil or Bragg's liquid aminos.

My PCP urged me to "Have a green salad every day!" when I started gaining weight. I buy containers of organic mixed greens (to make starting a salad not too overwhelming). I alternate different nuts on top, and sometimes bits of apple or pear.

Pau 'd Arco tea and/or capsules help me combat yeast overgrowth.

I hope this helps. Best wishes,
Smile

---

IP: Logged |

ChronicOptimist
Member
Member # 25561


posted

---

Thanks for the advice you guys.

You're right about bananas. I'm trying to actually cut them out because they're binding.

I eat broccoli every 3rd day, 2 whole heads of it! I have at least 8-10 servings of vegetables a day. Veggies with every meal.

I can't have any nuts, which makes this difficult. No dairy either. I'm allergic.

Antibiotics might be in my future, but I have no been on them recently and am not well enough for them right now. I'm not on probiotics, but I was on florastor for a while.

How much coconut oil were you guys taking/using? I think coconut oil is pretty amazing. I use it at almost every meal in 1-2 tsp portions, and I have 7 meals a day. So I'm guessing it evens out to about 3-4 tablespoons a day.

Today's fruit:

3/4 cup apricots
1/2 of a gigantic papaya (probably a pound of papaya!)
1/4 of a small watermelon
5 Stewed Prunes

---

Posts: 28 | From United States | Registered: Apr 2010 | IP: Logged |

Keebler
Honored Contributor (25K+ posts)
Member # 12673


posted

---

-
Since you are not on lyme treatment that prevents you from eating fruits, you might consult some other nutrition books as no one here will be familar with these kinds of fruits. And - it may also cause others envy and a sense of loss - like sharing cake recipes when that is totally off the menu.

You may not have to be concerned with candida as you're not taking antibiotic Rx or herbs - but nearly everyone else here is so you will not find the kind of advice on the nutrition of various fruits with this bunch.

Very dark berries and tart apples are what most here have to stick to regarding fruit. All the other fruits just have too much sugar for lyme patients who are on treatment, because candida is an issue. So, you need to consult other sources for advice on this. It's just not on the menu for most of us here.

Even if antibiotic-free, you will need probiotics daily. Everyone does. Every day. You can get probiotics in foods, too. Miso soup is good.

Be sure to keep in mind the GLYCEMIC INDEX. CINNAMON on the apricots and will help. The prunes, after a meal and cinnamon will also help there.

We still need to maintain a low glycemic balance, even if not on abx and if candida is not an issue.

All of the fruits on your list today are very high on the glycemic index. As for papaya - maybe 1/2 cup is the best serving size. That would be about 1/4 of a pound.

I assume the apricots are fresh. Otherwise, 2 dried apricots would be the limit for anyone (dried fruit has much more sugar).

I assume that you eat your fruits with your veggies - and with your meal that contain proteins and fats. That is best to maintain balance with blood sugars.

Lyme patients are more prone to acquiring diabetes, so be sure to read up on how to maintain a good glycemic balance.

From just my instinct, based on what I've read, I am concerned that 3-4 tablespoons a day of coconut oil is far too much oil for anyone's body. It's also 300 - 400 calories and that can be nearly a fourth (or one fifth) of one's daily calorie intake, bumping out other foods that are necessary.

If you want to gain weight, it's best from proteins and complex carbs that have lots of nutrients. Amino acids are the building block of muscle and you'd want to gain muscle weight, not fat weight. Fats are to be a very small amount, in proportion.

If to help prevent or control candida, then the fruits should be definitely be contained to just dark berries and tart apples. In my book, Olive Leaf Extract is a far better systemic anti-candida measure than coconut oil.

You say you are limited in foods for some reason. It may well be that a gluten-free diet would help. Not sure if you've gone that way yet but many LLMDs want their patients to be gluten-free as it helps so much in many ways.

Good luck as you refine your culinary options. You might look up the website for "Christina Cooks"
-

[ 04-24-2010, 04:08 PM: Message edited by: Keebler ]

---

Posts: 48021 | From Tree House | Registered: Jul 2007 | IP: Logged |

ChronicOptimist
Member
Member # 25561


posted

---

Hi Keebler. Thanks for the input.

Hmm. How much oil/fat is "normal" or "healthy" for a person to consume?

I'm gluten free, dairy free, grain free (aside from brown rice, because I'm allergic to all others), nut free, corn free, sugar free, shellfish free, poultry free and so on...all due to food allergies. I've recently been working on re-mapping my diet, but obviously I'm having some trouble figuring it out.

I've lost all fat and all muscle, so now I'm down to skin and bones. It's hard for me to get in a ton of animal protein because my digestion is so poor. I eat it once a day, but that leaves the rest of the day's calories open for fats, brown rice, veggies and fruit.

I need to look for someone websites that explain this, I think.

---

Posts: 28 | From United States | Registered: Apr 2010 | IP: Logged |

Keebler
Honored Contributor (25K+ posts)
Member # 12673


posted

---

-
Well, maybe I was too quick to say that was too much coconut oil. I can't read the first web site due to their awful spacing and harsh color contrast. My eyes just went into spasm right off the bat.

I do trust Mercola. Thanks for that link.

Still, you might look at what a couple other whole foods nutritionists recommend. I still think that is too much oil from just one source. Olive oil, nut oils, fish oil, also needs to be in our diet. And that is just my opinion. No food should be consumed day in and day out.

Somehow, you are going to have to get more protein. You need it 3 - 5 times a day. There is no way you can build muscle without it. Can you eat Beans, Tofu or Tempeh? Fish? Sardines? Eggs? Lamb?

One egg has 6 grams of protein. A 3-egg meal will give you what you need for about 1/3 of your days' requirement.

If you can't eat some nuts due to allergy, can you eat others?

WHEY protein powder, if from cows that do not have any exposure to chemicals and are grass fed, can be good but no protein powder will give you the complete nutrients that real whole food can.

If digestion is a problem, you may just have to turn your food into baby food. Puree everthing, even meats. Beans (and lentils) are great pureed. Get an immersion blender (handheld. Stainless, not plastic). Somehow, you have to get muscle building foods into you. Fruits and oils are not nearly enough. Veggies help but, again, are not enough.

Quinoa is a good source. If you can digest brown rice, you should be able to digest Quinoa. It is the highest amino acid content of all the non-gluten grains (so it's protein content is very valuable). Quinoa is far more nutritious and lower glycemic value that brown rice.

Red and Black rices, too, are far better nutritional deals. Wild rice, too. Millet and amaranth also have value and are very easy to digest.

But, the main point is that PROTEIN packed foods (either high protein plants/legumes - or meats/fish) are required every few hours.

I don't think you stand a chance with protein just once a day.
-

---

Posts: 48021 | From Tree House | Registered: Jul 2007 | IP: Logged |

ott70
LymeNet Contributor
Member # 18237


posted

---

I have trouble wrapping my mind around fruit being bad for you, unless there is some allergic reaction that gives it a good reason. Well, not "bad for you", but at least just being a food that should be avoided under certain conditions.

The way I see it, fruit and veggies and whole grains are all God-given sustenances on this green earth and that's what we should be eating. I know I don't eat enough whole foods.

---

Posts: 194 | From Colorado | Registered: Nov 2008 | IP: Logged |

Keebler
Honored Contributor (25K+ posts)
Member # 12673


posted

---

-
www.christinacooks.com

CHRISTINA COOKS - Natural health advocate/ chef, Christina Pirello offers her comprehensive guide to living the well life.

Vegan, with a Mediterranean flair. Organic.

She was dx with terminal leukemia in her mid-twenties. Doctors said there was nothing more they could do. Among other things, she learned about complementary medicine and she learned how to cook whole foods. She recovered her health and is now a chef and professor of culinary arts.

She has program on the PBS network "Create" a couple times week. Check your PBS schedule.

==================

www.rickbayless.com

Rick Bayless is a very good chef for MEXICAN meals that are healthy.

====================

http://www.spoonfulofginger.com/

Spoonful of Ginger site

Books: http://www.spoonfulofginger.com/pages/books.php

A SPOONFUL OF GINGER (1999)

From Nina Simonds, the best-selling authority on Asian cooking, comes a ground-breaking cookbook based on the Asian philosophy of food as health-giving. The 200 delectable recipes she offers you not only taste superb but also have specific healing . . . .

. . . With an emphasis on the health-giving properties of herbs and spices, this book gives the latest scientific research as well as references to their tonic properties according to Traditional Chinese Medicine and Ayurveda, the traditional Indian philosophy of medicine. . . .

You can find this at Amazon, too.

=========================

http://www.simply-natural.biz/Cure-Is-In-The-Kitchen.php

THE CURE IS IN THE KITCHEN, by Sherry A. Rogers M.D., is the first book to ever spell out in detail what all those people ate day to day who cleared their incurable diseases . . .

==========================

http://www.ecookbooks.com/p-4293-from-curries-to-kebabs.aspx

FROM CURRIES TO KEBABS - RECIPES FROM THE INDIAN SPICE TRAIL - by: Jaffrey, Madhur

==========================

You might also explore a variety of books on Macrobiotic Diet and on the Mediterranean Diet/

==========================

http://www.lotusfoods.com/?hbtype=ppc&hbv1=google&hbv2=lotus&gclid=CK6SrI2yoKECFR5rgwodIkHPyA

Lotus Foods - many varieties of rice. My favorite:

http://www.lotusfoods.com/Organic-Forbidden-Rice/p/

[email protected]



Organic BLACK FORBIDDEN RICE ®

==========

From Wiki's site:

Black rice is one of several black-colored heirloom plants producing rice variants such as Indonesian Black Rice, Forbidden Rice.

High in nutritional value, black rice is rich in iron. Unlike other black rice from Asia, it is not glutinous or rough. This grain is high in fiber and has a deep, nutty taste. Black "forbidden rice"-so named originally because it was considered the Emperor's rice and was literally forbidden for anyone else to eat it.

It is a deep black color and turns deep purple when cooked. Its dark purple color is primarily due to its high anthocyanin content [1] [2]. [poster's interjection: anthocyanins are antioxidant flavonoids, protective in many ways]

It has a relatively high mineral content (including iron) and, like most rice, supplies several important amino acids. . . .

-----------

http://www.lotusfoods.com/Stainless-Steel-Rice-Cooker/p/

[email protected]



Stainless Steel Rice Cooker (no plastic).

========================

www.quinoa.net

QUINOA history, harvest photographs, recipes, and sales . . . .

========================

WHEY "ImmunoPro RX" for a good source of Whey Protein powder. Whey helps boost glutathione levels, but other proteins also do that.

HEMP Protein Powder is highly nutritious in ways that are very different from Whey.
-

[ 04-24-2010, 08:09 PM: Message edited by: Keebler ]

---

Posts: 48021 | From Tree House | Registered: Jul 2007 | IP: Logged |
Contact Us | LymeNet home page | Privacy Statement

Powered by UBB.classic™ 6.7.3

---
The Lyme Disease Network is a non-profit organization funded by individual donations. If you would like to support the Network and the LymeNet system of Web services, please send your donations to:
The Lyme Disease Network of New Jersey
907 Pebble Creek Court, Pennington, NJ 08534 USA
http://www.lymenet.org/
---
Home | Flash Discussion | Support Groups | On-Line Library
Legal Resources | Medical Abstracts | Newsletter | Books
Pictures | Site Search | Links | Help/Questions
About LymeNet | Contact Us
---
© 1993-2020 The Lyme Disease Network of New Jersey, Inc.
All Rights Reserved.
Use of the LymeNet Site is subject to Terms and Conditions.
---