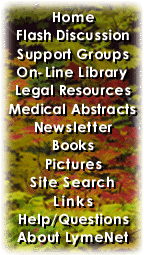 ---
LymeNet on Facebook
LymeNet on Twitter
---
---
The Lyme Disease Network receives a commission from Amazon.com for each purchase originating from this site.
When purchasing from Amazon.com, please
click here first.

Thank you.




Dedicated to the Bachmann Family


LymeNet needs your help:
LymeNet 2020 fund drive

The Lyme Disease Network is a non-profit organization funded by individual donations.

| | |
| --- | --- |
| | |
Author
Topic: Babesiosa and Larium

table1
Member
Member # 26463


posted

---

Have had LD for 25 years. Now on Doxy daily and Larium once per week. About 48 hours after I take the Larium I get sick...this time with heart skipping,palpatations. Is this OK? Should I stop taking the Larium? Thanks,

---

Posts: 12 | From San Francisco East Bay | Registered: Jun 2010 | IP: Logged |

sixgoofykids
Moderator
Member # 11141


posted

---

It sounds like a herx. You might talk to your doctor to be sure, but sounds like a herx to me. Those are babesia symptoms, and Lariam treats babesia.

Welcome to the board!!

--------------------
sixgoofykids.blogspot.com


---

Posts: 13449 | From Ohio | Registered: Feb 2007 | IP: Logged |

table1
Member
Member # 26463


posted

---

Thanks for responding! Let me clarify: I took the initial dose of 5 tablets two months ago and am now on 1 Larium tablet weekly. After the first dose, I thought I was dying and told my friend to call the priest, that's how sick I was. Dr. said it was herx.
I am still getting sick when I take it - not as sick, but sick. Is it normal to keep herxing fromit? Can't live like this; have to work and am considering going off all medication. Please advise me.Thanks!

---

Posts: 12 | From San Francisco East Bay | Registered: Jun 2010 | IP: Logged |

Haley
Frequent Contributor (1K+ posts)
Member # 22008


posted

---

HI Table,

Larium is a strong medicine. I still have it on my counter because of all the stories I've heard about how bad the herx is. One person said it can cause temporary psychosis!

What was your initial herx symptoms?

No one here can tell you whether or not to go off a medicine. I go with my gut feeling. If I feel a medicine is doing harm I'll back off until I can check with my doctor.

It does sound like a herx but who knows.

---

Posts: 2232 | From USA | Registered: Aug 2009 | IP: Logged |

table1
Member
Member # 26463


posted

---

Thanks for answering!I've told my LD doc how sick it's making me many times and his response is that it's probably a herx.
My issue is that I can't work with being this sick and, after 25 years of Lyme, I'm fed up. I've been with two famous LD docs for fifteen years so it's not as though I haven't gotten treatment. But the Larium is only making me sick so I'm just going to go off it. I can't afford the Mepron, which, with my Anthem is $750 for the first bottle.
I figure I can't get any more sick without treatment or maybe I can but at least I'll be able to earn my living if I go off the meds.
BTW, how do I change my profile so I'm not a junior member???

---

Posts: 12 | From San Francisco East Bay | Registered: Jun 2010 | IP: Logged |

Sammi
Frequent Contributor (1K+ posts)
Member # 110


posted

---

table1, how long do you feel sick after you take Larium? Does it last for days? Maybe you could change the day you take it?

You said you are not getting as sick as you did before. This is the normal progression of treatment--herxes become less severe over time.
Herxes from Babesiosis can be severe for some people. I have had some doozy ones also.

From what I understand, Babesiosis needs to be treated for a minimum of four months although longer treatment is not unusual.

I just started Larium recently, so I don't know yet how it will affect me. I did not take the loading dose. I take one pill every five days.

I hope things let up for you soon.

---

Posts: 4680 | Registered: Oct 2000 | IP: Logged |

sparkle7
Frequent Contributor (5K+ posts)
Member # 10397


posted

---

I hate to post this but you do need to know if you are taking this...

http://www.cbsnews.com/stories/2003/01/27/60II/main538144.shtml

(CBS) Last summer, four soldiers from Ft. Bragg were accused of killing their wives. Two of the men committed suicide, and the other two await trial. So many brutal crimes, so similar, so close in time - raised questions, and the army sent a team to investigate.

One possible suspect was mefloquine - brand name Lariam, an anti-malarial drug. It was invented by the U.S. Army and is routinely given to soldiers deployed overseas. In scientific terms, Lariam can cause neuropsychiatric adverse events. In plain language, it can make lose your mind. No one questions Lariam's effectiveness in preventing the deadly disease of malaria. Millions of tourists and other world travelers have taken it with no problem.

But a significant number of people have seen and felt first hand its devastating side effects. Vicki Mabrey reports.

It was supposed to be a dream vacation, a safari to Kenya a year and a half ago for Dr. Robert Daehler and his wife Jane, seen here on home video. What you won't you see is how, deep in the African bush, she suddenly transformed before his eyes.

``She just became completely psychotic in the van,'' says Bob. ``(She) started taking her clothes off and she had called people back from the dead. And they had a doctor at this lodge that came into the van. And she looked at Jane and she said, `Did she take Lariam?' She said she had seen this in many Americans.''

So had three other doctors in Africa, who confirmed the diagnosis. Jane Daehler was flown home, strapped to her seat with a bedsheet. At home, she spent a month in a psychiatric hospital, in and out of psychosis, with terrifying hallucinations. At the U.S. hospital, she was diagnosed with Lariam-induced psychosis.

"They were just horrific. I thought that people were trying to kill me all the time. I thought that my family was going to be killed,'' says Jane.

According to its own internal documents, Roche pharmaceuticals, Lariam's maker, has received over 3,000 reports of psychiatric problems associated with the drug, from nightmares, depression and hallucinations to paranoia, psychosis and aggression.

But could Lariam lead to something worse? That was the question raised last summer when Master Sgt. William Wright and three other Ft. Bragg soldiers were accused of killing their wives, all within a period of just under six weeks. Wright and another soldier were given Lariam, and Wright is considering using that as part of his defense. One of his fellow Green Berets thinks Lariam did play a role. John Lown, now an ordained minister, visits Wright in jail every week.

At first, Lown says, Wright was ``very confused, he was very paranoid, and I was like `Wow this is not the Bill that I knew.'... About the fifth week after that, he was, he was coherent. He was fine. He even said, `Well, I'm thinking a lot better now.'''

What does Lown think caused his change? ``I think it was the medication. It took about two months for the stuff to clear out of your system.''

Lown and his unit had names for the days they took Lariam: ``Everybody would call it manic Mondays or wild Wednesdays.''

His wife, Debbie, says she'd see an immediate change when he was on Lariam: ``He just turned ugly towards me... And when I mentioned that to other wives, they said that's the way their husbands are as well.''

The other wives told her that while on Lariam, their husbands ``were very negative, aggressive. Couple of them even complained how they'd be woke up in the middle of the night, shook, be called names. One running down the street without his clothes on, hollering, screaming.''

How does she know it just wasn't the stress of the job? ``He's been on other deployments where Lariam was not required and he didn't have these kind of problems,'' says Debbie.

Like her husband, Debbie Lown is convinced Lariam was a factor in some of the Ft. Bragg murders. She had even complained to military authorities as far back as 1996.

``I said, `I'm not asking you to stop giving them the Lariam. I'm just asking you to better inform the soldiers of what they're taking, tell their wives, because they'll save marriages that way, they'll save lives that way,''' she recalls.

Jane Daehler agrees that knowing it is the Lariam can make all the difference. ``If it wasn't for (my husband), I honestly think that somebody could have put me in a mental institution and thrown away the key.''

Before the trip, her husband, a physician, says he was careful, since his wife had been treated for depression in the past and was on what he says was a low, preventative dose of Prozac. He checked with a travel clinic, the Centers for Disease Control website, and his physicians drug guide.

The information was written by drug companies for doctors and approved by the Food and Drug Administration. The key part is the warning section, which states: ``Lariam should not be prescribed in patients with active depression or with a history of psychosis or convulsions."

``That's what I read,'' says Bob. ``And Jane did not have active depression. She did not, it was 10 years earlier. She did not have psychosis ever. She never had seizures.... Nor did I. There was no reason why either of us couldn't take this drug.''

But what was not in the warning section, what may have raised a red flag for the Daehlers are these disturbing side effects, depression, hallucinations, psychotic or paranoid reactions, aggression, all listed towards the end.

``They buried the lead. They took the important information that would've tipped off a doctor, and stuck it down there in a part that's not part of the warnings,'' says attorney Bernard Fischman, who represents the Daehlers in a lawsuit they've filed against Roche. Fischman argues that the company failed to properly warn them.

Can't Roche argue, that the information is there? ``It doesn't call any attention to the real nature of this problem. There's no mention of psychiatric problems under the warning section of that package insert,'' says lawyer Paul Smith, who is also representing the Daehlers.

``There's alternatives that can be taken, there's just no reason that americans should be taking Lariam,'' says Bob Daehler.

Doxycycline, a common antibiotic, and malarone, approved two years ago, are both effective in preventing malaria and have fewer psychiatric side effects than Lariam.

Roche, the drug company, claims that Lariam causes serious psychiatric side effects in only one in 10,000 people. But Dr. Paul Clarke, an infectious disease specialist and the medical director of a large network of travel clinics in Great Britain, organized his own study, after he and other British doctors saw problems with much greater frequency.

``It was confusion, it was disorientation, it was anxiety and panic attacks,'' says Clarke. ``There were episodes in which people were clearly divorced from reality and indeed had unusual symptoms that could be described as psychotic.''

Their research confirmed the hunch. Not one in 10,000, but closer to one in a 140 suffered disabling side effects, defined as substantially disrupting their lives - the same kinds of side effects that Dr. Clarke had seen in his patients.

Why such a huge difference in the numbers? Because of the key difference between the term ``disabling'' in Dr. Clarke's study and the term ``serious'' as used by the drug company. In Roche's study, serious meant you had to be dead, in the hospital or have a long-term disability to count. It's an industry standard all drug companies use, but with that narrow definition, Dr. Clarke says, Roche's study may have failed to identify up to seventy times more patients with troubling side effects.

Based in part on Dr. Clarke's study, British authorities began to recommend using Lariam less often. Despite his concerns, though, he still says Lariam can be a useful drug.

``It's very easy to take once a week, it gives you very good protection, you get good compliance. And if you've taken it in the past and never had a problem with it I, for one, would be very sorry to see it go, because it's a good drug,'' he says. He only wants people to be better informed.

60 Minutes II asked both the FDA and the CDC about how well the American public is informed of Lariam's potential dangers. But both government agencies chose not to do an interview. The FDA did send a statement, saying that Lariam's benefits far outweigh its risks.

Roche also declined a request for an interview, but sent a statement saying, in part, that no prescription drug is free of side effects.

Roche also said there's no way for a physician to predict every person at risk for psychiatric side effects. Linda Perry considers her husband a perfect example of that.

In 1998, Linda and Chuck Perry left their Midwest ranch and their seven children to go on an African safari for their 30th wedding anniversary. Linda, a registered nurse, checked with her doctor, her pharmacist, and the local health department. For malaria protection, they all recommended Lariam.

``The first warning I ever got was from the safari guide in Africa,'' says Linda. ``She says to me, `Well, why do you take Lariam?' It's a hallucinogen very much like LSD.' And I said, `the CDC recommends it.' And she said, `Well, we never take it.'''

After four doses of Lariam, the Perrys were having night sweats and vivid nightmares. But everyone, including the CDC, had stressed taking the full dose of the drug, which meant taking it for four weeks after the trip. That's when Chuck Perry's real problems began.

"(He) didn't know where he was. I mean, he ran out in the yard," Linda Perry says. "I can remember tackling him in the yard saying, 'What are you doing? What are you doing?' you know. (He said) 'The neighbors are after me, somebody's after me.' And it was just bizarre.

Linda Perry says her husband had no prior history of depression or mental illness. Chuck Perry was hospitalized and tested repeatedly. A team of doctors became convinced that Lariam was responsible. Linda says that the doctors didn't know how to help him. Six months after returning home from Africa, Chuck Perry committed suicide.

``We had no way to know that this drug would be so powerful that it could alter his personality so much and damage him so much that he would, in fact, do that in some type of delusion or hallucination. That's what we didn't know,'' says Linda Perry.

But Roche did know something about Lariam and suicide. Over the past year, two UPI reporters, Dan Olmsted and Mark Benjamin, unearthed internal documents. They show that by the time Chuck Perry killed himself, the company knew of at least seven suicides, and 13 suicide attempts, by people living outside the United States - all associated with Lariam. But nowhere in its product information was there any mention of the word suicide.

After two years of trying to attribute Chuck Perry's suicide to other causes, Roche settled a wrongful death suit with Linda Perry last May.

Two months later, Roche dramatically changed its product information. Psychiatric side effects are now in the warning section, including, for the first time, rare cases of suicide.

But Roche says there is no proof linking its drug to suicide, and points out that Chuck Perry is the only reported American suicide of the more than five million who have taken Lariam in the U.S. that doesn't address the other suicide reports outside the United States, but Roche says those cases are well below the suicide rate in the general population. Roche declined to give current figures, saying that accurate numbers on all reported events are hard to come by.

Says Dr. Paul Clarke: "What is not clear is, how many people may have been permanently damaged, if any, or indeed may have gone as far as a psychotic episode, which might've led to some other ghastly accident."

But could it have led to murder at Ft. Bragg? In early November, the Army released its findings, which said that Lariam, in the army's words, does not explain the clustering of violent deaths there. As a result, the military probably won't change its policy on Lariam's use.

Should it be given to soldiers with guns? Says Clarke: ``I would not give it to them. Because we do have alternatives and we do know they're effective.''

Unlike the U.S., Great Britain, Germany and Australia did not give their soldiers Lariam in Afghanistan, opting instead for those alternatives. But as the United States prepares for the possibility of war with Iraq, some American troops are already being given Lariam.

------

I remember reading some bad stuff about Larium so I looked it up for your guys. I didn't read the whole article since I'm not taking it. I read enough to know that it's possibly bad news.

I wouldn't take it unless it was life or death.

---

Posts: 7772 | From Northeast, again... | Registered: Oct 2006 | IP: Logged |

Haley
Frequent Contributor (1K+ posts)
Member # 22008


posted

---

Wow, I don't think I'll be taking this.

---

Posts: 2232 | From USA | Registered: Aug 2009 | IP: Logged |

sparkle7
Frequent Contributor (5K+ posts)
Member # 10397


posted

---

More -

from Wikipedia

http://en.wikipedia.org/wiki/Mefloquine

Side-effects

Mefloquine may have severe and permanent adverse side effects. It is known to cause severe depression, anxiety, paranoia, aggression, nightmares, insomnia, seizures, birth defects, peripheral motor-sensory neuropathy,[3] vestibular (balance) damage and central nervous system problems.[4]

Central nervous system events occur in up to 25% of people taking Lariam, such as dizziness, headache, insomnia, and vivid dreams.[5] A This American Life broadcast entitled "Contents Unknown" tells the story of an American who lost his memory while working in India as a result of mefloquine prophylaxis.[6]
[edit]

Neurological activity

In 2004, researchers found that mefloquine in adult mice blocks connexins called Cx36 and Cx50.[7] Cx36 is found in the brain and Cx50 is located in the lens of the eye. Connexins in the brain are believed to play a role in movement, vision and memory, probably because they help synchronise neural activity.[citation needed]
[edit]

---

Posts: 7772 | From Northeast, again... | Registered: Oct 2006 | IP: Logged |

Sammi
Frequent Contributor (1K+ posts)
Member # 110


posted

---

If you read past posts here, you will see many have taken this without any problems.

---

Posts: 4680 | Registered: Oct 2000 | IP: Logged |

sparkle7
Frequent Contributor (5K+ posts)
Member # 10397


posted

---

Sammi - that may be true but do you want to be a statistic (I mean in the negative sense)?

How do you know that you will be OK & that this drug will not cause harm to you or a loved one?

---

Posts: 7772 | From Northeast, again... | Registered: Oct 2006 | IP: Logged |

asummers
LymeNet Contributor
Member # 18068


posted

---

I have been taking Larium for 4 months with no psychiatric side effects.

My LLND stated that if I didn't have any previous psych problems, that I shouldn't have a problem with Larium -- so far she is right.

---

Posts: 379 | From Sydney, Australia | Registered: Nov 2008 | IP: Logged |

LymeXtu
LymeNet Contributor
Member # 24590


posted

---

Our LLMD had my son on this but after 4 months pulled him off of it, he said it should not be taken long term because of these problems.

My son never had any problems on it and it did seem to alleviate the air hunger he had from Babesia, so far the symptoms have not come back.

---

Posts: 448 | From minnesota | Registered: Feb 2010 | IP: Logged |

sixgoofykids
Moderator
Member # 11141


posted

---

You won't be a junior member when you post more. That status has to do with how many posts you have made.

I think it can do that .... as you know, two months is not long in Lyme treatment. I'd say it's obvious it's reaching something.

--------------------
sixgoofykids.blogspot.com


---

Posts: 13449 | From Ohio | Registered: Feb 2007 | IP: Logged |

rks
LymeNet Contributor
Member # 24316


posted

---

I think I'd go for an alternative rather than taking the Larium. Why take the chance when you have better options.

I'd hate to imagine how it would affect someone (like me) with Lyme, Babs, and Bartonella, yikes!

But, I would guess it wouldn't be given to anyone with Bart, at least I hope it wouldn't.

The bartonella rages can be bad enough. I'm glad to have this info.

Thanks for posting it Sparkle7!

---

Posts: 217 | From Earth | Registered: Feb 2010 | IP: Logged |

WildCondor
Unregistered



posted

---

I would keep going with it, and eventually the herxing will get less and less over time, make sure you do treat 4-6 months! Larium is awesome for babesia if you can tolerate it and get no side effects so if it is working I would keep it up!

---

IP: Logged |

valeriedc
Member
Member # 24950


posted

---

I've been taking Lariam for 6 weeks with some dizziness, mainly when I stand up and only when I'm tired. Its the only babs med (out of three) I've made progress on.

Benefits and risks occur with each med and some herbs, etc. Each person has to make her own decision.

---

Posts: 72 | From washington dc | Registered: Mar 2010 | IP: Logged |

sparkle7
Frequent Contributor (5K+ posts)
Member # 10397


posted

---

Alot more people have died from drug side effects, errors, etc. than from herbs. An herb can make a person sick or one can have an allergic reaction but it's usually not a permanent thing.

If there's an alternative - I would try that before taking Larium. Some of the side effects are the same things as herxing. If you were not familiar with them - you may not know until it's too late.

For the people who liked Larium, did you try any alternatives first? How do you know if they wouldn't have been as effective? There really aren't any studies about all of this in regards to treating babesia - that I know of.

From what I've read, babesia can relapse 18 months after treatment.

---

Posts: 7772 | From Northeast, again... | Registered: Oct 2006 | IP: Logged |

Sammi
Frequent Contributor (1K+ posts)
Member # 110


posted

---

sparkle7, I research every med before I take it. Several months ago, I read the study you posted. I also saw the piece 60 Minutes did on Larium a few years ago. I am well aware of its side effects.

Thankfully, I do not have any psych symptoms from Lyme otherwise I doubt this drug would be recommended for me. My doctor does not prescribe the loading dose that is sometimes prescribed, and he has not seen any problems with it. I see one of the best Lyme doctors in the country.

I have tried all other Babesiosis protocols. They seem to work for a while or they lessen the severity, but it always comes back.

I plan on posting my results with this drug after I have been on it for a significant amount of time.

---

Posts: 4680 | Registered: Oct 2000 | IP: Logged |

sparkle7
Frequent Contributor (5K+ posts)
Member # 10397


posted

---

I think there may be more issues here than "only" psyche issues. This parasite can relapse over long periods of time from what I've read.

Whatever treatment we do, it has to be sustained for a long period of time. I wouldn't feel safe taking this drug over a long period of time. Look at some other drugs that they found out cause death, cancer, & other disabling side effects. Some of these didn't come out into view until many years later.

I would be cautious of the safety of this drug. Just my humble opinion. We are mostly all adults & we can decide on the risks we want to take. I don't blame anyone who wants to continue with it - it just wouldn't be on my list of potential things to take.

---

Posts: 7772 | From Northeast, again... | Registered: Oct 2006 | IP: Logged |

table1
Member
Member # 26463


posted

---

Hello everyone:
I posted originally about Larium. I've had LD for 25 years.
My main continuing side effect (if it is a side effect) from Larium is heart palpitations and heart skipping. I see a famous LD doc who has not returned either of my phone calls, even though I told him I was having scary heart problems that made it hard to breath.
Time to find a new doc here in SF!
Any ideas, please let me know.
Thanks!

---

Posts: 12 | From San Francisco East Bay | Registered: Jun 2010 | IP: Logged |

joshzz
LymeNet Contributor
Member # 23526


posted

---

I think sometimes we just have to answer the following question in our mind, "Which is worse the herxs or the disease."

As far as I'm concerned it's the disease.

Many have said on various forums, "I hate the herxheimer reactions and I'm thinking about stopping meds"

Problem with that is, the person is just going to get sicker and sicker off of meds. When he or she eventually goes back to taking antibiotics.. and there will be such a time - that person is going to experience much more severe herxheimer reactions than he ever had in the past.

Unfortunately, the road to recovery is a very long and gruesome journey - our doctors serves as our guides and they do the best they possibly can.

It's hard I know - I've had it since around 1990 but things get better even when we're not cured.

---

Posts: 107 | From new jersey | Registered: Dec 2009 | IP: Logged |

blinkie
Frequent Contributor (1K+ posts)
Member # 14470


posted

---

are you taking T3 or cortisol? Sometimes, treating infections can cause your thyroid and adrenals to come back online. Taking T3 or cortisol in excess can cause bad heart symptoms.

This happened to me during one treatment phase. Stopped the T3 and adrenal support and heart issues went away.

Also, check your PM's.

---

Posts: 1104 | From N.California | Registered: Jan 2008 | IP: Logged |

sparkle7
Frequent Contributor (5K+ posts)
Member # 10397


posted

---

re: "Which is worse the herxs or the disease."

With Larium, this isn't really the issue. It's important to be able to tell if you are having a side effect or herx. Sometimes people don't know or can't tell.

A herx is something most people want to experience since it's usually an indication that we are hitting something & we will, hopefully, improve. If people experience a worsening of symptoms & it's a side effect of a drug, it doesn't mean that improvement is occurring.

It's difficult to tell the illness from herxing & drug side effects. This is why we have to be careful with drugs that can cause adverse health problems. People may go along with side effects thinking that it's a herx when it's not. This can lead to all sorts of serious problems in addition to the original illness.

---

Posts: 7772 | From Northeast, again... | Registered: Oct 2006 | IP: Logged |

table1
Member
Member # 26463


posted

---

Thank you, everyone for your input on Larium and also herxes.
Since I've had LD for 25 years I am familiar w/herxes...however, usually a herx happens once after going on a medication and I DID experience this originally in a huge way (night I thought I was dying and told friend to call priest) after going on Larium. Now, I think the problems that happen 2-3 days after I take it are side effects although it's hard to be sure as my doctor has not responded. In any event, heart skipping to the point where I gasp for air is not good.
I'm going off the Larium and the Doxy.
I really appreacite everyone's help!

---

Posts: 12 | From San Francisco East Bay | Registered: Jun 2010 | IP: Logged |

Sammi
Frequent Contributor (1K+ posts)
Member # 110


posted

---

table1 some people, including myself, have heart palpitations and shortness of breath from Babesiosis. I suggest to keep trying to let your doctor know. You may want to try faxing him.

In my experience, herxes happen more than once. They are typically more severe in the beginning of new treatment and lessen in severity over time as the infection load decreases.

It can take some time to eradicate Babesiosis. Maybe Mepron would be a better choice for you.

---

Posts: 4680 | Registered: Oct 2000 | IP: Logged |

table1
Member
Member # 26463


posted

---

Thank you, now that info is extremely helpful to me! Had no idea Babs can cause these symptoms. Was on Mepron last year for six months to the tune of $750 for first bottle (Anthem insurance) so went with Larium this time around.
However, the symptoms or herx or whatever is so bad that I'm thinking it's time to pay out that $750 again.

---

Posts: 12 | From San Francisco East Bay | Registered: Jun 2010 | IP: Logged |

Sammi
Frequent Contributor (1K+ posts)
Member # 110


posted

---

table1, $750 is a lot to pay for Mepron. Since your insurance does not cover Mepron, you may be able to get assistance with it through their manufacturer. Check out their prescription assistance program at
http://www.rxassist.org/pap-info/company_detail.cfm?cmpid=125

Below is a list of Babesiosis symptoms from a previous post at http://flash.lymenet.org/ubb/ultimatebb.php/topic/1/81386 I don't know why heart palpitations are not listed here, they are a common symptom of Babesiosis. I have had them and other heart-related symptoms from Babs.

Babesiosis

As with other co-infections, there is a lot of overlap of symptoms between Lyme disease and Babesiosis. An accumulation of the following signs and symptoms probably warrant testing and/or treatment of Babesiosis:

___Chills

___Fatigue and often excessive sleepiness

___High fever at onset of illness

___Night sweats that are often drenching and profuse

___Severe muscle pains, especially the large muscles of the legs (quads, buttocks, etc.)

___Neurological symptoms often described as "dizzy, tipsy, and spaciness," similar to a sensation of "floating" or "walking off the top of a mountain onto a cloud"

___Depression

___Episodes of breathlessness, "air hunger", and/or cough

___Decreased appetite and/or nausea

___Spleen and/or liver enlargement

___Abnormal labs (low white blood count, low platelet counts, mild elevation of liver enzymes, and elevated sed rate)

___Headaches (migraine-like, persistent, and especially involving the back of the head and upper neck areas)

___Joint pain (more common with Lyme and Bartonella)

___anxiety/panic (more common with Bartonella)

___Lymph gland swelling (more common with Bartonella and Lyme)

---

Posts: 4680 | Registered: Oct 2000 | IP: Logged |
Contact Us | LymeNet home page | Privacy Statement

Powered by UBB.classic™ 6.7.3

---
The Lyme Disease Network is a non-profit organization funded by individual donations. If you would like to support the Network and the LymeNet system of Web services, please send your donations to:
The Lyme Disease Network of New Jersey
907 Pebble Creek Court, Pennington, NJ 08534 USA
http://www.lymenet.org/
---
Home | Flash Discussion | Support Groups | On-Line Library
Legal Resources | Medical Abstracts | Newsletter | Books
Pictures | Site Search | Links | Help/Questions
About LymeNet | Contact Us
---
© 1993-2020 The Lyme Disease Network of New Jersey, Inc.
All Rights Reserved.
Use of the LymeNet Site is subject to Terms and Conditions.
---