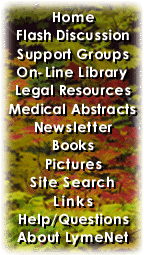 ---
LymeNet on Facebook
LymeNet on Twitter
---
---
The Lyme Disease Network receives a commission from Amazon.com for each purchase originating from this site.
When purchasing from Amazon.com, please
click here first.

Thank you.




Dedicated to the Bachmann Family


LymeNet needs your help:
LymeNet 2020 fund drive

The Lyme Disease Network is a non-profit organization funded by individual donations.

| | |
| --- | --- |
| | |
Author
Topic: Memory Problems Anyone?

txgirl09
LymeNet Contributor
Member # 21612


posted

---

My memory problems are really starting to worry me! I have to write everything down.

I find myself mis-speaking a lot, and having trouble getting words out. I also repeat myself, or I can't remember what I've told people.

Anyone else?

I'm currently treating bart. Please say your memory comes back with treatment.

What vitamins help with this?

Thanks in advance.

---

Posts: 490 | From TX- Go Cowboys! | Registered: Aug 2009 | IP: Logged |

stork
LymeNet Contributor
Member # 24167


posted

---

I also am treating memory issues. I find that I forget names a lot and sentence formulation is much better but still lagging. Anyone else have thoughts on this?

--------------------
long road since 2010
abx got me over the hump
diet, detox, and herbs have got me to heal


---

Posts: 174 | From CT | Registered: Jan 2010 | IP: Logged |

hagamama
Member
Member # 26668


posted

---

I have to write everything down in an appointment book and then I have to go back and write down what I actually did. it's frightening. I thought I was going nuts till I saw an article on Lyme - got tested last week and I tested positive. I don'tknow what to do now - My dr says taht I dont need treatment but my memory is getting worse.

---

Posts: 20 | From eastcoast | Registered: Jun 2010 | IP: Logged |

'Kete-tracker
Frequent Contributor (1K+ posts)
Member # 17189


posted

---

Your memory does/ will come back with treatment... unless you're 'old' (over ~50) like me! ...in which case it Does improve, but will still Suck.
My sister calls it "CRS syndrome"- Can't Remember S***. She has it, & she never Had Lyme.

But seriously... After you're "better", clearing your mind thru yoga & similar disciplines, exercising, & eating a healthy diet rich in things like Omega oils & Hi-Q protein will do wonders. (Many swear by fish.)
And there are always memory improvement courses!

One thing I noticed is that I forgot people I'd met in the months- even 2 to 3 years- leading up to my Big Lyme Fight (2005-2006). Faces drew blanks. They knew me by name & I had NO clue who they were.
I guess my inner brain Was significantly affected, like my LLMD suspected it would be.
"Lyme-induced neuroborreliosis", he called it.
Surprisingly, even some of Those missing memories have returned.

Quite amazing- the ability of the body to rejuvenate, once the infection(s) has/have been tamed.

---

Posts: 1233 | From Dover, NH | Registered: Sep 2008 | IP: Logged |

TerryK
Frequent Contributor (5K+ posts)
Member # 8552


posted

---

Very common symptom for lyme patients. I get brief periods when my brain is not working as well as usual.

Borrelia toxins mess with acetylcholine (a neurotransmitter).
http://www.townsendletter.com/FebMar2006/lyme0206.htm

Lack of acetylcholine causes memory loss and is implicated in alzheimers disease. Many think that Alzheimers disease is connected to lyme. There is a list of acetylcholine boosters in the article.

Also consider:
choline/inositol
huperzine A

Toxins can cause all kinds of problems including brain fog. Consider using some of the detox protocols if you aren't already. Lots of info in the archives.

Quinolinic acid is a toxin to the brain and is often elevated in lyme patients. Steven Buhner talks about ways to help lower levels in his book "Healing Lyme". I posted several times in the past with info from his book about this. You can find that info in the archives.

Brain inflammation can contribute to brain fog. Lack of sleep, depression or vitamin defeciences are other things that should be addressed to help brain fog. Keep your mind working. Challenge your mind.

It's late, I've probably forgotten some things. haha!! If I remember anything more later, I'll come back and post. For now, I'm heading to bed.

ha! edited to add: Heavy metals are released when borrelia dies. This can cause a lot of memory/brain fog issues. I've been on heavy metal binders the whole time I've been in treatment. It helps a LOT!

Terry
I'm not a doctor

[ 06-26-2010, 04:11 AM: Message edited by: TerryK ]

---

Posts: 6281 | From Oregon | Registered: Jan 2006 | IP: Logged |

Remember to Smile
Unregistered



posted

---

Yes, you'll get better with LLMD treatment!

Lyme neuroborreliosis causes plaques on the white matter or damage to the white matter in our brains.

You probably know of the brain as "gray matter". Well, gray matter is the area that stores info, data, memories.

White matter is what allows connections to and use of the gray matter!

White matter has been shown to grow throughout life.

You've heard of a little white lie, right? Well, people who lie a lot, perpetual habitual liars, have been shown to have more white matter in their brains than people who are more often honest.

Lying requires the mind to connect info inappropriately. That exercise builds new neuro-connections, actually rewiring brain circuits (white matter).

On a cheerful note, we can build more healthy, new neuro connections so we can retrieve data from our gray matter "file cabinets" to use for all kinds of tasks.

How? Science has shown there are numerous pleasurable activities that help, in addition to appropriate diet (NO wheat, NO cow dairy products, NO caffeine, NO alcohol) and nutritional supplements.

Listen to music, esp Mozart and anything that gives you happy feet. Where is that album you loved in high school?

Look at artwork. Get someone to take you to an art museum and just plop down in front of a pretty piece that attracts you. Take it in, and while your mind wanders into the image, you're increasing healthy brain function.

Look at trees. An ad torn out of a magazine works as well as a view from a window. The healing power of trees is tremendous and well-documented. If your only view of the world is brick, change that this week.

Create your own art therapy. Color with crayons or get some colored pencils

Try the other hand. Using your non-dominant hand is excellent brain therapy.
* Write one sentence a day with the other hand.
* Play ping-pong or badminton with your non-dominant hand and laugh till you're rolling on the ground!
* Hold your water glass with the other hand on odd-numbered days.
* Eat dinner with your non-dominant hand (if not at an executive function or high-end wedding!)

Music therapy heals. Attend free outdoor concerts this summer & get to look at trees while you listen to the music!

Easy horticulture therapy at home:
* Buy a bunch of fresh flowers from the grocery store or farmers' market.
* Pick a few wildflowers and keep them where you can see them often.

Catchin' my drift?

Yes, Bartonella combo with Lyme is giving us symptoms now, but we can heal from this.

Peace,
Smile

---

IP: Logged |

Remember to Smile
Unregistered



posted

---

Oh, I forgot! (Only one wk of abx under my skin...)

Watching live theatrical performances has also been shown to build new neuro connections and improve brain function.

So, "I need to see this comedy at the local community theater. It's part of my brain therapy for healing chronic Lyme disease. Would you like to go, too, and drive us?"

Best wishes for a neuro-enhanced weekend,
Smile

---

IP: Logged |

painted turtle
LymeNet Contributor
Member # 7801


posted

---

My memory problems were scary Alzheimers like for a long time but improved over time, with treatment.

Not back to perfect by any stretch, still short term memory trouble....but the scary Alzheimers is gone.

--------------------
www.lymefire.blogspot.com


---

Posts: 855 | From United States of Mind | Registered: Aug 2005 | IP: Logged |

nefferdun
Frequent Contributor (1K+ posts)
Member # 20157


posted

---

I also worry that I have dementia, the beginning of alzheimers. I also can't concentrate. I have actually seen someone I know and thought to myself that the person looked exactly like who they were but were not them! It is very scary! Once when I was the sickest I forgot my son's name for a few moments. I was just looking at his face, trying to remember what the heck I called him.
That has passed.

The way I can tell when I am relapsing is that my mind goes first.
It isn't just memory. It is motivation and the feeling of being able to enjoy anything in life. I turn into a zombie. What are alzheimers patients?

I take some supplements that are supposed to help but because my memory is so bad, and I am easily discouraged, I often forget.

Acetyl L Carnitine is very good for your brain and memory. Huperzine is good, fish oil, and coconut oil.

Stress makes it all much worse for me.

On a positive side, I have regained function. There have been times I was pleasantly surprised that I could remember things I normally would have forgotten. I am delighted when I see someone and know who they are and if I remember their name I feel like a genius.

--------------------
old joke: idiopathic means the patient is pathological and the the doctor is an idiot


---

Posts: 4676 | From western Montana | Registered: Apr 2009 | IP: Logged |

Consuelachacha
LymeNet Contributor
Member # 26538


posted

---

Hi txgirl09;

I had to scroll up three times to see if I had your name right to say hello. That tells you how bad my memory is.

I just wanted to let you know that you are not crazy because there are thousands of us here suffering the same things you are.

My memory is seconds long. I just write things down, keeps notes, post notes. I have sticky pads every where. I still do the walk in the kitchen for something and cannot remember why once I get there. I actually stand there and THINK for awhile to try to remember. Sometimes I do, sometimes I don't.

You are amongst friends here with the same issues.

Good luck to you!!

--------------------
Sick and Tired of Being Sick and Tired!!


---

Posts: 153 | From St. Louis, Missouri | Registered: Jun 2010 | IP: Logged |

txgirl09
LymeNet Contributor
Member # 21612


posted

---

Thanks everyone, its very scary!

Last night I told my sister the same story TWICE, about an hour apart. When I told her the story the second time she goes, yeah you already told me this an hour ago. I did not even remember telling her!

My young kids are also always reminding me that I've already told them stuff.

I do wonder if I could have early Alzheimer's!

Thanks for the support and helpful information.

---

Posts: 490 | From TX- Go Cowboys! | Registered: Aug 2009 | IP: Logged |

Elaine G
LymeNet Contributor
Member # 20735


posted

---

As we get older, it helps to make sure that our hormones are balanced.

Non-Lyme friend was stuttering for words. With my Lyme brain, I was finishing her sentences. That was a miracle in itself.

She has been on bio-identical hormones for about 5 months and can now find her own words to complete her sentences.

Now if I could only remember how to spell.

---

Posts: 671 | From Fort Myers, Florida | Registered: Jun 2009 | IP: Logged |

Remember to Smile
Unregistered



posted

---

Most Alzheimer's patients probably have untreated LD & co's and would benefit from appropriate treatment with abx.

Please search for research work done by Dr. M of NY. (He was in "Under Our Skin.") Dr M. examined brains, from Harvard's brain bank, of deceased people who had been Alzhieimer's patients. He found evidence of the LBb spirochetes in 7 of 10 "Alzheimer's" brains.

Small sample size, but life-altering findings.

Keep working with LLMDs!
Smile

---

IP: Logged |

lymeboy
Unregistered



posted

---

I like Slayer, will listening to Slayer help me heal?

---

IP: Logged |

littlebit27
Frequent Contributor (1K+ posts)
Member # 24477


posted

---

Me too-though I can't offer any advice as I am still having issues. I have bad and really bad days. Sometimes I can't remember ANYTHING other days I can recall a few things.

And it's just crazy how my brain works-I tell my husband that all the time. He has memory issues to and sometimes I'll tell him remember this happened the other day and he's like no but I'll remember it. And it's the stupidest most worthless thing.

But when asked important stuff I draw a blank.

In my book I am describing my memory issues like this- Take a normal person for instance who is trying to remember something that happened to them 20 years ago. They can remember bits and pieces but the rest is just foggy, they try to put together the events of 20 years but maybe some parts of the memory are missing or just aren't too clear. Well that is how my memory is...but it's about yesterday or even the same morning.

I hate it-I use to be an amazing speller. My friends would call me instead of looking it up in a dictionary because it was just easier for them-and faster. Now I'm forgetting how to spell words that I've been spelling since 3rd grade. I have to sound things out and spell check a ton.

I go to school online and I have a lot of trouble but I work really hard and it showed-I have a 4.0 for last semester which raised my total GPA to 3.5. So it's bad but I study, and read, and take notes, and do what I can. It's MUCH easier when I have a 10 page paper at the end of the semester as opposed to a final exam. I do horrible on finals because I can't remember anything but at least with a paper I have spell check and the internet for resources.

I hope it gets better with time.

Someone told me that...acetyl ? Man I can't remember how to spell it. I'll check iherb.com. Ok Acetyl L Carnitine is supposed to help with memory. Haven't been able to afford it will all of the other supplemets so I don't know if it works.

I also have trouble talking sometimes-never use to stutter-was really good at talking to people but now-I find myself stopping saying um um uhh or just stuttering as I am talking.

Another thing I experience is when I'm typing. I'll be thinking of the word I want to say and I'll type it. It will all look right to me until I re-read it later then I'm like wait a second that word does not belong there what was I trying to say??

And GO REDSKINS!!!!! Sorry I couldn't resist when I saw your (boooo) Cowboys.

And hagamama-what doctor says you don't need treatment? If you got tested for Lyme and it came up positive you most certianly need treatment. Find a LLMD and NOW!

--------------------
*Brittany Lyme Aware on FB*
http://littlebithaslyme.wordpress.com/


---

Posts: 2310 | From Southeast | Registered: Feb 2010 | IP: Logged |
Contact Us | LymeNet home page | Privacy Statement

Powered by UBB.classic™ 6.7.3

---
The Lyme Disease Network is a non-profit organization funded by individual donations. If you would like to support the Network and the LymeNet system of Web services, please send your donations to:
The Lyme Disease Network of New Jersey
907 Pebble Creek Court, Pennington, NJ 08534 USA
http://www.lymenet.org/
---
Home | Flash Discussion | Support Groups | On-Line Library
Legal Resources | Medical Abstracts | Newsletter | Books
Pictures | Site Search | Links | Help/Questions
About LymeNet | Contact Us
---
© 1993-2020 The Lyme Disease Network of New Jersey, Inc.
All Rights Reserved.
Use of the LymeNet Site is subject to Terms and Conditions.
---