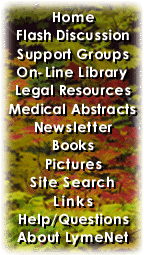 ---
LymeNet on Facebook
LymeNet on Twitter
---
---
The Lyme Disease Network receives a commission from Amazon.com for each purchase originating from this site.
When purchasing from Amazon.com, please
click here first.

Thank you.




Dedicated to the Bachmann Family


LymeNet needs your help:
LymeNet 2020 fund drive

The Lyme Disease Network is a non-profit organization funded by individual donations.

| | |
| --- | --- |
| | |
Author
Topic: Cycling - good or bad?

nutsforcrabs
Member
Member # 27180


posted

---

I'm a competive road cyclist and that mixed with lyme do not blend!! I push myself constantly to maintain my usual speed and keep up with the pack/peloton and can't accept that it may just be too much for me right now. The climbs are the worst cause my limbs are so weak but I do them anyway. I know it's because I'm so afraid of losing my abilities and falling behind. Mornings are especially hard cause of my weak muscles so I try to get up early to get myself going which helps. I do feel a lot better mentally after I ride but want to know if I'm doing myself any harm. I heard that exercise kills spirochetes so I must be doing the right thing?? Yes? No? I doing a 102 mile event this Sunday and I am so stubborn that I will finish no matter how I feel. Not sure what kind of replies I'm looking for. Just want some advice regardless of whether I take it or not right now.

--------------------
~M


---

Posts: 20 | From Flander, New Jersey | Registered: Jul 2010 | IP: Logged |

ThatColorGreen
LymeNet Contributor
Member # 16016


posted

---

to make it quick,

You NEED to listen to your body. period.
Know your limits. For me, cardio is my brain-saving grace, but I have learned to listen to my body.

I used to work out at least 5 days a week.. i was obsessed really.
when my symptoms started getting bad, i became weak and didn't want to accept it, so i pushed myself to lift the same weights, do the same cardio... etc etc etc... not a smart move for ME.

after my picc line and some months of recovering from the trauma from THAT, i am able to do fantastic cardio again... but again. instead of pushing myself like i used to, i listen to my body.

When you get that 'this is starting to feel a little too much' feeling, then it is most likely time to stop.

Don't push yourself. Bike if you can, but know when your body is saying 'hey, knock it off, this is too much'

and know that even IF you are not, right now, at the level you once were or would like to be, it's a temporary thing.

Nonetheless frustrating, this I know, but you need to be kind to your body...
...... .... .... .... ... ...

...my $0.02

--------------------
...trying to be the coffee bean, not the egg.


---

Posts: 420 | From East Coast | Registered: Jun 2008 | IP: Logged |

kimmie
LymeNet Contributor
Member # 25547


posted

---

Good for you for being able to do it! Your positive attitude and determination will certainly help your recovery. I agree with the above statement, listen to your body...if you are under treatment I would not push it to the point of physical exhaustion. Do what you can but if you are still fighting the disease, over doing it could put additional stress on your immune system.

I am glad to hear someone else enjoying their life. I laugh at myself...I have a PICC line in place and am on my waverunner (jet ski) every weekend having a blast! I am playing tennis Monday! I can't put my life on hold, I still want to make the most of it.

---

Posts: 747 | From Utah | Registered: Apr 2010 | IP: Logged |

kday
LymeNet Contributor
Member # 22234


posted

---

Lyme messed up my heart.

I used to mountain bike 20-30 miles a day.

I couldn't mountain bike after getting sick, and couldn't imagine somebody being able to do it with this illness without just getting sicker.

Personally, exercise did not make me feel better, raise endorphins, etc. It just put me in bed.

It's your judgement. We are all different.

---

Posts: 967 | From A deserted island without internet access | Registered: Sep 2009 | IP: Logged |

sixgoofykids
Moderator
Member # 11141


posted

---

Don't push your body. Yes, exercise is good, but not if your body is telling you no.

Read about adrenal fatigue. With chronic illness it's easy to completely wear out your adrenal glands, then you won't be able to push yourself anymore. You want to save some energy for healing.

If you want to keep biking throughout your treatment, I'd listen to your body so you don't get completely drained and unable to ride at all. That is the danger.

--------------------
sixgoofykids.blogspot.com


---

Posts: 13449 | From Ohio | Registered: Feb 2007 | IP: Logged |

steve1906
Frequent Contributor (1K+ posts)
Member # 16206


posted

---

I push myself 5 days a week at the gym...I just don't care anymore if it's bad or good.

There are so many BAD things in our lifes with Lyme Disease, I'm going to keep pushing the limits...

It's harder to keepup with all these Lyme rules than it is to just keep working out as much as I can...It makes me feel better for a while....

--------------------
Everything I say is just my opinion!


---

Posts: 3529 | From Massachusetts Boston Area | Registered: Jul 2008 | IP: Logged |

Keebler
Honored Contributor (25K+ posts)
Member # 12673


posted

---

-
nutsforcrabs:

You might want to save this to your file for study and reference.

Note: "Aerobic exercises are NOT allowed, not even low impact variety, until the patient has recovered." "Aggressive exercise" refers to non-aerobic only but also note that is not to be every day.
------------------

http://www.ilads.org/lyme_disease/B_guidelines_12_17_08.pdf

Treatment Guidelines, 16th edition, October, 2008
Joseph J. Burrascano, Jr., M.D.

Page 20:

. . . If treatment can be continued long term, then a remarkable degree of recovery is possible.

However, attention must be paid to all treatment modalities for such a recovery - not only antibiotics, but rehab and exercise programs, nutritional supplements, enforced rest, low carbohydrate, high fiber diets, attention to food sensitivities, avoidance of stress, abstinence from caffeine and alcohol, and absolutely no immunosuppressants, even local doses of steroids (intra-articular injections, for example). . . .

* Page 27 for SUPPORTIVE THERAPY & the CERTAIN ABSOLUTE RULES

Page 31:

LYME DISEASE REHABILITATION

Despite antibiotic treatments, patients will NOT return to normal unless they exercise, so therefore an aggressive rehab program is absolutely necessary. It is a fact that a properly executed exercise program can actually go beyond the antibiotics in helping to clear the symptoms and to maintain a remission.

Although the scientific basis for the benefits of exercises is not known, there are several reasonable theories.

It is known that Bb will die if exposed to all but the tiniest oxygen concentrations. If an aggressive exercise program can increase tissue perfusion and oxygen levels, then this may play a role in what is being seen.

Also, during aggressive exercise, the core body temperature can rise above 102 degrees; it is known that B. burgdorferi is very heat sensitive. Perhaps it is the added tissue oxygenation, or higher body temperature, or the combination that weakens the Lyme Borrelia, and allows the antibiotics and our defenses to be more effective.

Regular exercise-related movements can help mobilize lymph and enhance circulation. In addition,there is now evidence that a carefully structured exercise program may benefit T-cell function: this function will depress for 12 to 24+ hours after exercise, but then rebound.

This T-cell depression is more pronounced after aerobics which is why aerobics are not allowed. The goal is to exercise intermittently, with exercise days separated by days of total rest, including an effort to have plenty of quality sleep.

The trick is to time the exercise days to take advantage of these rebounds. For an example, begin with an exercise day followed by 3 to 5 rest days; as stamina improves, then fewer rest days will be needed in between workouts.

However, because T-cell functions do fall for at least one day after aggressive exercises, be sure to never exercise two days in a row. Finally, an in intermittent exercise program, properly executed, may help to reset the HPA axis more towards normal.

On the following page is an exercise prescription that details these recommendations.

This program may begin with classical physical therapy if necessary. The physical therapy should involve massage, heat, ultrasound and simple range of motion exercises to relieve discomfort and promote better sleep and flexibility.

Ice (vasoconstriction) and electrical stimulation (muscle spasm and trauma) should not be used!

The program must evolve into a graded, ultimately strenuous exercise program that consists of a specific regimen of non-aerobic conditioning- see below.

Have the patient complete a gentle hour of prescribed exercise, then go home, have a hot bath or shower, than try to take a nap. Initially, patients will need this sleep, but as they recover, the exercise will energize them and then a nap will no longer be needed.

NOTE: a cardiac stress test may be necessary prior to exercising to ensure safety.
-------------

Page 32:

LYME REHAB-PHYSICAL THERAPY PRESCRIPTION

. . . (there is a P.T. prescription all set to fill out here) . . .

Excerpt:

PROGRAM:

1. Aerobic exercises are NOT allowed, not even low impact variety, until the patient has recovered.

2. Conditioning: work to improve strength and reverse the poor conditioning that results from Lyme, through a whole-body exercise program, consisting of light calisthenics and/or resistance training, using light resistance and many repetitions.

This can be accomplished in exercise classes called "stretch and tone", or "body sculpture", or can be achieved in the gym with exercise machines or carefully with free weights (see cautions above).

3. Each session should last one hour. A gentle hour is preferable to a strenuous half-hour. If the patient is unable to continue for the whole hour, then decrease the intensity to allow him/her to do so.

4. Exercise no more often than every other day. The patient may need to start by exercising every 4th or 5th day initially, and as abilities improve, work out more often, but NEVER two days in a row. The nonexercise days should be spent resting.

5. This whole-body conditioning program is what is required to achieve wellness. A simple walking program will not work, and simply placing the patient on a treadmill or an exercise bike is not acceptable (except very briefly, as part of a warm-up), as aerobics can be damaging and must be avoided. . . .

- Much more at the link.

==============

To help support body functions:

http://www.lymepa.org/Nutritional_Supplements.pdf

Nutritional Supplements in Disseminated Lyme Disease

J.J. Burrascano, Jr., MD (2008)

====================

Why no aerobics during infections? In addition to explanations above, heart and brain are two reasons. With infection, aerobics can damage the heart.

www.ott.zynet.co.uk/polio/lincolnshire/library/uk/post-me.html

or http://tinyurl.com/33rxy8

From Dr. Bruno's "Fainting and Fatigue" in the Spring 1996 CFIDS Chronicle

Post-polio expert Dr. Richard Bruno points out that physical over-activity is the biggest cause of post-polio symptoms. [3]

Excerpt:

``when mice infected with Coxsackie B3 were forced to swim in a warm pool, the virulence of the virus was drastically augmented.

In fact, viral replication was augmented 530 times. This did horrendous things to the animals' hearts. We all know that to play squash with the flu can lead to heart attacks.

Much the same danger can be courted by undertaking hard exercise with M.E. (CFS).'' - End quote.

==============

See the post about brain hypoperfusion (and how aerobic exercise making that worse for CFS patients) from the SPECT details from the Nightingale group. This thread also talks about POTS, mitochrondrial dysfunction and adrenal issues.

-----------------

http://flash.lymenet.org/ubb/ultimatebb.php/topic/1/77325

Topic: To everyone with cardiac symptoms please read !

==============

In the book, The Clinical and Scientific Basis of Myalgic Encephalomyeltis/Chronic Fatigue Syndrome

authors: Byron M. Hyde, M.D., Jay Goldstein, M.D.
and Paul Levine, M.D.

The Nightingale Research Foundation reprinted
p. vii which shows three sets of SPECT scans. (1993, I think.)

Taken in resting, post-exercise and 24 hours post-exercise, the images show an immediate post-exercise effect with perfusion and

``illustrate the severely decreased brain perfusion of the same patient 24 hours after the brain has been stressed by physical exercise."

This is a most remarkable piece of paper. You can see the marked impact upon the brain in the nine photos from the SPECT.

I can't find a copy of the page on the web, but you could request a copy from the Nightingale Research Foundation at

http://www.nightingale.ca/

Dr. Goldstein, Addendum I, shows common stress pathways, and might also be available upon request.

==============

This explains how aerobic exercise can be too much for a liver that is already very stressed:

http://tinyurl.com/2agvt28

Can Exercise ``Pollute'' Your Body?

Health News - By VRP Staff

Believe it or not, toxic free radical molecules and oxidation by-products are produced whenever you exercise. . . .

==============

GOOD MOVES:

Tai Chi, Qi Gong, some kinds of Yoga and Pilates routines . . . weight / strength training . . . walking . . . maybe slow biking . . . water movement (Tai Chi in water is very nice) . . . whatever brings you joy of movement while safely supporting your body. Dancing can be good.

Do what you love. Just not at top speed.
-

---

Posts: 48021 | From Tree House | Registered: Jul 2007 | IP: Logged |

Keebler
Honored Contributor (25K+ posts)
Member # 12673


posted

---

-
nutsforcrabs,

To check your history of illness and stage of recovery, I went back over your recent posts.

On July 27, just about 10 days ago, you posted:

"Just finished my 3 weeks of doxy as prescribed by my infectious disease doctor for my early lyme (had the rash).

I do feel better on most days but am still pretty wiped out on others so I'm afraid that this wasn't enough treatment. Or is it just the doxy?

I made an appointment with a LLMD recommended ont his site whose first appointment is 9/20. This means no antibodics or treatment for two months.

Is this wise? What if the Lyme isn't gone? Will I get sicker if I wait or is it ok? Should I try to find another doctor who can see me sooner.

My infectious disease doctor feels that I am "cured" so I will not be able to go back to him for more antibiodics to "tide me over." Help.

(nutsforcrabs)
------------

Some of the replies there indicated that you are clearly not at all out of the woods with lyme. I want to echo that. Some LLMDs treat even early lyme for 30 weeks.

You also have no way of know what other infections you have. Lyme rarely travels alone. After just 12 hours post-bite, lyme gets into the nervous system. Three weeks' treatment has not been enough at all, as your body is telling you.

I do not want to scare you but this is a VERY serious infection.

=================

Two days ago, you wrote: . . . "Saw the Monroe doctor and I'm back on Doxy."

=================

You say in the first post above:

that you are a "competitive road cyclist" and you plan on "doing a 102 mile event [tomorrow] and I am so stubborn that I will finish no matter how I feel."

Although you are back on doxy - In light of what you describe in your July 27 post, a plan to bike 102 miles tomorrow could greatly damage your health for the rest of your life. It could even be fatal. Seriously, lyme can be fatal.

So can some other tick-borne infections that you've not yet even been assessed for - and doxycyline does not treat all tick-borne infections. You could have one or more infections now that are not even being treated. Also . . .

** When taking Doxycyline you MUST AVOID ALL EXPOSURE TO SUN. This is absolutely essential. **

I'm very surprised the doctor a couple days ago did not tell you this - or the pharmacist.
-

---

Posts: 48021 | From Tree House | Registered: Jul 2007 | IP: Logged |

steve1906
Frequent Contributor (1K+ posts)
Member # 16206


posted

---

Hi Keebler, it's taken me a couple of years to say this, but I can't see a problem with Aerobic exercice.

I really think the harder we push ourselfs the faster we get better.

--------------------
Everything I say is just my opinion!


---

Posts: 3529 | From Massachusetts Boston Area | Registered: Jul 2008 | IP: Logged |

Keebler
Honored Contributor (25K+ posts)
Member # 12673


posted

---

-
Steve, I'm very glad it works for you. Sounds like you worked up to it, along with proper treatment for infection(s) - &/or maybe the mix of infections and state of damage had not been the same as for others.

You also may have the support systems in place to offer some protection.

Some do okay with a certain level of aerobics after a while - and when they have tackled the major part of treatment & with support measures. But - for someone who has not even been properly set up on a treatment program yet or adequately assessed for the full range of infections, it's a very different place.

There is evidence that aerobic exercise during infection can cause heart damage. It's a good idea to be cautious about that.

Many have reported major relapses from over- activity. Most of us don't have the working warning sign until it;s too late. So our body can't be trusted to signal us beforehand. The adrenal high can be very confusing - and also further stress the endocrine system.

Just hard exercise for a hour (with undiagnosed lyme) put me in a near coma for a year. I had to be pulled out of the swimming pool. I could not walk, talk, read, or write for at least a year. I had to learn all that over and it took years.

And - some years after that and still undiagnosed as I was told there is no lyme in my state - I tried again and wound up in the same place - unable to walk or talk. Again, it took years to get that back and I'm still far from recovered.

When diagnosed, I had 3 tick-borne infections and 3 other chronic stealth infections, two that are known to damage the heart. Regular doctors missed all that for decades as I struggled to push myself harder.

Just as the Slow Food Movement has been marvelous for delicious, nutritious food, a slow exercise commitment can also help us build back a strong body.

Qi Gong saved my life (in the area of exercise), that is. Pushing harder and faster can cause some very serious damage.

However, a sustained commitment to building strength at a slower speed and intensity does produce results. It may not produce the same adrenaline high - but that very high is, well, just too high for most who have infections in their brain or heart.
-

---

Posts: 48021 | From Tree House | Registered: Jul 2007 | IP: Logged |

Keebler
Honored Contributor (25K+ posts)
Member # 12673


posted

---

-
In addition to the usual coinfections from ticks (such as babesia, bartonella, ehrlichia, RMSF, etc.), there are some other chronic stealth infections that an excellent LLMD should know about:

http://flash.lymenet.org/scripts/ultimatebb.cgi?ubb=get_topic;f=1;t=069911#000000

TIMACA #6911 posted 03 August, 2008

I would encourage EVERY person who has received a lyme diagnosis to get the following tests.

- at link.
-

---

Posts: 48021 | From Tree House | Registered: Jul 2007 | IP: Logged |

nefferdun
Frequent Contributor (1K+ posts)
Member # 20157


posted

---

I am not the athlete that you are but when I was first sick and undiagnosed I was taking a fun exercise class that worked me up into a sweat. I believe it was good for me because it heat up my body and the lyme bacteria do not like heat or oxygen. BUT I had problems with my muscles, having cramps so bad it felt like I ripped tendons. I had to quit vigorous exercise because of my muscles seizing which I believe is a bart symptom.

If you are on doxy it can cause sun sensitivity. I could not be in the sun for two minutes without burning. Be careful because this comes on after a few weeks of taking it.

I would follow the advice of listening to your body and not going into denial about being sick.

--------------------
old joke: idiopathic means the patient is pathological and the the doctor is an idiot


---

Posts: 4676 | From western Montana | Registered: Apr 2009 | IP: Logged |

troutscout
Frequent Contributor (5K+ posts)
Member # 3121


posted

---

I can't stress enough that reducing exercise to a moderate level....

If you can end up doing some deep muscle weightlifting....to push the abx deeper

--------------------
Now is the time in your life to find the "tiger" within.
Let the claws be bared,
and Lyme BEWARE!!!
www.iowalymedisease.com
[/URL]


---

Posts: 5262 | From North East Iowa | Registered: Sep 2002 | IP: Logged |

cjbrklich
Member
Member # 24607


posted

---

I am also a biker, not competative however. I just finished a week long ride in Iowa. My LLMD said it would be good for me as long as I did'nt push it and was able to get enough rest. I was also allowed to stop my meds for the week. I did'nt ride every mile and slept more than I had in past years during the ride but I did better than I expected. Better than in past rides even. And now after being home for a week I feel better than I did before I left for the ride. I don't know if it is still the adrenaline or not but I feel good. Only heel pain which was there before the ride. If you are able to just go slow and not push I would think you would be fine. I assume you've had to train for this ride so you know how your body has reacted to riding. I don't know if this is a race or just a ride, just don't push it.

---

Posts: 48 | From Eden Prairie, MN | Registered: Feb 2010 | IP: Logged |

trigal2
LymeNet Contributor
Member # 20578


posted

---

Raced as Professional Duathlete and competitive runner prior to getting lyme

Ran/rode during tx. when able - when not able hiked or walked and some days crashed out in bed.

I went at 50% or less capacity and listened to my body during tx. Staying cardio. fit helped me in my getting back to health - no doubt about it.

You need to know how to regulate and moniter your energy and status of your daily health. You are an athlete and know how to do that. Listen to your body and you will find your fittness will only help you in kicking lyme.

There are alot of people who are not athletes and could never do what you do with lyme without lyme. It's all relative.

IMO/E...Keep your heart rate below your threshold level as now is not the time to compete or race - it is the time to get better and use fittness for that purpose. TG

---

Posts: 376 | From New Jersey | Registered: Jun 2009 | IP: Logged |

desertwind
Frequent Contributor (1K+ posts)
Member # 25256


posted

---

I had asked the same question a while back.

Competitive biker as well - but mostly mountain biking - 24 hour stuff.

The non-athlete/out of shape people will most likely tell you not to exercise.. But gee..like trigal said; could they imagine riding WITH lyme when they never rode WITHOUT lyme? Of course not.

As athletes our starting point is different; our resting heart rates are lower, our max. heart rate is higher, our anaerobic threshold are going to be different. All that needs to be considered when answering the question of benefit of exercise with lyme.

My LLMD hightly recommends easy cardio for ME - not all his patients.

I continued/continue to ride and hike during my tx. Lower intensitiy and duration. I am at about 60% capacity right now and keep my effort well below my threshold.

I know when I can and I know when I cannot exercise. Now is NOT the time to push or compete. That will come eventually.

But yes, I ALWAYS feel better after a ride or hike - no matter how short or easy it is. It is good for both the mental and physical.

---

Posts: 1671 | From Tick Infested New Jersey | Registered: Apr 2010 | IP: Logged |

Haley
Frequent Contributor (1K+ posts)
Member # 22008


posted

---

I have not had the energy to exercise lately but when I do I try to swim or do anything to keep the blood moving.

I am convinced that there is something about taking in a lot of oxygen that really helps. When I exercise I also try to do lots of deep breathing. Dr. S. also mentions this in his book.

Do lots of deep breathing whenever possible.

---

Posts: 2232 | From USA | Registered: Aug 2009 | IP: Logged |

erikjh1972
LymeNet Contributor
Member # 20964


posted

---

im an advocate for exercise as well. as long as you listen to your body and realize its a marathon not a sprint!

weightlifting has helped me on the road to recovery, no doubt.

--------------------
3 months Doxy
8 months of Tetra
7 months of Biaxin/Plaq.
4 months Doxy/Biaxin/Plaq.
5 months Biaxin/Plaq.
Back on Doxy/Biax/Plaq
On the road to recovery.
Trying to make people Lyme Aware.......


---

Posts: 289 | From R.I. | Registered: Jun 2009 | IP: Logged |

EyeBob
LymeNet Contributor
Member # 12572


posted

---

For the love of Pete!

Look, there are two factors you're stating.

1) Your desire to get better and whether your exercise regimen is helping or hurting

2) Your fear of permanent loss of competitive fitness.

I went through both. I did what you're doing. I'm not sure whether it helped or hurt nos. 1 and 2 above. I will tell you that getting my anxiety (that fear of incapacitation/loss of competitiveness) fixed helped with BOTH nos. 1 and 2.

I know that people are well-meaning, but someone who tries to comment on whether aerobic excercise is good, bad, or neutral for you short of being an exercise physiologist, a kinesiologist or your LLMD probably doesn't know enough to make a claim one way or another. Further, very few people, unless they are an endurance athlete can directly apply their response to "excercise" with yours. There should be a forum for this alone. Just like many aspects of this disease, your response to xxxxxx will possibly be different than the next.

FWIW, I continued to ride, train and race through the worst of my symptoms. Partly out of fear, partly because I thought I'd be through this quickly, and partly because I felt like it helped. But that's just me, a Cat 3 racer/Master's racer.

---

Posts: 299 | From New Hampshire | Registered: Jul 2007 | IP: Logged |

erikjh1972
LymeNet Contributor
Member # 20964


posted

---

lets face this fact as well. im sure some people who never exercised before they had lyme now here its good for you and helps you get better.

unfortunatly you cant gauge how your responding to said exercise because you have nothing to compare it too. some might feel it wears them out and there not sure if thats suppose to happen.

unless you have a baseline it can be quite difficult to figure out whats "feels" right and what does not.

--------------------
3 months Doxy
8 months of Tetra
7 months of Biaxin/Plaq.
4 months Doxy/Biaxin/Plaq.
5 months Biaxin/Plaq.
Back on Doxy/Biax/Plaq
On the road to recovery.
Trying to make people Lyme Aware.......


---

Posts: 289 | From R.I. | Registered: Jun 2009 | IP: Logged |

groovy2
Frequent Contributor (1K+ posts)
Member # 6304


posted

---

Hi All--

from my experience Over Doing It is Not Good-

I had been sick about 5 yrs when I did a 90 mile
ride threw the Hill country and started working
out at a gym all in one week-

Before this I was sick but still able to do
most things but I was in a Lot of pain -

By the second day at the gym my health crashed
and I went down hill quickly -
and cost me $200 for 2 gym visits -OucH-

Getting Some exercise is good but pushing
yourself to you limit is not good--

Your body needs all of your energy to fight
off the bugs--

I think it would be better to use
your Will Power to get Well Again --

Now after 5 yrs of good treatment
I am able to ride about 35 miles
and I work out in the pool for 1 hour daily
and feel good after it --

I have both Lyme and Babs and was sick for
about 18 yrs before starting treatment --

--Jay--

---

Posts: 2999 | From Austin tx USA | Registered: Oct 2004 | IP: Logged |

'Kete-tracker
Frequent Contributor (1K+ posts)
Member # 17189


posted

---

nuts4crabs,
A friend used aggressive bicycling during the tail end of his treatment- and Well beyond to help him in successfully avoiding a relapse since he "recovered" from late-stage Lyme way back in 1998 in lower NY state.

But if you are in the 1st couple of months of abx treatment (doxycycline protocols are common at this point), you Really need to give your body rest & allow it to direct it's energies elsewhere, like getting rid of the spirochete "debris" & resultant toxins, rejuvinating damaged tissue & nerves &, in general, allowing the immune system to gain more control of the situation.

Plenty of time to push yourself in that bike seat in the months ahead. Take it 1 step at a time!

---

Posts: 1233 | From Dover, NH | Registered: Sep 2008 | IP: Logged |

nutsforcrabs
Member
Member # 27180


posted

---

Wow, everyone. Thank you all for your great responses and advice. Apparently, this was a great topic. Although, being an endurance athelete I relate with some more than others, everyone had good points of view and I learned from them. Good news is I came in fourth in my Cat this weekend. Yay. Bad news is I paid for it dearly over the next few days. I vomited the next morning and am still extremely tired, and I have not ridden since - not like me at all.I also found out this week that I also have babesiosis (now on two more meds) and also that the lyme threw off my thyroid (I have thyroid disease as well-lucky me). Sooo, I am going to continue cycling but truly lay off pushing myself or competing until my body says go for it, use a trainer indoors when I need to really take it easy, walk with my dogs (the ones who gifted me the tick), and continue with my yoga regimen. BTW, I did talk to my doctor about this just yesterday. Again, thank you all.

--------------------
~M


---

Posts: 20 | From Flander, New Jersey | Registered: Jul 2010 | IP: Logged |
Contact Us | LymeNet home page | Privacy Statement

Powered by UBB.classic™ 6.7.3

---
The Lyme Disease Network is a non-profit organization funded by individual donations. If you would like to support the Network and the LymeNet system of Web services, please send your donations to:
The Lyme Disease Network of New Jersey
907 Pebble Creek Court, Pennington, NJ 08534 USA
http://www.lymenet.org/
---
Home | Flash Discussion | Support Groups | On-Line Library
Legal Resources | Medical Abstracts | Newsletter | Books
Pictures | Site Search | Links | Help/Questions
About LymeNet | Contact Us
---
© 1993-2020 The Lyme Disease Network of New Jersey, Inc.
All Rights Reserved.
Use of the LymeNet Site is subject to Terms and Conditions.
---