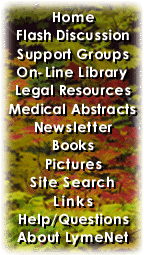 ---
LymeNet on Facebook
LymeNet on Twitter
---
---
The Lyme Disease Network receives a commission from Amazon.com for each purchase originating from this site.
When purchasing from Amazon.com, please
click here first.

Thank you.




Dedicated to the Bachmann Family


LymeNet needs your help:
LymeNet 2020 fund drive

The Lyme Disease Network is a non-profit organization funded by individual donations.

| | |
| --- | --- |
| | |
Author
Topic: Another Rife quesiton - Herx from What??

mojo
Frequent Contributor (1K+ posts)
Member # 9309


posted

---

I needed to make this separate from the Rife thread - I'm so confused!

Yesterday afternoon I rifed for Babs:

27, 76,570,753,1583,1584,5776
(skipped 20 as I did it the day before when rifing for parasites)

I did a long I/R sauna last night and did Activated Charcoal at bedtime, hoping to avoid a herx. Woke up this a.m. with the headache from He$$ (which is normal for me when I use these frequencies) but also with pain in the soles of my feet!

I've long suspected that I have Bart and just came to the conclusion that I possibly have Babs (ie herx from Rife Frequencies) but this is the very first time I've had the foot pain.

Isn't this normally a Bart symptom???

I don't herx from the Bart frequencies and I use ALL of the ones from the Rife Thread.

Could it be that I'm herxing from Bart at these frequencies??

What do you think? Looking for input.

Thanks so much.

---

Posts: 1761 | From USA | Registered: May 2006 | IP: Logged |

D Bergy
Frequent Contributor (1K+ posts)
Member # 9984


posted

---

I am not sure what it is, but if you do not get an effect from 832 Hz, for Bart, this may be Babesia. Keep using the frequencies, as you are certainly hitting something you do not want.

Dan

---

Posts: 2917 | From Minnesota | Registered: Aug 2006 | IP: Logged |

janet thomas
Frequent Contributor (1K+ posts)
Member # 7122


posted

---

I suggest using only one frequency at a time so you can figure it out.

570 Babs

832 Bart

--------------------
I am not a doctor and this is not medical advice but only my personal experience and opinion.


---

Posts: 2001 | From NJ | Registered: Mar 2005 | IP: Logged |

mojo
Frequent Contributor (1K+ posts)
Member # 9309


posted

---

I don't herx on the Bart Frequencies - but they do make me feel better. I've done 832 for six minutes without a huge herx.

I herx on the Babs frequencies - but have the pain in the soles of my feet - which is typically Bart. It is a very intense herx.

I have none of the classic Babs symptoms. So confusing!

Anyway - I'm hitting something like Dan says so I'll continue to use those frequencies. I did shorten the time and increase my detox. My herx is fading so I'll work my way up again.

I've been rifing fro Lyme since last fall and I'm still not up to 3 minutes on those frequencies. I did add 612 and 2016 (only one minute) though.

I seem to be making progress!

Thank you both for your input.

---

Posts: 1761 | From USA | Registered: May 2006 | IP: Logged |

Marnie
Frequent Contributor (5K+ posts)
Member # 773


posted

---

I/R sauna to AVOID a herx?

IMO...a "herx" is a response (inflammatory) to the destroyed pathogens.

Cold...less inflammation.

Heat...more (in a way) healing inflammation.

Did you take a cold/coolish shower AFTER the I/R sauna? Important. Very.

How much AC?

To reduce inflamation...you could use topical MgCl and take sublingual B6 after the shower.

MgCl applied topically sometimes will burn for a short time (few minutes) IF you are very acidic.

Probiotics...always with EVERY kind of treatment.

Just my "take".

---

Posts: 9402 | From Sunshine State | Registered: Mar 2001 | IP: Logged |

BackinStOlaf
Frequent Contributor (1K+ posts)
Member # 23725


posted

---

Can someone explain what this rife machine is? do you hook yourself up to it? I'm so confused.

--------------------
First Symptom 9/09
Multiple docs, negative Labcorp test
LLMD: 1/10
Positive Igenex/CDC test
Treatment 2/10
2/10-8/10 Amox, ceftin, zith, flagyl
Currently: Bicillin, Minocycline, still dealing with severe breathing issues




---

Posts: 1121 | From New York, New York | Registered: Dec 2009 | IP: Logged |

Marnie
Frequent Contributor (5K+ posts)
Member # 773


posted

---

A Rife machine uses frequencies (sound waves) to destroy pathogens.

Ultrasound also destroys biofilms.

We use sound waves to heat our food (that is how a microwave oven works).

We are using a tiny part of the electromagnetic spectrum to help us to heal.

Ya know...sound - light - radiation therapy...are all part of the "electromagnetic spectrum" and very powerful.

Finding the RIGHT frequency or the RIGHT wavelength (if using far infrared therapy) is very very important for success.

And it takes time...MANY months.

Treatments are NOT done every day. Give yourself time to recover.

And you must be very careful as it is more powerful than you can imagine!!!

Do NOT overdo it...you CAN shut down your kidneys.

The best Rife machines, IMO (!) are the ones that send the frequencies thru an argon (gas)filled/"light" for depth of penetration issues.

Those machines are expensive...very...about $6,000.00 and they can be obtained thru sources in Canada.

What a person does is sit in front of the machine which, maybe pre-programmed, for a short period of time. Several machines let you chose the frequency settings and time to run.

I've read the more skin exposed the better...so a swimsuit...

Using the 432Hz setting (a key lyme frequency and the frequency of light) for example, one should not to be exposed to that frequency for any longer than ONE MINUTE initially.

I am NOT KIDDING.

The frequencies can be pulsed (on-off-on-off) and scanned (up-down-up-down) on some machines.

Supposedly the scanning takes care of mutations.

You will "herx" when you hit the right frequency and will feel the pain a little while after the treatment...when the body has to rid the "garbage".

It is very important to take probiotics with ANY lyme treatment, IMO.

And I personally believe after treatments, restoring Mg (and B6) can help with (somewhat counter) the resultant inflammation.

Hope this helps.

This therapy is very much "underground" and is part of alternative therapy.

Some states are more "pro" alternative therapies than others.

On the internet, there is a list of frequencies that supposedly can hit various pathogens. This is very experimental.

The list is called CAFL.

It is here (long!):

http://www.electroherbalism.com/Bioelectronics/FrequenciesandAnecdotes/CAFL.htm

---

Posts: 9402 | From Sunshine State | Registered: Mar 2001 | IP: Logged |

mojo
Frequent Contributor (1K+ posts)
Member # 9309


posted

---

The infra red sauna is for detox - and the "cleaner" you are the less severe the herx - that has been my experience. That's why the AC works as well. I guess I should have said to "lessen" my herx. A/C and lemon water really help with herxes, too.

I absolutely shower after the sauna - I'm soaking wet - plus the toxins should be rinsed off.

There are many types of Rife machines. I just sit in front of mine - perhaps others can help describe theirs. (I think some have handles, etc)

---

Posts: 1761 | From USA | Registered: May 2006 | IP: Logged |

Marnie
Frequent Contributor (5K+ posts)
Member # 773


posted

---

Did you drink an *electrolyte* water during the sauna treatment/right afterward?

"Sodium is an electrolyte that helps the body distribute water. Sodium is essential for water balance and for your muscles and organs to function effectively.

Electrolytes are lost through sweat.

When exercising, our body temperature rises and we sweat to keep cool.

The more we sweat, the more sodium lost.

Sweat loss varies from as little as 16 ounces to

over three quarts during each hour of exercise.

It is important to replace lost body fluids during and after exercise. To completely replace these fluids, you must not only replace water, but also sodium and chloride.

If you consume excessive amounts of water after exercise, you can further deplete sodium and chloride levels, leading to electrolyte depletion and possibly over-hydration."

http://www.mamashealth.com/runinjury/hyponatremia.asp

We have the most bones in our feet. To restore the electrolyte balance, the minerals in those bones maybe called into "action".

As the bones of the feet *demineralize* over time, they become weaker but are still expected to support the whole body. This weakness in the bones reduces the strength of the individual bones and it is manifested as generalized foot pain.

Have you had a bone density test run? Do you have osteoporosis?

An x-ray of your feet can show osteoporosis of the feet:

http://www.foot-pain-explained.com/osteoporosis.html


Voss water (artesian) is one of the best things to drink when using an infrared sauna to "detox". It has a nice balance of the electrolytes. The one that is not sparkling tastes the best. It is delicious when cold.

Lemon added to tap water?

Yes, lemon juice is

alkalinizing.

Just trying to figure out what may have caused the foot pain.

Besides "salt" which we all can taste when we lick our sweat...

Sweat (as a detox?) contains:

Sweating also helps rid the body of small amounts of "waste" products, such as salt, ammonia, and uric acid* .

Sweat contains *electrolytes* (chemicals that are essential for regulating the fluid balance within the body) -- this is why athletes are always chugging "sports drinks" to replace the sodium, potassium, and chloride that their bodies are sweating out all over their athletic gear.


If you have more body ``odor'' after the infrared:

Apocrine sweat glands
They are nestled in with the hair follicles in your scalp, underarms, and groin.

These glands respond to the *adrenaline* that's produced when people get nervous or scared,

producing a sweat that contains *fatty oils*.

*This perspiration also reacts with the bacteria on the skin's surface, generating a sour smell* (a.k.a. the stink of fear, the stench of flop sweat). Apocrine sweat glands put the "odor" in B.O.

http://www.goaskalice.columbia.edu/2139.html

Sweat contains a natural antibiotic that may keep our natural skin-dwelling bugs in check, the BBC reports.

Like a whiff of bad body odor, the protein Dermcidin clears the floor of disease causing micro-organisms.

It sends bacteria E. coli, Staphylococus aureus and yeast Candidia albicans running for cover -- and strikes them dead.

Birgit Schittek of Eberhard-Karls-University in Tubingen, Germany came across Dermcidin while looking for proteins involved in skin cancer.

Sweat glands constantly secrete the antibiotic, they found. Excessive washing could remove the natural germicide.

"Bacteria like warm, moist conditions," says Tomas Ganz who studies such "antimicrobial peptides" at the University of California in Los Angeles. "By limiting what lives on the skin, the protein may be 'our first line of defense.

"Sweaty people are not necessarily bereft of bugs, however, it depends how much Dermcidin they exude.

Antimicrobial peptides pepper all surfaces of the body that meet the outside, such as intestines, mouth and lungs, Ganz explains.

Natural antibiotics in sweat may be particularly important when we damage the skin stopping resident bacteria getting inside to cause infection.

Sweat's *acidity* and our rapidly sloughing skin may also keep surface-dwellers under control.

"So while washing may be good for keeping friends -- medicated deodorants and skin-washes which kill bugs could upset the skin's bacterial balance," Holland says.

http://www.annieappleseedproject.org/sweatconnata.html


Normal human sweat contains interleukin-8.
PMID: 7884315

And sweat contains tissue kallikrein and kininase II. (Pubmed)

Sweat contains primarily water, but also salts and metabolic waste products--primarily sodium chloride, urea, ***lactic acid,*** and potassium ions (Blood et al. 2007)

---

Posts: 9402 | From Sunshine State | Registered: Mar 2001 | IP: Logged |

asummers
LymeNet Contributor
Member # 18068


posted

---

Mojo -- This idea might be out there....but I always knew I had babs, but wasn't sure about bart. The more I treated Babs w/ my rife and got my load down, that is when the Bart symptoms came out. My LLND said that sometimes when you lower one pathogen load, another can come out of hiding.

Or, Babs is just in your feet? With this disease, I don't rule anything out. IMO - rifing for Bart (even though you don't herx) might not be a bad idea. I mean, it is only a couple of minutes per rife session? It isn't like it would take you an hour or so.

---

Posts: 379 | From Sydney, Australia | Registered: Nov 2008 | IP: Logged |

mojo
Frequent Contributor (1K+ posts)
Member # 9309


posted

---

Marnie: Interesting info on the sweat. Thank you for posting it.

I drink 42 oz water w/ Alcar's Electro Mix in it while I sauna. One of the reasons I like the one (sauna)where my head sticks out (as well as my hands).

I also use another brand that is cranberry flavored - can't think of the name but it's very good - and it also contains a lot of vitamins with the electrolytes. I call it my "healthy" Gatorade.

I'm supposed to drink 64 oz of Gatorade on Sun. as part of my prep for my Colonoscopy on Monday -NOT. I told them about my Electro-Mix and they said "OK" (I would have used it anyway LOL)

asumemrs- I agree - I will definately rife for Bart - even though at 3 min with 19 frequencies (or so) it takes a while. I have to cool down my EMEM after 20 to 25 min, too. But I feel better afterward so I definately think I'm hitting something. Last fall and into the winter/spring I could tell when I needed to rife for Bart - my sypmtoms would flare (mostly flu like). Then I was only using 832 and 1518 (but for up to 6 min each) and I would feel better afterwards.

And I'm definatley hitting something with the Babs frequencies!

The really great thing about rifing is that we have this "flexability" in our treatment. It's amazing to me that in my 5th year of treatment that all this "new" stuff is happening - but I feel that it's going to help me (finally) reach remission.

Thanks so much everyone for you replies. "More" heads are better than one - for sure.

---

Posts: 1761 | From USA | Registered: May 2006 | IP: Logged |

pj1954
LymeNet Contributor
Member # 11722


posted

---

molly I definatly have babs and I get those foot pains only when I herx .

so it could be symptomatic of both bart and babs .

---

Posts: 294 | From sw chicago suburbs | Registered: Apr 2007 | IP: Logged |

mojo
Frequent Contributor (1K+ posts)
Member # 9309


posted

---

Thanks, PJ! My feet hurt a little this a.m., too but not as bad as yesterday.

I think I have both Bart and Babs. I can't wait until my next Dr. appt.!

---

Posts: 1761 | From USA | Registered: May 2006 | IP: Logged |

chaps
LymeNet Contributor
Member # 25286


posted

---

I heard that using rx Welchol can aid significantly in detoxing and cut herxes down by 66%, in turn allowing more frequent rife treatments and a 66% quicker recovery.

Anyone using it?

--------------------
-chaps
"Listen to the bell, Borrelia. It tolls for thee!"


---

Posts: 631 | From A little place called, "we'll see." | Registered: Apr 2010 | IP: Logged |

mojo
Frequent Contributor (1K+ posts)
Member # 9309


posted

---

Oh, I'd like to know about Welchol, too. I've heard it's easier to tolerate than Cholestromine(sp?)

---

Posts: 1761 | From USA | Registered: May 2006 | IP: Logged |

twingirl
Member
Member # 13172


posted

---

Marnie, This is directed at your question about using a sauna to avoid a herx. It's what a I/R sauna is for. The sweat from the sauna releases the toxins in our bodies that cause the herxing. The more toxins that are removed, the less herx reaction is felt.

I always use my sauna the day before, day of and day after to reduce/avoid herx reactions. If I didn't do that, I would be very sick!

--------------------
dar


---

Posts: 95 | From michigan | Registered: Sep 2007 | IP: Logged |
Contact Us | LymeNet home page | Privacy Statement

Powered by UBB.classic™ 6.7.3

---
The Lyme Disease Network is a non-profit organization funded by individual donations. If you would like to support the Network and the LymeNet system of Web services, please send your donations to:
The Lyme Disease Network of New Jersey
907 Pebble Creek Court, Pennington, NJ 08534 USA
http://www.lymenet.org/
---
Home | Flash Discussion | Support Groups | On-Line Library
Legal Resources | Medical Abstracts | Newsletter | Books
Pictures | Site Search | Links | Help/Questions
About LymeNet | Contact Us
---
© 1993-2020 The Lyme Disease Network of New Jersey, Inc.
All Rights Reserved.
Use of the LymeNet Site is subject to Terms and Conditions.
---