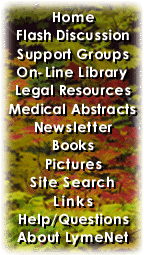 ---
LymeNet on Facebook
LymeNet on Twitter
---
---
The Lyme Disease Network receives a commission from Amazon.com for each purchase originating from this site.
When purchasing from Amazon.com, please
click here first.

Thank you.




Dedicated to the Bachmann Family


LymeNet needs your help:
LymeNet 2020 fund drive

The Lyme Disease Network is a non-profit organization funded by individual donations.

| | |
| --- | --- |
| | |
Author
Topic: stringy white stuff in mouth in morning

yankees237
LymeNet Contributor
Member # 25791


posted

---

does it necessarily mean i have a yeast overgrowth? it's not a lot, i just brush my teeth in the morning and that's it. i have no other symptoms except ive broken out in rashes all over (kind of looks like eczema) so im trying to figure out if it's candida.

could that just be yeast die off? or does white thrush in the morning = yeast overgrowth

---

Posts: 132 | From jersey | Registered: May 2010 | IP: Logged |

lululymemom
Frequent Contributor (1K+ posts)
Member # 26405


posted

---

One quick way of checking for yeast (and I know it sounds odd but..) is to spit into a cup of water first thing in the morning. Even before you get up. Spit into it twice and if you see long stringy strands coming from it that usually indicates yeast. If you see a sediment at the bottom, that could indicate a parasitic infection.

--------------------
IGM 41 IND, 83-93+ IGG 31 IND,34 IND, 41++, 58+, 83-93 IND

31 Epitope test neg.

Bartonella henselae 1:100


---

Posts: 2027 | From British Columbia | Registered: Jun 2010 | IP: Logged |

TF
Frequent Contributor (5K+ posts)
Member # 14183


posted

---

Thrush IS yeast overgrowth.

If you have white or yellow spots on your tongue in the morning, or a thick white coating, you have yeast overgrowth.

Why not look at some pictures on the internet. Just type in "yeast thrush tongue pictures"

With each swallow, the yeast is transported into the stomach and the rest of your digestive tract. It will cause bloating, gas, discomfort, abdominal pain, and other symptoms.

My lyme doc just looked at my tongue at each appt to see if I had yeast.

---

Posts: 9931 | From Maryland | Registered: Dec 2007 | IP: Logged |

LightAtTheEnd
LymeNet Contributor
Member # 24065


posted

---

I don't know what else does that if it isn't yeast. I had an outbreak of candida several weeks ago, and it is back under control, but since I've been back on 2 antibiotics, my tongue is white in the morning with thrush. It is better if I keep my carbs as low as I can.

I took GSE (grapefruit seed extract) along with other things when I was fighting the flared up candida in my digestive system, and it seemed to help a lot. I also had a very bad herx during that time, and I don't know whether the GSE was part of it by hitting Lyme cysts and/or increasing the level of doxy in my blood. I am wary of taking too much GSE now, or taking it too close to doxy.

However, I have had good results on the thrush if I just put a few drops of GSE in a glass of water and then gargle with it, swish it around and spit it out. If it is yeast, and it's only in your mouth, then that could help.

I have been told it's good to empty a probiotic capsule on your tongue later, after you've used something antifungal and antimicrobial in your mouth. I couldn't get my capsule to break open easily, so I just drank kefir instead. It should help to keep thrush at bay in your mouth if you have more good bacteria there.

If you find out it's not yeast, please let us know what it was. I would be interested to know if anything else can cause that same symptom (white tongue).

--------------------
Don't forget to laugh! And when you're going through hell, keep going!

Bitten 5/25/2009 in Perry County, Indiana. Diagnosed by LLMD 12/2/2009.


---

Posts: 756 | From Inside the tunnel | Registered: Jan 2010 | IP: Logged |

Lymetoo
Moderator
Member # 743


posted

---

Sounds like yeast to me!

Candida diet and elimination:
http://flash.lymenet.org/ubb/Forum1/HTML/021412.html

http://www.wholeapproach.com/diet/

Lyme symptoms list compared with yeast symptoms
http://flash.lymenet.org/ubb/Forum1/HTML/021202.html


DIET, DIET, DIET is the key. Then, be sure to follow the 5 step plan outlined below. It was developed by my naturopath. It works.

"Successful control and elminiation of a Candida Albicans overgrowth requires a multifaceted program as described below. Failure to follow ALL the steps simultaneously will result in slow progress and will lengthen healing time significantly. The program should be tailored to the individual and must balance the need to eliminate the Candida and deprive it of its food source while insuring proper nutrition for the individual."

Five Steps to Candida Elimination:

1. You must starve it into submission by eliminating its food source.

2. You must kill it with anti-fungal herbs and supplements. [e.g....garlic, onion, caprylic acid, Pau D'Arco capsules or tea, clove, grapefruit seed extract, olive leaf extract, oil of oregano, tea tree oil, Echinacea, Goldenseal, black walnut, MSM, barberry root, uva ursi, neem leaf, biotin]

3. You must reestablish the proper balance and quantity of probiotic bacteria in the digestive tract. [...multi-strain lactobacillus acidophilus and bifidus capsules with FOS should be taken between meals to maximize repopulation of the digestive tract by beneficial bacteria.]

4. You must reestablish proper levels of all B vitamins (yeast free) and utilize other immune enhancing supplements to boost immune system function. [e.g ... B complex vitamins (yeast free), biotin, beta 1-3 glucan, colostrum, maitake mushroom, vitamins A, C, E, zinc and selenium]

5. You must cleanse and heal the digestive tract to promote proper elimination of toxins and Candida and assimilation of nutrients. [e.g...chlorophyll, MSM, omega 3 fatty acids found in flax seed and salmon oils, GLA found in borage, evening primrose and black currant oils. Pantothenic acid, digestive enzymes between meals]

--------------------
--Lymetutu--
Opinions, not medical advice!


---

Posts: 95897 | From Texas | Registered: Feb 2001 | IP: Logged |

yankees237
LymeNet Contributor
Member # 25791


posted

---

The crazy thing is though, since I have started

treatment (4 months ago) ive been on probiotics

the whole time, literally never forgot to take it

not 1 time, watched my diet (literally eat no

carbs, sugar, etc) and i still have this over

growth.


what i have in the morning isn't exactly a tongue

full of thrush, but my tongue will have some

stringy whiteness on it. and now im breaking out

with all these eczema like rashes - i cant help

but think it's candida related. im tempted to

stop taking antiobiotics to be honest. ive been

on them since within 48 hours of my tick bite

(bullseye rash) for about 4 months. i dont really

have any symptoms ...i just can't take this rash

it's driving me crazy - im being prescribed

topical steroids for it, so either way wether i

stop taking the antiobiotics or not im not

following the proper guidelines. but i have no

choice.

---

Posts: 132 | From jersey | Registered: May 2010 | IP: Logged |

Need Lots of Help
LymeNet Contributor
Member # 18603


posted

---

It is hard to control yeast when on antiboitics with diet alone. It is good you are watching your diet, but you may need some diflucan or sporonex.

---

Posts: 893 | From Florida | Registered: Dec 2008 | IP: Logged |

Lymetoo
Moderator
Member # 743


posted

---

Unless you were taking natural stuff to kill the yeast or Nystatin, you will usually get yeast eventually.

It's bad stuff.

Maybe the rash is from the abx?

--------------------
--Lymetutu--
Opinions, not medical advice!


---

Posts: 95897 | From Texas | Registered: Feb 2001 | IP: Logged |

yankees237
LymeNet Contributor
Member # 25791


posted

---

i stopped the antibiotic i was taking on 2 occassions - both times it hasn't helped.

i keep telling my LLMD that i have some white stuff in my mouth when i wake up and all he says is " are you taking acidophilus" i say "yes religiously" and that's the end of that convo. you're right i probably need an anti=yeast medication

i started taking oil of oregano today. is that as powerful as everyone makes it out to be?

---

Posts: 132 | From jersey | Registered: May 2010 | IP: Logged |

sammy
Frequent Contributor (5K+ posts)
Member # 13952


posted

---

It might not be yeast. When my allergies are flaring I sometimes sleep with my mouth open. Then I wake up with my mouth feeling dry. I notice that sometimes I have a few white strings usually where my gums and teeth touch against my cheeks. If I move my tongue across my teeth (or to moisten my lips) the strings will get on my tongue. The strings easily rinse away when I take a drink of water.

I do not think that they are yeast because they rinse away easily. And a whitish looking tongue can be from dry mouth too (if this is the case, you are seeing the hairs on your tongue).

A thicker white coating would be a major sign of yeast. Can look like a layer of cottage cheese. It can also cause patches on your cheeks and under your tongue. Underneath the white stuff you can have sores that are raw and bleed easily.

So if you have no other signs of yeast, check out your meds, they may be causing you to have a dry mouth.

You might try using a different mouth wash. I like Jason brand "Healthy Mouth", it has antibacterial, antifungal, antiviral, and moisturizing herbs/oils to help keep your mouth healthy.

If you need something with fluoride try Listerine smart rinse "Berry shield". It kills germs without using alcohol. I use the Jason brand in the morning and Listerine smart rinse in the evening (per my dentist's recommendation).

---

Posts: 5237 | From here | Registered: Nov 2007 | IP: Logged |

yankees237
LymeNet Contributor
Member # 25791


posted

---

are there any other skin manifestations of lyme disease besides the EM rash? i have red itchy bumps all over and nobody including 2 dermatologists/a LLMD/and a PCP know why

---

Posts: 132 | From jersey | Registered: May 2010 | IP: Logged |

Tammy N.
Frequent Contributor (1K+ posts)
Member # 26835


posted

---

I've had that stingy stuff also. Although not stringy now, I am dealing with yeast. Has been hard to get rid of. I'm on an antibiotic break (2 months) and have been feeling really crappy. Hitting things hard with Difulican and lots of herbs and supplements (herxing), but new LLMD said no antibiotics until this is under control.

For yeast, in addition to the Diflucan I just started, I take Candex (2 x daily), GSE, Olive Leaf Extract, Inner Defense from Young Living (has lots of different oils in it), etc. When on antibiotics, I've always taken Candex and will continue. It's an enzyme based supplement, totally natural. Because it's enzymes, it 'eats' the yeast so there is not die off. Then lots of different probiotics. And, of course, diet is key. No sugar, no carbs, and very minimal fruit.

Yankee - if I may suggest..... I would stay away from steriods, even the topical ones. There is a strong belief that when an illness is trying to express itself through something like a rash, and we suppress it by applying topical steriods, it forces this expression of illness back into the body, where it will then express itself another way. Often suppressed skin things go to the lungs. I've heard over and over how people had eczema and now they have asthma. I know rashes are not easy to take.... it's just one more thing to deal with. My husband has had a rash on the back of his head for 2 years that is driving him crazy. We've tried everything. Our newest thing, which may be helping, it applying organic coconut oil every day, and also taking it internally. It's great for so many things. Maybe give that a try. Good luck! Tammy

---

Posts: 2238 | From East Coast | Registered: Jul 2010 | IP: Logged |

glm1111
Frequent Contributor (5K+ posts)
Member # 16556


posted

---

GiGi posted a symptom list for parasites a while back. Chronic candida was on the list of symptoms.

Parasites and worms can be a co-infection of Lyme disease and should be treated. Do a search on here by typing parasites in the search bar at the top.

Gael

--------------------
PARASITES/WORMS ARE NOW
RECOGNIZED AS THE NUMBER 1 CO-INFECTION IN LYME DISEASE BY ILADS*


---

Posts: 6418 | From philadelphia pa | Registered: Jul 2008 | IP: Logged |

yankees237
LymeNet Contributor
Member # 25791


posted

---

tammy

believe me i was not happy about the topial

steroids. i tried to avoid it at all costs. they

wanted to give me oral steroids but i refused. i

only agreed to topical because my llmd said it

was okay. it's not even the appearance of a rash

= its unbelievable itchy, i get no sleep.


the only other thing i can think of - is my tick

bite didn't heal until like 3 months after i got

bit. because i kept picking at it. i wonder if i

picked up some kind of infection through that

open wound? like a staph infection? would that be

easily diagnosed from a doctor? i showed them all

the tick bite that i still has 3 MONTHS later but

they didn't seem to concerned about it.

---

Posts: 132 | From jersey | Registered: May 2010 | IP: Logged |

dali
LymeNet Contributor
Member # 24458


posted

---

You should get some diflucan if it is yeast. This helps me tremendously.

Also, buy a tongue cleaner...they sell them at most organic supermarkets. You scrape all that gunk off your tongue in the morning and at night...whenever!

The tongue scrapers help me tremendously. It stops you from swallowing that stuff, and your tongue will look much better, eventually getting back to almost pink.

good luck

---

Posts: 172 | From ohio | Registered: Feb 2010 | IP: Logged |

D Bergy
Frequent Contributor (1K+ posts)
Member # 9984


posted

---

The bacterium Porphyromonas Gingivalis can cause the whitish film in the mouth. This is the bacterium primarily responsible for gum disease.

I have been experimenting with the destruction of this using frequencies. I do not have Lyme but did have the white film, Crohn's and gum disease.

This bacterium also somewhat alters a normal immune response.

I have reduced the film to a great degree, but I am not sure of any other benefits yet.

Dan

---

Posts: 2918 | From Minnesota | Registered: Aug 2006 | IP: Logged |
Contact Us | LymeNet home page | Privacy Statement

Powered by UBB.classic™ 6.7.3

---
The Lyme Disease Network is a non-profit organization funded by individual donations. If you would like to support the Network and the LymeNet system of Web services, please send your donations to:
The Lyme Disease Network of New Jersey
907 Pebble Creek Court, Pennington, NJ 08534 USA
http://www.lymenet.org/
---
Home | Flash Discussion | Support Groups | On-Line Library
Legal Resources | Medical Abstracts | Newsletter | Books
Pictures | Site Search | Links | Help/Questions
About LymeNet | Contact Us
---
© 1993-2020 The Lyme Disease Network of New Jersey, Inc.
All Rights Reserved.
Use of the LymeNet Site is subject to Terms and Conditions.
---