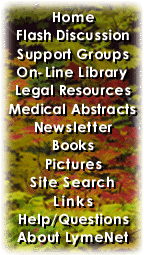 ---
LymeNet on Facebook
LymeNet on Twitter
---
---
The Lyme Disease Network receives a commission from Amazon.com for each purchase originating from this site.
When purchasing from Amazon.com, please
click here first.

Thank you.




Dedicated to the Bachmann Family


LymeNet needs your help:
LymeNet 2020 fund drive

The Lyme Disease Network is a non-profit organization funded by individual donations.

| | |
| --- | --- |
| | |
Author
Topic: How do I detox?

sunshine32274
Member
Member # 24771


posted

---

Hi everyone I need to detox my body and I need to know how to do it. If anyone has any suggestions I would greatly appreciate.

Also I need to get back on my strict sugar-gluten free diet. I need help is this area. Any suggestions for this please send them my way.

I am addicted to diet coke and can't seem to break this habit, what can I do?

Thanks to everyone and if you want to email me anything let me know.

Thanks

---

Posts: 26 | From Michigan | Registered: Mar 2010 | IP: Logged |

Keebler
Honored Contributor (25K+ posts)
Member # 12673


posted

---

-
As you suspect, the diet coke will have to go if you want to live. It's that simple.

Hey, I had to give this up a couple times. It was the only way I kept a couple of my jobs as long as I did but then it started backfiring - I was falling, seizures, etc.

I think some of the damage I had was from aspartame. But, then, I had no idea. I do know. And, soon, so shall you.

Would you drink kerosene ? It's about the same thing.

Go with Green tea with stevia to sweeten. Stevia from plant source. SweetLeaf is a good brand.

Yogi Tea Chai Green is my favorite. At night, go for a SleepyTime Tea.

Start there. Dump all the diet coke and everything else that may have aspartame in it. Or take it back to the store and tell them they should not be selling poison.

Even a trace can cause seizures, especially in those with toxicity issues already. If I get a trace, unknowingly, a seizure hits. You have to check ALL labels, even cough medicine and toothpaste.

If fake foods are consumed, you may as well be flushing your money for lyme treatment down the toilet.

============================

http://www.ncbi.nlm.nih.gov/sites/entrez

PubMed Search:

aspartame - 938 abstracts

aspartame, neurotoxin 3 abstracts

Three of those:
------------------

Relief of fibromyalgia symptoms following discontinuation of dietary excitotoxins.

Ann Pharmacother. 2001 Jun;35(6):702-6.
PMID: 11408989 [PubMed - indexed for MEDLINE]

CONCLUSIONS: The elimination of MSG and other excitotoxins from the diets of patients with fibromyalgia offers a benign treatment option that has the potential for dramatic results in a subset of patients.

========================

http://tinyurl.com/bs7ck6

Excitotoxins in foods.

==================================

http://tinyurl.com/28of7y

Eur J Clin Nutr. 2007 Aug 8; [Epub ahead of print] Links

Direct and indirect cellular effects of aspartame on the brain.

=====================

Aspartame/Nutrasweet/Equal is an excito-toxin. Even a trace can set the emergency system of our poison detector system into high spin - for hours or even for days.

It raises the NMDA (excitatory) receptors. It is poison to the nerves, especially in the brain. More so for lyme patients, for many reason, mostly as lyme's toxicity has tipped the boat already.

The liver has to work overtime to elimate toxins and this will also add to it being harder to sleep.

===================

www.youtube.com/watch?v=lqIFDoOwSFM

Six minute video on You Tube:

The Truth About Aspartame - Dr Russell Blaylock (neurologist)

===================

www.naturalnews.com/020550.html

Interview with Dr. Russell Blaylock on devastating health effects of MSG, aspartame and excitotoxins

September 27, 2006

================

http://www.truthinlabeling.org/Blaylock-AspartameAndMultipleSclerosis-Neurosurgeon'sWarning.html

The Connection Between MS and Aspartame -- By Russell L. Blaylock, MD - Neurosurgeon - 6-7-2004

EXCERPTS:

Recently, much controversy has surrounded a claim that aspartame may produce an MS-like syndrome.

A current review of recent peer-reviewed scientific studies has disclosed a pathophysiological mechanism to explain this connection.

As far back as 1996 it was shown that the lesions produced in the myelin sheath of axons in cases of multiple sclerosis were related to excitatory receptors on the primary cells involved called oligodendroglia. Recent studies have now confirmed what was suspected back then.

The loss of myelin sheath on the nerve fibers characteristic of the disease is due to the death of these oligodendroglial cells at the site of the lesions (called plaques). Further, these studies have shown that the death of these important cells is as a result of excessive exposure to excitotoxins at the site of the lesions.

Normally, most of these excitotoxins are secreted from microglial immune cells in the central nervous system. This not only destroys these myelin-producing cells it also breaks down the blood-brain barrier (BBB), allowing excitotoxins in the blood stream to enter the site of damage. Aspartame contains the excitotoxin aspartate as 40% of its molecular structure.

Numerous studies have shown that consuming aspartame can significantly elevate the excitotoxin level in the blood. There is a common situation during which the excitotoxin exposure is even greater. When aspartate (as aspartame) is combined in the diet with monosodium glutamate (MSG) blood levels are several fold higher than normal.

With the BBB damaged, as in MS, these excitotoxins can freely enter the site of injury, greatly magnifying the damage. So, we see that dietary excitotoxins, such as aspartame and MSG, can greatly magnify the damage produced in multiple sclerosis. Likewise, excitotoxins have been shown to break down the BBB as well. . . .

- much more information in the full article - and citations - at link above.

=================

http://tinyurl.com/6nw8ae (through www.amazon.com)

Excitotoxins: The Taste That Kills (1996)) --by Russell L. Blaylock, M.D.

You can look inside the book and read over 50 customer reviews.

about $12.00

================

http://cdbaby.com/cd/russellbmd

The Truth About Aspartame - Russell Blaylock, MD -- © 2006

EXCERPTS:

An informative CD on the history and dangers of a common food additive called, Aspartame. Includes important information on how to treat health-related side effects caused by aspartame.

The artificial sweetener, Aspartame is used in over six thousand food and beverage products worldwide, ranging from diet soft drinks to chewable vitamins. . . .

In this discussion, neurosurgeon and author, Dr. Russell Blaylock . . . connection between the use of aspartame and a number of common medical disorders . . . (including multiple sclerosis, brain and other types of tumors, confusion, visual problems and weight gain) and informs us of just how such a dangerous product was ever approved for human use by the FDA.

But more importantly, Dr. Blaylock outlines for us practical ways in which we can treat this resulting damage.

A CD or to download an MP3 - each $15.

Author's home site: www.russellblaylockmd.com
-

[ 09-20-2010, 12:54 AM: Message edited by: Keebler ]

---

Posts: 48021 | From Tree House | Registered: Jul 2007 | IP: Logged |

Keebler
Honored Contributor (25K+ posts)
Member # 12673


posted

---

-
MSG - related article about glutamate, glutamic acid. As MSG, and in excess in tender brains, it is rocket fuel and it can kill our brain cells.

============================

www.itmonline.org/arts/glutamine.htm

AMINO ACID SUPPLEMENTS I: GLUTAMINE - with Reference to the Related Compound Glutamate

-by Subhuti Dharmananda, Ph.D.

Excerpt, half way down the article:

. . . Glutamate in Neurological Diseases

The other concern about glutamate is related to its essential role as a neurotransmitter. The levels of glutamate in the central nervous system (brain and spinal cord) are highly regulated, since the neurons have sensitive receptors for the compound.

* In some neurological diseases, it is found that glutamate levels in the central nervous system become unusually high at sites of pathology. This can occur, for example, if the rate of degradation of glutamate is slowed by an impairment of the enzymes that are involved.

* Also, glutamate is excreted by immune cells that take part in inflammatory processes; the result is high local concentrations at the neurons in progressive neurological diseases such as MS and ALS.

* Glutamate levels in the central nervous system can also increase when the blood brain barrier is substantially weakened, as occurs after neurological surgery.

* The excess glutamate at the neuron acts as a poison; at high enough levels, the nerves exposed to glutamate can be completely and permanently damaged, so that they are no longer capable of transmitting signals.

* Thus, while glutamate is a major component of the body, and an essential part of the nervous system, high levels localized in the nerve cells can be quite toxic, and this is readily demonstrated in animal models.

* Laboratory research has revealed that in the progressive, debilitating disease ALS, one of the many processes involved in disease progression appears to be damage of nerve cells by accumulation of glutamate.

* In relation to multiple sclerosis, changes in control of glutamate homeostasis in the central nervous system might contribute to demyelination of the white matter of the brain (19).

Based on preliminary animal studies, it has been suggested that glutamate dumped by immune cells can exacerbate the nerve damage (20).

* One of the means by which a stroke (causing blockage of blood circulation to the brain) results in brain damage is through an increase in glutamate levels in the brain cells (of course, oxygen deprivation and other effects are also contributors). These findings point to local glutamate excess as an important factor in brain diseases.

* Since glutamine is converted to glutamate, supplementing glutamine at very high levels in persons who have such neurological disorders may be contraindicated. . . .

- Full article at link above.
-

---

Posts: 48021 | From Tree House | Registered: Jul 2007 | IP: Logged |

Keebler
Honored Contributor (25K+ posts)
Member # 12673


posted

---

-
You are likely trying to get kick out of both MSG (which is highly stimulating to your brain cells) and to the caffeine.

Magnesium can help your body balance that over excitability.

Adrenal support can help you with gentle energy that you crave from the rocket fuel.

---------------------------

ADRENAL LINKS:
---------------------------


This book is specific to lyme and other chronic stealth infections. The author discusses the endocrine connection and effects of STRESS on a person with such infections. You can read customer reviews and look inside the book at this link to its page at Amazon.

http://tinyurl.com/6xse7l

The Potbelly Syndrome: How Common Germs Cause Obesity, Diabetes, And Heart Disease (Paperback) - 2005

by Russell Farris and Per Marin, MD, PhD

==================

Remember that lyme really messes up the HPA axis (Hypothalamus/pituitary/adrenal network). The pituitary has much to do with weight/growth. Mess up any part of the endocrine system and other parts suffer, too.

http://www.ilads.org/lyme_disease/B_guidelines_12_17_08.pdf

See page 4 where Dr. Burrascano describes a bit about the considerations of the dysfunction with the HYPOTHALAMIC-PITUITARY AXIS

===============================

Many good basic articles about Adrenal Dysfunction:

http://www.vrp.com/ArticlesSearch.aspx?k=Adrenal_Dysfunction

=========================

Cordyceps is recommend here:

This is included in Burrascano's Guidelines, but you may want to be able to refer to it separately, too:

http://www.lymepa.org/Nutritional_Supplements.pdf

Nutritional Supplements in Disseminated Lyme Disease

J.J. Burrascano, Jr., MD (2008)

========================

Great information about treatments options and support measures, including those to help adrenal/endocrine function:

http://tinyurl.com/6lq3pb (through Amazon)

THE LYME DISEASE SOLUTION (2008)

- by KSn, MD

You can read more about it here and see customer reviews.

Web site: www.lymedoctor.com

=========================

http://webhome.idirect.com/~wolfnowl/thyroid7.htm

Get To Know Your Endocrine System -by Lauri M. Aesoph, N.D.

Excerpt:

(section on) Adrenal Glands

. . . Your body reacts to these hormones with a "flight or fight" response: pounding heart, dilated pupils and high blood pressure. . . .

=========================

http://www.prohealth.com/ME-CFS/library/showArticle.cfm?libid=14383&B1=EM031109C

http://tinyurl.com/detwtt

Underactive Adrenal Gland - Stresses and Problems with the Body's 'Gear Box' - by Dr. Sarah Myhill, MD

=======================

Many libraries carry this book and you can read 95 customer reviews here (average 4.5 star out of 5) AND see inside the book:

www.amazon.com/Adrenal-Fatigue-Century-Stress-Syndrome/dp/1890572152/ref=sr_1_1?ie=UTF8&s=books&qid=1263516913&sr=8-1

Adrenal Fatigue: The 21st Century Stress Syndrome

~ James L. Wilson, ND, DC, PhD, Johnathan V. Wright, MD

About $10. And qualifies for free shipping with a total $25. Purchase at Amazon

======================

http://www.cpmedical.net/newsletter.aspx?newsdate=11-1-2009#6511

3/4 of the way down page:

Curcumin Prevents Some Stress-Related Changes (By CP Staff)

Excerpts:

A recently published study investigated the effects of curcumin, a constituent of the botanical turmeric, on changes in cognition and memory caused by stress. . . .

. . . In this new study, researchers investigated the effect of curcumin supplementation on stress-induced learning defects in mice. . . .

. . . In addition, curcumin reversed the stress-induced increase in the levels of serum corticosterone, the primary hormone secreted during the stress response. . . .

. . . The researchers concluded, ``Thus, curcumin may be an effective therapeutic for learning and memory disturbances as was seen within these stress models, and

its neuroprotective effect was mediated in part by normalizing the corticosterone response, resulting in down-regulating of the phosphorylated calcium/calmodulin kinase II and glutamate receptor levels.''

===========================

This is not a lyme book.

This book has only one reference to lyme (in the historical use of sarsarparilla for another spirochetal infection). However, it is a vital first book to read - or a reference - for anyone interested in understanding nutritional methods.

Search for Ashwagandha; Cordyceps; Siberian Ginseng in this book:

http://oneearthherbs.squarespace.com

The One Earth Herbal Sourcebook (Tillotson)

Graciously, much of this book is on line. It can also be purchased from this site or through Amazon where you can look inside the book and see many customer reviews.

Amazon link to this book: http://tinyurl.com/6zapeh

=====================

The Rhodiola Revolution by Richard P. Brown, MD and Patricia L. Gerbarg, MD, et.al.

See this at Amazon.

[But note that Rhodiola by itself, especially at first, can be a bit too stimulating for lyme patients who are often very sensitive. It's best to start with others - or with rhodiola as part of a formula.]

================================

Medical abstracts for the most common adaptogens (adrenal support):

http://www.ncbi.nlm.nih.gov/sites/entrez

PubMed Search:

Ashwagandha - 369

Cordyceps - 531 abstracts

Rhodiola - 297 abstracts

Eleutherococcus senticosus - 93 abstracts (also called Siberian Ginseng)

Siberian Ginseng - 228 abstracts

Panax Ginseng, adrenal - 65 abstracts

===========================

This is the supplement that works best for me, suggested by my ND:

http://www.naturalhealthyconcepts.com/adaptocrine-k2-p-endocrine-system.html

Adaptocrine (by Apex)
-

---

Posts: 48021 | From Tree House | Registered: Jul 2007 | IP: Logged |

Keebler
Honored Contributor (25K+ posts)
Member # 12673


posted

---

-
In summary,

Aspartame toxicity is not just due to the liver, exactly, as it has such immediate reaction that the liver barely has a chance to deal with it. It is very excitatory and neurotoxic - to the BRAIN. Even a trace - even in gum. Nearly instantly and then the cascade reaction goes on.

Even a trace can kill brain cells. Anxiety can reach new heights. Depression new lows. With even a trace. It should be avoided at all costs. Totally.

Same with MSG. Google for all the names that hides under as well as all the cutesy products - and even medicines - that contain aspartame.

Don't even keep these in your home, car, old purses or pockets . . . desk drawers. Hunt it down. Return it for a refund. Do not give to anyone else and keep the trash collected away from any wild animals or pets. It could kill them.

I would hesitate to even pour it down the sink as it gets back into our waterways. No wonder frogs are not looking so good anymore.

Your body needs you. You need your body. You will feel better. Really.
-

---

Posts: 48021 | From Tree House | Registered: Jul 2007 | IP: Logged |

sunshine32274
Member
Member # 24771


posted

---

Thanks to everyone who has responded it has really helped. I use to have seizures all the time....Time to stop the diet coke:-)

---

Posts: 26 | From Michigan | Registered: Mar 2010 | IP: Logged |

Keebler
Honored Contributor (25K+ posts)
Member # 12673


posted

---

-
Hey, good luck. Hope you are enjoying a nice cup of Green Tea as we speak.

Next step: Liver support. Milk Thistle is a good place to begin (unless you are taking mepron).

Drink water. Magnesium and Fish Oil are good. Google OmegaBrite, Marnie suggess that.
-

---

Posts: 48021 | From Tree House | Registered: Jul 2007 | IP: Logged |

canefan17
Frequent Contributor (5K+ posts)
Member # 22149


posted

---

Keebler... changing one life at a time.

: )

Full of some of the BEST information on the web.

I never get tired of reading your responses. Even when I know the answer : )

---

Posts: 5394 | From Houston, Tx | Registered: Aug 2009 | IP: Logged |

mojo
Frequent Contributor (1K+ posts)
Member # 9309


posted

---

I promise is you give up the diet Coke and all other soda and artificial sweetners you will feel SO much better.

Happy detoxing! The thread above will really help.

---

Posts: 1761 | From USA | Registered: May 2006 | IP: Logged |

manderson7185
Member
Member # 27787


posted

---

What about Splenda? Is that ok?

--------------------
June 2009: Lyme IGM 23 and 39 positive, Titer 1.12.
September 2010: Rediagnosed with Lyme as well as Babesia coinfection.


---

Posts: 27 | From Pennsylvania | Registered: Aug 2010 | IP: Logged |

amberini
LymeNet Contributor
Member # 21281


posted

---

It's really not in your best interest to eat/drink anything with that ingredient. It has many names, google it so you will know as you read labels.

Best bet, whatever you eat should be as close to what it was naturally. The less fiddling around with a product, the better.

Have you tried Stevia?

---

Posts: 125 | From US | Registered: Jul 2009 | IP: Logged |

mysteryillness1970
LymeNet Contributor
Member # 24588


posted

---

I think it is quite interesting that the people who make Splenda also make anti-depressants...just sayin'

---

Posts: 166 | From USA | Registered: Feb 2010 | IP: Logged |

bcb1200
Frequent Contributor (1K+ posts)
Member # 25745


posted

---

How com$e Dr B says artificial sweeteners are fine if you can handle them? I drink a diet sprite on occasion. I also have "no sugar added" ice cream

--------------------
Bite date ?
2/10 symptoms began
5/10 dx'd, after 3 months numerous test and doctors

IgM Igenex +/CDC +
+ 23/25, 30, 31, 34, 41, 83/93

Currently on:

Currently at around 80% +/- most days.


---

Posts: 3124 | From Massachusetts | Registered: May 2010 | IP: Logged |

nefferdun
Frequent Contributor (1K+ posts)
Member # 20157


posted

---

I was having a diet drink rarely - about once every 3 months - but never again after reading this. And I also bought sugar free candy now and then - but it goes into the trash. My brain is a mess and I need all the help I can get.

I do allow myself a little honey. There are just so many good things written about honey (and we have our own bees now!) that I can't believe it is harmful.

Don't forget chlorella for detoxing.

--------------------
old joke: idiopathic means the patient is pathological and the the doctor is an idiot


---

Posts: 4676 | From western Montana | Registered: Apr 2009 | IP: Logged |

mojo
Frequent Contributor (1K+ posts)
Member # 9309


posted

---

I don't know why Dr B says that! It truely saddened me when I read that.

You are not doing yourself any favors by using artificial sweetners, including Splenda.

The only thing that is probably OK is pure Stevia.

---

Posts: 1761 | From USA | Registered: May 2006 | IP: Logged |

James Fischer
Member
Member # 24622


posted

---

manderson7185-Splenda is an artifical sweetener all of these have aspartame in them.

---

Posts: 32 | From Minnesota | Registered: Feb 2010 | IP: Logged |
Contact Us | LymeNet home page | Privacy Statement

Powered by UBB.classic™ 6.7.3

---
The Lyme Disease Network is a non-profit organization funded by individual donations. If you would like to support the Network and the LymeNet system of Web services, please send your donations to:
The Lyme Disease Network of New Jersey
907 Pebble Creek Court, Pennington, NJ 08534 USA
http://www.lymenet.org/
---
Home | Flash Discussion | Support Groups | On-Line Library
Legal Resources | Medical Abstracts | Newsletter | Books
Pictures | Site Search | Links | Help/Questions
About LymeNet | Contact Us
---
© 1993-2020 The Lyme Disease Network of New Jersey, Inc.
All Rights Reserved.
Use of the LymeNet Site is subject to Terms and Conditions.
---