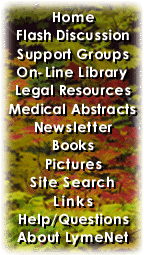 ---
LymeNet on Facebook
LymeNet on Twitter
---
---
The Lyme Disease Network receives a commission from Amazon.com for each purchase originating from this site.
When purchasing from Amazon.com, please
click here first.

Thank you.




Dedicated to the Bachmann Family


LymeNet needs your help:
LymeNet 2020 fund drive

The Lyme Disease Network is a non-profit organization funded by individual donations.

| | |
| --- | --- |
| | |
Author
Topic: GI Pains

cameron
Member
Member # 28040


posted

---

I have had a bad stomach (apparently IBS) since around the time I believe I contracted Lyme. Alot of pain, gut spasms, constipation, loud sounds, etc. Could this be a part of Lyme? Does anyone else have similar issues? If so have you found any solutions?
Thanks.

---

Posts: 27 | From winnipeg | Registered: Sep 2010 | IP: Logged |

sixgoofykids
Moderator
Member # 11141


posted

---

I had all that when I had parasites and it went away with parasite treatment.

I used Humaworm four times, 90 days apart. I also used enula for many months.

--------------------
sixgoofykids.blogspot.com


---

Posts: 13449 | From Ohio | Registered: Feb 2007 | IP: Logged |

cameron
Member
Member # 28040


posted

---

Can you do the parasite cleanse while on abx?

---

Posts: 27 | From winnipeg | Registered: Sep 2010 | IP: Logged |

sixgoofykids
Moderator
Member # 11141


posted

---

I did.

--------------------
sixgoofykids.blogspot.com


---

Posts: 13449 | From Ohio | Registered: Feb 2007 | IP: Logged |

renny1985
LymeNet Contributor
Member # 25222


posted

---

GI symptoms are my worst symptoms. I am not better (YET!) so I cant offer much advice.. but I just wanted you to know.. us tummy issue people are out there. You are not alone. It stinks and I am sorry- wouldn't with GI LYME symptoms on anyone.

My worst are severe abdominal pain, cramping, nausea, diarrhea/frequent BM's.

---

Posts: 341 | From NY/FL | Registered: Apr 2010 | IP: Logged |

Nancy2
Frequent Contributor (1K+ posts)
Member # 95


posted

---

Google for information on SIBO (small intestine bacterial overgrowth). May help!

Nancy

---

Posts: 1487 | From New England | Registered: Oct 2000 | IP: Logged |

one4islands
LymeNet Contributor
Member # 28187


posted

---

Newly diagnosed with LD and was diagnosed with IBS in 1996 and diverticulosis a few years after that.
I've always had GI issues-GERD, gastritis and esophageal spasms.
One thing that scares me about LD is how we tend to blame all of our symptoms on LD when it could very well be something else.

My husband was diagnosed w/ colon cancer at age 42, so I always suggest people who have GI concerns to be more cautious.

If things were normal and now a bunch of meds are causing GI upsets that's okay.

If you have GI issues that are persistent and don't go away and you don't think they are related to meds. I'd go to a GI to be safe.

---

Posts: 412 | From Virginia | Registered: Sep 2010 | IP: Logged |

hadlyme
LymeNet Contributor
Member # 6364


posted

---

Agree with one4islands.

Get the GI issues looked out. Not everything is lyme related per se. Can be a side effect from it, but a real issue that does need to be treated.

I just had my colonoscopy yesterday. Also had an Endoscope too. Amazing the things they found.

Are they lyme related? Who knows.. could be... maybe not? But we do need to take care of our bodies no matter what weird things are in our bodies.

--------------------
Lyme, Babs, Fry Bug..... Whatever it is, may a treatment be discovered to make us all whole again!


---

Posts: 941 | From AZ-MT | Registered: Oct 2004 | IP: Logged |

Lymetoo
Moderator
Member # 743


posted

---

Or yeast.

--------------------
--Lymetutu--
Opinions, not medical advice!


---

Posts: 95723 | From Texas | Registered: Feb 2001 | IP: Logged |

lululymemom
Frequent Contributor (1K+ posts)
Member # 26405


posted

---

I've had the GI issues for 10 years now. Had all the work ups done.. Went through hell and back trying to figure out what was wrong. Always came back with normal results.

If I would have known I had Lyme back then, I probably wouldn't have done such exhaustive studies trying to figure out why I was having these issues.

It's prudent to do the basic tests, but don't overdo it like I did.

--------------------
IGM 41 IND, 83-93+ IGG 31 IND,34 IND, 41++, 58+, 83-93 IND

31 Epitope test neg.

Bartonella henselae 1:100


---

Posts: 2027 | From British Columbia | Registered: Jun 2010 | IP: Logged |

Haley
Frequent Contributor (1K+ posts)
Member # 22008


posted

---

Have a stool sample looked at by a good lab. That could provide lots of information.

I will probably see a GI doc soon due to very specific pain I'm having.

---

Posts: 2232 | From USA | Registered: Aug 2009 | IP: Logged |

Starfall
LymeNet Contributor
Member # 26795


posted

---

Been having some issues the past few days too. I was awake most of the night Monday night with nausea and some stomach pain, thought it was a stomach bug.

Now I have more stomach pain--it feels like gas that is trapped and won't pass. Nothing I've done has helped relieve it.

I stopped my abx till I feel better, and I'm increasing my probiotic.

I've also got a cold right now, so I don't know if that's playing into what's happening or not.

---

Posts: 303 | From Pennsylvania | Registered: Jul 2010 | IP: Logged |

INEBG
LymeNet Contributor
Member # 27690


posted

---

I've been having a lot of GI issues lately, too, and am wondering if they are a result of me starting to take magnesium at night to help me sleep. Very gassy.

---

Posts: 212 | From San Francisco Bay Area, California | Registered: Aug 2010 | IP: Logged |

Remember to Smile
Unregistered



posted

---

Sorry to read of many with GI troubles. I feel for ya.

My system has been much better lately, so I'll share some ideas:

* Listen to Lymetoo and go full force to control Candida. Gas is often Candida overgrowth. We must stay on a strict wheat-free, yeast-free, sugar-free diet to heal from lyme.

* Look up "colitis diet" and know that's a good plan for many as well. Easy on the gut. (Will allow more carbs than appropriate for anti-Candida, but can give you an idea of foods to avoid.)

* Try slowly adding blocks under the feet of your bed for "incline bed therapy." Another member suggested that to me months ago, and I love it! Excellent help for acid reflux or nausea. Google it for "how-to." If you cannot raise the head end of your bed, you may wish to try sleeping in a recliner.

* The most excellent pre/probiotic I've found is Body Biotics. My LLMD recommends it. Doesn't need refrigeration. Works great. Fast relief from diarhhea, just take one extra cap for a day or two.

* Note magnesium can cause diarrhea if you take too much for your system. Ease into any dose with a slow taper. Too much Vit C can cause diarrhea, too.

* Drink plenty of quality water. Then have another glass.

* If you can, find a good book set in a foreign land and escape when your GI is trying to take center stage?

Hugs,
Smile

---

IP: Logged |

Starfall
LymeNet Contributor
Member # 26795


posted

---

About elevating your head at night. Many medical supply stores also carry special pillows that elevate your head; my husband has one for his reflux. I think you need a prescription for it, but I would think you can find something similar somewhere else.

---

Posts: 303 | From Pennsylvania | Registered: Jul 2010 | IP: Logged |

TX Lyme Mom
Frequent Contributor (1K+ posts)
Member # 3162


posted

---

Don't overlook the possibility of celiac triggered by Lyme -- since 40% of the population carries the gene for celiac, although only 1% of the population ever actually develops celiac (the auto-immune form of gluten intolerance).

Celiac experts postulate a variety of "triggering factors" -- including a variety of infections (bacterial or viral) -- to explain why celiac occurs in only 1 out of the 40% of individuals who carry the gene for celiac.

A number of LLMDs are now starting to screen their Lyme patients for celiac &/or gluten intolerance, especially among those patients who do not improve or who relapse after antibiotic therapy.

Surprisingly, not all of the symptoms of celiac are necessarily gastrointestinal symptoms either because gluten can trigger cerebral &/or other neurological symptoms, in addition to GI symptoms -- such as brain fog, depression and fatigue, believe it or not!

There is a very logical explanation for how Lyme can trigger or activate latent celiac in someone who is genetically predisposed to it. Borrelia's cell wall is composed of lipoproteins which are low molecular weight neurotoxins similar to Clostridia toxin, according to research by Donta and Cartright, who hold a patent on Borrelia's neurotoxin.

An illustration in an article on celiac in Sci. Amer. shows how such a neurotoxin can interfere with "tight junctions" in the GI tract, allowing incompletely digested macromolecules of proteins (such as gluten) to enter the general circulation and trigger an autoimmune reaction. Here's a link to the Sci. Amer. article with its excellent colorful illustrations, authored by a celiac expert. (Scroll down to find the illustrations near the end of the article.)

http://www.feingold.org/Research/PDFstudies/CeliacArticleAug2009.pdf

According to articles by Ritchie Shoemaker, MD who has written a lot about neurotoxins, these neurotoxins are extremely difficult for the body to eliminate because they are reabsorbed from the colon, along with other fatty acids, because that's what the colon is designed to do -- ie, to absorb fats and other nutrients before elimination. Thus, these LMW neurotoxins tend to be recirculated repeatedly via the enterhepatic loop. Therefore, it is easy to understand why so many Lyme patients find that they have developed celiac or gluten intolerance as a result of chronic Lyme.

Many neuro-Lyme symptoms disappear, along with the GI symptoms, when one learns about all of the hidden sources of gluten and learns to avoid them.

http://www.celiacsolution.com/hidden-gluten.html

If you have a true gluten intolerance, then it's not enough simply to avoid only the obvious sources of gluten because even a minor exposure to gluten can be enough to trigger symptoms for several days. Thus, it can be very confusing and frustrating to try to avoid wheat because there are so many other hidden sources of gluten in our diet, especially in processed foods.

The best lab for diagnosing gluten intolerance is:

https://www.enterolab.com/

...and the good news is that you don't even need a doctor's signed lab order to be tested there because you can collect the necessary stool sample in the privacy of your own home. The complete $369 panel is their best value because it also contains a test kit for the cheek swab genetic test for celiac.

The value of being tested is that it saves the confusion and frustration of trying to determine if gluten is a problem via food elimination self-testing, which can be very problematic in someone who has a lot of other non-GI-related symptoms, especially cerebral symptoms resulting from gluten.

However, if you want to try a gluten free diet first, then be aware that after you have succeeded in eliminating gluten from your diet for several weeks that you will react much more strongly to it when you do reintroduce gluten into your diet again. This can be a rough way to find out if gluten is a problem for you. That's why the lab testing is such a huge advantage.

Besides that, but the gluten free diet is a major commitment, and without the results of a lab test to look at as a reminder, will you have the commitment to stick to it strictly enough in order to succeed with it? Some folks can do it that way, but not everyone can do so successfully because of how easy it is to slip up unless you really know what you are doing.

---

Posts: 4563 | From TX | Registered: Sep 2002 | IP: Logged |

whatayear
LymeNet Contributor
Member # 15833


posted

---

I know this is an older post but i wanted to chime in, i have been having severe gi issues since last march, i was in remission from lyme at the time and doing great. I got food poisoning and all went down hill.

I had blood and mucus in stools, bloating, ALOT of pain, back and for from D and C. Ive lost over 80 pounds to date. I have other symp aswell now but all started in my stomach.

I had an endoscope showed gastrits and hiatel hernia, I almost didnt do the colonscopy becuase I thought all the gi issues were from lyme disease or a co-infection and ontop of that i was scared to do it for some reason, I was and am so sick i didnt want to drink all the stuff to clean out and was scared to be put under. Im 29 years old and sure enough they removed a very large infected polyp that would have turned into cancer!!! I went 9 months before i finally gave in and had it.

While it did not cure all of my problems, it did get rid of the blood and mucus and the chills, high white count, and fevers that i had been having i assume from the infection. and my fatigue has improved. i assume my immune system was fighting that infection for months contributing to me feeling so badly.

so if you have GI issues get all the tests done!! and atleast rule it out. I was one of those people that figures its all from the lyme disease but i have learned a valuable leason through this experience and wont let things liek this go agian.

I know plan to start parasite treatment with humaworm and see if i can get some more improvment with my gut and clean up some of these food allergies id love to be able to eat food agian some day soon!

---

Posts: 229 | From front royal, VA | Registered: Jun 2008 | IP: Logged |

canefan17
Frequent Contributor (5K+ posts)
Member # 22149


posted

---

Sounds like bart + parasites.


A great gut supplement is Glutagenics
(Glutamine, D-Licorice, Aloe Vera)

Take it 2-3/day

---

Posts: 5394 | From Houston, Tx | Registered: Aug 2009 | IP: Logged |
Contact Us | LymeNet home page | Privacy Statement

Powered by UBB.classic™ 6.7.3

---
The Lyme Disease Network is a non-profit organization funded by individual donations. If you would like to support the Network and the LymeNet system of Web services, please send your donations to:
The Lyme Disease Network of New Jersey
907 Pebble Creek Court, Pennington, NJ 08534 USA
http://www.lymenet.org/
---
Home | Flash Discussion | Support Groups | On-Line Library
Legal Resources | Medical Abstracts | Newsletter | Books
Pictures | Site Search | Links | Help/Questions
About LymeNet | Contact Us
---
© 1993-2020 The Lyme Disease Network of New Jersey, Inc.
All Rights Reserved.
Use of the LymeNet Site is subject to Terms and Conditions.
---