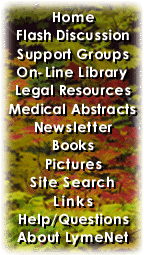 ---
LymeNet on Facebook
LymeNet on Twitter
---
---
The Lyme Disease Network receives a commission from Amazon.com for each purchase originating from this site.
When purchasing from Amazon.com, please
click here first.

Thank you.




Dedicated to the Bachmann Family


LymeNet needs your help:
LymeNet 2020 fund drive

The Lyme Disease Network is a non-profit organization funded by individual donations.

| | |
| --- | --- |
| | |
Author
Topic: family not supportive despite best efforts-help!

SuZ-Q
LymeNet Contributor
Member # 5903


posted

---

Any suggestions on how to get family more understanding of symptoms? When my daughter is too tired to talk, she is viewed as "unfriendly", but if she is chatty, then she is not really sick.
I have sent all kinds of literature explaining the variation of symptoms and talked 'til I am blue in the face, but they all seem to have decided it is all in her head.

They are also skeptical of her treatment, but she has been to Rheumatologists, neorologists, ID ducks and many others who could not help us.

She has positive tests, an MRI showing demyelination, constant fevers, tests showing abnormally low immune function and several other things that are off. I see my family or talk with them several times a week and I feel very frustrated that their understanding of this disease seems so unfavorably biased.

I was crushed yesterday when my brother said she is only well when there are fun things to do that she wants to do. He's not up with her in the middle of night rubbing out her back & neck pain or seeing her 101+ temps or when she has to sleep 15 hours to function at a subnormal level for a few hours.

I am so FRUSTRATED! Please let me know your suggestions. Your help is most appreciated!
Suzy

---

Posts: 260 | From Virginia | Registered: Jul 2004 | IP: Logged |

mlkeen
Frequent Contributor (1K+ posts)
Member # 1260


posted

---

Hi SuzQ-

I'm sorry that your family isn't too understanding. It is often the case.

My family seems to understand somewhat but still doesn't understand about the comimn and going of symptoms and energy.

I realized that my primary function is to get my family and myself well. If my extended family is supportive, great, but I don't worry about it.

Most of my energy is taken up with caregiving for those in my household. My time and energy is too valuable to keep banging my head against the wall with some relatives. It's just the way it is.

Keep doing a wonderful job with your daughter.

Mel

---

Posts: 1572 | From Pa | Registered: Jun 2001 | IP: Logged |

Melanie Reber
Frequent Contributor (5K+ posts)
Member # 3707


posted

---

Oh Suzy,

This sort of thing just breaks my heart- I am so very sorry.

TBDs and their manifestations are so complicated...most of the time we don't even understand what WE are going through, much less what others are experiencing from within.

It seems as though you are doing all that you can on behalf of your precious daughter...and I applaud you for what must be a most heart wrenching effort.

You mention doctors not being able to help- do you have a good LLMD right now? If not, can we help with that?

Here is a link to one article that I and others have found helpful in explaining chronic illness. Perhaps, if it moves you, you can try again to enlighten your family with it?

Something to share with friends and family members: http://flash.lymenet.org/ubb/Forum3/HTML/008886.html

Hang in there, and if nothing else works, at least you can come here as often as needed for understanding from those of us who do know.

My best,
Melanie

---

Posts: 7052 | From Colorado | Registered: Mar 2003 | IP: Logged |

frenchie
Member
Member # 7994


posted

---

I got sick when I was in my early teens and I've gone through the same problems. My mother was my caregiver and my best friend. She would be in tears over the way people treated me. My own father used to yell at me in the morning when I couldn't get out of bed. He viewed me as weak, pathetic and lazy. He doesn't understand how bad I hurt and he makes no effort to learn more about my disease. The best thing you can do is focus on your daughter. The fact that you are there for her is very important. You'll have to try to ignore your family's ignorance.

--------------------
Laura French


---

Posts: 39 | From Bloomington, IN | Registered: Sep 2005 | IP: Logged |

SuZ-Q
LymeNet Contributor
Member # 5903


posted

---

Thanks so much to everyone for your compassion and understanding.

We went through this 10 years ago with my husband's side of the family when my son was diagnosed with diabetes. When we would visit them (several hour drive) they disagreed with the idea of making any diet accomodations for him - no diet soft drinks, popsicles, etc. It wasn't a matter of money or convenience, but priniciple. They thought that at 7 years of age, he should just learn to do without what those around him were having. I was in complete shock at their coldness and indifference to his feelings.

My family was very upset with this attitude, but now it seems they now have a similar attitude towards my daughter. It is very difficult to comprehend. Even my son, who has dealt with plenty of discrimination due to his illness, constantly accuses her of faking. Sometimes I hear it so much, I start to have doubts myself.

Melanie, thanks so much for that link. I had read that before, but couldn't remember how to get to it. I am definitely printing it out and mailing to a few people. There is a book that that was excerpted from, isn't there?

We do have a good LLMD right now, for which I am thankful. She is treating our daughter with Ceftin, Ketek, Malarone and Artemisinin. Every year though, we see a pattern of summer improvement, followed by a crash during the school year. Her attendance has been declining since the first week of school this year. The relapse seems to be happening much faster and she has now been in treatment for almost 2 years. The phsyical & mental stress of school seem to be too much for her to handle for more than a day or two. We were really hoping to avoid homebound this year, but we seem to be headed in that direction.

I appreciate all of you for your kindness. It is hard not be affected by those who play a large part in one's life, but we just have to do what we think is right for our children, regardless of others.

Have any of you ever "converted" any of your skeptics? We did eventually make inroads with the in-laws, but it took several years and the help of other relatives.

Sorry this has gotten so long. No one understands as well as you wonderful folks on Lymenet, so I end up rambling. Thanks again for your input and listening to me vent!!

Suzy

---

Posts: 260 | From Virginia | Registered: Jul 2004 | IP: Logged |

lyme_suz
Unregistered



posted

---

Hi,

Sorry they are not getting it.

We get that when grandma invites us to go to museum or concert. 3 of us have it so you can imagine...

I try not to pay attention as the energy is needed for the kids and myself.

They are slowly learning the why's. Yesterday my father in law was babysitting my son and didn't give him his lunchtime ibuprophen dose. He said Doug had taken 4 in am which seemed more than enough. I told him that this was prescribed and if we missed dose the arthritis flares and he is more inactive. (a pet peeve of his) He was surprised but seemed to understand. I have explained it before, but it takes a couple times.
The truth is that it is hard for me to get my mind around this disease even tho we've had it 5yrs,so I can see why its hard for others.

That criticizing is very bad, however. I limit my time with people,some close relatives who are negative and question in a thinking the worse way.
Not healthy in any circumstances, but we need our strength and encouragement!!!

Hope that you can figure out some good boundaries...From your diabetes story, I don't think that they are likely to change any time soon.

Hope I haven't overstepped here--this topic definitely hits a nerve!

PS How old is your daughter? Mine is 14.
Suz

---

IP: Logged |

pab
Frequent Contributor (1K+ posts)
Member # 904


posted

---

SuZ-Q,

I watched Dr. Phil today and this is a quote from the show:

"If someone isn't supportive of you, you need to distance yourself from them."

You know your daughter, try not to get frustrated because other people don't "get it."

--------------------
Peggy

~ ~ Hope is a powerful medicine. ~ ~


---

Posts: 2775 | From MN | Registered: Apr 2001 | IP: Logged |

angelroses333
Junior Member
Member # 7958


posted

---

dear melanie,
that link was so helpful,
I emailed it to some of my friends.
they thinklyme is no big deal.
when I told them that I wish we could skip our night out (just doing a load of laundry is an ordeal for me) and that I wd lk to hv dinner in th sd "we rlly need to get out" i hv been homebound for weeks. I dnt dare get into it but put the happy face on. they just dont get it.
I didnt cry. no tears left for that.
im so tired of being tired.
start dinner around noon to have it done by five. not gonna be up for a nightout on the town.
all i wntd was friends to undersnd and cm to visit.
thy dont get it.


---

Posts: 6 | From Cape Cod | Registered: Sep 2005 | IP: Logged |

Melanie Reber
Frequent Contributor (5K+ posts)
Member # 3707


posted

---

Angelroses,
I am so very sorry that you are having a hard time getting your friends to understand. I really do hope that article can help some.

Trying to gear up for an outing use to be so difficult for me as well. Many times, I would make plans the day before, or even that morning, and by afternoon, I was too ill. After having to break promises and plans for so long, I finally gave up trying.

My true friends understood though, so I was indeed blessed. It took a long time for me to understand that many of them wanted to help...they just didn't know what I needed. And I must admit, that I didn't want to NEED anyone, so I held out for as long as I could doing everything myself.

Well, I suppose, as in most life lessons, I had to hit rock bottom before I could admit to myself and others that I DID need help. It was at that time...that I discovered the simple truth of asking humbly for what I needed, and as if by magic...it appeared. It was a lesson in humility, gratitude, and faith.

I relay this to you only because sometimes, we think that others already understand or should understand what we need. This is rarely the case.

Pab,
That is such wise advice from Dr. Phil. Thanks for sharing it.

Yes, Lymesuz,
Going through this really taught me that lesson as well. I no longer had time for negative influences...life was too precious.

SuzQ,
I am pleased to know that you have a good doc to work with. I found school very difficult as well, and had to take a medical withdrawal. I do think the additional pressures and cognitive stresses are not conducive to healing.

Frenchie,
You have been through much with this, bless your heart. Thank goodness that your mother was such a strong and loving advocate.

All my best,
Melanie

---

Posts: 7052 | From Colorado | Registered: Mar 2003 | IP: Logged |

SuZ-Q
LymeNet Contributor
Member # 5903


posted

---

Thanks so much to everyone for your feedback. I know many of you have been through much more than we have and I am feeling guilty for whining.

My family is sometimes supportive and concerned, but at other times they seem to think my daughter is manipulating the situation because she is lazy or doesn't want to go to school. I guess I'll just try to steer clear of the subject during conversation because I really don't want to distance myself from them. If it were anyone else, there would be no question.

Do any of you ever think your children take advantage of their condition to get out of doing things they don't want to do - like homework, chores,etc? There are times when she seems to play things up a little. She will use a really pitiful voice with us, but if a friend calls she perks up for a while. She's always been a little on the dramatic side. The counsellor that I see seems to think it would only be natural to take advantage to some extent.

I hate feeling any doubt. I guess we've run up against so much doubt from teachers, friends. family and especially the medical community that I want to feel like she would never misrepresent her condition, so that I can feel confident in always backing her up(which I never hesitate to do).

Lymesuz, my daughter is also 14. She started high school this year and we are so pleased (so far) with her teachers. We had so many problems in middle school. In sixth grade she had a teacher make an announcement to the class that she wanted the kids to find out the "real reason" our daughter had been absent for so long. We had kids calling and riding by the house on bikes and reporting back to the teacher. And of course when our daughter returned, everyone told her she was a faker. The teacher picked on her the whole year. Marked her down for hand writing, humiliated her in front of the class. They were making posters in class and the teacher took it away and told her it was "scribble scrabble" and to do it over at home. She was almost finished when it was taken. Once, she gave her "F" on a vocabulary page that only had one error on it because she didn't like the illustrations. Seventh grade was even worse. It is amazing how much teachers ignore 504 plans. Although in all fairness, we didn't have one in sixth grade.

Well, I am totally digressing now and I apologize. Thanks again to everyone! It is so nice to have someone to help hold us up when it seems the whole world wants nothing more than to bring us down. You all are the greatest!
Suzy

---

Posts: 260 | From Virginia | Registered: Jul 2004 | IP: Logged |

pq
Frequent Contributor (1K+ posts)
Member # 6886


posted

---





let 'em sniff dung, and bark at the moon!


same here, and all to typical, at least with lyme.

you tried...they tried...

suggestion:

short of hooking them up to electrodes and "throwing the switch" ... get them to do little concrete things that makes them feel good about achieving some potential/real positive result/effect/influence...a sense of effecting an outcome...confidence in themselves that they can achieve---to them---some VISUALLY self-confirming effect, and your daughter getting better such as,for example, helping with something, getting a hot water bottle, filling an athletic sock with rice, knotting the sock, and/or putting the sock in the microwave oven for 2 minutes.

Hypothetical phone conversation with a relative:

"...on your way here,could you please pick-up a bag of rice at 'Uncle Ben's' minimart... a package of atheltic socks at...size "102.9"
...80% cotton..." Don't say why/how come...unless they ask...


"...hand them a rice-filled sock, saying,"could you nuke this please..."(meaning a sock full of rice),or; if at their house/apartment, just take out a sock, and nuke it in the microwave yourself.

you, or your daughter/family member with lyme perfunctorily puts it on a knee, or thigh or sacral area, say, when sitting, and continue on with what your doing...continuing on with a conversation...

Famil members see that this is and example of SOMETHING THEY can readily do...

its a concrete action they've taken that they know will have quick results.

little things like this will make them feel they've made a difference, and it should reduce the tension...

family and friends can still help at low-level tasks that done demand a lot of time, effort, expense, etc.

[ 03. October 2005, 12:13 AM: Message edited by: pq ]

---

Posts: 2708 | Registered: Feb 2005 | IP: Logged |

mlkeen
Frequent Contributor (1K+ posts)
Member # 1260


posted

---

Yes, I have wondered if my son (16) has played me, not doing what he needs to do when he is well enough.

I looked at my own pattern. Yes, where are some days when I could do more but I just want to sit and relax. My work still needs to be done, I just need a break from pushing myself. Perhaps this is what my son does. He gets that glassy eyed dazed look and then I can't tell what is going on for sure. I would think that since he has missed so much that he is not faking, but who knows.

We are both good in the summer too and will seize up when it gets cooler out.

I hope your daughter has a better school year.

Mel

---

Posts: 1572 | From Pa | Registered: Jun 2001 | IP: Logged |
Contact Us | LymeNet home page | Privacy Statement

Powered by UBB.classic™ 6.7.3

---
The Lyme Disease Network is a non-profit organization funded by individual donations. If you would like to support the Network and the LymeNet system of Web services, please send your donations to:
The Lyme Disease Network of New Jersey
907 Pebble Creek Court, Pennington, NJ 08534 USA
http://www.lymenet.org/
---
Home | Flash Discussion | Support Groups | On-Line Library
Legal Resources | Medical Abstracts | Newsletter | Books
Pictures | Site Search | Links | Help/Questions
About LymeNet | Contact Us
---
© 1993-2020 The Lyme Disease Network of New Jersey, Inc.
All Rights Reserved.
Use of the LymeNet Site is subject to Terms and Conditions.
---