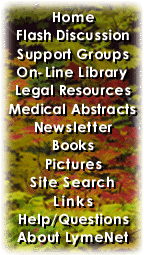 ---
LymeNet on Facebook
LymeNet on Twitter
---
---
The Lyme Disease Network receives a commission from Amazon.com for each purchase originating from this site.
When purchasing from Amazon.com, please
click here first.

Thank you.




Dedicated to the Bachmann Family


LymeNet needs your help:
LymeNet 2020 fund drive

The Lyme Disease Network is a non-profit organization funded by individual donations.

| | |
| --- | --- |
| | |
Author
Topic: Travel concerns

Andie333
Frequent Contributor (1K+ posts)
Member # 7370


posted

---

I've been treated with abx now for about 5 months. I'm making progress, but it's been very very slow.

I work part time and drive to see students. So far, I'm socializing very little. I just feel too sick.

Anyway, on Saturday I'm flying down to Florida for my mother's 80th birthday. Just tonight, I realized I'm pretty nervous about the trip -- actually flying and being away from home for four days. I have pretty severe Lyme arthritis and I'm not accustomed to being on my feet for long periods of time.

It feels weird to even write this: in pre-Lyme days, I traveled several times to Europe and spent a month in Asia. But this is really scary to me.

I know people on this board fly, and I'm wondering if anyone has any suggestions of things that might help.

It took me an hour just to get my pills together.





My whole family is down there. They had originally planned all this stuff for us, but they've thankfully backed off with all that. I told them I can never really predict in advance what a day will be like.

Anyway, I'd appreciate any suggestions or good thoughts.

Thanks, as always

Andie

---

Posts: 2549 | From never never land | Registered: May 2005 | IP: Logged |

fatigued15
LymeNet Contributor
Member # 6437


posted

---

Hello, We just had a long flight in Oct. with my 16 year old daughter with Lyme. I am not sure if this helped but on the way I bought some oxygen water. She drank a few bottled throughout the flight. She tolerated the flight well.On the way back we did not have any water left and she had a rough time. Not sure if it really helped but I think it did. We bought it at a local health food store.

She also used the wrist bands for nausea and that helped her.

A wonderful friend suggested we call the airlines to set up wheelchair service and we were glad we did. Before the end of each flight the stewardess/steward asked if we needed the wc. If she didn't need it we didn't use it. A great help b/c it saved her on the way home.

Good luck and have a great trip. It will be good for you to get away.

---

Posts: 488 | From NY | Registered: Oct 2004 | IP: Logged |

ponytail
LymeNet Contributor
Member # 36


posted

---

Hey Andie - ditto on setting up wheelchair assist! We have to do it for Katie because she does require a wheelchair for distance; however, if you are experience arthritis etc., then I would highly recommend it!!

Also, in the same call, you can request "bulkhead" seating due to your condition. Explain difficulty standing, sitting or navigating etc. We have never had problem w/ this when flying w/ Katie. It helps not to have to try to weave all the way down the aisle and also a little more room for legs.

Not sure if all airlines are the same. We only fly Continental!!! You know, if it's not broke - don't fix it type mentality here!! I have figured out their system and to date, personnel have been EXTREMELY helpful!

I hope u have a great trip! I think anxiety is one of my worst lyme symptoms!! And flying or thinking about flying - brings it on!!

I'm already dreading our March trip to CT (at least I'm praying we will still be able to maintatin that appt.).

Take care,
Sherry

--------------------



---

Posts: 704 | From Huntsville, Texas | Registered: Oct 2000 | IP: Logged |

Andie333
Frequent Contributor (1K+ posts)
Member # 7370


posted

---

Thanks Sherry and Fatigued,

Fatigued, I'm familiar with the wrist bands and am really glad you mentioned them. I used them when I flew to India, and they were very helpful. BUT I'd forgotten about them.

I doin't know what oxygen water is or where you get it...

Sherry, if I'm not getting the wheelchair (so far I just haven't been able to do that -- I think it's a pride sort of thing )
But, if I don't get that, do you think it would still be possible to request bulkhead seating? I booked the flight online and alreayd have assigned seats.

These are great suggestions...thanks!

Andie

---

Posts: 2549 | From never never land | Registered: May 2005 | IP: Logged |

Ann-OH
Frequent Contributor (5K+ posts)
Member # 2020


posted

---

If you don't want to get a wheelchair, you can get a ride on one of the golf-cart thingys that they drive around airports. Those have been a lifesaver for me when I have difficulty walking.
You can ask the people at the gate if they can call one for you.

I would try for the bulkhead seat. It can't hurt to ask. They may be able to swing that even though the seats have been assigned. They may be able to change the seats for the flight home even if they can't change the ones going.

I think "Fatigued" said they got the oxygen water at a health food store.

One more thing that helps me is to use a nose spray like Afrin before the flight. It really makes a difference with ear pressure and sinus headaches etc. that are problems when I fly.

Make a point of getting enough rest. I always have a lie-down in the late afternoon and then am much more sociable at dinner and in the evening.

I hope you have a wonderful celebration for your mom with all the family.

Ann - OH

--------------------
www.ldbullseye.com


---

Posts: 5705 | From Ohio | Registered: Jan 2002 | IP: Logged |

Andie333
Frequent Contributor (1K+ posts)
Member # 7370


posted

---

Ann, again, these suggestions are so helpful.

I was actually thinking about the golf cart things this morning and wondering how you get them. You mentioned calling for them at the gate...but what about getting to the gate? Any info?

The nose spray is also a good idea

I've already got a pair of the wrist bands on hold (I've been having pretty nasty vertigo lately).

And rest. They've planned that into my afternoon, I think. I'm glad but it's very weird knowing that while I'm resting, my 80-year-old mother will either be walking her 3 daily miles or swimming her mile

She and her husband just got back from a month in Greece...

Oh well.
Thanks again for your help!

Andie

---

Posts: 2549 | From never never land | Registered: May 2005 | IP: Logged |

trueblue
Frequent Contributor (1K+ posts)
Member # 7348


posted

---

Andie,
I finally did the wheelchair thing on the last trip I made. It took me a many years to come to terms with asking for one and felt sort of dumb in it.

However, it saved me from being completely wiped out by the time I got to the gate. I just can't do the standing in line for the security stuff and it also saves you that.

They wheel you in, check you through right away and give you a ride to the gate. I didn't keep the wheel chair and boarded the plane with everyone else.

It was a long flight but I would have been so much worse if I had gotten on the plane already miserable and in a massive amount of pain instead of my ususal level.


What I'm trying to say, in possibly the longest way possible (sorry), is call the airline and arrange for transport to the gate. Some airports have those golfcart type things and some don't. Miami and Heathrow didn't and so I took the wheel chair.

Also bring snacks!

Have a great trip!


Now, if I could just get myself to use one of those motorized carts in the stores. I haven't gotten up the courage to do that yet.

--------------------
more light, more love
more truth and more innovation


---

Posts: 3783 | From somewhere other than here | Registered: May 2005 | IP: Logged |

mlkeen
Frequent Contributor (1K+ posts)
Member # 1260


posted

---

I think you can get a wheelchair at the curb from the airline you are flying with. Call them. They will also have a chair at the other end of your flight.

I found I am the most tired for the return flight.

---

Posts: 1572 | From Pa | Registered: Jun 2001 | IP: Logged |

AlisonP
LymeNet Contributor
Member # 7771


posted

---

Hey Andie,

That oxygen water sounds like a great idea.

Dehydration is probably my main problem on airplanes becuase of the cabin air being sooooo incredibly dry. What helps me is to go to the loo and wet a paper towel and breathe through it for awhile...helps keep nasal passages etc. from dryig out and causing major pain in head, etc.

Also having gum handy for ear popping with ascents and descents.

Then just common sense stuff like wear comfy clothes, comfiest shoes, and make sure that you have enough stuff to entertain yourself so you don't sit around bored and in pain (which always makes the pain worse). Music can really help.

That and do whatever you can to reduce stress. Make sure you are never having to rush for any flight. bring fruit or veggies to snack on so you don't have to rely solely on crummy airplane/airport food.

Happy trails!

Alison

--------------------


The obscure we see eventually. The completely obvious, it seems, takes longer. --- Edward R. Murrow


---

Posts: 923 | From California | Registered: Aug 2005 | IP: Logged |

Andie333
Frequent Contributor (1K+ posts)
Member # 7370


posted

---

Thanks, everyone. Your suggestions again are things I hadn't thought about...snack, gum, etc.

I did call the airline about getting one of those nifty little carts. They (US AIR) said I needed to get the cart from the agent at the check-in counter.

The lines here can be just massively long, and the last time I flew, I saved myself a bunch of heartache by using the check-in kiosk. H#ll, I figure by the time I've stood for two hours in the line, I'd be more exhausted than if I just walked to the gate without that line hassle.

I think I'm going to call tomorrow and cancel the cart request.

Any thoughts?

---

Posts: 2549 | From never never land | Registered: May 2005 | IP: Logged |

char
Frequent Contributor (1K+ posts)
Member # 8315


posted

---

More advice--

Can you let fam know that you can attend party for shortened time? Also, I go ahead and sit and try to ignore my desire obligated feeling to get up and mingle. Maybe park there next to mom.

Also, we go with one day on, one day rest. Do you have comfortable (quiet) place to stay. We don't bunk at fam house for now.

Remember it won't always be like this!

Best Wishes,
Char

---

Posts: 1230 | From US | Registered: Nov 2005 | IP: Logged |

hatsnscarfs
LymeNet Contributor
Member # 6562


posted

---

Last winter I decided to take a trip even though I was still really sick (6 months into treatment). I was really worried about how the plane would make me feel.

It was no problem. I actually felt pretty good on the plane. Sitting still was the right activity level for me. As always I brought lots of water & healthy foods. No problems with altitude etc.

I flew again the next month with no problems other than figuring out how to carry my luggage with sore shoulders.

I add extra time so I don't have to rush. Rushing makes me much sicker. I go at whatever pace I'm up to. I wear dark glasses to make the harsh airport lights tolerable.

Bon Voyage-
hats

---

Posts: 956 | From MA | Registered: Nov 2004 | IP: Logged |

Andie333
Frequent Contributor (1K+ posts)
Member # 7370


posted

---

I just got in tonight and again, I wanted to thank everyone for your suggestions, your encouragement and your help.

My trip was interesting...

No one in my family has seen me since I've been sick (about a year now but only half that time with dx). They had heard about the horrible herxes and were expecting something awful.

The first thing everyone commented on was how good I look. I could see that they were puzzled.

The flight down was uneventful. I didn't get the golf thingy and was glad in retrospect, because the gate was immediately beyond security. I also wasn't able to get bulkhead seating. I had my liquid oxygen, though, and two things of water, some rice cakes, gum, and a popular mystery titled "Plum Island."

Anyway, that night, we all went out for dinner; I was fine. The next day, though, was as bad as any I've had in months. Everything flared, ached and burned. I couldn't get off the sofa and was alternately freezing then sweating.

Folks seemed alarmed and concerned, helpless. I rode it out, barely ate (my mom went nuts over that). The next day, I was up and as okay as I ever am these days. Able to walk through some of my brother's construction sites and join the family for lunch, then sit down for a long talk with my nephew.

Today, I was pretty good again and flew home without incident. My family couldn't figure out what was what.
It's life with Lyme, I said.
It's crazy!

My SO met me at the airport; my dog romped around in the snow. I felt like I'd been gone for months. It was so darned good to be home!

Fascinating to see what tomorrow brings. ...

Thanks again, everyone!

Andie

---

Posts: 2549 | From never never land | Registered: May 2005 | IP: Logged |

Andie333
Frequent Contributor (1K+ posts)
Member # 7370


posted

---

One thing to add:
Lyme-brained packing...I didn't bring a toothbrush or floss, or a hairbrush.
I brought as much medication as I'd normally use in a month, and I was only gone 4 days.




Next time, I'll make a list!

---

Posts: 2549 | From never never land | Registered: May 2005 | IP: Logged |
Contact Us | LymeNet home page | Privacy Statement

Powered by UBB.classic™ 6.7.3

---
The Lyme Disease Network is a non-profit organization funded by individual donations. If you would like to support the Network and the LymeNet system of Web services, please send your donations to:
The Lyme Disease Network of New Jersey
907 Pebble Creek Court, Pennington, NJ 08534 USA
http://www.lymenet.org/
---
Home | Flash Discussion | Support Groups | On-Line Library
Legal Resources | Medical Abstracts | Newsletter | Books
Pictures | Site Search | Links | Help/Questions
About LymeNet | Contact Us
---
© 1993-2020 The Lyme Disease Network of New Jersey, Inc.
All Rights Reserved.
Use of the LymeNet Site is subject to Terms and Conditions.
---