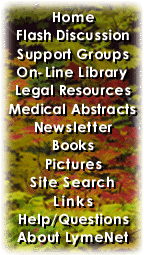 ---
LymeNet on Facebook
LymeNet on Twitter
---
---
The Lyme Disease Network receives a commission from Amazon.com for each purchase originating from this site.
When purchasing from Amazon.com, please
click here first.

Thank you.




Dedicated to the Bachmann Family


LymeNet needs your help:
LymeNet 2020 fund drive

The Lyme Disease Network is a non-profit organization funded by individual donations.

| | |
| --- | --- |
| | |
Author
Topic: Sick until something fun comes along

SuZ-Q
LymeNet Contributor
Member # 5903


posted

---

My 14 year old has been battling Lyme and Bart for several years. She is on homebound at school, but will have absolutely nothing to do with her schoolwork. Her teacher is not pushing her at all. She is a whole grading period behind. Her therapist says we(Mom & Dad)should stay out of it because she becomes very angry when we remind her of school work. She is always too sick for any work, but if something fun pops up, she revives long enough to participate.

My parents think her illness is mostly in her head and she just doesn't want to go to school. We have seen her make an about face in her behavior when a friend calls or an opportunity presents itself. How do we know how much she is really able to do vs. how much she wants to do?
Very confused. Any input most appreciated.

Suzy

---

Posts: 260 | From Virginia | Registered: Jul 2004 | IP: Logged |

hiker53
Frequent Contributor (5K+ posts)
Member # 6046


posted

---

Perhaps tell your teen she cannot participate in a fun activity unless she does a certain amount of school work. No school. No fun. Being a teenager includes getting angry at mom and and dad whether or not the teen has Lyme.

This is only my personal opinion, but I am also a teacher and I see how kids manipulate parents(and therapists). Best wishes.

--------------------
Hiker53

"God is light. In Him there is no
darkness." 1John 1:5


---

Posts: 6960 | From Illinois | Registered: Aug 2004 | IP: Logged |

AP
LymeNet Contributor
Member # 8430


posted

---

I have a hard time getting my day to day activities done. I don't necessarily feel any better when I go out and have fun It's just after being so sick, and restricted in everything I can do, I have a hard time turning down activities that may be fun or engaging. Sometimes it's nice to be able to forget and feel normal.

This may be how your teen feels.

--------------------
Sometimes when I say "Oh, I'm fine" I want someone to look me in the eyes & say "tell the truth"

Myspace: http://tinyurl.com/5p64ed


---

Posts: 644 | From WA | Registered: Dec 2005 | IP: Logged |

lymeout
LymeNet Contributor
Member # 8045


posted

---

Suzy,
My daughter was 16 when she finally crashed and couldn't go to school. She is graduated now but still sick. We navigate these waters all the time, and it is tough to stay balanced. When I see her starting to put together a string of fun things, indicating that she is doing okay, I remind her that some of her energy needs to be placed on the necessary responsitilities. I must admit though that I encourage the fun stuff for the very reason that AP noted. Having fun and doing normal things with friends is spirit lifting, therefore therapeutic.
Early on in this battle, I asked her doctor what I should expect of her, how hard should I push. He asked me what kind of student she was before she got sick. When I said she was highly motivated, he advised me to trust her and let her determine what she can do at any given time. School work, especially, takes a lot of energy. My daughter has had a couple of phases of being nearly back to normal; when this has occurred, the first thing she did was dive back into her studies. And she relished it!
Good luck!

---

Posts: 422 | From Herndon, Virginia | Registered: Oct 2005 | IP: Logged |

Mo
Frequent Contributor (5K+ posts)
Member # 2863


posted

---

It's tougher to find the boundaries to draw, and expactations to have of a child who is chronically ill than one who is not.

In my case I am always trying to be sure I am not letting mine get away with things..

however, if she has been sick this long, and is on homebound..

I have doubts it is manipulation.

These kids want to feel normal, and don't ..
and with what energy she has she might just be wanting to be 14.
They also, when sick with brain infections..
have a very difficult time articulating or even knowing what is illness based.
It just feels like you can't think.

Again, it's tough to know when to push and when to support and advocate.

When I think of myself, I was unable to keep up with food or bills, paperwork, essential tasks..
asd there were times I did an about face when I had a chance to do something fun.

One could say I had no business doing that..
but I know I was feeding an important need.

Tho, not knowing her symptoms, and what exactly she is doing and in what ways, I could not really give any helpful input..
just stuff to consider.

One way you could 'know' better her impairment would to have brain SPECT and neuro-psych testing done by Lyme literates..
there you would have documentation of specific impairments.

I also know it is not uncommom for kids with Lyme to be this way..
and as I said, they themselves will not know why or be able to help much with self-evaluation if they are sick with infections that effect their brain and moods.

..and this most often goes misinterpreted by some family members (outside the home) ..
and very often by the schools.
-- it really can be a terrible trap.


It's real tough on these kids in many ways.
part of the anger toward you could certainly be from the diseases (most definately could be with Lyme and Bart)
mixed with her own anger at being sick.

Just my thoughts based on our experiences.

My son went through a similar period, where now, he is independantly accomplishing work and has drive to do so..
and certain symptoms and medical tests/evals have improved along with this.

Tho - he also certainly tries to get away with some stuff now

..but it is clearly different than what we saw before. I welcome it, because there was a time he could not do anything at ALL. I mean even talk.
then after along while, it was anywhere from 30-45 minutes with the tutor..
and he would stand up, slam the book shut, and say 'I can't do anymore' ..
and go upstairs.

Then a while later it was an hour, and so on.
(of course, not linear improvement either..
more like up, down, and sideways)

from there he attempted part time (he was out 2 years)..
and that was frought with difficulty, spaciness..would talk to kids at times, but was completely misinterpreted by some teachers as lazy, having attitude..or not caring.
Terrible misunderstandings on their part.
(despite all my documantation)

At home, angry outbursts for him came from infectious brain farts or overwhelm..and when those happened, it was sometimes hard to identify that in the moment.
I also remember in my illness, two thoughts coming at once, then add pressure, confusion background noise, or the phone ringing and I would be in instant brain implosion, which often resulted in
what would easily be percieved as anger..

I also wonder about her being behind a whole marking period.
IMO, the school should be trimming her workload to what she can do, if needed only requiring minimal assignments..
based on her condition..
so that she is always current with the rest of her class.

Otherwise, I imagine it would be easy to feel defeated and then despondant about school.
Maybe convinced she will fail at it.
Which would add to all the other complications.

maybe identifying what she can do, however minimal..and her doing it well..would help her feel more self-actualized..
and a better sence of the symptoms she has coming and going (it really will fluctuate)..
you can begin to set benchmarks as to what she has to do before she can have a little fun..
if that is apporopriate under the current circumstances to set limits.
There was a time for us where it clearly was not, and anything went - recovery was top priority..
and then that balance had shifted continuously as things change.

Definately a tough balance.. and stress will make all things worse when you are ill.

Just thoughts..

Mo

(edit - great points by LymeOut. My son was also very motivated in school pre-illness..
and I am seeing now that we are past the very rough home-bound times -
he is exibiting motivation to do more and do it well.
I now know the times he did not, he really just could not - it is like night and day now)

another thing that comes to mind..
I realize my son does not tell any of his friends he is sick.
He does not want to bring it up at all..
I think that says something, and that it may explain the seeming 'about face' she does..
she may be putting on for them to an extent.

(The thread on how friends treat this disease and it's victims..how shunned you can be socially when percieved as ill even as an adult..
might play a part in all this as well.)

[ 06. January 2006, 10:43 PM: Message edited by: Mo ]

---

Posts: 8337 | From the other shore | Registered: Jul 2002 | IP: Logged |

arg82
Frequent Contributor (1K+ posts)
Member # 161


posted

---

When I first got sick, I was 15 and a sophomore in high school. When I was younger I was homeschooled (just something my parents opted to do with me and my siblings), I went to public school starting in 6th grade, but after a frustrating freshman year I decided to go back to homeschooling for my sophomore year. This was before I got sick and was really lucky because I proceeded to spend the whole first half of the year essentially in bed. I was able to do very little school work, but also was not very social at all (I'm shy by nature and just tend to go into my shell if none of my friends initiate anything).

My parents got frustrated, didn't really know what was wrong with me (I wasn't diagnosed until December of that year), and thought I was just unmotivated (I was previously a very self-motivated student). My mom even threatened to force me to go back to public school partway through the year. Once I was diagnosed, they understood a little better what was going on and it was easier for them to understand that I needed to do things on my schedule (but also we set up tutors for some subjects which worked well for me).

As others have said, it's so hard to find a balance between being too strict/pushing too hard and being too lenient/letting her get away with doing nothing. You know your daughter better than any of us do so you can guage a little better whether or not she's avoiding schoolwork because she just doesn't want to do it or if she truly isn't up to doing it.

And like others have said, sometimes you just have to push yourself to go out and have fun because none of us can really handle lying around all the time by ourselves feeling horrible. Have you talked to her about this? Does she know your concerns? Have you talked to her doctor about this? Has her doctor talked to her about this? There are a lot of things going on here, some of which could potentially become more difficult to deal with if left alone and some of which might be best just left alone for a while. But again, you know your daughter better than any of us do.

I hope this helps!

Peace and healing,
Annie

--------------------


Lyme Out Retreats

My Lyme Journal


---

Posts: 2184 | From Rochester, MA | Registered: Oct 2000 | IP: Logged |

lymeout
LymeNet Contributor
Member # 8045


posted

---

Annie,
How are you? I haven't seen you posting for a while and have been thinking about you.

---

Posts: 422 | From Herndon, Virginia | Registered: Oct 2005 | IP: Logged |

arg82
Frequent Contributor (1K+ posts)
Member # 161


posted

---

Hey lymeout,

I've been having some ups and downs lately. I seem to be responding to the IV Primaxin which is great news since this is the first time I feel I'm moving in the right direction after a few years of slow but steady decline. But it's very slow progress and I'm of course still trying to push myself to do things and then crashing (which is part of why I haven't been around much).

Before the holidays I had a month of insaneness where I was just running around like crazy doing things (I was co-directing a children's production of "The Wizard of Oz" which was performed at the beginning of December, I worked a lot more in December, I had a Lyme Out Retreat at the beginning of November (seems like a lifetime ago now but that was really the beginning of the craziness). It was just a crazy time for me and when I wasn't running around trying to get things done I was crashing big time.

Now I'm in a major post-holiday crash which is consolidated with a post-sleep study crash (had that done on December 23rd and it was an awful night with a maximum of about 2 hours of sleep - not intentional) which has completely thrown off my sleep cycle and a whole lot of other things in the process. So I'm sleeping a lot now, spending a lot of time in bed, and trying to catch up on some things. I'm also dealing with a worsening of my GI problems (mainly nausea and difficulty eating "real" food) so I'm mostly "drinking" my meals which is just tons of fun, but I'm dealing.

Overall, though, I'm just glad to be improving on the Primaxin and my LLMD is really really happy because he was getting very frustrated at my lack of improvement on the IV Clindamycin that I was on for 3 months before switching to the Primaxin and was considering giving up on antibiotics for a little while and seeing how I'd do (I have trouble tolerating orals and he hates fighting my insurance company to get the IVs but oddly enough we didn't have to fight for the Primaxin).

Just so you know, you can all keep updated on me through My Lyme Journal. Sorry I wrote so much here! I hope that caught you up a bit, lyme out (and anyone else who was wondering what I've been up to).

Now, back to the topic!

Peace and healing,
Annie

--------------------


Lyme Out Retreats

My Lyme Journal


---

Posts: 2184 | From Rochester, MA | Registered: Oct 2000 | IP: Logged |

SuZ-Q
LymeNet Contributor
Member # 5903


posted

---

Thanks so much to everyone for your thoughtful replies!! I have been so confused lately.

My daughter has so many things going on that make things difficult for her. She started on a PICC line about a month ago - thanks so much to Annie for all the help you have given me by email-glad to see you back here!! She's had lots of minor PICC problems, but is adjusting. She has sleep difficulties and has gotten her days & nights pretty much turned around. She likes to sleep from 3am to 3pm. We keep trying to fix this by getting her up earlier, but somehow it never lasts. She runs a constant fever, has constant fatigue, back & neck pain and frequent sore throats and earaches. Many of her previous symptoms have slowly improved with treatment-tinnitus,joint pain,muscle aches & twitches, sensitivity to light, fine motor skill deficiencies and more...

I think she is in denial about her school situation. This is her third year of homebound, but now that she is in high school, she was given a new teacher who is very hard to schedule with and very laid back about getting assignments turned in. Our daughter has sort of been protesting the teacher because she wants her other teacher back. We tried to work out something with her old teacher, but were unsuccessful. She has not touched her schoolwork in 2-3 weeks. Her therapist tells us not to intervene, but we are terrified that she will fail this grade and then we'll never get her back in school. We have been having lots of issues with anger and rebellion regarding school and her treatment and some other things as well.

All of our family outside of our house, plus our son who is a high school senior, seem to think her illness is all in her head and she is just manipulating us. I get so frustrated constantly trying to defend her. I have sent so many pieces of literature with no impact at all. Sometimes, when I see her suddenly perk up and totally change her demeanor from quiet, withdrawn and seemingly ill to laughing, running and giggling within a short period of time, I start to have doubts myself. Then I feel guilty for doubting her.

We are hoping we can get her back in school for half days when the next semester starts in a couple of weeks. The social isolation is not good for her. We used to make her do schoolwork before she could see her friends, but she has been so lonely that we let her see her best friend without any school requirements. I'm just not sure I agree with her therapist about not pressuring her about school, but we are tying to give it a fair shake before changing our approach again.

Well, enough venting. Thanks for listening and thanks so much for your insightful replies!!

Suzy

---

Posts: 260 | From Virginia | Registered: Jul 2004 | IP: Logged |

Lymetoo
Moderator
Member # 743


posted

---

quote:

---

Originally posted by SuZ-Q:
She runs a constant fever, has constant fatigue, back & neck pain and frequent sore throats and earaches. Many of her previous symptoms have slowly improved with treatment-tinnitus,joint pain,muscle aches & twitches, sensitivity to light, fine motor skill deficiencies and more...



---

constant fever does not sound like it could be "in the head"....ignore your relatives.

Hope the IV she is now on will help her alot!!

--------------------
--Lymetutu--
Opinions, not medical advice!


---

Posts: 95252 | From Texas | Registered: Feb 2001 | IP: Logged |

char
Frequent Contributor (1K+ posts)
Member # 8315


posted

---

Hi,

I am sorry to hear that your little girl is having such a hard time.

My kids have had lyme for 5yrs, they are 14 and 12.

Been treated 1yr. Daughter is on picc at moment
When she and my son were on last yr they did not do a thing. Only got up to go to bathroom.
They are some better, but I usually believe them when they say they are too tired.

I have learned that even at 12 and 14 they at times can not put in to words that they are too sick to work and act out by fussing, or even crying or saying no. I am learning to take charge and ask how they are feeling, then tell them how much longer, if at all they need to work.


Last yr, my daughter at 12 could not remember her times tables. She had always done well in math, but as she put it My math brain won't work.
Next day it might...So hard.

My son is up and down emotionally with herxing. I asked him if he thought he was up and down. Like an elevator, he replied. He at times is completely overwhelmed by schoolwork that is typically a breeze for him.

Not sleeping well makes everything worse! Can you get her some medicine for sleep? We all need it to function, which is common with lyme.
For depression?

About the fears of failing at school and not going back. I can relate...we are doing the homebound instruction and wking with the school is a big challenge.

However, we did homeschool for a yr and a half and I learned a "dirty little secret" which is that learning-wise it really is not a big deal to
take a break. Some relaxed homeschooling moms allow healthy kids to self-pace and take breaks.
The challenge of course is what to do with the schols...

My kids were homeschooled for yr and a half. We didn't get much done beyond a little math they read a lot of what they wanted to read. They are above grade level, and have survived so far. Actually, my daughter self-published a book.(During the time she had a hard time with schoolwk. I know.)

We also do homebound tutoring and it is a struggle to pace and wk with school.

Could you tell your daughter YOU have decided that she is taking a break for say 2wks or a month, then you will reevaluate? This puts ball in your court and gives you time to figure out what is going on. I do this sort of thing with kids and it goes better if the stand-off is over and all have had some time. Then I can reapproach with this is what we have decided is best and you will do it.

We cut the kids a frightening amount of slack. I am concerned character-wise, but they always quickly get back to being respectful and working hard when they feel good.

Hope this wasn't too long.

We are with you,

Char

---

Posts: 1230 | From US | Registered: Nov 2005 | IP: Logged |

SuZ-Q
LymeNet Contributor
Member # 5903


posted

---

Thanks Lymetoo. The fever thing is kind of strange. We have mercury and a gallistan in glass(environmentally friendly) thermometer that show her with a fever usually around 101.4(no one else ever shows a fever on these thermometers), but the digital thermometers that they have used on her in most doctors' offices rarely ever show over 99.5. A lot of ducks have implied that it was all in our heads. We even had to do a warm water test at our former pediatrician with our thermometer and 2 of theirs. Their thermometers were also different from each other and they said it didn't mean they were wrong, just differnt. Huh? I wonder if doctors ever calibrate their thermometers.

My parents say they have seen her act normal too many times with the fever for it to mean anything. We thought there may be a problem with her hypothalmus. She has had an MRI which showed "profuse demyelination typical of Lyme", but this convinces no one either (her SPECT which was done locally did not show any abnormalities).

I feel so alone trying to fight everyone who doubts her illness. My son always says she is a faker, my in-laws say she seems fine when we visit them. We've had numerous teachers imply over the years that she is faking. I'm at my wits end on trying to figure out what to do about school. She does seem normal when she is around other people, but she says she doesn't want to appear different and doesn't want anyone's pity. At home she likes to be waited on and likes to whine a bit and definitely doesn't want to do anything approaching work of any kind. I wish there was a way I could just get inside her mind and figure her out.

Sorry, now I have vented twice in one day. I better go do something constructive and quit having a pity party.

Thanks for your help everyone.
Suzy

---

Posts: 260 | From Virginia | Registered: Jul 2004 | IP: Logged |

SuZ-Q
LymeNet Contributor
Member # 5903


posted

---

Char,
I must have been posting the same time that you were. You have a lot of good suggestions. I like the 2 week break idea, especially. We cut our kids a lot of slack too (our other child has diabetes), and although they are always polite and respectful to people outside of our home, they really let their hair down with us. This also contributes to some of my feeligs of discouragement, but I know a lot of it is a function of their ages and both dealing with chronic illnesses.

Thanks so much for your reply!
Suzy

---

Posts: 260 | From Virginia | Registered: Jul 2004 | IP: Logged |

char
Frequent Contributor (1K+ posts)
Member # 8315


posted

---

One more thing...

T his fall, my son didn't want to go to his half day of school. He would get panicky and complain.

A counselor advised we tell him if he is too sick to go to school, he is sick enough that he will have to be in bed all day with no computer or tv.

My friends here said that they as adults could not take that. That if it helps him get through day to be on computer all day let him. I don't regret it. At least he has one enjoyment.

He does rally once in a while, to do something fun, but I am glad he can get out to do whatever he can and will.

I am not down on counselors, but if they don't get that lyme can feel like having the flu for a yr, it is hard for them to advise.

Char

---

Posts: 1230 | From US | Registered: Nov 2005 | IP: Logged |

Mo
Frequent Contributor (5K+ posts)
Member # 2863


posted

---

Hey Suz..

You are in quite a fight..

She is in an intensive situation.

I agree, ignore the doubting Thomases. This is your one chance to be totally supportive of her recovery and as tiring as it is to keep defending her with other family members -- you will not regret it when she is well again.
They simply do not have the knowledge to be making such judgements.

You know, the sleep patterns IMO are indicitive of continuing battles with neuro-Lyme.
They will change on their own and in our experience there wasn't much to be done about changing that other than infection treatment..

Also, the running and giggling is a good sign she is getting better! The windows are small at first.

That energy level will begin to stretch out longer and longer as she further recovers.

IMO, try and get the other teacher back, as good ones the kids bond with are hard to find..
and if not, try and get her load really skimmed or even excused, and the new teacher to be more on task going forward.

It's all about getting through this time. One month into IV is in intensive treatment mode.

She in no way deserves to fail anything, based on her medical circumstances.

(and all kids put a different face forward outside the home, as well as to others as feeling better than they do when they are sick, it's a drag to seem sick all the time in front of friends and at school, IMO that 'front' is a huge energy drain as well)

You have allot of documentation to get her classified under IDEA, requiring the schools to support this and be sure she is never behind, even if her ability is minimal.

God Bless you all!

Mo

---

Posts: 8337 | From the other shore | Registered: Jul 2002 | IP: Logged |

SuZ-Q
LymeNet Contributor
Member # 5903


posted

---

Thanks Mo! You always have such good advice.

We have a 504 meeting next week and we are going to try to make a teacher change. One of her teachers at school has lightened the work load, but the others pretty much keep all the requirements the same. And of course, every year we have had one somewhat nasty teacher to deal with. This year it is science. She is in all advanced level classes, so the requirements can't be changed too much. She gets upset if we mention dropping back to regular classes. We had her drop French earlier in the year because the school would not cover it in their homebound (even though it is required for the advanced diploma) and she was very distraught and upset.

The thing about her behavior is that it has become predictable. Every year she gets better in the Spring and Summer and goes back to school in the Fall, but drops out after a few weeks or months. She is also better on weekends, breaks and vacations. Her fever goes down to almost normal during the summer, but gradually increase during the Fall, then levels off in the Winter.

One night, she begged to not work with her teacher and complained terribly about not feeling well, but after her session was over, her best friend came over and she lit up and became a different child. When we go to family dinners, etc. she is often the life of the party - no one can talk for her silliness (which we love to see). At home, she stays in pj's all day in front of the tv. We can barely get her to do anything. She is often noncommunicative or whiny and is very self-absorbed. We have thought about trying to get her involved in a volunteer project of some sort, so her focus will not just be on herself, but haven't come up with anything yet. Not sure if she could handle it yet, anyway.

Mo, you are always so great to help others. I often see you posting to assist others, but rarely to complain or even ask for help or advice. I wish I had your insight and perspective. I hope you and yours are improving and I appreciate your help. I appreciate everyone who has responded so much. We've been really struggling lately and everyone's kind words have been uplifting.

Peace and wellness to you all.
Suzy

---

Posts: 260 | From Virginia | Registered: Jul 2004 | IP: Logged |

shazdancer
Frequent Contributor (1K+ posts)
Member # 1436


posted

---

Suz, I'm in the same situation with my kid. His symptoms are all psychological-cognitive.

I have pretty good support from the school system. Since he is better than he was a year ago, they have opted to try and get him to be responsible with working with his tutor and getting things done. Hanging over his head is the possibility of graduating with his class.

One of his biggest hurdles is still learning to prioritize. I think that might be one of the last things a child matures in anyway, and when I think of the years of growing up that were lost to this disease, it's no wonder he is still immature in this area. And he forgets what he should be remembering to do! But it's still frustrating, having to remind him to do his homework before playing on the computer, take his meds, go to bed, wake up, etc. etc.

S-L-O-W-L-Y, it's getting better....

Regards,
Shaz

---

Posts: 1558 | From the Berkshires | Registered: Jul 2001 | IP: Logged |
Contact Us | LymeNet home page | Privacy Statement

Powered by UBB.classic™ 6.7.3

---
The Lyme Disease Network is a non-profit organization funded by individual donations. If you would like to support the Network and the LymeNet system of Web services, please send your donations to:
The Lyme Disease Network of New Jersey
907 Pebble Creek Court, Pennington, NJ 08534 USA
http://www.lymenet.org/
---
Home | Flash Discussion | Support Groups | On-Line Library
Legal Resources | Medical Abstracts | Newsletter | Books
Pictures | Site Search | Links | Help/Questions
About LymeNet | Contact Us
---
© 1993-2020 The Lyme Disease Network of New Jersey, Inc.
All Rights Reserved.
Use of the LymeNet Site is subject to Terms and Conditions.
---