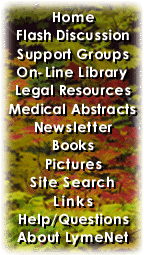 ---
LymeNet on Facebook
LymeNet on Twitter
---
---
The Lyme Disease Network receives a commission from Amazon.com for each purchase originating from this site.
When purchasing from Amazon.com, please
click here first.

Thank you.




Dedicated to the Bachmann Family


LymeNet needs your help:
LymeNet 2020 fund drive

The Lyme Disease Network is a non-profit organization funded by individual donations.

| | |
| --- | --- |
| | |
Author
Topic: Gratitude

Getting Better
LymeNet Contributor
Member # 8919


posted

---

I have been working on feeling gratitude for having lyme.

I know that sounds crazy, but's it not so crazy. I have only been able to do this as physical pain has been reduced.

Here's why gratitude for lyme:

1. Pointing to need to find a whole new way of living, e.g., living with chronic illness >>>> being kind to yourself, taking care of yourself, monitoring stress, becoming more mindful

2. Promoting whole new lifestyle (should be like 1a from above). Change of diet, change of habits, change of thinking, change of exercise, change of work.

3. Humility. As a human being, cutting through that narcissistic feeling "It can't happen to me" and "woe is me". Accepting fragility and feeling it is OK -- part of being human.

4. Spiritual awakening. Deepening the feeling, however one calls it, of nature, god, love in our lives. These things do not go away just because we get sick. In fact, because we are sick, we have to access them all the more.

5. More successful intervening of stress. I have come to be vigilant about stressful thoughts and feelings, and don't let them in! Stress will hurt the healing process. If they do get in, they I let them go, as much as possible.

I never thought I would feel grateful for having lyme. But I do. And the best thing this feeling of gratitude seems to be empowering. You can't be victimized by something you are grateful for.

Just thought I'd share my thought for the day.


--------------------
Jeff


---

Posts: 533 | From CA | Registered: Mar 2006 | IP: Logged |

bejoy
Frequent Contributor (1K+ posts)
Member # 11129


posted

---

Thanks Jeff,

I know that Lyme has helped me define who I am. It has given me endurance I might never have found within myself, and compassion as well.

I have often said about my life that I would do it all over again if I had to, to get where I am now (but I'm glad I don't have to.)

It's much harder for me to say that now, understanding how lyme has played such an important part in my personal development.

I think that as I begin to heal, I will be able to lose the anger that comes from feeling so helpless, and I will be more able to fully join you in your gratitude.

Thank you for sharing your thoughts.

bejoy

--------------------
bejoy!

"Do not go where the path may lead; go instead where there is no path and leave a trail." -Ralph Waldo Emerson


---

Posts: 1918 | From Alive and Well! | Registered: Feb 2007 | IP: Logged |

Geneal
Frequent Contributor (5K+ posts)
Member # 10375


posted

---

How interesting. I too try to find what I am greatful for in relation to Lyme disease.

So far, it is quite a lot.

I have grown personally and spiritually in leaps and bounds since getting really sick.

I am not grateful for this disease, but I am grateful for all of the opportunities that have been presented to me.

I believe everybody has a different journey.

I am not sure it has to do with how we get there as long as we get there.

Hugs,

Geneal

---

Posts: 6250 | From Louisiana | Registered: Oct 2006 | IP: Logged |

Cathy DeVoe
Member
Member # 11271


posted

---

Jeff,

I am on the same journey.

I know that anger, resentment and victimizing myself will not help in my healing.

It's a very difficult thing to do on a daily basis and sometimes I cannot connect to it at ll.

I wonder what I will learn from all of this.

What good can come from my situation?

Thank you for your eloquent words.
They will give me some things to think about.

Healing Prayers to all,
Cathy

---

Posts: 88 | From Carnation | Registered: Feb 2007 | IP: Logged |

bettyg
Unregistered



posted

---

KUDOS JEFF! wonderful summation as well as from others replying to it.

of course the most obvious thing we have all learned from our chronic lyme disease ......

who are our LONG-TERM FRIENDS thru thick and thin on our lyme journey!

not the fair-weather family/friends!

we've also learned who are our local state/FEDERAL senators/house reps as we do our lyme bill activism, etc!

---

IP: Logged |

heiwalove
Frequent Contributor (1K+ posts)
Member # 6467


posted

---

jeff--

absolutely. it took me a long time to get there, but i'm right where you are. grateful for this journey i'm on and the incredible lessons unfolding therein. a gift in the strangest and ugliest disguise, but a gift nonetheless.

many blessings & continued healing to you,
heather.

[ 22. March 2007, 11:23 PM: Message edited by: heiwalove ]

--------------------
http://www.myspace.com/violinexplosion


---

Posts: 1848 | From seattle, wa | Registered: Nov 2004 | IP: Logged |

Tincup
Honored Contributor (10K+ posts)
Member # 5829


posted

---

Well, at the risk of being the odd ball here...

I thought it SUCKED when I got it.

It has totally SUCKED for the past 20 years.

And it STILL SUCKS every day and will probably SUCK the rest of my life!

I had other things to do... places to go.. people to see. Lyme has been nothing more than a lead balloon attached to a rope that has been tied to my feet and that has tripped me up from here to there every day.. with no escape.

I guess I've not developed because of this experience, not healed spiritually, and not become a better person for it. But I never really expected to. I was ok BEFORE this SUCKED the life out of me.

And NO I'm not happy... because...

It TOTALLY SUCKS!



--------------------
www.TreatTheBite.com
www.DrJonesKids.org
www.MarylandLyme.org
www.LymeDoc.org


---

Posts: 20353 | From The Moon | Registered: Jun 2004 | IP: Logged |

Michelle M
Frequent Contributor (1K+ posts)
Member # 7200


posted

---

Tincup, perhaps you got lyme disease because of your amazing ability to rouse the troops... to pen brilliant letters.. to help others in their quest for diagnosis and treatment... To lead the charge, so to speak. You may not see it that way, but lyme activism would definitely not be the same without you.

You're a little bit famous, y'know. Or rather, infamous, in certain circles..! :-)

I am grateful for having lyme disease because I could never have known what was wrong with my precious daughter otherwise.

I shudder to think where she might be had she been at the mercy of local ducks who refuse to acknowledge lyme is even here.

Perhaps she would not be walking now and her painful knees would have led to steroids, surgeries, and worse.

Perhaps her Bell's Palsy would have been treated with prednisone and like her high school principal, NOT gone away, and led to permanent disfigurement of her lovely face.

So am I glad I got lyme?

You betcha.

It helped me see and recognize a cousin who was bedridden and slipping away with worsening "MS." She is now in treatment with an LLMD and making huge strides.

Everyone in my circle of life is more knowledgeable and better educated thanks to my experience.

Gifts come in strange packages sometimes.




Michelle

---

Posts: 3193 | From Northern California | Registered: Apr 2005 | IP: Logged |

robi
Frequent Contributor (1K+ posts)
Member # 5547


posted

---

Yeah, I'm with ya TC .......... this does suck ...... i coulda been more productive in helping others (and I was) than I am now.

Lyme Sucks, but if yo see it as a gift well that's cool.

--------------------
Now, since I put reality on the back burner, my days are jam-packed and fun-filled. ..........lily tomlin as 'trudy'


---

Posts: 2503 | From here | Registered: Apr 2004 | IP: Logged |

Cobweb
Unregistered



posted

---

I want to go back to bed-but I can't because I'm waiting for the HomeHealth agency to deliver next week's supply of IV meds. It's 1:30-they said they'd be here between 1-3pm.

It's raining, snowing, sleeting-and the temperatures are dropping to below freezing as the afternoon wears on. At least I'm glad I'm not the delivery guy.

My life put on hold- waiting. In May 2005 my supervisor gave me a top notch evaluation. With my knowledge and maturity she said I was the stabilizing factor on the team. By March the following year I had become a "loose cannon", it was no longer deemed "safe" for me to be in the classroom-and I was let go on Family Medical Leave.

I just heard an ambulance go screaming by-sure am glad I'm not in it.!

Do I appreciate this detour in my life? No-not yet.Especially when I think how it didn't have to be this way-if only, if only my PCP hadn't looked in his IDSA guideline book when I was first diagnosed.

Many things in life had humbled me long before Lyme entered the picture. Am I grateful to that devil tick-no. But I am grateful to God for never leaving me.

Lyme is the great eraser-taking away everything material that stood between me and God. I feel God's presence in my life,now more than ever.And I sure am glad I have a bed to crawl into on a nasty afternoon like this.

I can hear the sleet pelting my window. I'm going pray for the delivery guy-to keep him safe-not for my sake-but for his.

Carol

---

IP: Logged |

bettyg
Unregistered



posted

---

carol/cobweb,

bless your sweet heart for thinking of others on this ghastly day you're having today. Iowa had this weather twice in 1 week 2-3 wks. ago. we're finally getting all these huge branch limbs, downed trees cleared up from all the ice, snow, sleet, rain, and snow!

i'll be thinking of you/others praying all get safely home to their loved ones, and INSIDE all weekend!

[ 17. March 2007, 04:33 AM: Message edited by: bettyg ]

---

IP: Logged |

Meg
Honored Contributor (10K+ posts)
Member # 22


posted

---

I agree with Tincup, this sucks pondwater!!

Ok, beyond that, I AM thankful that I'm not worse off than I am. I'm thankful I have my faith to see me thru and that the God I believe in will always be there for me.

I find no benefit to having this disease tho......guess I'm not learning or progressing very well, eh?

I'm glad you all have come to a place that will help you deal with this disease....I'm thankful for that

--------------------
Success Stories---Treatment Guidelines


---

Posts: 10010 | From somewhERE OVER THE Rainbow | Registered: Oct 2000 | IP: Logged |

TNJanet
LymeNet Contributor
Member # 10031


posted

---

OK! This must be the place that I can be honest and it's about darn time. For so many years I thought that chronic illness was teaching me some circle of truth that my spirit needed to learn.

When a few interested people asked me how I tolerated the isolation, losses and challenges associated with chronic illness and pain, I would jump on the Sweetness Train and in my softest, most humble voice I would say that I was being given a GIFT, I was so FORTUNATE because without the GIFT, I would just be plain ole me fumbling through life not knowing the TRUTH.

If my Lymebrain had permitted, I could have possibly written "The Secret," which is essentially psycho babble about how thoughts effect behavior and vice versa, and around and around. But of course my Lymebrain DIDN'T permit!

So, here is a place where I can stand up and be counted as one human being who says I am sick, I hate being sick, it sucks, I am NOT grateful for being sick, I hate the IDSA, I hate ticks and I am tired of the whole thing.

Now that's my TRUTH! THE TRUTH! The TRUTH has NOT set me free! The truth is a bitter pill!

Sure, I've learned some things. And I have been humbled. And I have learned to let go, especially let my anger extinquish itself before it burned me up. But I am not OK with this illness or all it has taken, all it has cost, all it has changed.

So THERE! I'm right beside Tincup on this one. In fact, I wish I was swinging with Tinny in a hammock somewhere, warm and sleepy, no talking, just gentle swaying to a mild breeze, no pain....
no pain.....no pain.

Janet

--------------------
DISCLAIMER:
No information presented above should be considered medical advice or take the place of advice given by a medical professional. Links to other sites are provided merely for ease of research.


---

Posts: 287 | From Tennessee | Registered: Sep 2006 | IP: Logged |

stymielymie
Frequent Contributor (1K+ posts)
Member # 10044


posted

---

GET 4 KIDNEY STONES IN 3 WEEKS AND SEE HOW
THIS EnLIGHTENS YOUR MIND.

it hurts like hell and i'm tired of taking it anymore.

i have lost all faith in a real god,sorry
gang.
i was a good honest dentist on a mission to
help people heal their bodies ,not just their teeth.
next thing i know i'm having 2 arm surgeries,
spinal taps, picc lines, iv's, yeast,fungus, babs,
brain death, almost divorced, in and out of
hospitals.
and this is good for the soul.
my soul would like the last 13 years of its life back ,and make its own decisions.

cobby, i hope your ok up there, my mom said the weather sucks and stay in.
and you should always follow what mom says.

i just met another person, a friend of my wife,
a quaker from philly.
she was bit by a deer tick 6 years ago saw it on her, removed it with effort,
went to doctor with bulls-eye rash.
duck said, you don't have lyme, come back in a month and i'll test you anyway.
no abx, tests were of course negative, so she never got any abx whatsoever.
now she has over 100 lyme symptoms and i had to sent a letter of introduction to my last llmd/
that she has lymr and needs immediate treatment.
anything else but treatment will result in a lawsuit, period.

so lyme helps with the soul huh,
how about this poor ladys soul.

i'm sooooooo mad
docdave

---

Posts: 1820 | From Boone and Southport, NC | Registered: Sep 2006 | IP: Logged |

wenan
LymeNet Contributor
Member # 10993


posted

---

One of the things this illness has taught me has been to reach out and rely on other people. Yeah, some days it totally sucks, but invariably on those days I find connection and love in places like here and in friends and people that I would have in the past let slip out of my life relying on old patterns and ways of relating. This has been the hardest thing I have ever had to deal with - honestly.

You can't get away from your own body - you can sure try but it never works very well. So, each day I am doing the best I can with what I've got and I am so incredibly grateful for the people this illness has brought into my life.

Would I want to do it all again? -- no, but I don't know if that is the question I should be asking. It's what I have been dealt and I am trying to show up to what is there - that's all I can do and I find that the less I fight it the better.

Thanks for being here.

---

Posts: 104 | From connecticut | Registered: Jan 2007 | IP: Logged |

Cobweb
Unregistered



posted

---

You're right, Stymie, the sleet was hitting the window so hard this afternoon it was hard to take my afternoon nap!( the delivery guy did make it safely by 2:30pm- I told him he was in my prayers for safe travel on the rest of his route).

My car is covered in a frozen blanket of the stuff.I have no intention of going out until it has melted off naturally.

And to think I was almost teased out of my groundhog burrow by the 80 degree weather two days ago.!

Carol

---

IP: Logged |

Getting Better
LymeNet Contributor
Member # 8919


posted

---

From what i read and see, everyone is at their own place. Exactly where they need to be.

I was angry and hated lyme disease for two years. Sometimes i still do.

It is illogical, isn't it? To embrace this disease?

I think I will have it forever, even if it is not active, even if it is no impairing me.

So why not accpet it? Truly accept it?

Some of my friends say: "You don't deserve this!" As if any of us deserve any bad things that happen to us, over which we have no control.

We have some control over our reaction.

Although I do want to say I was not here while I was in incredible, unrelenting pain, and so I am not judging anyone who has lyme who hates it.

If I do go back into pain, I want you all to remind me to try not to resent the illness, but to see it, and accept it for what it is.

--------------------
Jeff


---

Posts: 533 | From CA | Registered: Mar 2006 | IP: Logged |

TNJanet
LymeNet Contributor
Member # 10031


posted

---

Oh, and I forgot to mention: I HATE Stymie's FOUR kidney stones and all he has had to go through these past months. I HATE it for him and I'm MAD! Not gonna be singing KOOMBYEYA anytime soon unless Dave or TC ask me to specifically.

And pardon me but I USED to be just as evolved as anyone else and knew how to be politically correct if I had to be...but I'm just getting a tiny bit (alright, a LOT) perturbed about this whole lyme thing, every aspect of it.

Maybe someone ought to shoo me off Lymenet for a while. Don't think I've broken any rules yet but I may be cruisin' for a bruisin'.

And I must say that I absolutely ADORE almost everyone here, especially the ones who have stayed around to help out crazies like me for years and who continue to suffer but don't complain.

I'll probably be embarrassed by this thread in the next day or two, but I WANT MY LIFE BACK!!!!
WHAAAAA Janet

--------------------
DISCLAIMER:
No information presented above should be considered medical advice or take the place of advice given by a medical professional. Links to other sites are provided merely for ease of research.


---

Posts: 287 | From Tennessee | Registered: Sep 2006 | IP: Logged |

bettyg
Unregistered



posted

---

janet, i feel your pain and know more about your situation that you're coping with these last couple of days.

be angry; get it all out of your system. couple of secretaries i knew had a blow up person that they would BEAT on during their stressful work days! how about a blow up for you?

best wishes; hang in there, and email me any time you need to rant/rave!! ok my friend!

---

IP: Logged |

lalalu
LymeNet Contributor
Member # 10854


posted

---

JeffM,
Thanks for the post. I feel that I am in the midst of a spiritual awakening. Fear and anger are a part of it too.

Although my values were in a good place before I started treating the Lyme, I know that I was attached to people, places and things. The more experiences I could add to my resume, the more ME I was. Today, I see the only thing which is not illusory is love and compassion.

Today, I can say I am still ME in the throes of this. I have fear and anxiety every day it seems.
But I do not have to run. I can look at the Lyme and Babesia and say "there YOU are".

I am grateful for treating the Lyme and Babesia while it is still at this grassroots level...in its infancy stage. How else could I be blessed to meet such courageous angels...all the LLMDS and practitioners who risk their licenses and careers? And the folks who are in the trenches with me. Where else could I have found these extraordinary people? These are the people who I want to associate with for the rest of my life. They are FOR REAL.

I have learned to rely on other methods of healing, away from traditional, Western medicine. I have learned to rely on Mother Earth, again.

And faith, what else do I have but faith that this will pass? I really have no choice but to believe it or I die.

--------------------
http://chroniclyme.blogspot.com/

"Illnesses, hover constantly above us, their seed blown by the winds, but they do not set in the terrain unless the terrain is ready to receive them."---Claude Bernard.


---

Posts: 131 | From US | Registered: Dec 2006 | IP: Logged |

timaca
Frequent Contributor (1K+ posts)
Member # 6911


posted

---

Jeff~ Thanks for the thought provoking thread. About 2 weeks before the lyme symptoms hit me I prayed this prayer "God, I'd be willing to walk through hell if it would bring one person closer to you." Well, I've been walking through a living hell the last 3 1/2 years with lyme. Whether or not anyone else is closer to God because of it, I can't say....except I know I am.

While I hate this disease and what I believe it has robbed me of, I do agree with you in that it has taught me much. While I thought I was a compassionate person before, I learned what it is to suffer, and thus I can really relate to those who suffer.

I know God has me in this place at this time for His reasons. Sometimes I get glimpses of Him working and so I know He knows what is going on. And that is all I need to carry on....to know that He is there. The stories I could tell of His workings are too amazing to be called coincidence...so I know that they aren't.

While I know He is there, I do pray for an end of this horrid disease....for us all.

Blessing to all of you who are suffering. May you find peace in the pain. May wellness come to you.

Timaca

---

Posts: 2872 | From above 7,000 ft in a pine forest | Registered: Feb 2005 | IP: Logged |

stymielymie
Frequent Contributor (1K+ posts)
Member # 10044


posted

---

timica:
i'm really sorry to post this, but i must get it off my mind.
i know many people trust in god for help and salvation.
and i really, really don't want to be mean.
why is god making us suffer ,if he is watching us from above.
why does he let young kids die in battle for nothing.
why is he watching back and doing nothing.
why do our prayers go unanswered?

why do bad people not get caught and punished for thier sins?

whatsins have i done to deserve this/
i don't remmeber any.

does anybody every ask these questions to themselves.

yes we need something to believe in but why are we not getting an answer??

i guess this question has been asked a million times.

i'm in remission 2 months now and still mad!!!!!
i can't walk or think but i am healthy.
sorry don't mean to offend any people or their faith in god, i used to believe too, once
docdave

---

Posts: 1820 | From Boone and Southport, NC | Registered: Sep 2006 | IP: Logged |

Vermont_Lymie
Frequent Contributor (1K+ posts)
Member # 9780


posted

---

I have really been missing my brain for the last year since we figured out it was untreated lyme disease that was causing me to be so sick.

So, even though I feel lucky to be responding well to treatment; I have far to go but am clearly better than one year ago, I am having a hard time with acceptance.

Depends what day you ask whether I am mad as hell or can cultivate the more spiritual approach that Jeff and others here have articulated so beautifully.



Overall, the whole thing sucks bigtime. I have figured out that it doesn't do me any good to dwell in regrets, am trying to move forward with optimism and courage. You guys help alot with that.

Having this disease definitely has expanded my compassion for ill people.

If I ever get better, I will use all my strength to try to help improve the conditions that lead so many children and adults to die each year in poorer societies, lacking the great gifts available to me here (even as a relatively poor American) -- antibiotics and some medical attention.

As sick as we are, there are so many people worse off than us.

Cause when I was at my weakest and feeling like I was going to die, at least I had that.

Thank god for antibiotics. Do you realize they were only invented and used popularly after WWII? People with bacterial diseases before then suffered terribly. Still do, due to those responsible for the IDSA's lyme policy.

I am grateful for the lymenet community, so many great spirits out there helping each other.




[ 18. March 2007, 05:16 PM: Message edited by: Vermont_Lymie ]

---

Posts: 2557 | From home | Registered: Aug 2006 | IP: Logged |

3greatkids
Frequent Contributor (1K+ posts)
Member # 3838


posted

---

Well,if the power players of Lyme could stop playing God,deciding on the direction of our ever spinning out of control health system,maybe I would feel the love.

Come on Mr./Mdm CEO...let me be treated...please.I promise,there will still be $$$$ for your pockets and stop playing God w/ my health.


NO CHILD LEFT BEHIND should be the motto for LYME KIDS. Shame on the powers that be that say Lyme is a Myth and sit back and watch these children suffer,knowing all along,a tick bite is responsible.Letting them suffer,shame.

Remember that movie years ago,the TV guy asked everyone to:

OPEN UP YOUR WINDOWS and SCREAM,I"M MAD AS HE## AND I"M NOT GOING TO TAKE IT ANYMORE!

Pssst....Come said the spider to the fly...I have a Secret.

Lyme is not a Myth.Believe me when I say...Don't ignore that rash!Don't WAIT and SEE.

---

Posts: 1076 | Registered: Apr 2003 | IP: Logged |

timaca
Frequent Contributor (1K+ posts)
Member # 6911


posted

---

Hey Docdave~ I appreciate and hear (and feel) your heartfelt response. First, I'm glad to hear that you are lyme free. I hope you stay that way! And I hope we can get to where you are!

I don't find your questions mean, but honest. We've all asked those questions. I don't think we can answer them on this side of eternity.

Ants can't fathom how humans exist or behave. Neither can we humans truly understand or fathom God and His ways.

I don't think God makes us suffer. I think He grieves along with us. Jesus showed us what God was like...and he wept with those who suffered, and healed those who He came in contact with.

He was rejected by his family and deserted by his closest friends in his greatest hour of need. He suffered a death he didn't deserve, but went through the ordeal for he knew there was a higher purpose for it all. He leaves us his example for us to emulate.

I know God hears my prayers. And while I see only the "knots" of life right now...on the other side I will see the "tapestry" that is being woven with my life. Sometimes I see glimpses and understand what is going on, and for those times I am grateful. It helps me persevere.

This life is not all there is, and I'm sure your questions will get answered after this life is over, if not before. I, like you, would like answers here and now, but God is not obligated to explain Himself. In the book of Job in the Bible, Job suffered many things including the loss of his children, health and livelihood. He got angry and questioned God, for he was a godly man. God never explained to Job the why of what happened to him, but he did point out to Job who HE was...God Almighty. Job ended up shutting up.

In the meantime, 3 books have really helped me with hope during the Lyme ordeal. "Joseph" by Chuck Swindoll, "Job" by Chuck Swindoll and "Your Best Life Now" by Joel Osteen.

Joseph details the story of a man in the Old Testament who was grossly mistreated for 13 years of his life. Eventually he became prime minister in Egypt and saved many people from starvation.

Job details the story of a man that lost everything but his life. And he was a godly man.

Osteen's book is very uplifting. He has free sermons online that also are encouraging. www.joelosteen.com

God has been gracious to show Himself to me regularly, so I know that I'm not facing this alone. It helps.

I feel what you're feeling. I hope I've answered some of your questions. If you want to explore the spiritual side of suffering, I would encourage you to read those 3 books.

Timaca

---

Posts: 2872 | From above 7,000 ft in a pine forest | Registered: Feb 2005 | IP: Logged |

stymielymie
Frequent Contributor (1K+ posts)
Member # 10044


posted

---

timica:
you misunderstand chronic lyme ,i think.
i did not say i was lyme free.
i said i was in remission, BIG DIFFERENCE
Chronic lymies may never be lyme free, and with my research, this may never be a true goal of treatment for quite some time.There is very
little research being done for lyme

first we have no way of testing if we are lyme
free.

second, the bb in cyst form is very tenacious and elusive to our immune system and even with treatment, that they may linger for years.

My goal, and I think, for most chronic lymies is to be comfortable and functional.
I never expect to be lyme free, and don't care.
I have been through 3 remissions and was very happy.

Dreaming for full recovering, is wishing
for something unobtainable with today's technologies of treatment.

i feel many symptoms are permanent even if we do find a "cure"
damage already incurred, will never get better, but may get reduced.

my neuro signs have decrease significantly during remission, yet i still can't concentrate to read a book.
my iq went from 178 to 129 and will never return to full capacity.

a vaccine may be the only answer to keep this dreadful disease at bay, but not to cure ,to prevent..

docdave

[ 20. March 2007, 07:31 PM: Message edited by: stymielymie ]

---

Posts: 1820 | From Boone and Southport, NC | Registered: Sep 2006 | IP: Logged |

Getting Better
LymeNet Contributor
Member # 8919


posted

---

Boy, do I feel I opened a can of worms.

As someone above said, I think it was Cave, there is no doubt about it: Lyme Sucks. There have been long periods during this disease when I felt nothing but hatred and resentment for it, anger at the medical community, and a rather helpless victim. It was very scary to lose the functioning of my mind; and made the disease all the more challenging. It was also hard to deal with the physical pain (9 or10, most of the time) until I gave myself permission to be properly treated for it.

When I said I was grateful, I did not mean glad I got Lyme. That would be sorta crazy. (Ooooooo, an incurable CNS torture disease -- I'll take one of those! Intolerable pain and loss of functioning? Sign me up for that!) I meant it has taught me things and forced me to change my way of living.

There is no doubt in my mind that mental happiness is both separate from and tied to physical well being.

I see that choosing to dwell in anger, resentment and victimization all contribute to ill health and unhappiness. That doeesn't mean they don't creep in. If I see them, though, I say, Of course you feel that way. Any sane human being would. Now: Do you want to stay there? Does it feel healthy? If I can, I switch to thoughts that are more life-giving.

That's what I am grateful for. I really get how destructive emotions are destructive, and we don't have to be a victim of them. And how constructive emotions promote happiness.

I started a website last year (in my mind, while I was bedridden and could only use my laptop) and finally got it going. I write about these topics in it. www.jeffreymaloney.com

I am just trying to find mental antidotes to the misery this illness causes me. Sometimes the magic works, sometimes it doesn't (lol -- a quote from Little Big Man).

These are just some of my honest thoughts at the moment. I wonder if they are gonna stir up a hornet's nest again.



--------------------
Jeff


---

Posts: 533 | From CA | Registered: Mar 2006 | IP: Logged |

treepatrol
Honored Contributor (10K+ posts)
Member # 4117


posted

---

It will pass

--------------------
Do unto others as you would have them do unto you.
Remember Iam not a Doctor Just someone struggling like you with Tick Borne Diseases.

Newbie Links


---

Posts: 10564 | From PA Where the Creeks are Red | Registered: Jun 2003 | IP: Logged |

stymielymie
Frequent Contributor (1K+ posts)
Member # 10044


posted

---

that was very good tc

no you can't focus on every little thing going wrong or you will blow your mind out.

i am happy for all the people on lymenet that i have met over the years and several support groups in philly area.

the only people that can understand what is going on with your body is you, sometimes your llmd, and the people on lymenet.
nobody else understands, they may think they do ,but far from it.
no your partner, kids, parents, best friends, nobody understands the day to day trauma your body goes through.
up and down , down and up, gooc then bad.
its mind boggling.

most people like myself only whine ( oh i meant wine)
when they need real comfort
this is the only place in the world you can get it.

as for lyme it still sucks big apples!!!!!!!!

docdave

---

Posts: 1820 | From Boone and Southport, NC | Registered: Sep 2006 | IP: Logged |

bejoy
Frequent Contributor (1K+ posts)
Member # 11129


posted

---

I think the hornet's nest is one of the greatest questions that human beings ever ask themselves and their Gods, "Why do good people suffer!?"

I don't think anyone in history has come up with a really satisfying answer to that question.

Viktor Frankl wrote a book called Man's Search for Meaning, about his experience in a Nazi concentration camp.

He basically decides that there is no meaning for sufferring, but people survive it by making meaning out of it through helping others.

The way I see it, dealing with an affliction like lyme takes us through the stages of grief, just like losing someone you love.

We feel anger, denial, blame, guilt, more anger, bargaining with God or the world, depression, and eventually some acceptance. We can cycle back through all these stages arbitrarily.

Trying to supress the anger and pretending to be in acceptance results in depression. Expressing the anger in a safe place can lead towards acceptance, but doesn't have to.

Having some sense of control over the situation can keep the grief and anger at bay.

I'm currently at peace with the idea that there are lots of nasty bug bites. Its a strange and beautiful planet, with lots of illness. I happen to have some, even though I once thought I was invulnerable.

I have so much gratitude that I know what it is, and that I still have the wherewithall to figure out how to get better.

I'm more angry about what this has done to my kids, and all the ways I have abandoned them over the years because I just couldn't show up. F with me, and I'll get over it. Mess with my kids and the momma bear comes out with big teeth. I won't roll over and die.

I'm taking perverse pleasure in being able to win this one, in spite of insurance fraud, pharmaceutical cartels, and government ignorance or coverups.

I'm expecting it to be a lifelong process, but in the end, I'll be living healthy while those making the big bucks denying the existence of lyme are going to be going to hell with "undiagnosable and incurable medical conditions" in another 15-20 years.

Those with open minds and compassion will be coming along with us, and finding ways to live healthy and vibrant lives.

Thanks for the opportunity to vent and to share.

bejoy

--------------------
bejoy!

"Do not go where the path may lead; go instead where there is no path and leave a trail." -Ralph Waldo Emerson


---

Posts: 1918 | From Alive and Well! | Registered: Feb 2007 | IP: Logged |

cenote
Junior Member
Member # 11438


posted

---

i donīt have lymes..
this is a fascinating thread, for an outside observer, such as myself, who has had to deal with other chronic health problems, but i know next to nothing about lymes. reading all of your posts definitely makes me see how real and intense it is.

anyway.. the one thing i do know about is thoughts and choices.. i think our thoughts are the most powerful tool we have as human beings.. and thoughts create emotional responses, as well as choices, which create physical reactions in our bodies...

say for example, our thoughts are that we are hungry, and maybe emotionally we feel whacked out because we need to eat food, so we eat food and then we make the decision to eat food and we feel satisfied..

another example.. we feel stressed, like jeff was talking about.. we feel a stressful thought, and our emotions become stressful, we become stressful to those around us, it impacts our bodies, our nervous system tightens and becomes stressful, our body isnīt relaxed and we go further down a spiral of stress.. thus all our muscles begin to get tense and our nervous system tweaked..

most drug addictions are a choice. at some point in the game, there is a thought and a choice. we are in control of our reality.. even if we think that the addiction is in control of us and we donīt think we can control our choices because we have lost our power/ given our power away/ disempowered ourselves to the addiction and the addiction has power over us, we still have our thoughts and we do have control over our thoughts and this is a related to buddhist concepts of mindfulness.

i had a really bad knee injury happen as a result of falling off a rock in a river. it was a very interesting experience. what the river told me was that i was not being mindful, or aware, of my surroundings.. i was not thinking of anything else around me. the ecosystem exists in wholeness, and i invade the energy of that interconnected web - with my youthfulness, with my giddyness, with my exuberance, with my lack of awareness for everything around me.. after several minutes of sploshing around everything, i stepped onto a rock and tumbled backwards and crashed into the rock behind me... i couldnīt walk for days and it eventually turned into chronic knee pain, that i still deal with. my knee is often sore & stiff, i canīt walk for long.. anyway, what the river informed me was that i was not paying attention to the energy around me, i was not being mindful with my mind or my energy. this has been a teaching that i continually have to re-learn, as this is just a mirror of larger habits in my life...

back to the point.. i think that consciousness creates reality. i think that our thoughts, feelings and choices create decisions that impact our bodies. if one thing is beautiful about lymes, or illness in general, it could possibly be that it makes us aware of the relationship between our minds, our bodies and our emotions. it is easy to think that before taking on an illness that we were better, or okay, at least fine.. but often times in those states we werenīt aware.. we werenīt aware that the body has an impact on our consciousness, or that our consciousness has an impact on our body. illness shakes us out of the illusion that our bodies and minds are separate. our bodies are the temples within which our consciousness is at home. we need to treat our bodies like temples in order for them to be healthy, we need to honor our bodies, and our thoughts have a huge impact on our bodies. for example, back to the stress in the mind - stress in the body example....

i have noticed with lymes and with the posts on this board a significant amount of people speaking about feeling like a victim. i think it is possible that lymes disease is a teacher about victimization. i could be wrong. but i think that when you think you are a victim in reality, that when your mind says that you are a victim of circumstance, that reality will verify your consciousness - it will create that reality for you so that you can experience that, because you are thinking it, you are drawing it to you...

in the recent film, The Secret, one of the key ideas is that our thoughts create reality. we are magnetizing towards ourselves what we think because our thoughts are like magnets for our body and reality.. therefore, if your thoughts are about being a victim of injustice, you will become victimized because that is what you are magnetizing towards you with your thoughts.

i think being angry is healthy. and powerful. i think it is essential to own our rage and anger and know that we have within ourselves the power to create our own hell with our thoughts. angry thoughts are hell. being consumed in hell thoughts creates that reality around ourselves.. but do we want to be stuck there? i donīt think we want to get stuck in that rage. i think we need to not be in denial of our real feelings, express it, be submerged in our emotions down to the cells of our body.. but to remain there is not healthy.

but i think also that itīs all just a teacher for owning our consciousness and our ability to be strong, to be courageous, to be aware of our minds and our thoughts and how they impact our reality.

i am grateful for the perspective. there is a lot of suffering on the planet.. in india, i have heard of insane suffering.. suffering like i canīt even imagine.. but i think that taking on the energy of being a victim is a slippery slope that you have a hard time recovering from, becoming an empowered, healthy, happy person. we all want happiness, we all want healthy bodies, we all want minds that are clear and radiant and joyful and creative..

to be a victim of injustice negates your power, your strength, your wisdom and your beauty.

---

Posts: 1 | From earth | Registered: Mar 2007 | IP: Logged |

robi
Frequent Contributor (1K+ posts)
Member # 5547


posted

---

cenote .............. i could have been the one that wrote the response you wrote .............. until I got Lyme Disease.


You really don't know and I find it insulting you would judge those that are suffering.

--------------------
Now, since I put reality on the back burner, my days are jam-packed and fun-filled. ..........lily tomlin as 'trudy'


---

Posts: 2503 | From here | Registered: Apr 2004 | IP: Logged |

Jill E.
Frequent Contributor (1K+ posts)
Member # 9121


posted

---

Jeff,

Your website is terrific. I've only had time to read a few of the articles and Q&A's, but it is very nicely done. I always enjoy reading what you've written, it's always very articulate.

Congratulations on a great accomplishment.

Jill

--------------------
If laughter is the best medicine, why hasn't stand-up comedy cured me?


---

Posts: 1773 | From San Diego | Registered: Apr 2006 | IP: Logged |

bettyg
Unregistered



posted

---

welcome cenote.

for your info, we have LYME disease WITHOUT S; please correct all md ducks whenever they use this ok! it's a thorn in our side.

i just sent you 46 pages of newbie links/advise so please read and you will begin to get a better idea yet what LYME PATIENTS go thru .... the dog and pony show daily!

you don't have lyme as you say; only when you are walking in OUR shoes, can you get the full impact of what lyme has done to us consciously and SUB-consciously.

you can not speculate for other chronic illnesses; each is SO different; lyme is so complicated.

hopefully you will take some time going thru all i have sent you, and especially trying to get SSDI, social security DISABLITY insurance benefits, APPROVED!

you've got months of reading ahead of you; good luck!

---

IP: Logged |

heiwalove
Frequent Contributor (1K+ posts)
Member # 6467


posted

---

i agree with you 100 percent, robi.

i have this strange feeling that i know who cenote might be, and that s/he found this thread through me. yikes.

whether i'm right or not, cenote, i hope you take the time to read some of the info that bettyg sent you. or maybe spend a moment reading about people's experiences on this site.

you absolutely CANNOT understand the full horror of what we're dealing with until you've been through it yourself.

[ 23. March 2007, 06:06 PM: Message edited by: heiwalove ]

--------------------
http://www.myspace.com/violinexplosion


---

Posts: 1848 | From seattle, wa | Registered: Nov 2004 | IP: Logged |

heiwalove
Frequent Contributor (1K+ posts)
Member # 6467


posted

---

i also want to add that i absolutely think it takes some distance from the unspeakable hell of severe chronic lyme before anyone can cultivate an outlook of 'gratitude' for this disease. so, i'm with jeff, no way would i ever dare judge anyone with lyme who hates it, or is angry/****ed off/etc (sometimes i still feel that way, and i'm almost in remission!).

when i was at my sickest i never would've imagined myself feeling grateful for the lessons lyme has taught me. in fact i would venture to say that such an attitude is next to impossible when you can't get out of bed and can barely remember your own name or how to turn on the shower or carry on a simple five-minute conversation.

the feeling of gratitude for something so awful can only come when you've started to get better, when you finally realize that you might just live through this and maybe your life isn't totally over.

unfortunately, some patients with chronic lyme (due to medical ignorance, inadequate treatment, misdiagnosis, lack of money/access to good care, a particularly virulent strain of lyme and coinfections, or all of the above) never live to see that much-needed respite.

we are all where we need to be. when you're so sick you honestly don't think you're going to live through it, just continuing to hold on is about the bravest thing you can possibly do.

much love and respect for everyone dealing with this awful illness.

~heather.

--------------------
http://www.myspace.com/violinexplosion


---

Posts: 1848 | From seattle, wa | Registered: Nov 2004 | IP: Logged |

Getting Better
LymeNet Contributor
Member # 8919


posted

---

When I was my sickest -- and I have to remember it might happen again, g*d forbid -- I did not have gratitude. I was just trying to survive. I felt crazy for hours at a time, I am sure, due to brain inflammation. This board, and finding little techniques, and good pain meds, helped me through.

The last two days I started my abx again after a brief break, and back came the despair. It's hard to feel gratitude when you feel despair, but I managed a few brief times. Instead, I listened to favorite music and watched a favorite movie -- more like distracting myself, and just tolerating the despair, knowing it would pass.

A friend of mine with lyme got really depressed and was ready to go on antidepressants. Instead, her doc told her she was chronically constipated. She got some colonics and the "depression" went away. I think a lot of this is a mystery, and we just do what we can to figure out our individual solutions.

I think generating ANY pleasure, including positive thoughts, is good when we are miserable.

I go to alanon, too. Do we hate the alcoholic because he/she is alcoholic? They have a disease. Of course we hate them because they make our lives miserable. But it's that very hate that WE walk around with, and is not good for our own health. So hating isn't bad, harboring hate is bad for health. That's the way I think about it.

So do I hate Lyme? Yeah. Do I wish I didn't have it? Yeah. But when I have those emotions, I move to intervene as quickly as I can because they are deadends.

Also, a tangential note: When I really feel sorry for myself (why me?) and I am in the middle of a little pity party, I think about all the people in the world who have it as bad or worse (which is relative, of course) than me. When I got out, I look at the people who can barely move, or who have a disability -- and it puts things in perspective.

Jill E., thanks for your comments!

--------------------
Jeff


---

Posts: 533 | From CA | Registered: Mar 2006 | IP: Logged |
Contact Us | LymeNet home page | Privacy Statement

Powered by UBB.classic™ 6.7.3

---
The Lyme Disease Network is a non-profit organization funded by individual donations. If you would like to support the Network and the LymeNet system of Web services, please send your donations to:
The Lyme Disease Network of New Jersey
907 Pebble Creek Court, Pennington, NJ 08534 USA
http://www.lymenet.org/
---
Home | Flash Discussion | Support Groups | On-Line Library
Legal Resources | Medical Abstracts | Newsletter | Books
Pictures | Site Search | Links | Help/Questions
About LymeNet | Contact Us
---
© 1993-2020 The Lyme Disease Network of New Jersey, Inc.
All Rights Reserved.
Use of the LymeNet Site is subject to Terms and Conditions.
---