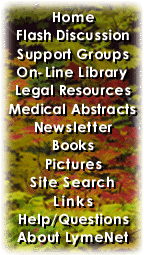 ---
LymeNet on Facebook
LymeNet on Twitter
---
---
The Lyme Disease Network receives a commission from Amazon.com for each purchase originating from this site.
When purchasing from Amazon.com, please
click here first.

Thank you.




Dedicated to the Bachmann Family


LymeNet needs your help:
LymeNet 2020 fund drive

The Lyme Disease Network is a non-profit organization funded by individual donations.

| | |
| --- | --- |
| | |
Author
Topic: Bettyg's hip surgery & progress to date 4-15-07.

bettyg
Unregistered



posted

---

4=15=07, UPDATE on BettyG's hip replacement surgery 3-26-07

Hip surgery only took 1 hr. Vs. 1.5 hrs.; 1 hr. Recovery room vs. 2 hrs. So that was positive! Those darn hard surgery tables; I had a lifelong dislocated tailbone, and it hurt so bad being on there for the length of time that I was! Never felt any pain from hip surgery; only constant 24/7 pain from LEFT KNEE and eventually right knee areas going down to the toes!

MD found I have SOFT BONES like a woman 20 yrs. OLDER than my 58 yr. Old body. So I'm to have an osteoporosis bone density test and get on fosanmax med in future. I had this around 8 yrs. Ago and it was osteopenia then; they NEVER suggested I take a med to build it up vs. leaving it alone as is.

Next afternoon, we started the twice a day joint camp where we worked on our joint exercises together. They gave us no time to ourselves until 3 pm.

1st night I slept in the bed until they would roll me over and it was pure hellish pain that would radiate for hours afterward, so began sleeping in my recliner there which really did help me.

Mercy hospital staff were outstanding! Really teamwork players. Excellent food; we ordered our own food; I'd keep forgetting to do that. LOST WEIGHT but have no idea since the entire 5th floor did NOT have a scale on the floor! Plus gained the hardware of 8-12 lbs. Of hip put in.

Was supposed to go HOME Thurs. But after we had camp exercises; physical therapist finally took us to do the step exercises; ONCE only. We have 2 outside steps with no railing; so I had to pretend that's what I had there! She didn't like how it went in the 5-minute process plus I had not walked the entire hallway like she wanted; so she DENIED my going home after MD said yes!

So during the night, I worked on increasing length of walk; I met her goal plus.

Our neighbors brought me down to hospital, and would call or come down daily to see how I was doing. They have sure been our LIFESAVERS! Getting me here/there buying groceries, running errands, etc.

Friday I was to be dismissed but I pointed out to MD's physician asst. That my knee was so SWOLLEN, RED, AND RUNNING TEMPERATURE most of week. So he took that huge needle withdrawing fluids from it WITHOUT GIVING ME A DEADENING SHOT FIRST! So painful. Neighbors asked how long it would take to get results; 1 hr. We couldn't get them to bring baggies to take my stuff home in since neighbors took my suitcase home night before.

Then ran 4 tests on fluid in knee; last took 30 minutes. NO BACTERIA INFECTION THANK YOU GOD!

They told us they would have me OUT of there in 5 minutes, and they did considering I was still in bed!! Never seen folks moving that fast in my lifetime.

That weekend my knee got worse so I called homeward to ask to talk to their RN. She eventually came over to our home from 10-15 through 10-45 to check it out. We both feel it IS A BLOOD CLOT. So dr. Office called me and set me up for appt. he looked at my knee, but things were much worse. He asked if anyone did an ultrasound on this while I was in hospital; NO! so he sent me there for that, but it was far to painful for me continue with their pushing on veins in my body. I couldn't take 20 minutes of this pushing/hurting me.

I have home health care, HOMEWARD; what a beautiful program it is !! 4 people coming in weekly to help me. 1 woman comes twice weekly to give me a 1 hr. sponge bath. RN comes twice a week, and physical and occupational therapists each come once a week!

I do not feel this is the same for others: get 1 hr. Physical and 1 hr. Occupational therapy per week, FREE since I'm on Medicare to getting my SS disability insurance benefits.

4-10-07, Drs. Office had me go there about my red, swollen knee still running high temps. RN removed my 29 staples! Yippee. Physician's asst. Looked my knee over good. They NEVER did figure out what was going on with my knee, swollen, & high temps.
Whatever visits I make to them in the next 3 months are covered by their MD surgery fee. PA did write an order for me to get my right leg worked on .... painful bursitis, etc.

Today, 4-15, I finally was in bed for 1.5 hrs. Resting since I got home 16 days ago! I was able to raise up my surgery leg getting in by myself! Shocked me/hubby! He had to help me getting me back up since my mattress/spring are now on the floor since they were HIGH before!! Been sleeping in hubby's air lift recliner, and so thankful for that!

Most of swelling is gone in my left knee, leg, and foot. It's just swollen across the end of the foot area of 3''! so I'm making progress slowly but surely.

Many of you have sent me private emails or letters; thank you so much for them! I don't have time to write individual responses back to each of you; so please accept this as my reply to you ok!

This latest surgery was a huge wake-up call on what friendship means to me! All the support I received from you lymenet friends, my 3 ``classic'' classmates, and special friends, Joyce and Bob Davis who've taken me to Des Moines for all appts. And checking up on me plus running countless errands: groceries, etc.!

Another thing after this surgery, I'm having really bad problems with cognitive skills! I can't type and my fingers don't cooperate with what my brain is saying to them. When I get tired which is every day on here; NOTHING I type makes sense! so if you got anything from me and it was "spacy", that's why! just can't finish thoughts i've started. Take care my friends!

Our HEARTFELT thank you goes to each of you during our times of need; YOU were there for us! God bless each of you for this!.
BG

[ 23. March 2008, 02:21 AM: Message edited by: bettyg ]

---

IP: Logged |

Jill E.
Frequent Contributor (1K+ posts)
Member # 9121


posted

---

Hi Betty,

It's good to hear from you. Despite everything you've been through, your strong, feisty spirit comes through in your posting. I know you'll get through this!

I just wanted to mention that the gluten-free diet (which I know you are on) often corrects osteopenia/osteoporosis. I am not saying to avoid medication - please follow your doctor's instructions. But being on the gluten-free diet may add that much more improvement. I know this is often true for people with true celiac disease. I'm not sure if it applies for those with a gluten allergy.

Take care!!

Jill

--------------------
If laughter is the best medicine, why hasn't stand-up comedy cured me?


---

Posts: 1773 | From San Diego | Registered: Apr 2006 | IP: Logged |

Kayda
LymeNet Contributor
Member # 10565


posted

---

Hi Betty,

I'm so glad to hear the good report. I'm sorry I missed hearing about you going in. Things got really crazy around here. Dd ended up in the hospital for several days, I've been sick, and dh nearly ended up in the hospital. It's been such an upheaval in our lives.

I'm glad you persevered to find a dr. to do the surgery & that it got done and you are home and seem to have gotten through the worst of the recovery.

Glad you were able to write an update for all of us!

Take care,
Kayda

---

Posts: 582 | From midwest | Registered: Nov 2006 | IP: Logged |

mag
LymeNet Contributor
Member # 8920


posted

---

bettg,

good to hear you are going toward recovery

now the bones - hope you can get them strong again.

these ol' bodies are not guaranteed to last - but we will keep on going

take care and get well

mags

---

Posts: 259 | From California | Registered: Mar 2006 | IP: Logged |

susan2health
LymeNet Contributor
Member # 10446


posted

---

Bettyg,

I'm glad you're happy with the results, and that there wasn't any infection in the knee.

You're in my thoughts.

Susan

---

Posts: 233 | From United States | Registered: Oct 2006 | IP: Logged |

Geneal
Frequent Contributor (5K+ posts)
Member # 10375


posted

---

Dear Bettyg,

You must have been reading my mind....

Almost started a post to look for you last night.

Glad you are home...on the road to recovery.

The cognitive issues may be a lingering side-effect of anesthesia.

I had an anethesiologist tell me once, it takes about 6 weeks for it to completely leave the body.

Hang in there.

Continue to send you healing thoughts and prayers and

Still looking forward to hearing about your first polka!!!

Let us know if you need anything.

Hugs,

Geneal

---

Posts: 6250 | From Louisiana | Registered: Oct 2006 | IP: Logged |

bettyg
Unregistered



posted

---

hello EVERY ONE who responded!

thank you ALL for your many kind comments, support, encouraging words, and additional info on fosamax, etc.

kay, i'll read your link you provided little later ... this is the 1st i've come back to lymenet other than to type my hip surgery update and read the comments to the 4 posts about my hip surgery!!

every day I AM MAKING SLOW PROGRESS! was able to get into bed all by myself, BUT can NOT get up to sit along side of the bed to raise myself up by myself! i need hubby's hand to do that. so until i can get UP by myself, i will NOT attempt sleeping in my bed!

hubby is deaf in 1 ear; lost majority of it in other, and i yell at full volume to get him to come to the bedroom, and he can NOT hear me most of time! so then i start my panic attacks.

many things to work out. occupational therapist had me start today on cooking tips. next wk. we will do cooking on top of the stove or use the oven.

my swelling is going down now so able to get around better than before.

blackbirdsings ..... i sure feel for you with your extensive EDEMA that you've had most of this past year! NOW i know a little what you have gone thru and how PAINFUL ALL THAT SWELLING CAN BE! uffda.

one thing i haven't mentioned is now i have been having 24/7 PEEING since my surgery! talk about an expensive adventure in depends/poise pads, etc! a whole new experience for me! oh how i hate this! if i even THINK about getting to bathroom to pee, it's GONE!

i had my pcp prescribe my VESICARE 5 mg pills to help with incontinence ... so FAR NOT WORKED AT ALL TO DATE!

again, thank you one and all for your thoughts, prayers, suggestions, WITTY COMMENTS, and being here when i needed you the most! GOD BELSS YOU ALL and lymenet for us to come to daily to share our thoughts, feelings, and experiences with one another!

---

IP: Logged |

hopeful123
Frequent Contributor (1K+ posts)
Member # 3244


posted

---

you go girl!!!

--------------------
some days you're the bug, some days you're the windshield


---

Posts: 1160 | From NY | Registered: Oct 2002 | IP: Logged |

bettyg
Unregistered



posted

---

2 firsts yesterday:

1. i was able to roll over and used my cane propped there by the bed, had it up against my dresser for stability and was able to get OUT of bed all by myself! wow, did i feel like a little kid who had mastered going to the toilet all by myself! lol

i won't attempt sleeping it bed all night until i get more strength in my hands again. my palms are RAW from using my walker and that's with FLEECE material being over the padded hand rests on them!

2. i was able to get BOTH white tent hose socks off ALONE using my special socks remover!!! especially over my swollen ankle/upper feet area! that was a MAJOR thing; those darn things are so tight and my swelling is bigger than the sock in that area...

will be calling my surgeon's office to talk to pa about socks, my 24/7 incontinence, etc. today.

hope they say i can discontinue the socks since they are NOT helping me, and i'm practicing all the exercises in my recliner, etc.

---

IP: Logged |

Geneal
Frequent Contributor (5K+ posts)
Member # 10375


posted

---

Dear Betty,

Congrats on getting up all by yourself!!!!

Big accomplishment.

Treat yourself to something nice for that.

My mom has had issues with bladder control ever since she has had the surgery to lift it.

She is on cymbalta now....and it helps a lot.

Hope you continue to do well.

Hugs,

Geneal

---

Posts: 6250 | From Louisiana | Registered: Oct 2006 | IP: Logged |

bettyg
Unregistered



posted

---

geneal, thanks for good wishes, etc.

surgeon's RN said incontinence comes along with surgery; asked me to have a urinary tract infection urine test done ... going in 2 hrs. for that. hope they find something that WILL stop this 24/7 nuisance!

---

IP: Logged |

Cassie
LymeNet Contributor
Member # 2106


posted

---

Hi Betty, Just read about your surgery, haven't been on the computer for a while.

I am so sorry you have to go through all of this, hope you feel better soon

Take care your friend Cassie

--------------------



---

Posts: 564 | From Toronto Ontario Canada | Registered: Jan 2002 | IP: Logged |

bettyg
Unregistered



posted

---

Thanks Cassie; i know what you mean about being off the pc. this was the longest i'd been off pc in 6 years since i got it at home.

TWO FIRSTS FOR ME!

3 days ago i was able to get in/out of my BED alone with NO assistance whatsoever! YES!

I was able to remove the TOO SMALL TEN WHITE HOSE without assistance going over my swollen knees/legs/feet!

today i was able to sleep in my bed for 4 hours with several pee calls IF i made them; readd newspaper briefly, and fell asleep in air-lift recliner. then slept 2 SOLID HOURS WITH NO PEE CALL! YIPPEE.

FORGOT TO MENTION: mercy hospita mis-measured me, so my TEN WHITE HOSE have been TOO SMALL thereby causing me all this extra pain and discomfort! amazing they are around $30 per pair. i've got to get them back on today but enjoying the swelling going down when i don't have them on.

[ 21. April 2007, 03:42 PM: Message edited by: bettyg ]

---

IP: Logged |

FightFireWithWater
Frequent Contributor (1K+ posts)
Member # 5781


posted

---

Betty, Glad to hear that you are making steady progress in your recovery from surgery. Sending you best wishes for optimal healing.

--------------------
"Help Or Be Helpless" Please visit "Activism" board daily. See the threads regarding the IDSA Guidelines crisis and the threads about Dr. Charles Ray Jones and decide how best to help today!


---

Posts: 1265 | From does not list | Registered: Jun 2004 | IP: Logged |

bettyg
Unregistered



posted

---

wiseforit, TORI

Tori you brought many smiles to my face and hubby's today thru what you mailed me!

what a surprise, 58 ROCKETTES higt-stepping it in construction paper and all colors. WOW, TORI, it must have taken you forever to cut those 58 characters all out; each having it's own theme!

then the paper certificate! tori, you put a lot of effort and time in this project! thank you for this wonderful surprise!

now, i'm trying to figure out where to paste this up to enjoy of a solid wall that isn't full of all my "stuff"!

tori, god bless you for your thoughtfulness in making my recuperation better.

guess i'd better get out my dance card once i master the art of walking after the walker!!

---

IP: Logged |

wiserforit
LymeNet Contributor
Member # 9732


posted

---

bettyg -

Glad the Rockettes arrived. I told them to hurry up!

Making them was therapy for me! When you have little ones, construction paper and scissors are a fine distraction.

Notice that they're not all high-stepping; some are easing themselves into dance.

So if your dance card is out, don't forget to take sufficient time to warm up with small steps!

The path of your recuperation sounds positive. So good to learn of your progress.

Hugs to you and your hubby,

wiserforit (Tori)

---

Posts: 508 | From Banks of the Hudson | Registered: Jul 2006 | IP: Logged |

Truthfinder
Frequent Contributor (1K+ posts)
Member # 8512


posted

---

Hey there, Betty - I've been wondering about you so thought I'd better pop over here to General to see if there was news - lots of it - and really mostly positive when you think about it!

(Easy for ME to say, right?)

Anyway, just wanted to say hi and let you know I've been thinking of you - so glad things are progressing for you. Hard road, I know, but maybe a big payoff at the end.

All my best,

Tracy

--------------------
Tracy
.... Prayers for the Lyme Community - every day at 6 p.m. Pacific Time and 9 p.m. Eastern Time – just take a few moments to say a prayer wherever you are….


---

Posts: 2966 | From Colorado | Registered: Dec 2005 | IP: Logged |

5dana8
Frequent Contributor (1K+ posts)
Member # 7935


posted

---

Thanks for the update Betty

You are one brave lady.

Hope you have continued progress & can feel better real soon

Hang in there and may God Bless you everyday

Take good care
Dana

ps: Could the swelling in your knee & fever be from your Lyme? I know several people who have had their knees asperated only to find no lyme in the fluid. This is more common than most ducks think.

Are you on any abx?

--------------------
5dana8


---

Posts: 4432 | From some where over the rainbow | Registered: Sep 2005 | IP: Logged |

bettyg
Unregistered



posted

---

dana, i had the SAME thoughts i presented to the physician's asst. at the hospital prior to his taking that HUGE needle taking fluids galore out of my knee plus at followup meeting.

"no, since it's ONLY AFFECTING ONE JOINT and not 2 or moe!" that was our extent of talking about lyme!

i did take 25 brochures of ABCs of lyme, co-infections, and igenex's western blot igm/igg blue brochure with price sheets with me, and left them at the nurse's station.

PLUS LEFT A PETITION FOR THEM TO SIGN! they didn't return it to me so don't know if anyone signed up or not but it had IDSA's new rules of the many injustices they inflicted upon chronic lyme patients! So yep; i was still teaching and preaching to anyone who got near me during my 4.5 day adventure.

Tori, so you got your kids busy on this project; good for you! Until i can hang it up, can i see all the difference things going on in it! i'd never seen a blue mailing envelope like that before either; real attention getter!!

where do you live in connection with NYC since that's the only place i finally got to in aug. 2000?

tracy and dana, thank you for your comments and well wishes! worst is over, and each day one SMALL step is made!

today the occupational therapist used a gel rubbing it in by ultrasound on my right thigh in the BURSITIS area. We'll see how that does with the 24/7 pain there.

last friday i was out for 3 hrs.: to drs. office where they found 2 types of bacteria in my urine. it was cultured and dr. called yesterday saying it was NEGATIVE for anything else.

he plans on sending me to urologist for my 24/7 urinary incontinence. i had him check the chart; was there in 95 and 03 but it WASN'T 24/7 then as it has been since my surgery!

my pain meds MAY be causing it plus the surgery, and who knows what else; but what an expensive downer ... $25 - $50/week!

i got a larger size TEN hose on friday since the other was cutting into my swollen foot so bad.

also while at choice medical, i picked out a air-lift recliner for myself getting all the critical info to pursue this. BUT our SMALL living room will be a challenge what we're going to give up in order to have TWO air-lift recliners in there!

i've really been pleased with my 4 homeward staff: RN, bather, occupational & physical therapists!

Again, Tori, i plan on finding a wall or a door to hang my ROCKETTES on to enjoy the efforts of your family!

by the way, how old are you kids who helped in this project? would you thank them and give them an extra hug and kiss from me? thanks!


---

IP: Logged |

MagicAcorn
Frequent Contributor (1K+ posts)
Member # 8786


posted

---

Betty,

I see you are posting more regularly again. Things are slowly getting back in shape I guess for you. Hopefully, you'll be as good as new soon.

I hope you find a place for those Rockettes because I think that is about the sweetest thing I've heard of somebody doing in a long long time.

When you are all better we'll talk about possible dance lessons, ok?

--------------------



---

Posts: 1279 | From In hiding | Registered: Feb 2006 | IP: Logged |

bettyg
Unregistered



posted

---

acorn, good hearing from you, and hoping this finds YOU getting better every day too!

yes, i couldn't agree more ... how sweet to have done this, and then involving her kids too in this project for me!

acorn, did you say YOU are going to teach me to dance? ha

my parents were wonderful dancers especially the polkas! but i was born with 2 left feet. Dad danced with me once or twice and couldn't get over my having to put an extra OFF BEAT STEP in.

yes, each day i'm beginning to feel better and my body is accomplishing more of the things i took for granted! walking, doing the side step to get my walker in/out of small bathroom door entrance; getting in/out of bed myself with anyone or assistance device.

so i've started trying to read the backlog of 3-4 weeks of posts i missed when in the hospital and home recuperating.

it's very hard to get seated at my pc, and my hard WOOD chairs covered with 3 different SOFT pillows.

i have a beautifully padded DRAFTING CHAIR HEIGHT SWIVEL CHAIR in basement, but it's too tall to put in where we placed the pc.

i have a lot of fatigue, and the internet puts me to sleep faster than anything. many times i've caught myself falling OFF my chair since i fall solidly asleep in my pc chair!

acorn, my best to you for a full recovery on your jaw issues; how painful that must be!

---

IP: Logged |

wiserforit
LymeNet Contributor
Member # 9732


posted

---

bettyg!

You keep sounding better and better. You really are making good strides.

I can't type much because my husband has been away for 7 days on a business trip and I've on duty 24-7. I'm fried.

The kids loved lining up the Rockettes from our kitchen through the dining room and taping the segments together.

My 5 year old counted to 58 and wanted to go further. I told him that 58 was how old you are and he reasoned, "Well if we go to 100 we can show her how old she can get!"

My 9 year old was the official production manager and found the mailing envelope at a local store. He made suggestions on how the dancers should look.

So, never underestimate the power of the paper-doll! Brings smiles from the makers to the receivers and back again!

Must rest after I make a sandwich for the little guy,

Much love,

TORI (wiserforit)

P.S. My bet is that the pain-killers are causing the bladder stuff...relaxing everything and all... No fun...but perhaps temporary?

---

Posts: 508 | From Banks of the Hudson | Registered: Jul 2006 | IP: Logged |

bettyg
Unregistered



posted

---

" My 5 year old counted to 58 and wanted to go further. I told him that 58 was how old you are and he reasoned, "Well if we go to 100 we can show her how old she can get!"

out of the mouth of babes! how precious!! can honestly say, i do not want to live to be 100 with my lyme disease complications.

oh, what was the deal with the WILD HAIR .... spike like. I've still trying to find a place on a lower wall where I can see and ENJOY the efforts your kids made for me! i've been showing them to my home health care providers of 4; they have loved them!

pain meds causing urinary 24/7 incontinence. called pcp today and they transferred me to urologist; can't believe it, but i can get in next TUESDAY am!! how we can find PERMANENT relief from this.. too expensive $25 - $50 weekly! been home 4 weeks tomorrow...

i've made significant progress and my home care help have all told me that too.

tori, you take care and get your needed rest; my best to all of you.

the home care supr. went turkey hunting last weekend and was bitten by 2-3 or more DEER TICKS! i told the RN to tell her to get on doxy for 2 full months, and then followed that up with a phone call leaving message on her machine.

---

IP: Logged |

MagicAcorn
Frequent Contributor (1K+ posts)
Member # 8786


posted

---

Hi Betty,

Here is hoping you are feeling a little better each day. It must be hard not being able to get around so easily, so I am glad you have help and aides coming in to help you.

I know what you mean about the internet putting you to sleep faster than usual. I think it is all the drugs me and you are on Betty.

I really do hope you are as good as new soon. It is no fun hurting. You are in my prayer chain.

--------------------



---

Posts: 1279 | From In hiding | Registered: Feb 2006 | IP: Logged |

bettyg
Unregistered



posted

---

acorn, how are YOU doing now? i've been really thinking about you and all the pain you have been going thru also!

thanks so much for your well wishes! each day i'm getting better, and it's been really hard to be home DAILY FOR 4 WEEKS! i'm used to being out daily for a short errand in town.


tori, you and the 2 kids will be proud of me!

i found the perfect place for my 58 rockette paper dolls at 3 AM! pinned them to my dark-colored back wood door in our kitchen/dining room!

i made a square out of them and then put the certificate you made me in the middle of it! i was so proud of myself .... they add so much color there of the 5-6 different colors of the dolls!

also when hubby got up, he noticed them right away and thought they looked really nice there and were a nice picker-upper to both of us.

from his air-lift recliner which i've dominated this past month, i have a perfect FULL view of them all too!

now we can sit back and enjoy the fruits of labor from your 2 kids and YOU, Tori! thanks so much for the super upper that you mailed to me .... what a SURPRISE! god bless you tori and those 2 precious little ones.

---

IP: Logged |

bettyg
Unregistered



posted

---

last night in the almost 80 degree weather, i went outside to sit and read for 1 hr! it was like old times enjoying the fresh air, and viewing the luscious green grass and flowers sprouting up everywhere.

then i took 3 long walks down our long driveway with my walker getting much needed exercise. i was so proud of myself!

then last night, i came on lymenet like i used to for a limited 2 hrs. to read things i've not had the time to and reply limitedly.

yes, i'm beginning to feel like my old, ornery self again! look out lymenet world; here I come!


also, can get in/out of bed with NO effort and getting easier to roll on my right side onto the pillow adjacent.

this will probably be my last week of home health care provided FREE by medicare since i've been confined to home! can't wait to drive in town again.

thursday, there is 9-3 pm seniors expo here in town with all types of subjects, and they have 50+ vendors dealing with senior issues! always something good to learn about.

---

IP: Logged |

MagicAcorn
Frequent Contributor (1K+ posts)
Member # 8786


posted

---

Betty,

Good going. I am glad you sat outside and read, and then took the long walk three times. You are probably better for it health wise.

You have a good attitude, and last night you were almost like your old self again. Well, that is good news. I hope you continue to see improvement and the hip replacement did its job.

--------------------



---

Posts: 1279 | From In hiding | Registered: Feb 2006 | IP: Logged |

bettyg
Unregistered



posted

---

acorn, thanks for the nice compliment on my good attitude; i've really tried to remain positive in spite of the blood clot and other obstacles.

almost 90 today; wonderful breezes going thru the house since i could finally turn off our het!

acorn, take care of yourself and the little nut!

---

IP: Logged |
Contact Us | LymeNet home page | Privacy Statement

Powered by UBB.classic™ 6.7.3

---
The Lyme Disease Network is a non-profit organization funded by individual donations. If you would like to support the Network and the LymeNet system of Web services, please send your donations to:
The Lyme Disease Network of New Jersey
907 Pebble Creek Court, Pennington, NJ 08534 USA
http://www.lymenet.org/
---
Home | Flash Discussion | Support Groups | On-Line Library
Legal Resources | Medical Abstracts | Newsletter | Books
Pictures | Site Search | Links | Help/Questions
About LymeNet | Contact Us
---
© 1993-2020 The Lyme Disease Network of New Jersey, Inc.
All Rights Reserved.
Use of the LymeNet Site is subject to Terms and Conditions.
---