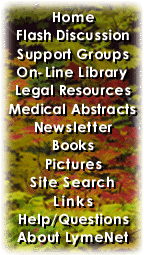 ---
LymeNet on Facebook
LymeNet on Twitter
---
---
The Lyme Disease Network receives a commission from Amazon.com for each purchase originating from this site.
When purchasing from Amazon.com, please
click here first.

Thank you.




Dedicated to the Bachmann Family


LymeNet needs your help:
LymeNet 2020 fund drive

The Lyme Disease Network is a non-profit organization funded by individual donations.

| | |
| --- | --- |
| | |
Author
Topic: emergency disability??

LisaS
Frequent Contributor (1K+ posts)
Member # 10581


posted

---

Is there such a thing as emergency disability? I was reading through some of my old Duck records and I noticed in one he said he told me,

I shouldnt work or drive and that I need to get on emergency disablity! (This is the same Dr that wouldnt give me a note for work after he

told me to take a week or two off). He told me he couldnt give me a letter because he didnt have a diagnosis for me. He told me this after

I stayed home for a week. Anyways I' jsut curious if anyone's ever heard of this? I am about to get my electric shut off this Friday.

I also called for foodstamps toady and the 'case worker" told me she needed a note from my Dr saying I cant work too. THe thing is, is

that I do still work, I just don't work three jobs anymore. And being a divorced Mom of three, sorking 32 hours a week isnt cutting it.

My bills have way piled up over this winter. I just wonder how does everybody do it? And if it takes so long to get on disablilty, what do you

do in the meantime? I don't have anywhere to go and live with my kids and pets for free until disabilty goes through. And I heard you can't work once you apply for it. So what are you

supposed to do?

--------------------
https://www.facebook.com/profile.php?id=1660435643


---

Posts: 1078 | From Lake Geneva WI | Registered: Nov 2006 | IP: Logged |

stymielymie
Frequent Contributor (1K+ posts)
Member # 10044


posted

---

yes its called short term disability.
some jobs have it.
it os not a very expensive ppolicy
try AFLAC

---

Posts: 1820 | From Boone and Southport, NC | Registered: Sep 2006 | IP: Logged |

Bruceallan
Member
Member # 9317


posted

---

LisaS

Sorry to hear of the jam your in, we had to go thru a bankrupty due to my health (med bills and bills in gen cause I could not work)Not aware of emergancy disibility, but ask several about it before ruling it out, even ask that doctor who mentioned it.

1st get a doctor who will back up his judgement, if he says you cant work he should put it in writting, could say

"LisaS is very sick we are working on a diagnoses, she is unable to work, and needs rest while we are treating and reaching a diagnoses"

If a doctor is not willing to support his orders he is in my opinion no good.

Your already checking on food stamps, that can be tought as they tend to demoralize you for asking for help, at leat that was our experiance, but dont let go keep trying.

Ask the food stamp office about getting commodities (basic food stuffs) many cities have organizations that give these out once or twice a month.

Talk to the manager or owner of the grocery store about getting damages goods, explain your circumstances, he may then notify you first, some may be free some low cost.

Energy assitance for heat, check with the utility that provides the heat source (elec, or gas)Always go in person to your utilitys and pay what you can on your bill even if only $20. when they see regular personal effort they are more inclined to leave the utility on.

The social security office is where to check for social security disibility and supplimental seciruity disability, they may also be aware of any other programs in your area.

File bankruptcy as a last resort as it will ruin your credit for 10 to 15 years, today there are services that help with debit consolidation and debit forgivness with out bankruotcy,

DO NOT use a pay service most(some are lagit)are shams and take the upfront fee ($50 to $500) and then inform you we cant help and no refunds, there are government programs to help ask at the soccial security office or welfare office.

Hope this is some new info and helps, Hang in there, Later Bruce

--------------------
CFS for 20 Years then found LYME the root cause! Am dealing with several viruses also.


---

Posts: 89 | From Alliance Ne | Registered: May 2006 | IP: Logged |

Bruceallan
Member
Member # 9317


posted

---

LisaS

I forgot to mention, we have to accept the help from family and be glad its there, I am a 49 year old male, my wife is supporting us, this has been very hard on me, and very difficult to live with, but due to the severity of this disease as it has affeted me I have no choice, so to help compinsate I try to help out with household choirs as much as I can.

Later Bruce

--------------------
CFS for 20 Years then found LYME the root cause! Am dealing with several viruses also.


---

Posts: 89 | From Alliance Ne | Registered: May 2006 | IP: Logged |

LisaS
Frequent Contributor (1K+ posts)
Member # 10581


posted

---

Thanks Stymie and Bruce,
I wont go back to that Dr that told me to stop working. But I do have an LLMD now. I called and asked if he could write me a letter

explaining that I cant work. Or at least not full time. I had the worst night at work tonight. I know I shouldnt be working at all.

Anyways I had only talked to the receiptionist but she said I should get a letter in the mail. So I'm curious what it will say. Do other

people have to get a letter from a Dr to get foodstamps? I dont understand this. i dont know whtat Im going to do. I called the # for

emergency help with utilities but they havent called me back now for a couple days. I hate this disease. Sometimes I just want to give

up. Today is one of those days. But thanks both of you for the advise. I feel bad even complaining, as the news is on in the background

and I feel for the parents of thoses kids who got shot. What is happening in this world, there is so much bad.

--------------------
https://www.facebook.com/profile.php?id=1660435643


---

Posts: 1078 | From Lake Geneva WI | Registered: Nov 2006 | IP: Logged |

Bruceallan
Member
Member # 9317


posted

---

"What is happening in this world, there is so much bad."

I am a bible reader and what I have learned is that we are living with the end result of a rebllion that started in the garden of Eden,

with a Angel who challenged Gods right to be king and said man could make his own desicions (self govern) so God has allowed this to answer this challenge before all creation,

men, Angels, we are living in a time where during our life time God will intervene and correct all the woes brougth on by the rebellion in Eden.

I enjoy visiting about scripture if anyone would like more discusion can contact me thru email [email protected]

Later Bruce

--------------------
CFS for 20 Years then found LYME the root cause! Am dealing with several viruses also.


---

Posts: 89 | From Alliance Ne | Registered: May 2006 | IP: Logged |

stymielymie
Frequent Contributor (1K+ posts)
Member # 10044


posted

---

did you job have short and long term disability
as a benefit, and you were not aware of it.

many jobs, especially salaired positions have benefits they you may be unaway of.
many have disability and life insurance, usally not much but maybe some.
ask human resources.
you may be eligible for your wifes benefits if they cover family.
check her human resources also.

ssdis is a long process and if you can work at all in any position , you won't get it.
supllimental i'm not familar with.
check ssa.gov
also contact betty g she keeps old posts and compiles them into sites for
resources.

workman's comp? did you get lyme on the job?
if so you can get workman's comp,
but also takes years.

i had 4 compensation cases open at one time.
i owned 3 dental offices, and had to hire other dentists to keep to practices open until
i could sell them
i was 1 month from declaring bankruptcy,
then i got call from lawyer he had check
for 4.5 years of private disability, 4.5 years of office overhead insurance plus interest on all

the other two cases workman's comp was not lyme related but occupational injury from working,
happened at same time as found out about lyme.

next came ssdis. had good judge.
he laughed when the job guy said i could work
at a spa handing out towels, and allowed the case thru. 5 years.
the sooner you file ssdis the better you are.
you can only go back one year from date of filing
as disabled.

pm betty g

docdave

---

Posts: 1820 | From Boone and Southport, NC | Registered: Sep 2006 | IP: Logged |

bettyg
Unregistered



posted

---

hi lisa; never heard of emergency disability.

doc dave sent me a pm saying you needed help; i'll send you a PM with 20+ pages of SSDI, disability insurance, info!

read the last part of it good from CONNIE MC! she has excellent examples of letters drs. can write to document your physical aspects WHY you no longer can work.

also, look for MINOUCAT's name; she has compiled info galore on this issue and many other things that you are looking into!!

i'm recovering from hip surgery 3 wks. ago so just now getting back on board LIMITED due to extreme fatigue and pain.

print out what i'm sending you; skim it and then read it and read it until you start understanding things better.

took me 5 years of hell to get my SSDI approval on my 2nd claim! use the info we have compiled to help you WIN ON 1ST STEP, 1ST TRY!!! it is possible~

---

IP: Logged |

bettyg
Unregistered



posted

---

LISA, YOUR PM BOX IS FULL; please clean it out ok! so i'm going to attach my 20+ pages below.

IF ANYONE ELSE IS READING THIS, HIT YOUR "END" KEY TO GO TO NEXT POST FROM SOMEONE ELSE OK!
****************


HIPPA LAWS:
Under the new HIPPA guidelines you have the legal right to request that mistakes in the records be corrected. Docs don't like to do this. Hubby did have this done at least once. It would probably be a bigger hassle and harder to get the corrections done if an ER or hospital was involved. Bea Seibert


IMPORTANT!! Below!!
2005, top 20 states in CDC STATS; fyi, IOWA no. 15%
http://flash.lymenet.org/scripts/ultimatebb.cgi?ubb=get_topic&f=1&t=049305#000004
LYMEDAD sorted the numbers for 2005 plus 2006 (through 12/23/06.

New York 9754
Pennsylvania 7642
New Jersey 5281
Connecticut 3497
Wisconsin 2786
Massachusetts 2369
Maryland 2177
Minnesota 1646
Delaware 1111
New Hampshire 823
Virginia 589
Maine 534
Rhode Island 274
California 264
Iowa 176
Vermont 157
Illinois 127
Michigan 116
Florida 106
Ohio 100
Texas 88
North Carolina 79
West Virginia 75
DC 69
Indiana 54
South Carolina 33
Missouri 27
Tennessee 20
Alabama 19
Oregon 18
Arizona 17
Washington 16
Nebraska 13
Georgia 13
Kentucky 12
Idaho 9
Utah 8
Kansas 8
Alaska 7
Nevada 6
New Mexico 5
Wyoming 4
South Dakota 3
Louisiana 3
North Dakota 3
Colorado 1
Mississippi 1
Arkansas 0
Guam 0
Hawaii 0
Oklahoma 0
Puerto Rico 0


From Truthfinder/Tracy:
2003 CDC Incidence map
http://www.cdc.gov/ncidod/dvbid/lyme/distribution_density.htm
or this ``risk map'':
http://www.aldf.com/usmap.shtml

Now compare that to this map that shows the incidence of positive Lyme test results in dogs in the USA:
http://www.idexx.com/animalhealth/testkits/3dx/lymemap.htm


Lymeneter Kay found this list of symptoms at http://www.lymediseaseaction.org.uk/symptoms.php
It says it all:

Tick Borne Disease - Symptom A to Z
Lyme Disease is systemic, it can effect the whole body.
This page lists the possible symptoms.

Abdominal Pain
Achiness (Generalised)
Acrodermatitis Chronica Atrophicans/ ACA
Alcohol - Extreme Effects Of
Anorexia
Anxiety Attacks
Arthritis
Back Pain
Balance Problems
Bell's Palsy
Bladder Problems
Blindness
Blood Pressure - Raised
Bone Erosion
Bone Pain
Bowel Problems
Bradycardia - Slow Heart Beat
Brain Fog
Breast Discharge
Breast Pain
Breathlessness - Air Hunger
Carpal Tunnel Syndrome
Chest Pain
Chills
Cholesterol - Raised
Choroiditis
Clicking Joints
Cold Feet
Confusion
Conjunctivitis
Constipation
Costochondritis / Ribcage Pain
Cough (Non-Productive)
Cramps
Deafness / Hearing Loss
Dental Pain
Depression
Diarrhea
Difficulty Concentrating
Disorientation
Diverticulosis / Spastic Colon
Dizziness
Dyslexia
Ear Pains
Encephalitis/ Encephalopathy
Erythema Migrans Rash
Facial Pain
Facial Palsy
Fasciculations / Muscle Twitches
Fatigue
Fever
Fibromyalgia
Floaters
Flu-Like Symptoms
Fluctuations of Symptoms
Foot Pain
Forgetfulness
Hair Loss
Hallucinations
Headache
Hearing Loss
Heart Block
Heart Problems - ECG Abnormalities
Heartburn
Hepatitis
Herxheimer
Hoarseness
Hyper Sensitive Hearing
Hyperacusis - Sound sensitivity
Inability to Concentrate
Inability to Remember Words
Insomnia
Involuntary Jerking, Limbs and Trunk
Iritis
Irritable Bowel
Jaw pain/ Temporomandibular joint disorder
Joint Problems
Joint Swelling
Knee Joint Pain
Libido - Loss Of
Light Sensitivity
Liver Problems - Raised Enzymes
Malar (Facial) Rash
Marked Personality Changes
Memory Loss
Meniere's Disease
Meningitis
Menstrual Irregularities
Miosis - Decreased Pupil Size
Mood Swings
Motion Sickness
Muscle Aches
Muscle Spasm
Myoclonic (Involuntary) Jerking
Nausea
Neck Pain
Nerve Conduction Defects
Nightmares
Numbness
Optic Neuropathy
Palpitations
Panic Attacks
Paraesthesia / Abnormal Skin Sensations
Paranoia
Photophobia
PMS - Pre-Menstrual Syndrome
Psychiatric Problems
Ptosis - Drooping Eyelid
Rash
Retinal vasculitis
Reynauld's Syndrome - Cold Hands & Feet
Seizure
Shivering
Shooting Pains
Shortness of Breath
Shoulder Pain
Skin Sensitivity
Sleep - Excessive
Sleep Apnea
Sleep Disturbances
Sleep Inability
Slurring of Speech
Smell Sensitivity
Sore Throats
Speech - Slurred, Slow
Speech Errors
Spinal Disc Problems
Stiff Joints
Stiff Neck
Swallowing Difficulty / Dysphagia
Sweating (Profuse)
Swollen Glands
Symptom Flares - Approx 4 Weekly
Tachycardia - Fast Heart Beat
Tendonitis
Testicular Pain
Tingling of Extremities
Tinnitus / Ringing in Ears
TMJ - Jaw Pain / Stiffness
Tongue Numbness
Tongue Pain
Tooth Pains
Tremors / Shaking
Uveitis
Vasculitis - Circulation Problems
Vertigo
Vibration Sensitivity
Visual Disturbances
Vomiting
Weakness or Paralysis
Weight Gain
Weight Loss
Word Block
```````````````````````
SYMPTOMS CHART
http://www.lymepa.org/html/monthly_symptoms_charts.html


New legal essay on UNUM/Provident Scandal Posted by:
Mary Schweitzer, CFS patient on CFS ADVISORY COMMITTEE
Date: Thu Dec 28, 2006 8:01 pm ((PST))

Yale Law School Professor John H. Langbein has written a very insightful essay, "Trust Law as Regulatory Law: The UNUM/Provident Scandal and Judicial Review of Benefit Denials under ERISA."

I have a copy that is cited as being in the Yale Law School John M. Olin Center for Studies in Law, Economics, and Public Policy, Research Paper No. 329 and Yale Law School Public Law and Legal Theory Research Paper No. 118.

I am informed that this will be published sometime next year in the Northwestern University Law Review, but I could have that detail wrong.

The essay is available here:


Langbein gives a new set of arguments to use when dealing with BENEFIT DENIALS. Anyone with a current case AGAINST an insurance company will find this useful; anyone who has had difficulties with their private disability will find it very insightful.


From DISINISSUES comments 9-18-06:
I recommend that you to talk to JAN (Job Accomodation Network)*
if you are returning to work. They are very helpful at working
with you and your employer to help make accommodations that
will allow you to remain in the work place.

Even if accommodations can be made, keep detailed records of
what you can and can't do, so that if you become unable to
work even with the accommodations you will have a well-documented
case.

Here are some links:
http://www.jan. wvu.edu/portals/ individuals. htm

http://www.jan. wvu.edu/media/ atoz.htm

http://www.jan. wvu.edu/media/ Fibro.html

*from their website:
The Job Accommodation Network (JAN) is a FREE CONSULTING SERVICE that provides information about job accommodations,
the Americans with Disabilities Act (ADA), and the
employability of people with disabilities.

DISINISSUES Moderator's Note:
The list of accommodations for fibromyalgia is itself an
indication of why someone with this ailment might not be
able to work! How many employers can realistically meet
those needs?


SS's TICKET TO WORK PROGRAM while on DISABILITY!
http://www.ssa.gov/work/Ticket/ticket.html
---------------------------------------------
DETERMINING DLI, DATE LAST INSURED when self-employed for SSDI purposes, 10-10-06 by disinissues member

You have to have 20 quarters of work credit within the last 10 years
(40 quarters), so the point when you reach five years since your last quarter is likely to be your Date Last Insured.

Social Security can tell you when your DLI will be, or was.

As a self-employed individual, I paid my Social Security tax via my IRS filing each year. When I had to stop working, I qualified for "own occupation" disability insurance, but not for SSDI.

I did not earn any more work credits, since I was not working. A number of years later, I had a different disorder and I filed a Social Security claim before my "20 quarters out of the last 40" expired.

If you are past your date (that is, your coverage has already ended per the "quarters" calculation), you may still be able to file.

You'll need to show that you were disabled within the period of time that you still had coverage.

You'll need to have your doctors establish that you had limitations that they felt were disabling at a time PRIOR to your DLI.

Your drop in earnings may help establish disability, especially if you had any colleagues or a supervisor - or even friends or neighbors - who can write statements about how your abilities changed at a certain point.

A lawyer who handles Social Security claims would be able to advise you on what your alleged date of disability should be.

Your claim will not be approved or denied because of the date you select. If DDS or the judge agrees with the date, fine. If not, they'll change it.

Just try to provide as much evidence as you can that you were disabled prior to your DLI. This is really best discussed with a Social Security lawyer.

But if you call Social Security, you should be able to get the information as to the last date you are covered.

-- YOU should know your DLI BEFORE any consultation with a lawyer. If you need to establish disability as of a certain date in the past, s/he should write your doctors to explain that, as mine did.

Resources for getting Disability, Insurance, dealing with HMOs
From MINOUCAT .... outstanding advice here!
http://flash.lymenet.org/ubb/ultimatebb.php?ubb=get_topic;f=3;t=013935


GOOD LAWYER'S LIST FOR SSDI, LTD, WC Bettyg started 1-07
http://flash.lymenet.org/scripts/ultimatebb.cgi?ubb=get_topic&f=3&t=016613#000004

SUBMITTING REQUEST FOR REVIEWING YOUR RECORDS IN DDS in ``LOCAL'' SS OFFICE AFTER BEING DENIED! By Connie Mc

 At what point in my claim is it possible to request a copy of my record?
 Generally, you cannot request to see your file while it is in process at DDS.
 But if your claim is denied, before filing your appeal, you can request to review your file.
 It depends on the procedures at your local SSA office, but, in my area, SSA has gone paperless and files can be sent to you on a CD.
 I am a Social Security advocate and I have no idea if they will do this for a claimant or not, but will not hurt to ask.
 If not, the alternative is to arrange an appointment to visit your local SSA office to review your file before you file an appeal.
 If you want copies of things, you may need to take your own copy paper, so be sure to ask in advance.

SSDI, SSI, LTD procedures:
Here is what I post for all on SSDI/SSI/LTD... I tried the link of the female MD ``template''; you are right; it's no longer good!

2 alternatives: use what I provide below as guidance since you have LYME disease and not filing for chronic fatigue.

OR go to the bad web site, click on REFRESH, and go to that site! Ask Mary, web owner, the question since she posted this on disinissues; SHE started that site! It was her close friend who okd to post her info for others. Betty Gordon

TRYING TO GET SSDI, SS DISABILITY INSURANCE BENEFITS OR LTD:

Hi! I know what you mean about memory & typing, etc....it's the pits!

I do suggest you join the FREE DISINISSUES and read thoroughly or just print it all off of the FEMALE MD with chronic fatigue, etc. she gives wonderful, detailed examples that DDS, disability reps, want to approve/deny you.

Also have you looked thru the ADULT APPROVED LIST OF IMPAIRMENTS? That's critical also!

http://www.ssa.gov/disability/professionals/bluebook/1.00-Musculoskeletal-Adult.htm

note 1.04; look at the rest of the 14 other specific areas too....

I printed off 1-14 sections showing what brief guidelines were for each section. I used that against ALL my medical records, 3" thick!! Then I went to their DETAILED specifics for the sections that applied to my illnesses!

TIMECONSUMING....TOOK ALL 7 WEEKS from my notice of my ALJ hearing date!

So you have NOT submitted your INITIAL APP TO SS OFFICE, correct? Good, you want this to be as complete as possible so they can NOT turn you down on the 1st step as they do us all!!
=============================================

What I did with an online friend was this: prepared a chart noting the specific section of 1 - 14 that my diagnosed illnesses showed the wording, dr. seen & date.

Example, 14.09 LYME disease is mentioned in but doesn't give any examples. So I showed 14.09 with my drs. name & date plus specific details about each visit where lyme symptoms were stated..

I hope you have a copy of ALL MEDICAL REPORTS...drs., xrays, all blood labs, etc.
It's critical that you KEEP A COPY FOR YOURSELF!
========================================

On mine, I showed the date mailed to ALJ & LAWYER PLUS I kept a copy. Then I went to copy center nearby & copied and mailed promptly to lawyer per his request.

WHY THIS IS IMPORTANT:

if you have an ALJ hearing, request thru your local SS office to REVIEW your complete SSDI app at THEIR local office!

When you see things you submitted with your writing on, don't look at them!


HIPPA LAWS: Under the new HIPPA guidelines you have the legal right to request that MISTAKES in the records be CORRECTED. Docs don't like to do this. Hubby did have this done at least once.
It would probably be a bigger hassle and harder to get the corrections done if an ER or hospital was involved. Bea Seibert


------ Look & read only the secretative ``RFC & MFC'' done by the the in-staff DDS DRS & PSYCHOLOGISTS!

You want to make copies of ALL the stuff they have & other stuff you don't have so you can use that info against them!


NOTE: I'D DO THIS DIFFERENTLY NOW!

SEND 1 COPY TO ALJ and 1 to your lawyer!

Lawyer did NOT SEND MY REPORTS TO DDS STAFF PROMPTLY;

they didn't see many things when they denied me although I had good medical info!

Examples, 2 RFC, residual function capacity done by PCP dr. of 26 yrs. & rheumatologist;

plus 2 MFC, mental function capacity, done by psychiatrist & psychologist....the 1st person was the one judge used in APPROVING my 2nd claim for severe depression/effective disorder & anxiety.

ALJ's don't like working with LYME, FIBRO, CHRONIC FATIGUE. MENTAL is on approved list of adult approved impairment list! So don't fight it, go with it!


INTERSTITIAL CYSTITIS , IC, getting SSDI for this illness/letter needed!
http://disabilitydoc.squarespace.com/interstitial-cystitis/


``DIRE NEEDS FINANCIAL LETTER''
My Social Security claim just got approved! YEAH! I was waiting for a hearing. I called the hearing office and learned there were 5000 others before my case, all waiting for hearings.

Someone in the hearing office told me I could mail or fax a letter stating that I am in dire straits and explaining my situation. I was told the letter was sent to a judge's desk. Within the month, I got notification of approval!
============================================

This message is sent upon subscription, and again monthly.

There are links to helpful websites found by clicking on 'Links'
on the Disinissues website or by going directly to
http://groups.yahoo.com/group/Disinissues/links

There are many more links, as well as advice and "useful" messages
in the Files area of the website. Go to
http://groups.yahoo.com/group/Disinissues
and click on Files.

The website provides compilations of several areas of interest which
are commonly requested and mentioned. They reflect the collected wisdom
of this group. Check them out - you just might find the information
you were looking for! Take a look at Files that are not specific to
your situation, because they might be helpful anyway - what works for
Social Security may work for LTD claims, what applies to CFS, chronic fatigue syndrome, may apply to your medical condition.

The Welcome Message and Group Guidelines are in the Files section, if
you need a refresher on how this group works.

You must register with Yahoo to use the website, but note:
Be careful not to permit your address to be put into the directory
when you register. Put as little as possible into your public profile.
You do not need a Yahoo address to use the website. Your email address is what Yahoo calls your "alternate address."

Please let the moderators know if any links have changed.

Contact the moderators at
[email protected]
or for AOL subscribers:
Click here

BETTY NOTE: Look at the female MD''s DETAILED BACKGROUND right below this paragraph. Print off her detailed responses as to why she could NOT do her job, and then apply that to YOUR own job as to why you no longer can do any type of sustainable work now nor in the foreseeable future!
LINK 10-21-06 is now working again?!

http://www.cfids-me.org/socsec.html

*************************************
An online friend of mine from disinissues web site posted this info today, so I have copied it over here.

Subject: fibro/CFS disability info [Disinissues] what does an Functional Capacity Exam entail?

Lyme, fibro, & CFS support group members who are/will be filing for SS Disability insurance benefits, please go to the web page shown below.

There were 9 pages of info I printed below area where you can order from fibro network a 70 page packet.

I too plan on including this info when I send my FINAL packet of info to chief ALJ before my June 16, 2005 hearing...my last chance!
=======================================

Please read the site mentioned on: WHY DISABILITY TESTING FOR FMS IS OFTEN MISLEADING ADVICE FOR FM/CFS PATIENTS AND THEIR DISABILITY TEAM.....

Also after this article are the following articles:

WHAT COULD BE CAUSING DELAYED-PHASE FLARES?

BENNETT'S METHOD FOR ASSESSING FUNCTION IN FMS..

TECTONIC CHANGES IN DISABILITY LAW by lawyer Joshua Potter, CALIF.

MEDICALLY DETERMINABLE IMPAIRMENT REQUIREMENTS FOR CFS & FMS

DOCUMENTIONATION...VIEW IT AS AN INSURANCE POLICY

I printed this out in larger print for my eyes....9 pages! Will read it thoroughly and mark up 2nd copy to go to ALJudge for my 2nd hearing as medical evidence also....
*********************************
Distinct Pattern of Cognitive Impairment Noted in Study of Lyme Patients written by
Marian Rissenberg PhD & Susan Chambers MD,
The Lyme Times, Vol. 20, Jan-Mar 1998, pp. 29-32

http://flash.lymenet.org/scripts/ultimatebb.cgi?ubb=get_topic&f=1&t=040118#000023
********************************************

PQ recommends http://www.hmohardball.org, as well.
*******************

NEXT WILL BE ALL INFO FROM CONNIE MC, ssdi rep filing claims!

8-2006 from Connie Mc, lymenet.org
I wrote the following for my LLMD:

Guidelines for Use in Writing Letters/Reports in Support of
Social Security Benefits for Patients With Tick-borne Diseases

By: Connie MS, CRC, CVE, CCM, from www.lymenet.org
Disability Advocate


General principles of focus to consider when preparing this report:

1. The report/letter must have a longitudinal perspective that allows Disability Determination Services (DDS) to see the frequency, duration, and recurrence of major symptoms of tick-borne diseases.
 Medical records will generally show this, but a letter needs to state the general course of disability thus far, as well as the projected length of the disabling condition.

2. The report/letter must include descriptions of all treatment regimens and responses to therapy must be given; example:

 oral antibiotics, and general response.
 Did this result in limited improvement, which necessitated the initiation of intravenous therapy?

3. The report/letter must include any significant restrictions the patient has experienced in his/her normal activities since the onset of the diseases.

 Here, we are asking the physician to describe changes in lifestyle, such as:
 household, personal care, and social activities, as may be determined through history.
 Also, the physician can report any observed limitations; such as,
 walking, climbing, etc. as the patient functions in the exam room.
 A ``Incapacity Checklist'' can be helpful, and the physician can have the patient complete this for reference before the support letter is written. (A copy is at the end of this document).
 The patient needs to provide specific examples of limitations in function, which the doctor can document in the letter.
 The advocate can then obtain supporting statements from others (friends, family) to confirm what the patient has reported to the doctor.

4. The report/letter must report on any objective testing which has been done to determine the appropriate diagnosis. For example,
 any positive lab studies,
 and other supporting evidence such as positive SPECT scan
results,
 positive findings of joint inflammation on x-rays, etc.
 Any testing which supports the presence of illness is acceptable.
 Includes the clinical examination, not just lab studies.


Once the above is established, the physician must then identify and describe the most significant and disabling symptoms frequently associated with TBD, tick-borne disease. For example:

1. Fatigue - the existence of chronic and/or recurrent debilitating tiredness, which is demonstrated by an inability to perform basic minimal tasks of daily living (ADLs).

2. Neuropsychological - the existence of forgetfulness and distractability, inability to concentrate, memory impairments, confusion, difficulty thinking, photophobia

3. Neurological - numbness and tingling, sensory impairment.

4. Pain - recurrent and chronic pain which significantly impedes the performance of ADLs and unrelieved by prescribed treatment.

Location of such pain and any objective findings utilized to diagnose the origin of such pain. This includes: chronic headaches and myalgia.

5. Sleep disorder - Any disruption of normal sleep patterns that is recurrent and does not respond to treatment.

6. Depression -
 Is depression primary or secondary?
 Is it related to the patient's reaction to the daily physical symptoms?
 Are there other psychiatric symptoms present which are apparent to the physician?

7. Cardiac - heart block, hypertension, and other cardiac complications.

Sample Letter

Re:
DOB:

Please be advised that I have provided medical care for Ms. Blank since 5/7/2003. Ms. Blank carries a diagnosis of persistent Lyme Disease made on the basis of a number of clinical features, including: marked fatigue, chronic relapsing pain, CNS irritability, nonrestorative sleep and severe cognitive dysfunction.

This patient is disabled by incapacitating fatigue and myalgias aggravated by repetitive or sustained physical activities.

Her symptoms are consistent with her disease, which has been confirmed by positive IgM Western Blot in May of 2003.
There is also evidence on examination of persistent disorganization of motor function as evidenced by peripheral nerve dysfunction.

 She frequently becomes confused during discussion of treatment recommendations, and must rely on others to insure she has information she needs to proceed with recommended treatment.
 Ms. Blank has had marked impairment of her daily activities and finds it difficult to get out of bed on most days.
 She routinely requires assistance with showering and dressing.
 She uses a cane for ambulation.
 She cannot stand for more than 5 minutes to prepare meals, and must obtain assistance from others.
 She cannot lift or carry dishes or a gallon of milk.
 She cannot vacuum or mop or garden.
 She is unable to do laundry.
 She has difficulty managing her medication and must receive assistance from others to make sure she takes the recommended medications at the recommended times.
 She has difficulty getting in and out of a car and is unable to drive due to cognitive dysfunction.

Ms. Blank has been treated vigorously with oral antibiotics as well as supplements and other supportive care. There has been limited improvement thus far, and therapy with intravenous antibiotics is recommended for the near future.

By reason of the unpredictability of the frequency of her multiple physical symptoms, Ms. Blank has been totally and permanently disabled from engaging in, and more importantly, in sustaining any gainful employment activity, even light part-time sedentary work at home.

 Ms. Blank's status has been consistent since I first began seeing her in May of 2003.


 It is my opinion that she is likely to remain disabled for the foreseeable future, but, in any event, for not less than 12 consecutive months. Prognosis remains guarded and uncertain.

Sincerely,


Name: ____________________________Date: _________


Incapacity Checklist

How does your condition affect:

1. Your daily activities


2. Your ability to stand, sit or walk for a long period


3. Your ability to lift or carry weight


4. Your ability to understand, carry out, and remember instructions


5. Your ability to respond appropriately to your supervisor and coworkers


6. Other physical or psychological functional restrictions


7. Your ability to adjust to the stress of a work environment

Anyone who wants to provide this to their LLMD for use is more than welcome to do this.

I have used this same format many times and DDS and ALJs seem to be receptive to it. It includes all the information SSA is looking for to help them allow claims. Connie [ 14. August 2006, 12:00]

FINDING A NON-ATTORNEY CLAIMS REP by Connie Mc 2-07
Moderator, sarah shapiro, asked a member of this group who is a claims advocate for advice on finding one. Here are two sources:
 National Association of Disability Advocates www.nadr.org On the left side of the page click on "find a representative" Listings are by state.
 Disability Advocates of America www.disability-advocate.com Click on the "our advocates" link, then the state. These links will be available on the website in the Files section.

60 questions you'll be asked at your INCAPACITY MEDICAL 27.11.06 from England! I understand this is good; have NOT READ IT!
http://www.benefitsandwork.co.uk/benefits/unspun/71_incap_questions.htm

PQ recommends http://www.hmohardball.org, as well.
*******************
Note from Betty: this came from moderator of DISINISSUES/disability web site, but it can apply to other things than disability/lawyers, etc. Check it out, I did, and I found 1 item out there on this acct.
**********
Admin Note: monitor your own email address
Posted by: "Sarah Shapiro"
insuranceissues
Date: Tue Nov 28, 2006 12:40 am ((PST))

The question about computer use serves as a reminder to check your own email addresses in Google occasionally.

Enter your addresses up to the .com or .net or .whatever

- just the user id and provider, without the last .com
or .net portion of the address. (Otherwise google thinks it is an odd URL.)

If anything personal or revealing comes up, other than your Yahoo profile for Yahoo addresses (which should be mostly blank), don't use that address in anything pertaining to your LTD claim.
Use another address to send email to your
lawyer and a different address to send messages to groups with PUBLIC archives.
Your ISP may permit several alternate email addresses at no charge, and Yahoo, of course, offers them for free.

Disinissues has closed archives and closed membership lists, but someone might put your address out in public by copying a message, so search for yourself every now and then to
make sure your email address is not a source of information about yourself that you don't want others to see.
Sarah Shapiro
Disinissues Admin Team
[email protected]

---

IP: Logged |

LisaS
Frequent Contributor (1K+ posts)
Member # 10581


posted

---

Thank you Betty Ill print it and start reading.

Doc Dave, My company didnt offer any insurance. Go figure we were only a home health care company!!!! They had Aflac come in and offer us incurance once. I got dental and life insurance. But not disability.

I'm sorry you had such a hard timne. But you are on disability now I hope? After all that. I dont understnad why its so hard. I have worked my whole life. Why is it we cant get the money we paid in? I'm so frustrated.

But thank you everyone for your replies! I really appreciat all the help from this board. I dont think I could make it without everyone here.

--------------------
https://www.facebook.com/profile.php?id=1660435643


---

Posts: 1078 | From Lake Geneva WI | Registered: Nov 2006 | IP: Logged |

stymielymie
Frequent Contributor (1K+ posts)
Member # 10044


posted

---

have you ever drove in to a major city and loked at the tall buildings???????

if not google a city and look at it.

the highest and biggest building in any major city is, not necessarily in order
MEDICAL INSURANCE- IE BCBS
VERIZON &ATT
LIFE INSURANCE
GENERAL INSURANCE
BANKS- ALL VERY LARGE
CREDIT CARD COMPANIES IF GO TO WILMINGTON, DEL


SO YOU WONDER HOW THEY MAKE AND KEEP ALL THAT MONEY?????
THEY RAISED HOME INSURANCE IN FLORIDA AFTER
HURRICANES IN 2005
NO HURRICANES LAST YEAR BUT THEY INCREASED THE RATES AGAIN WITHOUT REASON.
NO CLAIMS, MORE MONEY.

DON'T PAY CLAIM, MORE MONEY.
MUST HIT THE INSURANCE COMPANIES WITH
A "BAD FAITH " CLAUSE THAT WILL PROTECT YOU IN YOUR PURSUIT.
BAD FAITH MEANS THEY DELIBERATLY MADE NO
DECISION ON A CASE BECAUSE THEY THOUGHT THEY COULD PREVENT PAYING AS LONG AS POSSIBLE.
THIS GOES TO REGULAR COURT AND GETS LOTS ANDS
LOTS OF MONEY IF THEY ARE AT FAULT.


DOCDAVE

---

Posts: 1820 | From Boone and Southport, NC | Registered: Sep 2006 | IP: Logged |

LisaS
Frequent Contributor (1K+ posts)
Member # 10581


posted

---

DocDave,

If all of us lymees stood on eachothers shoulders we would be taller than a mountain! (Or should I say a tall building). I wish we couls all ban together some way and figure out how to move these mountains that stand in our way!

--------------------
https://www.facebook.com/profile.php?id=1660435643


---

Posts: 1078 | From Lake Geneva WI | Registered: Nov 2006 | IP: Logged |

TNJanet
LymeNet Contributor
Member # 10031


posted

---

Wow Betty!

You sure provided a LOT of helpful information. I found it difficult to keep up (am having a horrible cognitive day) but it occurred to me that it should be printed out by almost anyone who is facing going through the labyrinth that we call "disability insurance."

I had no such help negotiating the mess of disability. If I had had this help, I believe I would have been approved much earlier.

So, thanks for all this work compiling this information in one place!

And why aren't you RESTING?????? (Shaking my finger at Mizz Betty!)

Lovingly,
Janet

--------------------
DISCLAIMER:
No information presented above should be considered medical advice or take the place of advice given by a medical professional. Links to other sites are provided merely for ease of research.


---

Posts: 287 | From Tennessee | Registered: Sep 2006 | IP: Logged |

bettyg
Unregistered



posted

---

janet, i'm resting; honestly; i couldn't believe all the sleep i finally got this weekend ... in my bed and in air-lift recliner!

saw this post so just copied/pasted my ongoing info that i started 5-6 years ago that i add to whenever the occasion arises.

yes, it is OVERWHELMING, but if you print it out, and skim it to have an idea what is in there, you can arrange it whatever way it works for each person.

other folks helped me; now i'm providing their experience and MINE so they don't start from scratch like many of you folks did.

whoops, this will be short; been on here 14-20 minutes, and it's nap time already!

---

IP: Logged |
Contact Us | LymeNet home page | Privacy Statement

Powered by UBB.classic™ 6.7.3

---
The Lyme Disease Network is a non-profit organization funded by individual donations. If you would like to support the Network and the LymeNet system of Web services, please send your donations to:
The Lyme Disease Network of New Jersey
907 Pebble Creek Court, Pennington, NJ 08534 USA
http://www.lymenet.org/
---
Home | Flash Discussion | Support Groups | On-Line Library
Legal Resources | Medical Abstracts | Newsletter | Books
Pictures | Site Search | Links | Help/Questions
About LymeNet | Contact Us
---
© 1993-2020 The Lyme Disease Network of New Jersey, Inc.
All Rights Reserved.
Use of the LymeNet Site is subject to Terms and Conditions.
---