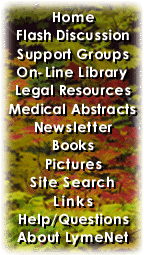 ---
LymeNet on Facebook
LymeNet on Twitter
---
---
The Lyme Disease Network receives a commission from Amazon.com for each purchase originating from this site.
When purchasing from Amazon.com, please
click here first.

Thank you.




Dedicated to the Bachmann Family


LymeNet needs your help:
LymeNet 2020 fund drive

The Lyme Disease Network is a non-profit organization funded by individual donations.

| | |
| --- | --- |
| | |
Author
Topic: How do you deal with family/friends who don't understand?

ChrisBtheLymie
LymeNet Contributor
Member # 8916


posted

---

Hi all.

I was just wondering how you deal with family/friends who just don't understand you're illness, or even think it is all psychological?

I was infected in Aug 2002 from a tickbite and was diagnosed with M.E/CFS from 2002 to 2006. I found out I had Lyme in 2006, and have been on ABX for about a year now.

My family read up somewhere that the Lyme treatment is usually 6-12 months maximum and as I had been in treatment for 12 months they stopped supporting me as much, and I often hear my brother tell friends that it's all in my head...

The reason why he thinks it's all in my head, is because I have a panic disorder, which I am 100% certain is caused by my illness. Before the tick bite I was extremely outgoing, and I NEVER had a panic attack in my life, but 2-3 years into my illness they became really bad.

What annoys me is they seem to be completely ignoring all of my other symptoms... It doesn't seem to matter that I am in constant pain 24/7, my vision is getting worse all the time, I am so dizzy that I often fall over and I am constantly walking grabbing onto things/walls, I am too weak to walk more than 50 meters and my heart often feels like it's stopping - and all 30 other odd symptoms...
It's the same with doctors, they are all more interested in my panic attacks/anxiety, but ignore my other symptoms.

For example, my dad is always saying "We are going out to the coast for the day" (he NEVER asks how I am feeling, or if I FEEL like going), then if I say "I really feel ill today and I can't" he will say something like "If you have a panic attack we can come home". He never mentions any other of my symptoms, just the panic attacks.

It is really making me depressed now, because I know that all of my friends and now 90% of my family think I am just making a fuss about nothing and/or it's all in the mind, which isn't true at all... I am incredibly sick, housebound pretty much all the time, don't have any social life, can't work or anything...

They are even starting to twist my words now, the otherday a friend asked when I would be better (which is impossible to say) - I was about to answer, but my dad butted in and said "Chris told me last month that the Lyme has been killed and it's just the after effects" - which isn't true AT ALL, this really made me angry and upset.

My family are completely against antibiotics and they basically want me off them A.S.A.P - I just feel so alone and depressed now, I have nobody who understands.

Sorry for the rant, I was just wondering if anyone here has similar happen to them?

---

Posts: 263 | From UK | Registered: Mar 2006 | IP: Logged |

Carol in PA
Frequent Contributor (5K+ posts)
Member # 5338


posted

---

You can't make them understand.

And if your dad butts in again, say, "I can answer that myself, thank you."

Carol

---

Posts: 6947 | From Lancaster, PA | Registered: Feb 2004 | IP: Logged |

Geneal
Frequent Contributor (5K+ posts)
Member # 10375


posted

---

Dear Chris,

Oh family. Sometimes the best of the best and sometimes the worst of the worst .

You can't make someone understand what they choose not to understand.

The only one in my family that really tries to understand is my Mom.

However, she has made an effort to understand me.

I remember her telling me prior to getting diagnosed that if I just had

A positive attitude I would feel better.

I have a sister who is a RN, who still calls it Lymes.

I think that sometimes it is a lack of interest.

Sometimes I think that it is because there is so much to this disease that unless

You have it you can't really understand what living with Lyme is like.

I try to just ignore them. Keep my energy for myself and for getting better.

This is the best place for support.

Lean on us here.

There is no one who can share the experience better with you

Than someone who has or is walking a mile in your shoes.

There is plenty of unconditional love and support here.

Sending you positive thoughts and prayers.

Hugs,

Geneal

---

Posts: 6250 | From Louisiana | Registered: Oct 2006 | IP: Logged |

kam
Honored Contributor (10K+ posts)
Member # 3410


posted

---

Chris,

Is it possible for you to get your own roof over your head?

It sounds like you are living with your parents.

Are you old enough to get your own place?

---

Posts: 15927 | From Became too sick to work or do household chores in 2001. | Registered: Dec 2002 | IP: Logged |

gusgus260
LymeNet Contributor
Member # 2120


posted

---

Fortunately, my family belives I'm sick, especially when they saw me suddenly stop doing all of the fun activities I used to do, and have not done them since,along with the incredible brain fog and memory loss, constant fatigue, etc.

I tell anyone who asks me about it, that it's one of the "invisable" diseases"- I look fine on the outside, but feel terrible on the inside.
This is one of the major diagnostic tools that Lime literate doctors use because the blood tests are incredibly bad, and even with this the CDC, ON THEIR OWN WEB SITE, say that their testing requirements are so bad that the actual number of people with Lyme disease is probably TEN TIMES larger than than those who actually have the disease. So if the number of new cases is 20,000 last year, then their actual new cases is somewere around 200,000 by THEIR estimate.

Rember that it is an invisible, like haert disease, or diabetes. But they are easily diagnosed, Lime isn't. Believe me, I would LOVE to be able to do what I used to be able to do. How about your doubters? Would they like like that to happen to themselves?
~gus

---

Posts: 175 | From Venice, FL USA | Registered: Feb 2002 | IP: Logged |

gusgus260
LymeNet Contributor
Member # 2120


posted

---

Fortunately, my family belives I'm sick, especially when they saw me suddenly stop doing all of the fun activities I used to do, and have not done them since,along with the incredible brain fog and memory loss, constant fatigue, etc.

I tell anyone who asks me about it, that it's one of the "invisable" diseases"- I look fine on the outside, but feel terrible on the inside.
This is one of the major diagnostic tools that Lime literate doctors use because the blood tests are incredibly bad, and even with this the CDC, ON THEIR OWN WEB SITE, say that their testing requirements are so bad that the actual number of people with Lyme disease is probably TEN TIMES larger than than those who actually have the disease. So if the number of new cases is 20,000 last year, then their actual new cases is somewere around 200,000 by THEIR estimate.

Rember that it is an invisible, like haert disease, or diabetes. But they are easily diagnosed, Lime isn't. Believe me, I would LOVE to be able to do what I used to be able to do. How about your doubters? Would they like like that to happen to themselves?
~gus

---

Posts: 175 | From Venice, FL USA | Registered: Feb 2002 | IP: Logged |

ChrisBtheLymie
LymeNet Contributor
Member # 8916


posted

---

Thanks for all the support, I really appreciate it.

I think in my post might have made it sound a little worse than it actually is. I do believe they know/believe that I am ill, but they just don't understand how ill I am. They think I just feel a little bit tired, and my brother is often telling me that I am just lazy and his IBS is far worse than my Lyme disease

I am 18 years old, so I am old enough to move out if I want to, but it really isn't that bad and I do need caring for because I can't do much myself. My mum has been very supporting all the time, and she definitely knows that I am very ill, but I think she is simply getting so tired of caring for me now and I honestly don't blame her - she has put her whole life on hold for the last 4 years just caring for me
.
It's just when my brother or dad makes a comment like they did earlier this week, it makes me so incredibly depressed, angry and frustrated that they can say such a thing, when they have no idea what I am going through and how difficult it is for me.

Anyway, I had some goodish news today. My mum said she was speaking to her Dentist last month, who is Swedish and apparently she was very concerned and interested in my case and she was going back to Sweden for a few weeks, so she offered to ask her good friend who is a top doctor in Stockholm about Lyme treatment, and what he thinks, etc.

I thought to myself "Oh god, he will obviously say 28days of antibiotics have cured it" - but yesterday my Mum saw the dentist, and she said the doctor in Sweden said I would probably need at least 2 years on antibiotic treatment, considering how long I have been infected for!!! I am gobsmacked and I am trying to get the info of this doctor. Anyway, it has obviously made them more supportive of my treatment which is great.

This disease has definitely effected some of my relationships with certain family/friends now, and I guess it has shown me who my real friends are.

I just so badly want my life back now and it's so annoying that others have no idea what we have to deal with.

Thanks again

---

Posts: 263 | From UK | Registered: Mar 2006 | IP: Logged |

sixgoofykids
Moderator
Member # 11141


posted

---

You are definately right that you know who your true friends are ... friends and family alike. Fortunately, my hubby and kids care and truly believe I'm very ill and suffering. Out of my extended family (parents, siblings, etc.), there are two people who care ... my mom and sisters are NOT one of them.

Hang in there! We all believe you!

--------------------
sixgoofykids.blogspot.com


---

Posts: 13449 | From Ohio | Registered: Feb 2007 | IP: Logged |

hopingandpraying
Frequent Contributor (5K+ posts)
Member # 9256


posted

---

Dear Chris,

My teenage son has been ill for 7 years. He was finally diagnosed with Lyme, Babesiosis and Bartinellosis only in Spring of 2006.

People didn't believe it at first because he looks healthy. So does a shiny red apple, but it can be rotten inside when you cut it open!

Do a search and find the "Open Letter to Families of Lyme" written by Lymedad on April 20,2007 about his experience with his daughter.

Give it to your parents, brother and anyone else you can think of to read. Maybe it will help them understand your situation and health problems.

Perhaps you could go to see the doctor in Stockholm for treatment or look under "Support Groups Europe" on this website to find a LLMD in England who would treat you. Go where they are, if you can.

There are other members from the UK who post on this website (i.e. Rianna, Chiz. etc.) - contact them for any help or direction.

God bless you and take care. Keep fighting for your health and NEVER give up! You CAN get better with the proper treatment.

---

Posts: 8898 | From Illinois | Registered: May 2006 | IP: Logged |

MysteryGirl44
LymeNet Contributor
Member # 10201


posted

---

I'm sorry that your family and friends are treating you that way. You don't deserve that kind of treatment... nobody does.

My family was like that before I was diagnosed a few months ago and I remember feeling really alone and depressed.

I also had panic attacks and anxiety. You are right, it is most likely from the Lyme.

It's hard to get people to understand when they themself have not been in that situaion before.

How about writing a letter to your family saying how you feel. Tell them how hurt you are that you feel like you aren't believed. Tell them how sick you are. Tell them that you need all of the compassion and support as possible during this hard situation.

The way I explain to people how I feel physically is that I have them imagine that they are very sick with the flu and when you finally can sleep, someone wakes you up at 3:00 in the morning and is making you go to school, do things, be energetic etc. but you can't. And nobody wants to help you.

Hang in there! You can get through this! And you will!



--------------------
"Life doesn't have to be perfect to be wonderful."

www.myspace.com/lymediseaseawareness


---

Posts: 514 | From New Jersey | Registered: Sep 2006 | IP: Logged |

bettyg
Unregistered



posted

---

LYMEDAD'S LETTER TO FAMILIES OF LYME PATIENTS...OUTSTANDING! PRINT & GIVE TO FAMILY MEMBERS!!

Author Topic: Open Letter to Families of Lyme
lymedad
Frequent Contributor
Member # 8074

posted 20-04-2007 03:52 PM

Dear Family of a Lyme Disease patient,

I am writing this letter to all parents and family members who are witnessing their children, wife, son, father, aunt, uncle, cousin, etc. struggle with Lyme Disease.

I am one of you.

For more than 6 years my daughter has suffered through this ugly, dark disease.

She has experienced horrible migraines, severe joint & muscle pain, nausea, vomiting, extreme fatigue and loss of her ability to speak or think logically (these are just a few of her symptoms).

She has become unable to work. She has been forced to move back into our home at the age of 23 (she is now 29). She has virtually lost her 20's, one of the most productive and exciting time of her life.

We have taken her to every known medical specialist in southern California as well as three different General Practioners.

She has been diagnosed, at differing times, as having Chronic Fatigue Syndrome, Chronic Pain Syndrome, Fibromyalgia, Lupus, Psychosis, and MS (please notice that all of these are either syndromes or descriptions of symptoms; none of them are diseases).

For the first 4 years of her struggle, I was not a good parent, even though I thought I was.

My daughter didn't have any outward sign of her illness. She looked "normal". After many, many blood tests, MRIs, CAT Scans, x-rays, psychological tests; everything came back "normal".

I was, and sill am, one of the world's biggest cynics and skeptics (I'm originally from Missouri - so "Show-Me").

Surely if you are as sick as you say you are, there must be something that will show up in your blood tests or on x-rays.

You can't possibly be this ill and not have something tangible to show for your symptoms.

You're either just faking it or your lazy or it's psychosomatic or your trying avoid the real world.

Get off your lazy butt and get some exercise or get a real job or face up to life like the rest of us.

That's the way I approached her illness. It's time you took control of your illness and will yourself well.

I was so far off-base. It took an outstanding Lyme Literate Medical Doctor to show me the error in my approach with my daughter and to show me the reality of this disease.

My daughter and I have both suffered because of my ignorance (I'm not saying all of you are ignorant, I'm saying I was ignorant. To be ignorant simply means to be uninformed not stupid). I am still working to rebuild the closeness we had before Lyme.

Lyme Disease is real, the pain is real, the problem with logical thought is real, the lack of energy is real, etc., etc., etc.

If your child or family member has been diagnosed with Lyme Disease, they are just as sick, if not more, than someone who has a more "traditional" illness, like Lupus or Multiple Sclerosis or Cancer.

I've done all the study, I've been with my daughter at all of the appointments, I've watched the misery she's been through.

Hey they just can't help the way this disease treats them. It's not their fault.

We as family members need to be there to support them. They don't need our pity. They don't need our skepticism. They don't need our criticism.

They need our understanding.

If you as family members will take the time to study this disease, you'll see that it is real. The little buggers who have invaided their bodies are real and they are making our loved ones sick.

Please spend the time you currently spend trying to figure out why your loved one acts the way they do really studying the disease. There are volumes being written on the internet as well as new books being published everyday on this disease.

We can't possibly understand the way they feel, not unless we have the same bacteria in our bodies.

My daughter has a long way to go before she's back to where she was 6 years ago. She has a lot of work and pain to endure before she can get there.

She certainly doesn't need someone who claims to love her causing her any more pain than she has already.

Families. from one who has been in your shoes, please let them know you love them.

Let them know you're there to help them.

Let them know that there's no way you can possibly understand their pain, but that you wil try to understand their illness.

I think one of the most important things I've come to learn is that my daughter's disease may be God's way to teach me a lesson.

I'm not saying God gave my daughter Lyme Disease, but He may be using this disease to teach me how to love, how to be patient and how to be more understanding.

I wish you all good health and I hope that none of you will ever have to experience what our Lyme Disease loved ones are experiencing.

Sincerely,

LymeDad

DAR'S TOY STORY; outstanding for family, friends, etc!
This was written by a friend of mine. He asked me to post it here. We hope you like it!!! Lymetoo/TUTU posted 5-11-07
*********************************************

The last essay I did was how I feel having Lyme disease and all the other things I have wrong going on inside me. Last night I was awake at 3 a.m. and once my mind gets going, I'm all done sleeping.

So now you know how I feel, but you don't know how we feel looking back at all of you who are healthy. All of us who have immune-compromising diseases such as Lyme, Crohns, CFS, ALS, Alzheimer's, MS, non Hodgkins lymphoma, muscular dystrophy, bipolar disease or any other chronic illness.

People with chronic illness face two hurdles. One is the illness itself, and the other is the perception others have of them because they are ill. The illness becomes their identity, essentially making them faceless.

People have no clue what it's like to be us! Well, now you will. See, all of us with something broken have been taken out of the real world, or the working world and we just can't explain what it's like.

Well, imagine for a moment that all of us are toys lying on the living room floor. The toy box is next to the kids' bedroom doorway. Mom and Dad say, ``OK, kids, pick up all your toys and get them into the toy box and back into the closet. It's time for bed!''

OK......and in go all the new toys from Christmas and birthdays past. (That would be all of YOU!) Along with the newer toys goes a truck with the front tires missing, a car with the doors off, a matchbox car that has no hood, a 56 T-Bird without the top on it, and the trunk is missing.

Then there's that ole tractor that once had a bucket on the front and a back-hoe on the back, but somehow they're gone and and broken off.

Susie loved that doll, but over time her head got broken off and one arm was missing. GI Joe has seen better days, because his left arm and his right leg have come up missing.

Johnny's plastic train with 9 cars was the best thing last Christmas, but 3 cars are missing and the caboose has no wheels. Now when the toys come back out another day and get dumped on the floor, there's all the good ones that are played with right away. All the ones that have parts missing (That's all of US!).... Well, nobody plays with them because they're defective. They can't roll because the wheels are missing and parts are long since gone.

But they are still toys that the kids got and don't have the heart to throw away. So even though we get to come out and sit on the floor, nobody plays with us because we're not ``whole'' anymore.

But we still get to be with all of you and get to watch and see what's going on! And then there's lots of times we never get out of the toy box. There's days on end that we just sit on the bottom of the toy box, because we can't do the things that we once could, and nobody needs us anymore.

Then it's back in the closet and the door is shut, and it's dark once more in our lives. Not that we're not alive, we just can't fit in anymore and have to wait till everyone comes back from the real world and lets us out from the dark closet and we just sit on the floor and get to see what y'all are doing all over again.

We know we have parts missing and can't roll with the good toys. We know we'll never fit in with all the toys that have all their parts and are newer and shinier and we expect that.

Thank you for not throwing us away though, even though we can't compete with the new toys. Some of us do better than others. Those with only one wheel missing get around better than the ones with all the tires missing.

And we have gotten used to the dark closet when all of you get to go out in the world and do whatever y'all do. We just know that we can't do that anymore.

We used to be able to run with you too, but somehow got some parts missing and we're `Stay at Home Dars All Day Long', like my new Lyme song goes. We've even got used to watching all of the good toys go roaring up and down the carpet, and some of you even get to go outside and play in the sandbox too. But we have to just stay where we are because that's just what has happened to some of us, and tonight it's back in the toy box and into the dark closet.

There may be a cure for some of us, but it's hard to get the big companies to send those few little parts, like hoods, trunks, wheels, heads, arms, legs, and missing eyes. They are just too busy to take time for such little things like that.

We accept that too. And if you look at us just right, you can't even see there are parts missing and you think we should be able to come out and play.

It looks like we should be able to keep up with all the good toys, but it's so hard being stuck in this old broken frame, knowing we once were part of the big picture and had something to offer, and could go places.

But no, we're dependent on everyone else to help us out of the toy box and back in again in the dark closet. You can't imagine how lonely it gets in there, day after day, all alone, knowing that all the healthy toys get to go out and play.

What makes us feel good though is to hear stories of how we would rip up and down the hallway and across the family room and into the kitchen. Or how much sand we could dig on a good day in the sand box.

Those are called ``memories'' and all of us broken toys have lots of them, because that's all we have left! We really appreciate all the things all of the good toys do for us and hope they all understand it's not our fault. We just got stuck with weak or broken parts!

Hopefully my broken-toy story will help all of you understand what it's like being us. Up until last night, I didn't know how to put it either. But somehow I think I got it right now. It's just the way I feel, stuck at home trying to do the best I can with what little parts I have left.

I once had ``big dreams'' of being a real country music star, with my songs on the radio, and the videos on TV. You can plan your career, plot the success ladder all you want, but you can't count on your health to be there for you.

Not everyone gets to stay healthy. There are a lot bigger guys than me that were taken to their knees by a health problem and taken out of the game. I'm just glad I can do what little I still can. Like the ole saying goes, we don't have to look too far away to find someone that would gladly trade places with us.

Be glad what you do have! There's a lot of people worse off!

Written by Darwin Schultz
Texas Dar
http://profile.myspace.com/index.cfm?fuseaction=user.viewprofile&friendid=170506428

---

IP: Logged |

Tamera
Member
Member # 13309


posted

---

What fantastic words to read...both brought tears...

I can't even find words to truly describe...

thank you for posting them for us to read.

--------------------
Never quit searching for the answers.
http://myspace.com/alaskariverview


---

Posts: 53 | From Kasilof, Alaska | Registered: Sep 2007 | IP: Logged |

sweet pea
LymeNet Contributor
Member # 6495


posted

---

Chris,

I'm sorry you are going through this.

Have you showed your family Dr. B.'s guidelines? Do you think you could get them to read up on Lyme?

I am lucky, my partner is very supportive, but I think a major reason for that is coincidentally just after I got sick, we went to a Lyme symposium, so he got to hear from professionals what the deal was.

I am not in contact with my parents, I can't even imagine having to deal with them regarding my illness.

I don't remember where I got the following, but I thought it might help (sorry everyone that it is so long):


HOW TO KILL A SICK FRIEND
Sue Klaus
Sometimes having a sick friend is such a drag. They always need something.
Sometimes they're weepy, and they complain all the time. But there are ways to get rid
of this nuisance once and for all. The object is to "dump the whiner."

So, just follow
these helpful steps: Never, ever call them. And don't return their calls. Even if they are
still occasionally calling you, they're so sick that they will lose their momentum and
eventually stop. After all, even if they listen to your problems, you certainly don't want to
hear theirs.

* Be harsh with them; say mean and spiteful things, especially when they seem
vulnerable. Remember, even if they were there for you in the past, the idea is to
get rid of them now. The sick and afraid are particularly sensitive to cruelty, and
the more you use, the better.

* Write them out of your life - don't tell them about social events, especially parties
you are holding. And if they actually try to have one themselves, don't show up,
and don't RSVP. That way they'll be wondering if you are coming right up to the
very last of the party.

* Never invite them to join you for lunch, or a concert or a show. That would only
make them think you cared.

* Never call just to say hi and see how they're doing. And never ask them if they
need anything at the store when you go.
These techniques will definitely kill them, one way or another. They will definitely kill the
friendship; and even if they don't kill physically, psychological, emotional or spiritual
murder also counts. If they had the nerve to go and get sick, it's not your problem.

Remember, some sick people have some hope that anyone cares. These are the
toughest, so you must remember to stick with it. Don't let them wear you down, and
whatever you do, don't break down and care. You'll never get rid of them that way.

HOW NOT TO KILL A SICK FRIEND
The previous section, is, of course, not what really happens. Very few people actually
plot out moves to kill sick friends and family. Unfortunately, the end results of thoughts
and actions are the same. It is important to realize where these thoughts and actions
come from, in order to change the end results.
There are differences between disabilities that originate at birth and disabilities that
happen later. Both cause tremendous problems with our image of that sick or disabled
person.

There is great grief when a child is born with physical and/or mental impairment. Even
before a child is born, family and even friends have a predetermined image of

* what the child will look like
* what life will be like with the child
* what they will be like
* even what they will like to do, or how they will earn a living.

When the dream child doesn't arrive, it seems like instead of the person they expected,
a stranger has invaded the house. It is not surprising that the rate of divorce among
families with disabled children is higher than the national average.

When the illness or accident occurs later, there is not only the grief of family or friends,
but now the particular disabled person has their own grief to sustain as well. They have
lost so much, it hurts just to talk about it, because it overwhelms them and anyone who
will listen.

GRIEF
Grief and loss accompany chronic illness and disability, but unless you're affected, you
may not realize the impact. Let's take a look at what can be lost in chronic illness and
disability:

Self-concept
Friendships
Freedom
Family support
Confidence
Sports
Dependability & Reliability
Hobbies
Energy
Dancing
Fitness
Travel
Driving
Work
Activity
Money
Fun
Health Insurance

There are also additions to life that are not welcome:
Assistive devices
Hospitalizations
Doctor bills
Conflicts with employers
Pills
The Social Security Disability System
Medical system run-around
Family doubt, grief, fear

Any of these alone would be definitely uncomfortable - combine them and you have a
very bleak picture - without friends to stand by you.

The process of rebuilding after such a big change is a decades-long task. It is a series
of two steps forward, three back that gradually, over years of time can improve. But it is
easier, faster, and more rewarding when you can share even the smallest victory with a
friend.

THE "F" WORD - FEAR
This is the main reason why you will not act on your impulse to remain a friend.
Because of the changes that have occurred, you are confused and feel helpless in the
situation. You don't know what to say, what to do - so you say or do nothing. It is less
work to let a friendship die than to keep it alive.
But you're a busy person - you have responsibilities. Where can you find time for
someone who seems to need so much? If there was any time to spend with them before
they were disabled, then you have to decide to make time again - if you are a friend.

But hospitals give you the creeps. That's too bad. Let me tell you who's got a worse
case of the creeps - the patient! If you think they like it there, think again. Hospitals are
not designed for anyone to feel comfortable. Suck it up and go visit.

THE "F" WORD AND YOUR RESPONSE
"I don't want to hurt their feelings."
This is a common concern, and in some ways it can be hard to avoid. You can try to
walk in someone else's shoes, but in truth unless you could actually trade bodies for a
week, you will never have an idea what that person's life is like.

The trick, I guess, is to
learn how to think before you speak. Most adults have to learn to do this at work, in their
families. If you think it might hurt someone - don't say it. It's hard to do - but like
everything else in life, practice makes perfect.

"What do I say to someone who is hurting?"
Would you feel less pressure if you didn't have to say anything at all? Then relax,
because sometimes the less you say the better. It is more often your actions that will
speak for you. And the action of listening instead of persisting in idle chatter can mean
so much more to someone that still needs that shoulder of yours, even if it's getting a
little soggy.

What does it cost to give a hug? What is the price of holding someone's
hand for a few minutes? What is the financial expenditure of a mild neck rub, or an arm
to lean on as they walk? Once you find that the human cost of not doing these things is
much more expensive, you will be ready to be a friend.

"What shouldn't I say?"

This question has many answers, and many have come from disabled people I know.
These may not be hard and fast rules, and may need to be adjusted for the situation,
but they end up being universal.

"You look great! Or, You're looking much better!"
This implies that you expect them to feel great, when that may not be the case. Many
illnesses and disabilities are invisible, and belie the underlying pain and suffering
accompanying them. Instead ASK how they feel, and really listen. Take your cue for
further comments about their appearance from their answers.

"At least you're not in a wheelchair."
What you don't hear is the rest of that statement. In response to that comment, the
disabled person may think "not yet, anyway - and then I can count on you to say
something else hurtful to me."

"At least you can still (hear, see, walk)." Or, the classic: "You should count your
blessings."
If you have not experienced the loss, don't assume it's easy to discount one. If you
have, you are still too bitter to help anyone yet.

"You shouldn't have tried to work two jobs."
Is it really your call to blame a sick person for their illness? No. Blame is the most
worthless concept on the planet. It accomplishes nothing, except to hurt the target. This
applies in all areas of life - there is no reason for blame except to hurt someone. Try to
remember who hurts most when you blame yourself for anything. And how the situation
remains amazingly the same.

"You just haven't found the right doctor."
And you can't understand what chronic illness/disability means. Some illnesses make a
person sick for many years without killing them. Pain, trouble walking and working
accompany this person every single day of their lives, and there is no end in sight. If
anything, there have been too many doctors with too many conflicting answers. The
probability of a cure is not an issue - the necessity of living with illness is the only
acceptable option. Your acceptance of their reality impinges on the disabled person's
acceptance of life with illness/disability.

EVEN WHEN YOU TRY, THINGS DON'T ALWAYS WORK OUT ....

What if they say no, they can't do whatever?
Let's say you asked them to lunch, or for coffee. The person says they are not up to it
now. Think about making a contact possible - on their terms. What if you brought over
some treat, stayed for a short time, and gave a rain check for an outing for a week
later? Maybe they are not able to "entertain" and they feel pressure to entertain people
that come over. Can you think of a way to visit and be the entertainment so they don't
need to? Can you stop by with some food that can be warmed up later for their dinner,
not stay long, and then call them later in the week?

What if they say yes and cancel at the last minute?

This is common with chronic illnesses that ebb and flow, like Multiple Sclerosis, Lupus,
and Chronic Fatigue Syndrome, for example. The person really wanted to go, gets
psyched up for it, and when the day comes there is physically no way they can go. They
feel bad for disappointing you, and they are disappointed in themselves. They can't
control their bodies, and that is frightening.

Can you save the day?

Are you flexible enough to translate their unpredictable health into your talent for
spontaneity? Rent a movie and bring it to them. Order a pizza, or pick up sandwiches,
and make it a small mini-party. After all, who is going to miss you more - the Eagles or
your friend?

They have a phone, too - why don't they call me?
There is a difference in the dynamic when you call from when they call. When you call,
you always have something to offer, if only your companionship, a kind word, an errand.
When a sick person calls, it is an imposition on your time, and no one wants to impose.
They don't want to be a bother, and if they have already had friends disappear into the
woodwork, they'll stop calling anyone just in case they feel they pushed others away
with "being needy." You need to make the call, and keep making the call.

What can I do for anyone?

Next time you head out to the grocery, try calling your pal and asking if they need a few
things, then get them. When you bring them by, no big deal, no dramatics. You may
slowly becoming an angel on earth, but you don't have to tell anyone that.

REMEMBER:
Make the call
Keep calling
Keep asking
Keep contact
Don't give up
Don't give up
Don't give up

About the Author... Sue Klaus, M.A.
I am a trained audiologist who worked with the hearing impaired for 11 years, while
slowly being affected with the chronic illness called Chronic Fatigue Syndrome. More
than 15 years after the illness started, I would like to help people keep friendships alive
even after life-changing events. I have been on both sides of this dynamic, and have
some insights to offer.

---

Posts: 449 | From Vermont | Registered: Nov 2004 | IP: Logged |

Kerryblue
LymeNet Contributor
Member # 4077


posted

---

I wrote this long moving message earlier & lost. Then too tired to redo. Hope this is a go.

IMHO/ feel this is 1 of saddest part.

Literally quite tired of understanding WHY others do not understand...GET IT???Sounds confusing. Just another draining thing en-gerny wise.

By now all info out there 6 TV programs in 2 mo. Even if they watch do not seem get it???
All info out there,books TV,websites,etc.Yes?

If they do not do some research I question how sorry fam.,friends truly are.. When in herx or huge flare,pretty obvious when we can`t pretend we are OK. Lyme is a city & most of us quite ill with what is called co-infect. Still Nadda.

My Mom asks,( living with me what is wrong Honey)? She calls, or says hope you get better. She even went to group, I took her to, when visiting.Hoping that did the trick?? More than 10 yrs. coming down. Still does not believe in.

People say, feel helpless not being able to help to they stay away.
Know I have done all explaining,
They can help, start a run for cause/or some fundraiser..ANYTHING, just support is what we all need well or ill, (more the ill),(of coarse.)

Many of us run constantly run into brick wall . Hurts healing,for ourselves.With Drs. doubting or mistreating us, then friends,then fam. tuff on self esteem,financially ++++.
.
Making to this B-day, which Lymie Tony posted my age too around the world, but very sweet comments on General site. He is good guy on the inside. Good caring man with tuff exterior. I told myself as did when kid,worry is waste of time,en-gerny know do not have. Also NO More explaining, just say No can`t do.That is it.

ANYWHO/POINT IS IF OTHERS DID NOT GET FIRST TIME, /AS DR, PHIL WOULD SAY HOW IS THAT WORKING FOR YOU???
Ask them why the heck you would pick this disease/ would choose something known less complicated with cure for all.
We know what they are saying when we are ill, it hurts. Do not think fam. does intentionally, yet still hurts, when be nice if just rallied for us. Hmmmmm??? Take lot less en-gerny on their part also. If we had Cancer they would cry & be supporting. I have to have biopsy again on pre-cancerous tumor, if is positive will not tell them. Since all these yrs.,NO support for this DD.


I know they love me & sure your fam. loves you.
Yet, when they say being around us is diff. Then do something anything. We are not asking them to take care us. Just get IT/& SUPPORT.
Join the fight, help get word out, research why are so ill.
Whenever chronically ill, have big support system Known Fact, least mentally do better & some times physically. Just having support system that is close, Can do so much. Not Pity even if come for laughs around us.We here without fam.,friends support they would not made as far as ill had..Take Chris R. He said that all time. (Just 1 analogy).

This I feel is really sore subject for many.
Also after understanding why they do not, is exhausting alone,& play acting so you do not chase everyone away. Hurts & uses lot en-gerny we do not have

Just too sad, millions people ill, only asking for 1 thing understanding. Takes big burdan off our shoulders,& really there`s also. Like elephant in room people just go on without notice

Unfortunately we live in short term throw away world.Including our Elderly & Long term ILL, folk.
Focus more on Britney Spears, etc.
Give us just 10 min. of that air time?????
Huggggssss, to all in NEED & Chris, hang in there, all can do. Maybe do what I made pack with myself/ mentioned above????
Take Care

---

Posts: 746 | From Clearwater/fl/Pinellas | Registered: Jun 2003 | IP: Logged |

Keebler
Honored Contributor (25K+ posts)
Member # 12673


posted

---

sorry,this may be in the replies - but i can't read right now . . .
it all seems to blur together. I felt so strongly about your question, though, that I hope this helps.

just one thought . . . can you get the DVDs of the most recent ILADS seminars and have them watch as a family - with or without your being there - or each separately and then come together for questions with you?

www.ilads.org for the DVD

Or perhaps your closed lyme support group has a copy to loan you by mail.

my family never did get it. I sent the book "Everything you Need to Know about Lyme" It was never even opened.

But I found out that my Dad's eyesight may have been bad. The DVD would have been more powerful. Doctors hold more weight than patients in credibility, usually, so I think the DVD would be good if they would truly watch it.

My father died still not understanding. Sad. But I gave him some resources. He asked no questions. I just let it ride.

Now, I think I should have been more of a teacher. the DVDs may have been a better choice but I will never know.

I hope you have good luck and a wonderful relief in your effort to come together with your family.

Good to hear about the doctor's relayed message. THAT helps.

Also, Brian Fallon and Jenifer Nields MDs with ILADS wrote an article about panic attacks and lyme. VERY good article several years ago. I'll try to find it for you.

---

Posts: 48021 | From Tree House | Registered: Jul 2007 | IP: Logged |

DeathtoLyme!
Junior Member
Member # 6677


posted

---

I'm so sorry to hear about the ignorance you are facing. Our family of 4 have all had lyme disease but we have had little understanding from our extended family. My neice tested positive for lyme with western blot from IGENX with so many reactive bands that it was unmistakable, but my brother and sister-in-law refuse to accept that and think he symptoms are psycosymatic -it's heartbreaking to us. We have tried and tried to educate them and help them to help her get treatment, but they turn a blind eye. It is so unbelievable and hurtful especially after all our family has gone through with Lyme, babesiosis and erlichiosis over the past years. People see what they want to see and it is not a reflection on you but their own ignorance. I don't know how we can get most people, family members and friends to understand what chronic lyme disease is when many, many doctors and health care workers won't recognize it. But through tireless activism from many good people WHO DO UNDERSTAND CHRONIC LYME we are making some progress hopefully. Hang in there and put your efforts and energy into YOUR health!!!!! We know what you are going through

---

Posts: 9 | Registered: Dec 2004 | IP: Logged |
Contact Us | LymeNet home page | Privacy Statement

Powered by UBB.classic™ 6.7.3

---
The Lyme Disease Network is a non-profit organization funded by individual donations. If you would like to support the Network and the LymeNet system of Web services, please send your donations to:
The Lyme Disease Network of New Jersey
907 Pebble Creek Court, Pennington, NJ 08534 USA
http://www.lymenet.org/
---
Home | Flash Discussion | Support Groups | On-Line Library
Legal Resources | Medical Abstracts | Newsletter | Books
Pictures | Site Search | Links | Help/Questions
About LymeNet | Contact Us
---
© 1993-2020 The Lyme Disease Network of New Jersey, Inc.
All Rights Reserved.
Use of the LymeNet Site is subject to Terms and Conditions.
---