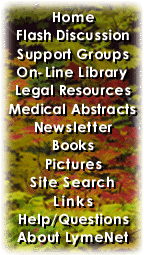 ---
LymeNet on Facebook
LymeNet on Twitter
---
---
The Lyme Disease Network receives a commission from Amazon.com for each purchase originating from this site.
When purchasing from Amazon.com, please
click here first.

Thank you.




Dedicated to the Bachmann Family


LymeNet needs your help:
LymeNet 2020 fund drive

The Lyme Disease Network is a non-profit organization funded by individual donations.

| | |
| --- | --- |
| | |
Author
Topic: Sabotage of Online Lyme Information

Eight Legs Bad
LymeNet Contributor
Member # 13680


posted

---

Hi to all friends old and new on Lymenet,

I think people might want to take a look at a website (see web address below) which may prove to be one of the most valuable tools we have ever had in understanding the motivations of those who deny our suffering.

Most of you probably know of Wikipedia, the online encycolopedia set up so that anyone can contribute and edits may be made by any member of the public. It has millions of users around the world so obviously the content of the Lyme Disease entry is very important.

Some of you might know that for months now, those of us putting up accurate and evidence-based information in the Wikipedia Lyme Disease entry have had it altered, deleted or otherwise sabotaged by those who, against all evidence, aim to convince the world that Lyme is an "overdiagnosed" and "easily-cured" disease.

Recently a computer expert created a programme which allows the user to see the sources of all edits to Wikipedia that were made anonymously. The programme received worldwide news coverage some weeks ago when it revealed that the CIA, for example, was anonymously tampering with various entries.

I think Lymies should be aware that the programmer has kindly made this tool available for free to all who wish to use it. It's on his website (see end of message). Simply key in the name of the entry you are interested in (eg Lyme Disease) and you will be presented with a list of all computers which made anonymous edits, the changes they made, their IP addresses, the date, and even a list of edits made from that IP address to other entries on Wikipedia.

When I used the tool yesterday I found close to 900 anonymous edits, including attempts to completely destroy the Lyme Disease entry or hide it from view.

Very noteworthy are the following organisations who tried to **anonymously** change the entry:

--CDC -

they were keen to insert the phrase "deer tick" -why do that anonymously?


--Department of Defense -

they removed the address of a website with pictures purporting to be microfilaria found in Lyme - I have no idea if the site is genuine or a hoax, nor what the motives of DoD were in doing that, nor why they felt it necessary to do it anonymously

--Nato base in Italy

They altered a photo of a deer tick

--Oxford University -

Added a section emphasising the "mainstream" view that the Lyme epidemic was caused by reforestation, increased deer numbers etc. Please be aware that there are alternative explanations - for example, see www.lyme-rage.info/bwsept06.html

--Unable to name due to Lymenet rules on naming doctors

(this is a former Lyme Program officer at NIH and microbiologist specialising in biological warfare, fired for harassment of Lyme disease activists in the 1990's)

His editing is viewable when you look at the entry for "Verizon, Crofton Maryland" He removed an entire section which informed readers that besides the IDSA guidelines there are also guidelines from ILADS, and other pertinent information.


The tool is available at:
http://wikiscanner.virgil.gr

I recommend that anyone who finds it useful also email the programmer Virgil, thanking him for making it available to us.

The fact that DoD and Nato are anonymously tampering with Lyme Disease information may be spooky, but I believe we have to be in possession of the truth if we are ever to make progress. A Happy Halloween to all!

Elena

--------------------
Justice will be ours.


---

Posts: 786 | From UK | Registered: Oct 2007 | IP: Logged |

hshbmom
Frequent Contributor (1K+ posts)
Member # 9478


posted

---

Hi, this is interesting.

Maybe you should put this on the Medical board.

---

Posts: 1672 | From AL/WV/OH | Registered: Jun 2006 | IP: Logged |

amk33
LymeNet Contributor
Member # 13206


posted

---

Wow, this is very interesting. I have been
exploring the possibility that I may have

microfilia that has been hindering my lyme recovery. I now think that the "floaters" in my

vision (of which I have many), may be microfilia worms. I used to think that the lyme spirochete

was what I was seeing, but since the bacteria is so small, it didn't completely make sense.

Microfilia are much larger, and would make sense. The "floaters" look very much like the

pictures that I have seen of the microfilia. I wouldn't be surprised if the government (DoD)

had knowledge of microfiliariasis in Northern America. It supposedly doesn't exist here.

Maybe one of their experiments on Plum Island?
Side note: If you look up onchoceriasis,

victims have nodules that contain adult worms. I have a lipoma that looks very much like one of

these on my back, that was unsuccessfully removed (stupid Doctor only partially removed it

7 yrs ago-when I started to get sick-and it has grown back larger). Anyway, just a theory, but

I may have this lipoma removed again and tested for parasites. I'm sure the doctor will think

that I'm crazy, though.
I wonder if any other lymies have lipomas or

cysts that could be parasite nodules.

[ 28. October 2007, 03:49 PM: Message edited by: amk33 ]

---

Posts: 418 | From NJ | Registered: Sep 2007 | IP: Logged |

Michelle M
Frequent Contributor (1K+ posts)
Member # 7200


posted

---

A very intriguing find, indeed. Thank you for alerting us.

Michelle

---

Posts: 3193 | From Northern California | Registered: Apr 2005 | IP: Logged |

TerryK
Frequent Contributor (5K+ posts)
Member # 8552


posted

---

Great find. Thanks for letting us know.



quote:

---

--Unable to name due to Lymenet rules on naming doctors

---

In addition to Ann OH's point I'd like to add that the rule to not name doctor's only applies to LLMD's. You are free to name any other doctor.

Terry

---

Posts: 6285 | From Oregon | Registered: Jan 2006 | IP: Logged |

Geneal
Frequent Contributor (5K+ posts)
Member # 10375


posted

---

That is very interesting......and disturbing.

Now why oh why would anybody want to "change" Lyme info?

Especially the CDC?????!!!!

Things that make you go hmmmmmmmmmmmm.

Thanks for the heads up info.

Very interesting.

Hugs,

Geneal

---

Posts: 6250 | From Louisiana | Registered: Oct 2006 | IP: Logged |

Vermont_Lymie
Frequent Contributor (1K+ posts)
Member # 9780


posted

---

Fascinating. Great find and thanks for sharing!

---

Posts: 2557 | From home | Registered: Aug 2006 | IP: Logged |

Eight Legs Bad
LymeNet Contributor
Member # 13680


posted

---

Thanks for the clarifications; yes it was indeed Dr. McSweegan who removed the large section desribing the ILADS view.

This morning I ran the Wikiscanner tool on the entry for Chronic Fatigue Syndrome which, as most of you know, is often caused by Lyme disease. (The UK Dept of Health has quuietly admitted Lyme is a cause of it.) Anyhow, there amongst the list of those who had made anonymous edits, was the Pentagon!

You may see it yourself if you go to the URL
http://wikiscanner.virgil.gr

The computers used to make the edits are filed in alphabetical order in the first column on the left, in the results page thrown up after you have entered your information in the form. (Please note that "The Pentagon" is filed under "T" for "The" and not under "P".)

The anonymous contribution of the Pentagon was to add an entry to a list of notable individuals who had suffered from CFS/M.E.. The person they added is "Blair Hornstine", and they were keen to note that she sued her school district because of a grudge regarding an honours issue.

I hadn't heard of Ms. Hornstine (also spelt Hornstein?), but some of you in the US may have. From the internet coveage I can see that she was a student who had been diagnosed with a "CFS-like" disease with waxing and waning symptoms (very reminiscent of Lyme). She had been allowed to study at home and skip her gym class, and she came out with the best grades in high school.

However the valedictorian award she should have got was shared with another student, as the school felt she had had some unfair advantages as a result of her disability status.

Blair sued the school district, claiming this would harm all students with disabilities if not challenged. It seems that her case polarised the community and received a fair amount of media attention.

Later she was rejected by Harvard University on the grounds she was a plagiarist. She had written articles for local papers quoting, for example, from President Clinton's speeches, without citing him. She argued afterwards that she did not realise it was necessary to cite in such a case.

The result was she received a lot of bad publicity and was somewhat disgraced in the media.

My impression is that this girl was badly treated and cynically manipulated by the media. However, by highlighting this controversial case, and especially the fact that she sued because she was not allowed to have sole possession of an award, the Pentagon have sought to portray CFS as an "excuse" used by dishonest people with ulterior motives such as litigation.

This subtle technique of "throwing in a bit of dirt" to muddy the waters is very reminiscent of techniques, brought to light by recently declassified material, that were used by the FBI in the Vietnam era to confuse and derail the peace movement.

Why is the Pentagon tampering with information on CFS, and the DoD, Nato, CDC etc tampering with information on Lyme disease? I think it's about time we had some answers.

Elena


quote:

---

Originally posted by Vermont_Lymie:
Fascinating. Great find and thanks for sharing!

---



--------------------
Justice will be ours.


---

Posts: 786 | From UK | Registered: Oct 2007 | IP: Logged |

oxygenbabe
Frequent Contributor (1K+ posts)
Member # 5831


posted

---

You can register a complaint about someone you feel is vandalizing a site. Wikipedia is quite an extraordinary community and will be helpful. They will also decide if someone is a "sock puppet" ie just came on with a bias/grudge to vandalize a site or harrass a user. OTOH it's a democratic forum and the whole point is people making changes, from all over the world.
Eva Sapi found microfilarial worms in the ticks but hasn't published that work yet. Once it gets published, it will be citeable.

---

Posts: 2276 | From united states | Registered: Jun 2004 | IP: Logged |

Greatcod
Unregistered



posted

---

This is also posted in Med Questions. I think it very significant that one of the most prestigious journals in the world would print it.

Letter to the Editor, published On Line:
www.Lancet.com (Rapid response)
This Story On Lancet.com
By Virginia T. Sherr, MD
11-22-05
(Word Count 498, including references)


Phillips, Harris, Horowitz, et al hit the target squarely. Their concern is the overriding significance of an invisiblized but nonetheless serious infection caused by an extraordinarily complex neurotropic spirochete. Its pandemic is approaching severity that was experienced throughout the world in the Spanish Flu of 1918. The causative spirochete is, of course, less immediately fatal than was the virus of that epidemic, but it is deadly, nonetheless, to the human brain. (1)

The fact that the causative spirochete, B. burgdorferi, is being studied as an agent of biowarfare in the USA(2) adds impetus to a need for quick education of most of the world's academic physicians as to what has been sensed at the clinical level for a long time: we are dealing here with a formidable "smart stealth" type of bacteria that is hard to eradicate--one that does extreme damage to psyche and soma if not treated aggressively over the long term when missed in the first days following inoculation by the vector. (Announced recently: "UTSA Opens New Bioterrorism Lab--A new research lab for bioterrorism opened Monday at the University of Texas at San Antonio. [San Antonio AP]. The $10.6 million M. B. Tobin Laboratory Building will provide a 22,000-square-foot facility to study such diseases as anthrax, tularemia, cholera, Lyme disease, desert valley fever and other parasitic and fungal diseases. The Centers for Disease Control and Prevention identified these diseases as potential bioterrorism agents.")(3)

An excerpt from a patent application related to biowarfare research reads: "We plan to use Borrelia burgdorferi, the arthropod-borne etiologic agent of Lyme disease and Yersinia pestis, the etiologic agent of plague, as our principle test agents to work through the systems. We will begin with B. burgdorferi since although it has a complicated life-cycle involving both arthropod and animal intermediates, it is easy to grow and we have extensive experience in working with it in different complex environments including ticks, rodents and human samples." (4)

Medicine worldwide has not been successful in dealing with persistent Lyme by maintaining its concept of it as a geographically localized nuisance disease caused by a simple spirochete previously described as "Easy to diagnose (Bull's Eye rash, swollen major joint, Bell's palsy, etc.) and easy to treat (One day to 3 weeks of an antibiotic)." Organized Medicine has mostly ignored or deserted the field of neuro-Lyme's currently immense proportions, internationally. The diagnosis and treatment of human Lyme as led by the "diagnose-and-treat-by-the-old-Guidelines" types of powerful but passé medical thinking, the clinging to outdated medical dogma about tick-borne diseases, is no longer tolerable.
--------------------------------------------------------------------------------
Posts: 823 | Registered: Mar 2005 | IP: Logged

---

IP: Logged |

Freethinker
Member
Member # 13002


posted

---

Miss Elena, THANK you for the Wiki remover tracker...that is just AWESOME and one heck of
a useful tool.

...and as far as DoubleOH McSweegan goes:

NIH's Edward McSweegan, Qui Tam Boy, the Bioweapons FREAK, himself. This person chronically harasses all Lyme victims, bugs their phones, works for SmithKline and Yale, and the State of CT nor the FBI will do anything about it, even though anonymous internet harassment is a federal crime. He even writes about mothers of children who have Lyme disease, and says we put ticks on our children while they sleep.



--------------------
Stop Lyme Cryme!

-Data Over Dogma
Evidence Over Egos
Patients Over Politics.
-EJ Masters

Peer Observations Magazine


---

Posts: 40 | From Southern Illinois | Registered: Aug 2007 | IP: Logged |

blazinglyme
Member
Member # 13320


posted

---

WOW!

Thanks for sharing that informaiton!

Boy the goverment sure does things to make u think what r they up to next!

Only makes me believe how i feel even truer!

Thanks again for the information!

best wishes

--------------------
don't give up the fight


---

Posts: 49 | From Frankford, DE | Registered: Sep 2007 | IP: Logged |

Robin123
Moderator
Member # 9197


posted

---

Maybe this info could be reposted in medical?

---

Posts: 13084 | From San Francisco | Registered: May 2006 | IP: Logged |

Eight Legs Bad
LymeNet Contributor
Member # 13680


posted

---

quote:

---

Originally posted by Robin123:
Maybe this info could be reposted in medical?

---

Sure, I'll do that.

--------------------
Justice will be ours.


---

Posts: 786 | From UK | Registered: Oct 2007 | IP: Logged |
Contact Us | LymeNet home page | Privacy Statement

Powered by UBB.classic™ 6.7.3

---
The Lyme Disease Network is a non-profit organization funded by individual donations. If you would like to support the Network and the LymeNet system of Web services, please send your donations to:
The Lyme Disease Network of New Jersey
907 Pebble Creek Court, Pennington, NJ 08534 USA
http://www.lymenet.org/
---
Home | Flash Discussion | Support Groups | On-Line Library
Legal Resources | Medical Abstracts | Newsletter | Books
Pictures | Site Search | Links | Help/Questions
About LymeNet | Contact Us
---
© 1993-2020 The Lyme Disease Network of New Jersey, Inc.
All Rights Reserved.
Use of the LymeNet Site is subject to Terms and Conditions.
---