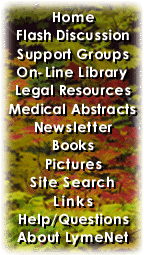 ---
LymeNet on Facebook
LymeNet on Twitter
---
---
The Lyme Disease Network receives a commission from Amazon.com for each purchase originating from this site.
When purchasing from Amazon.com, please
click here first.

Thank you.




Dedicated to the Bachmann Family


LymeNet needs your help:
LymeNet 2020 fund drive

The Lyme Disease Network is a non-profit organization funded by individual donations.

| | |
| --- | --- |
| | |
Author
Topic: Stay in or drop out of school????

Draba
Member
Member # 14589


posted

---

I'm not getting better, and am really having issues keeping up with school; I can't deal with the homework. My mom was being horribly mean today (this is EXTREMELY rare. She has lyme so maybe that is it), but she thinks that I am slacking off, and not trying, which is so unfair. I'm trying my hardest. It is soooo horrible to be trying so hard, and be getting no where. She doesn't believe me, because I am able to go to the horse ranch, read books for fun, play video games, etc., but not being able to work or deal with school. My reply is that I am too depressed and stressed out, and I have to do some things for fun so that I don't go crazy or get so depressed that I do something crazy. I am extremely academic, and used to get good grades, so this is really hard for me. I have been able to deal for most of this year, and I think my mom expects me to still be able too.

Now my mom is saying she won't drive me to school unless I do some work, and if I don't go tomorrow, she is pulling me out!!!!! ;(


Also, my parents are making me sell my horse (I got an offer for her yesterday. Thankfully she's staying at the same ranch). I found out I'm allergic to them about the time I found out I had lyme (Aug.), and so I've had to stay away from the ranch, which is the worst thing for me because riding is my life.


OK. I'm done. I have no one sympathetic to my side of things at the moment (except my dad to some extent, and he's on a buisness trip).

Sadly,

-Confused and upset Draba

P.S. I'm in highschool

--------------------
Really tired of being sick. Wanting to go to college and have a life. Really happy that I have a puppy.


---

Posts: 66 | From My room | Registered: Feb 2008 | IP: Logged |

Geneal
Frequent Contributor (5K+ posts)
Member # 10375


posted

---

Dear Draba,

How old are you? I don't think it is legal to just get pulled out of school.

I think the cut off is 16 years old.

Then what? GED? Alternative Certificate?

I know how difficult it must be to be struggling along and no one

Understanding how you are feeling.

I (being many, many years older) would stay in school.

Here there are only 29 school days left to the school year.

Maybe you can pass a few classes and continue to at least earn some carnegie units.

It may not seem that important now, but one day when you are feeling better,

It will be very important to have that HS diploma.

Hang in there. Sorry about your horse.

Maybe as your Lyme improves your allergy will too.

Hugs,

Geneal

---

Posts: 6250 | From Louisiana | Registered: Oct 2006 | IP: Logged |

knshore
LymeNet Contributor
Member # 13451


posted

---

Draba,
I don't really know what to say, other than share my experience with you. I am in High School too. I had to drop out in November of '07. I was in a really rigorous program, and was simply unable to keep up with all the demands of it.

I am now in online school which has been a tough transition for me. We had to hire tutors 3 days a week so I was forced to do the work, because there are no deadlines.

I don't know if you have talked to your teachers about your illness, but it might be a good idea. If it is at all possible, can you stick it out until the end of the year? I know that school doesn't get out for about 2 months, but it might be the best thing.

THe reason I say that is because if you do go with something like online school, you will lose all the work you have done up until now in this semester of the school year. (does that make ANY sense? LOL

I don't know if this helped you at all, but if you have ANY questions, let me know! You can PM me, and I think you have my email address.

Be well!

---

Posts: 215 | From Student | Registered: Oct 2007 | IP: Logged |

njlymemom
LymeNet Contributor
Member # 15088


posted

---

Dear Draba,

My heart breaks hearing what this is like for you. I have 3 children with lyme, and they are all home ill today. 2 are in HS taking honors and ap courses. The stress and strain on them is difficult to watch.

I just hate this disease. It has robbed all 3 of my children of childhood. If your mom is suffering too, it may be overwhelming for her to have to watch you struggling. I know for me watching my girls burdened with this chronic illness sometimes is too unbearable. Us old people just assume that all teens should have this boundless energy....not all understand as I am sure you know. Some of my kids friends really don't understand.

I have stressed for my kids that they know their guidance counselor. She has been a great resource or go-between when work gets to be too much. I don't know if you have a 504 or IEP, but if you do their should be accomodations in these documents to help you. Your teachers should know tht you are ill, I hope they do.

I am so sorry about your horse. We are pet people here, and I know how much they become part of our lives.

Try turning to your mom again....maybe it was just a rough day for her yesterday. School is so important. Don't let lyme rob you of your education. I hope you turn to an adult near you who you can trust to help you with this.

God bless you........

--------------------
This is NOT medical advice - and should NOT be used to replace your MD's advice. Info is only the opinion of those who publish the site.


The shortest way to do many things is to do only one thing at a time.

cb


---

Posts: 669 | From somewherebetweentherocks | Registered: Mar 2008 | IP: Logged |

hshbmom
Frequent Contributor (1K+ posts)
Member # 9478


posted

---

Hi Draba,


I'm sorry for all the junk you're going through.


You need several things. Other than support and understanding, you need:


# 1 Your parent, a concerned teacher, physician, or other adult needs to write a simple letter to the school requesting a complete evaluation.


See the education information for students with Lyme at:


http://tinyurl.com/27cmry


Do you have a trusted teacher or pastor who knows you well and knows you're not shirking your duty or trying to get sympathy. Ask if they'd be willing to write a letter to the school requesting an evaluation. The letter can be from any concerned adult.


Keep a copy of the letter in your file at home. Send the original to the school with return receipt postage so you'll know they received the letter. The school should contact you within 10 days to set up the initial referral meeting. If they don't contact you, then you'll need an education attorney who is willing to learn about Lyme disease.


# 2 You need your physician to write a letter to your school principal stating you're under his care and that you have Lyme disease. He can add a couple sentences that shows how Lyme affects your school work...


(...the illness causes you to be frequently absent, frequently tardy, fatigued, ...or sleep problems interfere with completing your homework in a timely manner, etc...)


# 3 You need a neuropsychological test to document your cognitive problems due to Lyme disease. These tests should be covered if you have health insurance. It is essential to have this testing done by someone with experience with Lyme disease or they will not be able to correctly interpret the results of this test.


You know you're not lazy or just trying to get out of school. You're sick. This illness can affect your ability to do your school work; it can cause fatigue and difficulty sleeping. It can impair your memory, thought processes, concentration, attention and your delay speed.


It would be helpful to print a copy of the ABCs of Lyme Disease from the LDA (or is it from the LDF?) You can give a copy to your teachers, the principal, teachers, school nurse, guidance counselor, or other interested adult who works with students.


Any information that discusses children's & adult's neuropsychological problems due to Lyme disease would be useful, such as information at the Columbia University Lyme Research Center.


You might want to do a Google search for Columbia + neuropsych + children so you can find the link/information before I find it.


You don't have to drop out of school. If your doctor thinks it is needed, a teacher come to your home. It won't cost you a penny...it's your right as a child with a disability...a physical disability due to an infection.


A teacher can come to your home on days you can't attend school. You may be able to attend school 3 or 4 days a week, with a homebound teacher for the 4th or 5th day. You may be able to attend school half days, with a tutor the rest of the day if you're physically able to have one.


The school can shorten your day (to one class, half day, whenever & whatever you can tolerate), or provide time for naps and study halls so you can get your work done at school. They can automatically give you your written assignments when you happen to miss class.


They can provide you extra time for assignments and tests, in a quiet environment. They can give you one set of books to keep at home so you don't have to remember to take them home or wear yourself out carrying them home.


They can give you a copy of the teacher's notes or outline, or copy a student's notes for you on the...either every day, or on days when you miss.


They can arrange your schedule to fit your ability...easier classes in the mornings if mornings are difficult for you. They can reduce the amount of homework you are given. They can give you multiple choice exams.


These modifications to your schedule and requirements are called accommodations. Accommodations can be given to you through a 504 plan or an IEP (individual education plan provided by the special education department).


The IEP is more thorough and more tailored for you. It is also more legally enforceable. An IEP will have concrete goals and ways to measure your achievment. Some schools ignore a 504, although it is enforceable through Civil Rights law.


Do you have any positive Lyme tests to support the diagnosis of this illness? That would be a huge plus, but is something you have no control over (result wise).


Have you had a blood smear test from Fry Labs in Arizona? Photos of the bacteria or protozoa in your blood are difficult to dismiss. I don't know if this test is covered by insurance.


The Central Florida Research Lab has a test for the bacteria, not just the antibodies to the bacteria. If they see the bacteria in your blood, that's hard to ignore or trivialize. This test is covered by insurance.


As you've learned, blood tests for Lyme are not 100% accurate. Your tests may come out negative even when you have an active Lyme infection. The bacteria disseminates from the bloodstream to tissue, where it isn't detected by your antibodies. This disease screws up your immune system.


I'm very sorry about your horse. That stinks. Do you feel like you're selling your sister?


Are you in counseling? It would really help you and your family if everyone could go to counseling.


Educate yourself and your parents if you can about the school's responsibility to you. Look up your state education department on the Internet and look up your state's special education laws.


Children with Lyme disease frequently qualify for Special Education through the "Other Health Impaired" classification. Special Ed is an umbrella for lots of categories of children, from talented & gifted children, to those with physical disabilities, or those with learning disabilities. Don't fear a Special Ed label Draba.


Right now you need support and the school can make school a good experience, even when you're sick. You can be successful in school and you don't have to drop out because you're having problems due to your health.


You may want to contact Jeff (JeffM?) from California. He's a dad here on Lymnet that has a child with Lyme. He's a great resource for education issues. He was the director of special ed for several years.


Hang in there Draba...you're in a battle...for your health and for your education. You have what it takes to succeed.

---

Posts: 1672 | From AL/WV/OH | Registered: Jun 2006 | IP: Logged |

misika
Member
Member # 15020


posted

---

Oh this just breaks my heart.

Please do whatever you can to stay in school. You will regret it later if you don't. It will be too hard to catch up to pop back into school. And it sounds like there are some great resources to help you through it. Take advantage of them. Because when you lick this Lyme, and I know you will some day, you will need an eduation to be able to get a great job and afford all those horses you are going to want!

And my daughter has a horse as well. Some days that is the ONLY thing she has energy to do. She goes to school, she goes to the barn, and she comes home and collapses. And thats okay, because its good for her to be there. I truly believe horses are therapeutic. I personally would never make my kids sell their horses unless it was a financial problem.

We have a deal though. If she has missed school and spent the day in bed, she cant go to the barn. She has to find one of her friends to work her horse instead. And that is fine too. Because I know when she is willing to give up her time with her horse, that she really really is too sick to go do anything else and that includes school.

Also, I agree totally with knshore about talking with the teachers. Have your mom or doctor write a note and explain what has been going on and that you may need a little extra help. My daughter's teachers have been fantastic so far.

Good Luck Draba - Please try to stay in school.

---

Posts: 19 | From Chicago | Registered: Mar 2008 | IP: Logged |
Contact Us | LymeNet home page | Privacy Statement

Powered by UBB.classic™ 6.7.3

---
The Lyme Disease Network is a non-profit organization funded by individual donations. If you would like to support the Network and the LymeNet system of Web services, please send your donations to:
The Lyme Disease Network of New Jersey
907 Pebble Creek Court, Pennington, NJ 08534 USA
http://www.lymenet.org/
---
Home | Flash Discussion | Support Groups | On-Line Library
Legal Resources | Medical Abstracts | Newsletter | Books
Pictures | Site Search | Links | Help/Questions
About LymeNet | Contact Us
---
© 1993-2020 The Lyme Disease Network of New Jersey, Inc.
All Rights Reserved.
Use of the LymeNet Site is subject to Terms and Conditions.
---