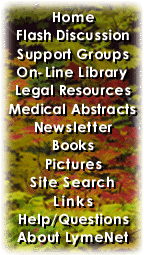 ---
LymeNet on Facebook
LymeNet on Twitter
---
---
The Lyme Disease Network receives a commission from Amazon.com for each purchase originating from this site.
When purchasing from Amazon.com, please
click here first.

Thank you.




Dedicated to the Bachmann Family


LymeNet needs your help:
LymeNet 2020 fund drive

The Lyme Disease Network is a non-profit organization funded by individual donations.

| | |
| --- | --- |
| | |
Author
Topic: Seven Habits of Highly Effective Lymies?

moosejive
Member
Member # 14545


posted

---

I see a lot of threads on here where people share medication and supplement experiences, but few about the more behavioral aspects of recovery.

While I certainly believe that one can achieve better living through chemistry, I have to believe that there's more to this process than just waiting for the drugs to kick in, you know?

Does anyone have any insights on this? What habits and activities have helped all of you the most along the path to wellness?

---

Posts: 20 | From Portland, Oregon | Registered: Feb 2008 | IP: Logged |

Lymetoo
Moderator
Member # 743


posted

---

I have a list of 10 or so in my story below. Too lazy to type them out again....and I'd have to go look at my own story [ ] and/or do some THINKING!!!

WELCOME!!

--------------------
--Lymetutu--
Opinions, not medical advice!


---

Posts: 94976 | From Texas | Registered: Feb 2001 | IP: Logged |

hshbmom
Frequent Contributor (1K+ posts)
Member # 9478


posted

---

Eliminate or reduce the contact you have with hostile or non-supportive people, or those who think you're being deceptive...set boundaries for your communication and contact.


It takes a lot of energy to "prove" you are truly sick when people don't want to believe you or your family members are sick. You don't have to prove you are ill to anyone. Take care of yourself and do the best job you are able.


Ask others for help when you need it.


Rest when you need to rest.


Make your "To Do" list and do complicated tasks at a time when your brain is functioning the best.


Get help to become organized if you need it.


Say "no" without guilt to activities that are not essential.


Take the time to enjoy your family.

---

Posts: 1672 | From AL/WV/OH | Registered: Jun 2006 | IP: Logged |

hurtingramma
LymeNet Contributor
Member # 7770


posted

---

Some of my strategies for dealing with lyme include mostly body work. I see a chiro every three weeks, PT once a week, and Ai Chi (T'ai chi done in a 90 degree salt water pool) twice a week. The Ai Chi is the best thing I have ever done for myself. I highly recommend it to everyone. I also have a Watsu (underwater massage) periodically, when I can afford it.

I also stay away from loud, noisy places and tend to prefer being by myself, for the most part. Of course, this is hard to do with another lymie living in the house!

I walk daily and truly believe that if I did not take the time to do this and the other things mentioned about, I would be totally disabled. Use it or lose it, if at all possible.

And, of course, there is eating properly. Sometimes that's the hardest to adhere to!

--------------------
"Few of us can do great things, but all of us can do small things with great love". Mother Theresa

http://www.facebook.com/profile.php?id=1629665573&ref=name


---

Posts: 938 | From Northeast Kingdom Vermont | Registered: Aug 2005 | IP: Logged |

lymemommy
LymeNet Contributor
Member # 12495


posted

---

I agree whole-heartedly that medication is not the total answer. Not for any chronic illness.

Prior to my child becoming ill, I worked in the mental health field and I can say with absolute confidence that medication alone did not do the trick. People needed to tend to the personal components of their lives: family, work/daily activities, finances, socialization, ect.

Isolation, poverty and a bottle of pills will not make a healthy person. But building a positive support system, developing coping skills relevant to that persons health condition, addressing basic daily needs, even on a limited budget, and allowing a person the opportunity to identify and pursue personal interests, these things add up to a healthier person.

Although my experience is from working with persons with psychiatric disabilities, I believe that what I described above could apply to any person.

People are not their illnesses, but rather the illness is an aspect of a persons life. You have to tend to the whole life to get better.

take care.
kp

---

Posts: 394 | From tinton falls nj | Registered: Jul 2007 | IP: Logged |

sixgoofykids
Moderator
Member # 11141


posted

---

The biggest help to me has been the support of my family. With six children, it's a busy household.

The kids help with the housework and if necessary they do it all. They know they're needed.

They have also adjusted to my memory issues by leaving me notes. Every day there are separate notes for each thing I need to do the next day. They know that if they don't leave me a note, they will likely end up walking home from their activity.

I do things when I have the energy, and I rest when I don't.

--------------------
sixgoofykids.blogspot.com


---

Posts: 13449 | From Ohio | Registered: Feb 2007 | IP: Logged |

lou4656
Frequent Contributor (1K+ posts)
Member # 10300


posted

---

Meditation and positive affirmations.

Meditation changed my life. It helped me cope with the symptoms and pain.

--------------------
LouLou


---

Posts: 1276 | From maryland | Registered: Oct 2006 | IP: Logged |

kam
Honored Contributor (10K+ posts)
Member # 3410


posted

---

Not able to read what others wrote right now.

I also do not feel I am highly effective or affective in regaining my health.

I would like to communicate via the keyboard some thoughts I have on what I believe has helped me to cope with this and slowly improve or be able to do more.

I have learned that people will drain me so need to limit how often I am aroun dpeople and who I am around.

I need lots of quite time.

Being able to be in the National Forest even if it is lying down while I am there or being on my feet and feeling "normal" for almost 20 minutes is something I look forward to. (It is 10 min away via car so easy for me to do)

Help from others have made a big difference.

I started functioning a little higher after taking supplements and xango.

I also started doing a lot better after receiving the car donation and the reclining power chairs.

Wheels make life so much more do able.

Water therapy is also something I look forward to.

Having enough funds for food makes a big difference too. "If it is white, it ain't right" food intake helps me too" Gluten free/sugar free including no sugar free chemicals.


My service dog.

Getting sleep even if it means using sleeping pills.

When things are getting to me, trying to refocus on the positives instead helps me.

Having the funds for the lyme doctor and keeping in touch with him at least every 3 months makes a big difference too.

The computer. Connecting with others with lyme.

Trying to pay attention to my brain and body and not over doing it.

Doing what I can when I can.

A little each day verses doing too much one day and not able to do anything for several days/weks or months afterwards.

I talk to God a lot via the keyboard.

I am selective on what I watch on TV. Need uplifting positive movies, etc.

Wear ear muffs to lower noise imput

Drive on back roads. Stay within my limits of driving.

Keep things simple

Grocery shop in the early morning before the crowds get there.

Try to find things I can be successful at:

Currently able to do my own grocery shopping using the senior van and my power chair,

walk 5 to 20 min in the forest...averaging 10 min,

sometimes able to do my own laundry

and fix simple meals,

able to have short, simple conversations with people,

able to take a stand up shower once or twice a week now,

able to wash my dog about once a month now,

sometimes just get in the car and go for a short drive on back roads,

sometimes just get in the power chair and go for an outing on quiet, back roads.

Get in the power chair and go for a cruise on a back road to lift my spirits at times.

[ 19. April 2008, 11:40 AM: Message edited by: kam ]

---

Posts: 15927 | From Became too sick to work or do household chores in 2001. | Registered: Dec 2002 | IP: Logged |

Peck
Member
Member # 14526


posted

---

I feel very much alone in my quest for better health. The support I have is limited. My sister is the only one who understands the illness and she lives elsewhere.

I don't talk about it that much because the frustration of having to "prove" I'm sick is more than I can stand.

I've been out of work for 7 months and today I spoke with a coworker who compared my being out to someone in the office who is allegedly not sick. I was steaming.

I'm whining, I'm supposed to be giving good ideas....

meditation
designing my garden in my head, sometimes putting it down on paper.

sitting outside with my kids and my dog

I haven't aced the sleeping thing yet. Still working on that.

Just re-started PT, I'm hopeful that will help.

Just started some new vitamins...again I'm hopeful.

researching a healthy diet

trying not to dwell as much as possible.

I really want to do acupuncture but I can't afford it right now. Someday......

reading is frustrating so I do the magazine thing.

I have informal last minute dinner parties when I'm up to it for a couple of friends and their kids. It's wonderfully social and everyone has someone to talk to.

We usually have "movie night" during it.
The kids downstairs and adults upstairs.
sweatpants is the dress of choice.
Comfy and casual.

--------------------
simplify....


---

Posts: 96 | From Rhode Island | Registered: Jan 2008 | IP: Logged |

bejoy
Frequent Contributor (1K+ posts)
Member # 11129


posted

---

1) Write out a daily protocol, with times for doing each simple thing, such as 8:00 take pills, 9:00 injection, 10:00 drink water, 11:00 sweat.

The protocol may need to change once a month or so.

2) Get a large pill box with four compartments a day. Fill it once a week. Include probiotics in it, and keep it in the fridge.

3) Get one of those small waterproof pill cases on a string that you can wear around your neck. Put the next dose of pills in it if you plan to leave the house, so you won't miss a dose.

4) Carry a small handbag with a long across the shoulder strap at all times. Keep cell phone (keep turned off unless you think you need it), keys, pill case (if not wearing one on a string) and small notebook and pen in it.

5) In the notebook, record conversations, phone numbers, directions, shopping lists, pin numbers, and things you will not be able to remember in a neuro moment. If it's part of your body, it will always be with you when you need it.

Don't tear out the pages. When the notebook is full, get a new one, and keep the old one by your desk so you can reference stuff you have forgotten.

6) Tell people you have Neuro-Borreliosis, an antibiotic-resistant infection of the central nervous system. If they ask friendly questions, talk to them again.

If they give you the blank stare, or start trying to one-up you with their illness, avoid discussing anything personal with them in the future.

7) Refuse angry people. If someone tries to fight with you, tell them you have no room for their anger in your life.

Tell them that if they would like to make a loving or respectful request, you will consider it. If they persist in anger, tell them you need to go now, and then hang up or walk away.

8) Sleep. Protect and defend your sleep. Consider sleep as important as your medications, and insist that it not be disrupted.

9) Be open minded about treatment. Use whatever treatments make sense to your mind. Even if you trust your doctor, read whatever you can find before taking anything, whether mainstream or unusual. If you can't read it, and have a supportive partner, see if they will.

10) Stick with lymenet and/or a local support group for the duration.

Oh sorry, that was ten.

--------------------
bejoy!

"Do not go where the path may lead; go instead where there is no path and leave a trail." -Ralph Waldo Emerson


---

Posts: 1918 | From Alive and Well! | Registered: Feb 2007 | IP: Logged |

WildCondor
Unregistered



posted

---

1- positive attitude
2-emotional support
3-exercise
4-high quality sleep
5-proper nutrition
6-hope & faith
7-determination

---

IP: Logged |

Lauralyme
Frequent Contributor (1K+ posts)
Member # 15021


posted

---

Thank You hshbmom! You just stated exactly what I have been feeling. I have to eliminate any contact with people who don't believe me. The first step in support is believing me.

I left way too many Dr's offices feeling angry as they didn't believe me. I can't relive that feeling with my friends.

Great thread moosejive. In my limited experience I would say diet, exercise and the wonderful people on lymenet!

--------------------
Fall down seven times, get up eight
~Japanese proverb


---

Posts: 1146 | From west coast | Registered: Mar 2008 | IP: Logged |

aklnwlf
Frequent Contributor (5K+ posts)
Member # 5960


posted

---

1-Maintain spiritual life
2-Exercise with pet
3-Manage negative emotions thru book 'SOS help for Emotions'
4-Read
5-Learn anything
6-Supportive contact
7-Grateful attitude

--------------------
Do not take this as medical advice. This comment is based on opinion and personal experience only.

Alaska Lone Wolf


---

Posts: 5126 | From Columbus, GA | Registered: Jul 2004 | IP: Logged |

AZURE WISH
Frequent Contributor (1K+ posts)
Member # 804


posted

---

1. must have a cat

2. get enough sleep (which means listening to my body's definition of "enough")

3. Avoid overexertion

4. Reduce all forms of stress as much as one's circumstance's allow

5. Diet (eating healthy and alterning it to changes in nutritional needs or secondary issues (food allergies, yeast, if i need to gain weight etc)

6. Being able to identify The things that make me sicker so i can try to keep them to a minimum

7. lymenet/lyme chat

8. It is good if you have people that can really help you so that you can sleep enough not run yourself down.

9. Have something you "do" be for you - something you enjoy - that resonates with your self identity. It doesnt have to be anything big or energetic and it may be a VERY watereddown version but still helps.

10. Prioritize - decide what is most important and necessary (lists are good)
certain things need to be done in a certain time frame (like eating) but stuff like vacumming can get pushed back as many times as necessary

--------------------
multiple chemical sensitvity group:
http://www.lymefriends.com/group/multiplechemicalsensitivities

Group for artists. All media welcome:
http://www.lymefriends.com/group/creativecorner


http://groups.yahoo.com/group/Lyme_Artist


---

Posts: 3860 | From nj,usa | Registered: Mar 2001 | IP: Logged |

moosejive
Member
Member # 14545


posted

---

Thanks everyone, for your replies.

This is sage advice that I will heed in full.

---

Posts: 20 | From Portland, Oregon | Registered: Feb 2008 | IP: Logged |
Contact Us | LymeNet home page | Privacy Statement

Powered by UBB.classic™ 6.7.3

---
The Lyme Disease Network is a non-profit organization funded by individual donations. If you would like to support the Network and the LymeNet system of Web services, please send your donations to:
The Lyme Disease Network of New Jersey
907 Pebble Creek Court, Pennington, NJ 08534 USA
http://www.lymenet.org/
---
Home | Flash Discussion | Support Groups | On-Line Library
Legal Resources | Medical Abstracts | Newsletter | Books
Pictures | Site Search | Links | Help/Questions
About LymeNet | Contact Us
---
© 1993-2020 The Lyme Disease Network of New Jersey, Inc.
All Rights Reserved.
Use of the LymeNet Site is subject to Terms and Conditions.
---