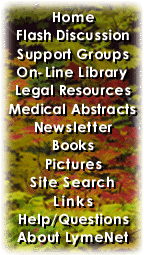 ---
LymeNet on Facebook
LymeNet on Twitter
---
---
The Lyme Disease Network receives a commission from Amazon.com for each purchase originating from this site.
When purchasing from Amazon.com, please
click here first.

Thank you.




Dedicated to the Bachmann Family


LymeNet needs your help:
LymeNet 2020 fund drive

The Lyme Disease Network is a non-profit organization funded by individual donations.

| | |
| --- | --- |
| | |
Author
Topic: 2008 LymeNet FundDrive

Lou B
Administrator
Member # 64


posted

---

Dear LymeNet Users, Friends and Family,

In 1996, after many years of mystery illnesses, our daughter, Lori was diagnosed with Lyme disease. We searched for answers to the fears we were facing about our daughter's illness and we found the Lyme Disease Network - LymeNet. LymeNet is a terrific source of information and comfort especially to the newly afflicted or misdiagnosed patients who have unanswered questions. Through LymeNet we found a caring doctor who treated our daughter for over 4 years. She is doing well but we still need to fight this horrible disease.
Lori's story is at: http://www.angelfire.com/nj/lorib/

The non-profit Lyme Disease Network, http://www.lymenet.org operates entirely on individual donations and is responsible for the LymeNet series of services available on the Internet since 1994. It's absolutely necessary that we support LymeNet to continue educating the public about the prevention and treatment of Lyme and other tick borne diseases.

Thanks to the LymeNet Flash Discussion Board, http://flash.lymenet.org we've found friends who truly understand that no one is immune to these diseases, are caring and willing to help other victims understand these diseases.

We realize LymeNet can not survive without our help and we are asking you to please join us in making a donation to LymeNet at this time. Please ask your friends and relatives to join in our fight against these horrible diseases. We hope, with all our hearts, that you can and will donate. We MUST keep LymeNet alive and running. Let's hope that this year will see the beginning of the end of Lyme and other tick borne diseases!!!
You can read more about LymeNet here: http://www.lymenet.org/about.shtml
The LymeNet story is here: http://flash.lymenet.org/scripts/ultimatebb.cgi?ubb=get_topic;f=3;t=006842#000000

Thank you for your generosity and continued support of LymeNet. Donations can be made via PayPal by clicking on the ``MAKE A DONATION'' button, on the upper left of all LymeNet website pages. Checks made payable to The Lyme Disease Network or LymeNet, can be mailed to the address below. As in past years, we will post our goals and progress on the LymeNet Flash.

Thank you,
Lou & Angela Bachmann
Questions? Email: [email protected]
-----------------------------------------------------------------------

Please return this section with your DONATION check made payable to:

The Lyme Disease Network
43 Winton Road
East Brunswick, NJ 08816

Donation Amount $___________ LymeNet Tax ID #521755119
Name ________________________________________________
Address ______________________________________________
Email ________________________________________________

Thank you for your support.

--------------------
Lou B



---

Posts: 2200 | From Mount Hope, New Jersey, USA | Registered: Oct 2000 | IP: Logged |

bettyg
Unregistered



posted

---

...to all when coming on here and chose the top 20 posts today, the below was read by someone, and i thought it was timely to copy lou's entire post here for 08 campaign to give you HISTORY/BACKGROUND ....


also, i'm breaking up any really LONG paragraphs from tom brown or anyone else for easier comprehension/reading for us neuro lymies! Bettyg
***********************************


Author Topic: LymeNet Budget, Technology Q&A, General Q&A, Team and Moderators


Lou B
Administrator
Member # 64
posted 17-08-2005
02:37 AM
----------------

Hi LymeNet users,

I'm initiating this Topic thread in order to put all the information into one place and make it easier to read, comprehend and understand.

=============================================
LymeNet Budget 2005-06 by Bill Stolow:
*************************************


LymeNet has been and always will be a place to express your opinion and listen to those of others.


As for the promised upgrades and improvements, which have as yet not been implemented, our dedicated team of volunteer system engineers have told me that all of them will be completed by the end of September, with the new faster server connection in place by the end of August.


We ask that you consider sticking with us, supporting us, and continue to meet and learn on the LymeNet site.


Like you, we are Lyme victims. We do know the stress this disease causes. We have the same physical, emotional, and financial woes that you have.


We, too, want LymeNet to be a place where people feel comfortable and safe. LymeNet and the Lyme Disease Network began fifteen years ago as our way of paying back for the help we received when Lyme changed our lives in 1989.


It has always been our intention that LymeNet would serve that purpose for others. People can come, learn, get support, and then do the same for the next person.


I have placed below our budget for 2005-06, which includes an explanation of how your donations are spent and why we have set a $7,500 goal.

I wish all of you Good Health.


Bill Stolow
Lyme Disease Network of New Jersey, Inc.


Operating Budget - 2005-06
*****************************

Server Connection - $3,000/yr

Cable Modem LymeNet Office - $600/yr

Office Supplies - $400/yr

Gov't Fees - $100/yr

Domain Name (5) Fees - $100/yr

Donations/Ads - $500

Total Operating Budget - $4,700/yr

Capital Reserves - $2,800*


* In 2004 prior year reserves were depleted due to aging equipment replacement and shortfall of fund raising goals.

Total Funding Goal 2005-06 Campaign - $7,500*
------------------
Bill
=============================================

LymeNet Technology Q&A by Tom Brown:
************************************


So let me address some of the questions, comments, and criticisms in the hope that the details will help everyone better understand our thought processes and the reasons for our technical direction.


Why is LymeNet's Internet site so slow, and why is the search feature so unreliable?


Some of the users have expressed dissatisfaction at the slowness of the Search feature, the slowness of the connection in general, and other problems with the system, and you have every right to feel this way.


We had indicated previously that these problems would be remedied, and that has not happened to date. It is important that you know the reasons for this.


Our systems are running on 7-year-old servers, and on a communication line which has not kept up with our growth.


To set the record straight, we have about 6800 registered users and about 150,000 active posts at any given time.


I won't go into specific traffic numbers here, but it has grown by a factor of 100 in the past few years, even though our Internet connection has remained the same speed.


Immediately following the previous fundraiser, we utilized some of those funds to purchase a new server and began configuring new forum software to accommodate our growth and add new features.


This is in "staging" now and ready to go with a bit of migration work.


It has been several months since the last fundraiser, and since the LymeNet community was told improvements were on the way. What is the holdup?


The biggest stumbling block until very recently was the inability to obtain faster business-class Internet service in our area while staying within the bounds of what our budget would allow.


We were given promises of service availability by various ISPs in the past, but when we gave them the green light to proceed they indicated it would not be available in the area where our servers will be hosted until September -- a major blow to our schedule.


I am happy to report that this has now been resolved, and we should soon be able to increase the speed of our connection considerably beyond what we originally expected, and we will also save money in the process.


Why pay so much for the Internet connection?
******************************************


We have received several well-meaning suggestions and questions about why it costs so much to run LymeNet, and about why we host our own systems to begin with.


First of all, we do not use "consumer-grade" DSL service as can be ordered for $40 from most local DSL providers.


In order to run a service such as LymeNet, you need business-class Internet service with static IP addresses and the ability to control DNS zones. This comes at a premium, and requires long-term (i.e. not month-to-month) contracts.


And it is not just a matter of plugging in a server to a "DSL modem" ...

in order to run a service such as LymeNet, you have to have a DSL gateway, a router, a firewall, network switches, intrusion detection/mitigation to protect against hack attempts and denial of service attacks, etc.


It is not something a $59 LinkSys router connected to home DSL service can support -- this equipment can run upwards of $5000.


But this is an example of where we all use our connections and influence to obtain much of that equipment in the form of discounts or equipment donations from corporate entities, and often paying for them out of our own pockets.


"You shouldn't spend money you don't have."

One user commented that if we were running out of money from donations that we should simply "not spend money you don't have".


With business-class Internet you are committed with a long-term (i.e. 1-year) contract, and you have to pay the ISP whether you have donations or not.


Most recently, that involved dipping into our own wallets as a short-term fix. I don't think pulling the plug until we get the funds we need would be an appropriate action.


Why does LymeNet have to host their own servers?


With all that is required to host our own service, why not use one of the hundreds of hosting providers out there (i.e. WowBB et. al.)?


Prior to purchasing the new server equipment we gave this idea considerable thought and analysis, both from a technical and from a cost perspective.


I won't go into specific details on the numbers here, but with our current traffic volume and the amount of disk storage required to house our databases, as well as the ability to support some of the back-end applications


(i.e. not only simple web pages and Perl/PHP applications as most low-end hosting providers support, but also Lotus Domino and other enterprise applications which few will support for just a few hundred dollars a month).


Additionally, looking at long-term numbers (i.e. three to five years out), the combination of full ownership of the server equipment at the prices we were able to pay and the lower monthly ISP cost will result in less net spending than paying the kind of monthly hosting fees that would be required to support our systems.


This is not speculation, but rather is based on real world numbers and quotes given by both low-end hosting providers like WowBB as well as the more appropriate mid-range (and even high-end) ASP's with whatever non-profit discount they were willing to offer.


"Everything could be run on hardware costing half what was paid."


A comment was made that we overpaid for the server we purchased for $1000.


I challenge anyone to purchase a server with enough redundancy and data mirroring to run a 24x7 system for seven years without any long-term outages for less.


As it is, $1000 is a bargain basement price for this kind of enterprise-class server compared to what most would pay for that capability.


It is not a simple matter of putting a $500 home-grade desktop in a closet and expecting that it will last under these conditions.


In my professional life, we pay a minimum of $3000-$5000 for this kind of reliability.


The servers running LymeNet today cost almost $3000 when we purchased them seven years ago, and while they are somewhat slow they are still running after over 2500 hours of continuous service, even with all of the power outages, lightning strikes, and poor environmental conditions they have had to endure.


To me, this speaks volumes about the kind of hardware we chose to employ, and about the high level of return on our investment.

Here is the bottom line.
***************************

In the short term we are forced to stick with the in-house solution that we have in place.


A "low-end" hosting provider like WowBB just can't accommodate the kind of enterprise software our systems rely on currently, even with the most expensive package they advertise.


Mid-range hosting providers which do meet the requirements do not fit within a reasonable price range currently.


Therefore to make this work with today's demand and with today's budget, we are migrating things to a faster server on a faster Internet connection.


Long-term, we are working to simplify our systems and to consolidate the technology.


We are keeping an open mind about the off-site hosting option, and may very well move to off-site hosting if and when it becomes a more cost-effective option.

To summarize...
************


Disclosure of this kind of information is a can of worms, but sometimes a necessary evil.


There will always be those who disagree with our methodology, but I have learned from the past few days of posts that failure to provide at least a few simple details like this will lead to the kind of speculation and criticism we have seen recently.


Don't get me wrong -- we all appreciate your energy and desire to provide alternatives to help move us forward.


It is important that you realize, however, that we have absolutely done our homework and have put a great deal of vigorous and detailed thought and consideration into all of the options available to us.


Our goal remains to provide a reliable, open, and feature-rich environment in which the LymeNet community can collaborate with each other, with the end result of helping those in need of our support.


And we *are* listening to you. While it may not always appear so, there is a lot going on the background to keep the service up and running, even in it's current somewhat rickety state.


And there have been many accomplishments over the past few months which have moved us closer to the upgrades we have spoken about in the past.


We're on the final stretch and simply ask for your confidence in the fact that we are doing all that is possible to make the most efficient use of our time and of your generous contributions to make this all possible.

Regards,

Thomas Brown
LymeNet administrator and founding member
=============================================

LymeNet General Q&A by the LymeNet team:
*******************************************


PUT UP A FUNDRAISER PROGRESS BAR AT TOP OF EACH FORUM SO EVERYONE (NEW AND VETERAN) WILL KNOW THERE IS A FUNDRAISER AND HOW FAR WE ARE FROM OUR GOAL:

Good idea, we can do this.


NEWCOMERS NEED TO KNOW WHAT IS GOING ON (many have no idea that Lymenet runs on donations):


The explanation of how we are funded does appear at the bottom of the front page of LymeNet.

We realize that very few if anyone actually goes down the page that far.

We will move this very important general request for funding to the top of the page.

Perhaps we will repeat it on all the pages. But, we have to see how this looks; it could become annoying to keep seeing.


New registered members do get an e-mail with their user name and password. We can include a statement in this e-mail explaining how we are funded and request a donation.


SEND EMAILS TO EVERY SINGLE MEMBER (INCLUDING NEW MEMBERS):


We have sent e-mails to all registered users the past three annual fundraisers. We will do this again this year.


ILADS, LDA, BOWEN, IGENEX, MDL, LLMD'S, etc SHOULD BE DONATING AS THEY RECEIVE MANY REFERRALS FROM THIS SITE:


Getting paid for referrals is a Pandora's Box. I recall several IV companies a few years back that were paying for referrals from Lyme Docs. The Government had big problems with this......


HAVE CORPORATIONS DONATE:
*************************


We receive donations through United Way, if you have it at work, sign up and designate LymeNet.


We receive matching gifts from corporations, if you have it at work, sign up and designate LymeNet.


There is a common thread here. If you are working, ask your employer to make a donation to the organization that helped you or your family member get better or to become functional enough to return to work.


WHAT ABOUT ADVERTISING (individuals and/or companies)/AFFILIATES?


We already receive a commission on sales from Amazon.com purchases that originate from the button located on the lower left of our homepage. It does add up and we are paid quarterly.


A few years back a medical student was kind enough to purchase a textbook that cost $450! We receive a 10% commission.


Buy all your books; they don't have to be Lyme related through our Amazon.com button!


I will be sure to make this much clearer on the homepage.


We have to be careful not to endorse private enterprise on our website.


Also, there is limited space for the many hot buttons that can be placed.


We believe Amazon.com is the biggest and they are very careful how they manage their affiliate program and whom they deal with.


As for Ads. Do you remember how nuts you got when the flashing ad danced across your screen?


You would not believe how much time it took to filter out all the sex, cigarette and insurance company ads that none of us really want to see on the site. after all the filtering, they still managed to sneak in a few pop up's.


All in all, the little money we raised from ads was not really worth the trouble. At your request, the ads were removed. -


OTHER IDEAS ON HOW TO RAISE THE $7500
************************************


Many of the suggestions listed under this topic required people to spend many hours managing inventory, placements, advertising and marketing which all sounds great but we don't have the man-power to process the orders.


Our strength has always come from within. We fight this disease everyday, one on one. We try not to allow Lyme to run our lives.


Our funding must also come from within. From within our community and our hearts. It is just that simple.


The fact is our community is too big. But that also means there are enough of us out there who are in the position to keep the LymeNet lights on for those who can not afford it.


QUESTIONS:

1) I have eliminated all computer and technical questions here as Tom Brown has answered them.


(2) What activities necessitate office supplies? It sounds like Lymenet is involved in activities beyond running the message board, and I am curious to learn what they are.


We began as a local support group and grew into a worldwide information service. We still get requests for information from people who do not have access to a computer.


Although we no longer take phone calls (we recently eliminated the LymeNet phone) our name and address does appear in many publications, so people do write, and we respond by printing and sending packets of information that appear on our site. The office supplies are a very small expense.


(3) What kind of government fees are being paid?


They get their fingers into everything. For example, there is the annual report to the NJ State Treasurer ($25 please) telling them we still exist.


The Consumer Affairs Commission gets $25 a year to allow us to be a non-profit.


(4) Why are there five domain names? Also, $20/domain is high. There are less expensive options. I've seen as low as $4 out there. I realize this is a small amount, but we should be saving money wherever possible.


Many years ago we secured all of the domain names for LymeNet.

This includes .org, .net, .com along with lyme.net. It was good planning and copyright protection. It is our intellectual property. -


5. TROLLS, etc: I think Lymenet also needs to have a policy on what should be allowed in the medical forum, and then put what they define as alternative in an alternative forum. And anything that's way out there and fraudulent shouldn't be allowed. You should have a board and decide where the lines are being drawn.


We have rules and conditions for registering and posting. You have to agree to them to register. We are working to insure that the problems in July do not happen again.


We have been discussing new forums such as ``Alternative Approaches to Lyme''.


We want to incorporate the additions when we go live with the upgraded software.


I think more suggestions from the users on the type of topic divisions you would like to see is needed.


The far-out or fraudulent medical stuff that appears from time to time gets your brand of peer review. You, the users of Flash and LymeNet, are pretty smart folks.


If statements are made that you feel needs attention, please notify one of the moderators.


Lou B. will be working to train moderators as soon as he can free up some time.


At our Friday night meeting, we discussed ways to correct previous problems and improve our service to you. Stay tuned as we begin to implement them.


Thank you to those of you who have sent donations and your kind words of appreciation and support.

The LymeNet Team
=============================================

LymeNet team background info:
******************************


Here's some info to help you understand us:


Tom has a comp sci degree, 10+ years experience in the IT field and works for a major network equipment manufacturer.


Marc has a comp sci degree, 10+ years experience in the IT field and works for a major IT consulting firm.


Lou, prior to retiring, developed and implemented business/technology solutions and had 30+ years experience in the IT field working for IBM.


Jen, our webmaster, just got her MBA.


Bill is our leader and has the business skills.


Carol is the voice of reason.

Angela is the voice of compassion.


We, as a team, have the skills and experience and understand how to economically develop a technology solution based on the unique needs of LymeNet.


LymeNet is more than just a BB. LymeNet has other data repositories (see Menu list on upper left).

We also host the LDA website on our servers which drives another set of unique requirements.
=============================================

LymeNet Flash Moderators:
**************************


For the next 60 to 90 days, Angela & I will Moderate the main Forums to insure stability and continuity.


We will, over time, train and bring on-board additional Moderators to whom we will assign specific Forums.


Angela and I then plan to take a back-up role, supporting the assigned Moderators, running the annual fund-drive, helping implement improvements and generally supporting LymeNet.
=============================================

Is it all coming together now?
Did we answer your questions?
------------------

Lou B.

Posts: 2007 | From: Totowa, New Jersey, USA | Registered: Oct 2000 | IP: Logged
**************************************

well, i learned things that i ever did not know or reread what i'd FORGOTTEN; thanks to my lyme!


i do hope newbies and all who weren't here for 05-06 fundraiser will read all of the above!


my check will be in the mail next week...just got to get off here and print the printout above!!


you folks keep me very busy on here sending my newbie packages, sending llmds names, answering many pms, and trying to read for myself here! Betty

PS .... THANKS TO THE CURRENT LYMENET BOARD MEMBERS FOR ALL THE DEDICATION AND VOLUNTEER HOURS KEEPING THIS MUCH NEEDED EDUCATIONAL/SUPPORT BOARD GOING! yes, i'm yelling for JOY; just so glad you are here to help us ALL!

---

IP: Logged |

bettyg
Unregistered



posted

---

......... lou, my check was put in the mail yesterday....Betty

---

IP: Logged |
Contact Us | LymeNet home page | Privacy Statement

Powered by UBB.classic™ 6.7.3

---
The Lyme Disease Network is a non-profit organization funded by individual donations. If you would like to support the Network and the LymeNet system of Web services, please send your donations to:
The Lyme Disease Network of New Jersey
907 Pebble Creek Court, Pennington, NJ 08534 USA
http://www.lymenet.org/
---
Home | Flash Discussion | Support Groups | On-Line Library
Legal Resources | Medical Abstracts | Newsletter | Books
Pictures | Site Search | Links | Help/Questions
About LymeNet | Contact Us
---
© 1993-2020 The Lyme Disease Network of New Jersey, Inc.
All Rights Reserved.
Use of the LymeNet Site is subject to Terms and Conditions.
---