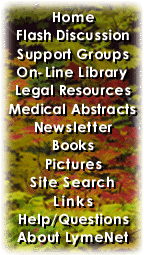 ---
LymeNet on Facebook
LymeNet on Twitter
---
---
The Lyme Disease Network receives a commission from Amazon.com for each purchase originating from this site.
When purchasing from Amazon.com, please
click here first.

Thank you.




Dedicated to the Bachmann Family


LymeNet needs your help:
LymeNet 2020 fund drive

The Lyme Disease Network is a non-profit organization funded by individual donations.

| | |
| --- | --- |
| | |
Author
Topic: Worried about my child in kindergarten

Geneal
Frequent Contributor (5K+ posts)
Member # 10375


posted

---

I need some advice.

This is kind of long so I apologize in advance.

I worked Special Ed (Speech Therapist) for 17+ years,

Luckily I am pretty well versed in what I can get for my child.

Here is my conundrum.

My 5 year old, who won't be six until next April, is struggling in kindergarten.

Real difficulty initially in holding a pencil and using a pencil.

We've finally mastered that.

However, he seems to have issues in spatial concepts.

He has difficulty in copying letters he sees.

Has difficulty in staying in lines.

Has difficulty in placing his name where it belongs.

Completed a paper yesterday which had name on the top,

And writing on the bottom. He was to make a rake and put leaves on it.

He completed it upside down.

His name and rake looked backwards.

Like you could only read it in a mirror.

I've spoken several times to the principal, counselor and teacher.

They wanted to give him some time.

His attention and listening are improving, but...

Now it seems it is an issue.

(I knew it was from the get go)

He is going to the SBLC for discussion and intervention.

I've asked for the OT to screen him as well.

Is this developmental/Lyme or both?

My gut says both.

However, he is still young.

He is a boy (which generally do not excel at fine motor issues).

I just know that there is no way he could do 1st grade work at the rate he is going.

Luckily, he is very smart in math.

Almost like he has a learning disability. However, he would have to fail

Kindergarten before being evaluated for this.

Another conundrum.

I don't really want his Lyme diagnosis out there unless I have to.

His principal knows, counselor knows and the teacher knows.

Not sure I want it written in an eval that could potentially follow him

For the rest of his life.

What to do?

I spoke with my husband and told him I am pursuing additional help at school.

His insurance pays for OT, but I've paid for all of his Lyme treatment

Out of pocket so that no one has access to his medical records.

I am trying to protect my children.

Any advice for this worried Mom?

He is easily frustrated with me when I work with him (which is daily).

I have him do all sorts of things from decorating cookies,

To using chalk outside to write his name, etc.

Oh and I almost forgot.

He has real difficulty with drawing pictures too.

Just now putting defining parts such as head, arms, legs.

Can color inside lines, but prefers not to.

I promise you, it looks like a chicken stepped in ink

Then walked all over his paper.

I am willing to do whatever I have to for him.

Just don't want him to struggle so hard.

It is so difficult to watch and yet be patient with him.

He still only writes part of his name on a paper,

Despite me having done this with him thousands of times.

Help.

Hugs,

Geneal

---

Posts: 6250 | From Louisiana | Registered: Oct 2006 | IP: Logged |

Lymetoo
Moderator
Member # 743


posted

---

Boy, Geneal. That sounds rough. I'm so sorry he is struggling so.

Do you really think having Lyme will be that big a stigma??

Does he like to build things?? Seems like anything with building spatial things would help.

I'm more versed in older elementary ages!!

Can he go to a tumbling class?? Too ill??

I would say it's very Lyme related. I'm sure you are both very frustrated. Does he have any interest in improving his skills??

--------------------
--Lymetutu--
Opinions, not medical advice!


---

Posts: 95877 | From Texas | Registered: Feb 2001 | IP: Logged |

wiserforit
LymeNet Contributor
Member # 9732


posted

---

Hi Geneal --

I, too, am a Special Ed teacher/Learning Specialist. I have taught both in private and public schools and done testing as well. I eventually opened my own tutoring practice (which I stopped after Lyme took over my memory and language and energy).

My first instinct upon reading your description of your little boy was to think about the visual/spatial organization piece. Can you take him to a developmental opthamologist?

Vision therapy at this young age can be impressively helpful. Prism lenses have helped many of my students (as well as my sons) gain better control of the space on paper for reading/writing as well as learning where their own bodies are in space.

If you can get ahold of Dr. Melvine Levine's books "All Kinds of Minds" and "Keeping Ahead in School" and "Educational Care" -- they are really great at demystifying different learning styles/problems. I like Levine because all his books have step-by-step suggestions at remediation of specific issues. Also, they all address testing, but Educational Care gives a really good account of what is out there. (I have no financial gain by mentioning these books.... they may even be out of print!)

The visual piece may not be the only system that needs support, but in a little person it makes sense to rule it out before leaping to other conclusions. These assessments look at many pieces of the visual system including depth perception, body awareness, etc... not just the standard near/far-sided question. Just starting with a developmental vision assessment can also really help in determining what suggestions to make to the school.

If only you lived next door, I'd be happy to test your son for free! PM me and I'd be happy to brainstorm with you. [your box is very full right now.]

Best regards,

TORI
(wiserforit) in NY

---

Posts: 508 | From Banks of the Hudson | Registered: Jul 2006 | IP: Logged |

northstar
Frequent Contributor (1K+ posts)
Member # 7911


posted

---

Another possibility is an outside evaluation,
with outside tutoring/exercises, and keeping the
school out of it. (could llmd guide you in outside help?)

Also, the meds can effect cognitive processing...less attention to detail, etc.What meds is he on? Could you consult with llmd, or even Dr. J in Conn?

How are gross motor skills?

Have you considered multiple modalities...singing,
repeating things/procedures out loud, using templates, drawing letters in
sand, small game parts to manipulate,
or if he sees the error, ask him how he
could coach himself?

Paint rather than crayons, (both brush and finger paints), modeling clay (I have a great recipe for homemade playdough!)

If you have worked with special ed teachers, can you contact them for ideas, or guidance?

There also are some gross motor movements, such as cross crawl and other physical therapies to re-program central processing. I dont know much
about this field, but have seen exercises in relation to more severe disabities.

Vision been checked?

Possible cranio-sacral therapy? (not sure of which practice approach this is...to encourage cross brain communication?).

I now can see how hard it was for me to see detail when I was totally blitzed...it was like it was too hard and I just did a fuzzy focus....of course, I am now finding how bad I really was!

p.s. your mailbox is full!!

Northstar

---

Posts: 1331 | From hither and yonder | Registered: Sep 2005 | IP: Logged |

Geneal
Frequent Contributor (5K+ posts)
Member # 10375


posted

---



Sorry about my pm box. Did some cleaning.

Thanks so much for the ideas.

He does fine with building things...blocks, patterns, etc.

He does fine with math concepts (visual also).

Better with number recognition than letter.

I will see about getting his eyes checked.

I know of an eye doctor over here that has Rx'd prism glasses

For a stroke patient I had that had complete left neglect.

Will contact them on Monday.

I am not so afraid of the stigma of Lyme (I tell everyone I have it).

My husband was just denied private health insurance due to Lymes.

Yes they added an S.

I am concerned about how this could possibly affect my ability

To keep my children covered with medical insurance (private)

As well as there being documented info in regards to their treatment, etc.

Want to make sure as they grow up they aren't denied anything due to this diagnosis.

It happens. Good thing I already have life insurance.

Also not sure the school system has ever had this diagnosis in front of them either.

Right now they only have my word on it.

I don't want the "M" word by proxy bandied about.

Especially since their pediatrician thinks they are "fine".

Funny thing is that I was showing my husband the paper from yesterday (the rake).

While it took me a while to figure out what he did and how he did it,

My husband looked at it and said "Oh, he did the page upside down".

"No big deal".

I wonder if this is something my husband had/has and learned to compensate for.

He never could spell.

However, without going to college,

Can buy a College level calculus book and do all the equations.

Good thing math is one of our strengths.

Definitely not mine.

My daughter is doing well in school.

Still having some dizziness issues, but has my permission

As well as the principals to sit any time she feels bad.

Inside, outside, in line, in the cafeteria, etc.

My daughter is like me with English and reading being her strong points.

Tori, I really appreciate your offer for help.

My box is empty. Please pm me.

I really, really appreciate it.

Thanks just for making me feel better.

As far as my child is concerned, I tell him how proud I am of him.

How I really like how he tries so very hard.

When a letter comes out exceptionally well (normal),

We celebrate by giving high fives and putting it on the refrigerator.

We play the "memory" game for alphabet identification.

Trying to add in some phonics, but am more concerned he recognize the letters.

Numbers are not a problem. Go figure.

Hugs,

Geneal

---

Posts: 6250 | From Louisiana | Registered: Oct 2006 | IP: Logged |

sometimesdilly
Frequent Contributor (1K+ posts)
Member # 9982


posted

---

dear Geneal-

i'm not qualifed except as a mom to answer your questions, but here's this for what's it worth.

my congenital Lyme son is exceptionally gifted in all things numerical and spatial.. his gift has been commented upon by 'outsiders' since he was 2.

he can also read quite fluently.

BUT. he can't catch or throw a ball- i mean not even close. He can write capital letters - sometimes doing B';s etc backwards-- but he cannot write a single lower case letter, and refuses to try. He can't button his pants. He is clumsy with scissors.

When everyh last kid in his kindergarten class is dancing he is curled in a ball as far away from them as possible.

Evey kid in his class wants to be his friend and he responds to them all with hugs and warm friendship --- except for the many days when he can't deal with any of them at all, even ofr 5 minutes.

What i am trying to say is for sure trust your gut first about your child, above all else, always.

but as i'm sure you know, at this age their progress can be incredibly uneven, and is still contingent in large part upon what is of importance and interest to THEM, not the adults around them.

sorry-i know i'm missing big parts of what you were asking.

hope hugs help YOU too pickles

---

Posts: 2505 | From lost in the maze | Registered: Aug 2006 | IP: Logged |

Geneal
Frequent Contributor (5K+ posts)
Member # 10375


posted

---

Oh Ms. Dilly (pickles),

My gut is that there is a problem.

I had that feeling since his first week of school.

He was slow developmentally. Reached physical milestones very late.

He didn't walk until he was 15 months old.

Yet speech and language skills were normal.

Vocabulary is above normal.

Has some problems with anger issues.

Especially when frustrated.

If my child needed Speech Therapy, I could not or would not do it.

Children need a Mommy first.

Not a Mommy and Speech Therapist.

They do better with other adults.

Maybe a good idea to at least get some resource help.

He doesn't nap. Wasted time really.

Could spend that with someone who can also help him.

My husband doesn't do it well at all and my son ends up sobbing.

I don't let him do it anymore.

I hope with time he either matures into it or gets better.

I really appreciate your post and advice.

Thanks so very much.

I didn't realize how much your little one goes through.

Sending prayers to you and yours.

Hugs,

Geneal

---

Posts: 6250 | From Louisiana | Registered: Oct 2006 | IP: Logged |

sometimesdilly
Frequent Contributor (1K+ posts)
Member # 9982


posted

---

Geneal-

are you dealing in this case with congenital Lyme too? (sorry for not remembering for sure).

my 6 year old has refused to take naps since he was 3 years old, and even then, naps were rare. that comes from his temperament for sure,

and then, in grayer area, maybe from Lyme, maybe not, he can't go to sleep unless it is perfectly quiet and dark- but not too dark since that scares him horribly--- and even at night when he has been up and active for 12-4 hours straight and is totally exhausted, actually falling to sleep usually takes him at least an hour, often longer.

Is anything Lyme or not Lyme gets murkier for me as the years go by- when dealing with congenital Lyme, how in the world is a parent supposed to know what is normal and ok for OUR child??


You mention anger issues. Isn't not knowing how to express anger age-appropriate at five??

But, the torment.. what is Lyme and not age-appropriate?

Our son has NEVER hit or shoved any of his peers- ever-- but, he hits his dad HARD any and everywhere he can when he gets the slightest bit frustrated with himself and his dad is nearby.

Getting lost in the forest talking about a tree, but trying to say... have 100 percent empathy for you and your situation,and for your precious child.

hugs and prayers to your family..

dill

---

Posts: 2505 | From lost in the maze | Registered: Aug 2006 | IP: Logged |

just don
Frequent Contributor (1K+ posts)
Member # 1129


posted

---

In the old days ,,,like when I was young,,,before the invention of the wheel and dirt,,,

we called the backward thing dyslexia,,,or something like that,,,nobody uses that word any more

Means seeing things backwards and upside down.

older people just get used to it and dont even KNOW its different,,,kids have a HARD time in school with it

HUGS to you and your wee ones,,,cause I remain--just don--

--------------------
just don


---

Posts: 4548 | From Middle of midwest | Registered: May 2001 | IP: Logged |

Geneal
Frequent Contributor (5K+ posts)
Member # 10375


posted

---

Hi Dad Don!

They still call it dyslexia.

Not uncommon for young children to reverse numbers and/or letters when writing.

When it happens when they read....look out!

He just can't seem to copy them.

No idea how to make a circle even though I've showed him over and over.

Yes Ms. Dilly, he is a congenital Lyme baby.

He is afraid of the dark too.

Falls asleep with no problems, but often wakes up before 5:00am just because.

He does hit. Not at school though.

He tried once or twice with me, but I nipped that one in the bud.

He mostly hits his sister.

However, she can aggravate the living daylights out of him.

He is heavier than she is and just as tall, even though he is 18 months behind her.

He is a very loving child. Loves to cuddle. Sings and dances too.

He can be quite the clown.

He puts his hand up to me when I am correcting him and says "Talk to the hand".

It is so hard not to laugh sometimes.

The Mom in me is devestated to watch him struggle.

The professional in me knows he needs extra help.

I don't think he will pass kindergarten.

They don't repeat kindergarten, but go into a transition classroom

That is between kindergarten and first grade.

I so want him to be successful.

He needs to feel that way.

He is so easily frustrated though.

Little things can set him off.

If he doesn't get something immediately, he throws it and yells and cries.

You are right about the Lyme vs. developmental issues.

Which is which?

That to me is a million dollar question.

I think the prinipal thinks it is developmental.

She knows he has Lyme disease, but I doubt she knows anything about it.

The school nurse knows of several people in the area with it,

But none of the children (except mine).

When they get home from school, I am usually very tired.

They are hungry. Wanting to play.

Homework is a challenge daily.

He says he is not going to do it.

I have to take things away from him (or threaten to).

He really likes the memory game. Beats us all at it.

I just hope I am doing the right thing.

My husband thinks he needs just more time.

I think he needs more help.

Hugs,

Geneal

---

Posts: 6250 | From Louisiana | Registered: Oct 2006 | IP: Logged |

lymeloco
Unregistered



posted

---

If he has a good teacher, or an asst., they'll see that he has problems in this area. Trust in your gut instinct if he's getting the help he needs. Good Luck!

---

IP: Logged |

sometimesdilly
Frequent Contributor (1K+ posts)
Member # 9982


posted

---

Geneal-

only our eyes count, unfortunately, and our kids' lmds. that's it.

i was very optimistic about our son's k teacher and his new charter school. son's GREAT principal took close to 2 hours with me in the summer listening and planning.

son's teacher read the Lyme material i gave her, has been extremely warm with me and my son, is a wonderful, creative, playful, gets down on the floor kind of teacher.

who said to me last week:

"your son is obviously 100 percent healthy. you worry too much. treat him as a healthy and happy boy and that's who he will be.

and..."what difference does it make if your son sick? which i don't think he is..

days later, i am still completely stunned.

and, not moving onto to 1st grade? not huge. ours repeated pre-K at our insistence and has by his own account been MUCH better off for waiting.

hands about to still and head to tap on keyboard. must zzzzzzz,

hugs

---

Posts: 2505 | From lost in the maze | Registered: Aug 2006 | IP: Logged |

bettyg
Unregistered



posted

---

geneal, sending you and glad you've gotten wonderful info above.


i too was thinking of dyslexia, and good to see don posting again after such a LONG absence!!
best wishes to you all!!

---

IP: Logged |

Geneal
Frequent Contributor (5K+ posts)
Member # 10375


posted

---

Wow Ms Dilly,

If my son's teacher said that to me....

I would have to ask her first if she has any children of her own.

Then I would have to ask if any of them have an infection that is ongoing,

As serious as Lyme disease.

Wow.

So sad that really in order to "get" it....you have to get it.

It does matter if his infection interferes with any part of his education.

From social to academic.

Any time you need me, please let me know.

You are such a good Mom and friend.

Looks like we are both in it together with our sons for the long haul.

Couldn't have asked for anyone better in my corner.

Hugs,

Geneal

---

Posts: 6250 | From Louisiana | Registered: Oct 2006 | IP: Logged |

lymemommy
LymeNet Contributor
Member # 12495


posted

---

Geneal,

It's ironic that your are posting about this. Just last week I posted in madical, asking if any other kids with lyme had dyslexia or dysgraphia.

My son's teacher and a reading specialist that has been evaluating the 1st graders in his school have told me that there is definantly something going on with my son.

He actually copied a graph off the board, words and all, in reverse.

We were advised to have him evaluated by an opthomologist, then the child study team.

He also has his next EEG coming up, and we will discuss with his neurologist the possibility that the temporal lobe seizures (petit mal) are affecting his vision.

My son is aware that there is something going on, he says that sometimes it looks like his letters have flipped around, which suggests to me that it is a seizure issue, rather than true dyslexia.

Like your son and dilly's, mine is very good at math.

Unlike your kids, he does not have congenital lyme.

Trust your mom instincts, if you think something is going on, there probably is, and its best to deal with it now, before your child falls too far behind.

Have him evaluated for dyslexia and dysgraphia (mirror writting), as the rake picture that you described sounds a lot like dysgraphia.

Take care,

kp

---

Posts: 394 | From tinton falls nj | Registered: Jul 2007 | IP: Logged |

wiserforit
LymeNet Contributor
Member # 9732


posted

---

I totally agree with Lymemommy's and Northstar's posts. Good teaching modifications and outside testing for dyslexia and dysgraphia.

The term "dyslexia" has become a real catch-all label, however. Priscilla Vail wrote a thin little book called "About Dyslexia -- unraveling the myth" that is great at pointing out the different constellations of symptoms of dyslexia.

Each dyslexic is wired uniquely and differently from one another. "That the osprey and the hummingbird both have wings does not make them identical." So, each dyslexic has different strengths and weaknesses.

My youngest son has low motor tone but loves sports and could trip over dust. He also has a painfully exhausting pencil grip, but adores drawing and writing despite reversals. He didn't utter a syllable until 24 months (not even "ma") and didn't walk until 16 months. Now he talks and sings constantly and wants to bike, ice-skate, play soccer, etc... he's got drive, but really interesting variations on skill... (God, love him!)

Vail has a description that made me think of your observations about your son: "Dyslexics are often highly gifted in such three- dimensional fields as mathematics, science, music, art, engineering, athletics, or people-to-people skills. However, in two-dimensional symbolic work, dyslexics struggle with reading, handwriting, spelling, and pencil/paper arithmetic."

It's all a matter of degree. The differences are personal and the diagnosis is clinical... like Lyme. So if you eventually go for testing, I vote for a private diagnostician rather than in-school.

Best to everyone answering Geneal's post and to Geneal herself,

wiserforit

---

Posts: 508 | From Banks of the Hudson | Registered: Jul 2006 | IP: Logged |

Just Julie
Frequent Contributor (1K+ posts)
Member # 1119


posted

---

Geneal, my son, in Kindergarten, was diagnosed with "auditory processing" disorder. He was a young 5 (late Oct. birthday) so his teacher wondered about that, with all that she was seeing with my son.

I eventually got him tested, discovered
the auditory processing, got him into "treatment" and he seemed to be able to get through the grades (he's now in college) with the suggestions that the therapist gave me back then.

I don't know if auditory processing learning disability is still out there in the world today, but it was very heartening to finally give what we were seeing a "name" and try to get him accomodations for this, in each of the grades.

He attended private Christian school, all the way through high school, so no IEP's were ever done.

I know you probably know about this whole spectrum, but just wanted to throw this out as a possibility? What you've described (in part) with your son, I saw in mine as well.

I later found that lyme could be associated with auditory processing, so the puzzle pieces came into place around the time I could associate the two together. It was a relief, at the time, because I didn't know why my son was having this happen to him---I was healthy, had a normal pregnancy, did all the right things.

I hope you are able to figure out the puzzle, it is so frustrating to watch a child go through something like this!
from one experienced mom to another~
Julie

--------------------
Julie


---

Posts: 1027 | From Northern CA | Registered: May 2001 | IP: Logged |

Geneal
Frequent Contributor (5K+ posts)
Member # 10375


posted

---

Hi Julie.

I used to do the testing for deficits in Auditory Processing.

As a Speech Therapist, I also did the therapy.

Lyme has caused me to have significant auditory processing deficits.

I can't follow verbal commands at all once they get over 3 steps.

He can process info (auditorily presented).

Can follow multi-step directions (mostly involving physical activities).

Now whether he chooses to follow or not....very head strong 5 year old.

It's the instructions involving writing...drawing....etc.

When I say, "no try it like this" he stops me yelling and saying "I can do that".

Yet he can't and doesn't.

His name starts with a B.

To make a B you draw a line. Then half a bubble and half a bubble.

Or half a snowman's head and half a snow man's body.

He remembers it better that way.

Sound effects help too. Motor sounds for M.

I am trying. My creativity isn't what it used to be.

We bought him a computer program (he has his own computer) which has a

Pen and a writing pad. He doesn't use it at all.

I think it frustrates him.

Thanks to all for your support and suggestions.

I am going to pursue this.

No sense in letting nap time go to waste.

Even if I have to go to school and volunteer to work with him at that time myself.

Love you guys.



Geneal

---

Posts: 6250 | From Louisiana | Registered: Oct 2006 | IP: Logged |

kam
Honored Contributor (10K+ posts)
Member # 3410


posted

---

Geneal, not able to read all of your post this am or what the other wrote.

What came to mind is Montessori School.

they use all the means of learning..tactile, etc.

Wish would really help a little one with lyme.

Not all Montessori schools are the same. Some can say they are when they really are not.

I took my daughter out of kindergarten and put her in a montessori school.

But, at the time I was working full time so it worked out better than paying before and after school care too.

I have no idea what it cost now.

I do know the waiting list was long in the area I lived in.

Bottom line is finding a school that uses the different ways of learning...public schools are not set up for boys in general...or so I have heard.

I did a little training in montessori myself as I wanted to go that route with teaching.

I really liked it.

More hands on for the kids and different ways to learn.

Also a much smaller environment. But, again that depends on the person who is in charge of the school.

I was lucky enough to find someone who had turned her home into a Montessori school so she kept it small.

The other choice in the area had way to many kids for my liking.

I recall the trays with activities on them and how they are to complete one activity, put the tray back before they get another activity.

The kids actually preferred to stay and do the activities instead of going out for the play ground time across the street.

WE use to have to have to let them know the things would be there when they got back and we were just going for a short time.

Just the opposite of working in the public schools.

---

Posts: 15927 | From Became too sick to work or do household chores in 2001. | Registered: Dec 2002 | IP: Logged |

northstar
Frequent Contributor (1K+ posts)
Member # 7911


posted

---

from eurekalert.org

Public Release: 2-Oct-2008
Brain and Cognition
Musicians use both sides of their brains more frequently than average people


Supporting what many of us who are not musically talented have often felt, new research reveals that trained musicians really do think differently than the rest of us.

Vanderbilt University psychologists have found that professionally trained musicians more effectively use a creative technique called divergent thinking, and also use both the left and the right sides of their frontal cortex more heavily than the average person.
Vanderbilt University

Contact: Melanie Moran
[email protected]
615-322-7970
Vanderbilt University
=============
I had a neighbor who had a smart alert child but had only reading/expressive speech difficulties.

I remember she took him for swimming lessons, and also violin lessons, as part of enrichment.

So just another idea.

---

Posts: 1331 | From hither and yonder | Registered: Sep 2005 | IP: Logged |

bejoy
Frequent Contributor (1K+ posts)
Member # 11129


posted

---

All these wonderful suggestions!

My older child, probably congenital, but with negative tests, has visual and auditory processing disorders. She was a late reader, poor at sports, and couldn't follow complex directions.

(I'm still wringing my hands over this lack of diagnosis, but will come to an agreement with myself about treatment soon.)

She went to a special charter school that was loving and experiential but weak on academic expectations, and I think it saved her childhood.

At thirteen, she has learned how to work around her challenges, and probably grown out of some. She has all A's, except for math, which she is failing.

She still gets lost if she has to follow directions for more than three blocks. I don't think we're looking at a drivers license in three years.

We focused on her strengths. The one thing she could do was remember music, so she has become a fabulous musician, with lots of coaching through my years of lyme brain fog.


Different subject...

Here is a technique I use with my five year old to gain compliance:

Take two cups and a pile of treats, nuts, stickers, plastic jewels, or whatever.

Before starting a particular task, put four treats in the keeping cup and about fifteen in the earning cup.

Every time she does what I want, add a treat to the keeping cup. Every time she refuses or complains, take one out of the keeping cup and put it back in the earning cup.

Treats are added for enthusiasm as well as quality work. She gets to keep the keeping cup treats at the end of the task.

Treats are taken out for dawdling whining, refusing to follow directions, or for rolling around on the floor. LOL

She has learned that she gets a treat immediately for standing up straight, smiling, and saying "yes ma'am!" and has fun trying lots of variations of this to see what else will work.

The immediate reinforcement of this technique is magic with this particular child.

Good luck. Kindergarten should be funnnnnn. I hope he gets lots of love and good friends there!

--------------------
bejoy!

"Do not go where the path may lead; go instead where there is no path and leave a trail." -Ralph Waldo Emerson


---

Posts: 1918 | From Alive and Well! | Registered: Feb 2007 | IP: Logged |

Geneal
Frequent Contributor (5K+ posts)
Member # 10375


posted

---

Thanks you guys!

I think he is having tons of fun in Kindergarten.

Doesn't seem to mind that his pictures look

Like a chicken walked across them.

He asks every night if he has school in the morning.

When the answer is yes, he screams "Yay!"

No, no.....it's just the mother being tortured by his difficulties.

He has an excellent memory for music and songs.

Trying to make up "silly" songs for his name, etc.

Sitting in the car yesterday I asked him what R E D spelled.

Quick as a whip he said "red".

He can't write it though.

Can't recall an R (even though it is in his name).

E is a particular challenge. (I made it a car race track with sound effects).

D's are sometimes backwards.

I will try the treat cups for homework.

Problem is I have 2 children sitting down at the table every afternoon.

One's work (1st grade) involves reading, vocabulary, math, etc.

Plus she is in an Accelerated Reading program.

So we have a book to read every night.

His homework is just time consuming due to him not wanting to do it.

Then with me trying to show him over and over how to do it.

I use his Wii game right now as a motivator.

Kam,

We only had Montessori schools in New Orleans prior to Katrina.

There are none here on the northshore where I live.

I've actually taught in some during my summer vacation from public school.

That was prior to having children.

I am trying to "back door" into him.

Finding a connection with something he does well.

Thanks so much for the info and thoughts.

I will be speaking with the counselor in the am and see where we go from here.

Hugs and kisses,



Geneal

---

Posts: 6250 | From Louisiana | Registered: Oct 2006 | IP: Logged |

jkmom
LymeNet Contributor
Member # 14004


posted

---

We just saw Dr. J for our daughter. He suggested having a neuropsych exam done by a Lyme Literate psychologist and gave us a name. He said any evaluation done here (in TX, but I'm sure LA too) would be worthless because they wouldn't know to check for problems associated with Lyme.

An evaluation like this might be helpful for your son and could help you sort out what is Lyme and what isn't and also give you something to take to the school to ask for accomodations. I would think the doctor could write the report for the school without mentioning Lyme.

The psychologist is in NY. PM me, if you want the contact info.

---

Posts: 984 | From US | Registered: Dec 2007 | IP: Logged |

lymemommy
LymeNet Contributor
Member # 12495


posted

---

Jk,

Our sonhad a neuropsych eval done when he was 5, and unfortunately we found out after getting it done (and paying for it), that any results are inconclusive for a 5 year old child, as this is the age of onset for many childhood disorders (like adhd).

Also, it was about 6 hours of testing, with potty breaks and one 1/2 hour lunch break. My son was clearly overwhelmed by the process, and could not focus or consistantly following the directions.

Because he contracted lyme at such a young age, there was no base line of functioning, to help determine what was lyme and what wasn't.

The final conclusions were that he tested with an iq of 98, but this was probably not an accurate assessment of his abilities because he would not follow instructions (that was the dr's comment, not mine), that we might want to consider a trial run of a stimulant medication (like ritalin), and that it was unclear what if anything could be attributed to lyme.

My son has never outside of this testing experience presented as adhd, so we passed on the ritalin, and walked away a bit disgusted because it did nothing to help us understand what was going on with our child, or how we could help him.

I'm sure that the evaluation process is valuable with older children, especially if it is done over a course of visits, rather than in one sitting.

But if it is a young child that your are talking about, you might want to reconsider.

The evaluation did NOT pick up on my son having seizures, or on the possibility of him having dyslexia or dysgraphia. If it had, it would have probably had an effect on the course of his tx.

(and you'd think 6 hours of continuous stress would have brought on a siezure or two!!!) He has petit mals, which look like he's staring off, but this past summer he would also twitch at times. (myclonic jerks).

Sorry to not be enthusiatic about the evaluation process, we just didn't find it useful.

best of luck,
kp

---

Posts: 394 | From tinton falls nj | Registered: Jul 2007 | IP: Logged |

jkmom
LymeNet Contributor
Member # 14004


posted

---

Lymemommy,

I think you are right about the age so it might not be worth it for Geneal.

I'm undecided about my child. She is 10 and she had an earlier eval. before we knew she had Lyme. I was thinking it might be helpful to know about any learning disabilities but since I am homeschooling her, it is pretty apparent to me when she isn't understanding.

---

Posts: 984 | From US | Registered: Dec 2007 | IP: Logged |

jamieL
LymeNet Contributor
Member # 16563


posted

---

JK mom,

I've never heard of a lyme-literate diagnostician. Do you know exactly what sort of test are peformed?

I ask because like Geneal, I am a speech pathologist. I perform a variety of speech-language tests on kids. Since being diagnosed with Lyme, I often wonder what is going on with some of the kids I see. Especially the autistic ones.

I'd love more info if you have it. It might effect the tests I choose to perform on the kids.

(Although most of the kids I see wouldn't have a confirmed Lyme diagnosis... it would just be a suspicion on my part.)

--------------------
Diagnosed with :yme and mycoplasma pneumonia Aug 08.
Treating with Doxy and Ceftin ever since. 15 sessions in hyperbaric o2 chamber


---

Posts: 183 | From all around | Registered: Jul 2008 | IP: Logged |

catskillmamala
LymeNet Contributor
Member # 12536


posted

---

Geneal,

I haven't been around much lately, but just read your post. Have you considered taking him out and keeping him home 1 more year. I know that may be rough but. . .

I did it with my dd. She will be six in a few weeks and she is doing SO MUCH BETTER than she was last year when she tried to start kindergarten. Her preschool teacher gave me a bunch of articles showing that kids who fail a grade are almost always the younger children in the class.

My dd had major social and psyche lyme related issues that made kindergardent almost impossible last year. She was hating it. Now she loves it. She spent the year at home with her 3 year old brother gaining major confidence.

Just a thought.

---

Posts: 524 | From Hudson Valley, NY | Registered: Jul 2007 | IP: Logged |

bettyg
Unregistered



posted

---

omt,

what a very touching, INFORMATIVE post about what to do! thx for sharing it.

---

IP: Logged |

bejoy
Frequent Contributor (1K+ posts)
Member # 11129


posted

---

One more thought, Geneal. Is this the little guy who rode into a steel beam on his bike and bashed his forehead?

I'm a Craniosacral therapist, specializing in infant and child head trauma (among a few other things now.) Sometimes an injury like that can result in a compressed spenoid and ethmoid, that can impact the way a person processes visually.

Decompression by a very good and very gentle CST therapist who is experienced with children can be amazing. I wish I was there.

--------------------
bejoy!

"Do not go where the path may lead; go instead where there is no path and leave a trail." -Ralph Waldo Emerson


---

Posts: 1918 | From Alive and Well! | Registered: Feb 2007 | IP: Logged |

Lymetoo
Moderator
Member # 743


posted

---

Good point, bejoy!!!

I agree with catskill....why not keep him home another year? He can still get early childhood education through the schools, can't he?

--------------------
--Lymetutu--
Opinions, not medical advice!


---

Posts: 95877 | From Texas | Registered: Feb 2001 | IP: Logged |
Contact Us | LymeNet home page | Privacy Statement

Powered by UBB.classic™ 6.7.3

---
The Lyme Disease Network is a non-profit organization funded by individual donations. If you would like to support the Network and the LymeNet system of Web services, please send your donations to:
The Lyme Disease Network of New Jersey
907 Pebble Creek Court, Pennington, NJ 08534 USA
http://www.lymenet.org/
---
Home | Flash Discussion | Support Groups | On-Line Library
Legal Resources | Medical Abstracts | Newsletter | Books
Pictures | Site Search | Links | Help/Questions
About LymeNet | Contact Us
---
© 1993-2020 The Lyme Disease Network of New Jersey, Inc.
All Rights Reserved.
Use of the LymeNet Site is subject to Terms and Conditions.
---