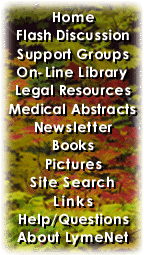 ---
LymeNet on Facebook
LymeNet on Twitter
---
---
The Lyme Disease Network receives a commission from Amazon.com for each purchase originating from this site.
When purchasing from Amazon.com, please
click here first.

Thank you.




Dedicated to the Bachmann Family


LymeNet needs your help:
LymeNet 2020 fund drive

The Lyme Disease Network is a non-profit organization funded by individual donations.

| | |
| --- | --- |
| | |
Author
Topic: not welcome at christmas!!!

randibear
Honored Contributor (10K+ posts)
Member # 11290


posted

---

this is a difficult post for me. i'm deeply hurt and saddened by these events, but hey, i really didn't expect more.

i called my one sister i talk to. i told her we were planning on coming for christmas. she said well i've been meaning to talk to you about that.

she said that my one sister (the one who acted so badly after my mom's death) has said that if i come to any family event, her family will not show up. so rather than upset all three families, they would prefer i not come.

she said wait maybe a couple of years and then if she still feels the same, her and the other sister will tell her knock it off and that i'm coming.

mom died may 08 so this is the second christmas without her.

this is the sister that wanted me cut out of the will and took most of the possessions and some things that mom wanted me to have.

i told her not to worry that i didn't think i was coming anyway as it's too painful for me to be there.

she said they do not mention my name around her as it sets her off. i asked why and she said well she has to have somebody to blame for all this, and she's chosen you.

i told her well look if something happens to her just call me and let me know, cause i ain't gonna be there for her funeral and she said "well she certainly doesn't want you there, so don't worry about coming."

she also told me that they worry that my uncle who is seriously ill and he's about 80 will die and that i will show up at the funeral and she will make a big scene.

i'm pretty hurt and hey, i'm a big girl. she has a lot of guilt over the way she treated my mom and by blaming me she feels better. that's ok i guess.

but what am i supposed to do? never see my other two sisters at all just because she hates me and will get mad at them for seeing me? what if my uncle dies, should i just tell my aunt i don't want to cause problems and stay home?

this is so pathetic.

--------------------
do not look back when the only course is forward


---

Posts: 12262 | From texas | Registered: Mar 2007 | IP: Logged |

kelmo
Frequent Contributor (1K+ posts)
Member # 8797


posted

---

I'm so sorry. I have a brother that would refuse to be near me at Christmas, so we had to go to my parent's house in shifts.

I got the morning hot chocolate shift. And my brother got the roast dinner shift.

He had abused me my entire life, so this was another kick in the teeth by my parents.

Before my mother died last month, this imbalance in favor with her came glaringly obvious. I had to resolve this in my head as we took care of her in her last days.

Be honest with your aunt over why you were not invited. Talk to your uncle. I had to sneak up to visit my uncle and aunt in another town because my mother and father had a fued with them.

your sister has some SERIOUS issues. I'm telling you from experience that you don't need this negatively charged atmosphere on Christmas.

Plan something wonderful with your immediately loved ones and some close friends. Walk or drive around looking at Christmas lights.

Make new traditions...smores by the oustide fire pit, watch A Christmas Story or Meet Me In St. Louis.

We had many holidays without my parents because they were too mean to me and my children. I just figured it was THEIR loss.

And, it was. My kids enjoyed the holidays we had without them more. They miss what could've been, but they were only too aware of what reality gave us every year.

Your sister is a bitter, nasty, selfish person. Holidays are supposed to be for love. (Sorry, I'm being blunt, you may hate me for it).

Your sisters are cowards at not confronting her on her behavior. It's not a reflection on their love for you (I used to always think that way), it's just that they don't have a spine.

Make an arrangement to see the other relatives another day. It will be much more pleasant.

Kelmo

---

Posts: 2903 | From AZ | Registered: Feb 2006 | IP: Logged |

bettyg
Unregistered



posted

---

randi,

i share your pain in being told, "we don't want you there."

do as kelly suggests; she's been there...done that.

kelly great ideas! xox

---

IP: Logged |

Silverwolf
Frequent Contributor (1K+ posts)
Member # 9196


posted

---

<<<<< Randibear My Sister-Friend >>>>>,

I am saddened to hear your 'biological sisters' are behaving in such an ugly way.

TxC and I have had relatives pull all kinds of ugly...don't let them hurt you this way!!!

They are toxic people... the ornery mean sister and those who let her keep family apart from each other.

Randibear, Kelmo and Bettyg are correct dear friend... Make Your own traditons,and leave the toxic family members out of it.

Love From your sister friend Silverwolfi

--------------------
2006,May-August2006 Dx w/ Lyme/Bartonella/White Matter Lesion Disease on Brain.
[ Clinical Dx w/ two positives and several IND's on the tests from Igenex ], Prior Dx of CFIDS/CEBV 1992, and FMS '93-'94
Diabetes*2 Dx 10/'08


---

Posts: 3558 | From SE Idaho | Registered: May 2006 | IP: Logged |

Geneal
Frequent Contributor (5K+ posts)
Member # 10375


posted

---

Dear Randibear,

It is time to close that door.

It saddens and upsets me to think of all of your good energy

Being drained by your family members.

You don't have to.

Who would want to celebrate a joyous holiday with such hostility?

Not me.

I know it is so very hard, but try to let go of them and their negativity.

You will feel and do better for it.

I'll be your sister.

I still talk to both of mine on occasions.

However, I had to shut the door on our previous relationship.

Too painful, too hard and too draining.

I choose to surround myself with caring, loving people.

You will feel better for at least making a decision.

Even though your sister isn't close either physically

Or emotionally, it amazes me how she has so much "power".

Mine used to until I took it away.

Hugs,

Geneal

---

Posts: 6250 | From Louisiana | Registered: Oct 2006 | IP: Logged |

Starfall1969
Frequent Contributor (1K+ posts)
Member # 17353


posted

---

I am so sorry to hear this.

If I live to be 100, I will never understand why people who are supposed to be your love and support can just turn against you like that.

I have an aunt who had some kind of falling out with my dad, and she wants nothing to do with me or my brothers because of it.

Both my parents are gone, and I have no idea what the falling out was about, but because of it, I cannot have a relationship with her.

I hope you can find it in you to forgive them for their actions.

Please don't dwell on it, as it's not good for you physically, emotionally or spiritually.

If you're the praying type, pray for them. Pray for their hearts to soften before it's too late.

And yes, make your own traditions to celebrate the holidays.

Maybe you could even visit someone in a nursing home who has no one to visit them.

Bringing joy to someone else's life is always a wonderful thing!

Hugs!

---

Posts: 1682 | From Dillsburg, PA | Registered: Sep 2008 | IP: Logged |

22dreams
LymeNet Contributor
Member # 17846


posted

---

Ridding Your Life Of Negative People
Written by Evan Bailyn on 06/20 at 02:05 PM

Negativity is a cancer that appears in many forms.

Ridicule, guilt, prejudice, condescension, intimidation, and self-doubt are only a few of the ways negativity manifests itself.

While some kinds of negativity come from within and cannot be easily controlled, most are caused by other people.

I believe that everyone is entitled to rid themselves of these negative people in order to enjoy happier lives.

As teenagers, we often accept negative people into our lives because we are insecure and afraid of becoming the object of their wrath.

We feel safer if we have them on our team. Also, we are intimidated because negative people seem to wield power.

Indeed, the ability to disturb another person's day, week, or life is a form of power.

Nowadays, we feel that we are mature enough to avoid such malignant influences in our lives.

However, not all negative people are as overtly mean as they were in middle school.

More common are people that merely reflect negativity, like the girl who insists on

informing you anytime someone speaks badly about you, or the guy who only acts nice to you when you're alone with him.

These people, while not affirmatively attacking you, are quietly chipping away at your mood and self-esteem; thus, they should be removed from your life.

How do you decide who to expel?

What if a long-term friend, or even a parent, is the source of negativity that is causing you to be anxious or unhappy?

How can we really avoid those who have permanent places in our lives?

To help answer this question, try to detach yourself from the world of the everyday and look at things in a larger sense.

As human beings, we are given the freedom to hand-pick people that contribute to our well being and enrich our lives.

We are not physically bound to anyone, and many of the people we interact with every day were not even our choices, but rather the product of our environments.

We have no obligation to remain loyal to those who affect us adversely unless we place little value on our happiness.

Certainly, there are situations where it is difficult to implement this philosophy of purifying your social circle.

Obligations must be filled. But I urge you to examine those obligations very carefully;

compare the benefit you receive from them to the amount of negativity they bring into your life each day.

Remember that you deserve to be happy, and you only get one chance to do so.

The older you get, the harder it is to recognize and rid yourself of the sentiments that have set into your mind.

Don't let negative people interfere with your most precious natural gift: the capacity to love life.

---

Posts: 571 | From Massachusetts | Registered: Oct 2008 | IP: Logged |

Melodymaker
LymeNet Contributor
Member # 16434


posted

---

Randibear, Go and see your Uncle! Do not allow the viciousness of one sister to dictate what you do in life!! At least your aunt and uncle will know that you care. Otherwise, you'll regret it the rest of your life.

Tell your sisters that you are coming and would like to see them. If they decline, that's their decision.

If they blame it on your other sister, then they are not acknowledging that they make the decisions for their lives. They have simply decided to cave into her. Bad decision.

I am disappointed in your sisters. It seems that often family members tiptoe around the nasty ones so as not to upset them because they'll pitch fits, and the family doesn't want to deal with it.

That just reinforces their behavior. Instead, the "nasty" child should be required to behave in an acceptable, adult manner.

The nice ones get shoved aside. They are saying that it's OK to hurt and upset you and your family, but they can't upset this sister. Time for change!

They should simply say, Randi is welcome and we would like you to come also if you can behave civally. They should not allow one nasty sister to determine who they can have in thier homes.

A friend and I were just discussing limiting those in our families who are injurious to us. It's true that you can pick your friends, but not your relatives. However, you should never allow your relatives to treat you badly.

Praying for you, for I know how hurtful families can be. Wishing you peace.

--------------------
Wishing You Showers Of Blessings!
Lyme since Fall 1983 = Diagnosed Summer 2008
IV Rocephin 7 weeks Stopped due to drug fever
Now doxycycline
"For I know the plans I have for you...plans to give you hope and a future." Jeremiah 29:11


---

Posts: 430 | From Sunny South | Registered: Jul 2008 | IP: Logged |

DakotasMom01
LymeNet Contributor
Member # 14141


posted

---

Alot of good advice for Randi. Hope you use it. You'll be surprised how much better you will be and feel.

((((Randi))))

--------------------
Take Care,
DakotasMom01


---

Posts: 371 | From NJ | Registered: Dec 2007 | IP: Logged |

Pinelady
Frequent Contributor (5K+ posts)
Member # 18524


posted

---

My family has always had issues. All families

have issues. We always get together no matter

what. Any issue is forgotten and left outside at

times of remembrance. The parents are gone. The

aunts and uncles are gone and we mourn and

rejoice in what time we had. You know you could

invite them all to your place! Yes I said all.

And be the leader, the one to step up if they

will not. At least they will all know you care.

And leaves it open for peace and forgiveness.

You know I bought Christmas dishes 3 years ago

after Christmas way below cost to have everyone

here. 3 sets never been opened. It hasn't

happened yet. I was sick. Last Christmas was the

first time I can remember I was not there thanks

to Bb. Maybe this year. Prayers to you.

--------------------
Suspected Lyme 07 Test neg One band migrating in IgG region
unable to identify.Igenex Jan.09IFA titer 1:40 IND
IgM neg pos
31 +++ 34 IND 39 IND 41 IND 83-93 +
DX:Neuroborreliosis


---

Posts: 5850 | From Kentucky | Registered: Dec 2008 | IP: Logged |

kelmo
Frequent Contributor (1K+ posts)
Member # 8797


posted

---

I hope you can find it in you to forgive them for their actions.

Please don't dwell on it, as it's not good for you physically, emotionally or spiritually.

If you're the praying type, pray for them. Pray for their hearts to soften before it's too late.
------------------------------------------------

Definitely do this.

However, for others who say to forge ahead, be brave and make your presence known.

I tried that for years.

What happened every time? There was so much tension in the room that they started something just to get it out of the way. It was like waiting for the other shoe to drop. And, it always did. And, I was always the target. Always.

It's your choice, ultimately.

---

Posts: 2903 | From AZ | Registered: Feb 2006 | IP: Logged |
Contact Us | LymeNet home page | Privacy Statement

Powered by UBB.classic™ 6.7.3

---
The Lyme Disease Network is a non-profit organization funded by individual donations. If you would like to support the Network and the LymeNet system of Web services, please send your donations to:
The Lyme Disease Network of New Jersey
907 Pebble Creek Court, Pennington, NJ 08534 USA
http://www.lymenet.org/
---
Home | Flash Discussion | Support Groups | On-Line Library
Legal Resources | Medical Abstracts | Newsletter | Books
Pictures | Site Search | Links | Help/Questions
About LymeNet | Contact Us
---
© 1993-2020 The Lyme Disease Network of New Jersey, Inc.
All Rights Reserved.
Use of the LymeNet Site is subject to Terms and Conditions.
---