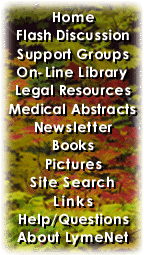 ---
LymeNet on Facebook
LymeNet on Twitter
---
---
The Lyme Disease Network receives a commission from Amazon.com for each purchase originating from this site.
When purchasing from Amazon.com, please
click here first.

Thank you.




Dedicated to the Bachmann Family


LymeNet needs your help:
LymeNet 2020 fund drive

The Lyme Disease Network is a non-profit organization funded by individual donations.

| | |
| --- | --- |
| | |
Author
Topic: My observation, geography vs. clinical diagnosis

LPPT
Member
Member # 20603


posted

---

For those of us that live in southern states.

I have read where others on this board living in southern states are having extreme difficulty with getting a diagnosis and proper treatment by medical professionals.

I am having the same experience myself.

I have been researching every thing I can find on the subject.

I believe had I gone to a Dr. in northeastern state with my symptoms I would have been diagnosed immediately on clinical symptoms.

I have been told 4 times that I can not have Lyme disease because it is not here in Georgia.

I also ask my vet yesterday could my dogs have it.
Same answer, no because Lyme is not in Georgia.

Since when do Dr.s make diagnosis based on Geography rather than scientific clinical symptoms?

My GP discussed my case with an I.F.D.Dr. even explaining to him that my western blot had come back positive.

He said that he he highly doubted that I could have it, because Lyme does not exist in GA.

I said to my Dr. that simply is not based on science and he said he totally agreed.

How in the world faced with clinical symptoms and a positive test can you make a diagnosis based on geography?

What bothers me the most about this are the thousands of people that live in these geographical areas that are being diag. with fybro, arthritis ect that may never have a chance at getting proper treatment and a chance at recovery.

I know of people that have been diagnosed with these diseases in my area, I feel the need to tell them to get checked.

They will have to fight for testing, especially if they don't remember a tick bite or have a rash.

They will have to fight for antibiotic treatment beyond 14 days of doxy.
Dr.s in our area have so little experience with this.
I will give my own GP. a lot of credit for all he is trying to do, admitting that he has no experience, and very little knowledge of this disease, he is committed to getting me better.

Should I tell them? I am very torn over this, because I know that lyme has not even been looked at as a possibility in their cases.

I feel like the alcoholic that thinks that everyone that drinks more than 2 drinks is also an alcoholic.

I guess I am venting a little, and also feeling guilty about not speaking up when I know that some may be suffering.

---

Posts: 36 | From Dallas GA | Registered: Jun 2009 | IP: Logged |

ugagal
LymeNet Contributor
Member # 18471


posted

---

Hi LPPT,

I live in your area and I have been diagnosed with Lyme. I also have a very supportive PCP who follows all recommendations from my out of state ID doctor. I also had a positive Western Blot and an EM rash. I'm now receiving IV antibiotic treatment.

I'll never understand how doctors and scientists can actually make the statement "Lyme doesn't exist in Georgia." I guess all the ticks jump off as the deer and birds cross over the Georgia state line!

Unfortunately, most Lyme patients in Georgia do end up having to seek treatment with Lyme Literate Medical Doctors in other states.
If you would like anymore info concerning my doctors and/or treatment, please send me a PM.

--------------------
My comments on this site are not intended to be taken as medical advice as I'm not a physician.


---

Posts: 206 | From Georgia | Registered: Dec 2008 | IP: Logged |

Geneal
Frequent Contributor (5K+ posts)
Member # 10375


posted

---

I heard the same thing when I asked to be tested for Lyme.

"No. There is no Lyme in Louisiana."

Yet here I and 11/12 people in less than a half a mile sit,

Most CDC positive both IgM and IgG for Lyme.

Georgia has the harshest restrictions for diagnosis

For Lyme than any other state in the country.

Can we say CDC?

I finally got tested by stating I had been in Northeast Tennessee

For over four months after Katrina.

Only because of that. Not because of my symptoms.

Hugs,

Geneal

---

Posts: 6250 | From Louisiana | Registered: Oct 2006 | IP: Logged |

Starfall1969
Frequent Contributor (1K+ posts)
Member # 17353


posted

---

That's as stupid as saying that, um... whooping cough doesn't exist in the US because we vaccinate for it.

Tell that to my friend from church who somehow contracted whooping cough.

Lol, the ticks jumping off at the GA state line--

yeah, is Roscoe P. Coltrane standing there keeping them out?

Geez, you gotta wonder at some of these doctors!

---

Posts: 1682 | From Dillsburg, PA | Registered: Sep 2008 | IP: Logged |

LPPT
Member
Member # 20603


posted

---

Geneal, it has occurred to me to lie and say I have been to the Northeast.

But it is unfair to all of the people here that are being allowed to suffer as long as nobody fights to make them recognize that they are wrong in their beliefs.

---

Posts: 36 | From Dallas GA | Registered: Jun 2009 | IP: Logged |

Leelee
Frequent Contributor (1K+ posts)
Member # 19112


posted

---

Hi LPPT,

I live in Maryland so I guess we aren't really southern and not really northeastern, either.

For about 20 years I searched for a diagnosis for my problems the last few of which I was certain I had Lyme.

I begged and begged even for a crummy ELISA test. Twice I was finally able to talk my PCP into giving me one. They came back negative, of course. I was told that it "was highly unlikely that you could have Lyme". I was also told that "you obviously have psychological problems and apparently have had them for some time". I heard variations on that theme all those years.

Finally, a LLMD diagnosed me.

My niece went to her PCP seven years ago with a tick bite and a rash. She was dismissed (at age 12!!!) Now, at 19, her symptoms are endless and she tested positive at Igenex. She has lived her entire life here in Maryland.

I guess what I am trying to say is that based on my experience we here in Maryland, unfortunately, do not fare well with Lyme diagnosis and treatment either.

--------------------
The ultimate measure of a man is not where he stands in moments of comfort and convenience, but where he stands at times of challenge and controversy. Martin Luther King,Jr


---

Posts: 1573 | From Maryland | Registered: Feb 2009 | IP: Logged |

hshbmom
Frequent Contributor (1K+ posts)
Member # 9478


posted

---

1991 state-sponsored article states Lyme has been endemic in Georgia for 20 years.


http://www.uga.edu/scwds/topic_index/1991/LYMEDI~1.pdf


Lyme is endemic in Georgia. Call the GA state dept. of health, epidemiology department. Ask them to send you the Lyme case counts backto the 1980's.


Make a spread sheet from this information. List each county and the number of cases per county since they began keeping this information. Tally the number of cases per county.


Which counties have two or more cases? Those are Georgia's endemic counties.


The CDC defines an endemic county as one where two cases of Lyme have occurred. T-W-O


You will see the perception by the healthcare officials is very different from the facts.

---

Posts: 1672 | From AL/WV/OH | Registered: Jun 2006 | IP: Logged |

Zebco 33
LymeNet Contributor
Member # 18376


posted

---

Hi LLPT.....Such ignorance...

I was dx'd last April of 2008 as my G.P. put me in hospital immediately after I went to see him with 104 fever and well everyone knows how bad you feel

Got the dx while in the hosp hooked up to 4 different abx's.

When home watching T.V. on a Tennesse station, an infectious diseas guy comes on the news and says there is no Lyme in Tennesse. The darn Govenor of the state got it a few months before me.???!!! What the HE double hockey sticks!

He got sent to the Mayo Clinic. Me? Still fighting and I got a positive dx. Why? Not long enough treatment.

I'm in the South. What up?

---

Posts: 145 | From Paris, Tn. | Registered: Dec 2008 | IP: Logged |

Parisa
LymeNet Contributor
Member # 10526


posted

---

Also if there are any military bases in your state the military keeps records.

---

Posts: 984 | From San Diego | Registered: Nov 2006 | IP: Logged |

sutherngrl
Frequent Contributor (1K+ posts)
Member # 16270


posted

---

My GP said the same thing.... We don't have LD in Mississippi. Well darn, I know at least 8 people personally that have it and live within 10 miles of me. And a million people have Fibromyalgia and Chronic Fatigue Syndrome around. That is what my GP said I had. Well what the heck causes that?

Anyway, do these doctors think that ticks stop at the borders or something?

My LLMD says there is a lot of LD in GA and in MS. What I don't understand is why regular docs don't check out the research. Do they just decide to stop learning once they are out of Medical school?

It's really a dumb idea to think that certain states just don't have LD. You would think a well educated person could figure out how LD could spread from state to state. How ridiculous!

---

Posts: 4035 | From Mississippi | Registered: Jul 2008 | IP: Logged |

hshbmom
Frequent Contributor (1K+ posts)
Member # 9478


posted

---

I should have added this to my post above:


The SCWDS is the Southeastern Cooperative Wildlife Disease Study...a government agency.


The state-federal cooperative structure of the Southeastern Cooperative Wildlife Disease Study (SCWDS) is the most cost-efficient means of providing high quality wildlife disease expertise to State and Federal Agencies responsible for this nation's wildlife and domestic livestock resources.


The wildlife agencies of 15 states (shown in green on map) & Puerto Rico and the Biological Resources Division of the United States Department of the Interior fund regional wildlife research and service projects. SCWDS also is supported by Veterinary Services of the Animal and Plant Health Inspection Service (APHIS), U.S. Department of Agriculture (USDA), for consultation and surveillance on a national and international basis where diseases may interact among wildlife , domestic livestock, and poultry. In addition to the financial benefits of a cooperative approach, there are numerous other points of consideration. Wildlife disease problems are of mutual concern to a variety of people...wildlife managers, outdoor recreationists, farmers, landowners, veterinarians, and physicians. SCWDS serves as common ground where wildlife experts work hand-in-hand with private, state, and federal authorities toward a common goal.


http://www.uga.edu/scwds/

---

Posts: 1672 | From AL/WV/OH | Registered: Jun 2006 | IP: Logged |

LPPT
Member
Member # 20603


posted

---

I went back and looked carefully at the criteria for reporting new cases in our state.

One thing I found interesting is that a diagnosis can be made on clinical symptoms if the person has visited an endemic area, and it is not required to be reported.

We have had a huge influx of of people from the northeast here in the Metro Atlanta area in the last 10 years.
They have brought their pets and possessions here.

My guess would be that the numbers of endemic cases here are extremely high here.

The doctors need to report this, I will push to get my case reported in hopes it will help others.

---

Posts: 36 | From Dallas GA | Registered: Jun 2009 | IP: Logged |

Nicole_Denise
LymeNet Contributor
Member # 20620


posted

---

Well, I don't even live in the states, but I was told the same thing.

"Lyme doesn't exist here."

And this despite the fact that they found lyme-infected ticks on a rabbit here two years ago!

From what I have seen, this seems to be one of the primary reasons why Lyme patients are denied treatment.

---

Posts: 503 | From Alberta, Canada | Registered: Jun 2009 | IP: Logged |

bettyg
Unregistered



posted

---

to all, use this info and have with you next time you go to your drs. who say, "there is NO LYME in our state!"

last 2 yrs. numbers are NOT ACCURATE; we don't know why!!


1980 - Jan. 2008 ...all 50 states broken down by years!

http://www.lyme.org/resources/1980-cumulative.htm



Betty note: I tried printing out the chart, but it goes SIDEWAYS, and tried printing in pages 1, 2, 3; it kept printing page 1 only! So just a warning if others try to do this; use your PRINT REVIEW FIRST which I did, and indicated DIFFERENT pages, but still got page 1 only! I gave up after 8 tries! uffda


1990--2006 of Lyme cases on the LDA website. LDA wants to make it difficult for anyone to continue to deny the impact of this disease nationwide.

I just noticed this on the LDA site, a new handy dandy tool for folks to use... (of course that is when I get done playing with it).

It is a printable map that shows the total number of reported cases of Lyme per year in each state... and the total number of cases over-all for each state. Thought it might be of help to those doing research, reports, support group meetings, etc.


2005, top 20 states in CDC STATS; fyi, IOWA no. 15%
http://flash.lymenet.org/scripts/ultimatebb.cgi?ubb=get_topic&f=1&t=049305#000004

LYMEDAD sorted the numbers for 2005 plus 2006 (through 12/23/06.
1. New York 9754
2. Pennsylvania 7642
3. New Jersey 5281
4. Connecticut 3497
5. Wisconsin 2786
6. Massachusetts 2369
7. Maryland 2177
8. Minnesota 1646
9. Delaware 1111
10. New Hampshire 823
11. Virginia 589
12. Maine 534
13. Rhode Island 274
14. California 264
15. Iowa 176
16. Vermont 157
17. Illinois 127
18. Michigan 116
19. Florida 106
20. Ohio 100
21. Texas 88
22. North Carolina 79
23. West Virginia 75
24. DC 69
25. Indiana 54
26. South Carolina 33
27. Missouri 27
28. Tennessee 20
29. Alabama 19
30. Oregon 18
31. Arizona 17
32. Washington 16
33. Nebraska 13
34. Georgia 13
35. Kentucky 12
36. Idaho 9
37. Utah 8
38. Kansas 8
39. Alaska 7
40. Nevada 6
41. New Mexico 5
42. Wyoming 4
43. South Dakota 3
44. Louisiana 3
45. North Dakota 3
46. Colorado 1
47. Mississippi 1
48. Arkansas 0
49. Guam 0
50. Hawaii 0
51. Oklahoma 0
52. Puerto Rico 0

LDA Map of Lyme Disease Case Numbers
http://lymediseaseassociation.org/Maps/usa_total.gif

The small print at the bottom says:
"Note CDC says Lyme disease is under reported and that only about 10% of cases that meet CDC surveillance criteria are actually reported to CDC. (For example, Oklahoma 362 reported cases = 3,620 probable cases meeting CDC criteria.)"

HOW TO INSTRUCTIONS for showing a physician
YOUR state's LD statistics by Nancy, HSHBMOM
http://flash.lymenet.org/scripts/ultimatebb.cgi?ubb=get_topic;f=1;t=063621


2003 CDC Incidence map from Truthfinder/Tracy
http://www.cdc.gov/ncidod/dvbid/lyme/distribution_density.htm
or this ``RISK MAP'':
http://www.aldf.com/usmap.shtml


Now compare that to this map that shows the incidence of positive Lyme test results in dogs in the USA:
http://www.idexx.com/animalhealth/testkits/3dx/lymemap.htm
ABOVE DOG MAP WAS DELETED !!


1996 ``CDC `` Case Definition of Lyme Disease, (Borrelia burgdorferi)

CDC's definition of an ``endemic'' county is a county with 2 confirmed cases of Lyme disease. TWO! Report yours!

---

IP: Logged |

LPPT
Member
Member # 20603


posted

---

Betty my research came up with the same out dated numbers, when I brought it up on my message board locally, i had 3 people in my county alone claiming to be diagnosed with it in the last 2 years, about 5 more outside of that that reported it, and a thread about fybro and chronic fatigue that about 1/2 a dozen responded to.

I want to look at the hoops the cdc is asking practitioners to jump through, I have some suspicions about that.

---

Posts: 36 | From Dallas GA | Registered: Jun 2009 | IP: Logged |

mazou
LymeNet Contributor
Member # 15319


posted

---

I heard that all it takes is one dog with one tick to be moved to another state.

Once a mammal has the bacteria, any tick that bites that mammal can become Lyme positive, then run off to bite others.

e.g., I grew up in an endemic area, and was certainly exposed from a young age. When I moved to California, I probably spread it around a bit. (sorry, folks).

---

Posts: 636 | From Saratoga County, NY | Registered: Apr 2008 | IP: Logged |

Melanie Reber
Frequent Contributor (5K+ posts)
Member # 3707


posted

---

Yes... the best way to make a change is to present the evidence. And there is plenty of it!

I am not speaking of anecdotal evidence, mind you, but peer reviewed and published abstracts that have found TBDs in your state.

You have been given some excellent advice on where to start gathering... but there is always more.


Patterns of Lyme disease diagnosis and treatment by family physicians in a southeastern state.
Boltri JM, Hash RB, Vogel RL
J Community Health 2002 Dec; 27(6):395-402.

This study examined how often physicians in Georgia diagnose and treat Lyme disease as well as the criteria they use to reach a diagnosis of Lyme disease. A survey was sent to 1,331 family physicians in Georgia concerning how many cases of Lyme disease the physicians diagnosed, and the criteria used to make the diagnosis, during the preceding 12 months.

Of 710 responses, 167 physicians treated 316 cases of Lyme disease without a firm diagnosis. In addition, 125 physicians diagnosed 262 cases of Lyme disease, 130 without serologic testing and 132 with serologic testing. Family Physicians in Georgia diagnose Lyme disease at a rate 40 times greater than the surveillance case rate reported in Georgia.

---

Posts: 7052 | From Colorado | Registered: Mar 2003 | IP: Logged |

LPPT
Member
Member # 20603


posted

---

Wow Melanie! thanks for the info I will share it!

Do you have a link to the article?

---

Posts: 36 | From Dallas GA | Registered: Jun 2009 | IP: Logged |

Melanie Reber
Frequent Contributor (5K+ posts)
Member # 3707


posted

---

Unfortunately, it seems to be one of those things that you must pay for although I am not certain?

Here is another excerpt from the article:


Patterns of Lyme disease diagnosis and treatment by family physicians in a southeastern state.

by John M. Boltri , Robert B. Hash , Robert L. Vogel

Journal of Community Health, Vol. 27, 2002

INTRODUCTION

Surveillance for Lyme disease was initiated by the CDC in 1982, and Lyme disease was designated a reportable disease in 1991. (1) From that time until 1995, the surveillance case definition for Lyme disease was not uniform. Since 1995, states have been shifting toward inclusion of laboratory findings for surveillance case confirmation of Lyme disease. (2) Current CDC reporting guidelines define confirmed Lyme disease as "either: (a) physician-diagnosed erythema migrans [greater than or equal to] 5 cm in diameter or (b) at least one disseminated manifestation (e.g., musculoskeletal, neurologic, or cardiac) plus laboratory confirmation of infection." (3,4) In Georgia, confirmed surveillance case definition of Lyme disease requires laboratory confirmation for all cases. (5,6)

Empiric treatment for Lyme disease, based on the finding of erythema migrans, is considered cost effective. (7) Recommendations for clinical diagnosis and management of Lyme disease have included prevalence rates of the disease in the decision process. (8,9) However, the determination of prevalence rate is dependent on many factors, including physician reporting compliance and laboratory surveillance. If physicians are treating the disease on clinical grounds, or without proper laboratory testing, the reported statewide prevalence rate could be falsely low. A falsely low prevalence rate could in turn affect management decisions (including testing and reporting) of patients with signs and symptoms of the disease. The consequences of both under- and over-diagnosis have been described. (10,...

http://tinyurl.com/ngdp7z

...

I also found this answer to a prevalence question with more citations...


Lyme Disease is actually everywhere. This bacteria has been found since the Ice Age and there have been over 300 strains found worldwide. 56 Strains have been found in the Southeastern portion of the United States alone, however, this information doesn't seem to be getting to our doctors via our public health officials. So the doctors don't look for it and reported cases remain low here. Folks think you can only get it up North or in CA, this is not true.

The CDC numbers do not reflect the true number of cases. They even admit that their numbers only represent about 10% of the actual number of cases. Unfortunately, the CDC keeps narrowing their criteria in order to report cases, so it looks as if there are no or few cases in many areas. However, look for Lyme support groups in every State...they are there and the leaders of these groups can report being in touch with hundreds of people from their States who contracted Lyme disease within their borders.

If using the current CDC map, you won't find out that in 1989 the State of Georgia had 715 cases reported to the CDC. That year the State provided free blood tests and they found that many cases, making the State 4th in the Nation in highest number of Lyme cases. A GA state epidemiologist back in the early '90's announced that they suspected there are over 10,000 cases in GA annually, being misdiagnosed. A 2002 Study from Mercer University In Macon, GA found that GA doctors diagnose Lyme at a rate 40X greater than is being reported (so take those 715 cases in 1989 and multiply them by 40 to get annual cases in GA). Similar numbers would probably be found throughout the South and the entire country, if more funding for research was available (and given to the proper people who truly have interest in tracking this disease).

So don't be lulled into believing you can't get it or that one State or another has a higher number of cases. You can get Lyme anywhere in the United States. Protect yourself and your loved ones. Prevention is the key!

See http://www.ilads.org (International Lyme and Associated Diseases Society)
please watch the new film Under Our Skin and read Cure Unknown for the alarming truth about Lyme disease.

Source(s):
Lyme Disease Bacterium Came From Europe Before Ice Age
ScienceDaily (June 30, 2008) --http://www.sciencedaily.com/releases/200...

http://www.cdc.gov/mmwr/preview/mmwrhtml...
CDC MMWR weekly
June 15, 1990 / 39(23);397-399
Tickborne Diseases -- Georgia, 1989

Genetic Heterogeneity of Borrelia burgdorferi Sensu Lato in the Southern United States Based on Restriction Fragment Length Polymorphism and Sequence Analysis, J Clin Microbiol. 2001 July; 39(7): 2500-2507.
doi: 10.1128/JCM.39.7.2500-2507.2001.
Copyright © 2001, American Society for Microbiology;

Patterns of Lyme Disease Diagnosis and Treatment by Family Physicians in a Southeastern State
Authors: Boltri J.M.1; Hash R.B.2; Vogel R.L.2
Source: Journal of Community Health, Volume 27, Number 6, December 2002 , pp. 395-402(8)
Publisher: Springer

Lyme disease plentiful in South, experts say Researchers find ticks that spread illness in S.C., Georgia
JEFF NESMITH
Cox News Service -Charlotte News and Observer
(reprint: http://www.canlyme.com/georgia.html)

http://answers.yahoo.com/question/index?qid=20090301121228AA7Wj7N

...

If you do some digging, I am sure there is a lot more.

Also see:
http://lymememorial.org/State_Stats/State_Statistics_Georgia.htm

---

Posts: 7052 | From Colorado | Registered: Mar 2003 | IP: Logged |

LPPT
Member
Member # 20603


posted

---

Thank you!

---

Posts: 36 | From Dallas GA | Registered: Jun 2009 | IP: Logged |

tcw
LymeNet Contributor
Member # 15698


posted

---

quote:

---

I believe had I gone to a Dr. in northeastern state with my symptoms I would have been diagnosed immediately on clinical symptoms.

---

I can save you the trip - I live in the most Lyme plagued area on the entire earth, and my son was still sick for nearly a year before diagnosis.

You would think with several thousand CDC positive cases per year within a 2 hour drive would change the way MDs look at Lyme, but they still do not believe.

In a way, you may actually be better off - around here you face a cost of several thousand dollars and possibly a 3 month wait time just to see a LLMD (once you find out that they are taking new patients - which is probably less than half the time you call).

---

Posts: 263 | From Capital Region, NY, USA | Registered: Jun 2008 | IP: Logged |
Contact Us | LymeNet home page | Privacy Statement

Powered by UBB.classic™ 6.7.3

---
The Lyme Disease Network is a non-profit organization funded by individual donations. If you would like to support the Network and the LymeNet system of Web services, please send your donations to:
The Lyme Disease Network of New Jersey
907 Pebble Creek Court, Pennington, NJ 08534 USA
http://www.lymenet.org/
---
Home | Flash Discussion | Support Groups | On-Line Library
Legal Resources | Medical Abstracts | Newsletter | Books
Pictures | Site Search | Links | Help/Questions
About LymeNet | Contact Us
---
© 1993-2020 The Lyme Disease Network of New Jersey, Inc.
All Rights Reserved.
Use of the LymeNet Site is subject to Terms and Conditions.
---