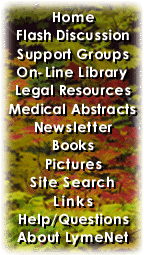 ---
LymeNet on Facebook
LymeNet on Twitter
---
---
The Lyme Disease Network receives a commission from Amazon.com for each purchase originating from this site.
When purchasing from Amazon.com, please
click here first.

Thank you.




Dedicated to the Bachmann Family


LymeNet needs your help:
LymeNet 2020 fund drive

The Lyme Disease Network is a non-profit organization funded by individual donations.

| | |
| --- | --- |
| | |
Author
Topic: YAY (gulp) ! , A PRESIDENT TACKLES (is tackled?) HEALTHCARE

sometimesdilly
Frequent Contributor (1K+ posts)
Member # 9982


posted

---

Rule one in separating fact from distortions/hidden agendas:

KNOW WHO YOUR SOURCES OF INFORMATION ARE:


the cnsnews source cited above..

what do we have here?

Ah, that article relies upon the supposed objectivity of a distinterested egghead doc. But wait... he has an agenda!!!

He's a senior fellow from an advocacy group called:

Americans for Prosperity

(I always love the org names corporate interests choose to mask who they really are. And what is the AFP?)

Behold:

Americans for Prosperity (AFP),are

"committed to educating citizens about economic policy and a return of the federal government to its Constitutional limits."[1]

AFP was one of the lead organizations behind the Tax Day Tea Party protests April 15, 2009.

In mid 2009, Americans for Prosperity launched an advertising and advocacy campaign opposing U.S. health care reform named Patients United Now [1].

(interesting timing, eh? these are called ASTRO-TURF groups for those who are unaware...)

more?

They are pro-Big Tobacco:

Tobacco industry involvement

AFP advocates pro-tobacco industry positions on issues like cigarette taxes and clean indoor air laws. The name "Americans for Prosperity" will sound familiar to tobacco prevention policy advocates, as Americans for Prosperity worked around the U.S. in recent years to defeat both smokefree workplace laws and cigarette excise tax increases.

Americans for Prosperity opposed a proposed Texas smoking ban in 2005. According to the Fort Worth Star-Telegram, ``A proposed statewide smoking ban appears all but dead, supporters acknowledged Monday as they waged a frantic battle to bring the bill up for a vote in the Senate. `I think the bill is dead,' said Peggy Venable, Texas director of Americans for Prosperity, which opposed the legislation, arguing that it is an intrusion on private-property rights."

The strategy of portraying smoking as a "property right" can be traced to Philip Morris which, in the mid-1990s, introduced bills in state legislatures nominally to protect property rights as a means of fighting smoking bans. Venable called the smoke-free measure a "reckless expansion of government" that "set a dangerous precedent."

Although Venable did not testify against the bill directly on behalf of the tobacco industry, the Houston Chronicle reported in 2007 that Americans for Prosperity had, in fact, been underwritten by tobacco companies in other states.[5][6]

Americans for Prosperity opposes smoking bans by using slippery-slope arguments ("Where will it stop?") and erroneous arguments that smoking restrictions are economically damaging.[7][8]

Americans for Prosperity (AFP) also opposed an Illinois state tax on cigarettes in 2008, claiming it would eliminate jobs.[9]

AFP opposed a clean indoor air law in Washington, D.C. in 2006.[10]

AFP opposed a clean indoor air law in Kansas City, portraying the issue as one of personal liberty and economics rather than public health.[1


more?

They ridicule the scientific FACT of global warming:


During 2008, Americans for Prosperity ran its Hot Air Tour campaign, a hot air balloon cross-country tour with the slogan, "Global Warming Alarmism: Lost Jobs, Higher Taxes, Less Freedom."

According the the Hot Air Tour website, "Climate alarmists have bombarded citizens with apocalyptic scenarios and pressured them into environmental political correctness. It's time to tell the other side of the story. Americans for Prosperity is working hard to bring you the missing half of the global warming debate. What will the impacts of reactionary legislation be for you, your family and our economy?"[12]


Etc. etc.

check 'em out for yourself and look up the Board members if you need further clues.

Ok, whois Lew Rockwell? At least he identifies himself rather than hiding behind a faux grassroots group.

Excuse me, though, if I don't take his statements at face value- he is anything but a neutral source of information:

(from wikipedia...)

"Rockwell was closely associated with his teacher and colleague Murray Rothbard until Rothbard's death in 1995.

Rockwell's political ideology, like Rothbard's in his later years, combines a form of anarcho-capitalism with cultural conservatism and the Austrian School of economics.

He also advocates federalist concepts as a means of promoting freedom from central government, and also advocates secession for the same political decentralist reasons.

Rockwell has called environmentalism "[a]n ideology as pitiless and Messianic as Marxism."[7]
[edit] Paleolibertarianism

In 1985, he was named a contributing editor to Conservative Digest.[8] During the 1990s Rothbard, Rockwell and others described their views as paleolibertarian[9], but Rockwell no longer uses the term to describe his ideas.[10]

Jean Hardisty, founder of Political Research Associates, wrote in 1999 that Rockwell was one of the most influential proponents of the paleoconservative faction of "right-wing libertarianism."[11]

Lew Rockwell's web site features a selection of articles, including opposition to war and imperialism ---((WELL THAT I CAN AGREE WITH!!!)

along with occasional articles criticizing the presidency of Abraham Lincoln.[12] The site also carries essays which argue against the participation of the United States in the Second World War, speculation about an end of the United States as a cohesive union and assertions the Western world is threatened by an intersection of fascism and socialism alike as politicians and states centralize their power.[13][14][15]

These writings are sometimes controversial and have brought harsh criticism from some on the political right.[16][17] As of August 21, 2008, his web site also provides a daily podcast on weekdays featuring interviews with scholars, including many affiliated with the Mises Institute.
-------------------------------

back to the topic at hand....


Anyone have a reliable source of information about how many are actually uninsured? Though, in any case, it is NOT simply or even largely the number of uninsured that is driving this debate.

If most middle income voting Americans had health insurance that was affordable to their employers,themselves, and in the overall economy, there is no doubt at all that the uninsured would be INVISIBLE and the topic would never have come up.

This straw man argument-- that there aren't really very many without insurance-- is obviously given a great big boost --for some--by the wedge-driving, unsubtle in the extreme assertion- THE ONES WITHOUT INSURANCE ARE ILLEGALS!!!

i think i'll start keeping a list of the top 10 corporate-funded lies out there meant to destroy reform.

---

Posts: 2505 | From lost in the maze | Registered: Aug 2006 | IP: Logged |

trishden
LymeNet Contributor
Member # 722


posted

---

You have an answer for everything somethingdilly. You obviously are in the tank for Obama and he can do no wrong.

He is taking this country so far left, and yes taking over the banks, car manufacturers, wall street and now our health care, it's unpecedented.

He is trying to get his narcissistic hands on all private sector and that is socialism.

I don't know about you, but the bigger government gets the more freedoms and liberty we lose. Our founding fathers must be rolling over in their graves.

Why don't you try and get your news other than the main stream in the tank for Obama and can't be trusted media.

---

Posts: 305 | From NJ | Registered: Feb 2001 | IP: Logged |

Geneal
Frequent Contributor (5K+ posts)
Member # 10375


posted

---

Ms. Dilly,

I respectfully read your response to my post.

I just don't agree with the plan.

I have paid out of pocket for all of my children's LLMD visits.

Not because they didn't have insurance.

Because I don't want it on their "health insurance records".

I am not by any means rolling in money. Especially after Katrina.

Nor do I expect to with the current economic environment.

My LLMD is not covered by my health insurance.

Never has been.

How do I know what will happen to my private health records?

I don't trust the government to not allow all of the physicians to

Access anybody's medical records under the "united" plan.

Sigh.

I mean no disrespect. I think that my view point comes

From personal family experience (albeit an Ocean away)

And my concern about my privacy, rights and freedoms of this country.

I do not see this program as increasing any of these rights.

I hope you are doing well. I hope that everything

You are expecting this plan to be comes to fruition.

Hugs,

Geneal

PS I have no Magic

---

Posts: 6250 | From Louisiana | Registered: Oct 2006 | IP: Logged |

luvs2ride
Frequent Contributor (1K+ posts)
Member # 8090


posted

---

dilly said:



quote:

---

what IS effectively bankrupt is Medicaid, and unless costs can be contained, Medicare is next.

---

True and costs will be contained how?

dilly said:




quote:

---

and the denial of services, rationing etc. you describe? That is the very definition of what health insurance companies are allowed to do, right now, with complete impunity, which you must know already too, especially as a Lyme patient, even if YOU magically haven't had that first hand experience.

---

Go to www.naic.org. Go to the rules and regulations, pick your state and take a look at all the regulations your insurance company must comply with in order to do business in your state.

This is the National Association of Insurance Commissions. Ins. Commissioners are GOVERNMENT employees who govern the insurance companies by state. Each state has an insurance commissioners office whose sole purpose is to regulate the insurance companies ALLOWED to do business in that state.

It is the politicians favorite trick right now to vilify the insurance companies and you guys are following along like mice after the pied piper.

The Truth is the government completely regulates insurance already. If the rules aren't sufficient then all government has to do is enact a new law and the insurance company has to comply.

If the lobbyists are buying favors from the government to prevent those rules from happening then our government is corrupt. Imagine that!

So why do you want to give more money and more control to a corrupt government system?

The insurance company is not the villian.

I watched Bill Moyers Thurs night and his show was focused on the evil insurance industry. They showed a family whose daughter needed an experimental, potentially life-saving surgery and the insurance company was refusing to pay for it because it is experimental.

All I could think was "why aren't the doctors and the hospital offering to do the surgery for a reduced cost? Why aren't they also villans for letting this girl die when they could have saved her?"

Again, I ask? Why aren't we going after the real problem with healthcare? The extortionists prices being charged for medical care?

--------------------
When the Power of Love overcomes the Love of Power, there will be Peace.


---

Posts: 3038 | From america | Registered: Oct 2005 | IP: Logged |

Geneal
Frequent Contributor (5K+ posts)
Member # 10375


posted

---

One more thought to ponder this am.

Specific to our disease and plight.

Have you thought about our treatment and the IDSA?

I don't believe that our LLMD's would escape the definition as set by IDSA.

For identification and treatment. Whether you get to "choose" them

As your primary care giver, or not.

What about alternative treatments?

Homeopathic?

Just some additional concerns regarding this health care package.

Hugs,

Geneal

---

Posts: 6250 | From Louisiana | Registered: Oct 2006 | IP: Logged |

kam
Honored Contributor (10K+ posts)
Member # 3410


posted

---

After the hearings, a person asked this question to Dr. Cameron.

Haven't been able to read the other posts just Geneal's, so this may all ready be posted.

But, Dr. Cameron said ..rephrasing..that education is what is needed one way or the other with lyme and company.

If you watch marc media once they get it posted on ilads, you will be able to get the original statement.

---

Posts: 15927 | From Became too sick to work or do household chores in 2001. | Registered: Dec 2002 | IP: Logged |

sometimesdilly
Frequent Contributor (1K+ posts)
Member # 9982


posted

---

Trish-

i don't reduce the world to black and white, us versus them, you're with us or you're against us, i'm right and you're wrong terms.

i certainly don't believe i have the answer to everything, or the older I get, to much of anything that really matters.

I never said here- and don't believe it--that President O has all the answers to anything, much less to healthcare.

I in fact have said at every turn that even the very best ideas and very best intentions on the issue are going to be subverted during the policy process, by power and by money.

I've been politically active for over 30 years, and haven't been accused of being politically naive for... well, at least the last 20 of those years.

What I have little tolerance for is sloppy thinking and still less, the rote repetition of "facts" from biased sources with an agenda of their own, and least of all, especially after the past 8 years, the cynical use of raw fear to sway or stifle political debate.

---------

Geneal- I completely agree with you about access to our medical records, and have always felt that way. There is no reason to trust that the information in them will not be used against us, and every reason to think that the precise opposite will happen.

For example, I've feared for a long while what i see as an inevitability, that sooner or later we will all be given genetic testing at birth or soon after to see what diseases and conditions we are predisposed to genetically, and that the information gathered then will determine ever after access to medical care and not just that.

I do not trust "the government" to safeguard my privacy, but oh man, I am a million percent more afraid of giving private info to private sector goons whose ONLY allegiance is to profit margins.

BTW, we seem to agree in principle about the need to protect our civil liberties and freedoms, good lady. I think we have different notions about what entity poses the greatest threat, though, and so are looking in different places for solutions.

hugs to you, too..

---

Posts: 2505 | From lost in the maze | Registered: Aug 2006 | IP: Logged |

Need Lots of Help
LymeNet Contributor
Member # 18603


posted

---

Any child who falls down the stairs is going to go to the ER. Period. Does it equal having a healthcare plan, no, but in an emergency that child will get care. And that child (or adult, or illegal alien) can go back to the ER for follow ups. Knowing that the bill will not be paid.

Again, yes, I would LOVE for everyone to have health insurance, but I do not want the government in charge of anything else....

Shalome

---

Posts: 893 | From Florida | Registered: Dec 2008 | IP: Logged |

liesandmorelies
LymeNet Contributor
Member # 15323


posted

---

Any child that falls down will go to the ER, but that same child who does not have an "affordable" plan very, very rarely if ever goes for well check ups and proper monitoring of their health that would help to reduce overall costs if he or she had decent affordable ongoing healthcare coverage.

Would you rather they keep going back to the ER or receive an affordable option that would only encourage them to go to an emergency room when the true emergency arises???

Now we all know that the ER is a very, very expensive proposition and should really only be used in an emergency. Studies have shown that if these same people that have been forced to frequent the ER had affordable healthcare(or a free plan for those that are truly poor), then the overall cost would be greatly reduced.

Because the private sector has failed to provide a viable option that is "Affordable", the government has to intervene.

Perhaps the battle should be fought with the private sector who has for years now held a monopoly.

I find it ironic that everyone is angry all of a sudden with the government when they are forced to act responsibly and clean up the mess that this country is now in. Perhaps this anger should have and should be directed to the greed that is ruining our country.

Maybe people really ought to be battling Big corporate America, who has had no problem or guilt about ousting our best manufactoring jobs, reducing benefits, allowing the insurance agency's, the drug company's etc...to run us a muck.

We all know that corporate America has the power to pretty much do what it wants, so why oh why have they not been able to come up with a viable "affordable" plan?

We should not only be putting pressure on corporate America, but also with the medical community as well. It has gotten absolutely ridiculous more times than not with what they are charging for services rendered.

This is a multi-faceted problem and is not as easy as saying that all children will be treated if they fall down. I don't believe that all children who fall down are treated the same way after the fall and after the ER visit is over.

I am much more concerned with the long term health of individuals and making sure that all people receive good health services which will enable us as a country to reduce healthcare costs because the preventative healthcare is of the utmost importance in regards to lowering health care costs.

It's kinda like maintaining a car. If you only put oil in the car when it totally runs out, it's likely that you will have done major damage to the engine. But, if on the other hand you make sure you do oil and filter changes on a regular schedule and make sure that you check for problems any time the engine alert light goes on, chances are the problem will cost a lot less to take care of, then if you hadn't

This is just food for thought, and I hope you can appreciate the illustration. To me it's a no brainer. It's a must if our country is to get on our feet again, be profitable and have a chance at competing in the modern world. And, it's the right thing to do morally, ethically and because we can.

Will the plan be perfect? No, but it's a start that we can't afford to not do.

--------------------
aka: Lyme Warrior

In order to do "real" science, you have to have a "real" conversation with nature.

Well Behaved Women Rarely Make History!

"Just Demand your Rights"


---

Posts: 869 | From nor - cal | Registered: Apr 2008 | IP: Logged |

luvs2ride
Frequent Contributor (1K+ posts)
Member # 8090


posted

---

lies,

You are talking without investigating.

Check out my website above www.naic.org and read how much control government has right now on the insurance industry then you will understand the truth.

The government is already in complete control of your insurance.

The government now wants the profits. And those profits will not be used to improve our infrastructures. We are slaves to the government.

--------------------
When the Power of Love overcomes the Love of Power, there will be Peace.


---

Posts: 3038 | From america | Registered: Oct 2005 | IP: Logged |

Aniek
Frequent Contributor (1K+ posts)
Member # 5374


posted

---

luvs,

State insurance commissioners do not regulate my insurance or the insurance. Why? Because the federal law called ERISA provides exempts most employer provide health benefits from state regulations.

Also, I'm wondering, are all doctors evil because they haven't taken a vow of poverty? Should all health care providers just work for free for people who can't afford it? You keep talking about reducing costs, how exactly do you suggest that it happens? Can you show me a budget of a doctor's office and a hospital and tell me exactly where they are charging too much for services?

--------------------
"When there is pain, there are no words." - Toni Morrison


---

Posts: 4711 | From Washington, DC | Registered: Mar 2004 | IP: Logged |

trishden
LymeNet Contributor
Member # 722


posted

---

dilly, I didn't mean to be disrespectful but I find it is the democrats that do the fear mongering.

They had to pass that stimulus or we'll be in the next depression.

They haven't even put a 5th of it out there yet and most of it is full of pet projects and pork.

How is that going to stimulate the economy?

What they should be focusing on is jobs not healthcare with a bill of some hundreds of trillians of dollars.

They villify the insurance companies, which is just the last one.

Then there was big oil, the car industry, wall street. It goes on and on.

They are the party of fear mongering in mho.

what about if you put a republican in office, black churches would burn.

Republicans are all racists. Wasn't it Bush 2 that had Condoliza Rice and Colon Powell in high positions.

Clinton didn't have any people of color in his administration. Also the oldest Senators Robert Byrd, a democrate was in the KKK.

Taken from Wiki African-American Civil Rights Movement (1955-1968)

The Republican Party -- the "party of Lincoln" -- which had been the party that most blacks belonged to, shrank to insignificance as black voter registration was suppressed.

By the early 1900s, almost all elected officials in the South were white Democrats.

It was President Woodrow Wilson a southern Democrat but also the govenor of NJ who introduced segregation in Federal offices in 1912.

But if you ask my 18 year old son, he thinks the Republicans are the racist only because the democrats have pepetuated this lie for so long.

So no, I don't believe the opposition to this disasterous healthcare bill is just fear talk. There is so much wrong with it, number 1 being how are they going to pay for it?

I heard today they are well aware that a majority of people don't want it, but they still are trying to forge it through the faster the beter.

---

Posts: 305 | From NJ | Registered: Feb 2001 | IP: Logged |

luvs2ride
Frequent Contributor (1K+ posts)
Member # 8090


posted

---

Aniek,

Can you prove to me that doctors, hospitals and the drug cartel don't charge too much?

You ok with $20,000. for one chemo treatment? What is in it that is worth so much?

Hmmmm, you defend that and then you complain about the cost of health insurance premiums?

Skip the premiums and just pay for the medical care yourself. That will cut out the middle man.

--------------------
When the Power of Love overcomes the Love of Power, there will be Peace.


---

Posts: 3038 | From america | Registered: Oct 2005 | IP: Logged |

LymeLearned
LymeNet Contributor
Member # 20565


posted

---

I think we can (or should) agree that:

*Health care is a Basic Human Right.


*Schools are already "socialized", as are Police, Fire, Library and Postal services, Highways, Bridges, and Prisons.


*I hope that we can get to a place where in the wealthiest, most powerful nation in the world, everyone will agree that NO ONE should have to suffer illness or premature death for lack of funds for medical care.

*Sadly health care has become commodity that allows some at the top of the towers to extort the hardest working, and those who can least afford it.

ON that 2%, How does this mesh with 10% and higher unemployment? Nearly all Americans get their health care from employers.

The ONLY thing offred to laid off workers is COBRA. This is a limited offer that requires 25% of thier unemployment check, which is already about 60% of thier former income.


When I was laid off, I just had to cross my fingers and pray nothing went wrong. I also avoided ANY dangerous recreation activities or situations.


Still, I could have been hit by a car or something and have ended up paying for the rest of my life. This is not my America.


ADD to this that having healthcare does NOT promise you won't still lose your home and everything you own if you actually get very ill. The health care providers are extorting families into poverty.


Have you seen this? This guy is truly ON OUR SIDE...

http://www.youtube.com/user/TheJemsekClinic


One upper middle class professional couple did just this after the husband had two heart attacks, and then the wife had cancer. By they time they were both medically on their feet, EVERYTHING was gone.

We MUST get into a situation where medical care is NOT tied to employment because any illness that puts out out of work for a while (like cancer, or even Lyme disease) would mean that the health coverage ends.


The incentive to avoid treating Lyme disease might dissipate if we pulled the plug on high profit healthcare.

Don't we at leasst all agrree that:
Health care is a Basic Human Right?

--------------------
"SEVEN LYME FACTS THAT COULD HAVE SAVED ME" VISIT ME AT:

http://www.youtube.com/TickedOffLiterally


---

Posts: 183 | From USA | Registered: Jun 2009 | IP: Logged |

Tincup
Honored Contributor (10K+ posts)
Member # 5829


posted

---

Just stopping in to be sure no one has chewed off their own leg during this great debate. HA!

Looks like everyone is still running around on all 4's.



A couple of comments about the child who fell down the stairs... here is one that was made....

"So the lady with the child who falls down the stairs. Who has no insurance, can go to any emergency room and not be turned away."

Of course, it was only an "example" that I gave about the stairs and the child falling, originally.

And having worked in an ER, been a volunteer on an ambulance for years... and having had to be the patient in an ER on numerous occasions...

They are required to provide ONLY minimal care needed to save a life.

Also, you can not go back to the ER for check ups on your injury or sickness.

You are given written instructions when you leave to go to a family doctor for follow-up treatment.

This way of treating is not acceptable health care.

I agree with Lymelearned and others.

Health care is a basic human right.

And like having food and clean water is a basic human right...

We wouldn't settle to give those without food or water, a pound of rice per month and 1/2 gallon of water to sustain them.

That is not acceptable.

If we settled for giving them only the rice and the 1/2 gallon of water...

It would be the same as saying people already have health care because they can go to the ER when they have an accident.

Except it would have another disadvantage of costing too much if we do it that way.

I don't know what works.. but what we have now is not working.

I am glad someone (President) is taking it on themselves to make changes.... no matter how unpopular it makes them with those who are afraid of change and just want to argue for arguments sake.



--------------------
www.TreatTheBite.com
www.DrJonesKids.org
www.MarylandLyme.org
www.LymeDoc.org


---

Posts: 20353 | From The Moon | Registered: Jun 2004 | IP: Logged |

liesandmorelies
LymeNet Contributor
Member # 15323


posted

---

Lymelearned and Tincup,

I agree with both of you that health care is a basic human right.

I think you would be suprised(or maybe not)at how many people in this day and age do not believe that it is a basic human right.

They will say things like....Although I would love to be able to give everyone.... or, we all would like to be able to give.... or better yet...I want everyone to have good affordable health care, but....

It's the "BUT" that is always the excuse for inhumanity in the world that we live in. Sorry to be so blunt, but...

--------------------
aka: Lyme Warrior

In order to do "real" science, you have to have a "real" conversation with nature.

Well Behaved Women Rarely Make History!

"Just Demand your Rights"


---

Posts: 869 | From nor - cal | Registered: Apr 2008 | IP: Logged |

liesandmorelies
LymeNet Contributor
Member # 15323


posted

---

Thank you for sharing Tincup.

That is very sad and this kind of treatment is not unusual in poor inner city hospitals, in fact it even happens in suburban areas too.

--------------------
aka: Lyme Warrior

In order to do "real" science, you have to have a "real" conversation with nature.

Well Behaved Women Rarely Make History!

"Just Demand your Rights"


---

Posts: 869 | From nor - cal | Registered: Apr 2008 | IP: Logged |

sometimesdilly
Frequent Contributor (1K+ posts)
Member # 9982


posted

---

well, the song isn't over, but is sure is sounding nasty all over the place.

VIOLENCE (over a healthcare debate, folks. is this AMERICA?????)

Tampa, Florida

(OUTSIDE) Angry protesters and strong supporters are clashing inside and all around a health care reform town hall meeting in Downtown Tampa.

The meeting which was scheduled to begin at 6:00 at the Children's Board of Hillsborough County drew hundreds of people who quickly began to overwhelm staff and event organizers at the front entrance.

As the building filled to capacity, angry protesters stuck outside began to scream, yell, and chant. At one point, those trying to get inside began banging on windows as Tampa Police officers quickly spread out guarding all entrances.

inside:

"There is more consensus than there is disagreement when you get right down to it,'' Castor offered, immediately drowned out by groans and boos.

She pressed on, mostly unheard among the screams from the audience of more than 200.

"Tell the truth! Tell the truth!"

"Read the bill!"

"Forty-million illegals! Forty million illegals!"

The spectacle at the Children's Board in Ybor City sounded more like a wrestling cage match than a panel discussion on national policy..

PS- "ILLEGALS" ARE NOT COVERED BY ANY BILL BEING PROPOSED. THE ALLEGATION IS A FLAT-OUT LIE BEING USED TO WHIP UP HATRED.
--------------------------------------------

2. news from Michigan:

The crowd was starting to settle down, when someone from the Larouche Pac organization strolled in with the Obama=Hitler sign which the crowd loudly cheered.

Prior to the start of the meeting, pens and paper were handed out. The emcee from AARP asked audience members to fill out questions and submit them and he would take some to Rep. Dingell (the crowd booed loudly, while some screamed "answer my question.")

After the questions were collected, a disabled woman spoke on how she lost her healthcare in December 2008 and since she has pre-existing conditions.

Disabled Woman

She was greeted with catcalls, interuptions--"I shouldn't have to pay for your healthcare" and "get government healthcare." Zero sympathy from the anti-reformers.

Then came John Dingell. Dingell, in his 80's, went to the podium and immediately a man with his son in a wheelchair came strolling down the aisle.

Disabled son

Now for some reason, the crowd had sympathy towards this man and wanted John Dingell to answer his question which wasn't a question, but was "your healthcare plan is going to take healthcare away from my son and kill him".

When Dingell responded, "No, it will not." The man responded "Liar" over and over again. He finally had to be escorted out (but not arrested by police).

When Dingell tried to answer any question, he was interrupted by someone screaming, "Liar", "the goverment is going to kill us when we are older", "the goverment is providing abortion money", etc.

In the audience were the Liberty Counsel, Republicans, Libertarians, Tea-Baggers, Larouchites, anti-abortion activists and some Dingell supporters.

...When it was over, this gentlemen told me he "couldn't wait for my end of life meeting" with my Doctor, I guess.

NICE, EH?

To follow--

chapter 2 (when things go bad- really bad- having us fight against us instead of us focusing our anger at them is always the owners' strategy, and unfortunately, it is effective almost all of the time all over the world.)

chapter 3: (lobbyist hyenas are circling ever closer around the carcass healthcare bill,dividing up the pounds of flesh...it aint looking pretty over that way either).

chapter 4: Happy days are NOT here again, and we are going to have greatly rationed healthcare no matter what or whom or whatever. the only question remaining is who gets to decide what and how much gets rationed.

---

Posts: 2505 | From lost in the maze | Registered: Aug 2006 | IP: Logged |
| | |
| --- | --- |
| | This topic comprises 2 pages: 1 2 |
Contact Us | LymeNet home page | Privacy Statement

Powered by UBB.classic™ 6.7.3

---
The Lyme Disease Network is a non-profit organization funded by individual donations. If you would like to support the Network and the LymeNet system of Web services, please send your donations to:
The Lyme Disease Network of New Jersey
907 Pebble Creek Court, Pennington, NJ 08534 USA
http://www.lymenet.org/
---
Home | Flash Discussion | Support Groups | On-Line Library
Legal Resources | Medical Abstracts | Newsletter | Books
Pictures | Site Search | Links | Help/Questions
About LymeNet | Contact Us
---
© 1993-2020 The Lyme Disease Network of New Jersey, Inc.
All Rights Reserved.
Use of the LymeNet Site is subject to Terms and Conditions.
---