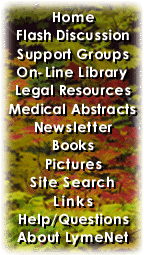 ---
LymeNet on Facebook
LymeNet on Twitter
---
---
The Lyme Disease Network receives a commission from Amazon.com for each purchase originating from this site.
When purchasing from Amazon.com, please
click here first.

Thank you.




Dedicated to the Bachmann Family


LymeNet needs your help:
LymeNet 2020 fund drive

The Lyme Disease Network is a non-profit organization funded by individual donations.

| | |
| --- | --- |
| | |
Author
Topic: I'm a Doctor here to Listen and Learn

brcyanni
Unregistered



posted

---

Hi Everyone. I'm a doctor from the Midwest. I got dragged to the Michigan Lyme Conference this past weekend and I am fascinated.

One of the vendors gave me a list of Lyme support sites along with a stack of prewritten preposted letters and symptom lists to send to my colleagues, which I will absolutely do!!


I probably won't post much, and I'd rather not answer medical questions, But I wanted to say that I'll be trying to log on as much as I can to listen and learn from all of you.

And all my best for your healing.

---

IP: Logged |

bettyg
Unregistered



posted

---

we're blessed that someone drug you there!! OUR GAIN

i've chronic lyme 40 yrs. this xmas; 34.5 yrs. MISDIAGNOSED by 40-50 drs; unacceptable.

Welcome; I'm so glad you found us!! You've come to the right place for education and support!


lyme disease and CO-INFECTION symptoms lists .... check it out..
http://flash.lymenet.org/ubb/ultimatebb.php/topic/1/81386


Dr. Burrascano's most recent "Diagnostic Hints and 2008 Treatment Guidelines for Lyme and Other Tick Borne Illnesses" .
http://www.ilads.org/lyme_disease/treatment_guidelines.html


PAGES 17-19 discuss ADULT & KIDS MED TREATMENTS!
http://flash.lymenet.org/scripts/ultimatebb.cgi/topic/1/80440?#000006
Dr. B's Supplement List
http://www.lymepa.org/Nutritional_Supplements.pdf


this link, making the most of your LLMD visit, may help you also.
http://flash.lymenet.org/scripts/ultimatebb.cgi?ubb=get_topic&f=1&t=020605#000005

http://flash.lymenet.org/ubb/ultimatebb.php/topic/1/77378

***************

TREEPATROL'S NEWBIE LEARNING LINKS ... over 1000 links of good info and guidelines galore!! MUST SKIM & READ !!

http://flash.lymenet.org/ubb/ultimatebb.php/topic/1/29917
************************************************************************


Betty's suggested POSTING GUIDELINES . many of us have neuro lyme where we can NOT read long solid block text and be able to comprehend and read it as is.

please edit your post by CLICKING PAPER/PENCIL ICON to right of your name. that opens up BOTH subject line and body text.

now please break up your WORDY SENTENCES into one sentence paragraphs. Then hit ENTER KEY ``TWICE`` after each paragraph; we need that space for comprehension.

then go to left hand corner and mark box to receive ALL REPLIES, and click EDIT SEND

we thank you for helping us; otherwise, we will SOB, SCROLL ON BY, since we can't read to help you. If I see posts like this, I SOB them; to hard on me.
------------------------------------------------------

People seeking doctors might be able to get help from their state online information and support group. Nearly 3,400 people belong to state groups. Some of the groups are small but more than 20 of them have 50 or more people and seven have over 100.

To find your state group, go to
http://health.groups.yahoo.com/group/statenamelyme

Type your state name and lyme as one word, like this -
http://health.groups.yahoo.com/group/newyorklyme

South Carolina is the only state that needs a hyphen between the statename
and lyme, e.g. http://health.groups.yahoo.com/group/southcarolina-lyme

The groups are moderated and you have to apply. Most don't allow doctor names, but once on the group, you can ask for doctors in a certain area and ask people to email you privately.
*******************************************

This explains the medical politics around lyme WHY you need an ILADS-educated or ILADS-member LLMD (and there are also some ILADS-member LL NDs (naturopathic doctors):

www.clinicaladvisor.com/Controversy-continues-to-fuel-the-Lyme-War/article/117160/


TESTING

You should also be evaluated for coinfections. Not all tests are great in that regard, either, but a good LLMD can evaluate you and then guide you in testing. One of the top labs is:

www.igenex.com IGENEX

-----
There are a couple other good labs for certain tests: Fry; Clognen; Focus. Your LLMD will know.
========================

VERY important to read - even BEFORE testing:

Dr C's Western Blot explanation is discussed here:

http://flash.lymenet.org/ubb/ultimatebb.php?ubb=get_topic;f=1;t=042077

"With most infections, your immune system first forms IgM antibodies, then in about 2 to 4 weeks, you see IgG antibodies. In some infections, IgG antibodies may be detectable for years.

Because Borrelia burgdorferi is a chronic persistent infection that may last for decades, you would think patients with chronic symptoms would have positive IgG Western blots.

But actually, more IgM blots are positive in chronic borreliosis than IgG. Every time Borrelia burgdorferi reproduces itself, it may stimulate the immune system to form new IgM antibodies.

Some patients have both IgG and IgM blots positive. But if either the IgG or IgM blot is positive, overall it is a positive result.

Response to antibiotics is the same if either is positive, or both. Some antibodies against the borrelia are given more significance if they are IgG versus IgM, or vice versa.

Since this is a chronic persistent infection, this does not make a lot of sense to me. A newly formed Borrelia burgdorferi should have the same antigen parts as the previous bacteria that produced it.

But anyway, from my clinical experience, these borrelia associated bands usually predict a clinical change in symptoms with antibiotics, regardless of whether they are IgG or IgM."
===========

TREATMENT *** www.ilads.org

ILADS
The International Lyme and Associated Diseases Society (ILADS) provides a forum for health science professionals to share their wealth of knowledge regarding the management of Lyme and associated diseases.


UNDER OUR SKIN dvd LYME DISEASE documentary,
www.lymediseasefilm.com
go to this site to view trailer of UNDER OUR SKIN 5 min. Clip! Premiering 2008!! on big screen 09 in 10 LARGE CITIES ONLY!

HERXING REACTIONS ... understanding them!
http://flash.lymenet.org/ubb/ultimatebb.php?ubb=get_topic;f=1;t=041517


please get a western blot igm and igg blood test drawn LOCALLY on a mon. or tues. and sent to the below ok! all details are there.

IGENEX , CALIF. BLOOD TESTINGS ...check current $$!

* Please note: What you are about to read below is NOT meant to scare any of you from any lyme testings done; it's meant to be informed PRIOR to going into having various tests done and then be told what the costs will be!
* Mine was sticker $$ shock on various testings done by my 2nd LLMD/new to me in 4=06. Those tests/results are found elsewhere in my links/advise.

* Igenex's charges for these below things cost $905, which I figured up the last 2 days for 2 other folks includes

* The below tests were done for ME; you MAY NOT NEED them all ok! :

* western blot IGM & IGG, this is MANDATORY for you which costs $200 total for 2 tests done; 6.09 same prices still.
*
* *******************************************************
* OPTIONAL ONES ARE:

* co-infection panel for YOUR AREA OF COUNTRY;
* PCR WHOLE BLOOD...this is what my LLMD ordered!

It's PREPAY! unless you are on medicare; IGX will file the
paperwork & it's FREE to you.

go to www.igenex.com and read over their info.
Prices go up twice a year: MAY and NOVEMBER!!

*
* have blood drawn MON. or TUES. only; you don't want your blood sitting in post office over the weekend; will ruin the results!

* Also, call 1-800.832.3200 for CURRENT PRICES!
* They will also send you a ``test kit'' with their required form, all the test vials, & box to ship it in! OUT OF USA will take longer to receive!

* You need to DOWNLOAD IGENEX's required form.******************************************************
*
* MD, DO ,ND, AC, DC are all fine** must sign, date, and show DIAGNOSIS CODE on there why he's ordering the test.

Make sure you show to FAX results and SNAIL MAIL PAPER COPY! My results were lost for 4-5 weeks! Bettyg 
*
* When you get your results, please post them in MEDICAL;
* Post ONLY the POSITIVE & IND ones ....
not the negative ones!

GET COPIES OF ALL YOUR SPECIAL BLOOD TESTS: western blot igm/igg and/or co-infection tests always!!

* Also, look for post by LYMETOO/TUTU on DR. C's (Missouri) explanation of the western blot IGM & IGG numbers, below!

http://flash.lymenet.org/ubb/ultimatebb.php?ubb=

---

IP: Logged |

lightparfait
Frequent Contributor (1K+ posts)
Member # 22022


posted

---

The ones who get better that post here, are the ones who do integrative treatments.

Most start with the basic LLMD antibiotic therapy if they can handle antibiotics.

Then many, like me, move to detox treatments to get rid of the other things that existed before the lyme, that we were not aware that existed.

Specifically, heavy metals, parasites, and candida. This is a new world for most to comprehend, but going in this direction, took me into full remission, and now I do not test positive at all for lyme and any coinfections.

Study Dr. K"s protocols. He has the most success and gets to the core of this pathogen soup we all have brewing in our bodies. It is individualized medicine. There is no cookie cutter approach that works for lyme and co. Because it is never just lyme. Lyme is what draws our attention to the problem and lyme is the tipping point for most of us on this board.

Read, observe and learn, then please see patients who fit the profiles you witness here.

You will save lives.

lp

---

Posts: 1009 | From NJ | Registered: Aug 2009 | IP: Logged |

MADDOG
Frequent Contributor (1K+ posts)
Member # 18


posted

---

Hi Doc.,good to have you here.

I am a 25 year lymie I went 6 years undiagnosed.

I have fought this bear like ,( Well) a very hot place sinners go.

If you can think of a antibiotic, I have probably taken it,infused it or shot it in.

Lyme allways comes back,sometimes however I have had extended times of remission.

One time after 14 months of giving myself two shots of deep intramuscular benzathine penn. G a week ,I had one year of remission.

The penn G worked better than 3 months IV rocephin.

MADDOG

---

Posts: 3846 | From Ohio | Registered: Oct 2000 | IP: Logged |

Robin123
Moderator
Member # 9197


posted

---

Hi - thx for being here - wish more docs would come here to learn and dialogue!

I would like to put in a plug for the only antibiotic I can take for Lyme tx - I'm allergic to the rest.

The one I can take is clindamycin, a lincosamide. It totally stops my fibromyalgia symptoms and majorly reduces joint swelling.

I notice it gets bad press in medical write-ups for causing C diff, but I have never had that happen in the three years I've been taking it. I do take probiotics.

I started it at 150mg every 6 hours for a month, then began herxing, so backed down to 150mg 2x/day.

---

Posts: 13049 | From San Francisco | Registered: May 2006 | IP: Logged |

twingirl
Member
Member # 13172


posted

---

Hi doctor,
I am from Michigan and was also at the conference. I was just curious if you are in Michigan??

It would be so nice to have another doctor here to help treat all of the lyme patients.

Also wanted to mention that there are national lyme conferences for physicians as well.

--------------------
dar


---

Posts: 95 | From michigan | Registered: Sep 2007 | IP: Logged |

lymemomtooo
Frequent Contributor (1K+ posts)
Member # 5396


posted

---

Doc, thanks for allowing yourself to be educated. It seems many professionals are unwilling to listen to this.

It is a very complicated issue on so many levels, so never think anyone has the answer to help everyone. It can affect any organ and have almost any symptoms possible.

Some, including my daughter, were misdiagnosed with psychiatric illness..and untreated for too long..She now has hypoperfusion and damage in the frontal and parietal lobes of her brain and has coincidentally developed type I diabetes. Her life, dreams and future has been in terrible jeopardy for many years with now 19 suicide attempts.

Please do not give up..Continue to listen, question and learn and help save lives.

Thanks. lymemomtooo

---

Posts: 2360 | From SE PA | Registered: Mar 2004 | IP: Logged |

MazzyStar
LymeNet Contributor
Member # 22017


posted

---

I have lyme, very bad neruolyme, and all 3 of my kids probably have it to. Stuck in texas where the don't "believe" in lyme and wont treat it past 3 weeks of antibioitcs. Meanwhile my family is falling apart, I have no treatment for my kids, and insurance is a joke.
I'm on my death bed with neurolyme, expecting to pass away any day, and have to die knowing my precious 3 daughters (ages 4, 2, and newborn) have it also.
I got misdiagnosed for years.
Please help those out there that need it.

--------------------
Lyme, Babs, Ehrlichia


www.mommalyme.com


---

Posts: 276 | From Kansas | Registered: Aug 2009 | IP: Logged |

glm1111
Frequent Contributor (5K+ posts)
Member # 16556


posted

---

Brandimc,

Have you tried herbs or salt/c? I had VERY severe neurolyme and am going into remission after treating with alternatives. You have to be pro-active. Please don't give up,

Gael

--------------------
PARASITES/WORMS ARE NOW
RECOGNIZED AS THE NUMBER 1 CO-INFECTION IN LYME DISEASE BY ILADS*


---

Posts: 6418 | From philadelphia pa | Registered: Jul 2008 | IP: Logged |

lightparfait
Frequent Contributor (1K+ posts)
Member # 22022


posted

---

Doc,

An immediate medical focus for illuminated MD"s would be to treat pre-pregnant woman, pre-sexually active young people, and teens children, so this diseased state does not get passed onto future generations. This is a big root of our nations chronic illnesses.

Also, many teens that commit suicide have been given anti-depressants for their psych symptoms, before being diagnosed with the root problem and inherited disregulations, many most likely had lyme!

Had two recent gruesome suicides in my town from teens with major lyme symptoms! I know them and their parents. I along with all my other lyme neighbors feel this could have been prevented.

This connection is over looked by regular pschologists and MD's when a parent brings in their teen for help.

---

Posts: 1009 | From NJ | Registered: Aug 2009 | IP: Logged |

LymeLearned
LymeNet Contributor
Member # 20565


posted

---

THANK YOU!!! For taking the time. For having the heart, and the drive to help the likes of us.

We are good people from all walks with families who love and depend on us and we thank you for joining the good doctors and restoring our faith collectively, and the health of your patients.

Doc-please take a look at my new blog. One of the doctors on tour with Under Our Skin really likes it, and sends his patients there to see a short, fast-paced explanation of the Lyme experience in America.

Oh, and because I wanted a closer look at the freckle on my leg, I now have macro-zoomed photos that I used on my site.

I am nearly unable to walk and the odd thing is that I look like I'm athletic, but it's nothing more than genetics, and it's more curse than gift, because it gives a false presentation of my actual condition.

In reality, I'm in daily pain and have very poor stamina and memory.

Had I not been bitten again this summer, I would have quietly remained in my home in bed, only out for medical appointments, until Lyme found its way to my brain (oh, wait. It's already there. I forgot.

My memory has been severely slipping for many years, yet I'm only 47.)


I would love some feedback of your impressions after seeing my blog.

[ 08-26-2009, 09:06 PM: Message edited by: LymeLearned ]

--------------------
"SEVEN LYME FACTS THAT COULD HAVE SAVED ME" VISIT ME AT:

http://www.youtube.com/TickedOffLiterally


---

Posts: 183 | From USA | Registered: Jun 2009 | IP: Logged |

JR
LymeNet Contributor
Member # 16898


posted

---

Find an LLMD in your area and start mentoring with them.

---

Posts: 365 | From Sylvania | Registered: Aug 2008 | IP: Logged |

BJK
LymeNet Contributor
Member # 13251


posted

---

hi brcyanni,

Thanks for your post and your willingness to learn.

I was thinking as i read...What would I say to a doctor wanting to become familiar with Lyme disease. As many here can confirm and relate to, this is unusual.

We are used to Doctors not listening and please excuse the directness, but are ignorant of the true state of every aspect of Lyme; from education to diagnosis and to effective treatment.

So it is refreshing for me as one who was miss-diagnosed by so many Doctors, to see that you are open to learning.

As far as my wondering what I would say to a Doctor who wants to learn....

As you may have already discovered, Lyme is a very controversial and political disease with a polarized medical community.

My comments are offered as a sufferer of Lyme disease who was miss-diagnosed for years and became severely crippled in both my body and my mind.

Not only was I affected, but all surrounding me. I nearly lost everything. My wife and children were devastated and still today we struggle with the impact this disease has had on our lives.

I am not a medical professional, scientist, or specialist of any kind, however, I have actual experience as one who has had Lyme disease, and the co-infection Babesiosis.

The key things i would like to share, ideas that had all of the doctors i had seen known, my experience with Lyme may have been very different.

1. Lyme cannot be diagnosed by the presence of a bulls-eye rash alone, nor can it be diagnosed with the current testing that is available.

A physician must be familiar with the many symptoms of Lyme and the co-infections in order to make a clinical diagnosis.

2. Patients issues and symptoms need to be seen as a whole, not individually, as Lyme and other diseases are systemic, affecting multiple areas of the body.

3. A Doctor MUST be open minded about the treatment of Lyme disease and learn from those who effectively treat the disease...NOT from the mainstream medical view and media, as in most cases it is very wrong.

4. Believe the patient. All to often we are told we need to see a psychiatrist, or we have too much stress, or are told its all in our heads.

I believe this is primarily due to Lyme's ability to cause so many bizarre and complex symptoms throughout our bodies, that we just don't fit the 'text book' and are written off when no common explanation is found.

That's all I am going to write for now, though I could go on for hours. I'm sure in your study of this disease you will understand why.

Thank you again for your post and desire to learn, may you find the truth and affect change in the medical community around you as well.

--------------------
BJK

Nothing I write here is medical advice...I'm just another lymie sharing how this disease has affected me personally


---

Posts: 175 | From Central Maine | Registered: Sep 2007 | IP: Logged |
Contact Us | LymeNet home page | Privacy Statement

Powered by UBB.classic™ 6.7.3

---
The Lyme Disease Network is a non-profit organization funded by individual donations. If you would like to support the Network and the LymeNet system of Web services, please send your donations to:
The Lyme Disease Network of New Jersey
907 Pebble Creek Court, Pennington, NJ 08534 USA
http://www.lymenet.org/
---
Home | Flash Discussion | Support Groups | On-Line Library
Legal Resources | Medical Abstracts | Newsletter | Books
Pictures | Site Search | Links | Help/Questions
About LymeNet | Contact Us
---
© 1993-2020 The Lyme Disease Network of New Jersey, Inc.
All Rights Reserved.
Use of the LymeNet Site is subject to Terms and Conditions.
---