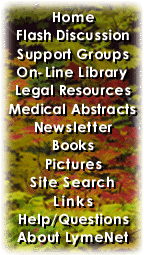 ---
LymeNet on Facebook
LymeNet on Twitter
---
---
The Lyme Disease Network receives a commission from Amazon.com for each purchase originating from this site.
When purchasing from Amazon.com, please
click here first.

Thank you.




Dedicated to the Bachmann Family


LymeNet needs your help:
LymeNet 2020 fund drive

The Lyme Disease Network is a non-profit organization funded by individual donations.

| | |
| --- | --- |
| | |
Author
Topic: If you're married, read this thread!

KimDC
LymeNet Contributor
Member # 20699


posted

---

I posted the following in Sept. when my marriage was struggling due to the strain of my lengthy illness. I received such helpful and heartfelt suggestions that I think all married people should read this thread. I took the advice and my marriage is happier and stronger today. THANK YOU to everyone who took the time to reach out and help us!
_________________________________________________

I've been sick for 8 years, but was not diagnosed until 5 months ago. I began treatment 4 months ago. I've gotten very sick (all of you know what I'm talking about). I'm mostly in bed and can do very little parenting, cooking, anything to keep the household running. My husband has been doing it ALL. Even before treatment, he did 70% (for 8 years).

My husband has finally reached his limit. He's "checked out". He doesn't look at me, touch me or our daughter. When she tries to give him a hug, he pushes her away. When he speaks to us, it's in a very angry tone. He's yelling alot at my daughter for little things, like not doing her homework quickly.

Does anyone have any suggestions for us? How can I help him get through this and back to a better place?

[ 11-30-2009, 07:43 PM: Message edited by: KimDC ]

--------------------
Misdiagnosed with CFS for 7 yrs. Diagnosed by LLMD in 2009. Aggressive treatment for 3 years with minimum improvement.


---

Posts: 120 | From FL | Registered: Jun 2009 | IP: Logged |

bettyg
Unregistered



posted

---

kim

so sorry to read this, and many members go thru this or have.

does your daughter have lyme too and that's why he's pushing her away ??

where your husband works, do they have employee assistance counseling available? my work place did and the employee was able to go 3 times for EACH situation they needed counseling for.

how about your minister?

any friends/relatives who are psychologists or psychiatrists?

best wishes kim on a bad situation. hugs/kisses

---

IP: Logged |

Keebler
Honored Contributor (25K+ posts)
Member # 12673


posted

---

-
On one hand, it should be made clear that yelling and angry behavior are not appropriate and can have devastating effects on your daughter and you don't deserve that, either.

However, how to lighten the pressure?

Do you have friends or family who can give him a vacation for few days - and you some practical support?

It's hard for any couple to do this alone. I think as long as the physical necessities are at the top of the list, it would be hard for the two of you to connect. He may be on overload, burned out.

I'd try to not take it personally, as hard as that is for you. If you have no friends or family to take up some of the chores, do you belong to any organizations, a church, temple or synagogue? Even if not, you might contact one in your area. There may be some volunteers who would love to help. You need not be of their denomination (sometimes).

You need not detail what you have, just say chronic neurological illness.

There also may be some caregiver groups to give your husband a break. Call patient services at your local hospital.

What about students at a nearby college majoring in child care? Any interns to baby sit or tutor your daughter.

Your local lyme support group may have some ideas.

Beyond that, even as much as I'm sure you've told your husband how much you appreciate this, tell him again. Still, it makes his roll the boss rather than the boyfriend. Can you have a medical-free evening and let him be young again? Bring back some music from your early times together, etc.

Christopher Reeve and his wife, Dana, used to avoid all medical talk at dinner. Something like that might be a simple move to divert attention.

Good luck.
-

---

Posts: 48021 | From Tree House | Registered: Jul 2007 | IP: Logged |

carly
LymeNet Contributor
Member # 14810


posted

---

Kim,

I hear you. I can tell you my methods for dealing with my husband when he's like this, which is pretty much all the time toward me, sometimes towards the kids.

#1- prayer. I believe it works. It softens his heart.

#2- This may not be the right way, but it's my way, and it can be effective:
If he's giving one of us a hard time about something -basically feeling overwhelmed-

I'll tell him to sit down and take a break, he's doing too much right now. (Even though what I want to say is much more colorful!)
Then I'll try to take over whatever it is.

This seems to snap him back to reality when he sees me struggling or asking the kids for help.

For example: he can't watch while I stop on the stairs to catch my breath while taking laundry up or down.

Hope this helps.

---

Posts: 797 | From New York | Registered: Feb 2008 | IP: Logged |

wtl
LymeNet Contributor
Member # 19883


posted

---

Kim,

I am coming form the other end of this discussion - I am the one who take care of most of the 99% of things in the house and our 3 year old. Other than doing all the things, I also have to help remmeber for their schedule including taking their meds and eating meals and snacks. I am also the sole bread-and-butter winner of the house at this point. I have to perform well at work so that I can keep the insurance benefit for everyone in need.

I also have my parents in their 80s and late 70s. My father has early-to-mid stage Alzheimer's. My mother broke her hip from falling about 4 years ago. I am the only child near by. My brother is literately 5000 miles away in another side of the earth.

I cut all my personal projects abruptly, including ones with grants because I could no longer travel with ease.

My daughter's daycare thinks I am a single parent with full custody. They don't know who the mother is, other than my daughter talked about her from time to time. She has become a picture mother to my daughter's teachers.

Do I have my frustrations? You bet, not necessarily toward any particular person or persons but simply feel trapped in this life I wasn't seeking. Who would expect your life to be stopped and turned an 180 degree corner?

I think it is normal...all the emotions your husband feels are more than legitimate.

However, the most effective "weapon" I have to keep myself in check is to learn what this disease is about and what the diseased person has to go through that is much more severe than anything I could possibly imagine and experience. I said "in check" because I don't compose myself natuarally, rather "unnaturally". I have expressed unneccessary "anger" often enough to make myself think I am an idiot, uneducated, a stupid f***er.

It's a hard learning process but I am lucky to be able to SLOWLY realize that my wife had never sought to have her life in such state either. And for my daughter, well, she didn't even have a chance for she was born from a sick mother without a proper diagnosis at the time...

I am still learning. I will never perfect...such is life...and I am okay with it.

The world and life requires one to reflect and think and understand...be compassionate is not just a phrase. It's continuing drips of water filling a pond, hoping to be full. But I don't know how to tell another person what to do.

Sorry, in the end, I have no solution.

---

Posts: 822 | From midwest | Registered: Apr 2009 | IP: Logged |

Dekrator48
Frequent Contributor (5K+ posts)
Member # 18239


posted

---

Hi Kim,

My heart goes out to you.

His behavior probably stems from resentment and feelings of lack of appreciation.

I think a person in his position, like others have said, would quickly become overwhelmed.

It is very important that you improve your communication with him.

It is sometimes hard to give advice, not being there to see all the dynamics of the situation.

Men in general don't talk about their feelings alot.

I would start by telling him that you can see that he is overwhelmed by all of the responsibilities that he is juggling.

Tell him that he is an incredibly hard working and dedicated man (if this is true) and you appreciate everything he is doing for you and your family.

Tell him that he is really stepping up to the plate...just like when he said "for better or for worse, in sickness and in health".

Tell him that you will get better and things will not always be like this, but that it will take some time.

Tell him that you love him and your daughter loves him.

Ask him what you can do for him....I know that sounds crazy when you are very sick....but he needs to feel like it's not a one way street.

It can be something simple....like sitting beside you while you rub his legs a little after a long day.

Tell him everyday that you love him and that you appreciate that he "made supper", "got your daughter ready for bed", "cleaned the bathroom" or whatever it was that he did.

You may need some help getting good communication going again.....a pastor, counselor etc.

Ask him to tell you how he is feeling.....no name calling or degrading comments....just ask him to put it like this...

"It makes me feel like__________ when__________"

Comments should not be in the form of "You did this______"

You will likely be met with anger and sarcasm when you first try to talk to him.

Try to reply with understanding. Of course, do not tolerate any form of abuse.

Effective communication is really the key to improving this situation, along with some needed respite for him.

Things will not change overnight...they did not get this way overnight either.

I do not in any way mean to imply that you have not been appreciative or loving....only that a person in this overwhelming situation can easily require extra emotional attention, just like you require alot of extra help right now too.

All the best to you.

--------------------
The fibromyalgia I've had for 32 years was an undiagnosed Lyme symptom.

"For I know the plans I have for you", declares the Lord, "plans to prosper you and not to harm you, plans to give you hope and a future". -Jeremiah 29:11


---

Posts: 6076 | From Pennsylvania, USA | Registered: Nov 2008 | IP: Logged |

KimDC
LymeNet Contributor
Member # 20699


posted

---

Thank you all so much for your thoughtful, insightful responses and advice. I'm going to reread them all and decide what things I can say/do today and what things I can say/do later when I'm feeling less hurt.

Dekrator, thank you for such specific words to say. I needed those, as I'm at a loss for words with my husband right now.

bettyg, my daughter doesn't have lyme, but she has OCD, which is emotionally draining for the whole family. Of course, her symptoms increase when my symptoms increase, which makes everything worse.

Keebler, we do have quite a bit of help from family. Both sets of parents live in town and are only in their early 60's. They provide a lot of meals for us.

I think one of the main issues is that my husband doesn't have any good friends. He doesn't have anyone he can call to vent or to go have a beer with. I don't know why, he's a funny, nice guy.

Thanks again, everyone. You've helped me so much.

Kim

--------------------
Misdiagnosed with CFS for 7 yrs. Diagnosed by LLMD in 2009. Aggressive treatment for 3 years with minimum improvement.


---

Posts: 120 | From FL | Registered: Jun 2009 | IP: Logged |

bettyg
Unregistered



posted

---

kim, thx for additional info, and everyone had wonderful comments above. hugs/kisses

---

IP: Logged |

Hoosiers51
Frequent Contributor (1K+ posts)
Member # 15759


posted

---

Sorry for what you're going through.

My husband takes care of me, and does pretty much all of the chores and housework, dishes, etc.

I think it helps when we do small things or favors to show our appreciation. I think it helps encourage them along...for them to see us at least trying to do something nice for them, even if it is miniscule compared to what they do for us.

For example, every night, I write my husband a little note, telling him I love him, and hoping he has a great day, and how much I care about him. I always put smiley faces all over it. And I leave it by the coffeemaker. I also set up the coffeemaker for him.

It can be draining sometimes, because of how tired I am, but I try to do it. Setting up the coffeemaker may be a very small task compared to the boatload of chores he does, but the point is, *It's something I am doing, specifically for HIM.*

So I think little deeds can go a long way. Anything you can think of to at least show him with actions that you care or are trying to help, might help. Men prefer actions to words, I think. And sometimes actions mean more.

I know it is hard, with how bad we feel. If you are bedridden, it would be a lot harder. But if there is anything you can do, probably just the gesture would mean a lot to him. Anything out of the ordinary. It is worth a shot at least.

Another thing I'll do is if he is studying, I'll offer to make him cookies. They are just the ones that are precut from Pillsbury (very low effort), but he appreciates me coming in with warm cookies for him. Sometimes I don't clean the cookie sheet for days afterwards, but at least it's something.

---

Posts: 4590 | From Midwest | Registered: Jun 2008 | IP: Logged |

sutherngrl
Frequent Contributor (1K+ posts)
Member # 16270


posted

---

My husband takes care of me too. He works 12 hours a day, then comes home to a sick wife, day in day out. Fortunately I am able to do small chores around the house and lately I have been able to go to the grocery store by myself. That has helped take some of the load off of him. And also our children are all grown and gone.

I try very hard to keep up with certain chores like always keeping the laundry done since that one is such a neccessity. Even if he offfers to do it or starts to, I tell him NO, no matter what I will handle that one. I tell him it makes me feel useful and it does. Also he sees me trying and I think that gives him a kinder heart.

Still he has a lot on his plate. As do all the spouses that are well and tending to their chronically ill partner.

Its funny that this subject came up, since just today I was talking to my hubby about his feelings toward our situation. I feel that he must have "some" resentfulness; it seems only human. He isn't owning up to it though; but occassionally I can see just a bit of it. Its only normal.

Anyway, I don't mean to be rambling. You got some good advice above and I am glad, because I am going to take it myself.

Too bad that your husband doesn't have something to go do once in a while. Mine plays golf a couple of times a month. Its such a good out for him. We use to play together and one day I hope we will again. Men don't need much to bring them back to earth. I don't mean that in a bad way. That just their nature.

Anyway like I said, great advice above. I am going to try some of it myself!

---

Posts: 4035 | From Mississippi | Registered: Jul 2008 | IP: Logged |

MariaA
Frequent Contributor (1K+ posts)
Member # 9128


posted

---

I also want to point out that people completely come back from this disease. I've been on both sides of this- I've been disabled, had very unpleasant personality changes, etc- and I had an ex-boyfriend who got sick and went through a very difficult personality change that was very hard to tolerate. Both of us came back from the personality issues and became normal people again. For any of you who are caregivers, it must be very hard to see this in your loved one, but it is true that we do come back from this.

Counseling seems like a very important step for many people though- and there aren't necessarily a lot of counselors available who would understand what you're going through with a chronic, multi-year disease that affects one's personality.

--------------------
Symptom Free!!! Thank you all!!!!

Find me at Lymefriends, I post under the same name.
diet: http://lymefriends.ning.com/group/healthylowcarbrecipes
Homemade Probiotics thread
Herbal Links Thread


---

Posts: 2552 | From San Francisco | Registered: Apr 2006 | IP: Logged |

Melodymaker
LymeNet Contributor
Member # 16434


posted

---

Kim, it's a blessing that you think your husband is a "funny, nice guy." That shows a tender love toward him.

One thing I am sure to do every day is tell my husband I love him and he's wonderful.

Usually I say "have I told You today how much I love you?" which usually generates a smile and an answer.

Kisses and hugs are important too. I even bought a pillow for our bed that says "Always kiss me goodnight". Of course I'm usually the one who actually remembers to do that. =)

Rubbing his back or feet was a great suggestion above.

When we are ill and maybe not as sexually active as we were before, it's very important to keep physical contact as it connects us. Even holding hands is important.

Keeping you in prayer. You have great advice in the posts above, and a caring heart. I believe you will set aside your hurt and reach out to heal. Wishing you showers of blessings!

--------------------
Wishing You Showers Of Blessings!
Lyme since Fall 1983 = Diagnosed Summer 2008
IV Rocephin 7 weeks Stopped due to drug fever
Now doxycycline
"For I know the plans I have for you...plans to give you hope and a future." Jeremiah 29:11


---

Posts: 430 | From Sunny South | Registered: Jul 2008 | IP: Logged |

JamesNYC
LymeNet Contributor
Member # 15793


posted

---

Well,
If Lyme really can be sexually transmitted, there may come a time when the tables are turned.

I suggest that your husband see a therapist either with you or alone to talk this out. It sounds like he's repressed a lot of frustration and it's bottled up inside.

He may need antidepressants to help deal with everything.

Also, I agree with the others, he may need a break from the daily routine. It is very hard to take care of someone ill day in day out. Even just a few days can be very reinvigorating.

Good luck to all of you. Being ill is bad enough without it undermining one's relationship too.

James

---

Posts: 872 | From New York City | Registered: Jun 2008 | IP: Logged |

amkdiaries
LymeNet Contributor
Member # 7035


posted

---

Regardless of how bad the spouses of people sick with this disease think they have it they have no idea what it is like to live with it 24/7.

My husband just immerses himself in his hobbies to cope with it and all I ever hear is that he needs to do this to keep his sanity. If I still have mine after going through what I've been through I get angry that someone who married for better or for worse goes into his own world for the sake of his sanity.

It just goes to show you that people who get sick with this are strong because "healthy" people cannot bear to give up some of their hobbies for the benefit of their spouse.

Sorry but I am having a bad week.

---

Posts: 425 | From NY, United States | Registered: Mar 2005 | IP: Logged |

kitts
Member
Member # 20542


posted

---

amkdiaries: I have the same husband. My husband has more hobbies and activities than he ever has. I think it is a way to escape my disease and have his own life.

I sit back and watch--and am alone quite often. Life looks so much different from where I am sitting. I know we who have these diseases are the strongest. We have no choice and I believe as we get well we will be forever changed for the better.

--------------------
Kitty
Lyme, Babesia, XMRV virus Diagnosed 2008
Mepron, Zithro, Cepaflexin, Fluconozol, Vitamin, Herb therapy


---

Posts: 65 | From Kansas | Registered: May 2009 | IP: Logged |

2boysmama
Member
Member # 10606


posted

---

I feel your pain right in the heart, and I'm sorry that your family is going through this. I am also a wife and mother (of two active little boys), and it can be extremely hard to balance the needs of our families when we are so ill.

When I got sick 8 years ago, my husband left after only 6 months of my illness (we weren't married yet back then though!). Luckily, he thought it better to work things out, and now we are happily married with soon-to-be 3 children.

I have experienced many decent days and happy times in the last 8 years with him, but there are lots of bad days too. The most important thing you can do is to NOT forget what your spouse is going through. It's hard to keep romance and love alive when your other half is physically and emotionally absent. With that said, here are the things I have learned that have led my marriage to a "happy" place:

1) Don't complain about your symptoms unless they are unbearable. It sounds harsh, but it's saved my marriage. When I tell my husband I'm sick, he knows it's a BAD BAD day. People get tired of hearing us complain, and that's been the hardest thing to overcome. Complaining brings us down too!

2) Anything positive and happy that comes to your mind- SAY IT. Even if all you can muster is "thank you" or " the weather is nice today"- positive thoughts and words lead to positive feelings on the other end.

3) Express your love and gratitude often, and your hopes for the future. When I am able to tell my husband about how I want to tour Europe, see all the places I've never been, ride rollercoasters again, and pursue my dream career- that lets him know that I haven't forgotten who I really am, and I WANT to be better- that I am trying really hard.

4) When you feel like you can, do pleasant things with your family outside the house. If you are able to take a short walk- drive to a park or beach and take a quiet evening stroll. Visit a restaurant, or a festival if you're feeling really good. Don't waste good days sitting around the house! And while you're out- smile and laugh through the pain. Some might say that you're over-doing it, but I say life was meant to be lived. Spend the next day sleeping but realize you've done your family an invaluable favor.

5) Get angry. Cry. Sob. Pound your fists on the ground. Do it together. Then get back up and carry on, and don't give up hope that your future will be brighter.

These things might sound unrealistic, but they have worked for us. Our husbands hurt too, because they are helpless- and men do not like to be helpless! Let him know that the things he is doing are very useful and helpful to you.

Love him, hug him, and be kind. Have candlelight dinners and snuggle together and watch his favorite movie. Get dressed every day (f you are able) and look as nice as you can when he gets home from work. Little things = big difference.

I am pregnant and having a rough pregnancy this time- I have been in bed for the better part of 2 weeks, which isn't long- but it has brought me back to a hellish place which I always fear. I will use these suggestions as a reminder to myself as well- for my husband who is working a full time job, cooking, cleaning, shopping, and helping with the kids right now!

Take care and stay strong.

--------------------
Jessica
Diagnosed with Lyme in 2004
First became sick in 2001
Mom to 2 beautiful, healthy boys
Baby #3 Due in May 2010


---

Posts: 10 | From Florida | Registered: Nov 2006 | IP: Logged |

kitts
Member
Member # 20542


posted

---

Thanks Jessica for your great advice. I think I really needed to hear it. Bless you! I think the idea of not conplaining unless it is killing me is a good one. It seems that our marriage has become about the disease.

--------------------
Kitty
Lyme, Babesia, XMRV virus Diagnosed 2008
Mepron, Zithro, Cepaflexin, Fluconozol, Vitamin, Herb therapy


---

Posts: 65 | From Kansas | Registered: May 2009 | IP: Logged |

bettyg
Unregistered



posted

---

jessica,

you've written the most wonderful, thoughtful, and outstanding article i've read in a long, long time!

it came from your heart, and touched mine so deeply; thanks for taking the time to write it and share with the entire board who visits you.


jessica, so sorry you've been bedridden the last 2 weeks of your pregnancy, and hope you'll be better soon so you can be on your feet and as active as possible.

best wishes to you both in what you are going thru. may god step down here and carry each of you thru your darkest days now and ahead


---

IP: Logged |

Hoosiers51
Frequent Contributor (1K+ posts)
Member # 15759


posted

---

Jessica,

Those are some great suggestions, and I agree with all of them.

I'm sorry to hear these weeks have been rough for you. I'm hoping things turn around soon, just so you are able to enjoy the pregnancy a little more. At the least, hopefully the second trimester will be easier!!! ((hug)) Hang in there!

---

Posts: 4590 | From Midwest | Registered: Jun 2008 | IP: Logged |

0ldman
LymeNet Contributor
Member # 22101


posted

---

Not shooting you down Jessica, just have to ask about not complaining.

I really try not to complain about it, though I do talk about it as not talking about it tends to lead towards problems, as in "why haven't you done x?".

I am also trying to understand this mess and keep my wife aware of the situation, aware of just which part is failing today, arms, balance, etc.

I guess what I'm asking (trying to say, whatever) do you just bottle it up or talk about it without complaining?

--------------------
Ticks suck.


---

Posts: 140 | From Alabama | Registered: Aug 2009 | IP: Logged |

Rumigirl
Frequent Contributor (1K+ posts)
Member # 15091


posted

---

Kim,

This may sound off-topic to what you said in your original post, but I couldn't help noticing that you said your daughter doesn't have Lyme, but it OCD.

That raised an alarm bell for me, because that can be a symptom of Lyme! And for kids, the symptoms can sometimes only be psychiatric.

So I would really urge you to get her evaluated by a good LLMD. I hope/assume that you have one. There are Lyme pediatricians, too.

If it turns out that she does have it and/or any of the co-infections, that would bode well for her eventually getting over it! That would be huge.

---

Posts: 3747 | From around | Registered: Mar 2008 | IP: Logged |

bettyg
Unregistered



posted

---

hi OMT

i just sent you this pm, but i see you need to make 2-3 tinyurl.com short links since the other 2-3 caused this to go SUPER wide, please do the other ones also; big thanks!! xoxox


**********************************

http://flash.lymenet.org/ubb/ultimatebb.php/topic/3/23064

please go to your 2nd LONG link that caused this post to go SUPERWIDE ...

go to the link and chose edit

now COPY the long direct link


open ANOTHER WINDOW to work from.

i just use any of the top lines...forum home, etc.
R. CLICK MOUSE to open another window

now in new window, go to address line and delete what is in it...

type www.tinyurl.com and click go

it should come up and a BLANK SPACE appears in a small box, PASTE that long link there

it will now convert it to a tiny link to use.


copy the new tinyurl link and paste that to the other open window of the SUPER WIDE post.

DELETE THE LONG LINK leaving the tinyurl only.

click edit send; then check it to make sure it worked ok.

thanks so much! big hug of gratitude xox

---

IP: Logged |

bettyg
Unregistered



posted

---

hi OMT,

i'm going to copy your entire post here, and CUT the long links and go to create TINYURL links for each of them so you can just COPY my entire post to your post, and delete everything there so it goes back to NORMAL width ok my friend.

i know it's difficult when our neuro brains have taken an unscheduled vacation, right? lol

***********************************

I remember a book a long time ago about husband of chronic illness wife. I was looking for it but can't remember title.

In process I ran across these:


HUSBAND-WIFE-ILLNESS-LIVING-CHRONIC book
http://tinyurl.com/yfpp26e


WOW - same book, here is an excerpt from a different description:

Jamey and William had just about anything they could ever want until Jamey became ill with **** Chronic Lyme disease**** and ****Morgellon's disease.****

Heavy doses of steroids were prescribed for her which only made the situation much worse. I'd like to include an excerpt from the back cover of their book.

"We were living the American dream. But when illness invaded our lives, it tore those dreams apart and we were thrust into a fight for our survival. In the devastation, we lost our home, our savings, our cars and even our dogs. We lost everything but each other."


William and Jamey's book very effectively shows readers how they can turn catastrophe into something positive. They share with us the practical ideas which have worked for them and how illness in the family has helped both of them to define priorities and to grow spiritually.


I found this description at
http://tinyurl.com/ykvvmpm


The book might have been "Sick and Tired of Feeling Sick and Tired" = see excerpts at

http://tinyurl.com/yhztbpj


ON Amazon:

http://tinyurl.com/ykjjtxw


I heard that "Strong at the Broken Places: Voices of Illness, a Chorus of Hope" was good - ignore the bad review at Amazon.

http://tinyurl.com/yz5yxkb


I also heard through a friend that this one was good - "The Illness Narratives: Suffering, Healing, And The Human Condition" - see

http://tinyurl.com/yf3fxyl


Hoping to get used copies of the last two, anyway, pretty sure I have the first two in my big bookshelf.

OTM

---

IP: Logged |

bettyg
Unregistered



posted

---

up for OMT to copy my tinyurl links/text and delete hers so it goes back to normal width.

thx my friend hugs/kisses

---

IP: Logged |
Contact Us | LymeNet home page | Privacy Statement

Powered by UBB.classic™ 6.7.3

---
The Lyme Disease Network is a non-profit organization funded by individual donations. If you would like to support the Network and the LymeNet system of Web services, please send your donations to:
The Lyme Disease Network of New Jersey
907 Pebble Creek Court, Pennington, NJ 08534 USA
http://www.lymenet.org/
---
Home | Flash Discussion | Support Groups | On-Line Library
Legal Resources | Medical Abstracts | Newsletter | Books
Pictures | Site Search | Links | Help/Questions
About LymeNet | Contact Us
---
© 1993-2020 The Lyme Disease Network of New Jersey, Inc.
All Rights Reserved.
Use of the LymeNet Site is subject to Terms and Conditions.
---