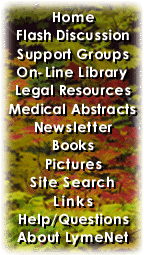 ---
LymeNet on Facebook
LymeNet on Twitter
---
---
The Lyme Disease Network receives a commission from Amazon.com for each purchase originating from this site.
When purchasing from Amazon.com, please
click here first.

Thank you.




Dedicated to the Bachmann Family


LymeNet needs your help:
LymeNet 2020 fund drive

The Lyme Disease Network is a non-profit organization funded by individual donations.

| | |
| --- | --- |
| | |
Author
Topic: why are people such pompous Aholes when it comes to this disease?

IMHisda
LymeNet Contributor
Member # 6998


posted

---

I just had my fill of these idiots that think you are lying and not suffering--makes you want to wish it on them but then
you wouldn't want them but I think all you want is kind compassionate people and they havn't learned how to be that yet.

In the meantime I will stay away from them

Sick of throwing the pearls of my life experience to swine , swine doctors, swine pompous clicky classmates and so called professors that think they know anything.

--------------------
RV


---

Posts: 249 | From Healing in USA | Registered: Mar 2005 | IP: Logged |

farraday
LymeNet Contributor
Member # 21494


posted

---

Put your love and energy where it counts: on your own healing and on those who support you.

The rest is garbage you don't need and which can harm you. It is best discarded quickly and decisively.

Ignorance has always been a scourge on humanity. Knowledge, faith and understanding are the best tools we have to combat it.

I know myself and what I am....those who cannot or will not see it have lost a splendid opportunity for their own growth and enlightenment.

--------------------
DOCTOR: "I don't think you are sick."
PATIENT: "We are all entitled to our opinions. I don't think you are a doctor."


---

Posts: 697 | From Northern California | Registered: Jul 2009 | IP: Logged |

Robin123
Moderator
Member # 9197


posted

---

A lot of folks aren't ready to take in what this is all about.

My opinion: try to minimize your time with them and stick with those who are healing for you to be around.

---

Posts: 13084 | From San Francisco | Registered: May 2006 | IP: Logged |

BoxerMom
Frequent Contributor (1K+ posts)
Member # 25251


posted

---

This has been one of the hardest aspects of Lyme for me. We don't get the best of people. We get their arrogance - the assumption that they know more about our lives than we do. Really?!

I have to strike a balance between time spent with the people who drive me crazy and time spent with the people who understand me - mostly other Lyme patients. And my dogs. They understand.

Try not to dwell on the idiots. A friend once said the best thing to me, "The world will always have stupid people. That's OK. If you know more than they do, you can often get your way."

Words to live by.

--------------------
Must...find...BRAIN!!!


---

Posts: 2867 | From Pacific NW | Registered: Apr 2010 | IP: Logged |

Gahagan
LymeNet Contributor
Member # 21194


posted

---

Why? Well, because the world is full of A-holes in general. Sad, but true.

We lymmies aren't the only ones who experience that kind of prejudice, though. Some of the other diseases/illnesses that are also "not believed" are fybromyalgia, ADHD, various phychological ailments (especially depression), chronic fatigue syndrome, migraines, and even PMS. There are a lot more, of course, but we tend not to notice until we become a member of one of those unfortunate groups.

I agree...not that I wish anything on anyone, but lets just say I have faith in karma.

---

Posts: 212 | From Pennsylvania, USA | Registered: Jul 2009 | IP: Logged |

Keebler
Honored Contributor (25K+ posts)
Member # 12673


posted

---

-
This is an unsettling time in history. Manners have just gone out the window and people are just more brazen and often spout out in all directions with no thought of others' feelings. It seems that many Americans are just louder than ever and that can turn into a form of abuse.

Anger is spilling over from many outlets and for many reasons but if you read comments after most news articles, there is just a steady stream of people ignorant to the facts who shoot forth toxic criticism at lightning speed. It is very, very sad, indeed.

============

http://www.fleurdelis.com/desiderata.htm

DESIDERATA

- written by Max Ehrmann in the 1920s -

Excerpts:

. . . Avoid loud and aggressive persons; 
they are vexatious to the spirit. . . .

. . . Beyond a wholesome discipline,

be gentle with yourself.

You are a child of the universe

no less than the trees and the stars;

you have a right to be here.

And whether or not it is clear to you,

no doubt the universe is unfolding as it should. . .


. . . With all its sham, drudgery, and broken dreams,

it is still a beautiful world.

Be cheerful. Strive to be happy.

=====================

www.mp3.com/artist/les-crane/summary

http://www.amazon.com/Desiderata-Crane/dp/B00008A8HV

You can listen to a sample recording of this by Les Crane.

(I thought Richard Harris also did a splendid recording of this in the late seventies but I cannot easily find it in a search.)
-

[ 04-11-2010, 05:17 PM: Message edited by: Keebler ]

---

Posts: 48021 | From Tree House | Registered: Jul 2007 | IP: Logged |

Marz
Frequent Contributor (1K+ posts)
Member # 3446


posted

---

I'm struggling with how to deal with 5 good friends who have suddenly become ill with cancer, lung disease, surgery.

I don't think they understood my limiting what I did before they were sick. Now I'm feeling guilty that I'm not there for them more.

I am not as critically ill as they are, but just worrying about them is wearing me down.

I hate not been able to help like I'd like to and worse that they could be thinking I'm a wimp compared to them and what they're going through.

---

Posts: 1292 | From USA | Registered: Dec 2002 | IP: Logged |

farraday
LymeNet Contributor
Member # 21494


posted

---

Marz, all you need to do is send an email or make a phone call. Just let them know you care. That's all.

When we went through my husband's cancer experience we lost most of our friends. We were young and people just couldn't face it. We had had so many parties, had so many friends, but they all vanished. It terrified them. I understood, but it hurt, all the same.

The morning after he died, a little boy, a friend of my son, came to the door. He brought me a small bouquet of flowers from his yard. That meant more to me than all the huge arrangements at the funeral.

Just little things, showing you care, mean so much and are never forgotten.

--------------------
DOCTOR: "I don't think you are sick."
PATIENT: "We are all entitled to our opinions. I don't think you are a doctor."


---

Posts: 697 | From Northern California | Registered: Jul 2009 | IP: Logged |

METALLlC BLUE
Frequent Contributor (1K+ posts)
Member # 6628


posted

---

I have some interesting news that might comfort you all but also inspire some empathy and sadness.

Like all of you, I've been severely abused (I'm male, so for me to even admit that tells you really cruel). Members of my family and some friends who were extremely cruel, abandoned me, misunderstood me, demonstrated ignorance and arrogance, three of them are now infected with Lyme Disease.

You know how we sometimes wish this disease upon those who treat us very awfully? Well, you/I got our wish. Becareful what you wish for because it's bitter sweet, and trust me, it's a lot more bitter than sweet.

Now that they're really really sick (Or almost there), the awful behavior towards me is being returned ten fold.

When they began getting sick, they went to doctors who told them it was just stress, headaches, weight, depression, fibromyalgia, yada yada. When I tried to tell them that they might have Lyme Disease, they basically told me to **** off, that they're situation was nothing like mine, and that I shouldn't try to convince them that everyone has Lyme.

Ten years later, the became more and more crippled. They're on 30-50 medications treating symptoms, and they've seen 30-40 doctors.

The walls finally came down when they had no more options left, and so they grovelled to me and asked me if I would help. So I did, I gave them Cure Unknown, Under Our Skin, and other educational material. I then connected them with physicians and appropriate testing information.

The testing was run, the physicians were seen -- Lyme Disease was "firmly" disagnosed, test was positive, doctor was certain it was a clear case of Chronic Lyme Disease.

My best friend for many years was compassionate and understanding towards my condition. However, occasionally he would be a little pompous and joke about the illness -- nothing too serious, but enough to make me feel bad. Insensitivity basically. Some of the comments were euphemisms. Basically he'd make jokes and they'd be subtle, but he'd act like I shouldn't be offended or take it serious.

He began falling ill over a period of time until he was disabled. He slept all day, he felt sick to his stomach, he became intolerant to gluten, wheat, cheese, and other dairy. He couldn't focus or sleep. He was sweating somewhat at night and basically he came to me and kept going over the potential causes of his condition. His house was also recently found to be full of mold in the basement.

We never did confirm absolutely whether it was Lyme Disease, but all his symptoms matched, and he was bitten by a tick that he distinctly remembered. He didn't have medical insurance and I knew what to do. I asked him if he'd used a Tetracycline like drug (Dorxy) in the past. He said he had been on long term Doxycycline for acne, about 2 years back in Highschool. I decided to "assist" him. My medicine cabinet was useful, if you get the hint. 2 weeks in, he felt really sick. 4 weeks later he felt great. I felt he shouldn't stop. Another 4 weeks and he felt absolutely stable and 100%. Whether the problem is solved and whether it was even Lyme Disease was never proven or confirmed, but his health is now completely normal. He now has a very keen understanding of the suffering I endure. He said he felt like he had this ongoing chronic flu-like feeling, muscle pain, sweating, fatigue, intolerance, "fog-like thinking", cognitive issues etc and sleep disturbances."

Another individual was actually from the internet. Because I was undiagnosed for many many years, I didn't know what was wrong. I spammed message boards that I was a member of by constantly talking about my situation. Eventually I did get some "clues" about what might be wrong with me, however it took a year or two to do research into a number of conditions. Finally I came to Lyme. At any rate this individual who also was a member would mock me, calling me a liar, fraud, attention whore, hypochondriac, and some other things that you really shouldn't even hear. Basically he attacked me nonstop.

Years later, he sent me a PM on this particular message board. He told me "I can't believe I'm doing this, but you're the only person I know. I need help and I know you have every right to tell me to go **** myself and to not help me, but I'm begging you, please!" I received the message and responded back saying "Apologize to me and I'll help you until we solve your problem." He apologized and then explained what was happening. He told me he began getting sick a coupld years ago (after he and I had our drama). He said it began with fatigue, fever, acute pain in his nerves and muscles, heart palpitations, light sensitivity, depression, neurological twitching and other seizure like activity." I wasn't sure what exactly was going on with him but I did a lot of research and spent about a year talking with him daily on Instant Messenger. As I accumulated more information, I "surprisingly" came to the conclusion that it very likely was a tick born infection. He told me the symptoms came on after a camping trip, almost immediately, but that he'd never noticed a tick bite. He was skeptical and resistant to my suggestion (If I was a physician, it would be called a diagnosis).

I told him I was absolutely certain. We continued to run testing to exclude all the possibilities. He had already seen about 10 doctors before he came to me. They told him it was depression and wanted him to take some Zoloft.

Eventually he gave in, he was disabled and bedridden by this point. He went to see a doctor I had on my Lyme-List, and he was diagnosed. Testing was run, and it didn't come out positive but it came out demonstrating a positive to anyone who is adequately informed about specific bands on Western Blots.

It took over a year before he saw changes. Even then he was still very sick. As time went on he did improve and now is functional, working, school, relationship, happy even. Like other patients, he has traveled long distances to visit me - just to give me a hug and to thank me.

Vile people often get sick too. It's not like that lame quote used a lot here. Seems only the good get sick and the bad don't!" Bull****, Ticks don't discriminate. It's an epidemic.

Now my step-father, who has been a real ******* over the last 10 years since he met my mom (******* towards me), is now getting sicker and sicker. There is no confirmation as to whether it is Lyme -- and I can't even diagnose it since I'm not "certain". He's one of those types who is a man who only talks superficially, doesn't express feeling (unless it's anger) and won't talk about the symptoms. However, his behavior is obvious. Rage attacks, depression, aches and pains all over his body. He has "ticks" -- where he'll make sounds and grunts that he's unaware of until after they've taken place, then he feels embarrssed deeply. He has zero memory, and appears to almost suffer a dementia like behavior. He's compulsive, overeats, and goes to extremes with doing strange diets, like fasting without food for weeks, then drinking just grapefruit juice or eating just salads. Then suddenly he's stuffing his face with cookies, going to drive-thrus and pigging out. He also has seizures, sleep disturbance, and forgets faces and names of people he knows very well. It is clear he suffers from Depression and anxiety but he won't discuss it. He is firmly against using any type of medication (except pain meds). He was addicted to alchol, crack, pot, sex and a variety of issues during the time he's been with my mother. He also suffered heart irregularity and runs extremely low blood pressure. The doctors say "It's wonderful for his age, and he's got the heart rate of a healthy young bull." What they don't know is he probably has high blood pressure but the Lyme is suppressing it and keeping his heart beat low when it would also be higher. The list of other symptoms is long, but he's definitely one of "those types" of men that some of you women deal with in marriages. You know, those guys who just don't get it, and are abusive, critical and pile on the stress while providing zero support or compassion.

Well, now he's sick and it's getting worse and worse. He's started complaining to my mother in private. She said "Joe, I really think you have Lyme Disease and that you should get tested." His response "I'm not like your son, I'm not getting tested -- this discussion is over and don't ever bring it up again."

So folks, that's the truth. What goes around does come around -- whether by coincidence, fate, or whatever you wish to call it. The arrogant/ignorant can get Lyme too.

--------------------
I am not a physician, so do your own research to confirm any ideas given and then speak with a health care provider you trust.

E-mail: [email protected]


---

Posts: 4157 | From Western Massachusetts | Registered: Dec 2004 | IP: Logged |
Contact Us | LymeNet home page | Privacy Statement

Powered by UBB.classic™ 6.7.3

---
The Lyme Disease Network is a non-profit organization funded by individual donations. If you would like to support the Network and the LymeNet system of Web services, please send your donations to:
The Lyme Disease Network of New Jersey
907 Pebble Creek Court, Pennington, NJ 08534 USA
http://www.lymenet.org/
---
Home | Flash Discussion | Support Groups | On-Line Library
Legal Resources | Medical Abstracts | Newsletter | Books
Pictures | Site Search | Links | Help/Questions
About LymeNet | Contact Us
---
© 1993-2020 The Lyme Disease Network of New Jersey, Inc.
All Rights Reserved.
Use of the LymeNet Site is subject to Terms and Conditions.
---