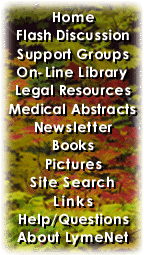 ---
LymeNet on Facebook
LymeNet on Twitter
---
---
The Lyme Disease Network receives a commission from Amazon.com for each purchase originating from this site.
When purchasing from Amazon.com, please
click here first.

Thank you.




Dedicated to the Bachmann Family


LymeNet needs your help:
LymeNet 2020 fund drive

The Lyme Disease Network is a non-profit organization funded by individual donations.

| | |
| --- | --- |
| | |
Author
Topic: Should you tell another specialist about Lyme??

Florence1
LymeNet Contributor
Member # 22960


posted

---

I am going to see a breast specialist tomorrow about long standing discomfort which started when my symptoms were really bad before diagnosis......

well because its ongoing i dont want to just presume its Lyme related so I am getting it checked out tomorrow.

But do i tell them upfront about the lyme or let them make a decision then tell them about the lyme.......

--------------------
Oct 09 Positive CDC Western Blot
Jan 10 Positive Babesia Duncani
Jan 10 Cd57 28
Mar 10 EBV, IgM, IgG
HHV-6 IgG


---

Posts: 739 | From NC | Registered: Oct 2009 | IP: Logged |

Keebler
Honored Contributor (25K+ posts)
Member # 12673


posted

---

-
Unless the Gyn is lyme literate, No. I would not, based upon my experience and the reaction of doctors across the board. If your LLMD recommended this particular doctor, I would tell them. Only then.

If you are on medication, do list that, however. If they ask, just say, matter of fact tone, "I'm being treated for lyme (and other infections if that is the case). Leave it at that.

If you are inclined to share more, copy the article below for them. But, you have to ask yourself WHY you would tell them. Are you expecting them to understand? Treat? Your LLMD is doing that.

If you are simply sharing because it may be important they know - while they also do their own assessment - well, that may or may not work. Just don't expect any sort of reaction from them and you'll probably be okay.

If you are inclined to share more, copy this article for them. I'm sure there is more research on breast health and lyme if you want to search but you have nothing to prove and your LLMD should be your main lyme doctor:
-----------------------

www.angelfire.com/biz/romarkaraoke/whento.htm

When to Suspect Lyme - by John D. Bleiweiss, M.D.

Excerpt:

. . . Some forms of Polycystic Kidney and Fibrocystic Breast Disease may be LD manifestations. . . .
-

---

Posts: 48021 | From Tree House | Registered: Jul 2007 | IP: Logged |

sammy
Frequent Contributor (5K+ posts)
Member # 13952


posted

---

They will probably have you fill out new patient forms that ask about your medical history. Be honest, tell them your diagnoses and current medications.

You don't have to get into all the details or list all of your symptoms or explain the politics (IDSA vs ILADS). Just let them know that you have the infection and you are in treatment.

Other specialists that I have seen have been open minded, concerned, and curious about my history/treatment of Lyme and Co's. Hopefully they will learn from what we are able to share with them.

And it is good for you not to assume that every symptom is from Lyme. Follow up with your concerns and rule out other causes.

---

Posts: 5237 | From here | Registered: Nov 2007 | IP: Logged |

EllieP50
Member
Member # 15936


posted

---

I've been telling my regular doctors that I've had Lyme, (and when I think a symptom is related to it, I mention I think it is, but don't insist that it is) - they've all actually had reactions I consider appropriate - most of them (depending on the specialty) tell me they don't know much about it but they know it can have broad effects - I've been told this from several regular mds. including eye doctors, pcp, gynecologist etc. The only doctor I went to who really seemed to have an axe to grind was the IDS regular guy I went to early on - he actually believed I had lyme but his attitude toward lyme patients was unbelievably bad - I wouldn't discuss it with a regular infectious disease guy (probably wouldn't go to one anyway) because I think they've had it hammered into them that Lyme can't do anything long term - in my experience other branches of med. are more open.

---

Posts: 34 | From Saratoga Springs, NY | Registered: Jun 2008 | IP: Logged |

unsure445
LymeNet Contributor
Member # 15962


posted

---

I'm sure when you fill out forms for history and current medications it will come up.

Any time you mention Lyme disease you are making any doctor more cognizant of the disease and I find that they usually are interested and end up asking questions about it. Ultimately its spreading awareness and letting people know its around and very prevalent.

Good luck at your doctor appt.. I have had breast pain as well and it resolved w/ treatment.

--------------------
unsure445


---

Posts: 824 | From northeast | Registered: Jun 2008 | IP: Logged |

Need Lots of Help
LymeNet Contributor
Member # 18603


posted

---

I am very cautious about who I talk to lyme about. I normally put my current medications down, and then the question always comes up, why are you on such high doses of antiboitics, and I tell them. I have had several doctors say to me, STOP THOSE ANTIBOITICS NOW!! So, now, I am not going to put the medications down anymore. I will let the pharmacy tell me of any drug interactions/reactions.

My PCP is the only doctor cognizant of lyme and she is because she grew up with a friend who has lyme and has helped her through her PICC lines and her lyme issues. So, she knows about lyme, but she doesn't understand how to treat for lyme.

I also had a friend whose husband got really sick after a hunting trip (he was in the ICU). I tried to bring up lyme disease and the problems with testing and I was rudely put in my place by saying, The doctors tested for that and they said it wasn't lyme. These people aren't ready for lyme because the medical world isn't even ready for lyme.

It is disgusting that I have to drive hours away for treatment and pay out of pocket. Sorry for my rant....I just get upset about how we are treated.

Shalome

---

Posts: 893 | From Florida | Registered: Dec 2008 | IP: Logged |

OptiMisTick
Frequent Contributor (1K+ posts)
Member # 399


posted

---



[ 05-04-2010, 01:51 AM: Message edited by: OptiMisTick ]

---

Posts: 1338 | From Above the Clouds | Registered: Nov 2000 | IP: Logged |

Keebler
Honored Contributor (25K+ posts)
Member # 12673


posted

---

-
OptiMisTick says it perfectly. It's a sad situation, indeed, but perfectly stated.
-

---

Posts: 48021 | From Tree House | Registered: Jul 2007 | IP: Logged |

littlebit27
Frequent Contributor (1K+ posts)
Member # 24477


posted

---

I won't ever tell another doctor about Lyme unless I'm forced too. My first primary care doc thought I was drug seeking like OptiMisTick said because I was am in such pain I can barely walk and function. He dropped me.

My second and current PCP I had to tell because I had to ask about the blood work to be performed. He said some doctors are just out there to make money. And he wouldn't refill my pain medicine prescription. He doesn't believe in Lyme and won't diagnose without the bulls eye rash. On a good note though he said his office would pull the blood for the Igenex tests, so I will be going there on Monday to get that done.

My first "LLMD" asked me if I liked being drugged up. She didn't like all the drugs I was on for pain and because I wouldn't get an IV for abx she dropped me. I really don't think she is LL. But that's my opinion.

My mom is a nurse and I told her I have Lyme, HA...you have something else littlebit, RA, Fibromyalgia, anything else, not Lyme. I printed out some info that I am mailing her and I'm going to get her a copy of Under Our Skin.

I am going to keep my big fat mouth shut from now on. I'm going to say I have no idea what is causing all this pain, please figure it out.

--------------------
*Brittany Lyme Aware on FB*
http://littlebithaslyme.wordpress.com/


---

Posts: 2310 | From Southeast | Registered: Feb 2010 | IP: Logged |

farraday
LymeNet Contributor
Member # 21494


posted

---

At the CALDA conference I heard this: "Lyme Disease is not a belief, it is a bacteria."

I am sick and tired of educating doctors. I tell no one anything I don't have to. My cardiologist nearly fell out of his chair when he heard me stammering, trying to tell him something.

He pressed my husband, who finally told him that I have neuro lyme disease. He was very interested and concerned for me. But that is not always the case.

So mum's the word, IMHO

--------------------
DOCTOR: "I don't think you are sick."
PATIENT: "We are all entitled to our opinions. I don't think you are a doctor."


---

Posts: 697 | From Northern California | Registered: Jul 2009 | IP: Logged |

Keebler
Honored Contributor (25K+ posts)
Member # 12673


posted

---

-
A friend whom I've know for 19 years had a tick attached for a few hours two weeks ago. She told me one week afterward. I saw where the bite was. No rash but a tiny darkened area where it was evident that something had been ripped from her skin.

Her boyfriend took it off and tossed it back into the woods. He told her that people over there get ticks all the time and it's no big deal.

She had no rash but had asked her doctor who said the tick needed to be attached for 36 hours. I told her that was not true. But she believes her doctor.

I gave her a bottle of allicin and andrographis to take as some measure of precaution and she stopped both. Okay, I get it that the allicin smells. But, the andrographis, too? Was it bothering
her? No. She "just doesn't like to take pills."

All my study about this, our seemingly equally matched basic intelligent level - and she thinks I'm over reacting because her doctor said we really don't have lyme in this state. A few ticks, oh, maybe . . . but "they don't carry lyme here."

I told her that is not true. Just look at my case. I tried to tell her that she in a very narrow window of opportunity and has a 50-50 chance of it being lyme or not. She stills say, oh, she's fine because her doctor just reassured her he's never seen a case in this state.

I hate to say that I feel my study in this area was just insulted. But mostly, and I am truly not one prone to drama, worry or anxiety - but the time after someone has an attached tick is such a narrow window of opportunity that I really wish she'd be proactive or - protective just in case - on some level.

I wish I had know with those early ticks I pulled off. I had no idea. I know that, in some way, my trying to prevent it for others won't give me my life back but I'd sure hate to see another life lost to lyme due to ignorance.

But she trusts her doctor. He is an M.D. in her book. Never mind that I've been studying this since August 1997 nearly non-stop.

Another friend was over the other day and thought I just needed to go to the mall for sensory training. Rather than trying to be in a calm environment, that I should "Just really try harder to be around crowds and noise," was her advice.

She's known me for over a dozen years and seen seizures send me to the ceiling from just someone's phone ringing. I had asked her over because I wanted to be around people more but when someone really just does not get it, it's a boomerang.

When I mentioned just a couple things for prevention, she just didn't want to know. It was if I were talking about space aliens invading and how to pack a case in case they came knocking at the door.

Lyme sure is lonely. And I am very tired of trying to educate. Rather than "mum" being the word, I'm afraid my words would fry the page right now. Argh !

I've been done with doctors for a very long time (as lyme is nearly illegal in my state). However, I thought friends who really knew me had some respect for what I've learned. It's just off their radar. Totally. Reminds me of all the doctors that were so dismissive. Argh !
-

---

Posts: 48021 | From Tree House | Registered: Jul 2007 | IP: Logged |

massman
Unregistered



posted

---

Guess I have been more fortunate. Last 3 docs I have seen - PCP, orthopedic, radiologist - have some knowledge of lyme + its "challenges".

Perhaps because of the state I live in - MA.

---

IP: Logged |

METALLlC BLUE
Frequent Contributor (1K+ posts)
Member # 6628


posted

---

Wish I'd met those doctors MA. By the way, I'm looking for an Orthopedic Surgeon. I have a flat foot condition on my left food that isn't responding to custom orthotics. It appears I will need to consider further action.

--------------------
I am not a physician, so do your own research to confirm any ideas given and then speak with a health care provider you trust.

E-mail: [email protected]


---

Posts: 4157 | From Western Massachusetts | Registered: Dec 2004 | IP: Logged |

momintexas
Frequent Contributor (1K+ posts)
Member # 23391


posted

---

Keebler, I know EXACTLY what you are saying and you hit the nail right on the head with "Lyme sure is lonely."

My Ob/Gyn asked me why I was on Doxy last Fall and I really didn't want to tell him (I never should have put it down but I always worry about drug interactions).

When I told him, he smiled, chuckled and patted me on the knee and said "OK." You would think I told him I see giant purple elephants floating around.

On the other hand, when I went to see Cardiologist, I didn't mention it and he kept saying something's not right here, what am I missing?

I finally did tell him bc he noticed something going on and when I did he lit up and said "Ah yes, I'm very familiar with Lyme, now all of this makes sense."

So, I think it depends on your Dr and the situation. If you are seeing a specialist or Dr that you know to be open minded then tell them.

If you see a Treat 'em and street 'em Dr, then I would not.

And as Massman said, I think a lot of it depends on what State you are in.

"Lyme sure is lonely" - Keebler

[ 04-29-2010, 10:10 AM: Message edited by: momintexas ]

---

Posts: 1408 | From Tx | Registered: Nov 2009 | IP: Logged |

massman
Unregistered



posted

---

MB - PMed you the name + location of the ortho surgeon.

Keebs - as far as others, my family is mostly in denial (+ one sis is a nursing instructor at a big state college here) except one sis who has been very sick in the past.

One brother-in-law + some others seem to think I am faking it. I am doing a great job at that as I need both hips replaced. Going to send the x-rays to a doc in OH who thought + said I was also faking it. Feel like bringing the x-rays personally + inserting them forcefully up his....

---

IP: Logged |

lymeladyinNY
Frequent Contributor (1K+ posts)
Member # 10235


posted

---

"Treat 'em and street 'em" - I love that!! LOL

--------------------
I want to be free


---

Posts: 1170 | From Endicott, NY | Registered: Sep 2006 | IP: Logged |

22dreams
LymeNet Contributor
Member # 17846


posted

---

I don't think it depends on the state, it depends on the doctor or hospital. And perhaps the Type of Md as well, their specialty.

My sister had such NEGATIVE feedback from various doctors at BI or was it B&W? anyway, neurological lyme doesn't exist. or is so rare that even if it were suspected, the thought shouldn't be entertained for more than a milisecond.
Something EVERY neurologist should know.

---

Posts: 571 | From Massachusetts | Registered: Oct 2008 | IP: Logged |

momintexas
Frequent Contributor (1K+ posts)
Member # 23391


posted

---

I agree that it also depends on the Dr and Hospital but, what state you are in does play a part in it. Especially if you are from a state where Lyme is not commonly diagnosed.

It took me over 5 years and TONS of Dr's to get a diagnosis for myself and my son.

Especially if you are in a state where "Lyme doesn't exist".

---

Posts: 1408 | From Tx | Registered: Nov 2009 | IP: Logged |

massman
Unregistered



posted

---

22 - I was born in MA. Stayed till age 35, away for 22 years, back now for a few. IME the closer you get to Bosstown the more the arrogance goes up.

Many docs seem or do think they are the best in the world. My view is altered a bit because I am a Doctor of Chiropractic.



---

IP: Logged |

22dreams
LymeNet Contributor
Member # 17846


posted

---

It's the arrogance that prevents diagnosis, how true.

I agree, that in states like Texas, there's an additional obstacle of being told it doesn't exist there.

but, I've known people here who walk into a "famous" clinic with the bull's eye rash and classic symptoms who have been lucky to get abx at all. and i'm talking in the last couple years. Beyond one round--it was all in their heads.

funny how Mds who aren't psychiatrists practice that specialty.

It really depends on the doctor you see. Even then, their hands are tied if they are doctors of insurance.

Around here you are more likely to run into, say, a radiologist with a family member or friend with lyme or something. Someone always knows someone. However, I find that most lay people, they just don't get it, even those who care to try.

what I've run into a lot----because of fear---
is denial. If *I* of all people got lyme, then *they* could easily contract it. and Denial kicks in full-throttle. Very pleasant.
anyway, that's neither here nor there.

I had a PCP who didn't recognize it at all. I live in a city. I live in Somerville, 3 minutes on foot to Inman Sq in Cambridge and am surrounded on the streets by academic nincompoops.

It took my sister over 10 yrs to get a diagnosis, finally in 2006, by a stroke of luck by a doctor from NY living here temporarily -- who had someone in her personal life with lyme.

---

Posts: 571 | From Massachusetts | Registered: Oct 2008 | IP: Logged |

randibear
Honored Contributor (10K+ posts)
Member # 11290


posted

---

ain't no way, honey.

my gp says it's all in my head and nobody has ever seen a documented case of lyme in texas. he's adamantly opposed to it. so is my gastro.

i keep my big mouth shut.

doesn't help either when my husband makes comments to them. so now i don't sign a release of information form for anybody.

i'd just rather handle it myself.

i've had problems with loosing my life insurance and bc/bs, so nope, ain't gonna mention it at all.

--------------------
do not look back when the only course is forward


---

Posts: 12262 | From texas | Registered: Mar 2007 | IP: Logged |

massman
Unregistered



posted

---

It is sad, 22. I thought this was a progressive liberal state and boy that is far from the truth.
I'm 2 towns out of Worcester and boy what a continuing education.

Guess I got exposed to a real liberal state while in OR.

---

IP: Logged |

Keebler
Honored Contributor (25K+ posts)
Member # 12673


posted

---

-
In response to massman's last line:

Oregon is a bit of a magic trick. It's got such a healthy image but heaven help someone with a complex medical problem because, chances are, there is no MD here willing to get to the underlying reason if infection is the connection. I think they just don't believe in the germ theory in this state. They certainly never studied spirochetes.

Yeah, Oregon is beautiful and progressive in many ways with a major medical college (but one that ignores lyme) . . . a naturopathic college, an acupuncture college, a chiropractic college, massage schools . . . big on organic foods . . . tons of parks, miles of bike trails, recycling, lots of artists, a free concert in most neighborhoods nearly every day or night of the week in summer, etc.

Every week there is some Walk or Run for some organization. It seems that everyone here cares about others. But that goes only so far. Lyme patients are ostracized. No one does a Run for lyme. No one volunteers to help lyme patients with errands. Rather, it's the attitude that more exercise is needed and all will be well.

In Oregon, lyme is not allowed to be even whispered in any MD's office. No LLMD is officially allowed in the state.

Having a dx of lyme has caused me much turmoil regarding trying to find an MD even for the normal stuff. The state of Oregon is very much in the dark ages with tick-borne infections. There is a good lyme organization (and a couple good LL NDs) but they are up against a mile-thick brick wall built by IDSA local-yocals and insurance moguls.

Oregon is one of the very worst states in which to have to fight for identification or full treatment of any tick-borne infection and that fight is nearly always lost on state ground. I would NEVER suggest that anyone move here for that very reason.

Even before coming for vacation, be sure to pack a "tick-emergency kit" with all the medicines one might need. Because 99% of the time, even with a glaring bulls eye rash, an E.R. doctor in Oregon will not know what stares them right in the face and are even more ignorant regarding treatment during the most important window of opportunity.
-

[ 04-30-2010, 01:23 PM: Message edited by: Keebler ]

---

Posts: 48021 | From Tree House | Registered: Jul 2007 | IP: Logged |

farraday
LymeNet Contributor
Member # 21494


posted

---

My sister in law had to fly down here from Oregon to have our doctors treat her infected finger. The idiots up there did not realize that she could lose that finger. Down here the docs did a bone scan, biopsy and found that the infection was in the bone. They started her on serious IV antibiotics and probably saved her finger, if not her life.

It was my husband's insistance that she come that did the trick. My experience with a simple leg scratch that landed me in the hospital taught us how serious things can get very quickly.

My brother and nephews are all doctors. So was my uncle and my cousin....all from top med schools. None of them understand my long illness, show any interest in learning about it, offer no support at all. Interesting that they are all very active in their church....

Another cousin also has serious lyme disease and she is treated with disdain, as she contemplates having knee replacement surgery for lyme related arthritis. She is forced to live in her daughter's basement.

Jesus ate with the lepers. But friends and relatives do not dine with us. Maybe they think it is contagious....or maybe they just don't think.

--------------------
DOCTOR: "I don't think you are sick."
PATIENT: "We are all entitled to our opinions. I don't think you are a doctor."


---

Posts: 697 | From Northern California | Registered: Jul 2009 | IP: Logged |

Keebler
Honored Contributor (25K+ posts)
Member # 12673


posted

---

-
This article paints the main doctor to be the hero when, all the time, it was his negligence that nearly lost a man his life from food poisoning that was missed. The doctor they hold up as hero is the main IDSA mouthpiece preventing lyme education in Oregon.

Not sure if the fact he misses a deadly food poisoning, too, is comfort or not. Any doctor should have thought of salmonella choleraesuis. It's a no-brainer. But the guy had a major surgery due to their inability to diagnose. They stopped all meds to do a spinal tap . . . lots of mistake. How this was written up as a success is beyond me. It was a failure in many ways. It's just good the patient survived the illness and the bad care.

Example of a major media spin:

http://www.nytimes.com/2008/12/07/magazine/07wwln-diagnosis-t.html?ref=magazine

December 7, 2008 - The New York Times Magazine

DIAGNOSIS: CONFUSING CONFUSION -- By LISA SANDERS, M.D.

-

---

Posts: 48021 | From Tree House | Registered: Jul 2007 | IP: Logged |

Treelady
Member
Member # 23506


posted

---

It is very sad but I will never tell a doc about Lyme again. Tried it too many times and have been dismissed. I now decide what they need to know. And then I decide if I will take the treatment they want to give me. Only doc I am honest with is my llmd.

Sorry about all the cynical posts today. Feeling fed up with the world. This too shall pass.

--------------------
Treelady


---

Posts: 39 | From California | Registered: Dec 2009 | IP: Logged |

farraday
LymeNet Contributor
Member # 21494


posted

---

Keebler, my husband has a suggestion. He points out that if DNA testing is not true science, does not indicate lyme disease, then it should not be allowed as evidence of rape in an Oregon (or any) courtroom. He says you can't have it both ways.

My lyme disease was found by PCR and only because my husband would not leave the idiot ID doc until he got a prescription for the test. He got it, called the labs and arranged the test that found my lyme.

Of course the ID doc said it was not conclusive. I was sitting there stammering and trembling, too confused to help myself. But he said I did not have it. It was clear that he simply did not want to treat a complex case like mine. Patients were flying in and out of his office like on an assembly line.

He was not the first doctor to shy away from me. I'm thankful he did! After my Bicillin shots for 6 months I can usually speak quite well! I still stammer and tremble when tired. But there is a marked change!

My distinguished LLMD says it (PCR) was good enough for him along with all the many symptoms I displayed. He said it was a clear case of neuro lyme but he was not surprised by the ignorance I had encountered. He said that nearly all of his patients have similar tales to tell. And he has treated more than 2000 of them and published numerous studies on the disease.

Now who should I believe????

--------------------
DOCTOR: "I don't think you are sick."
PATIENT: "We are all entitled to our opinions. I don't think you are a doctor."


---

Posts: 697 | From Northern California | Registered: Jul 2009 | IP: Logged |

massman
Unregistered



posted

---

Keebs - you forgot my alma mater - WSCC, which is now a University.

I was there 1986 through 1990, living in Portland.
And lots of time the last year up the Gorge, working at the Wind River Resort. Hung out with other old hippies + liberals also becoming chiros.

Being such a generally liberal state, I guess I assumed the medical docs and medical board was also liberal too.

How long have MDs there been so tight a$$ed and closed minded ? Might it be in reaction to the other liberal health pros in the state ?

---

IP: Logged |

Keebler
Honored Contributor (25K+ posts)
Member # 12673


posted

---

-
Correction made. I had said osteopathic college when I meant chiropractic college. Good catch.

Actually, the MD's wanting to deny lyme in this state comes straight from: the IDSA stronghold in the state; the insurance lobby; and all the funds pouring into the medical college for a lot of stuff that would no longer be needed were they to actually learn about tick-borne and other stealth infections.

Local media can't cover lyme adequately because the medical centers are their main source of income from advertising and their "free" standby experts for news stories.

So, if anyone is wondering if a certain MD may be open to learning about lyme, find out what research funding they get. Find out what pharmaceutical companies line their pockets. That will tell you a lot.
-

---

Posts: 48021 | From Tree House | Registered: Jul 2007 | IP: Logged |

LightAtTheEnd
LymeNet Contributor
Member # 24065


posted

---

I met a Lyme patient once who said she had been to non-Lyme doctors for non-Lyme conditions, and when she told them the list of her medications including long term antibiotics for Lyme, she was told SEVERAL TIMES by SEVERAL DOCTORS to get out of their offices and they refused to see her.

Personally, I don't see how a doctor could possibly evaluate any condition without knowing about the major, chronic health problem that is causing most or all of my symptoms, as well as the many drugs and supplements I take for it that may have a variety of side effects.

Scientifically, it makes no sense to me to go to a doctor, pay them to figure out what's wrong with me, and then withhold the most important information about my health.

There are no Lyme literate specialists or GPs around here--that's why I have to drive more than 8 hours to get to an LLMD. It makes me want to avoid going to any doctors except my LLMD.

It has also been known to happen, especially with ID ducks, that not only would they not help the patient in front of them, but they would also possibly turn in the LLMD who WAS treating the person.

It's ludicrous not to tell them, and it's likely to cause you and maybe your LLMD problems if you do tell them. They aren't likely to know anything about Lyme anyway, or to take your word for it when you give them information about it.

On balance, I would probably ask my LLMD first about any problem, to see if he thinks it is or isn't related to Lyme. Then I would ask for a recommendation for a Lyme-literate specialist if necessary. Then, if the LLMD thinks it is not Lyme-related, I would go to another doctor, and tell the truth in answer to direct questions, but not volunteer more than I had to, and not tell the name of my LLMD.

My GP has been skeptical but open minded, and she already knows about my Lyme diagnosis and my LLMD, so I would tell her the whole truth. If she decides she doesn't like it, I would have to find another GP.

--------------------
Don't forget to laugh! And when you're going through hell, keep going!

Bitten 5/25/2009 in Perry County, Indiana. Diagnosed by LLMD 12/2/2009.


---

Posts: 756 | From Inside the tunnel | Registered: Jan 2010 | IP: Logged |
Contact Us | LymeNet home page | Privacy Statement

Powered by UBB.classic™ 6.7.3

---
The Lyme Disease Network is a non-profit organization funded by individual donations. If you would like to support the Network and the LymeNet system of Web services, please send your donations to:
The Lyme Disease Network of New Jersey
907 Pebble Creek Court, Pennington, NJ 08534 USA
http://www.lymenet.org/
---
Home | Flash Discussion | Support Groups | On-Line Library
Legal Resources | Medical Abstracts | Newsletter | Books
Pictures | Site Search | Links | Help/Questions
About LymeNet | Contact Us
---
© 1993-2020 The Lyme Disease Network of New Jersey, Inc.
All Rights Reserved.
Use of the LymeNet Site is subject to Terms and Conditions.
---